Lee Hyun-woo confirms action romance drama Moorim School
Now I'm torn. Lee Hyun-woo (Battle of Yeonpyeong, Scholar Who Walks the Night) was courted early on to headline KBS's upcoming youth drama Moorim School, but after losing Yook Sung-jae and securing secondary cast members Seo Ye-ji (Last) and VIXX's Hongbin (Feel-Good Day), I was considerably less excited for Lee Hyun-woo to confirm. But he ended up signing on to play the main character after all, which I guess means I have to watch this now?
The global youth action drama centers around four leading characters who are classmates at Moorim School, where they teach virtue, honor, and life skills instead of the usual spec-building curriculum of most schools. "Moorim" means martial arts world, and though there seems to be more of a focus on the principles of martial arts rather than the fighting, it IS called an action romance drama. So I hope to see some cool fight scenes to justify the concept.
Lee Hyun-woo will be headlining as an idol — the leader and singer-songwriter of a top idol group who experiences a sudden fall from grace and ends up having to enroll at Moorim School. He's a musical geeeeenius, with a sensitive and prickly personality to match. He starts out thinking that the entire universe revolves around him, and will eventually learn to meaningfully coexist with others.
Hongbin plays a troublemaker rich kid who becomes Lee Hyun-woo's roommate, and the two prickly boys will strike up a friendship. Seo Ye-ji plays the heroine, a hard-working girl who takes care of her blind father on her own and has to attend Moorim School in secret. And newbie Jung Yoo-jin (Heard It Through the Grapevine) rounds out the leading foursome as the daughter of the school's chancellor. She's an ace student who can't stand to see injustice happen around her.
Directing is PD Lee So-yeon of Baby-Faced Beauty and Prime Minister and I, and writing is Kim Hyun-hee of Sincerity Moves Heaven and 21st Century Family. I really don't expect it to live up to the grandiose paradigm-shifting global phenomenon drama that KBS is making it out to be, but I'd settle for cute coming-of-age drama, with a side of action.
Moorim School will air on Mondays and Tuesdays in January 2016.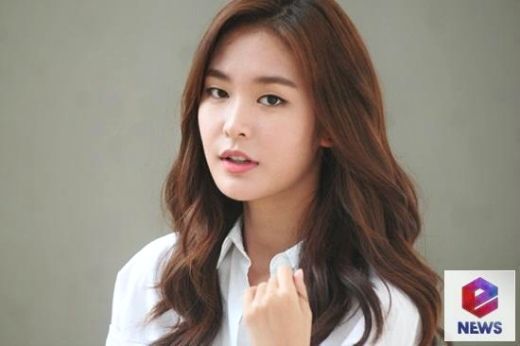 Jung Yoo-jin
Via Osen, Star Today
RELATED POSTS
Tags: Lee Hyun-woo (2), Moorim School