Village: Secret of Achiara: Episode 1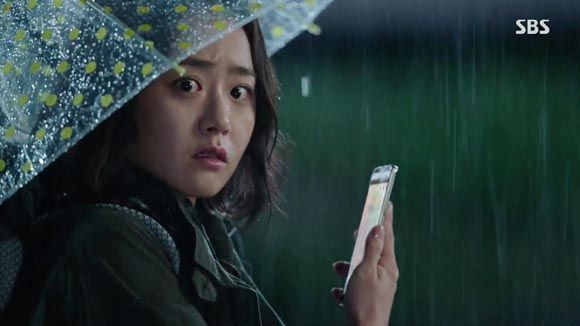 Village: Secret of Achiara launched today on SBS, and I was looking forward to seeing whether the show could maintain the creaky, eerie ambiance promised by the promos. I may be a wimp with the scary stuff, but I still want ghostly thrillers to scare me effectively, even if it means I have to watch through my fingers half the time.
I give the show a tentative go; the premiere of Village wasn't an outright home run for me, but I find enough about it compelling and intriguing—the execution can be a little rough around the edges but the story has a strong setup. This is the kind of show that's so dependent on mood and suspense to keep it going that I really, really hope it can keep up the mystery—once it loses that tension, it'll all unravel. But right now the world is interesting, the characters are all satisfyingly suspicious, and I want to know where we're going with this. Onward!
SONG OF THE DAY
Puer Kim – "나는 니가 죽는 것도 보고 싶어" (I want to see you die) [ Download ]
Audio clip: Adobe Flash Player (version 9 or above) is required to play this audio clip. Download the latest version here. You also need to have JavaScript enabled in your browser.

EPISODE 1: "Achiara"
September 2014. Montreal, Canada.
It's an ordinary day at an office building when suddenly, a body crashes to the pavement with a sickening thud. Splat.
The dead window-washer is an elderly woman, and her granddaughter rushes to the morgue. She's HAN SO-YOON (Moon Geun-young), and she's the woman's only family. So-yoon sobs over her grandmother's body, then packs up the apartment they shared together. From the pictures, it looks like it's been just the two of them for a long time.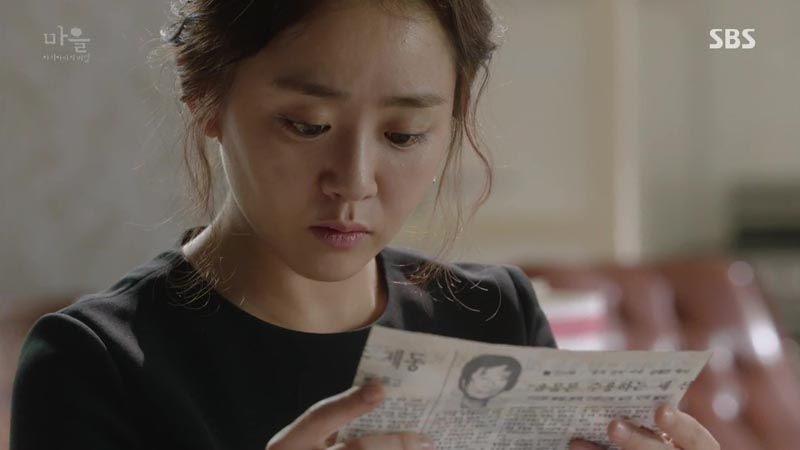 Among Grandma's things is an airmail envelope, with only an old newspaper clipping inside, about an old car accident that killed an entire family. Suddenly, So-yoon's mind flashes to a memory: a car colliding with a truck, flipping over. Two parents in the front, two sisters in the backseat. Names are highlighted in the article, which So-yoon recognizes as her father, mother, 9-year-old unni… and herself, age 5 at the time.
There's only one word written in the return address space: "Achiara."
Skipping back two more years to August 2013, we arrive in Achiara, located in the northern province of Gangwon-do, as a young woman (Jang Hee-jin) gets off the bus in town.
The woman makes her way to an art gallery, where elegant glass artist YOON JI-SOOK (Shin Eun-kyung) presides over the opening of her exhibition. Ji-sook catches a glimpse of the young woman, but is prevented from approaching her when her smiling husband joins her. He informs her that she's caught the attention of big critics and heads off to welcome them.
As Ji-sook chats with attendees, that mysterious woman slips an envelope under her arm, walking out of sight before she can react. The instant Ji-sook looks inside, her eyes widen in alarm. They're photos of her husband in the arms of another woman—the same woman who just slipped her this envelope.
Ji-sook manages to compose herself, but her nerves are badly rattled and she stumbles to the ground. Off in the distance, the Other Woman watches intently.
Turns out that Other Woman is an art teacher, KIM HYE-JIN. She warmly praises her student's painting—just as her mother, Ji-sook, arrives. Hm, so this is quite the adultery tangle.
The daughter is excused, and Hye-jin keeps up a polite facade as she offers pleasantries, as though she doesn't notice Ji-sook glaring daggers through her. Hye-jin scarcely bats an eye as Ji-sook slams down the photos on the table, and doesn't even react when Ji-sook slaps her across the face. Hard. And again.
Hye-jin looks her in the eye and smiles, which unnerves Ji-sook. Then Hye-jin lunges and grabs Ji-sook by the hair, leading to a full-out brawl. Wow, those actresses are really going at it, I'm impressed. That's bound to leave some marks.
Back to So-yoon, who gets information about teaching English in Korea. Included in the pile of catalogs is one from Achiara, and she only now realizes it's the name of a place.
Now we're in the present day, as So-yoon returns to Korea for the first time in 23 years: "Where I was born, and where I died. Where some kind of secret lies."
So-yoon visits her family's ashes and pays her respects, telling them how she got a job teaching in Achiara. She wonders why Grandma hid the letter from her, and says, "In any case, I think someone has called me there."
It's a rainy night when So-yoon makes her way to Achiara on a bus, while the news reports the discovery of a twentysomething woman's body and the possible connection to a serial killing. The driver turns off the radio, sighing, "Another one has died."
When the driver hears So-yoon is headed for Achiara, he advises her not to go there on a night like this—a handful of women have been murdered in the region, all on rainy Wednesdays. So-yoon looks curiously at one of the other passengers, a man in all-black whose face is hidden by a cap, who idly handles walnuts in his palm that make a loud clacking noise.
So-yoon tries not to stare at the man, but when he gets off the bus after her and follows as she walks along, she gets increasingly nervous. She can hear him trailing behind her, and when she breaks into a run, he keeps following.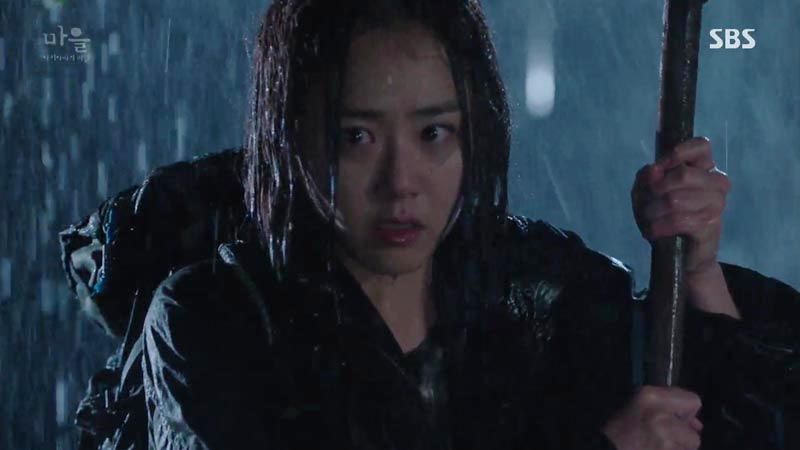 She stumbles over trash and picks up a discarded pipe (bicycle seat?) to wield, but when she whirls around, there's just a woman there taking out the trash.
She's the local pharmacist and invites So-yoon inside, where she gives her directions to her lodgings. So-yoon asks if she's afraid to be a woman on her own, and the pharmacist replies that rainy Wednesdays don't scare her. She already knows So-yoon is the new teacher, since the town is small and news travels fast.
The pharmacist assures So-yoon that Achiara is quite safe, however, and hasn't had a single crime in the last decade. Yes, but what about the murrrrrders. I suppose they weren't in Achiara proper, but still…
So-yoon is met by her landlord at the apartment building, where the hallway lights flicker ominously. The unit looks nice enough, and the landlord explains that the previous tenant had furnished the place nicely, so he left everything as is. He gives her permission to change everything, but So-yoon is pleased with the artistic touches.
He leaves her to settle in, but moments later her door cracks open and a shadow flits by. Nervous, she gets up to close the door, just as an ajumma steps through it. It's her neighbor, who tells So-yoon that this room always houses pretty women. Taking So-yoon's hands, she says, "Young lady, live much longer. Don't disappear without a trace." O…kay. That's not a weird thing to say to a new neighbor.
So-yoon starts her job at Haewon Middle-High School, then sets out to investigate her family connections. She reasons that in order to know she was in Canada and send her a letter there, the sender must be a relative. Since her maternal grandmother hid the letter, perhaps that relative is from her father's side.
However, she doesn't recall her Korean national ID number, nor does she know the numbers of her deceased family members, so she doesn't have much of a lead. She's told by an unsympathetic city clerk that there's no record of her birth or proof of her identity, so there's no way to help her.
As she's being turned away, a familiar clacking noise sounds, and So-yoon alerts to it. She doesn't see the source, but a walnut comes rolling across the lobby, landing right at her feet. Surely no mere coincidence?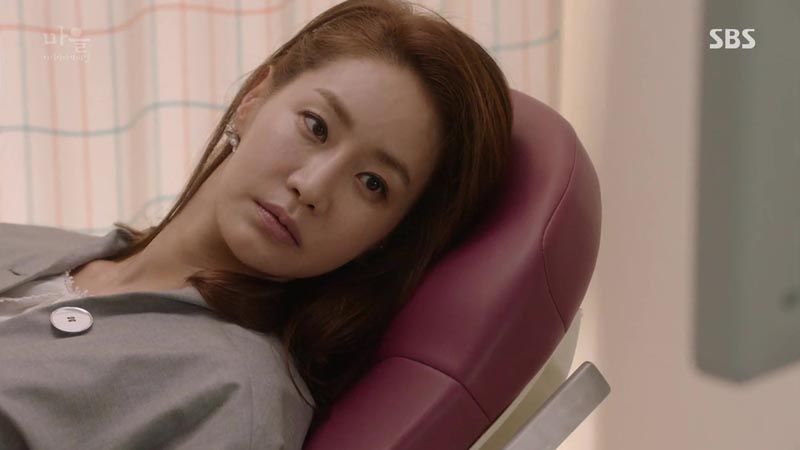 Meanwhile, Ji-sook visits a doctor and is disappointed that her efforts to get pregnant haven't been successful. She's taken fertility treatments, but the doctor advises her to talk to her husband instead of trying all on her own.
Her husband, SEO CHANG-KWON, is Achiara's most influential man. In addition to being a provincial assemblyman, he owns Haewon Steel, and judging from the prominence of the name Haewon in town, his reach extends far. He wears a lot of hats, but I'll call him Assemblyman Seo. Ji-sook finds her husband as he's preparing his hunting rifle, and he dismisses her suggestion to skip his hunt to greet his son at the airport.
When she brings up the topic of having a baby, he advises her to give up already, given their advanced ages and the fact that they already have children. She's hurt and disappointed, but doesn't argue.
The students at Haewon Middle-High School have an outdoor day at the lake from which Achiara gets its name (achi is small, ara means pond), and one of the teachers tells So-yoon that there's a monster in the lake. He's art teacher NAM GUN-WOO (Park Eun-seok), and is quite chatty today despite practically ignoring her the other day when they were first introduced.
So-yoon can't quite tell if Gun-woo is joking or serious as he tells her about the monster "grabbing the ankles" of everyone in Achiara, which is why nobody can leave. He says she'll be unable to leave too, because the lake monster has tremendous evil strength.
A teacher spots a trio of boys sneaking into the woods and trips trying to stop them, so So-yoon heads after them instead. She finds them smoking cigarettes and attempts to discipline them, but they pay her no heed, saying she's not their teacher. She goes after them anyway, jumping a small ravine to get to their side of the hill.
The loose dirt crumbles under her feet and she takes a short tumble, sliding down the hillside. She's not very hurt, but as she gains her bearings, she freezes in shock. The boys start to approach, but she yells at them to stand back—and stares in horror at the bony arm poking out of the ground.
Elsewhere in town, a young petty policeman helps an elderly man who has slipped while fixing roof tiles. He's PARK WOO-JAE (Yook Sung-jae), and just as he helps the man to safety, he missteps and goes tumbling off the roof. At least Woo-jae isn't badly hurt, though he grumbles at Grandpa to leave the roof work to a specialist.
Woo-jae's work is mostly minor errands like this, which is why he bolts up in alarm (and excitement?) when he gets the call that a corpse has been discovered.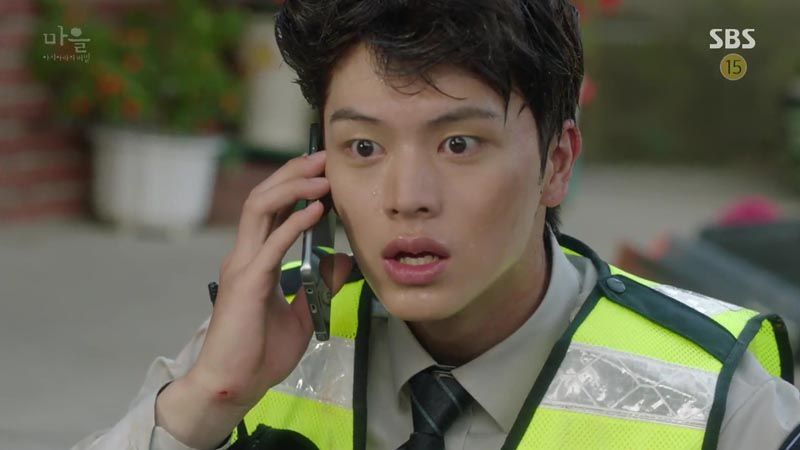 At the airport, SEO KI-HYUN (Ohn Joo-wan) makes his arrival and lights up to see Ji-sook waiting for him at the gate. She's just as happy to see him, and they share a jolly welcome hug.
As they drive home, Ki-hyun notes how the village is the same, and Ji-sook says it's always that way. When he asks about his father, she replies that he's been enjoying his hobbies, and hasn't even had women problems lately. Hm, so they're both open about Dad's infidelities, are they? Ki-hyun looks sympathetic and asks "Mother" (she's his stepmom) if she's okay. She assures him that she's good.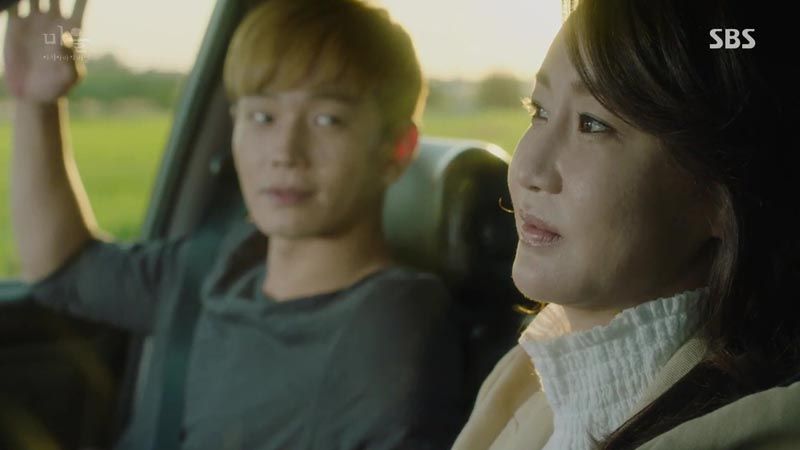 Their car is overtaken by a parade of police cars blaring their sirens, and Ji-sook and Ki-hyun wonder what the fuss is all about. It's certainly out of the ordinary for their sleepy town.
A whole squad of officers and forensic specialists set up to excavate the corpse, which is nothing more than a skeleton at this point, and firmly buried in the earth. Officer Woo-jae is on the scene, doing his best to hold back the curious residents and looky-loos who are abuzz with speculation.
So-yoon gives her statement to a detective, explaining how the remains looked like tree branches at first, "But then it felt like something was calling to me." That sounds weirdly cryptic, but when we see the scene from her perspective, it does in fact look like the skeletal hand is reaching out to her, trying to climb out of the dirt.
Mysterious art teacher Gun-woo heads to the pharmacy to tell the pharmacist, JOO-HEE, about the dead body. When he gets cozy with her, she jumps nervously and warns that someone might see. So they relocate to the back room to make out, interrupted by Gun-woo's recounting of the corpse's discovery by the new English teacher. Why do you seem aroused by this macabre discovery?
Joo-hee draws back, now realizing that he was serious. That kills her mood, and when she goes out to attend to a customer, he swipes cash from her purse. What a prince.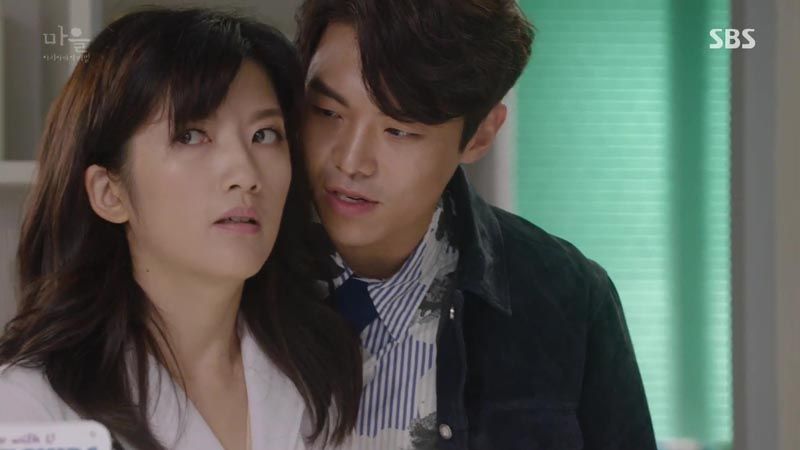 Officer Woo-jae struggles to hold the curious townspeople back from the police line, who pelt him with questions about the body and the possibility of a serial killer. He entreats them to let the police do their job, but as soon as it's just him and a fellow officer, he asks the same questions and even sighs that he wishes it were a serial killer. That bored at your job, are you?
Prodigal son Ki-hyun also gets a warm welcome from his grandmother, who's glad to hear that he's back for good. But the second Ji-sook enters the room, Grandma hardens and dismisses Ji-sook icily. Ji-sook, used to her mother-in-law's animosity, meekly excuses herself. But she can clearly hear Grandma calling her names behind the closed door, as she urges Ki-hyun to make sure the gold-digging hussy doesn't walk away with his father's money.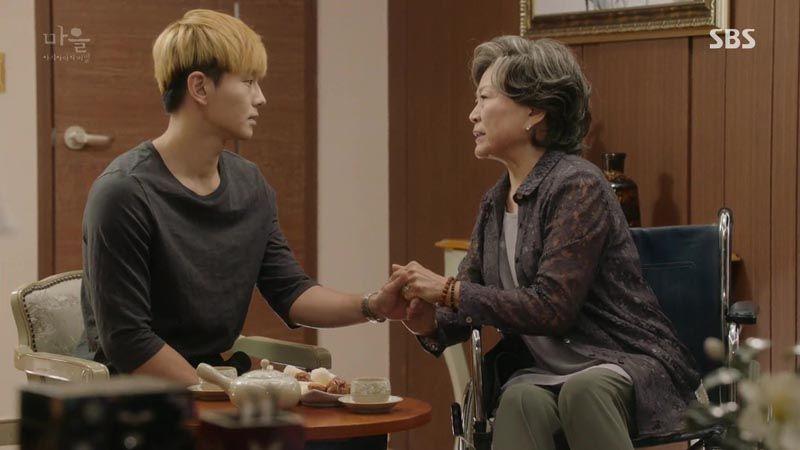 His father, Assemblyman Seo, intends to put Ki-hyun to work learning the business, but Grandma has other ideas. She's Haewon School's board director, and plans to step down to give the position to Ki-hyun. Assemblyman Seo is all ready to protest his mother's decision, but Ji-sook steps in and makes a conciliatory speech supporting the move, saying it will benefit everyone.
Into the tense atmosphere walks daughter YOO-NA, dressed in a shockingly skimpy outfit that Grandma harrumphs… until it's explained that her beloved Ki-hyun bought the outfit for his little sister. Heh. Grandma clearly dislikes Yoo-na (she must be too much like Ji-sook), but Yoo-na actually sasses Grandma readily, which makes me happy.
Yoo-na tells everyone about the shocking body discovery, but what's more suspicious is everyone's reactions. Rather than being alarmed, they all get quiet, and Ji-sook orders Yoo-na to her room. Grandma calls Yoo-na ghost-possessed, shuddering, "She's odd, that girl. Disgustingly odd."
When So-yoon arrives home that night, her nosy neighbor is there to ask questions, having heard that she was the one to find the body. She asks if they identified the corpse as that missing woman, and when So-yoon asks who that is, the neighbor points at her apartment—that missing woman lived in So-yoon's place. She marvels at the coincidence of the new tenant discovering the old one.
Now everything inside her apartment takes on a spooky tinge, and So-yoon looks around warily.
Officer Woo-jae takes it upon himself to examine the Rainy Wednesday Killer's tracks, getting all excited about finding a pattern in the victims' locations. He concocts a theory where the killer is traveling through the region in a pattern and the Achiara corpse is really his first victim, only to have his colleague scoff at his outlandish leaps.
They receive the results of the initial examination, confirming that the corpse is female and the death dating between a year and a half to two years ago. Woo-jae is way too excited to have his hunches line up with the facts, and his officer sunbae reminds him that there's no use getting fired up, because the investigation is for the higher-ups. That doesn't stop Woo-jae from his determination to keep working at it, though.
So-yoon is unexpectedly saddled with extra duties at school when a teacher goes into labor early, and she has to take over as homeroom teacher. It's unsettling to realize the kids are already calling her Corpse Teacher, and when Yoo-na strolls into class late, she doesn't even look up or address her as teacher.
At lunchtime, So-yoon happens across art teacher Gun-woo, who laughs when he hears of her new nickname. As she's asking if he finds it funny, a loud crash sounds as a stool is thrown through a window and slams to the ground. A girl screams.
It's from So-yoon's class, where a crowd gathers to watch a distraught Yoo-na standing by the shattered window, crying and insisting to the class that Teacher Hye-jin isn't dead. So-yoon steps in and tries to calm Yoo-na down gently, while Gun-woo takes a different approach, reasoning that "these famous liars" (pointing to her classmates) can't know more than the police. Their lies are so worthless they don't deserve to be treated seriously, or cause broken windows. "Because that body is absolutely not Teacher Hye-jin," he says firmly.
Gun-woo helps Yoo-na down and leads her away. Okay, so the unsettling creep has a thoughtful, competent side.
Assemblyman Seo fields a call from the police chief, who's sweating as it becomes increasingly difficult to keep news of the corpse out of the media. Assemblyman Seo barks that one measly body found in one measly forest is no big deal, and that a media firestorm could ruin his plans for development. So… it's all about your bottom line, is what you're saying?
Ji-sook picks up her daughter from school, and Yoo-na asks why her mother isn't asking about her outburst at school. Yoo-na explains that the kids are saying the body is Hye-jin's, and asks what Mom thinks. Ji-sook replies that she has no opinion or interest in the matter, and Yoo-na accuses her of being secretly thrilled that Hye-jin is gone.
Ji-sook brings the car to a screeching halt, then turns to her daughter and calmly says they'll keep today's events from Dad's ears, and that Yoo-na is to never mention Hye-jin again.
Officer Woo-jae sets out to investigate the case with an endearingly puppydoggish earnestness, even if it isn't quite smooth sailing. He decides he'll track down the relatives of missing young women to get DNA samples to compare against the dead body, and gets beaten with a broom by one angry father when he blunders his way in tactlessly. But does manage to get a swab sample.
On his way back, Woo-jae spots So-yoon walking by and recognizes her as the body-discoverer. He explains that he's working to identify the corpse, but notices her discomfort and adds sympathetically, "You're going through a rough time, aren't you?" He offers up his help whenever she needs it, promising to do anything she needs.
She asks, "Why?" He's momentarily thrown, then replies that it's his job to look after the residents. She starts to head off… then has a thought and turns back to face Woo-jae. She says the first thing anybody ever talks to her about is about the body, and asks if there's anything to be done about it. Guessing not, she bids him goodbye and resumes her way.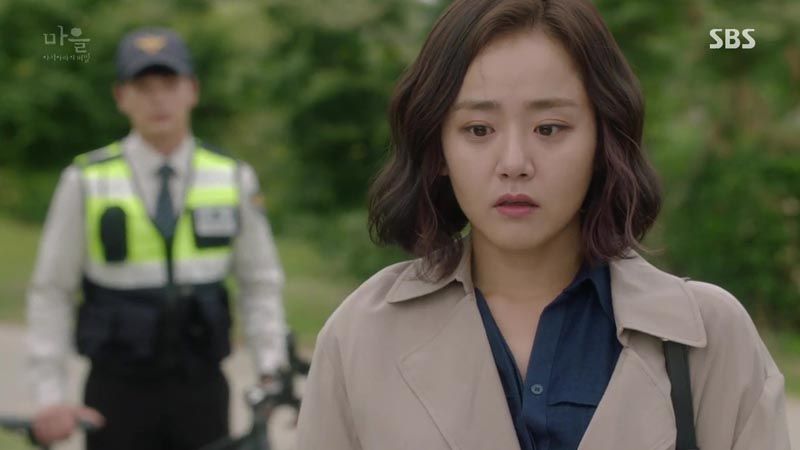 Assemblyman Seo gives son Ki-hyun a tour of their steel factory, which practically built and supported the town and its residents over the years, and Assemblyman Seo calls it their family history. Assemblyman Seo wants Ki-hyun to take over running the business, since he's got his eyes on a higher prize: He plans to run for governor at the end of his assemblyman term.
The company has been in the hands of Ki-hyun's uncle, Ji-sook's brother, and the assemblyman figures it's time they took it back: "If you lend a person a spot for a long time, they start thinking it's really theirs." He doesn't want Uncle swooping in to steal the company from Ki-hyun, which is why he summoned his son here.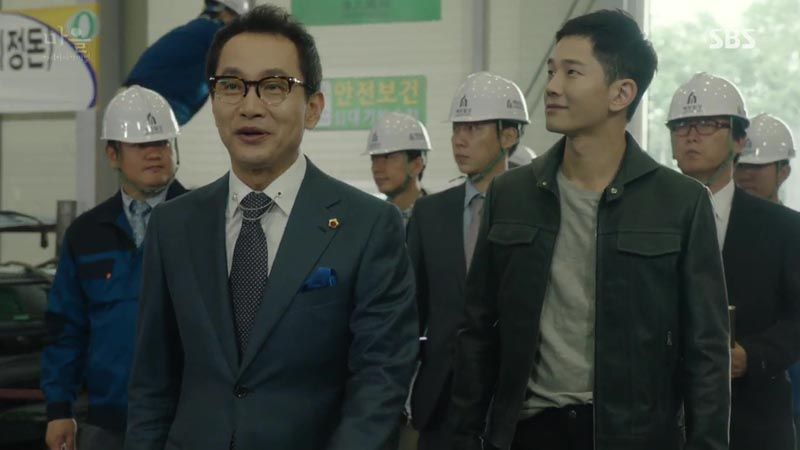 So-yoon's anxiousness grows that night as she reads more news about the serial killings and thinks of her home once being lived in by a victim. All around her are Hye-jin's belongings, and she keeps hearing her nosy neighbor's voice asking, "That corpse is that women, isn't it?"
She starts ripping the sheets from the bed and pulling down the wall art, dropping them in a heap on the floor. And then, a bony hand emerges from the bedding, reaching out to her like it did on that mountain. Eek!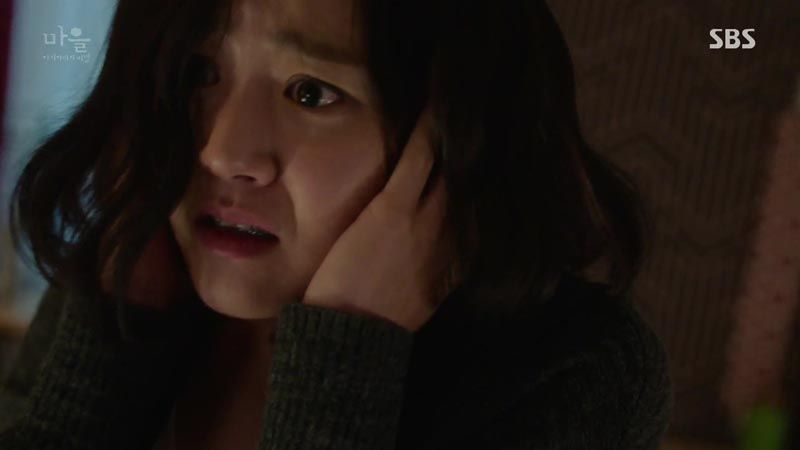 Someone bangs on her door, and she flinches and shrinks back, trembling and overwhelmed by all the stimuli. The pounding continues, so So-yoon makes her way to the door, mustering the nerve to open it.
So-yoon inches open the door, peering into the empty hallway with its flickering light… and then her student Yoo-na steps toward her, scratched up and disheveled. "Hye-jin… Teacher…" she says.

COMMENTS
I'll admit I wanted Village: Secret of Achiara to be much darker, much spookier stuff. Maybe not OCN levels of grisliness (my stomach can't take gruesome), but something edgy and macabre. The show definitely aims for suspense and I'll concede that it pulls it off reasonably well—in keeping the direction with Moon Geun-young's perspective as the freaked-out newcomer, the drama keeps us guessing, in a good way. The direction makes use of sounds and limited perspective to create a jumpy atmosphere, which I appreciate; I just wish it were a little sharper, tighter.
There are things the show does very well, like making everyone seem like a potential culprit. One concern I had going into the show was that it seemed so obvious who the dead person must be that I wasn't sure how we'd be kept guessing. The show at least takes care of that issue by placing it front and center, and highlighting how everybody and their (literal) mother seems guilty.
And I do like the cast for the most part, if not as people, then at least as characters. Shin Eun-kyung plays fantastically complex with aplomb, and I love seen all the layers to her portrayal of Ji-sook; there's the elegant, strong facade, and then there's her insecure, brittle underside. Is she just a wronged woman, or is she capable of crossing lines and doing some evil? Why is that Gun-woo teacher so infuriating and smug one minute, and confusingly helpful the next? Is the pharmacist as shifty as she seems, and is Ki-hyun a good-hearted son or does he have a dark side too?
Most of all, is it even Hye-jin who's dead? That's clearly the obvious answer, and I suppose it would make sense if she's the body and the show is more about exposing why she was murdered. But I can't help wanting more of a twist, and my excitement level would certainly bump up a few levels if we got one.
Yook Sung-jae, meanwhile, feels like the one bright spot in the show, and I mean in terms of tone, not quality. Everyone else is secretive or moody or shrouded in mystery, but he's an engagingly chipper presence and I find him super endearing, both for his upbeat personality and the heo-dang clumsiness with which he approaches his job. I expect his officer Woo-jae will be a strong source of support for So-yoon, and I hope it brings her out of her shell, because I'm actually not quite sold on her yet. I can see why we need her jumpy and scared right now, but I'm eager to see her taking charge and being proactive about both mysteries, the dead woman and her own spotty backstory. If the show can get me there with her character, I'd be right there with her. I want to be right there with her.
RELATED POSTS
Tags: featured, first episodes, Jang Hee-jin, Moon Geun-young, Ohn Joo-wan, Shin Eun-kyung, Village: Secret of Achiara, Yook Sung-jae