52nd Daejong Film Awards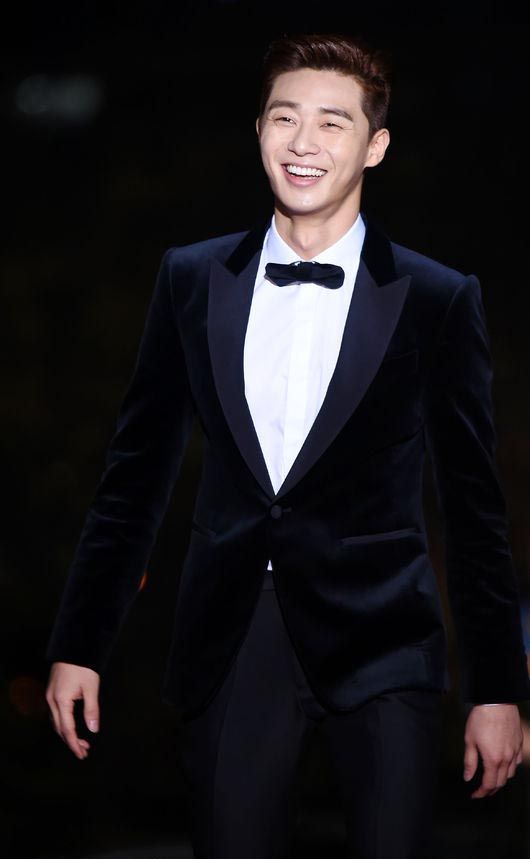 Oh man, you guuuuuuys, grab your popcorn and settle in, because this year's 52nd Daejong (Grand Bell) Film Awards were an unmitigated hot mess, and it is so entertaining.
The ceremony for Korea's longest-running film awards was held on Friday, November 20, but to get the full context for the unprecedented disaster that was the event, we have to back up a bit to last month, when the awards organizers announced that they would implement a rule whereby only attendees of the ceremony would be given their awards. If a winner did not show up to accept the award, it would be given to another nominee. We may note that this unofficial winners-should-attend rule has been tacitly understood for years, which is why we have historically seen lots of ceremonies where the stars who didn't win were often absent altogether.
That said, that's just how everyone understood things, and no awards ceremony had ever been so brazen as to state it explicitly like the Daejongs did last month—because when you put it in black and white terms like that, it makes it feel much more like a threat than an award.
So, there was no surprise when the backlash was swift and pretty much universal, and the Daejongs went from prestigious institution to laughingstock of the industry overnight. (That's not an overstatement; news was flooded with headlines blaring the downfall of the Daejongs and its now-tarnished history.) If the organizers had retracted their rule immediately, I suspect the situation would have calmed down, but instead they took way too long to address the criticism.
More than a week after the initial announcement blew up in their faces, amidst rumors that they might retract the rule, organizers announced that there were no plans to change their minds (which seemed, frankly, stubborn and tone-deaf). Criticism continued. Finally, the organizers did rescind the no-attendance-no-award rule, but that was nearly a full month after the first announcement.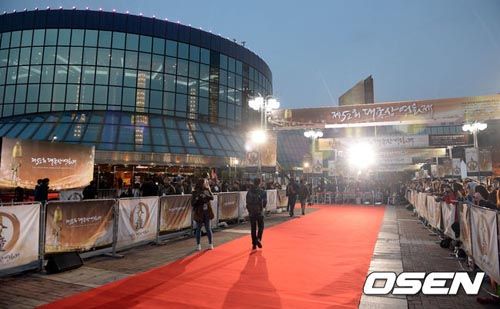 But it was too little too late, apparently. In the days leading up to the ceremony, it was announced that ALL of the Best Actor and Best Actress nominees would be skipping the awards, as well as some directors and other nominees. They all provided reasons for their planned absences, but you can't ignore that it was, in effect, a boycott.
(The long litany of excuses was hilarious to read, as each star offered up their politely professional reasons for not attending. Ha Jung-woo is out of the country, Hwang Jung-min is filming a movie, Yoo Ah-in is shooting his drama Six Flying Dragons, Jeon Ji-hyun is in her third trimester of pregnancy, Oh Dal-soo is shooting a movie, Kim Yun-jin is filming in the States, and so on and so forth. They all sound so reasonable on the surface, but put together, it takes on a farcical quality. In what has to be a sheer coincidence of bad timing, Choi Min-shik, the event's own promotional ambassador, missed the awards citing an injured back, though it was revealed afterward that his mother had passed away the day before.)
In the days heading into the ceremony, the media had a field day with headlines like "Now Even Actors Reject Their Awards" and "Daejong Awards: Like Steamed Buns Without a Filling?" and "More Than Half of Nominees Skipping Awards… Who in the World Will Show Up?" and "Reputation, Prestige Have All Vanished."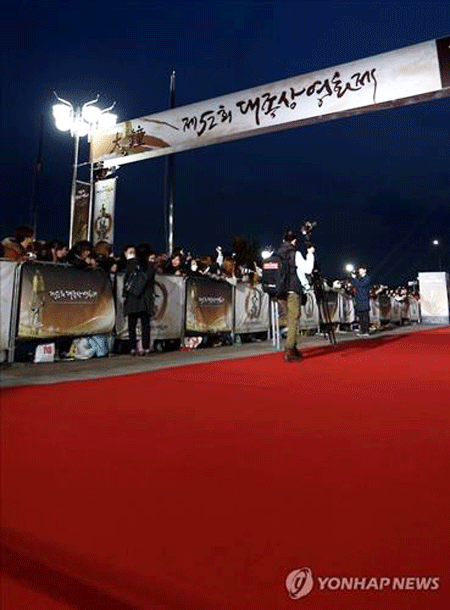 But that's not all!
There were other offenses, such as the implementation of a pay-to-vote feature for the popularity award. Literally, they were selling the votes online, and that spurred an outcry.
Other actors complained that they were not given adequate notice to attend; typically a month or more of lead time is given, but the Daejongs contacted invitees a week to two weeks out… that is, if they contacted them at all. Yeo Jin-gu, who was nominated for a New Actor Award for his film Shoot My Heart, said the day before the ceremony that he would not be attending because he hadn't received an invitation at all.
Then, there's the Kim Hye-ja debacle. A new prize was created this year, the ambiguously named Sharing Harmony Award, to be presented to veteran actress Kim Hye-ja (Mother, Unkind Women). She told them she could not make it due to planned theater performances, and they warned that she had to be present to receive it. Her representatives replied that it was fine (and declined the award), but the organizers reportedly continued to pester her saying they wanted to give her the award, until they came to a compromise that she would pre-record a speech on video to play during the ceremony.
But when the day came for the scheduled shoot, the organizers abruptly canceled the shoot, and Kim Hye-ja said she was hurt and confused because there was no explanation and no apology. The organizers then said they would present the award as planned… but at the ceremony, there was no mention of it. Apparently they canceled the category and retracted the award without notice.

WINNERS LIST
Best Picture: Ode to My Father
Director Award: Yoon Je-kyun (Ode to My Father)
Screenplay: Ode to My Father (Park Su-jin)
Actor Award: Hwang Jung-min (Ode to My Father)
Actress Award: Jeon Ji-hyun (Assassination)
Supporting Actor: Oh Dal-soo (Ode to My Father)
Supporting Actress: Kim Hae-sook (Sado)
New Actor: Lee Min-ho (Gangnam 1970)
New Actress: Lee Yoo-young (Spring)
New Director: Baek Jong-yeol (Beauty Inside)
Cinematography: Ode to My Father (Choi Young-hwan)
Lighting: The Silenced (Kim Min-jae)
Editing: Ode to My Father (Lee Jin)
Music: The Tenor Lirico Spinto (Kim Joon-sung)
Costuming: The Royal Tailor (Jo Sang-kyung)
Art Direction: The Royal Tailor (Chae Kyung-sun)
High Technology Special Award: Ode to My Father
Sound Recording Award: Ode to My Father (Lee Seung-chul, Han Myung-hwan)
Foreign Category Award: Sun Honglei, Gao Yuanyuan
Popularity Award: Kim Soo-hyun, Gong Hyo-jin
Korean Film Lifetime Achievement Award: Dir. Jung Chang-hwa,
actor Yoon Il-bong
Planning: Ode to My Father
What this also means is that the red carpet was full of faces and names we may not recognize, with most of the big stars sitting out the event. There were still some recognizable stars in attendance, mostly the younger actors up for popularity and new actor/actress categories. So there was some eye candy, but not nearly the amount we're used to seeing.

Lee Min-ho showed up to pick up his New Actor award (Gangnam 1970), and looks kind of like he always does, but as that mostly means he's looking mighty fine, I can't complain. I do wonder how public sentiment will land on the issue of the attendees versus the non-attendees. On one hand, public and media sentiment is skewing heavily on the "Daejongs messed up" side of the argument, but I've also read a few (minority) arguments accusing boycotters of arrogance and calling attendees responsible for seeing through their commitments. We'll have to see how things shake out.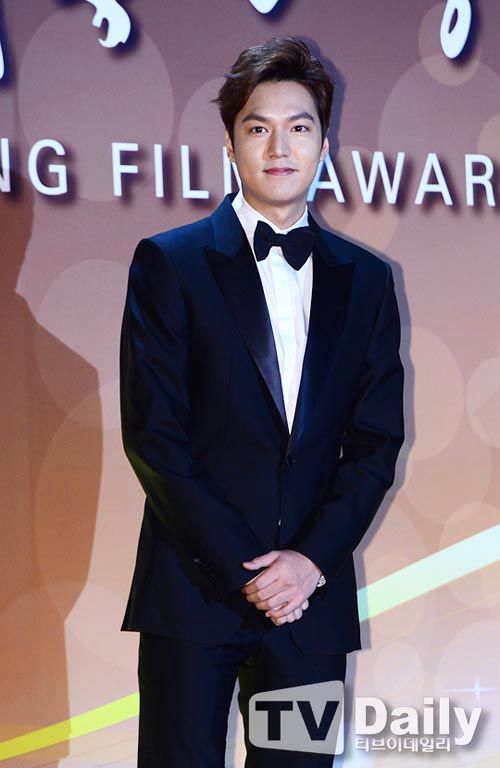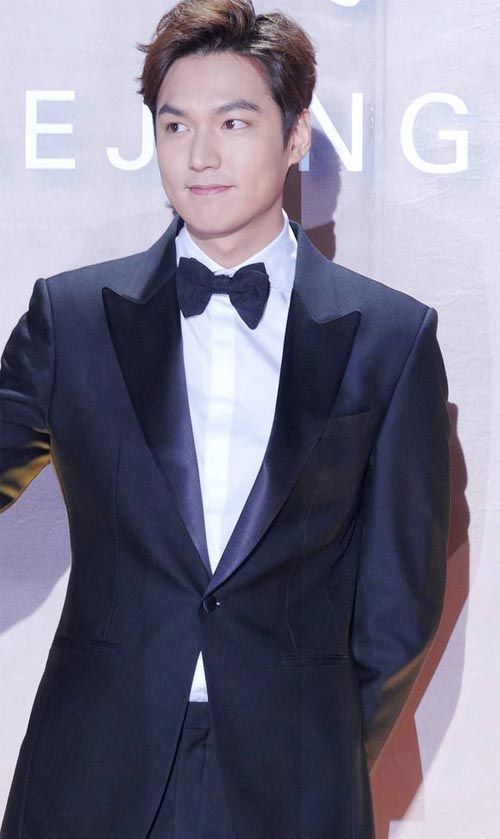 Park Seo-joon (Beauty Inside, She Was Pretty) has the best crinkly smile. How does he pull off adorable and manly at the same time?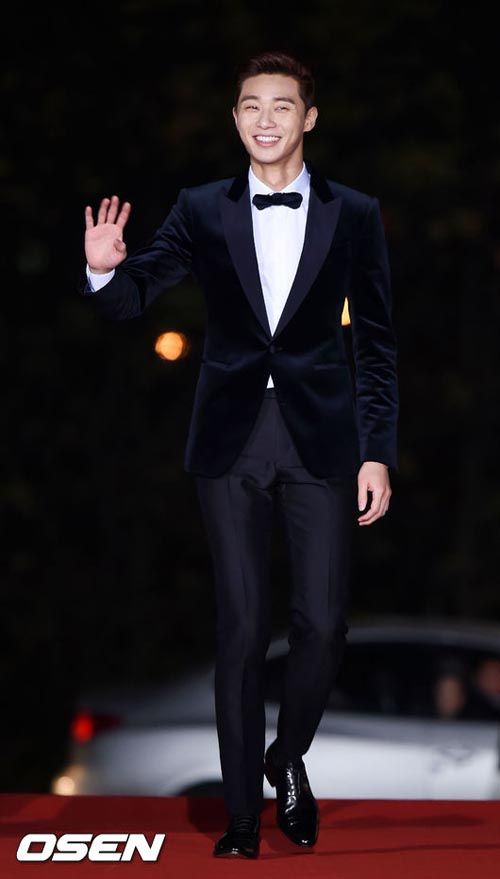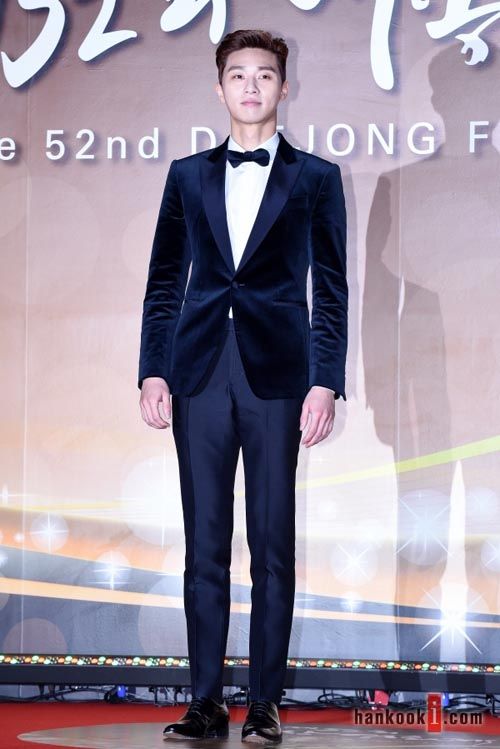 Lee Hyun-woo (Beauty Inside), what did you do to your hair, and why does gray hair look so awesome on you? Enjoy it while you're young and beautiful! (Though something tells me he'll always be beautiful.)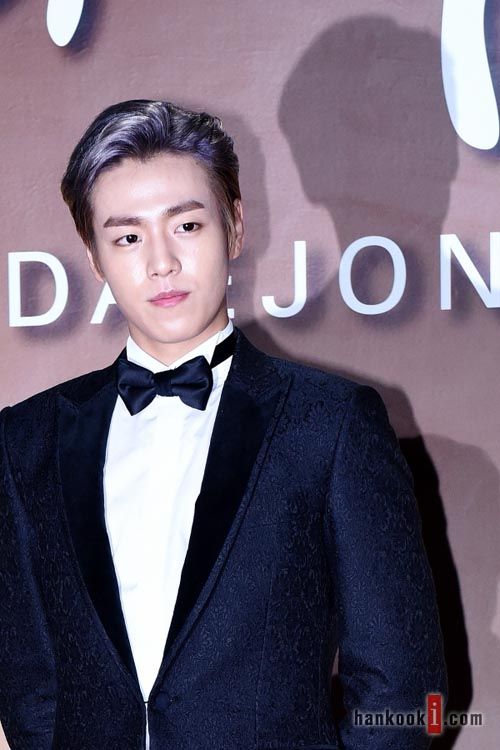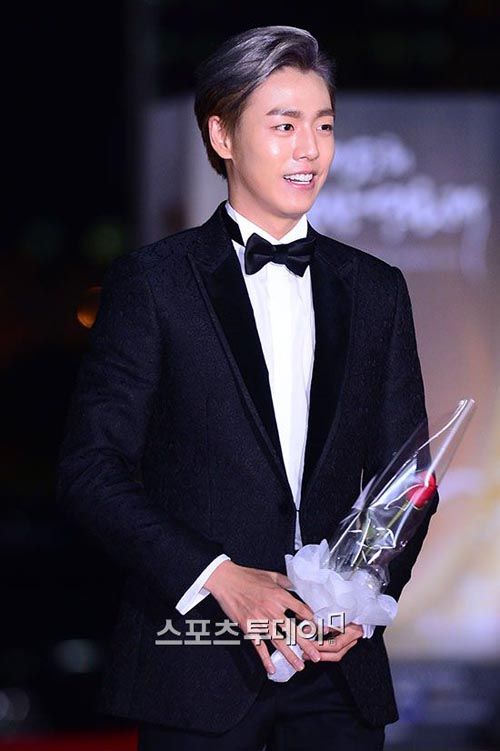 Han Go-eun (Black Hands, Would You Give Love Away) and Shin Hyun-joon (Oohlala Spouses, currently on the variety show Heard It Through the Grapevine) emceed the ceremony, which reportedly had some awkward moments when an award was announced for an absent star. I don't envy that job, though on the fashion front, they do both nail it.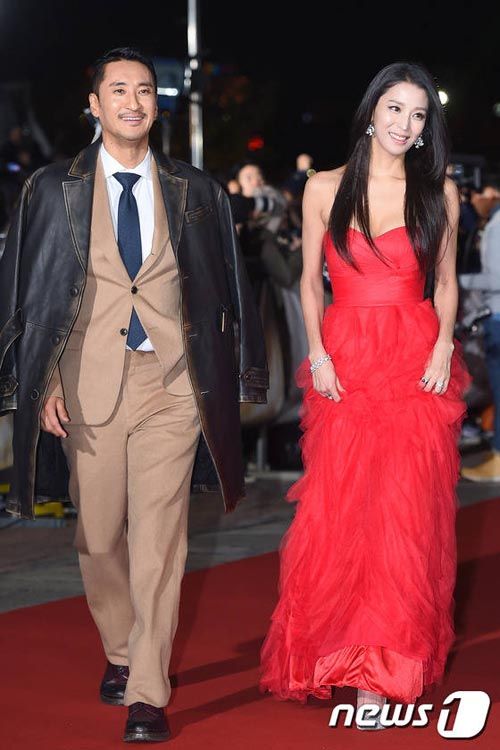 Yoo Yeon-seok was nominated for a Supporting Actor award (The Royal Tailor), which he lost to Oh Dal-soo, who was not in attendance. For the sake of what remaining pride/face the Daejongs still have, I suppose I'm glad they didn't then just hand Yoo Yeon-seok the award instead just for showing up, as their initial rule warned they would. I'm sure Yoo Yeon-seok will have plenty of opportunity to pick up more awards in the future, though.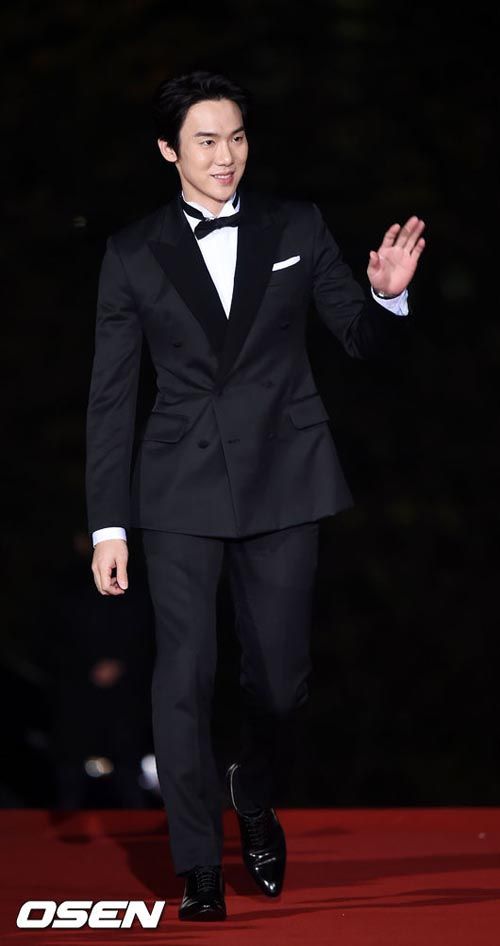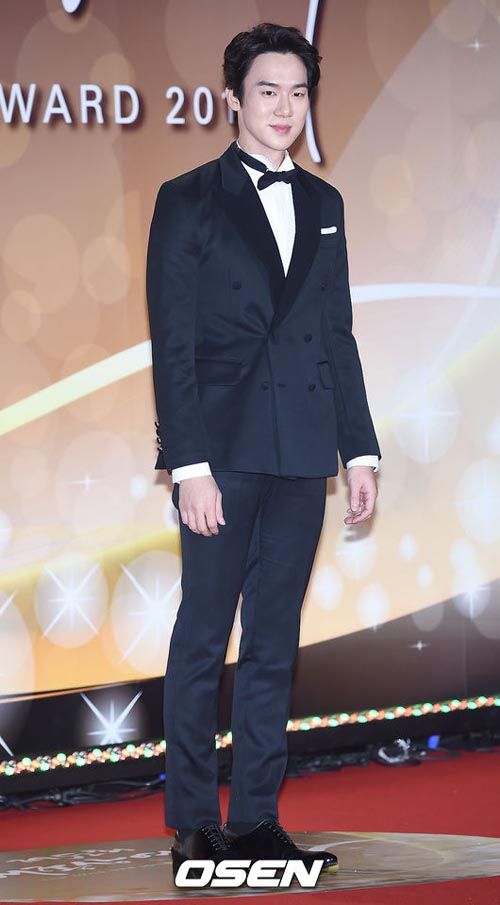 Kang Haneul lost out on the New Actor award (Twenty), but he doesn't look too torn up about it. His characters are often so stone-faced or reserved that it's great to see him beaming.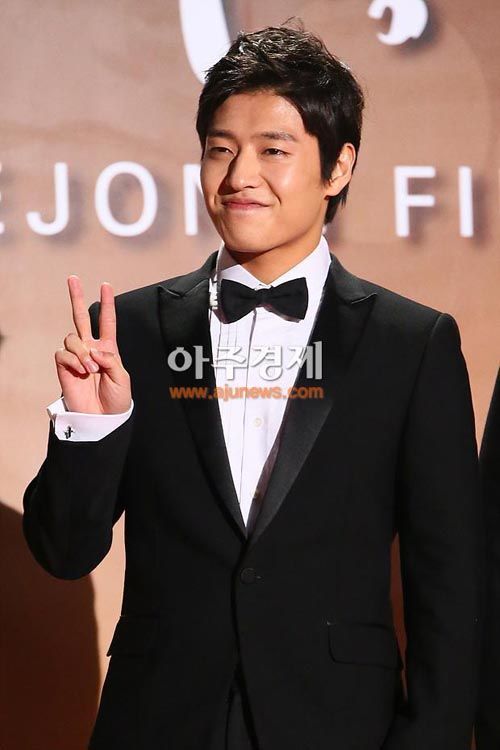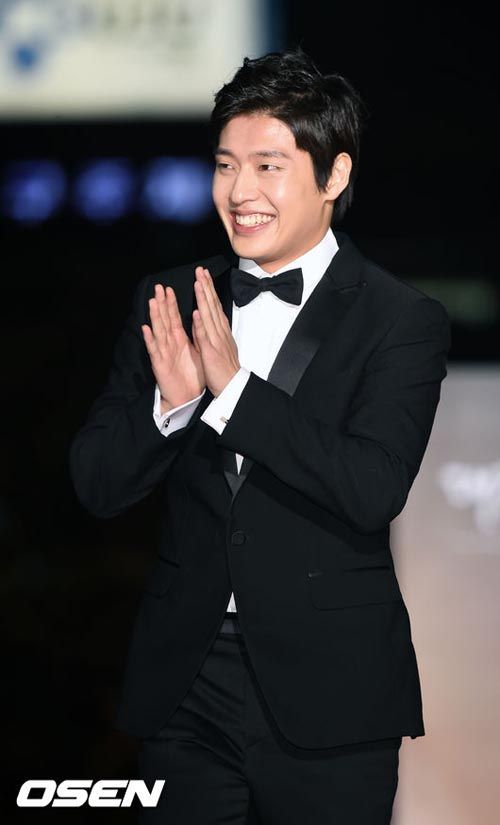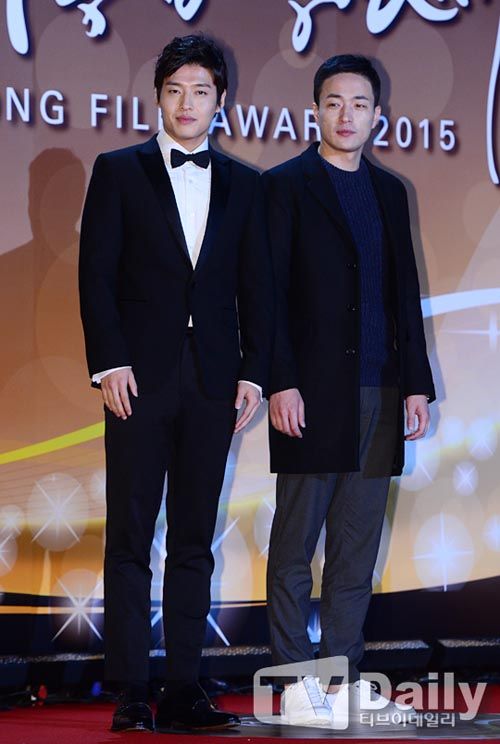 Park So-dam is the newest It Girl on the rise, and as far as I've seen, she totally deserves the attention. She was nominated here for The Silenced, and is by all accounts very good in the new Kang Dong-won film The Priests, although I will just have to take the critics at their word about that because I will never see the movie that's "scarier than The Exorcist." She is very winning in the cable drama Because It's the First Time, though.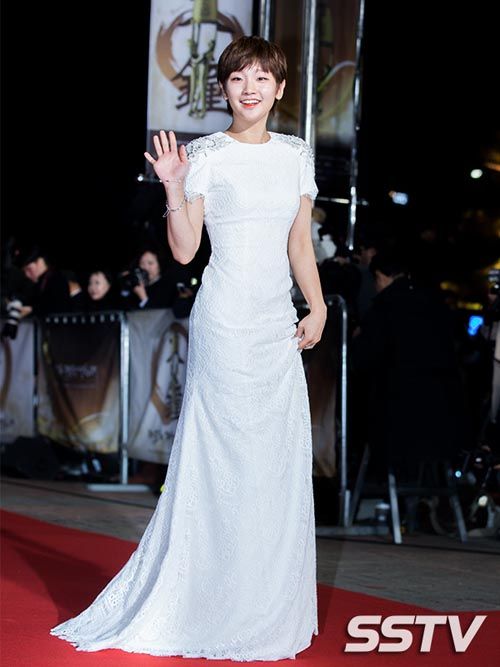 Park So-dam missed out on the New Actress prize, which went to her BFF Lee Yoo-young (Late Spring).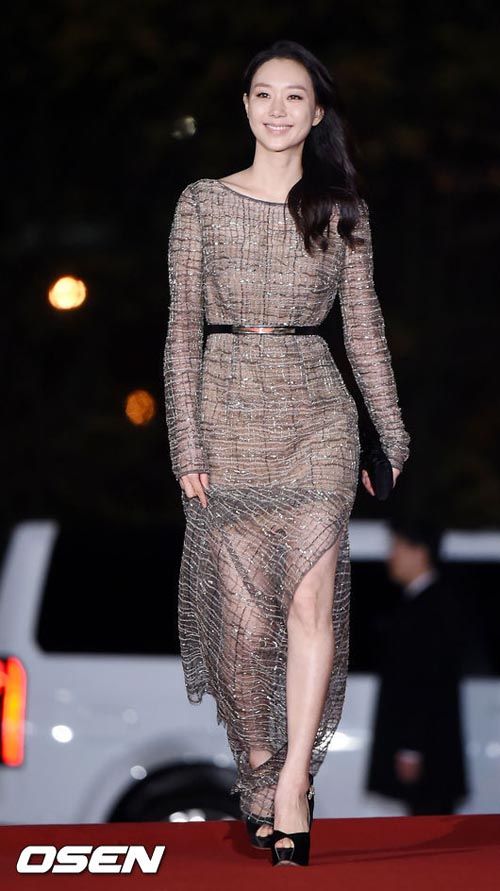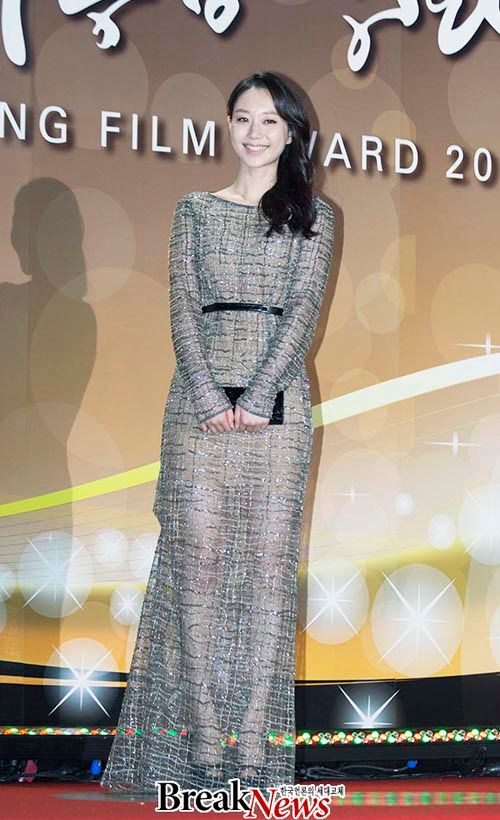 Perfection. Kim Seo-hyung (Late Spring) could cut you with that stare.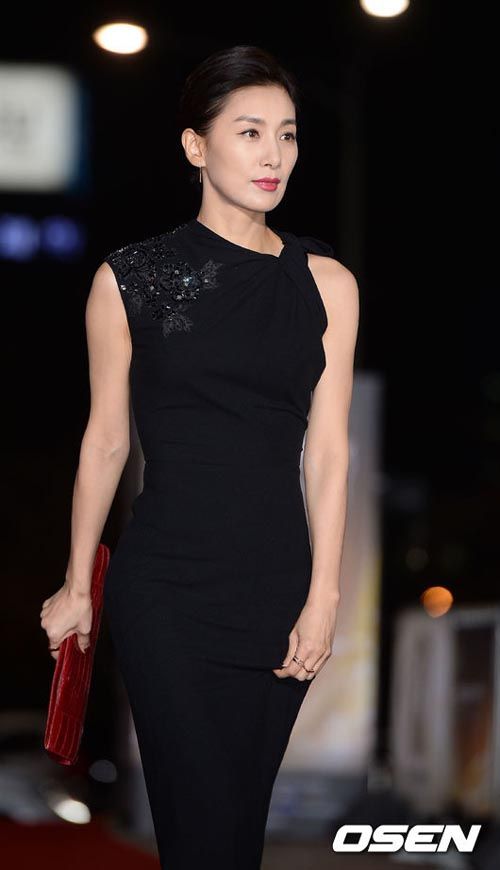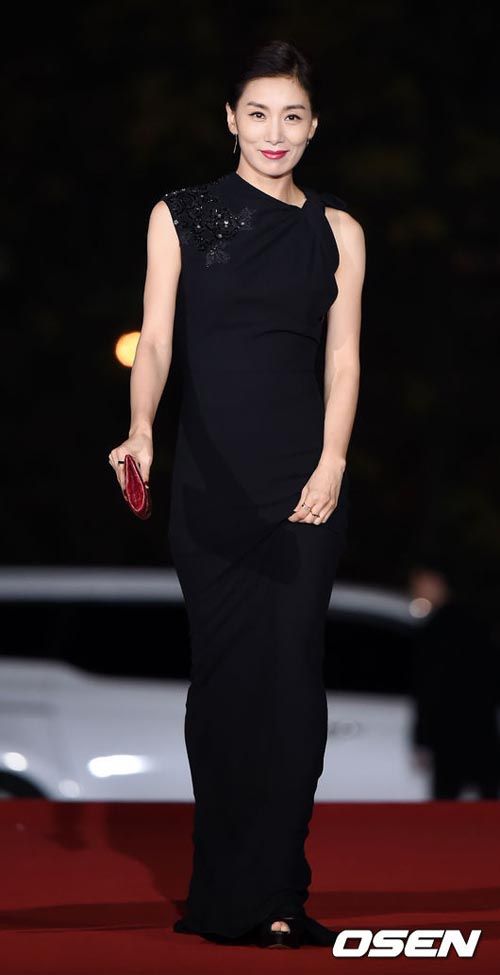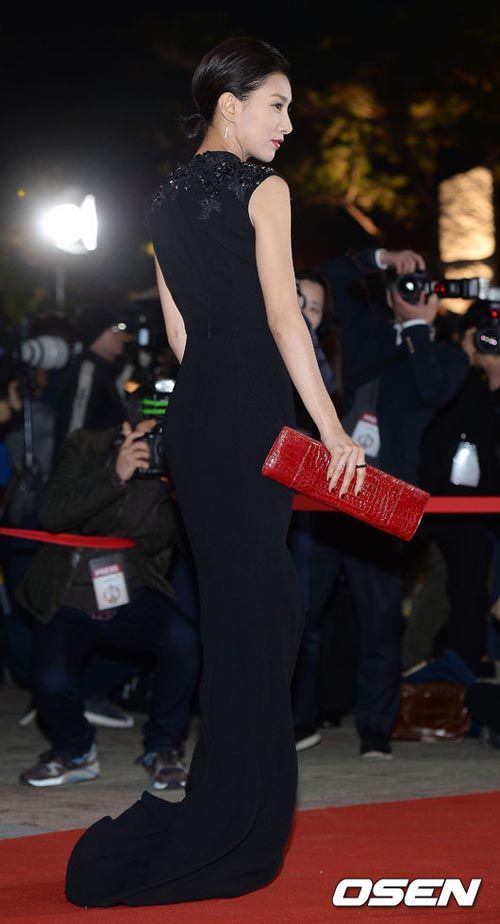 Im Ji-yeon (The Treacherous, High Society) was a winner in last year's awards for the New Actress category (Obsessed). I find her pale pink dress pretty in a forgettable way—she was way edgier last year in leather and lace, and could pull off bolder styles.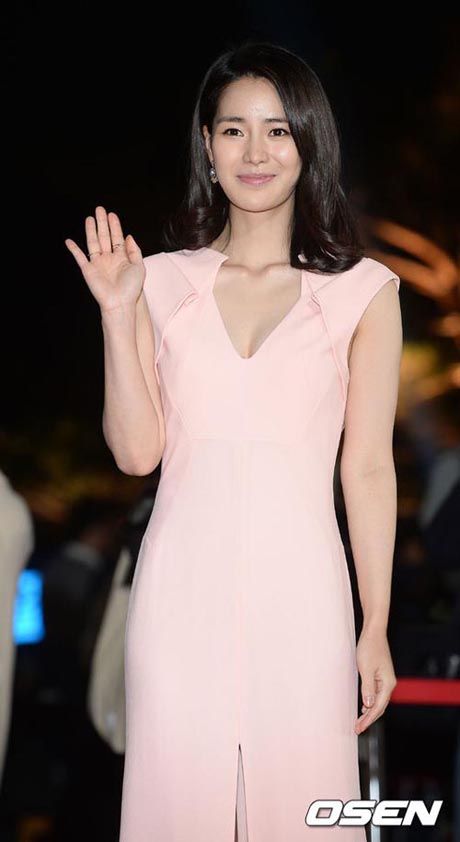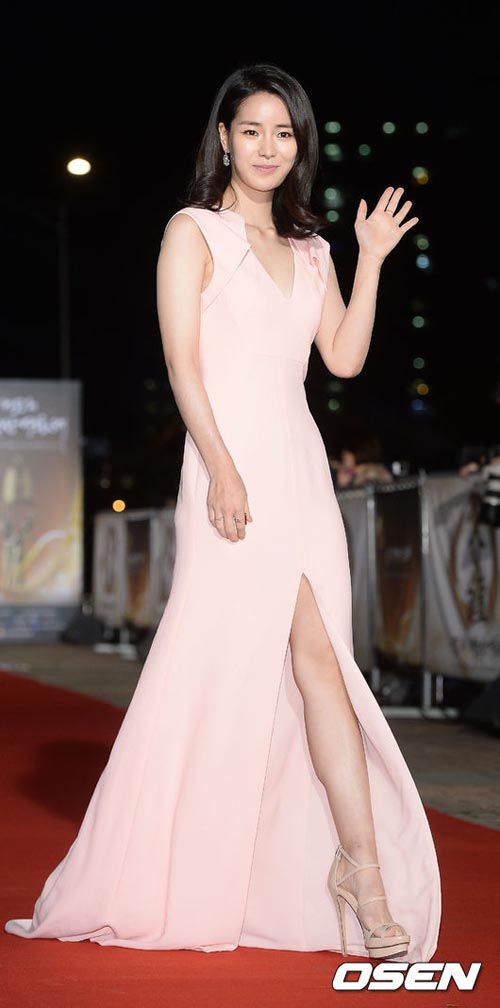 Im Eun-kyung (Untouchable Lawmen) goes sparkly with her black-and-white dress. I find myself unable to form an opinion on it, which means it looks good but I don't care.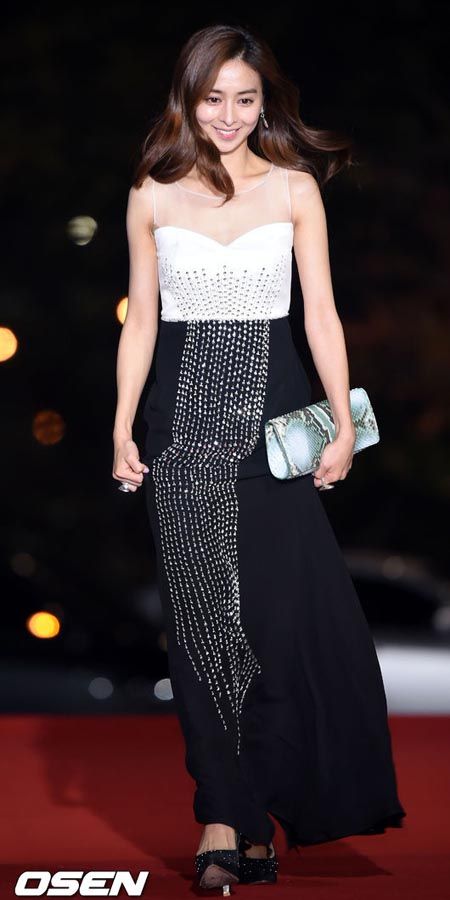 This is an interesting cut on Hong Ah-reum (Legendary Witches, Makgeolli Girls); when she's standing still it looks like a long gown, but in motion it becomes something else altogether.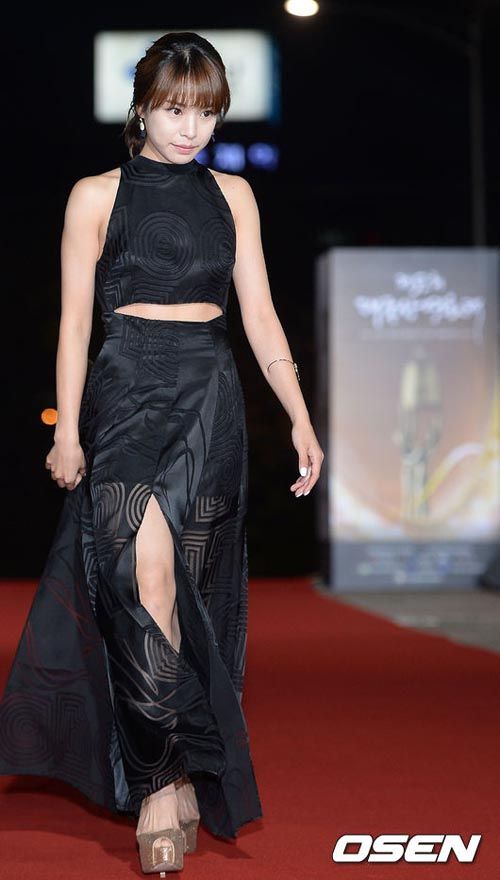 Rock the Bono shades, Park Sang-min (Scandal). Pretty sharp.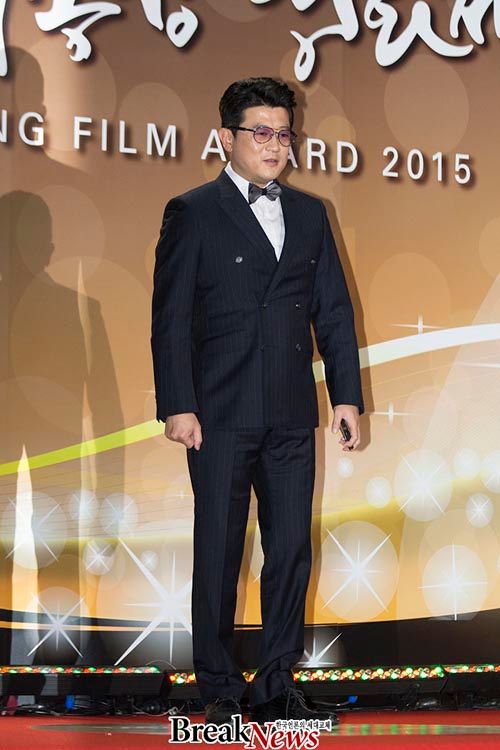 Poor Won Ki-joon (Gu-am), who got mislabeled Eom Ki-joon in half the headlines. But he looks pretty happy to be here in all his photos.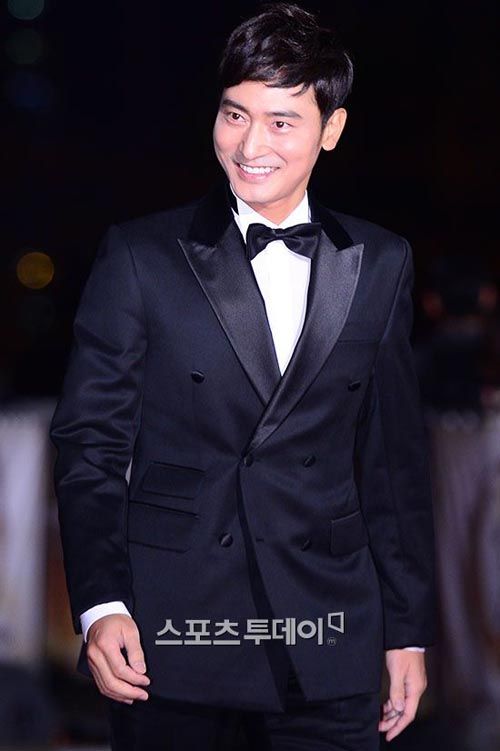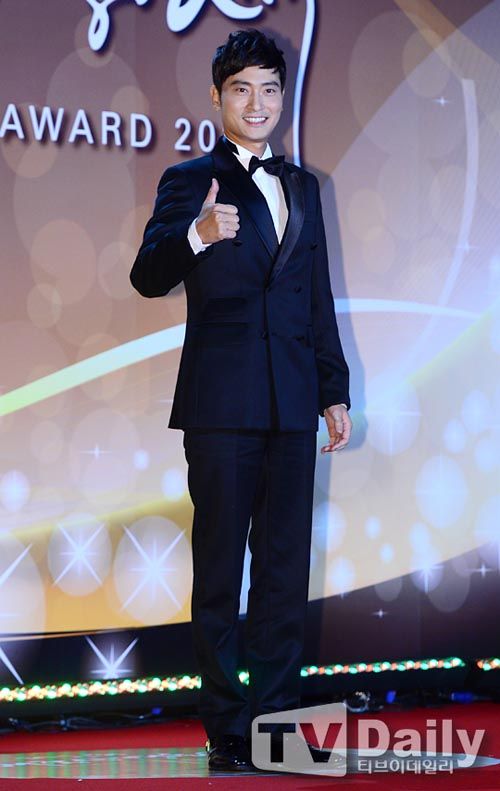 Chinese actress Gao Yuanyuan (Let's Get Married) looks awesome in this fiery orange gown. I honestly don't know what this Foreign Category Award is for, or why she received one, but I am learning that when you question the Daejongs, sometimes there are no answers.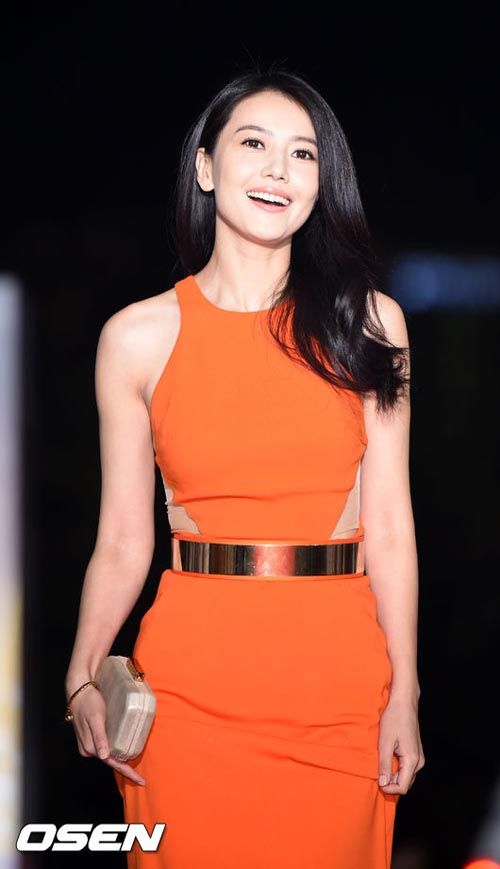 Chinese actor Sun Honglei (One Step Aawy) was the other recipient of the Foreign Category Award. Those are really dark shades.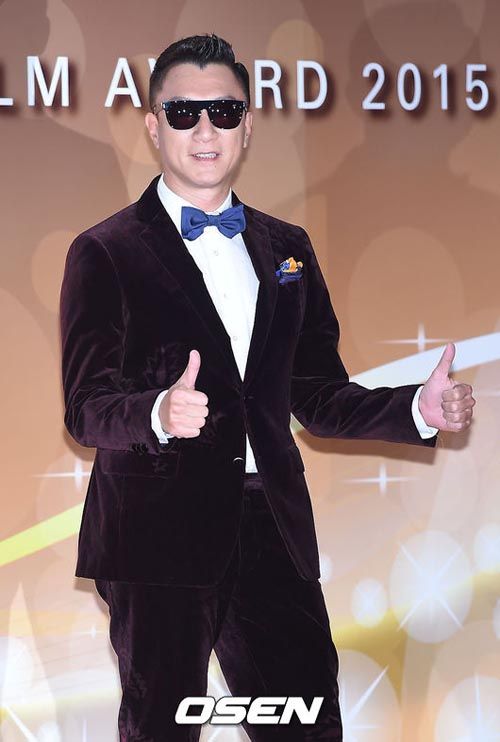 Y'know, not a lot of actors can pull off the mustache, but Jung Eui-gab (Chronicle of a Blood Merchant) is making it work for him.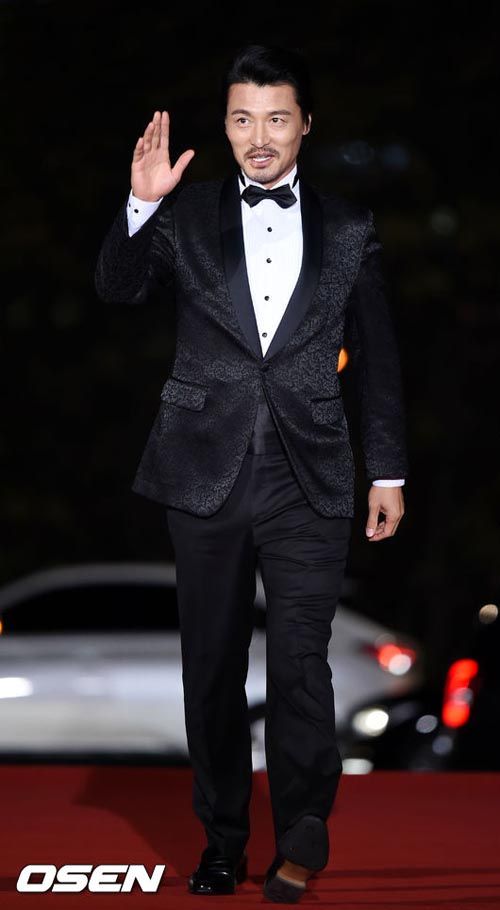 I had to look her up, but MC Park Young-sun is apparently a top model from the '90s. I'm not feeling the gown, though it is attention-grabbing and therefore has done its job.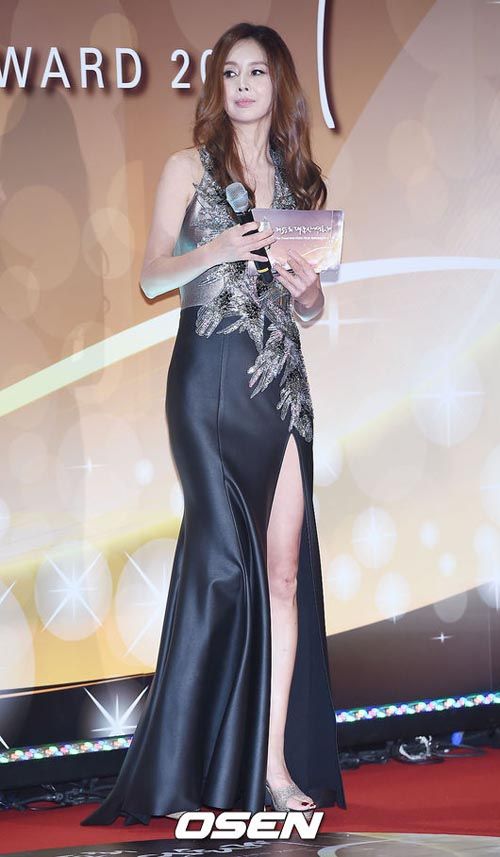 Kim Dong-hee (The Technicians, Northern Limit Line) looks pretty snazzy, decked out in his patterned suit and hat.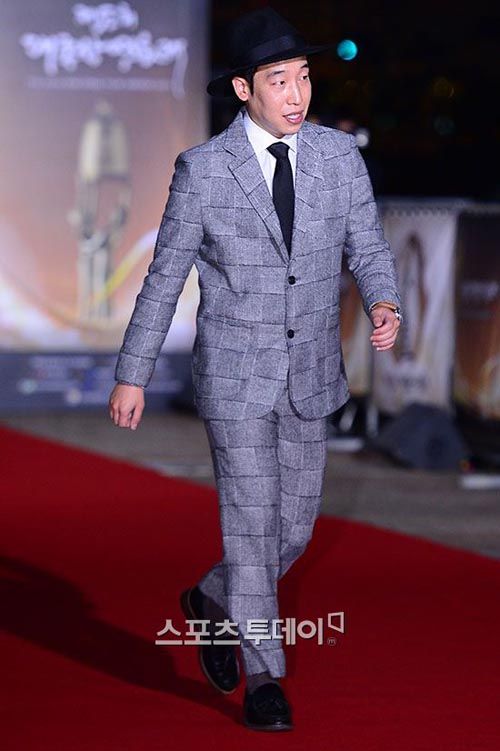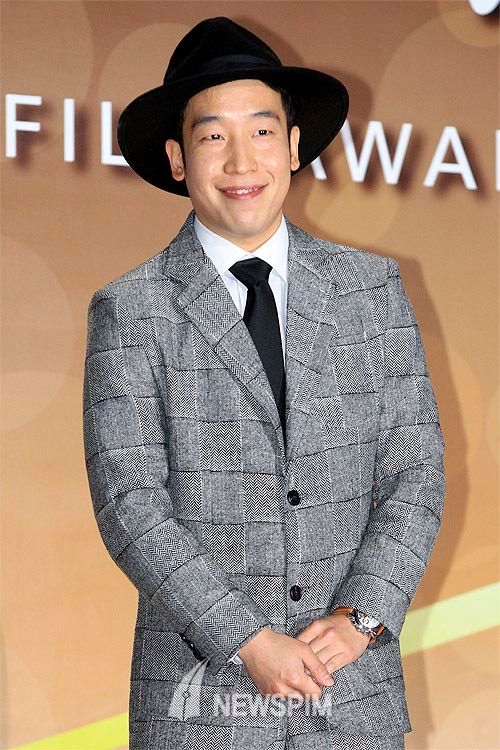 Park Doo-shik (Shoot My Heart) gives off a vaguely unkempt vibe despite his tux, but I suppose that's part of his image—he's forever playing the doofy side characters who endear and annoy in equal measure (Who Are You—School 2015, She's So Lovable, Emergency Couple, I Hear Your Voice), so it fits.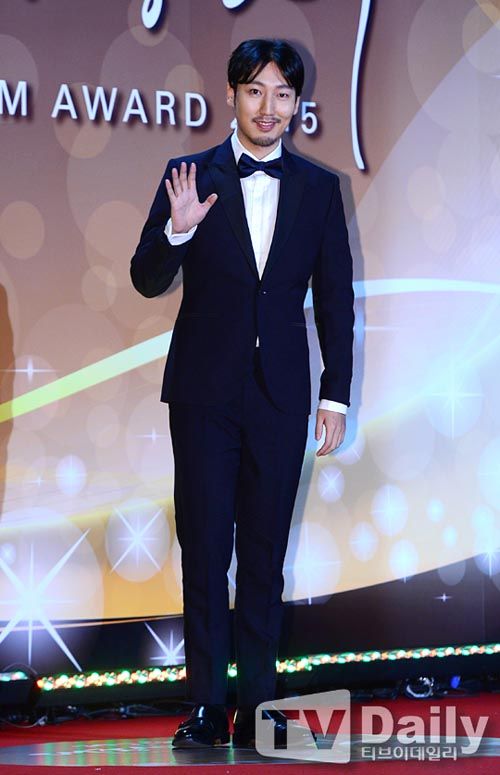 Kim Bo-yeon (Strange Daughter-in-Law) is wearing head-to-toe gold, and it works on her.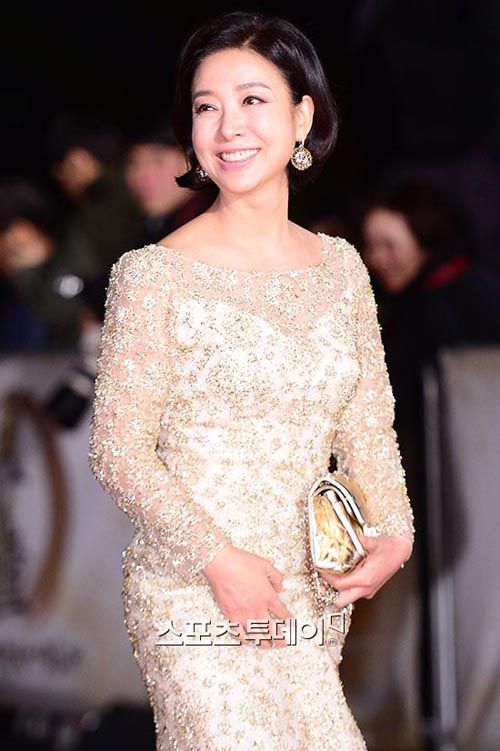 Kim Ga-yeon and Im Yo-hwan are a married couple and both in the industry, though their current resumés aren't very prolific. She's been on some variety and cable shows (Queen of Home Cooking), while his most recent show was The Genius. I do like their matching all-black look and her twist on the hanbok. It's a little gothic, but in an interesting way.
Teen Top's Changjo is also dipping his foot into acting waters, with the movie Makgeolli Girls and the cable drama Sweden Laundry. An all-red suit is a bold choice, but he is an idol, which means he's used to outrageous fashions.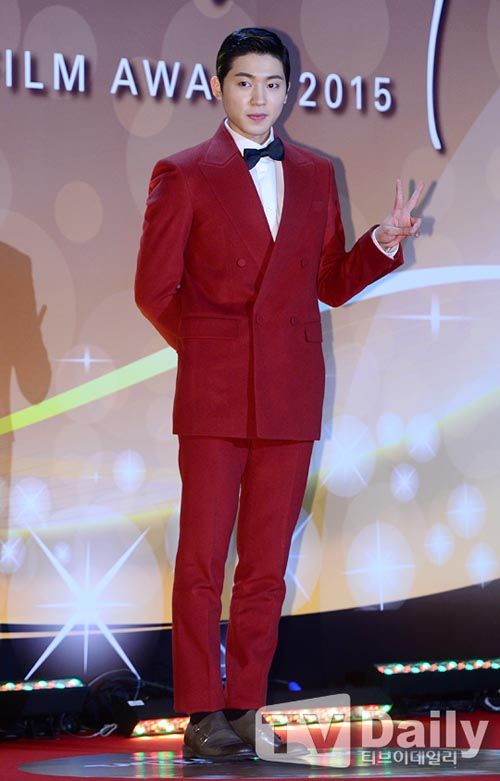 More idols! Here are B.I.G's Benji in white, and Heedo with the funky colored hair.
Aw, kiddos! Lee Re is a hilarious and precocious young talent (Six Flying Dragons, Superdaddy Yeol), while I find Hong Eun-taek squeezably cute despite almost never hearing him speak (I Remember You, Master's Sun). Both were in the movie How to Steal a Dog, which got Lee Re a nomination in the New Actress category. She's wearing a crown. I love it.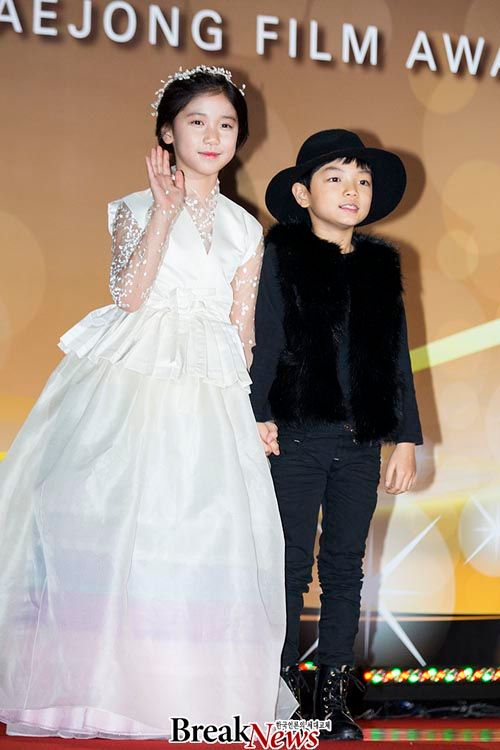 Child actress Lee Ji-won was also in How to Steal a Dog. I always envy the little-girl party dresses at these awards, despite hating party dresses when I was that age. One of life's ironies?
Hm, Kim Mi-young won a New Actress award at the 1994 Golden Cinematography awards, but her resumé's been blank for the past two decades. I know she's got a movie called Ajumma's Revolt, but there was no need to take the ajumma to heart with this unflattering gown, was there?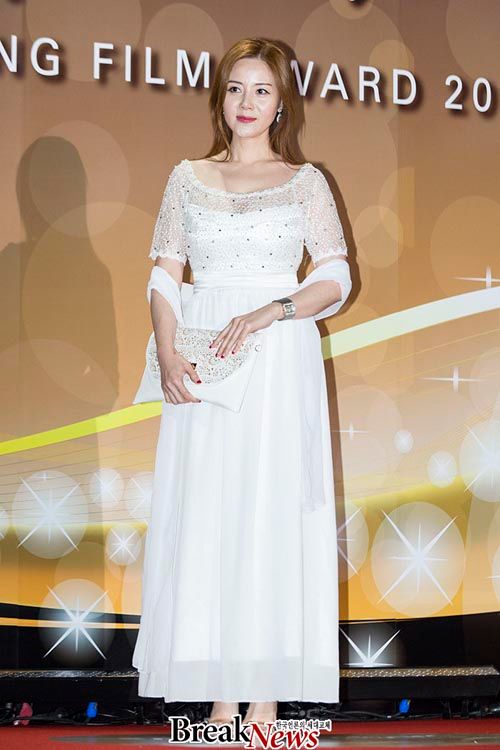 Jung Jae-yeon (Polaroid) is here with Joo Ho-sung, aka Jang Nara's actor-producer father.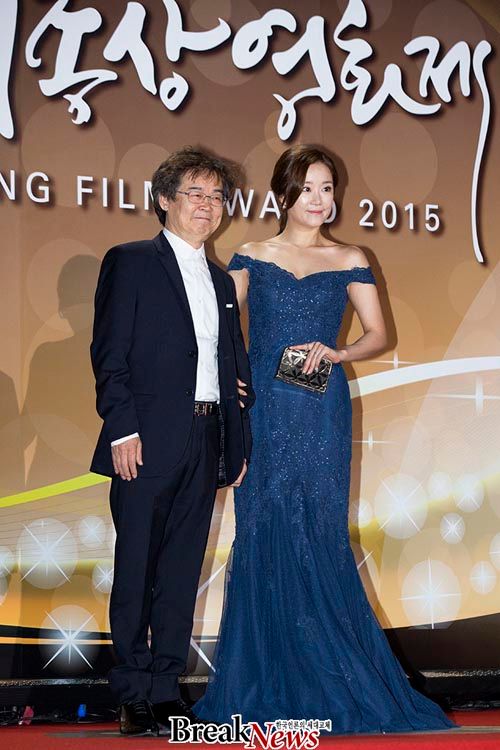 In some pictures, Noh Ji-seung's gown looks okay, and in others, it seems super tacky. What say you?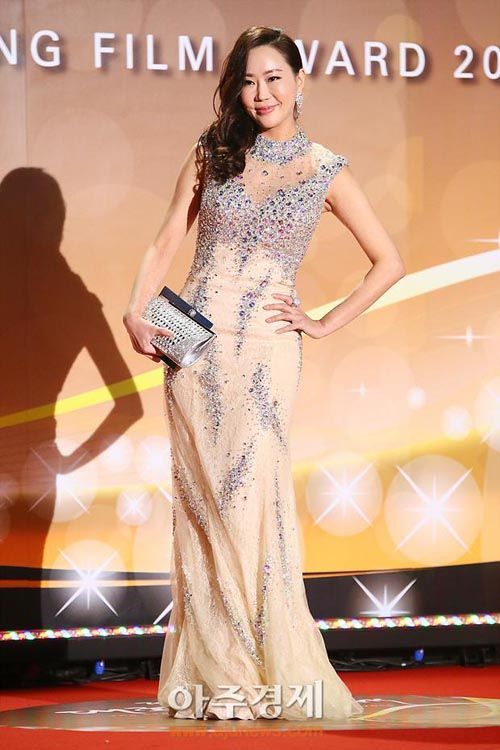 I have no doubt on this one, though: super tacky for Choi Yoon-seul (He's Coming, Eden). It looks like her dress is trying to eat itself. In shame, maybe?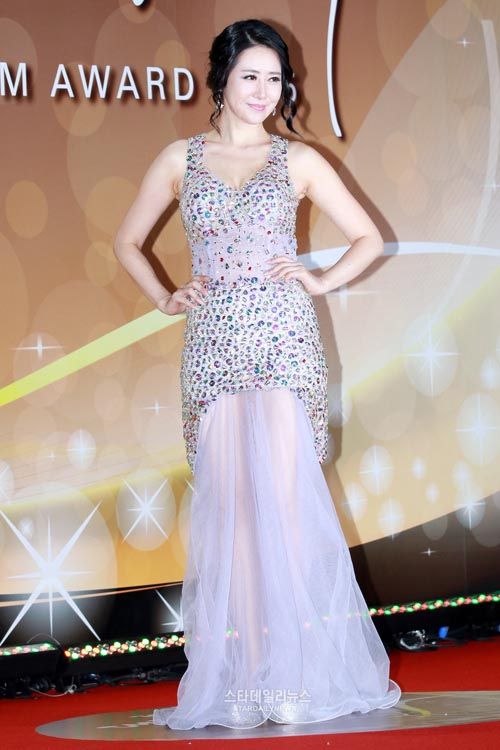 Okay, you have to make allowances when we're talking about a fashion designer, as we are with Mok Eun-jung here, since fashion is pretty much supposed to be weird and bold. Still, I can't help thinking she's gonna try to sell me a Hot Dog on a Stick in that getup. Would you like fries with that?
Via Asia Today, Star News, Newsen, Osen, Star News, Segye
RELATED POSTS
Tags: awards, controversies, Han Go-eun, Hong Ah-reum, Im Ji-yeon, Kang Haneul, Kim Seo-hyung, Lee Hyun-woo (2), Lee Min-ho, Park Doo-shik, Park Seo-joon, Park So-dam, Shin Hyun-joon, Yoo Yeon-seok