D-Day: Episode 13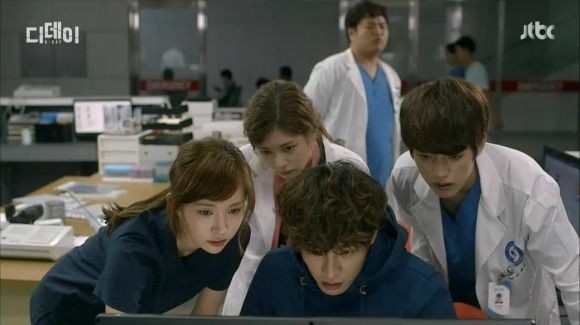 It's no surprise that Hye-sung returns to do his job, but it's still a relief. Clearly, DMAT meant and did very little without his willingness and skill to address the worst case scenarios. Heartbroken and overall broken Hye-sung is hard to watch, and though we still see the remnants of the guilt, he's now making a concerted effort to combat it. Though Hye-sung may believe that he's simply doing his one job — saving lives — we know that his presence alone is enough to threaten the corrupt individual (monster?) whose greed surmounts any speck of conscience he may have.

EPISODE 13 RECAP
Ready to head back to the hospital, Hye-sung revs up his motorcycle engine with Ddol-mi sitting behind him, and she instinctively grabs onto him tight as he races off. Standing in front of the hospital, Hye-sung admits that he's scared to return. Once he enters those doors, he'll need to face the fight of saving and losing lives. But he seems ready for the challenge.
He turns to Ddol-mi and asks if Ji-won's dead body really said those encouraging words. Looking away, Ddol-mi admits that she may have added a little bit to the truth, but overall, that's what she heard from Ji-won. He takes her word for it and musters up his courage.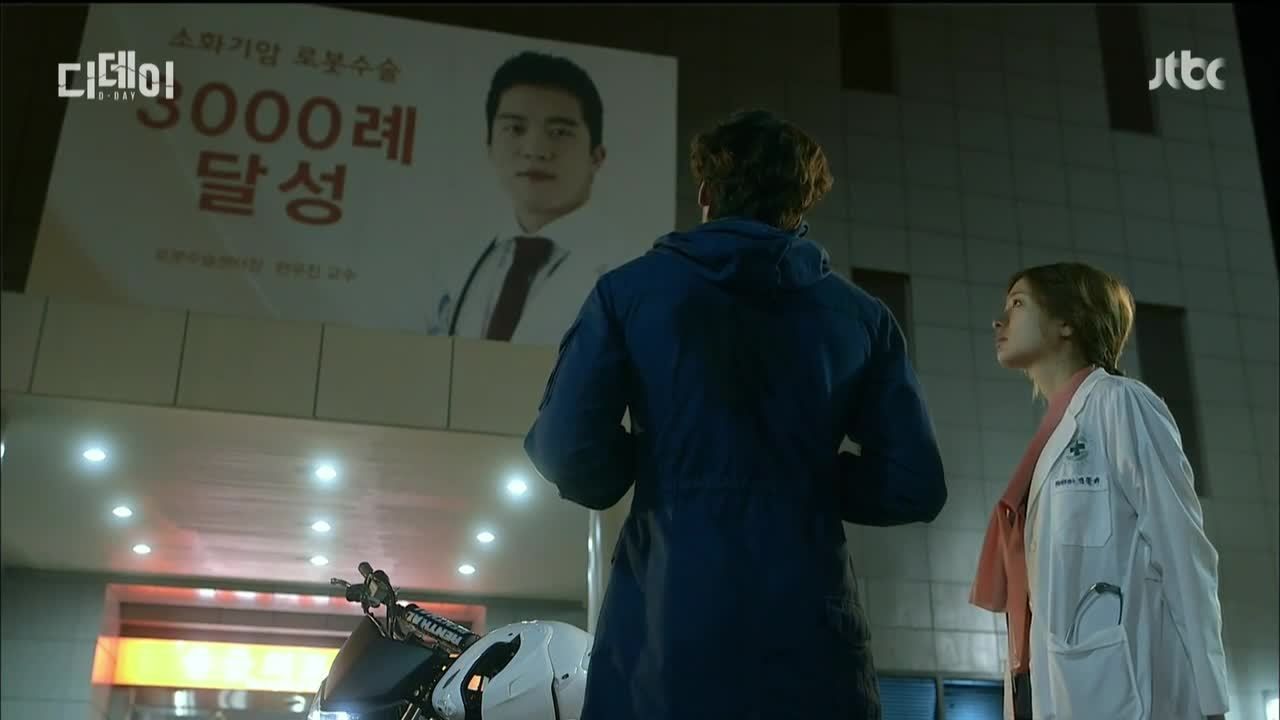 Myung-hyun looks beyond irritated that he's been added to the DMAT efforts and blames So-yul for spotting him at the shelter. Dae-gil changes his mind and persuades Myung-hyun that the DMAT work isn't too bad, especially for an experienced fellow like him.
Hye-sung returns as his normal ER self, and he's given a quick update about the DMAT expansion under Woo-jin. He then looks over to Captain Choi's daughter and asks for her charts. After looking at the X-ray with the crew, Hye-sung walks over to apologize for his incompetence. He's never seen any condition like his daughter's and can understand why other doctors refused to treat her. He calls himself a quack, but that doesn't relieve any of Captain Choi's frustrations and grief.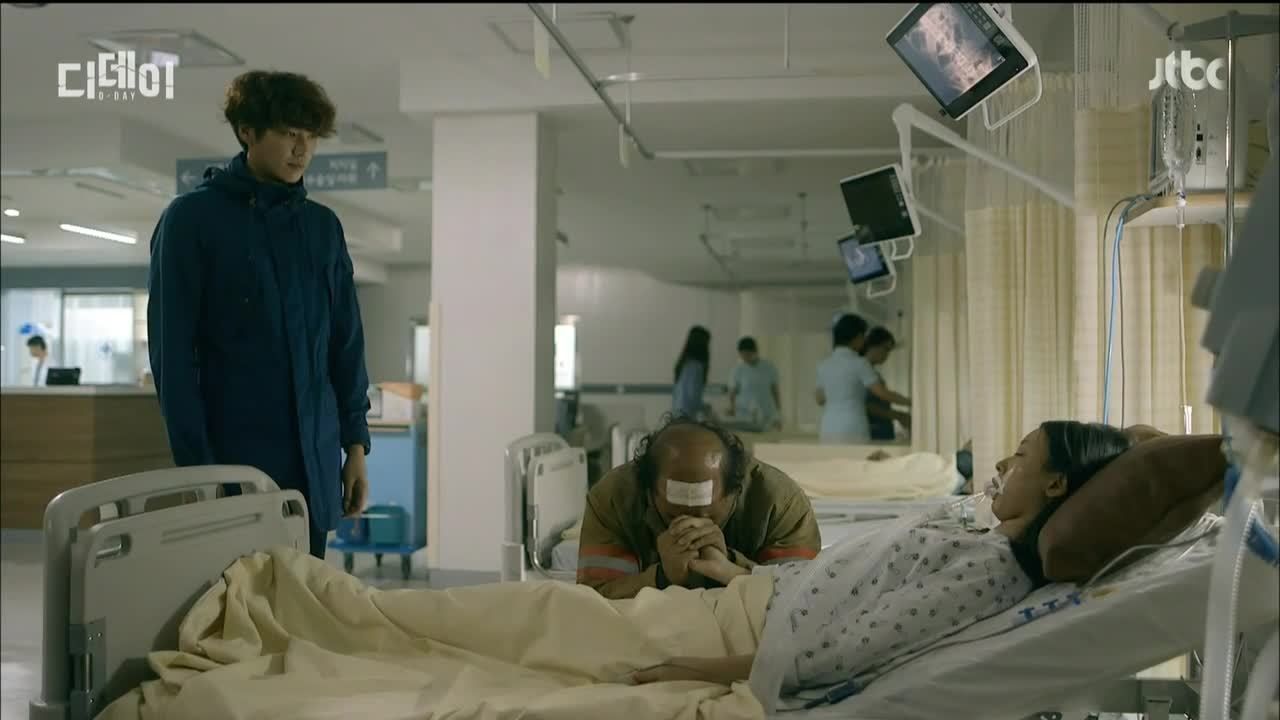 Captain Choi's minions run over to check on him and optimistically ask about his daughter's treatment. Captain Choi indignantly explains that even the doctor he trusted won't treat her, and that provokes Woo-sung to chase down his brother with a punch. He demands that Hye-sung treat Captain Choi's daughter, calling him out for his bluffing. Hye-sung promised to save all the rescued patients, but what's he doing now?
Hye-sung simply doesn't know, and he doesn't explain any further. After he walks away, Ji-na approaches Woo-sung and tells him that he should understand his hyung. Today, especially, is one of the days he'd want to erase from his life.
Hye-sung visits Woo-jin's office to ask for some books on Takayasu Arteritis, and Woo-jin tries to stop him right away, knowing that Hye-sung wants to treat Captain Choi's daughter. Woo-jin attempts to knock some sense into him, revealing that Director Park is trying to kick him out of the hospital. Wait, is that news to anyone?
Then Woo-jin mentions that it's because Ji-won, and Hye-sung immediately turns silent and somber. Too soon.
Woo-jin clarifies that he doesn't want Hye-sung to be Director Park's scapegoat. He's too skilled to be caught up in Director Park's schemes. But Hye-sung's not one to listen to his advice, and he searches the medical libraries on his own, spending the night reading up on the disease against the shelves of the dark library.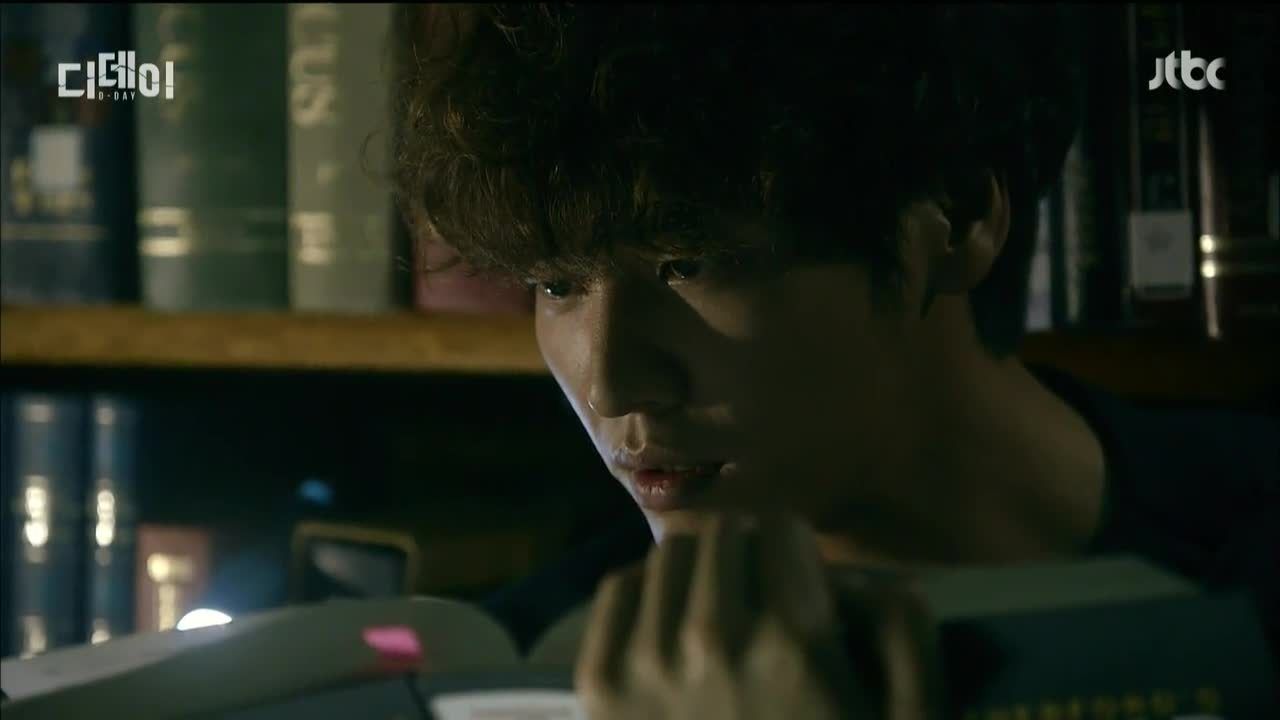 Chief Kang sleeps with Dong-ha, and he wakes up briefly to tell his mom that it's a relief that he found her. She apologizes, but Dong-ha sweetly says that they're together now and that she must have been worried. Chief Kang gives him a goodnight kiss and watches him fall asleep.
Ji-won's mother hesitantly suggests to her husband that they send Ji-won off tomorrow. They can't leave him in the morgue forever, and the ambulance can take them to the crematorium. Ji-won's father stands up and head out to prepare for their sending-off. On his way out, he runs into a familiar lawyer carrying his old mother on his back. He notes that even his mother is alive and tells the lawyer that Ji-won died.
Hye-sung helplessly watches Captain Choi's family, and Ddol-mi catches him just as he walks out. She chases him just to make sure he's not running away again, and he ensures her that he's not. He's just looking for So-yul to get treatment for his supposed PTSD. Ddol-mi smiles that his sanity has returned.
Crossing his arms, Hye-sung clarifies that it wasn't Ddol-mi's doing — it was Ji-won. He heard Ji-won's words too, that he should get up and make his life worthwhile. That's what cleared his mind, not Ddol-mi. She smirks at his insistence and nods at his claims.
So-yul confirms that Hye-sung's symptoms point to PTSD and notes his sudden willingness after his deep misery. He remembered what his true self would do as a doctor, and he felt embarrassed for not doing enough after some girl flew all the back from Busan to help. "If I broke now, what would I become to her?" And you said it wasn't about her, eh?
So-yul prescribes him some SSRI medication for when he's out with DMAT. They also begin therapy to address the source of his PTSD, through which we learn more about Hye-sung's most distressing moment: the fatal car accident. He had been driving when the accident happened, and he couldn't save his father. He was stuck as well and felt utterly useless. So-yul asks if his father resented him for it, and Hye-sung responds no. He's accepted that he shouldn't feel guilty for being alive either.
After his session, Hye-sung returns to the ER and looks around, seemingly searching for something (or someone). He peers into the emergency treatment room and spots a familiar frame sleeping on the stretcher. A smile naturally forms on Hye-sung's face as he watches a sleeping Ddol-mi. He pulls up a chair to watch her more closely and thinks back to her persuasion to bring him back to the hospital. Soon enough, he joins her in her slumber.
The next morning, Captain Choi looks resolute and heads out for duty. His wife yells at him for abandoning his daughter, but he claims that there's nothing that he can do. His minions tell him to stay at the hospital as well, but Captain Choi says that it's hell to watch over his dying daughter. He takes off with a heavy heart, wiping his tears as they pull away.
Hye-sung wakes Chief Kang with a request to change the bathroom water, as it's becoming unsanitary. She's been meaning to ask the firefighters but can't get herself to ask more of Captain Choi. She asks Hye-sung if it's too difficult, and he nods. But they can still try to keep her in an optimal state in the case that surgery becomes more feasible.
Hy-sung checks up on Seo-hyun, Captain Choi's daughter, and greets Sister, who jumps in surprise (and guilt). She makes their interaction short, but she's called back by Hye-sung to throw away a wrapper — the chocolate wrapper from Director Park. She quickly grabs it and scurries away.
Then a hand grabs Hye-sung. It's Seo-hyun, and she tells him that her stomach hurts. He offers to give her the pain meds soon, and she adds that she's only fifteen. Hye-sung knows what she means, but he knows better than to make any promises.
The two-way radio requests a team from Mirae, and Myung-hyun quickly turns the volume down to mute. But not quick enough for Ddol-mi, who grabs the radio and offers to send out a team.
Woo-jin addresses his new DMAT group and reminds them not to engage in any risky medical treatment. He's clearly speaking to Hye-sung, and the two meet eyes before buckling in for the ambulance trip. So-yul comes running out to catch Hye-sung before he leaves, and she hands him pills in case he's triggered while on site.
Director Park looks at the documents for Hye-sung's dismissal with a smug smile. He just need to convince his brother-in-law now. The lawyer who we briefly met earlier enters Director Park's office with some news. He tells Director Park that he'd been told about Ji-won and that Ji-won's father was planning on donating all of his assets for charity so that other children like Ji-won could live. This sudden news enrages Director Park; he's no longer the heir to the hospital throne.
Speaking of, Ji-won's father crossed past the police tape to collect more of Ji-won's belongings for the cremation. He looks at a picture of his deceased son and cries about his absence. Suddenly, the world starts shaking again, and he falls.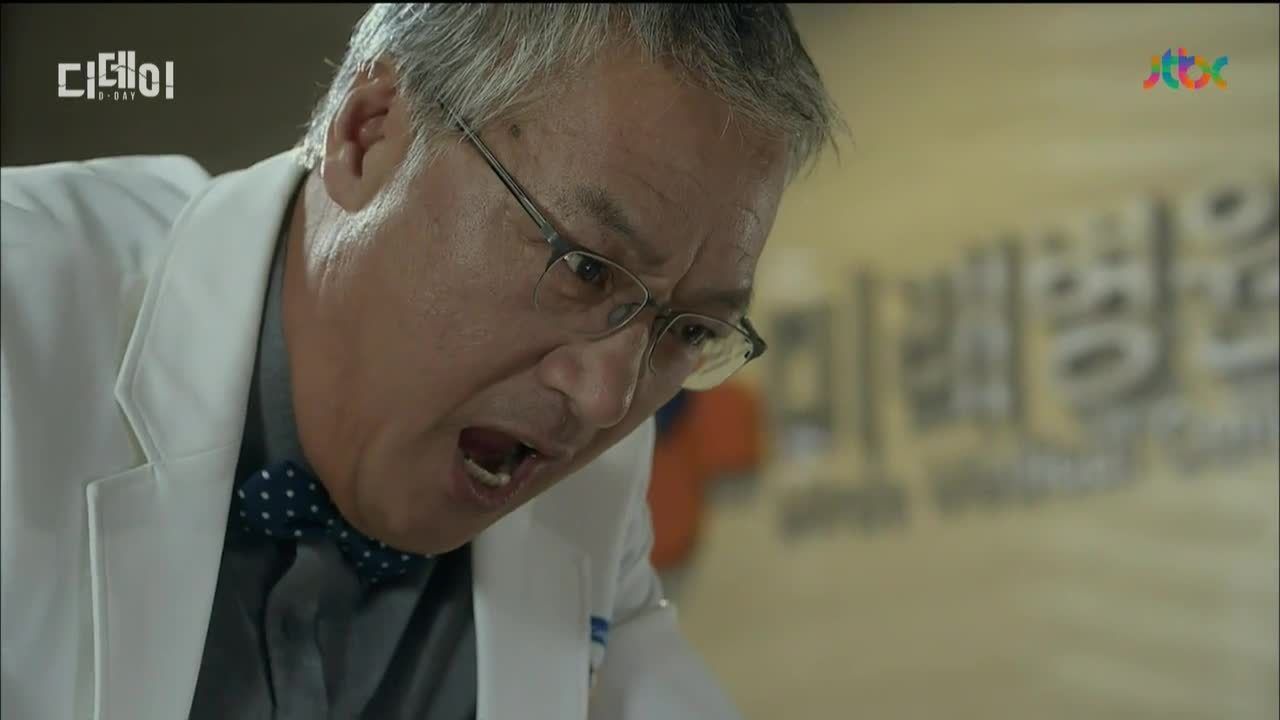 Ji-won's mother anxiously awaits her husband's return, and she eventually decides to go to the home herself, despite Director Park's protests.
Captain Choi receives a scolding message from Ja-hyuk for rescuing people in a fire when he could be using the fuel to travel a site where they could save more people. Ja-hyuk threatens to press charges for this violation of orders, but Captain Choi could care less. He was simply doing his job.
Mirae Hospital's DMAT arrives on the site, and Myung-hyun annoyingly warns Hye-sung to do as told. Hye-sung pushes him aside and gets to work. Woo-jin receives an update about the patients from Captain Choi, and he decides that the conditions are too dangerous to send doctors in. Captain Choi finds Woo-jin's insistence on guaranteed safety ridiculous, and thankfully, Ji-na is around to take the risk. She heads out to check on the patient against Woo-jin's orders, and he reluctantly sends Myung-hyun with her.
Hye-sung tries to treat a severely burned patient, but his hands won't stop shaking. He becomes so frustrated that he walks away to take a breather and then begins punching the wall furiously. Ddol-mi quickly stops him by hugging him and tries to comfort him. He seems to calm down and remembers that So-yul gave him anxiety pills. Ddol-mi offers to get him water, but Hye-sung tells her to stay, desperately holding onto her wrist.
Woo-jin arrives to check on this patient and decides to give up. The burns are too severe and the chances of survival are slim. He orders Hye-sung to give up, but of course, that doesn't mean anything. Hye-sung decides to treat the patient anyway. Woo-jin's DMAT strategy is really not working here.
Myung-hyun pesters his colleague, Doctor Do, about his great feat in saving his patient. He speaks in grandiose terms, trying to maximize his heroism. But his friend doesn't care, and his fellow rescue mates care even less. Having heard enough of the nonsense, one of the firefighters grabs Myung-hyun and reminds him of what really happened. While the firefighters rescued the man, where was Myung-hyun? Crouched in a corner with his helmet. That shuts him up quick, thank goodness.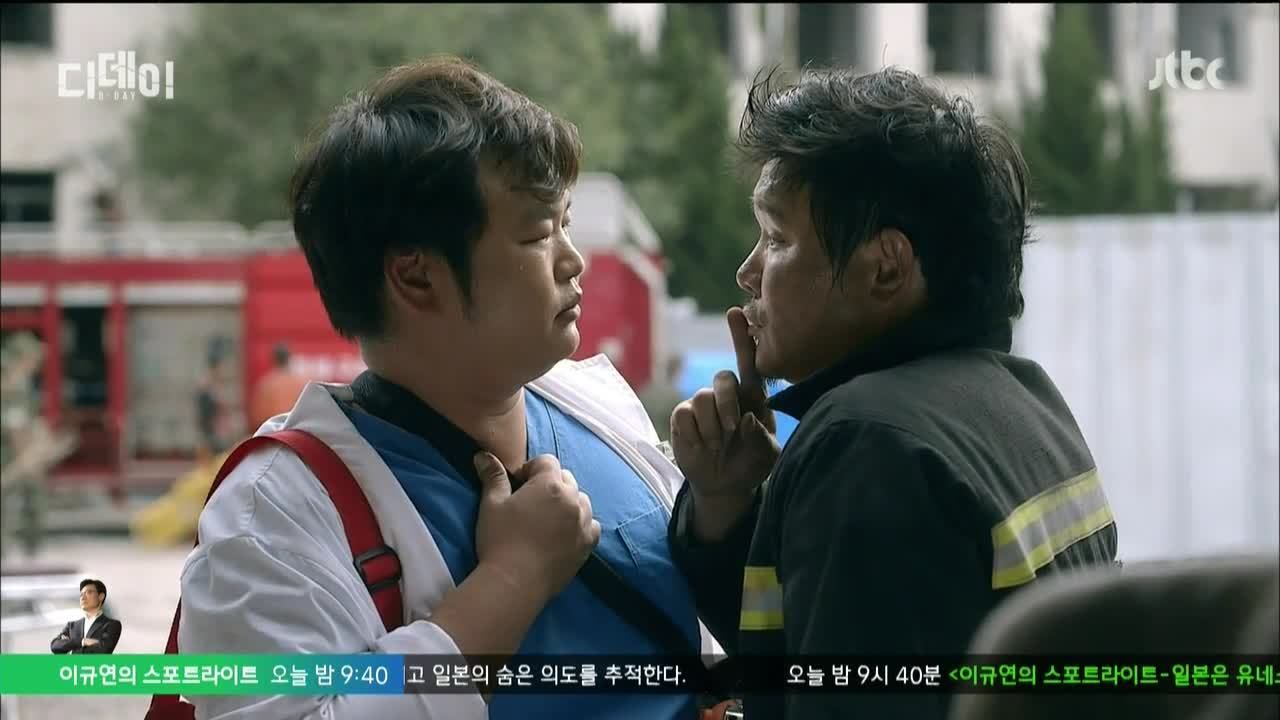 Hye-sung's patient gets wheeled out with the effective emergency treatment, and Captain Choi asserts his opposition of Mirae Hospital. He tells Woo-jin that Mirae Hospital picks and chooses which patients they want while whining about unsafe conditions. Woo-jin refutes that they both would never send their underlings into unsafe environments, but that generalization is shot down by a fellow firefighter who claims that they've been searching through the dangerous rubble for the past three days. Their tension is cut short by an order to move to the next disaster site.
Ji-won's mother arrives at the site near her home, but she's stopped by the police because of the recent collapse. Worried, she calls Mirae Hospital to check if her husbands returned, and Chief Kang quickly runs to Director Park's office to relay the message. She interrupts him amidst his anger tantrum about the hospital being donated despite his hard work, and he looks conflicted upon receiving the news of his brother-in-law's disappearance.
The firefighters survey the site for any survivors, but they don't see or hear anything significant. They return to report their findings, and Captain Choi reminds them that time is of essence in this disaster. He also notices Woo-sung's limp and tells him to take it easy.
The DMAT is directed toward their tent, and when Woo-jin asks about treating the patients directly on the site, the firefighter mocks his insistence for safety. Woo-jin offers to take a heavy load from Ji-na, which he passes to Dae-gil, who passes it to Sister. He calls her "Sister," and she makes it clear that his use of her nickname is offputting.
Back at Mirae, Director Park turns on his favorite classical music and stands up straight with a conductor baton in his hand. He begins conducting to the music in a great mood, celebrating the possibility of his brother-in-law's death. That seals the deal for me. He's a madman.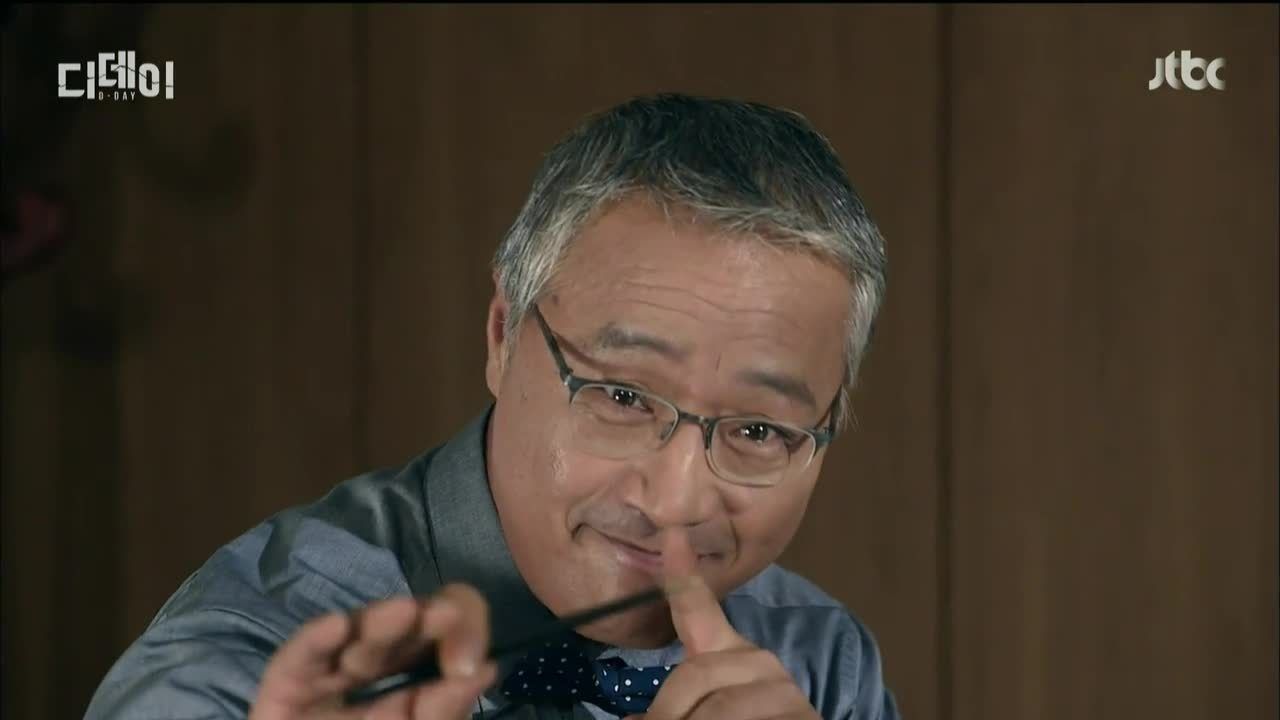 When our DMAT arrives by the site, they're met by Ji-won's mother, who pleads to Ji-na and Woo-jin to help her husband. She spots Hye-sung behind them and accusingly asks what he's doing here. She warns him not to touch her husband, and Hye-sung's head hangs down in guilt.
Chief Kang checks on Seo-hyun, Captain Choi's daughter, and orders Myung-hyun to attend to her blood poisoning. He argues that she has low chances of survival and suggests that they treat other patients who have better chances. Chief Kang looks at him incredulously and asks if he became a doctor just to announce death. He begrudgingly follows orders, and Chief Kang sits by Seo-hyun to tell her to stay strong.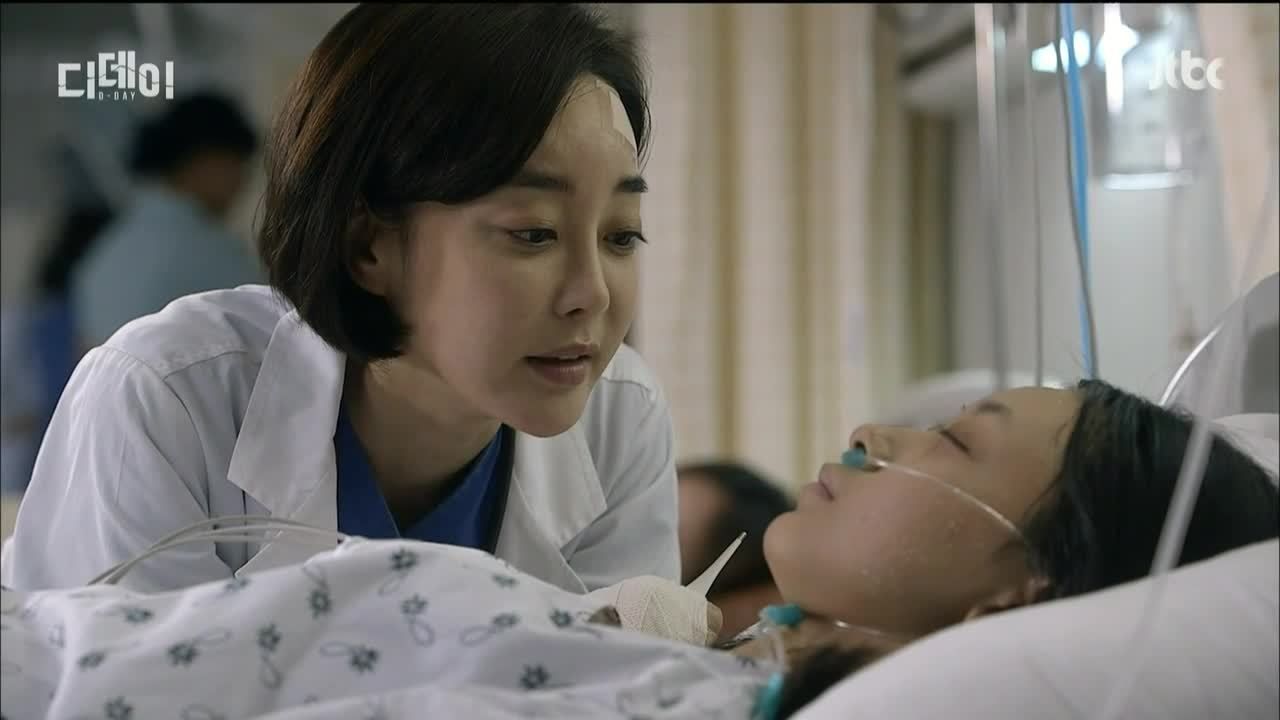 The rescue team finds Ji-won's father in the building remnants and carry him over to the medical tent. Woo-jin and Ji-na check on his condition while Hye-sung stays back. But he can't stay back for long and eventually contributes to the diagnosis of the injuries. Ji-won's mother peels his hands off of her husband, but that doesn't stop Hye-sung from making demands for treatment.
Woo-jin pull him aside to address the issue, stating that Hye-sung won't gain any positive acknowledgement from trying something against their available means. But Hye-sung argues that he isn't doing this for the recognition. He promised Ji-won to save his father.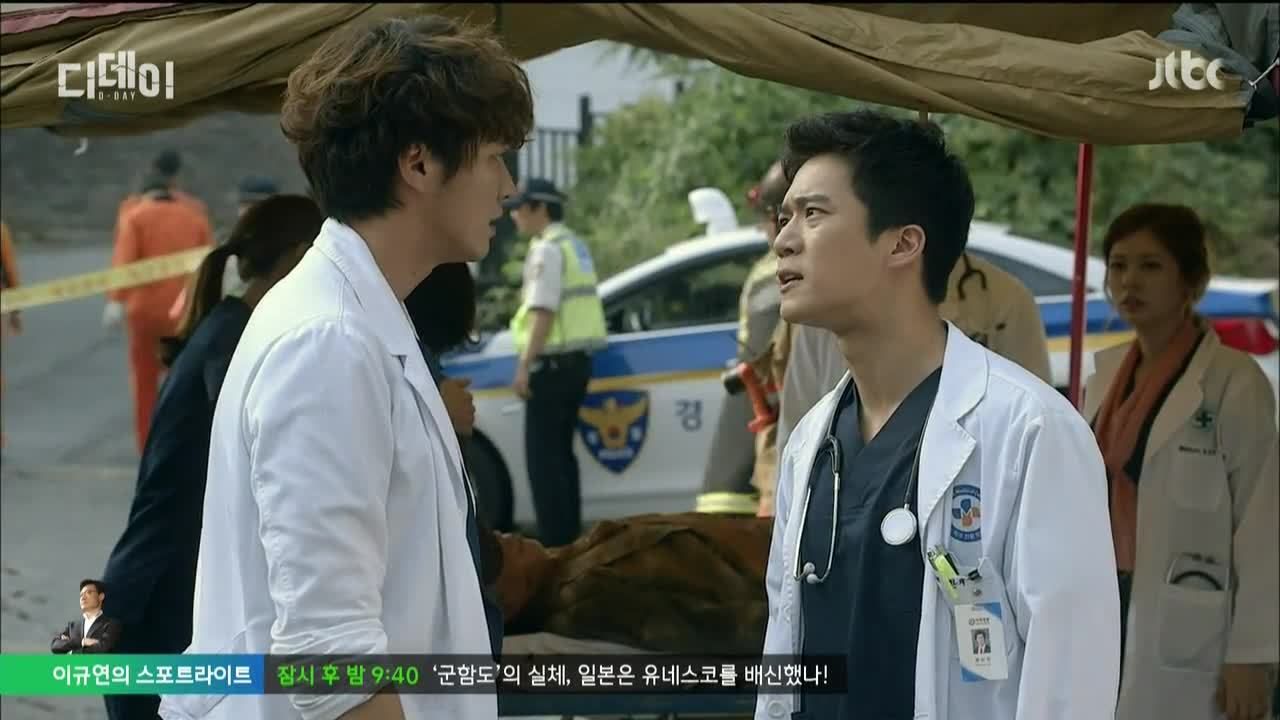 Seeing that the patient was cross-eyed, they need to perform some method of emergency surgery before transporting him, or else, he may die en route to the hospital. Ji-won's mother reluctantly allows for Hye-sung to treat her husband after Woo-jin confirms this fact. Without any fancy equipment, Hye-sung uses a regular drill to perform the surgery.
Director Park talks to the lawyer about the circumstances of his brother-in-law's will. There was no official change in the will to donate the hospital and all the assets, merely an intention. The lawyer doesn't seem to understand what Director Park is suggesting, until Director Park makes it very clear that the will won't change as long as they both "forget" the intent to change. Corruption at its finest, my friends.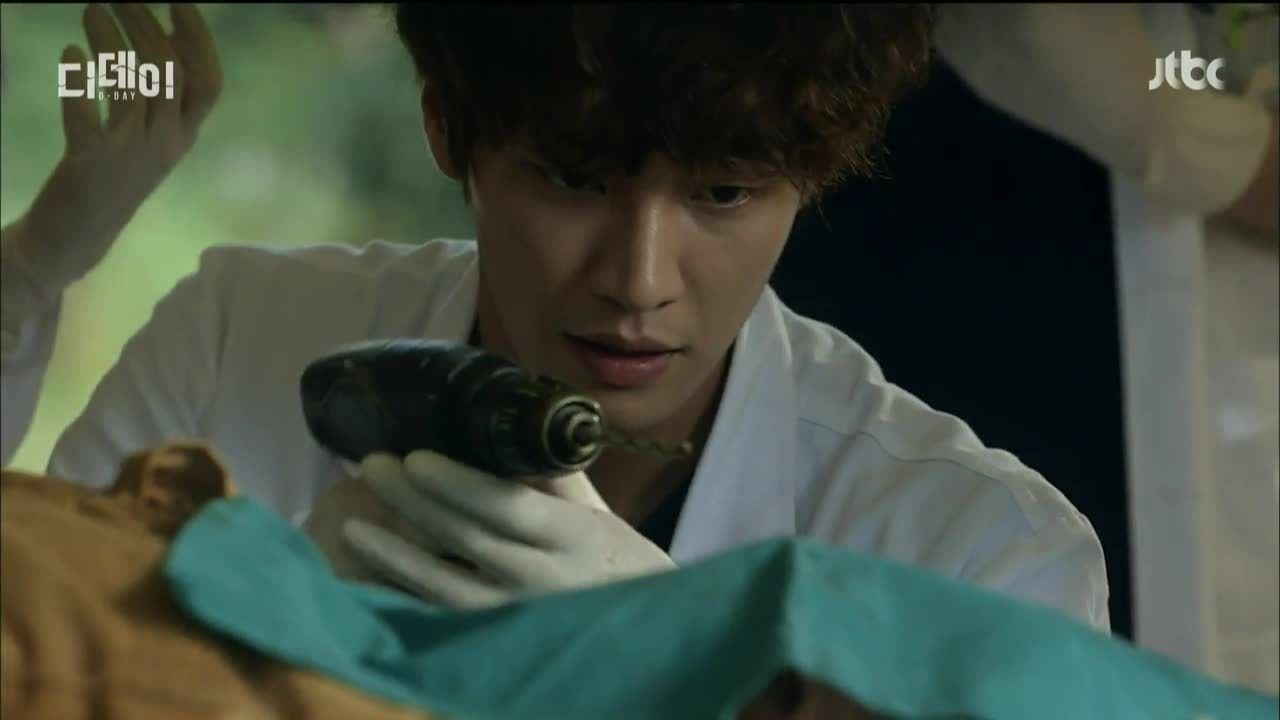 Hye-sung drills into the skull and cuts into the dura to release the hemorrhage in the brain. Fortunately, he got it spot on, and enough of the hemorrhage is alleviated to reduce the risk of fatality. It's a success. Woo-jin looks relieved, and dare I say a little proud of Hye-sung.
Meanwhile, Director Park hums with a tea cup in hand, looking out the window in his pleasant daydreams of his corrupt future.

COMMENTS
Alright, I need everyone to talk a few breaths and a couple chill pills. It seems that anything and everything that goes wrong or could go wrong is automatically Hye-sung's fault when there really isn't anything he could do. All he can do is his best, and now, especially after Ji-won's death, his best comes with a whole load of caution. Of course he's still willing and able to treat, as we saw with Ji-won's father, but I now feel the frustrations of unrealistic expectations. Hye-sung was never a realistic doctor to begin with, so I guess he's to blame, but you can't expect a doctor to be superman. Now more than ever, it seems that Woo-jin's words of advice ring true. There's a limit to their ability to save lives, and recognizing those limitations is as important as exceeding them.
Despite the idealistic contentions, I approve of Woo-jin's placement as head of DMAT. Believe me, I'm still not a fan, but he's bringing an important aspect of caution to the job. I fully expect more conflicts between the different rescue occupations, and I'm hoping to see all our rescue efforts come together as a team. While both firefighters and doctors save lives, the nature of their jobs are different, and they both need to adapt their expectations of their counterparts' role.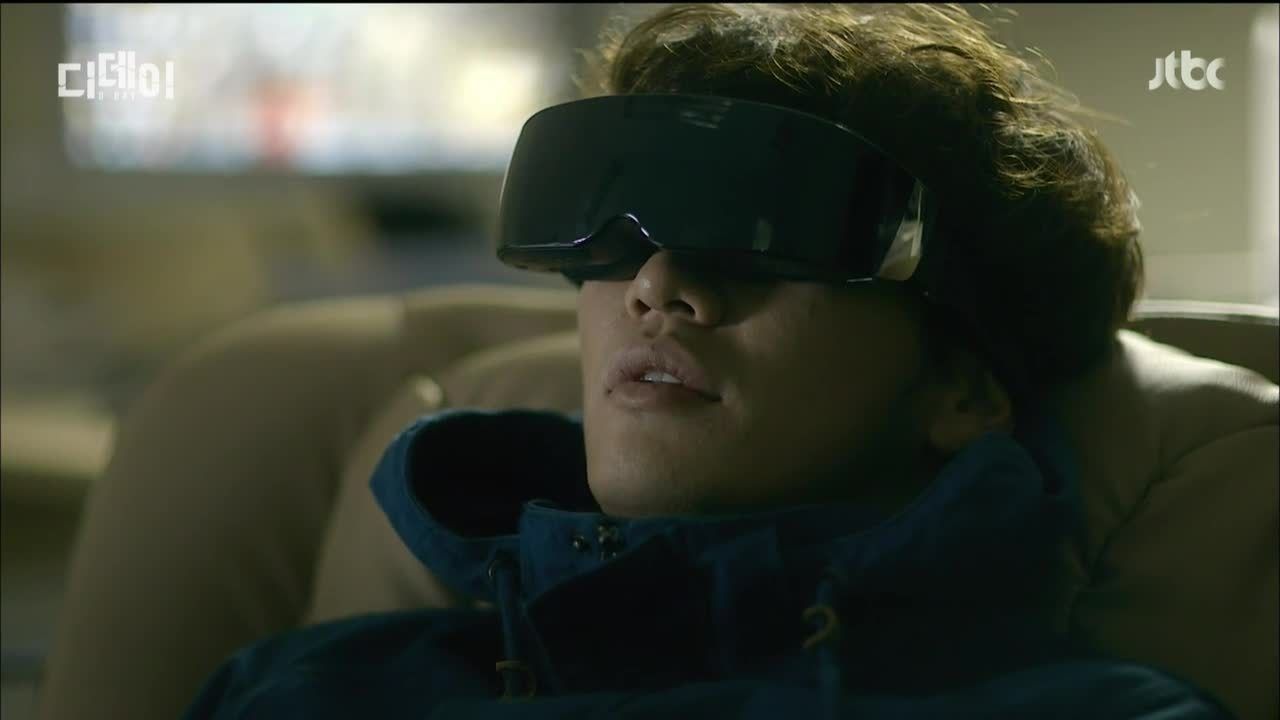 I really could care less about Director Park at this point because I think he's reached a point beyond redemption. He dug himself into corruption so deep, that he's basically dug himself into hell. Buh-bye, have a good life burning in the flames of your own corruption.
This is where I find Hye-sung's role so satisfying. I dislike that Hye-sung's ability to treat patients is so intrinsically tied into the hospital politics, but there are some great sides to this relationship. Especially with treating Ji-won's father, Hye-sung's success is directly correlated with Director Park's descent. It makes it so easy to root for a protagonist when you know that it will make the devil so unhappy and ruin his whole scheme. Muahaha.
And of course, Hye-sung's ability to return was only made possible by Ddol-mi. I completely agree that she's our voice of reason in this show, and I do wonder how much this show would change for the better if the story were more focused on her. Nevertheless, I thoroughly enjoy the role she plays in empowering our hero to be human and providing silent support in crucial moments. More than the futuristic PTSD treatment, I think that her presence alone is enough to calm Hye-sung and remind him of what he needs to do in a given moment, whether it be treating a severely burned patient or taking a moment to rest by her side.
RELATED POSTS
Tags: D-Day, featured, Ha Suk-jin, Jung So-min, Kim Young-kwang