D-Day: Episode 12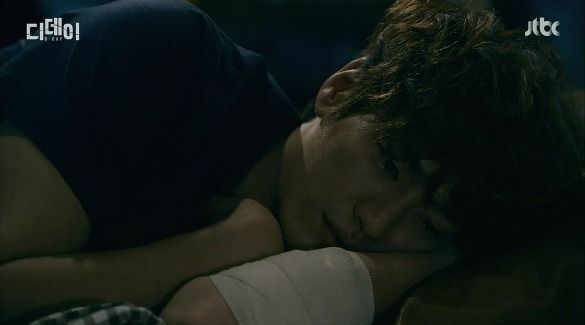 This episode is all about the tears. So many tears. So. Many.
Hye-sung spends the episode in the depths of despair, which might help cement Director Park's latest attempt to get him fired. Again. But Hye-sung doesn't need any help to become the scapegoat of Mirae Hospital when he's ready to heap all the blame on his shoulders, anyway. At least Ddol-mi is back (yay!) and determined to make everyone see reason.
EPISODE 12 RECAP
Chief Kang finds Dong-ha at Incheon Hospital, and as she heartbreakingly pleads for him to open his eyes, Ja-hyuk arrives to demand the top doctors in the hospital exam the child. I suppose that's a good way to use your new-found political power.
As Chief Kang sits by her son's hospital bed, Ja-hyuk chides her for going to all the way to this hospital when she could have just contacted him and he could have sent someone to confirm if it was Dong-ha. Yeah, but how would someone know if it was him or not? Oh, yay — Dong-ha slowly opens his eyes and regains consciousness, much to his mother's tearful delight.
Back at Mirae Hospital, Ji-na watches through the window as Hye-sung struggles with his grief. Ji-won's father gently places his redressed son on a table in the morgue. He softly kisses him as his tears fall on Ji-won's cold face, and then he breaks down in sobs as he hugs his dead child.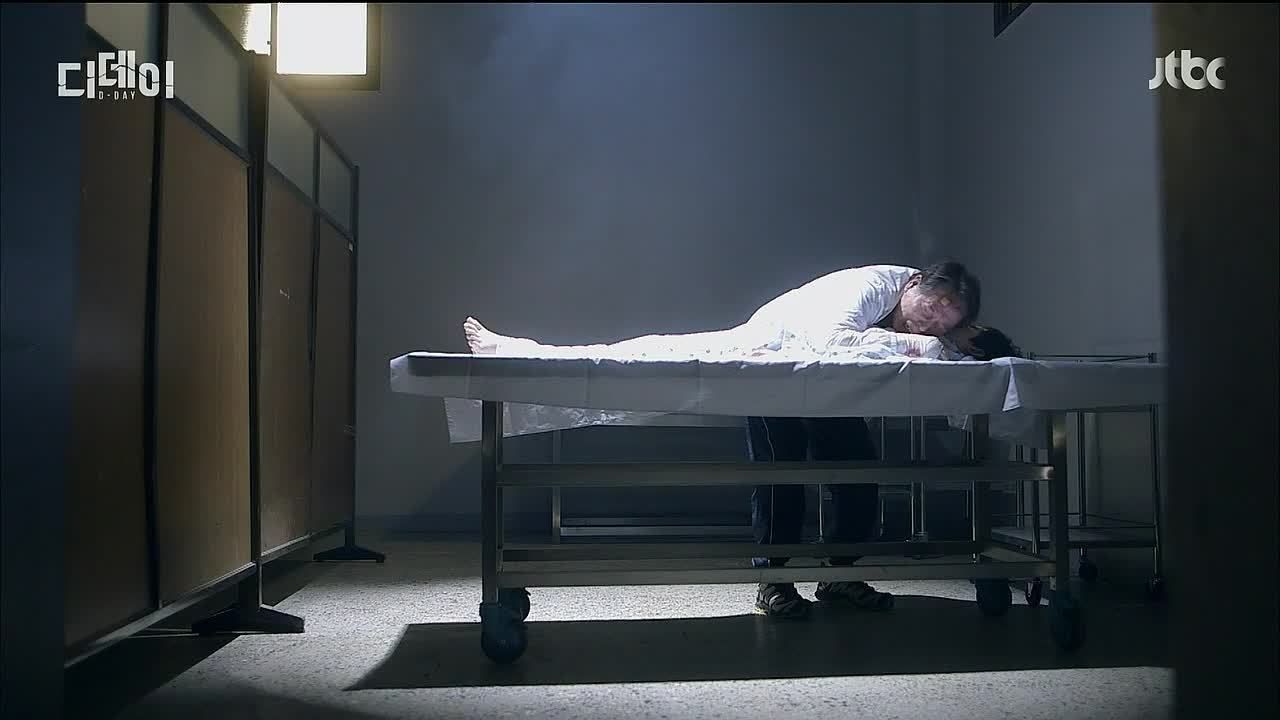 Hye-sung has retreated to his bunk, but it's not to sleep — he keeps replaying memories of Ji-won's last request to donate his eyes. Woo-jin has found out that Ji-won didn't make it through the surgery and tracks Hye-sung down, but the door to the break room is locked and Hye-sung doesn't answer.
Down in the morgue, a memorial for Ji-won is set up. Ji-na lights incense as she apologizes to her nephew that they weren't able to save him. When she returns to join her family, her aunt is weeping as she continues to blame Hye-sung for her son's death. Director Park is eager to jump on that train of thought, reminding her that he had fired Hye-sung, but her husband was the one who decided to rehire him.
Ji-na speaks up for Hye-sung, pointing out that he was the one who gave her aunt another chance to see her child by saving him from the destroyed swimming pool and taking him to the hospital. If Hye-sung had been a doctor who easily gave up, he wouldn't have seen the point in trying to save Ji-won after he was trapped down there for so long, especially with his medical condition.
But her aunt can only focus on the fact Hye-sung ripped open her son's chest, which Ji-na explains was only done as a life-saving measure. Her father yells at her, annoyed that she'd ask her aunt to be grateful to someone who couldn't even save a child's life. Quietly, Ji-won's father says it's all his fault — Hye-sung caught the disease (to try to save Ji-won's life no matter what) from him, and he walks out.
Woo-jin's overheard some of this conversation, and follows after Ji-na, dragging her to a storeroom. He demands to know how Ji-na is related to Director Park — is he really her father? She tells him it's not important, but Woo-jin wants to know if the reason she left him is because she thought he was too much like her father.
Hesitating, she explains that when her clinically depressed mother attempted to commit suicide, her father was embarrassed that there would be rumors that he, as her husband and doctor, hadn't been able to stop her. He was more concerned with appearances than his family, and quietly abandoned his wife and, eventually, his daughter.
When Woo-jin abandoned Hye-sung after what happened with Hye-sung's mother, Ji-na realized that Woo-jin is an ambitious man like her father — more afraid that his mistake would be revealed, and doing whatever he could to protect his reputation. He tries to persuade her that even if what she's saying might have some truth to it, he's still not Director Park. But Ji-na doesn't care. She's been abandoned once already by an overly-ambitious man — she doesn't want to deal with the pain of being abandoned again.
Pulling her close into a hug, Woo-jin doesn't say anything more. He just holds her, gently patting her on the back, and Ji-na silently succumbs to comfort of his embrace.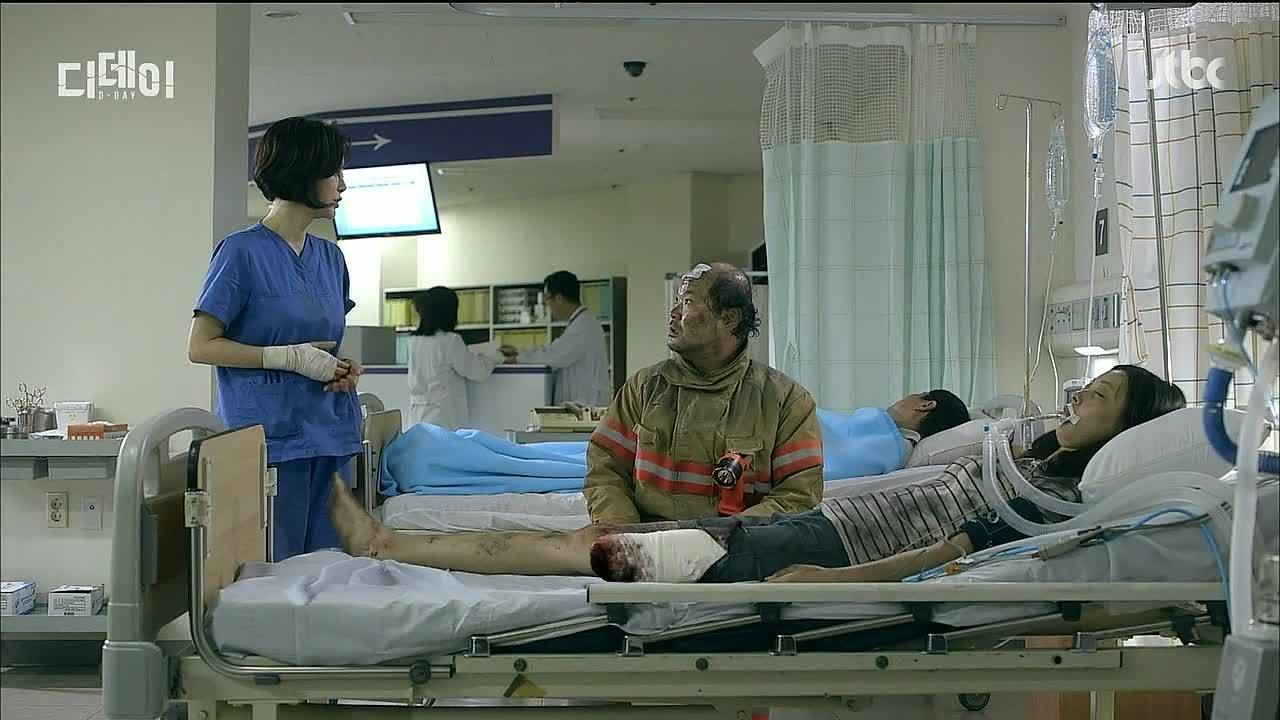 Captain Choi's daughter is in the same hospital as Dong-ha — in the same ward, even, and when Chief Kang sees him, she double-checks with the doctors there to confirm his daughter's status. It's not just a matter of her amputated leg. She also has a chronic illness that complicates blood flow through her arteries, making surgery difficult, if not impossible considering she also has sepsis.
Desperately, Captain Choi asks if that means the doctors are just waiting for her die. Chief Kang tries to reassure him, but he's caught up in blaming himself for not being able to save his daughter. He begs Chief Kang to help him, and she sighs that if only Hye-sung was here, he would have done something.
That's a name that fills Captain Choi with hope, since last he saw, Hye-sung was being reinstated at Mirae Hospital to save Ji-won's life. Yeah, and the heroic doctor is now trying to still his constant trembling hands as the numbing depression overwhelms him. He's ready to dump his pet bugs into the trash, knowing that they're about to die because he hasn't fed them. He can't save anyone, much less a couple of bugs.
But Ddol-mi barges in and snatches the container from him, reminding him that at least he tried to save everyone. The effort is what matters the most — if he had actually been able to save everyone, then he wouldn't be a doctor, he'd be a god.
Hye-sung hollowly tells her that he's been wrong until now. He was just selfish in his desire to try and save everyone, but it was just foolish ambition. It's good for him to leave, since so many people have endured hardship because of him.
Echoing his words, Ddol-mi wonders if it's because of her — if she was better at suturing or suctioning during surgery, Ji-won would be in the recovery room instead of the morgue. Annoyed, Hye-sung tells her it isn't her fault. Ddol-mi: "So why is it your fault?"
He refuses to answer and walks away, but she's not giving up. She wants to know why he's so hard on himself, and when she tentatively and gently places a hand on his arm, he tells her to leave. As she steps back into the hallway, she spots Woo-jin headed her way.
She warns him to leave Hye-sung alone, since he's having a tough time right now. Hye-sung isn't the only one struggling, though, as Ddol-mi admits to Woo-jin that she doesn't think she'd ever be able to be a surgeon. It's too hard to watch patients die on the table in front of you. She's now beginning to understand why Woo-jin refuses to perform emergency surgeries.
But Woo-jin admits that, despite their appearances, he and Hye-sung aren't so different — they both try to play god: one by saving everyone, the other by deciding who lives and dies based on what what he can predict. In the end, they're both equally weak.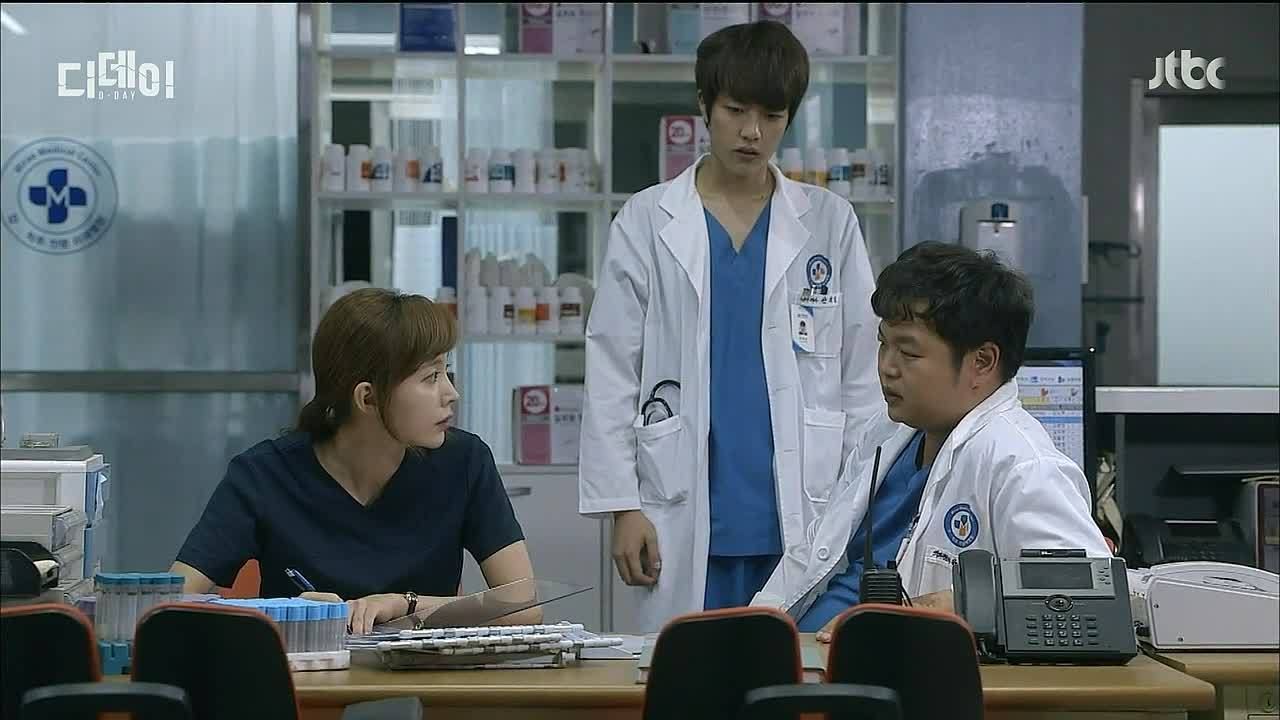 The hospital's laziest doctor Myung-hyun is in full-on investigative mode. He tries to determine if the rumors are true that Ji-na, a mere nurse, was the one who demanded she perform surgery on Ji-won back at the medical tent before he was transported to the hospital. With an annoyed glance at Dae-gil, she says it's true — since the intern said he couldn't do it, she decided to at least try.
As Myung-hyun accuses her of pretending to be a doctor when she's just a nurse, another doctor drags him out the room to warn him that Ji-na is the director's daughter, so he better watch what he says. He meekly returns, begging her understanding — he was just worried she wouldn't be able to be a nurse any more. Suuuuuuure.
He's ready to shift his accusations about what went wrong at the medical tent over to Hye-sung, and eagerly agrees with Dae-gil that the dangerous DMAT is to blame, too. But Ddol-mi pipes up that she's the one who took care of the ruptured artery. So there shouldn't be complaints, especially coming from doctors who ran out of the surgery room after originally agreeing to help.
They're still arguing about who's at fault for Ji-won's death when Director Park arrives. He finds it strange that Ddol-mi says that she was the one who did the artery surgery instead of Hye-sung, and when she further explains that Hye-sung wasn't able to because he'd hurt his hand, Director Park jumps on that piece of information.
Ji-na follows her father to his office, demanding he leave Hye-sung out of this. Her father responds by slapping her, insisting she tell him why she touched a scalpel with intent to do surgery when she's just a nurse.
Enraged, Ji-na yells back, asking him why he just doesn't reprimand her for saving her uncle's life. After all, Director Park has worked so hard to try and raise up Mirae Hospital and he was so close to having it all to himself once her uncle and nephew died.
Is that why he hates Hye-sung? Because he's a bomb that threatens to destroy his precious Mirae Hospital if the truth about what happened with Hye-sung's mother is revealed? As Ji-na storms out of the room, Director Park furiously yells after her that he will not only destroy Hye-sung, but her as well. That's some top-notch parenting right there.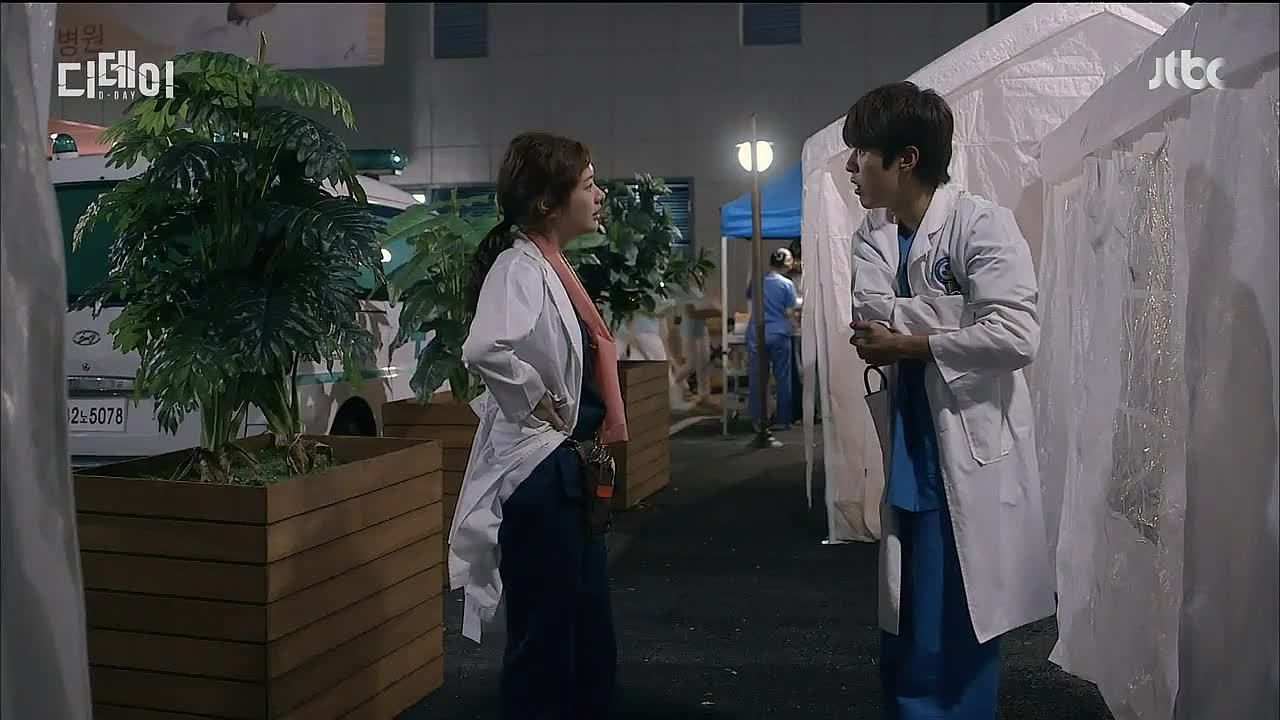 Ddol-mi drags Dae-gil out of the hospital to a private area, and then, with her trademark kick, demands to know why he's stirring up crap about Ji-na. If he wants to leave DMAT, fine, but he didn't have to make it worse for everyone else.
He grumbles about her abusive tactics, but he's more concerned about ruining his future as a plastic-surgeon by being in the difficult and dangerous DMAT. Besides, it's not like Ddol-mi is better than he is, since she's just an orthopedics resident and comes from a different hospital. So technically he doesn't have to listen to her.
Even so, she asks him for a favor. Since Hye-sung is so depressed, she wants him to be aware of his words and actions, and not use him as the hospital punching bag. Besides, she knows that he also had the same intention — to save Ji-won's life. Annoyed, he says that of course he did, who didn't want Ji-won to live — but he belatedly adds on a formal "yo" to the end of his sentence. I'll take that as a sign of agreement.
To relieve his frustration, Dae-gil hides out in his fancy sports car, listening to music cranked all the way up. So-yul nearly startles him out of his skin when she slips into the passenger seat, ready to relax as she listens to the bass-pounding music with him.
When he shuts off the music, she says that she heard he doesn't want to be part of DMAT any more. Rumors travel fast in this hospital. Sighing that it's a pity, she admits that she liked his determined and passionate attitude in the surgery room. It's really just a tactic to draw him into conversation, and Dae-gil says that even though he desperately wanted to save Ji-won, he'd never performed that kind of surgery before — he was scared.
Not every doctor can be as fearless as Hye-sung, but So-yul points out that at least Dae-gil is honest with himself, admitting when he's scared and incapable. Aw, when Dae-gil happily asks if she wants to listen to one of his favorite songs, they're both suddenly aware of how close they're sitting next to each other.
As the music plays, Hye-sung sits on a cot, staring unseeing at the hospital workers who busily rush about to transfer incoming patients from an ambulance, A bonfire crackles and a handful of rescue workers, patients, and family members enjoy the warm glow. Ddol-mi arrives, cheerfully dangling a can of coffee in his face, teasing him to take it before her arm falls off.
He finally acknowledges her, but barely, as he takes the can. She urges him to get some sleep, reassuring him that she'll take care of the patients in the ICU (and his pet bugs, aw), so he can get some rest. But he doesn't respond, and instead sets down his can of coffee and walks away.
Sister nervously sits in Director Park's office, worried about why he wanted to see her. He spins his web as he sneakily questions about what happened at the rescue site, and when she hesitates, he offers her chocolate. Don't do it, Sister! Don't make a deal with the devil just for a piece of chocolate!
But of course she politely accepts, and as she nibbles on the candy, the devil, I mean, Director Park pleasantly says that he might just have a job for her here at the hospital once everything is restored. Sister cracks, admitting that Hye-sung was acting a little strange.
It's PTSD, as Hye-sung knows full well. So-yul's found him sitting in his bunk of despair, and he explains that his hands were shaking because he couldn't escape the image of the men who died in the collapse of Han River Mirae Hospital. Even though So-yul reminds him she's not a psychiatrist for nothing and offers to help treat him, he wonders if he should just quit being a doctor altogether.
Director Park looks like the cat who caught the canary as he realizes that Hye-sung performed surgery while suffering from PTSD. This can't be good, but then again, when is anything Director Park has done been good?
Chief Kang and Captain Choi arrive at Mirae Hospital with their children, and as the staff gets his daughter settled into one of the beds in ICU, Captain Choi looks on, helpless. Gently he covers her foot that's sticking out from under the blanket, all too aware that it should be two feet he's covering.
Sitting beside his mother's bed, Hye-sung wonders if it would have been better if he hadn't tried to save Ji-won's life. Maybe it would have been better for her, too, if she had died that night along with his father, instead of remaining in a comatose state for years.
Captain Choi finds him there and desperately begs him to help save his daughter. He doesn't understand why Hye-sung refuses, saying he doesn't look after patients any more. He points out that Hye-sung tried so hard to save the boy from the swimming pool, so why not his daughter? Is it because he's poor but the boy comes from a rich family?
But Hye-sung numbly stands up and asks why he's clinging so desperately to him, since no matter what he tries to do, the patient will die. That's… not exactly what you should say to a worried father, but I suppose depression clouds judgement.
Director Park has set the ball in motion to fire Hye-sung. Again. But this time, he'll make sure that Hye-sung's medical license will be revoked, too. Not that he'll get too much argument from Hye-sung, as he rips off his doctor's coat and badge and leaves them on the floor of the break room.
Woo-jin is the second choice to save Captain Choi's daughter, but he apologizes that he won't be able to accept her as a patient since the survival rate is too low. Captain Choi's grief-stricken wife clings to his arm, sobbing as she asks her husband what they're going to do now.
Hye-sung pays his respects to Ji-won down in the morgue, sitting next to the table while he cries his heart out. Tears and snot running down his face, he apologizes to Ji-won that he wasn't able to save him. Someone like him doesn't deserve to be a doctor.
Just then Ji-won's mother arrives with flowers for her son. She's furious that Hye-sung is there, too, and begins beating on his chest with the bouquet, screaming at him to get out. But her angry reaction stems from her grief, and she soon collapses next to her son, crying.
Hye-sung dazedly staggers his way through the darkened hallways of the hospital. When Ddol-mi returns to the break room with a cup of ramen, she realizes that Hye-sung is gone — for good, too, based on his left-behind coat and badge.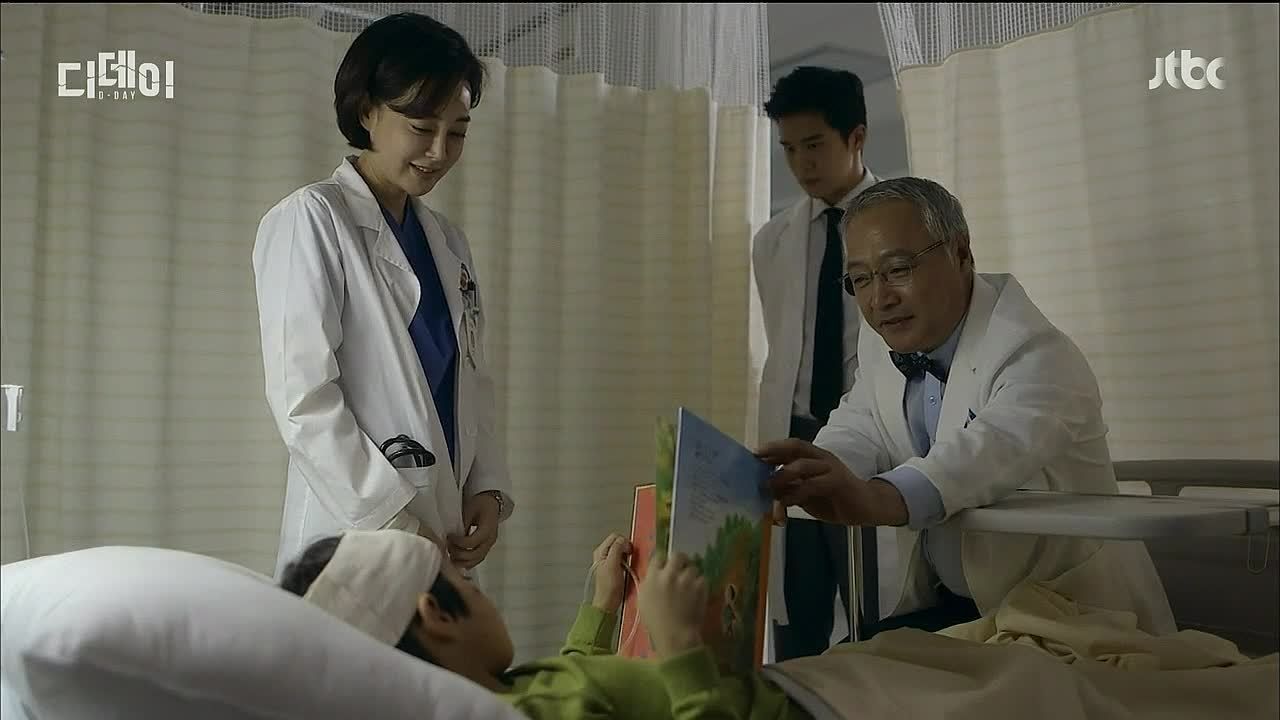 Chief Kang is reading a story to her son when Director Park and Woo-jin arrive to check on him — it looks like he'll be fine, no major injuries. Director Park is playing the jovial uncle as he tells Dong-ha that his mother is amazing. She saved so many people at the hospital while she was waiting to hear word about him. Yeah, in the hospital you originally wanted to close down.
But Director Park needs to speak to her in private — he's chomping at the bit to use his trump card of Ji-na attempting to perform unauthorized surgery and Hye-sung doing surgery while suffering from PTSD. He's sure it will be proof of malpractice when they perform the autopsy.
Meanwhile, Hye-sung has ridden his motorcycle to a deserted area. His PTSD isn't just about the men crushed in the rubble — now he's haunted by Ji-won's quiet wish to stay alive.
A news interview airs just then, and Director Park sits back to watch in delight as his "humble hero" persona is displayed for all the cameras. Even though he actually may wish to cancel DMAT, now that the interview is out that shows him praising the efforts of his hospital to rescue people in the streets, he won't be able to.
Instead, he'll change up the leadership. He asks Woo-jin to be in charge, much to his surprise. Chief Kang is still pushing for Hye-sung, saying that if they just give him some time, he'll be okay again. But Director Park reminds her that there's only a few hours left of the "golden time," so there's no time to waste on waiting for Hye-sung to get better.
Woo-jin's assembled the new DMAT team — which has approximately twenty medical staff assigned to it (including the lazy Myung-hyun). The first rule of business is to make sure everyone understands that no one is to perform unauthorized medical treatment (a pointed look at Ji-na), and that no one is to challenge him on his decisions.
Ddol-mi runs through the rubble-strewn streets as she tries to find Hye-sung. He sits, staring blankly out at the destruction, telling himself that it's all over.
As Hye-sung starts to ride away on his motorbike, Ddol-mi stands in his path, causing him to screech to a halt. She begs him to stay, since if he goes, that means he's decided to no longer to be a doctor. He turns to leave, but she calls out after him, telling him that she visited Ji-won in the morgue and asked him if he hated Hye-sung because he couldn't save him.
She says that Ji-won told her he was thankful because Hye-sung held his hand when he was scared, and that Hye-sung didn't say the surgery would be pointless because of his musclular dystrophy. Ddol-mi tries to fight back her tears as she continues, telling Hye-sung that, when Ji-won's heart was cooling, he was thankful to have Hye-sung's warm hand to hold.
Hye-sung tells her to stop lying, but Ddol-mi says Ji-won was thankful for Hye-sung's encouragement to keep living, which is why he was able to endure for so long. She steps forward to cling onto Hye-sung's back, once more begging him not to leave. They're not lies, she tells him — that's what Ji-won told her. If he leaves now, how will Ji-won rest in peace?
Burying her face in his back, Ddol-mi sobs, and Hye-sung doesn't try to hide the tears falling from his eyes, either. He turns around to comfort her and hold her close as they both continue to weep.
COMMENTS
Oh, Ddol-mi, how much do I love you? Let me count the ways. If it weren't for you, this entire hospital would have completely imploded into confusion and chaos and whiney babies who blame each other for everything.
I think a part of me (or most of me?) genuinely wishes this show was predominately centered on her and not Hye-sung. Just think of the interesting perspective we could have had, this Busan orthopedics resident coming to Seoul just for one day, getting randomly swept up in Hurricane Hye-sung, and then being stuck there as she experiences the earthquake and its aftermath. I've loved watching her character growth and the different ways she relates to all the other characters. Whenever she's on screen, I practically want to cheer because she's become the voice of reason on this show (a voice that we so desperately need).
My patience with Director Park wore thin episodes ago, and even though I'm glad we're getting at least some back story as to why he's so eeeeeeeevil, it's too little, too late. I mean, this is episode 12, for cryin' out loud. Couldn't we have addressed the reason why Ji-na hates him earlier than this? (Or even that the rest of the hospital staff didn't know she was his daughter until now, because for whatever reason, I was sure Woo-jin knew that and was the primary reason why he'd dated her.) And I can't wait to see the look on his face when he realizes that the man he put in charge of DMAT is losing his vision.
Mostly, though, I think I'm disappointed to realize that this show definitely revolves around Mirae Hospital. Maybe it was naïve of me, but I'd been hoping the past couple of episodes that we'd actually start to branch out and see more drama set outside of the hospital. Silly me for thinking this was first and foremost a disaster drama before it was a medical drama.
I still want to know what's going on with the general populace, though, and outside the walls of Mirae Hospital. I want to know what's going on with Mr. Kang and the deaf girl's father. I want to know if the twins' and their parents made it. Dammit, I want to know why it's suddenly now so easy to get from one hospital to another, especially one in Incheon, and why that hospital seemed to have no issue with power or staffing or supplies. Or maybe they did. But it seemed like everything was up and running, and they were able to do CT scans — equipment that I thought was destroyed at Mirae Hospital during the first earthquake.
Is the government finally doing their job clearing the streets? I know Mirae Hospital is in an area that was hit the worst, but I still want to know the logistics of going from a place that was completely blocked off from any sort of assistance to one where you can apparently get from one hospital to another without much issue. I know it's been a constant refrain in the comments, but where is the government and the military in all this? Why is a private, specialized hospital the first to create a relief team a full two days after the earthquake?
Despite some plot holes and logic flaws, I still love our characters (well, most of them — some I love to hate — you know who you are) and I'm looking forward to watching their journey continue. I do care about Ji-won's death and its impact, and I'm hoping that the grief and desire for vengeance his mother feels is just a knee-jerk reaction — like the frustration back at Han River Mirae Hospital, when Ddol-mi told the son to beat her up if he thought it would bring his mother back.
But I'm sick and tired of feeling trapped at Mirae Hospital. Or maybe that's what the show wants me to feel — the same frustration and ennui that our characters must be experiencing. I can only hope that this angst will last for only a couple of episodes (or less!). Perhaps it's expected that everyone will break down after three days of non-stop work and stress and worry, but I'm counting on my girl Ddol-mi to remind everyone why they became doctors in the first place.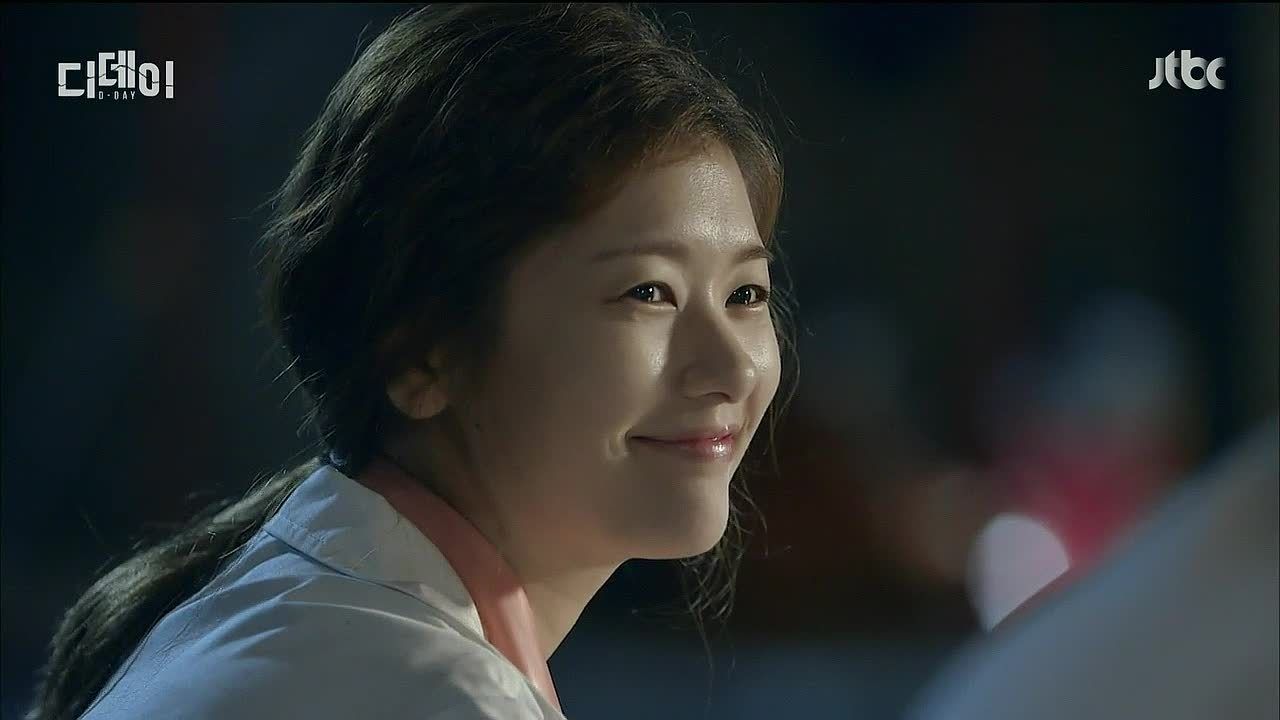 RELATED POSTS
Tags: D-Day, featured, Ha Suk-jin, Jung So-min, Kim Young-kwang