D-Day: Episode 17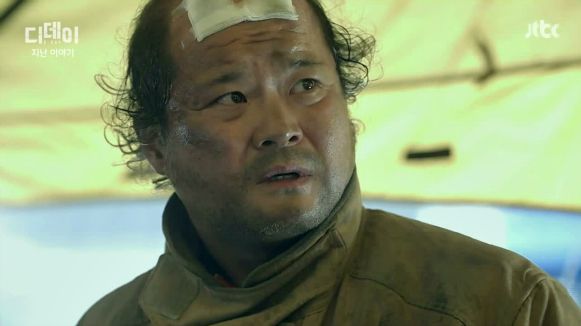 Duty calls, but it's never easy to volunteer your life. It seems that Captain Choi's looming sacrifice is an inevitable deed, as there's no one more qualified for the job than him. The great power imbalance of handling this disaster comes into play, and we see that the real people saving lives don't hold the power to make the pivotal decisions. What makes the job of a doctor and firefighter so respectable — the altruism and dedication — also makes them vulnerable.

EPISODE 17 RECAP
Captain Choi throws a punch at Ja-hyuk in response to accusations that he's lost his sense of duty. Throwing the money envelope on the ground, Captain Choi asks if that is Ja-hyuk's version of responsibility — bribing him to risk his team's life. Ja-hyuk argues that he's giving Captain Choi an opportunity to save his country, which only earns him a sarcastic thank you.
Ja-hyuk's desperation to untangle the power sources leads to a more polite and pleading request for Captain Choi's team resolve the issue. After a moment, Captain Choi explains that he can quickly put out a fire, but it takes longer for him to potentially sacrifice one of his team members. He asks for one more day, and Ja-hyuk agrees.
As Ja-hyuk leaves the tent, we see Woo-sung around the corner, having overheard this conversation.
Woo-jin checks up on their patient, and though his vision blurs, Ddol-mi and Hye-sung are right behind him as his back-up pairs of eyes. When Woo-jin's eyes focus, he realizes that this patient is a familiar face. Ddol-mi reads the patient's name for him, and Woo-jin recalls that he rejected this patient for cancer treatment because the patient had expressed skepticism about the treament (in episode 1).
Regretting his decision, Woo-jin sighs and thanks Hye-sung for saving this patient. Ddol-mi confidently announces that she'll take care of this patient, since she's an expert in her field. She's interrupted by a nurse who calls her outside. Someone from Busan is here.
When she runs outside, Ddol-mi is surprised to find her father with his construction machinery. She runs to greet him with an embrace, and he explains that he wanted to do some good work alongside his daughter. Ddol-mi introduces her father to Hye-sung, and of course their first topic of conversation is his towering height.
In the treatment room, Chief Kang checks Ja-hyuk's busted lip. I wonder if she knows that he deserved it.
Ddol-mi invites Captain Choi and his crew to enjoy some of the makgulli that her father brought up from Busan. His crew seems eager to join, so Captain Choi obliges. Woo-sung stops Ddol-mi to ask if the nurses are coming to the makgulli fest too. Hee, someone has a crush.
Meanwhile, Director Park sits in his office repairing his toy boats. His assistant hints that he likes makgulli, but Director Park specifies that it's more important who you drink with. So he continues to work on his boat, despite the fact that his metaphorical boat has already sunken.
A patient sings Travel Sketch's "Falling Star" around a campfire set-up, and we see the little interactions. Woo-sung smiles at the sight of his favorite nurse, drunk Myung-hyun stumbles around, and Ji-na leaves Ddol-mi and Hye-sung when she spots Woo-jin. When Hye-sung notices Ddol-mi coughing, he takes off his jacket for her, and they laugh at the long floppy sleeves on petite Ddol-mi.
So-yul gets drunker than she can handle and walks back into the hospital. Dae-gil follows her in and tries to keep her stable. Standing against the wall for support, So-yul tells Dae-gil that if he has more to say, she'll listen. He tells her that he doesn't want her to ride on another man's motorcycle, even if it's with Hye-sung. He also doesn't want her to ride in another man's car.
After that sinks in, So-yul grabs Dae-gil and leads him into a dark storage room. They make out clumsily. Ha, this is unreal.
Captain Choi's crew notices his prickly personality recently, but they assume that it's because of his daughter. Woo-sung doesn't seem to be paying much attention to their conversation, with his eyes glued on his favorite nurse. When he sees her leave, he limps quickly to catch up with her. He tries to start a conversation about musician Kim Jong-seo and how he missed his concert because of the earthquake, but it goes nowhere. So awkward, I love it.
Hye-sung scooches next to Woo-jin and Ji-na with a bottle of makgulli. Woo-jin says he can't have any, considering his condition, and Hye-sung responds that he still thinks Woo-jin is lying to get out of surgeries. He admits that he worked hard to become a doctor because he wanted to be like Woo-jin, and now because of his mother.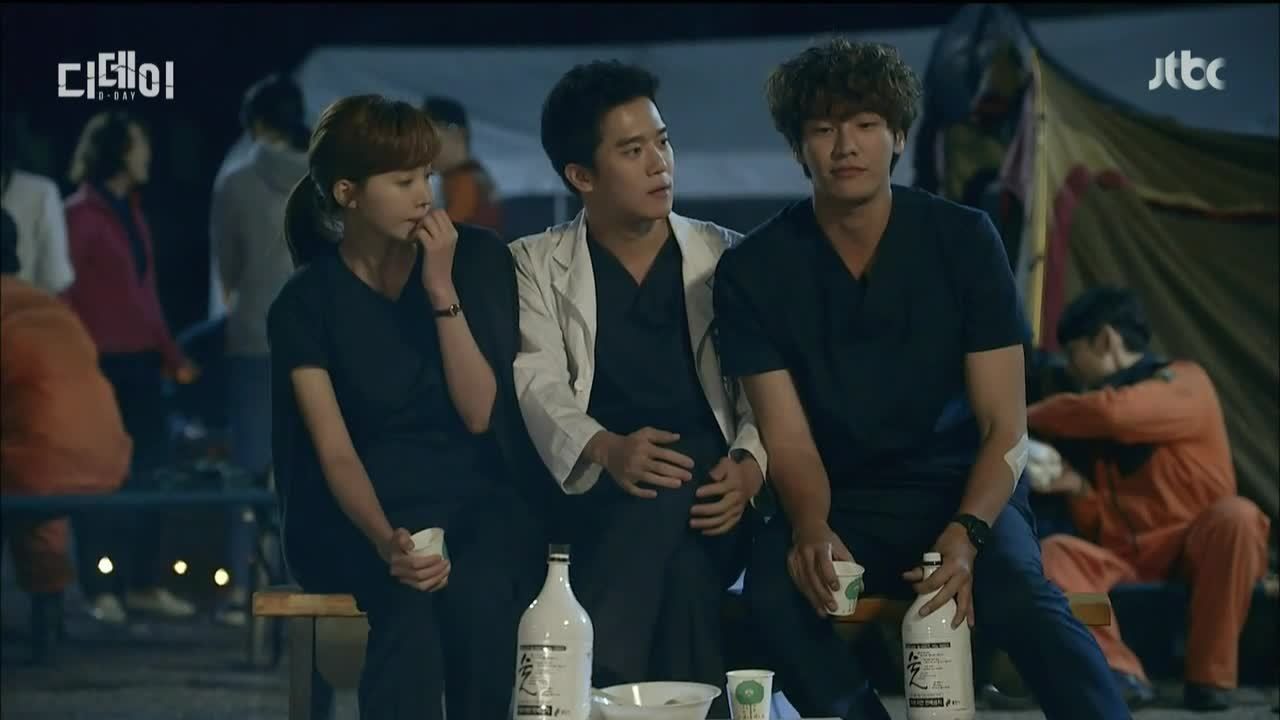 Ji-na freezes at the mention of him mother. Thankfully, Hye-sung doesn't push the topic and puts it behind him. He wishes that Woo-jin didn't have his condition, so that they could look at CT scans together and attend patient conferences together. But they both know it's wishful thinking, and Hye-sung heads back inside to check on patients.
Thinking back to the good ol' days when Woo-jin used to be Hye-sung's role model hyung, Hye-sung longs for the past. He wonders if they must change with their world. If an earthquake destroys a building, must their hearts be destroyed as well?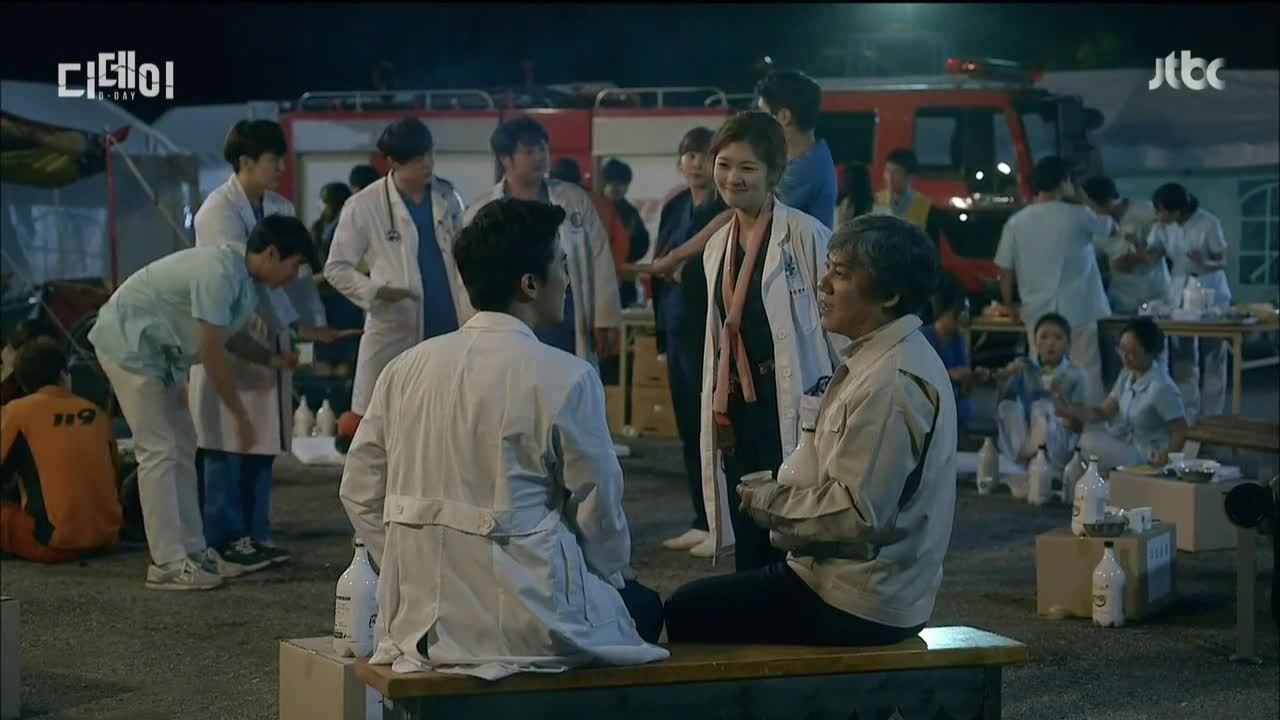 Ddol-mi brings her father to greet Woo-jin, and her father expresses his gratitude for inspiring Ddol-mi to become a doctor. He pours Woo-jin a cup of makgulli, and when Woo-jin tries to return the gesture, his eyes begin to blur. He misses the cup, and drunk Myung-hyun starts teasing him for vision loss.
Flustered by his unfocused vision, Woo-jin stands up to leave, but trips on the tent string. He stumbles his way through a confused crowd and faces a blurry flight of stairs inside. Ji-na watches from afar as he grabs onto the rail and falls from his missteps.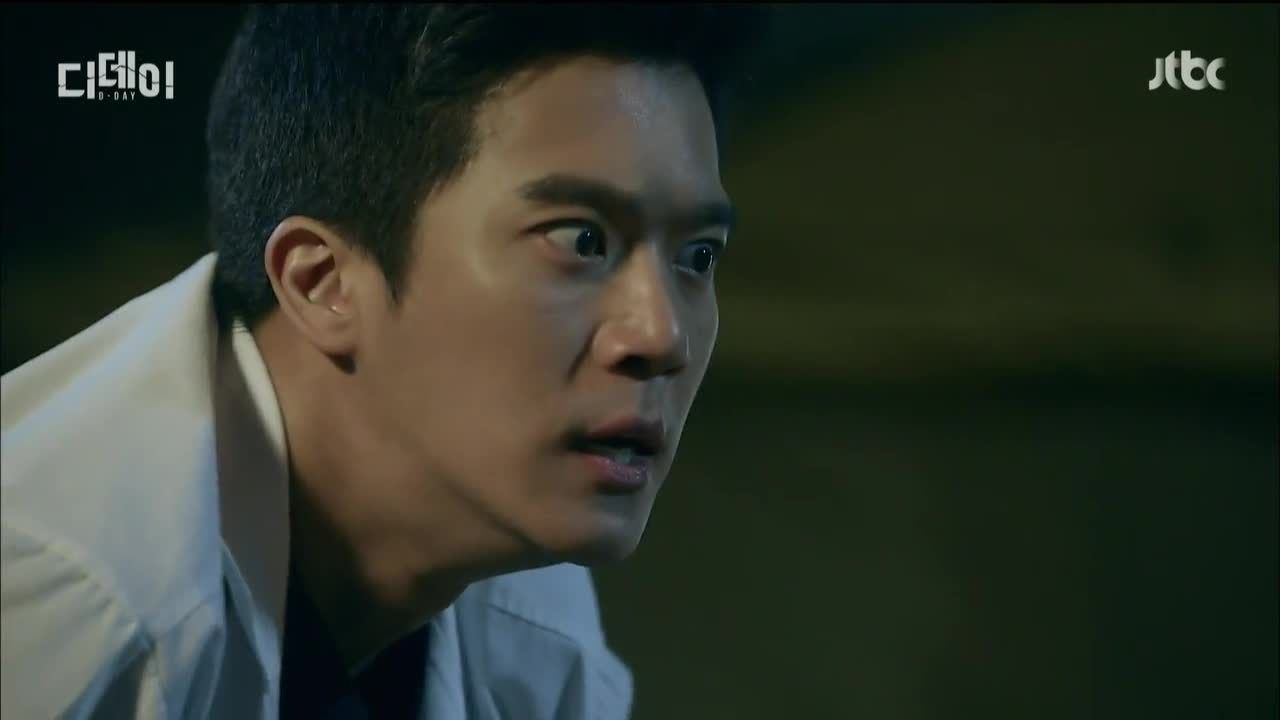 Myung-hyun reports to Director Lee that Woo-jin seems to have a vision problem. Woo-jin refuses to treat patients and even missed the cup when pouring makgulli. But that's not enough hard evidence for Director Lee. Comparing him to a dog, Director Lee orders Myung-hyun to bite something useful.
In his office, Woo-jin expresses his anger with his condition. He's vexatious at how unfair the world is — why him? Ji-na tells him that she'll be his eyes and admits that she still loves him. Woo-jin knows that Ji-na has taken on the burden of his and her father's doing, and he says that she's done enough. He takes a good look at her while he can and confesses, "You're beautiful, as always." Woo-jin kisses her, and when they part, Ji-na leans in for more.
Captain Choi stays awake through the night, pondering his difficult decision to sacrifice his team for Ja-hyuk's requested task. Woo-sung sees a worried Captain Choi from outside the tent, aware of his dilemma.
Woo-jin walks into the president's ICU room and tells him that he must wake up, as he's the only one who can save Hye-sung. Afterwards, Woo-jin enters the elevator and struggles to focus on the buttons. He successfully pushes the button for the third floor, but Director Park enters the elevator just as it's about to close.
Aware of Woo-jin's potential handicap, Director Park requests that Woo-jin press another elevator button for him. He hoovers his hand for a moment too long, and that only adds to Director Park's suspicion about his deteriorating vision.
That night, Woo-jin decides to take off his gown permanently, and he leaves the hospital. He takes one more look at his large poster on the building and walks away from the place where he once dreamed to be a reputable doctor.
The next morning, Ddol-mi's father goes off to help clear the rubble and gives his daughter a big hug before going on his way. Director Park checks on his brother-in-law with his sister and Chief Kang, but only has bad news. They won't be able to treat brain damage here or anywhere else, since it's most likely irreversible. He scolds Chief Kang for not finding another hospital sooner, and she apologizes, explaining that their radio somehow broke.
Director Park rambles on about finding justice for his brother-in-law's state while Chief Kang gives him a long dubious look. Outside the ICU, they're met with Hye-sung and Ddol-mi just as news arrives of more emergency patients heading to Mirae. Director Park doesn't seem to bothered because he now has an excuse to kick out all the vegetative patients, including Hye-sung's mother. Hye-sung pleads for time to find another hospital before they kick her out, but Director Park smirks.
The delusional man returns to his office and blasts his classical music to conduct another orchestration of evil.
Hye-sung asks Captain Choi for help in relocating his mother, but Captain Choi doesn't seem too responsive. He hands down the tasks to his minion, explaining that the minion will have to be a captain one day.
Ddol-mi runs out of the hospital to deliver the news to Captain Choi that his daughter just woke up. He seems relieved and happy, but Ddol-mi reminds him not to cry or show excessive emotion in front of her. She's in a sensitive state, so he must be extra careful with how he responds.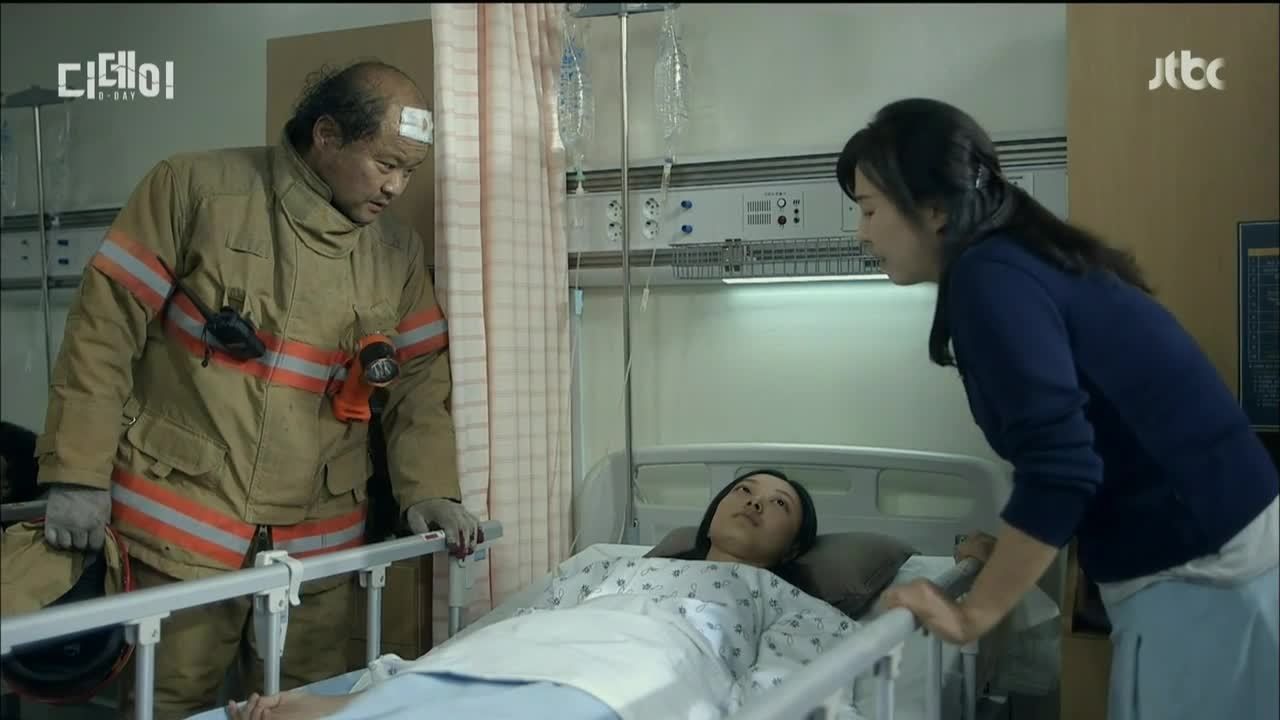 After they settle Seo-hyun's bed in the room, Captain Choi gently explains that she took a long nap. He's thankful that his daughter woke up and promises not to get mad at her from now on, even if she fails her exams or stays out late at dance practice. They glance down at her one leg but don't linger too long on the issue. Seo-hyun assures her father that she won't be staying out for dance anymore.
Captain Choi reminds his daughter to stay strong like him, no matter what. She nods and agrees to do so. Who cares if she has one leg? She can get an artificial one. Captain Choi looks upon her daughter with gratitude and pride. He lingers a while longer with suspiciously affectionate parting words, which seems to confuse his wife.
Once they leave, Seo-hyun begins to cry. Doctor Do comes over and praises her bravery and mental strength, and Seo-hyun admits that she had no choice. If she cried in front of her parents, they would have been more heartbroken.
Woo-sung talks to his mother and takes out a picture of himself in his firefighter uniform. He'd hoped that she would wake up to see him in service, but he asks her to look at his picture when she wakes up. He also seems to talk with a hint of finality, as he asks his mother to clear the misunderstandings he had with Hye-sung.
The department heads vote to discharge all vegetative patients, and the news is gladly delivered to Hye-sung by Director Park. Hye-sung tries to negotiate a compromise, but Director Park smugly notes that he should have begged with he could have.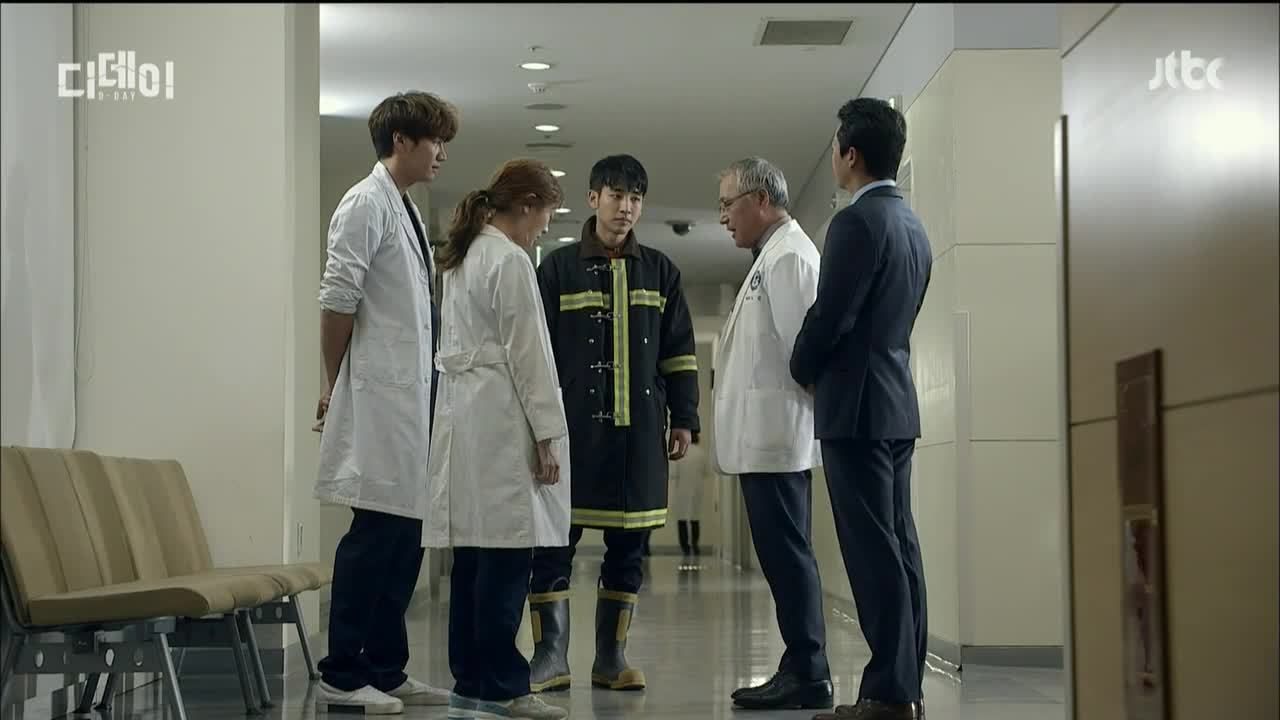 Their conversation is interrupted by a recovered Woo-sung, who confidently tells Director Park that they don't need to stay at a hospital that continually tries to get rid of them. With that, they move their mother outside under a tent.
Hye-sung regrets his shortcomings in taking care of Mom, but Woo-sung assures him that Mom would understand. It's an uncharacteristic comment from Woo-sung, and Hye-sung smiles at his sudden maturity. Woo-sung responds in his normal irate manner, but he adds that he wishes Mom were always beautiful and young. That prompts Hye-sung to ruffle his brother's hair, and they get into a playful fight.
Captain Choi, Chief Kang, and So-yul rush out to check on Mom, and they promise to keep her safe. This space is allotted to the firefighters, so Director Park won't have a say in her stay. Captain Choi obviously welcomes his daughter's savior's mother, and So-yul assures Hye-sung that she'll take care of her while he's gone on DMAT.
Before they leave, Woo-sung heads back inside looking for his favorite Nurse Yeon. She's not sight, so he asks another nurse to deliver an envelope to her. The nurse just throws it aside, so Woo-sung asks again to make sure that it's properly delivered to her.
Ji-na knocks on Woo-jin's door and enters when she gets no response. She finds his folded gown and badge along with his resignation letter, which reads: "I am tired. I want to rest. You can call me a coward, a failure, or irresponsible. I am sorry to you all."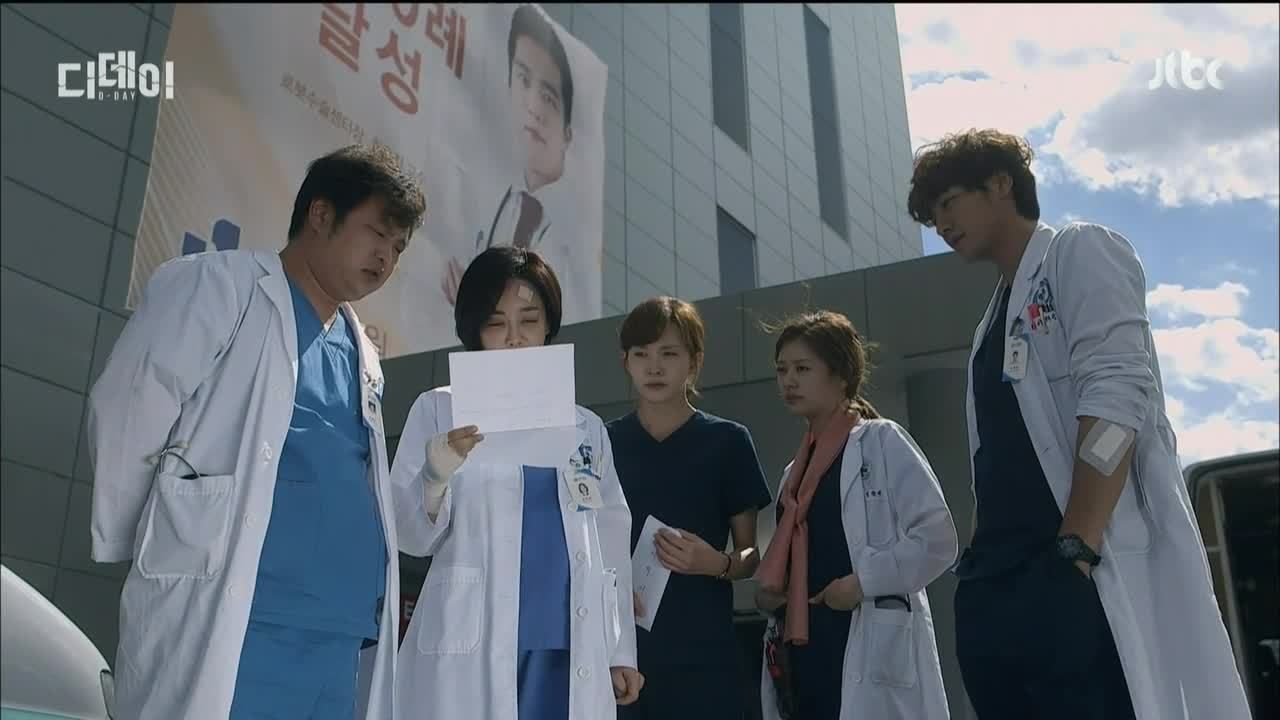 Chief Kang knows that something must be up, since Woo-jin — unlike Myung-hyun — isn't one to leave patients behind for personal convenience. Unfortunately, DMAT must go on without him, and his absence leaves Myung-hyun as the only choice as the interim DMAT director.
Ddol-mi's father operates his construction machinery, which gets stuck in the rubble and causes significant damage. He's injured as well, and the DMAT team arrives with a devastated Ddol-mi rushing to her father's side. Her hands shake too much for her to diagnose him effectively, so Hye-sung takes over. He thankfully doesn't find much other than internal bleeding, but Ddol-mi remains hysterical.
Myung-hyun diagnoses another patient, who claims to have tearing pains in his stomach. Overhearing the severity of the claims, Hye-sung rushes over to check on this patient instead of boarding the ambulance with Ddol-mi and her father. He checks the man's stomach and fears that he may have an aneurysm.
Both patients are rushed to the hospital in ambulances. Ddol-mi stays with her father while Hye-sung constantly checks on the aneurysm patient, whose condition continues to deteriorate.
Back to the site, Ja-hyuk arrives to apply more pressure on Captain Choi to make a decision. As they overlook the rubble, Ja-hyuk compares their history to that of Rome. They must pass on a legacy and history of their nation, and to do so, Captain Choi must decide now. They have no time. He urges Captain Choi to think about the future, keeping in mind that Rome wasn't built in a day.
Woo-jin heads home on a boat, and he's greeted by his blind mother. She's overjoyed that he's home and relieved that he's safe from the earthquake. As all mothers do, she tells him that she'll prepare a meal right away.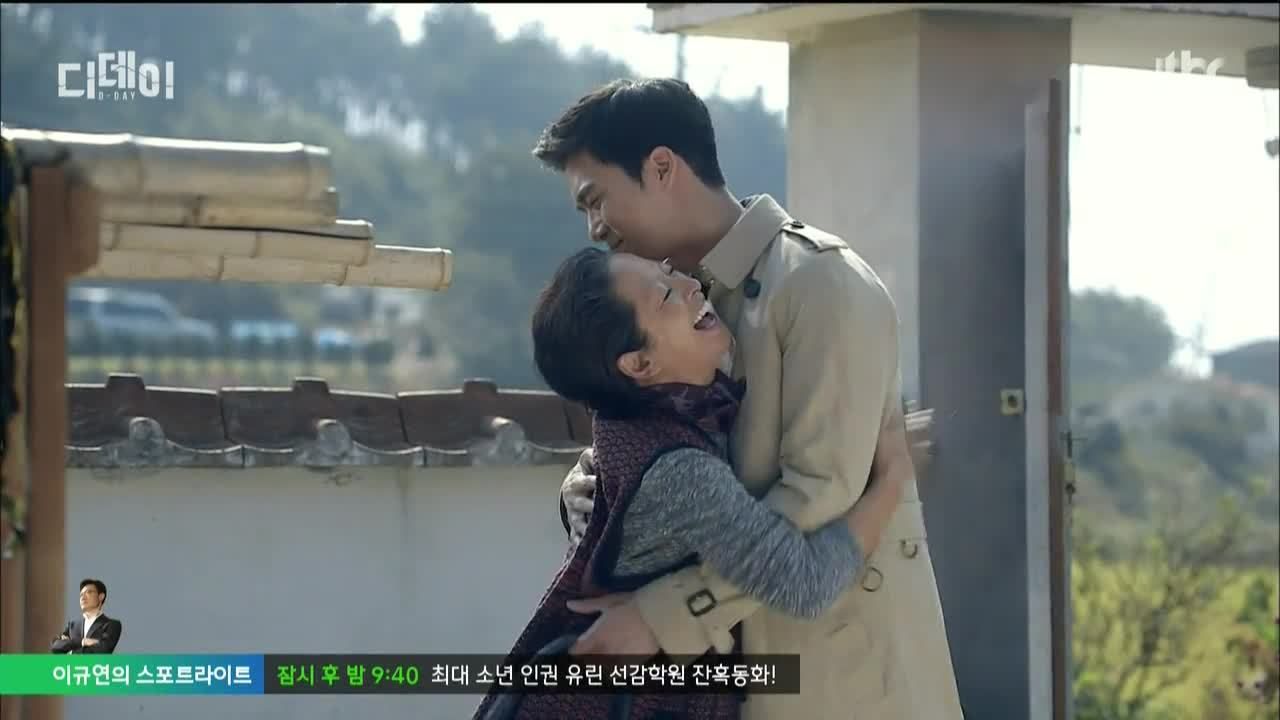 Ja-hyuk shakes Captain Choi's hand in gratitude, and he bows to the team. He seems energized by Captain Choi's commitment to repair the underwater pipes, but the firefighter team doesn't feel the same. As soon as Ja-hyuk leaves, Woo-sung protests Captain Choi's decision to go in himself. Woo-sung knows the lethal risks of the water pressure, and the rest of the team argues who will go in as a potential sacrifice.
Woo-sung asserts that he won't be attending a firefighter funeral — he won't let Captain Choi take on this immense duty with such high risks.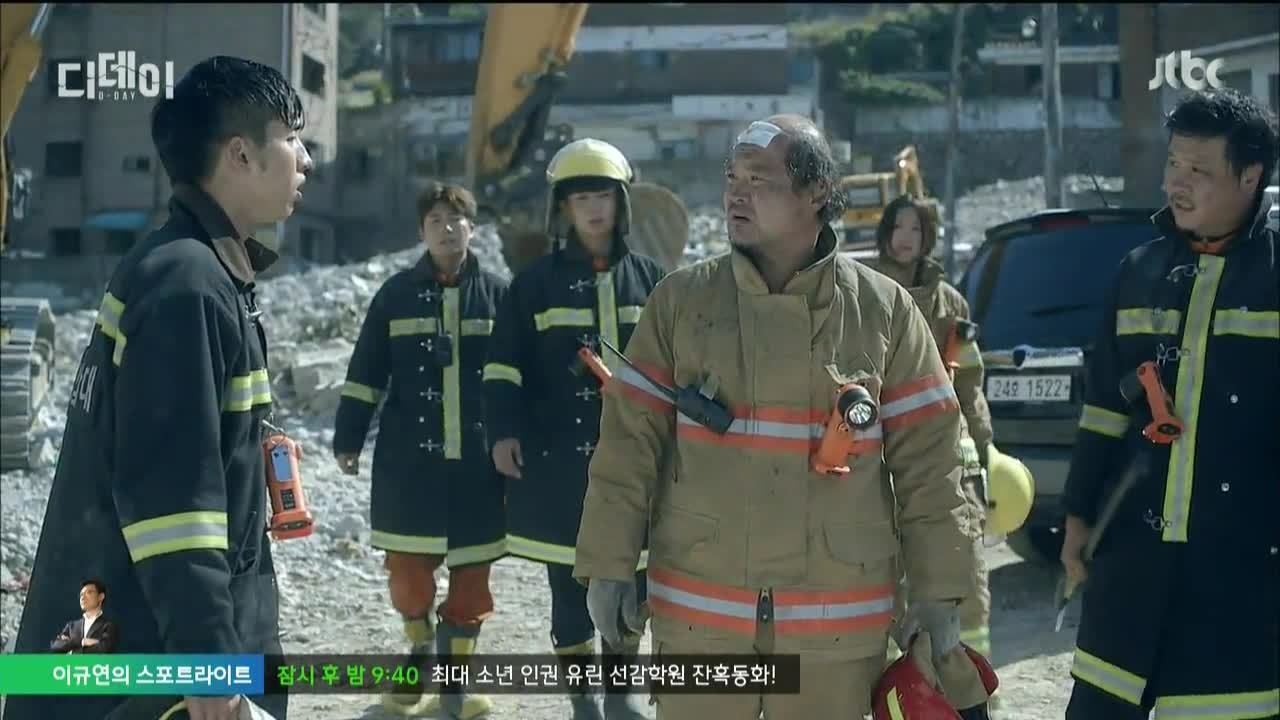 The two patients are wheeled into surgery rooms, and Chief Kang asks Hye-sung to attend to the aneurysm patient, since its urgency is so apparent. Ddol-mi nervously awaits for her father's surgery to begin, and she's clearly upset when Myung-hyun walks in as the main surgeon for her father.
Ddol-mi runs to the other room, where Hye-sung is preparing for another surgery. She requests that he help her father and expresses guilt over her father's injuries. But Hye-sung tells her that he can't. He has to stay there.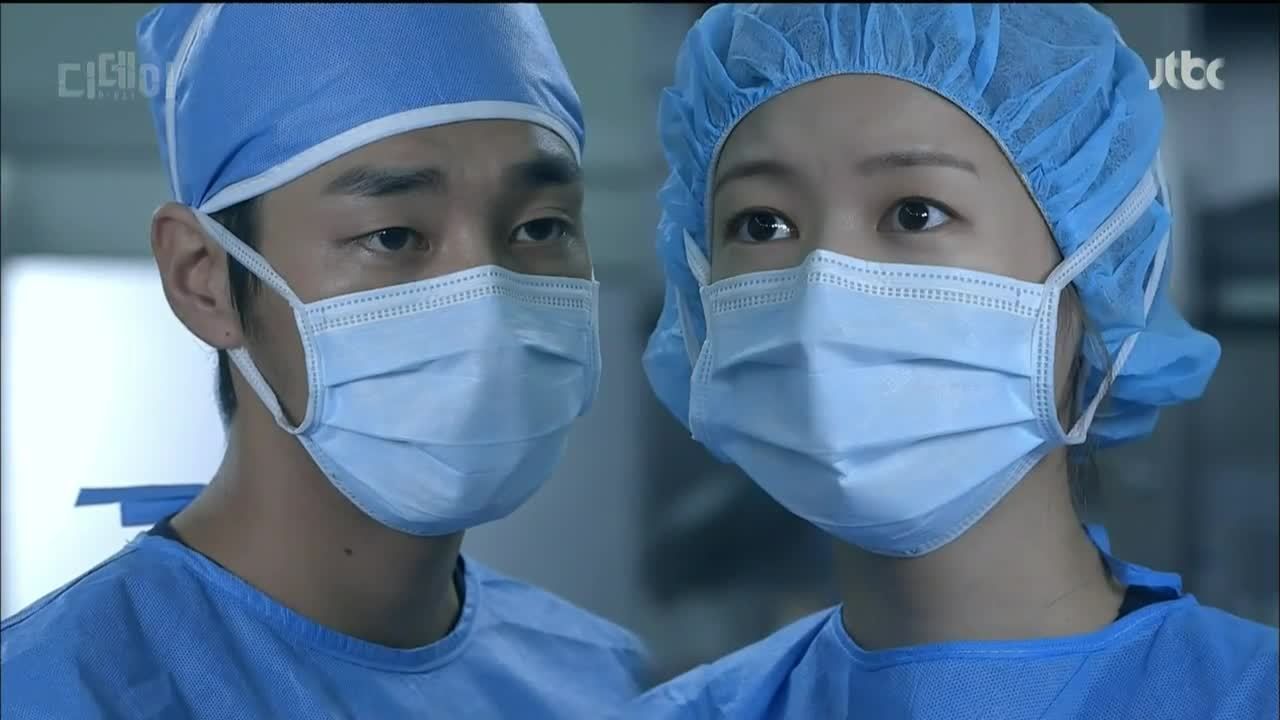 COMMENTS
I really hope that this isn't the last main conflict between these two, but I can see how this can easily turn into something very personal for Ddol-mi. Though her father insisted that he would have come to Seoul to help in the disaster's aftermath anyway, Ddol-mi still feels guilty. I think her guilt may parallel Hye-sung's guilt in failing to protect his parents, but I would hate to waste the last couple of episodes trying to resolve an honest doctor's decision. By now, we all know Hye-sung is a passionate doctor who cares almost too much about his patients' survival. His choice to not treat Ddol-mi's father can't come from malicious intent. So while I don't worry about this conflict getting resolved, I do worry about the little time we have left to redeem this drama.
I appreciated more time focusing Captain Choi because I find that ironically, the show fails to give the firefighters adequate screen time, just like everyone in the drama fails to appreciate their service. I can see Ja-hyuk's reason for requesting Captain Choi's help, since the firefighters are the most qualified for the job. Disrespecting Captain Choi is the last thing he wants to do, yet he does so anyway. I was hopeful that he would be a more grounded politician, but it seems that his humility was just a façade. Sadly, there seem to be no pleasant surprises anymore — Ja-hyuk is just another greedy politician.
I'm glad that Woo-jin is taking a break, and I'm a little jealous because boy, could I use a break from all this hospital nonsense. In a perfect world, Director Park's plans would crash and burn, Ddol-mi and Hye-sung would join Woo-jin to create their own clinic, and Captain Choi would make Ja-hyuk fulfill his own demands. But alas, we're still sitting in the aftermath of a disaster. This whole drama feels like a big sigh.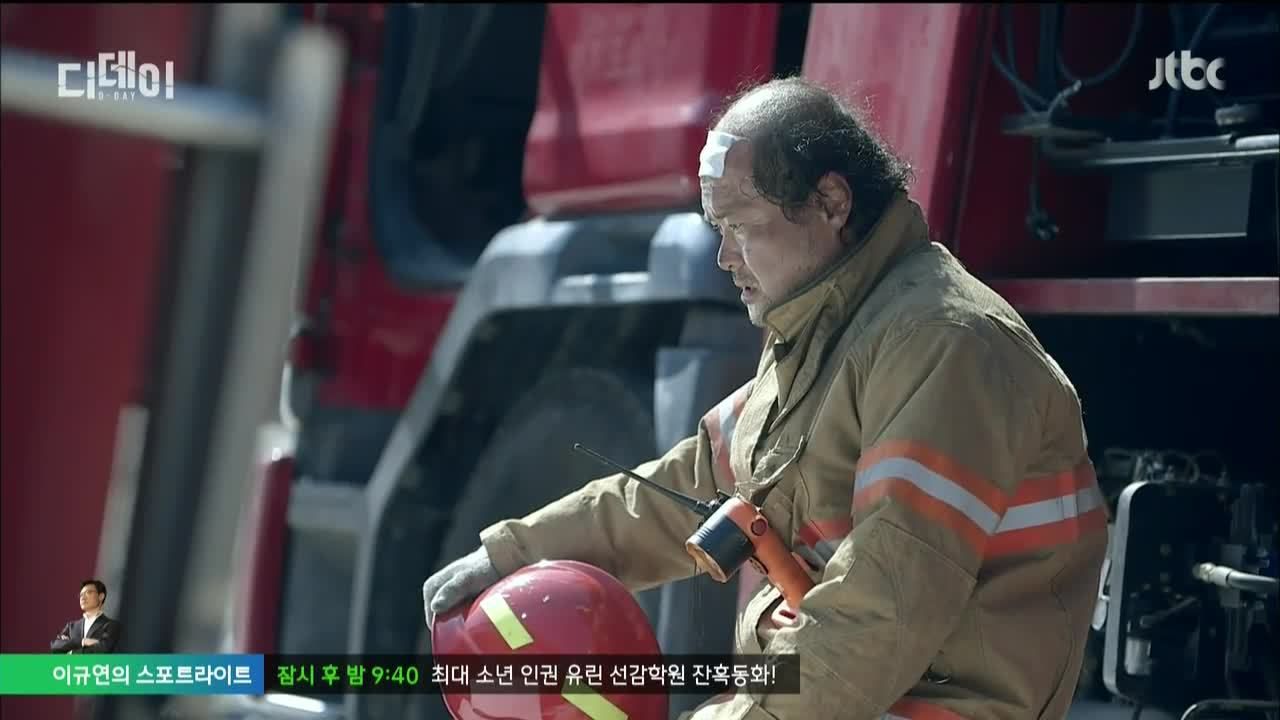 RELATED POSTS
Tags: D-Day, featured, Ha Suk-jin, Jung So-min, Kim Young-kwang