Oh My Venus: Episode 1
It's a promising start for Oh My Venus, the weight-loss-challenge rom-com that premiered today on KBS. I admit that I still have some niggling reservations about the premise, but I like the tone, the leads (in particular the sympathetic heroine), and find promise in the side characters.
But really, we're all watching this for the Shin Mina–So Ji-sub match-up, aren't we? And just to see these two together, whether bickering or crackling with chemistry, I'm pretty sure I'd accept even the flimsiest plot, doing the bare minimum as romance-delivery device. If we're lucky, we'll get something better than that—I'm hoping for it, but not sure yet—but for now, I'm content with just having them together on my screen, hinting at the flirtation to come.
SONG OF THE DAY
N.Flying – "Lonely" [ Download ]
Audio clip: Adobe Flash Player (version 9 or above) is required to play this audio clip. Download the latest version here. You also need to have JavaScript enabled in your browser.

EPISODE 1 RECAP
1999. Daegu.
A busload of high school students listen to a radio show as the DJ reads a letter submitted by a lovestruck teenage boy who, along with all the boys in town, is infatuated with a girl named Kang Joo-eun. That's the girl who's featured in a magazine article naming her the winner of a "prettiest face contest," and in her profile she has listed "using Seoul speech" as her goal for the future.
Then the bus pulls up to the next stop, and all the boys go wild in anticipation as that very girl steps onto the bus. She's KANG JOO-EUN (Shin Mina), nicknamed the Venus of Daegu, and she inspires adoration and envy in equal measure.
At school, during gym class weigh-in, the girls exclaim at Joo-eun's unrealistically perfect proportions. What's the point of studying when life is so unfair?
Joo-eun is called out of class to clean up the graffiti left by her admirers, proclaiming their love for her. Then on her way home after school, she sees a group of boys sneaking cigarettes in a side street and warns them to cut it out. They aren't intimidated by her, but a third student joins them wearing a Korea Swimming tracksuit (Jung Kyeo-woon) and leads the others off, telling Joo-eun not to get too hot-headed and melt her ice cream.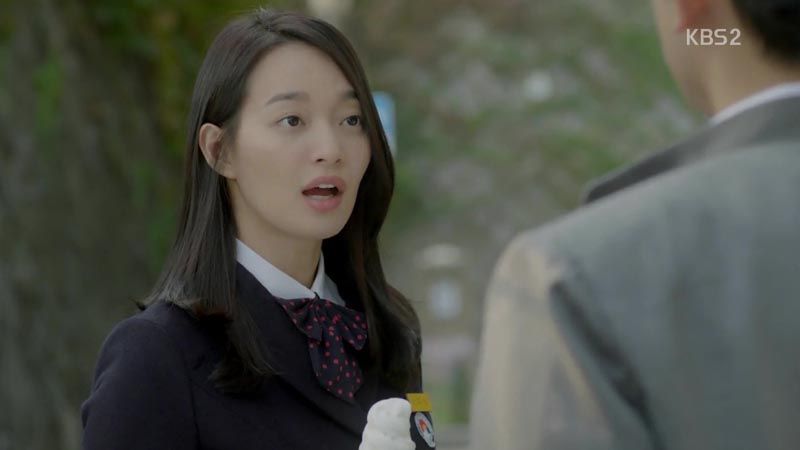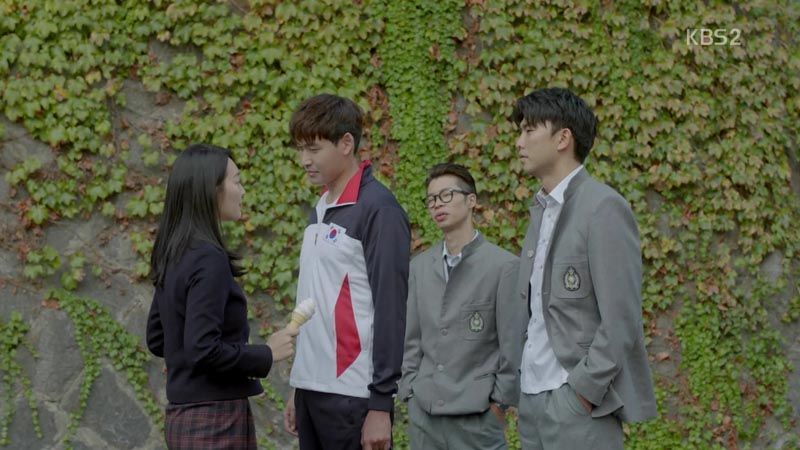 As the boys walk away, Joo-eun's approached by a beauty salon owner who gives her the pitch to let her turn Joo-eun into Miss Korea. She's not at all interested, turning the offer down flat—she's got other plans in mind for her future.
Her goal is to become a lawyer, and she heads to the library to study—and where a whole other set of adoring admirers is on hand to offer up all sorts of study help. They're interrupted by someone reminding them of the silence rule—it's the swimmer again, and he motions Joo-eun to meet him on the roof.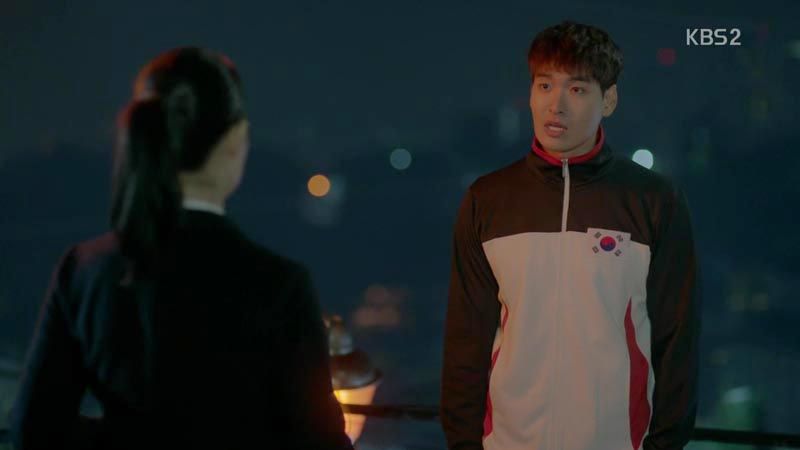 The swimmer is IM WOO-SHIK, and he exudes confidence as he tells her who he is and waits for her to recognize him. She doesn't, and his bravado takes a hit as he tells her he's totally famous, he's in the newspapers, he's a national athlete and he just competed in the junior world championships! Joo-eun apologizes sarcastically, asking if she should have brought him flowers.
His confidence shaken, Woo-shik blurts that he's from Seoul, and her goal was to learn Seoul speech, and he can teach her. He says her dimples are pretty, which makes her touch her cheek shyly, and then he draws near and takes his newly won gold medal and hangs it around her neck. He says a little nervously that he can only say this once, because a man only has one first love.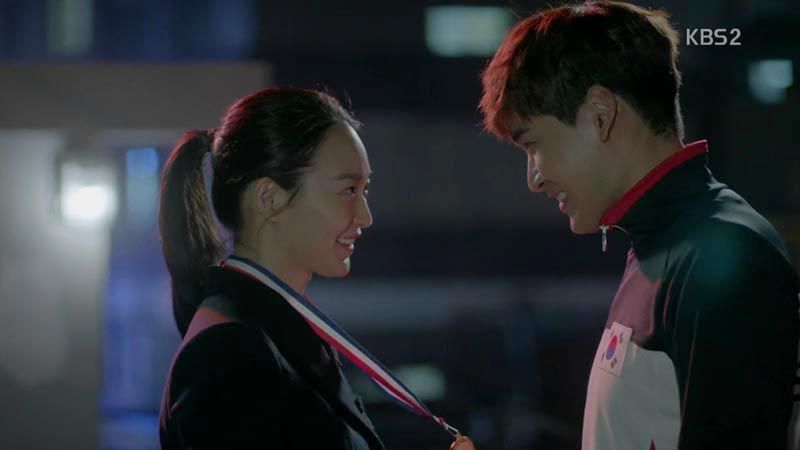 "From today on, you're my first love," he tells her. Joo-eun smiles bashfully, and when he says Seoul speech is tough to learn, she counters that she can do whatever she puts her mind to. They smile adorably at each other, and then, the years zoom by, landing us in…
2014, Seoul.
We meet Joo-eun as an attorney in a big corporate law firm, taking a meeting with a new client who turns heads as she struts into the office. The client's skintight dress and sexy appearance makes Joo-eun fidget self-consciously—because Joo-eun is now much heavier than she once was, and she tugs at her own clothes uncomfortably.
It's a blow to her ego to have the sexy client see the couple photos of her old self with Woo-shik and ask who that (pretty) woman is. Joo-eun tells us that Woo-shik was her first love and has been her boyfriend for the past fifteen years.
As for the case in question, the client has been entangled in an adultery case—she's the Other Woman, and the wife is suing her. So she plans to countersue, shamelessly proclaiming her innocence (she's not innocent) and ordering Joo-eun to go after the wife for slander, defamation, invasion of privacy, whatever she can.
Joo-eun finds the case distasteful and unfair, but is ordered by her boss (who's friends with the cheating husband) to do her job and serve the client. She apparently has a history of arguing for justice and fairness, to no avail. She can't quit either, as her secretary reminds her she still has 14 months of school loan repayments to make.
Her temperament has gotten her in trouble before, and a flashback shows us that only a couple years ago, she'd had her desk moved into an open corridor in retaliation, her boss adding smugly that she's welcome to leave and set up her own practice.
Still in 2014, we move to Los Angeles, where the newest Hollywood gossip involves a troublemaker star, Anna Sue, who's embroiled in a scandal with famous star trainer John Kim. Despite nobody knowing what John Kim looks like, he was the star of a The Stella Show, one of those dramatic transformation shows akin to The Swan or Extreme Makeover.
The woman featured was described as in a dark place before John Kim turned her life around, and somehow her dramatic beautification is touted as "sen[ding] a hopeful message to women all over the world." (Uh, that people love you when you're pretty again?)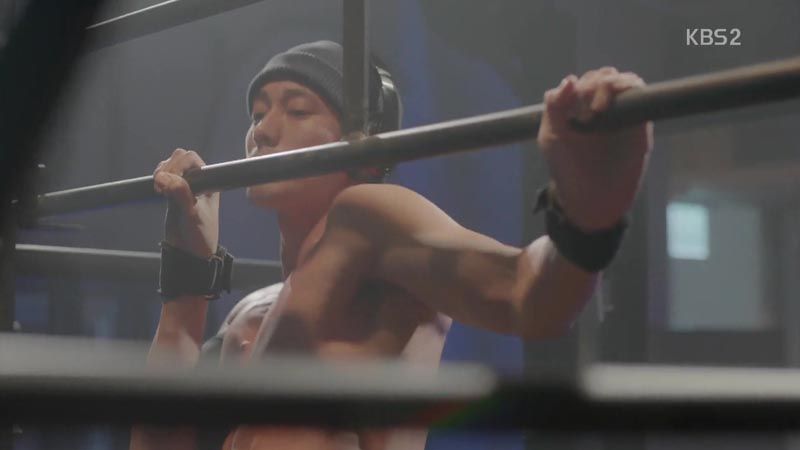 In any case, the latest scandal pairs John Kim with Anna Sue. And as this news plays on TV, we see him (So Ji-sub) working out solo in a state-of-the-art gym.
He doesn't show much reaction to the report, but ignores repeated calls from Anna Sue. On the upside, he does bathe, which we all get to enjoy for a nice minute.
Back to Joo-eun, who addresses the obvious question head-on: Why hasn't she tried dieting?
As she explains, she's tried every diet under the sun, from cabbage to tofu to trendy celebrity secret tips. She yo-yo'd constantly, and the frequent overworking didn't help.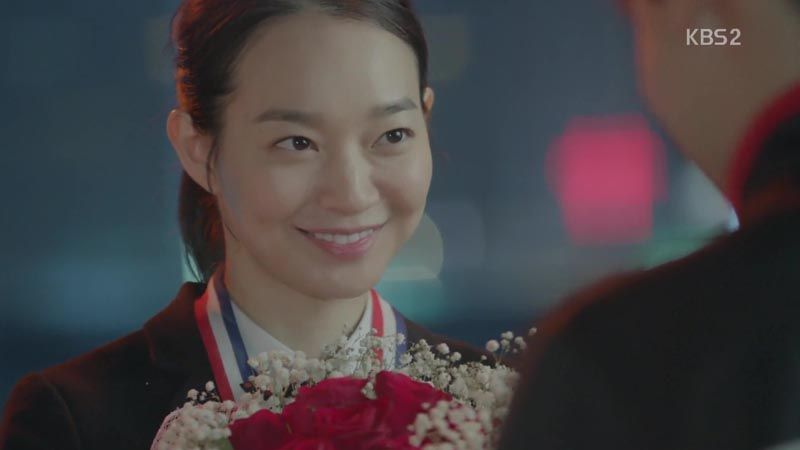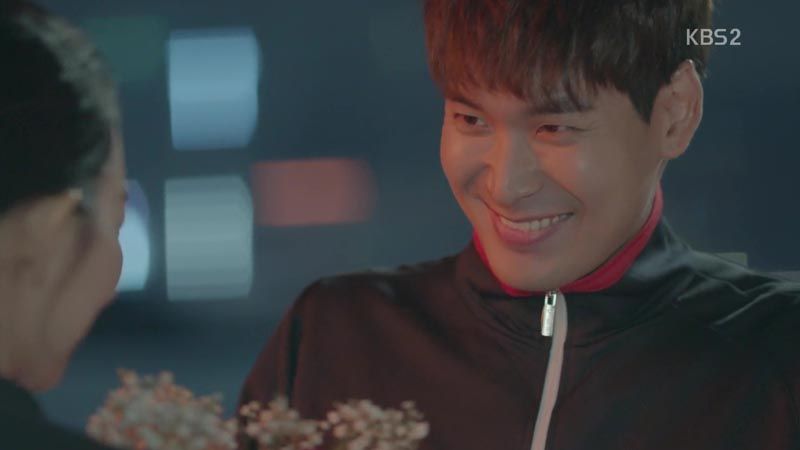 Tonight, Joo-eun finally wraps up her work after a long night and heads out to meet Woo-shik for their fifteenth-year anniversary. She thinks back to their high school days, when he'd presented her with roses and couple rings on the same library rooftop where he'd first confessed, and they'd counted that as their first day as a couple.
Joo-eun still wears that ring (albeit on her pinky finger now) and heads over with an excited heart, happily anticipating his proposal. Her best friend HYUN-WOO (Jo Eun-ji) expects it too, grumbling that he'd better have prepared a monster diamond after making her wait so long.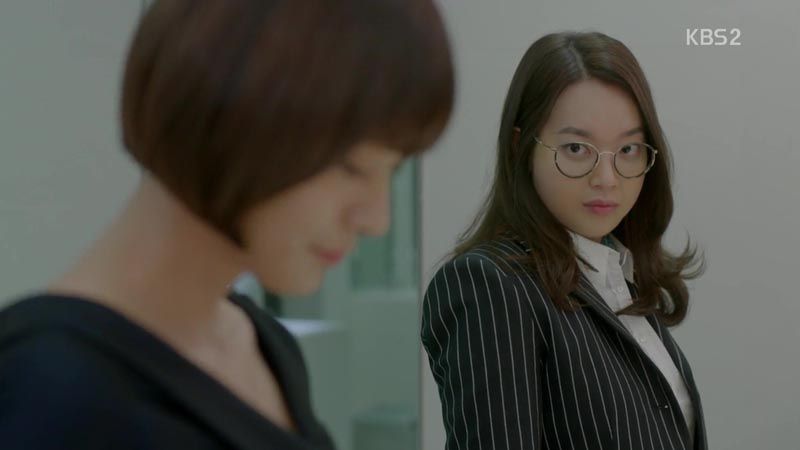 Joo-eun primps in the restaurant bathroom, but drops her lipstick down a crevice in the sink. A tall, sophisticated woman (Yoo In-young) offers her lipstick to Joo-eun, and Joo-eun accepts while casting an envious look at the woman's figure. "Black is a color that makes you look slimmer," Joo-eun thinks. "But it's not a color that makes you slimmer. Dammit."
She finds Woo-shik at a table, and he gives her an offhand hello when she arrives. But he knows the importance of the event and has prepared a whole lavish spread, with wine and cake and candles. He toasts, saying, "Fifteen years… I was thankful." Somehow that doesn't sound promising.
Woo-shik drives her home afterward, and she looks in anticipation at the small box he hands her… which contains his half of the couple rings he'd bought all those years ago. "That is my heart," he says. "Please take it."
She doesn't understand, and all he can do is apologize. She asks what the flowers are for, and he says he felt like too much of a jerk otherwise, which doesn't alleviate her hurt. He says he just wanted to give her the anniversary and starts to break up, but she cuts him off and says she understands what he means by returning the ring. But she's too tired to do this tonight, to which he tries to argue, wanting to get it out and over with.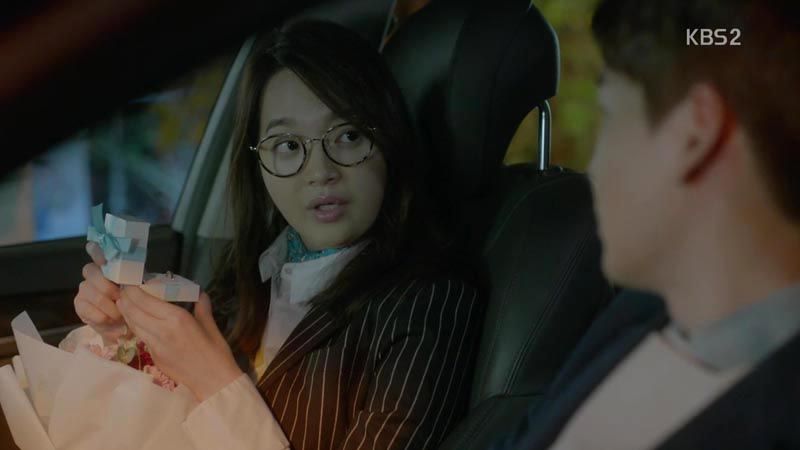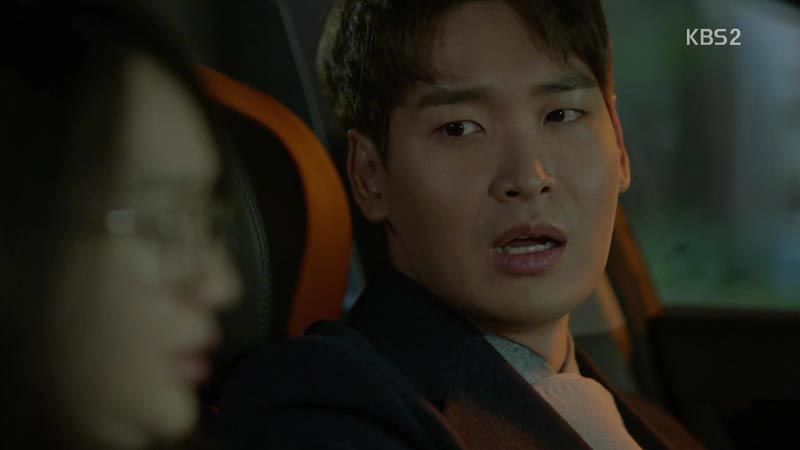 But Joo-eun says they've been through too much over the past fifteen years as first loves to end it with a one-sided announcement from him. She leaves the flowers and the ring in the car, and tosses another gift box on top of it—hers to him—and leaves with an angry "Congratulations" (for their anniversary).
She goes home hurting, wondering if there's something in those massive law books that'll help her understand this situation. "Everybody may be equal before the law," she thinks, "but not in front of the mirror."
Joo-eun sleeps in front of her TV that night as it plays a broadcast of The Stella Show, featuring the amazing transformation of its star, all thanks to the trainer John Kim. The show wonders who this mysterious John could be…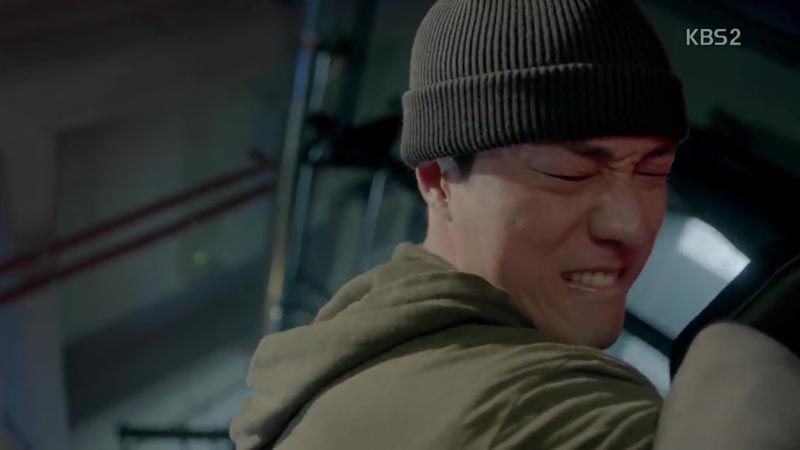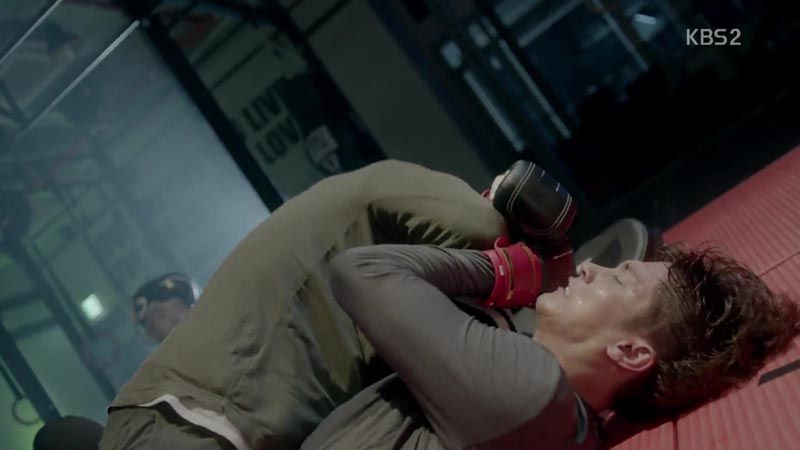 Just to ensure we get the hint, we cut over to the boxing ring where John directs the fighter, then engages directly in a sparring round.
In the morning, Joo-eun is jolted awake by a call from her friend, which reminds her that she's got a flight to catch. She hurries to the airport for her business trip to the U.S.
Meanwhile, John Kim—or, as we'll get to know him, KIM YOUNG-HO—wakes up in some sort of pod/capsule/tank in his state-of-the-art bachelor pad, full of every sort of fancy fitness machinery in the world. He watches a fight with one friend, JANG JOON-SUNG (Sung Hoon), while a third friend, KIM JI-WOONG (Henry), cooks for them—er, struggles to cook.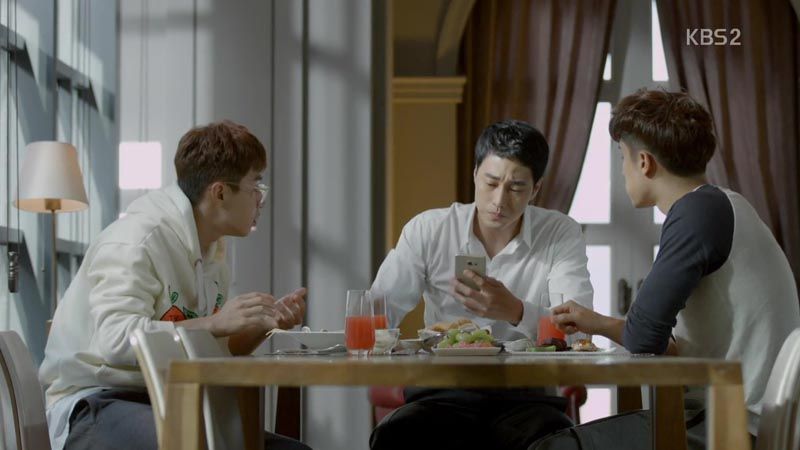 Turns out Joon-sung is the fighter Young-ho was training earlier. Young-ho had sponsored him and made him a champion fighter (who goes by the fight name "Korean Snake"), while Ji-woong acts as his manager.
It's Ji-woong who reads about the scandal, and how Anna Sue has neither confirmed nor denied the rumors, which fans the gossip flames further. Young-ho and Joon-sung seem perturbed by the news—particularly if it reaches certain ears in Korea—and Young-hoon says he'll have to figure out how to handle the scandal.
But he gets a call from a certain Manager Min that makes him uneasy—could it be they've already heard?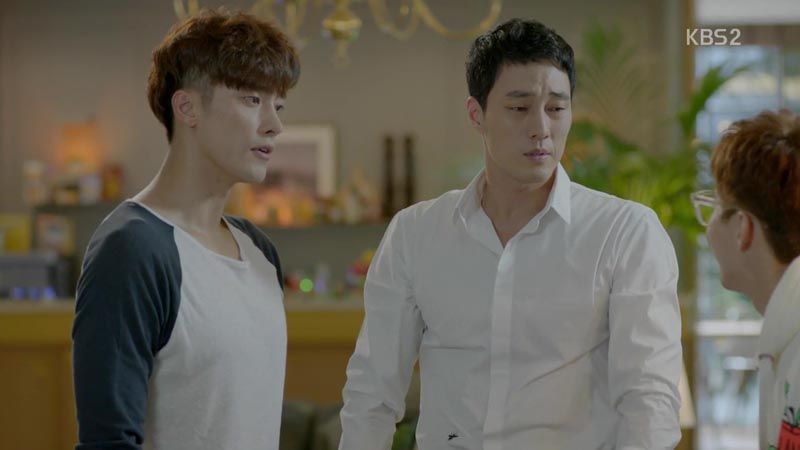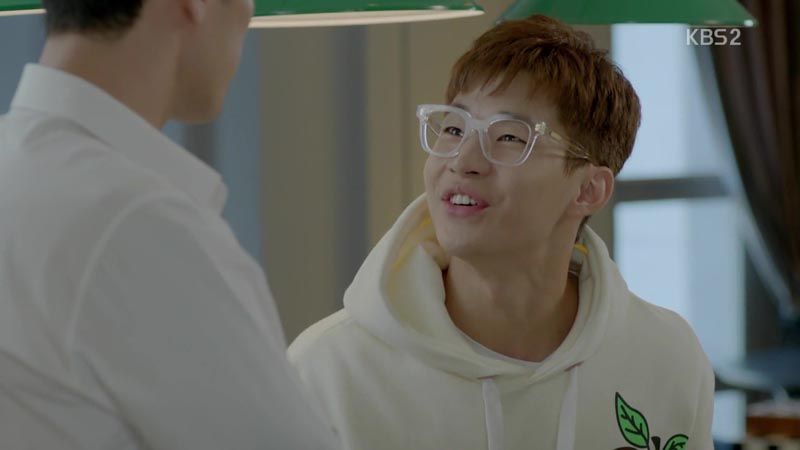 Joo-eun wraps up business and readies to make her trip back, tamping down persistent stomach pains. Best friend Hyun-woo calls it a good way to lose weight, but Joo-eun seems to be in increasing pain.
Hyun-woo, meanwhile, sees the John Kim reports on Korean television, though she scoffs at the shoddy reporting. Probably doesn't help that the correspondent giving the report is her ex-husband, who drops by to hand off a child support payment.
Joo-eun boards her plane to Korea and ends up sitting next to Ji-woong, who's given up his first-class seat to a pregnant lady. He introduces himself in his irrepressibly cheerful way, showing her the fight he's watching and bragging that he's Korean Snake's manager and trainer, and that he's kinda famous. He is incredibly dorky but it's so cute.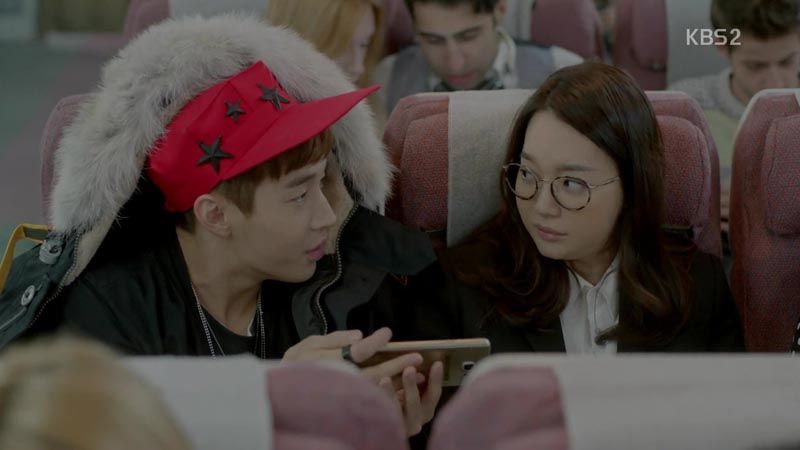 Mid-flight, an announcement comes on requesting the help of any doctor onboard with an emergency patient. Suddenly Young-ho gets up and flashes his EMT badge, ready to take charge of the situation. Ha, are you kidding me? Is he a secret chaebol and a doctor, and also maybe a diplomat?
The patient is Joo-eun, who has collapsed in the aisle, moaning in pain and clutching her stomach. Young-ho assesses the situation and decides she needs to be moved, and with some difficulty transfers her into the first class cabin and prepares the emergency kit. He unbuttons her blouse and cuts through her support garment, then begins treating her with an IV and massaging her cold limbs.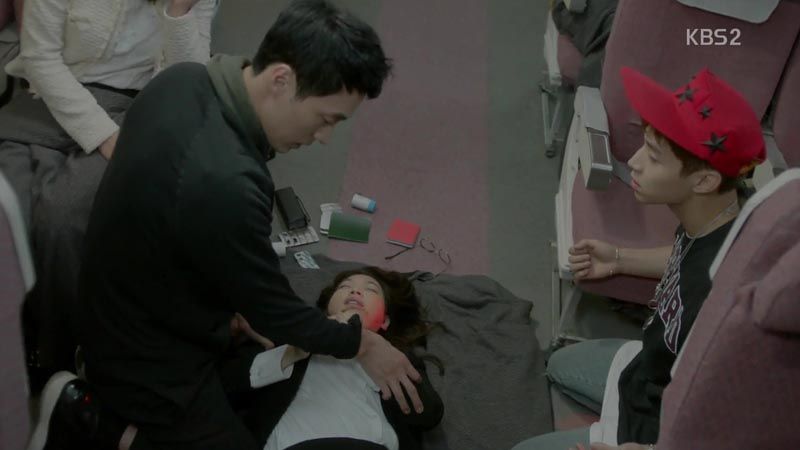 She awakens a while later, sleeping in Young-ho's first class seat, and has a minor panic to see herself in a strange place with a needle in her arm. She's appalled that he went through her things and ripped her clothing, while he notes her lack of gratitude for helping her in an emergency. (Mortified, she wonders if she could just open the plane door and fling herself out of it.)
Young-ho asks why she "did that" to herself, which makes her furrow her brow—do what?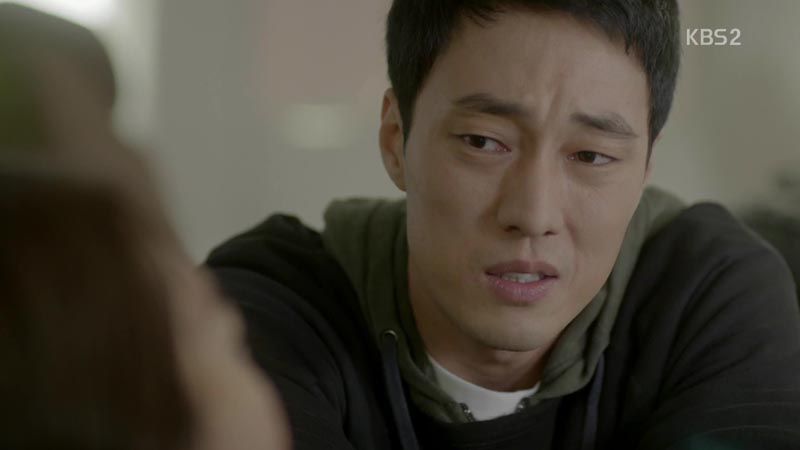 So he explains all the terrible things she's just done to herself, drinking coffee and wine on an empty stomach, paired with diet pills and a restrictive girdle. If she wants to lose weight, he suggests she sweat it off instead.
Joo-eun isn't ungrateful that he helped, but says stiffly that she'd like to keep her privacy. Young-ho leans waaaaay in and says drily, "You're the first woman I've undressed within five minutes of meeting. I must have been too familiar."
She snaps that she'll refrain from suing him since she's sooooo grateful, and says she'd love to repay the favor if only she could do it without having to see his face again. She buries her face under her blanket to make the point.
But her words give Young-ho a bright idea, and he tells her there is one way she can repay the favor…
In Seoul, a stern-faced man, attended by a couple men in sharp suits, reports to a chairman that "he" ought to be on this flight. Ha, Young-ho is totally a chaebol, isn't he? In the background, Young-ho's two buddies slip by while the team of corporate minions looks around for him, though he's nowhere in sight.
That's because Young-ho's riding in an ambulance alongside Joo-eun, using her as his escape route. She mutters to herself, "I should have opened that plane door and escaped earlier."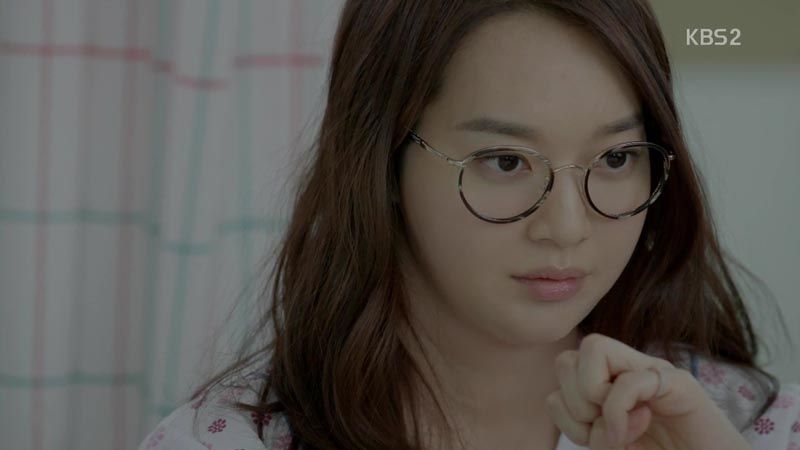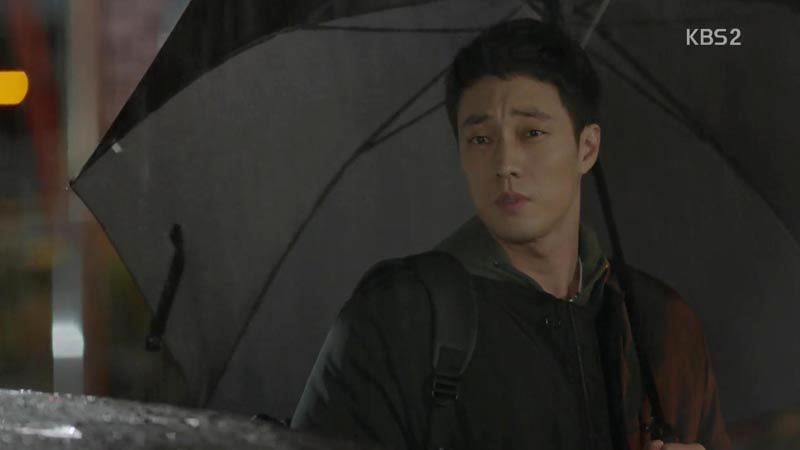 As she sits in the emergency room, Joo-eun reads the two latest text messages from Woo-shik, which she has yet to reply to. He asks her to call as soon as she's back, wanting to talk, and she hears his voice say the words brusquely at first, then more gently. She thinks of his first-love confession from their teenage years, and makes a decision, putting on her shoes and running out of the hospital.
Young-ho meets up with his buddies outside, who drop off his car, and is about to leave when he sees Joo-eun running outside into the rain. He drives on, passing her as she tries to hail a cab unsucessfully… but can't quite shake the feeling. He pulls over and tells her to get in, which she does with great reluctance, eyeing him suspiciously.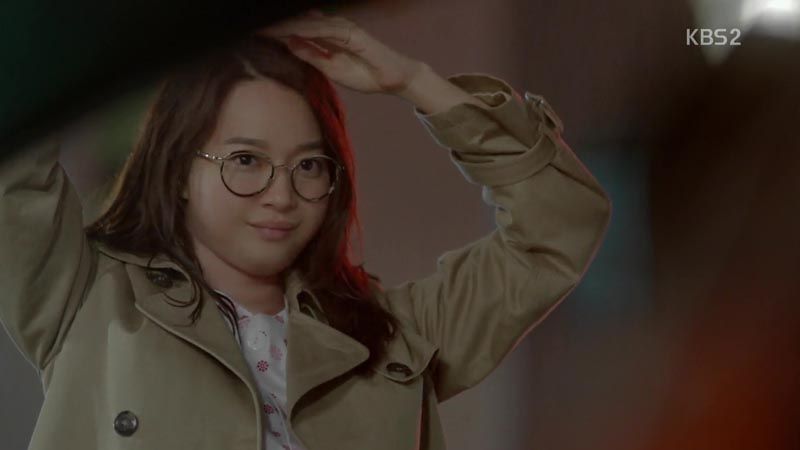 As he drives, she sighs, "I'd thought that a few nights ago was the worst day of my life, but I was wrong. It's today." He advises her to return to the hospital later because she was very cold, and drops her off at her place. She thanks him for his help, saying it'll be the last they see of each other, and runs into the rain toward the building.
And then she stops in her tracks to see Woo-shik embracing a woman, smiling happily. Numbly, she turns around and walks the other way, pausing in front of a storefront, thinking, "I was Kang Joo-eun, who could do anything she set out to do."
And then, an ominous figure appears behind her, wearing a mask and dark clothes. He follows her down the street, calling out to her, and Joo-eun hurries away in fear. He persists, and when an arm grabs her, she cowers and begs, "Please save me!"
It's Young-ho's sardonic voice that cuts in, however: "You ask me to save you every time you see me." She looks up at him in astonishment as he crouches with her, holding an umbrella over her head, adding, "And you're not even going to be grateful about it."

COMMENTS
It occurred to me after it was over that the meet-cute (or meet-bicker, as is so often the case in dramaland) was pretty standard stuff, and I wasn't necessarily excited/moved/intrigued by the plot… but as I was watching the episode, did I care? Not even a little.
I'm not one to love a show purely for a romantic pairing, because there's only so much a great couple can carry, and it's not an entire show's worth of plot, or interest. And I doubt I'd be swayed by the romance if, for instance, the plot were nonexistent or a total mess. I'm not convinced there's going to be a lot of plot here (especially plot that doesn't feel like a retread of a bunch of other dramas and movies—Birth of a Beauty and 200 Pound Beauty are the first two that come to mind), but I did like the characterization of the heroine and found Joo-eun cute and endearing.
For being formerly the hottest girl in town, Joo-eun didn't act the part of a vain beauty queen; I like that she was outspoken and determined, placing her hopes on a career first and foremost. So the transformation seems purely physical, while the core character has retained her personality. I like that she's snippy (in her own head when she can't be snippy aloud), that she tries to stand up for things that are right, and that her struggle to do the right thing feels realistic—I don't blame her for dropping the fight at a certain point because she can't be a one-woman crusader, not if she wants to keep her job and take care of herself.
I do intensely dislike the tendency to oversimplify beauty's relationship to worth, and every time a character made a comment about weight or looks, I grit my teeth in annoyance. But we do have to recognize that the world, and Korean society specifically, can be ruthless when it comes to judging people's appearances, so while it's hardly pleasant to see reflected in a drama, it's not exactly inaccurate. Sigh. I just hope that whatever message comes out of the show—and it doesn't have to have a particular agenda, it's just that a message will emerge via narrative, whether intentional or not—is more progressive and body-positive than not.
We've seen a lot less of the mysterious John Kim/Young-ho so I have fewer opinions of him—so far he feels a lot like the last So Ji-sub character we saw, in Master's Sun, which is at least a character I loved so the repetition isn't wholly unwelcome. (But a little change would be nice, just sayin'.) In the very brief exchanges he's had with Joo-eun, at least his perspective has been more about health and self-respect than looks, which helps in overlooking the introduction to his character—I found the background story for his fame ridiculous, and problematic that the world calls him the hero for making that woman beautiful. First, for the obvious reason of beauty being aligned with worth, but also because it disempowers the woman, who should be the one driving her own change. Let's cut that shit out right now, okay?
But if that is going to be a throwaway point, I can close my eyes this once and let it go as a moment of thoughtlessness. (Any more of that and I'm out, but it's possible it was just a one-time moment of stupidity.) And as with any dramas that incorporate any parts of American pop culture or society, I just do my best to close my eyes and push through the embarrassment until we've moved past it. 'Cause there's a lot more interesting, compelling places we can take this story, and I'm in a hurry to get there.
RELATED POSTS
Tags: featured, first episodes, Henry, Jung Kyeo-woon, Oh My Venus, Shin Mina, So Ji-sub, Sung Hoon, Yoo In-young