Oh My Venus: Episode 11
Trust these two to turn a bad situation into an excuse to canoodle. But while hiding can feel safe in the short term, eventually you have to come out and face reality, no matter how difficult it may be. What a blessing to have people who love you enough to help you hide, and help you again when it's time to face the music.
EPISODE 11 RECAP
In Uncle's office, Uncle tells Woo-shik that it's best to grab your opportunities as soon as they present themselves. Woo-shik calls PD Go with a short, decisive message, "Broadcast it."
So when Young-ho pulls up to his villa, the paparazzi are already screaming about the leak that he's John Kim. Manager Min drives them away quickly, leaving the minions to do damage control.
Grandma also gets the news, as well as Young-ho's father, while Young-ho stops on his favorite bridge for a moment to think. There are sure to be articles on the scandal tomorrow, and he knows that the truth won't enter into it much. Min agrees that people care more about knowing details than facts, and the "truth" will become something very different from reality.
Min suggests that Young-ho go to ground for a few days, so Young-ho shows up at Joo-eun's place looking weary. He tells her that he didn't want to go home because of all the reporters, and she invites him to stay with her, in "a place outside your world," echoing his words when they first met. She hugs him, and he relaxes into her like he's finally home.
Young-ho sits on Joo-eun's bed and notices how sexy she looks in her dress, and I love how she's all You're not the only one who can be sexy. But it's obvious his leg is paining him, so Joo-eun urges him to sleep now and worry tomorrow. He complies, but not without a final flirtatious comment and a request for a dimple-pop from Joo-eun.
Once she leaves the room, he succumbs to his pain, groaning in agony. Joo-eun knows he's suffering, but she gives him his privacy, remembering that Young-ho explained that the pain is all psychological. She calls Joon-sung to tell him where Young-ho is tonight, and when Joon-sung asks about Young-ho's knee (he knows him well enough to know this stress would cause a flare), Joo-eun starts to cry.
Joon-sung advises that she pretend not to know — it hurts Young-ho even more when the ones he loves are in pain. By now Joon-sung is also fighting tears, and admits that Young-ho is like a father to him. Joo-eun says he's awfully precious to her too, and they agree to take good care of him.
We see now why Joon-sung is so devoted to Young-ho — they met when Joon-sung had gotten on the wrong side of some thugs and had been shot and badly beaten, and Young-ho had happened to drive by and see him bleeding in the street. He'd stopped to help Joon-sung, and he'd taken him in and told him to call him "hyung." Even when Joon-sung had cursed and screamed at him, Young-ho stayed calm and explained that he had a weakness for people in danger. He'd saved Joon-sung's life and given him direction.
Overcome by the memories, Joon-sung lies down for a moment, and wakes to find Yi-jin lying beside him. Today he just sighs and asks her to leave him alone, but she says that she'll just stay here quietly. Joon-sung sighs again, but lets her stay, and she seems to understand that simple company is what he needs.
In the morning when Young-ho emerges from Joo-eun's room, he finds Ji-woong and Joon-sung in her living room, pretending that they're not waiting to see him, not at all. And then they totally throw Joo-eun under the bus, tattling that she told them to act like nothing was wrong, ha.
She makes the boys an unhealthy breakfast which they practically snatch off the spoon, but they're impressed when she's the one who suggests they go work out together next. She takes them to the park and makes them wear visors over their faces (ha, just a glare from her makes even Young-ho obey her orders), and leads them in a climbing exercise with a group of ajummas. It gets even funnier when the ajummas start barking orders at the guys, too.
They're attacked by the ajummas weilding some sort of massage tool, which they rub into the guys' stomachs to help with digestion. Joo-eun goes after Young-ho's abs herself, throwing his own words back at him, and saying that his abs are hers and he can't say no (Young-ho: "Are you going to take responsibility for my abs?" Is that a trick question, sir?).
Young-ho finally asks if this is Joo-eun's way of distracting him from all the John Kim kerfuffle, and she reminds him that he once said that the body has to be tired for the heart to be at ease. She accidentally falls into his arms and he's all Not in front of the kids, so she does it again and he blushes behind his visor. So cute.
When it's time for Joo-eun to go to work, she jokes that she'll take care of Young-ho if he becomes poor and unemployed, and angles her cheek for a kiss. But after she's gone, Manager Min shows up looking like gloom and doom.
As they feared, Young-ho's identity as John Kim and the scandal with Anna Sue were leaked to the press, and Anna Sue's people in the US have released a statement denying their involvement in the leak. Min himself personally visited many Korean press entities, but he can't get to them all. But at least there won't be any false statements made, so that's something.
Min says that the elders want to speak with Young-ho, and Young-ho wants to go dressed as he is. But first Grandma talks to Min alone, asking him who the lady is that Young-ho's been spending time with. She takes him to task for not nipping that in the bud, still determined to have Young-ho move into her house and marry the girl she wants.
Meanwhile Young-ho kneels before his father, begging forgiveness for upsetting the family elders. Dad tells him to get up off his knees — he's spent too many years worrying about them. Aww, Dad ~sniffle~. He advises his son to protect his company position just until the upcoming anniversary celebration, when his director position will be cemented.
Joo-eun is shown an old case file of a pregnant woman who was suffering domestic abuse and killed her husband, and is shocked to see that the photo is of Joon-sung's birth mother. Back then nobody cared that she'd been abused, and she'd been given the full sentence. She had given birth to her baby in prison and had to give him up. We see her now, taking the trash out in a thin, tattered coat, and she finds a bag with a brand-new, beautifully warm coat inside, waiting for her.
She runs to the street and sees Joon-sung still there by his car, and she thrusts the coat angrily at him. He ducks his head and says that she just looked cold, and though she looks touched at his concern, her pride won't let her accept it. By the way she fights tears and tells him never to come back, I highly suspect she knows exactly who this young man is to her. As she leaves, Joon-sung has to struggle not to cry, himself.
Back at Joo-eun's place, Young-ho answers the door (and in the process noticing that Joo-eun's saved both bandages from him) to find Hyun-woo with little Min-joon, needing a babysitter. She stiffly apologizes for calling him a bum before, and leaves him with the kid.
Uncle not-so-subtly pumps Dad for information on Young-ho and this whole John Kim situation, and Dad shuts that right down. Uncle tries to get Dad to sign the documents that Young-ho refused to sign without reading, but Dad refuses this as well, saying that it's no longer his job.
Young-ho face-chats Joo-eun to fuss at her for not doing as he asked and finding a new place where men couldn't find her… then pans the screen down to Min-joon, ha. Min-joon begs Aunt Joo-eun to come home because this guy keeps making him exercise. Young-ho complains, but without any heat, about the babysitting, but Joo-eun tells him it's good to relax and chill out.
Joo-eun tells Hyun-woo that her nanny is Joon-sung's birth mother, and Hyun-woo is beside herself wanting to help the woman get away from her abusive husband. But they're hesitant to just confront her for fear that she'll disappear.
Soo-jin walks into the restaurant with PD Go right behind her, there for some sort of meeting. Joo-eun and Hyun-woo nearly get in a fight with them, but they leave without serious incident.
Joo-eun arrives home to find Young-ho and Min-joon both asleep (and cuddled with You Bastard), and Young-ho wakes and sleepily opens his arms for a hug. Joo-eun complies, sitting in his lap for a snuggle, though she warns him not to even think about anything R-rated happening while he's here. Poor Young-ho.
He takes this well, but he asks her about the couple ring he noticed is still on her vanity. Joo-eun offers to get rid of it if Young-ho wants, but he just pulls her back to his lap and says not to if she doesn't want to.
After they send Min-joon home, Joo-eun says again that because of his being intensely scrutinized right now, there won't be any erotic shenanigans between the two of them for now. Besides, she's a good girl whose mind controls her body. Young-ho respects her wishes but challenges that last statement.
He sleeps on the floor while Joo-eun shares the bed with You Bastard, but he gets up to tilt her head when she snores, like he always does. He gets on his laptop to check the news stories about himself, confirming that for now, they're refraining from speculating about any possible scandals.
Manager Min calls to tell Young-ho that he's still managing the press and the board of directors for now, and to keep laying low.
Soo-jin sits at home alone, and Woo-shik lets himself in when she refuses to answer the door. He knows that she met with PD Go as Gahong's lawyer to confront him about leaking the John Kim scandal, but she doesn't want to discuss it with him, and begs him to leave.
She goes to her room, leaving Woo-shik to let himself out, but stops herself before taking her usual packet of pills. She lies on her bed, despondent over her empty life.
But in the morning she's back to her nasty self, criticizing Joo-eun's messy desk and dropping the bomb that the Gahong anniversary party may not happen tomorrow if they can't find Young-ho by then. She's put the clues together that he must be John Kim — it explains Joo-eun's recent weight loss.
Soo-jin tells Joo-eun that she's demanded to see PD Go's proof of John Kim's identity, and warns her that it was actually Woo-shik who provided the information to the press.
Joo-eun arrives home that night just in time to catch Young-ho in his robe, and one flash of those abs is all it takes to make her gulp and lose her train of thought. HA, she actually sees him in a halo of light, and not even his nagging about her cleaning can snap her out of it.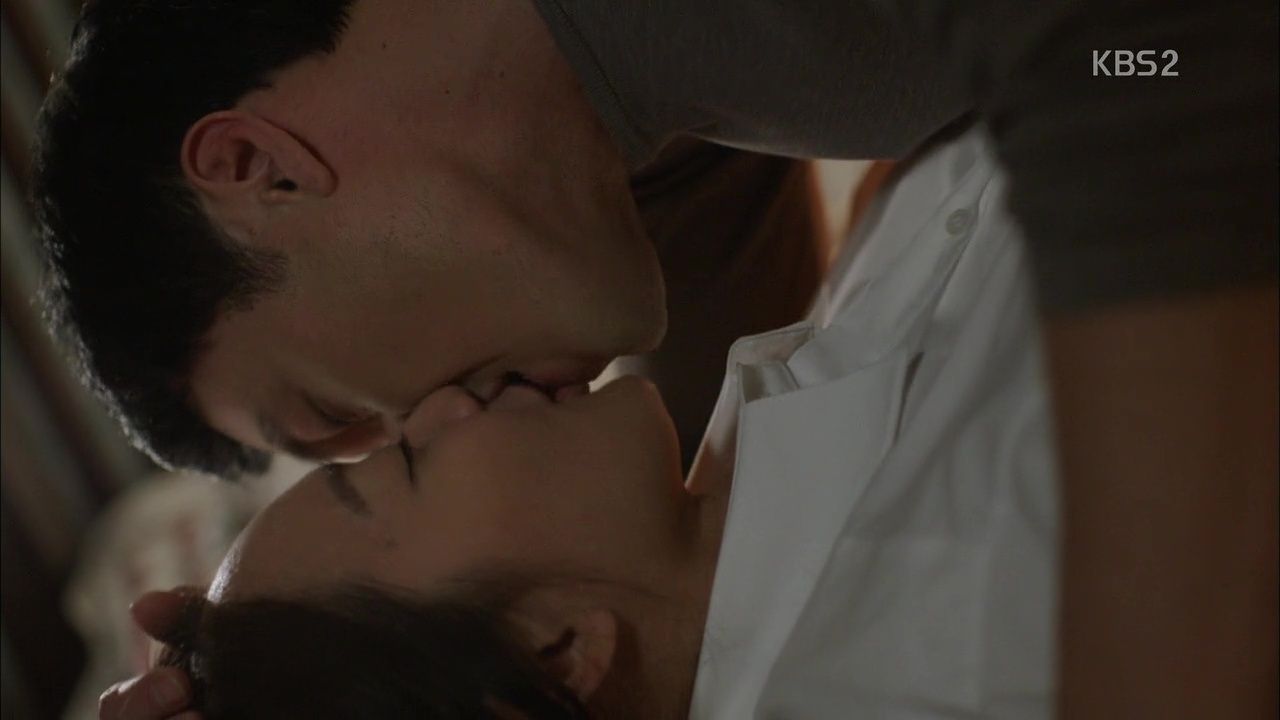 Later, just seeing him sitting on her bed working gives her ideas, and she accidentally asks if he has a bed scene tomorrow, instead of a party scene. Young-ho is aware of Joo-eun's discomfort and laments his excessive sexiness, and she's suddenly willing to relax her rules a little to allow for some kissing.
Young-ho turns his face away and whines that he's tired, just long enough for Joo-eun to start to flounce off. But he grabs her back down and flips her onto the bed, and hovers over her with a warning that she started this.
Just when it starts to get good, the doorbell rings (because of course it does, grrr), and they hear Manager Min's voice. Young-ho sits up with a sigh that it's time to go back to his own world. Joo-eun asks if he's going to the party tomorrow, and he says that he may have to be distant with her. He leaves, promising that their erotic night together will happen very soon.
At the anniversary party the following evening, Uncle and Woo-shik nervously wait to see if Young-ho will show, and whether the board will appoint him director. Woo-shik sees Soo-jin arrive, but for once he doesn't look happy to see her. Joo-eun shows up looking gorgeous in a form-fitting dress, but Soo-jin notices that she looks nervous and keeps checking her phone.
Everyone rises as Grandma enters, flanked by Dad, but Joo-eun grows worried when she doesn't see Young-ho with them. Her texts and calls go unanswered, and we see that his family hasn't been able to reach him, either. Even Ji-woong and Joon-sung, who also came to the event, don't seem to know where he is.
Joo-eun runs out of the hall looking for Young-ho, even checking the men's bathroom. She grows increasingly worried, but she finally finds him in a dark office, sitting on the floor in pain.
He gasps that he might be very late to the party, and Joo-eun says that everyone is waiting for him. He resists her, but she reminds him that if he's still fighting the pain, then he hasn't reached his limit yet. Her words remind him of her saying the same thing about herself when he'd pushed her too hard at a workout.
Joo-eun takes Young-ho's face in her hands and forces him to look at her, and says that he can do this, if he believes he can. The way he looks at her is as though she's his only lifeline right now.
And soon, he walks through the door into the hall, ready to face his future.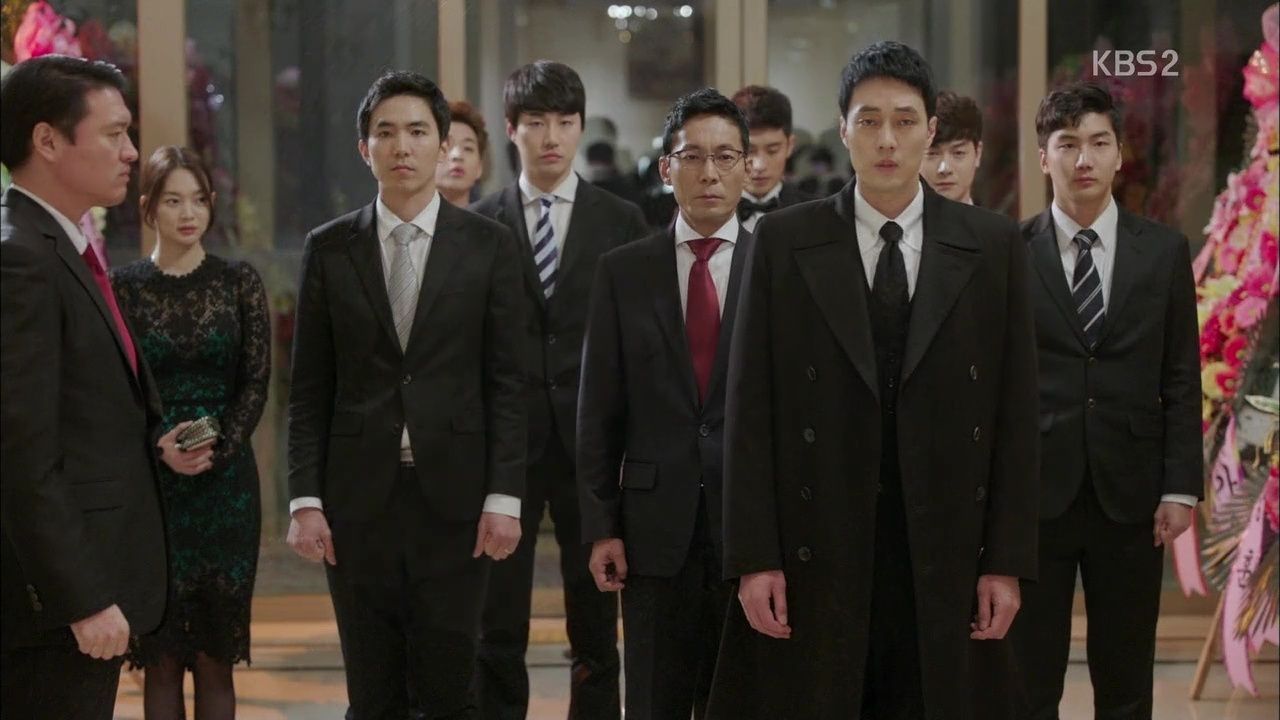 COMMENTS
The way these two continue to grow stronger together is just amazing to watch. As time goes on they are moving from trainer and pupil, to friends, to dating, and now to two people who may not know it yet, but they deeply love each other. It's so obvious in how they look at each other, think of the other first, and are always there for each other. It's beautiful to see their relationship grow and change, almost by the minute, into something so fierce and strong.
In fact, I just love the whole little family that's forming around Young-ho — Joo-eun, Ji-woong, and Joon-sung all obviously love him so much, it's tremendously heart-warming. He had the boys before but it seemed like he always kept them at arm's length. But Joo-eun's addition to their circle brought a warmth that's pulling them together on a more emotional level. It's more gradual than the growing relationship between Young-ho and Joo-eun, but Ji-woong and Joon-sung are also slowly becoming something closer to friends than colleagues. For a man who's been saddled with a cold biological family (though argument can be made more and more that Dad is a lot more caring than he lets on), I hope Young-ho eventually understands that he's got more love and family than he ever dreamed, already right there and just waiting to love him unreservedly.
Speaking of which, I'm so glad we finally got to know more about Joon-sung's backstory, because he's been such an enigma. Seeing he and Young-ho meet under such dangerous circumstances spoke a lot of where Joon-sung ended up as a young man on his own, and he's very lucky that he met someone who not only gave him a chance, but gave him a purpose. It's interesting how he came out roaring and fighting, literally cursing Young-ho to the high heavens, when in reality he's such a gentle and sensitive man. It really goes to show how a tough life can make a person into something they're not, and how just a little kindness can allow them to be who they really are. It's no wonder he wants to know his birth mother so badly — he probably grew up thinking nobody loved him or would protect him, but now he sees someone who needs protection, if only she'd let him give it to her.
Anyway, it's good that Young-ho has such a solid support system, because I have a feeling that this whole Gahong situation is about to go sideways pretty fast. I always worry that there will be Noble Idiocy or forced separation or both, when a drama reaches this point, but I'm relatively hopeful in this case that it won't happen. Young-ho and Joo-eun and their little family are too committed and too bonded to let anything get in between them. I hope, and I think we have a better than even chance, that they handle any problems coming their way by becoming even closer and stronger.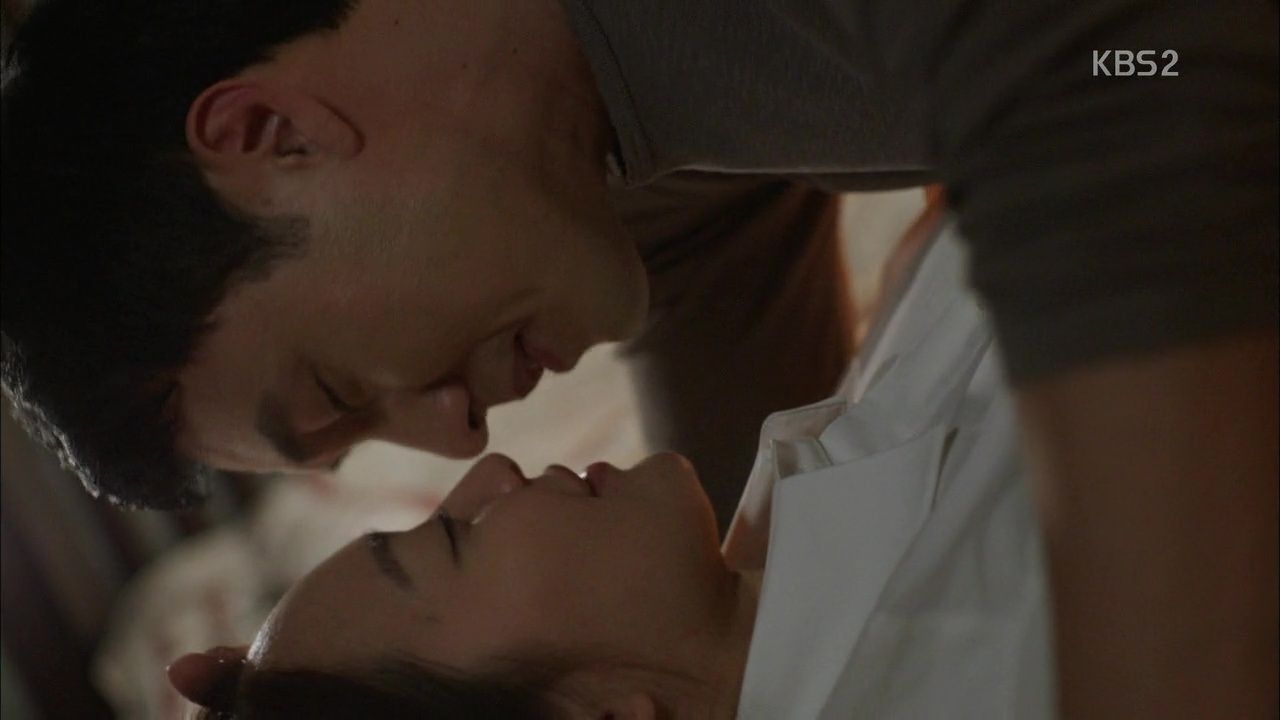 RELATED POSTS
Tags: featured, Oh My Venus, Shin Mina, So Ji-sub