Lee Soo-hyuk, Lee Chung-ah complete Lucky Romance's love square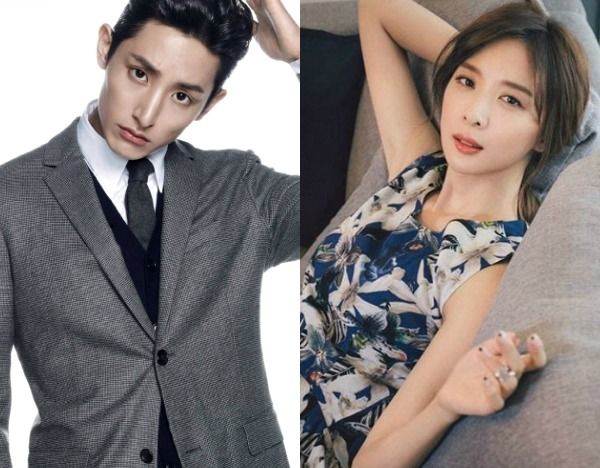 Confirmations are in for the second leads of MBC's new romantic comedy Lucky Romance, which will reportedly diverge a little from its webtoon source material to create more of a traditional drama love square. I take that to mean that Lee Soo-hyuk (Neighborhood Hero) and Lee Chung-ah (Vampire Detective) will get bigger roles, which I'm okay with mostly because the two actors have been confirmed for the series, and I like them both. Just as long as you're not doing some crazy rewrite where Ryu Joon-yeol and Hwang Jung-eum aren't the main focus of the drama! This is a sensitive issue in dramaland these days!
Lucky Romance stars Hwang Jung-eum as a luck-obsessed heroine who's told by a fortuneteller that the only way to avoid a terrible fate is to have a one-night stand with a man born in the year of the tiger. In the webtoon, the hero is a penny-pinching workaholic salaryman who's also the heroine's landlord, and though they can't stand each other, she's determined to bed him to change her luck.
Ryu Joon-yeol's character will be adjusted for the drama, from a regular salaryman to the CEO of a gaming company. Bah, I dislike that change, since the idea of a normal guy being the hero was appealing to me. I suppose being wealthy or successful doesn't mean you can't be Scroogey, so hopefully that characteristic will stick. And in the drama, he'll be an engineer obsessed with formulas and science, which I'm sure is their way of making him the exact opposite of Hwang Jung-eum's superstitious character.
Lee Soo-hyuk will play Hwang Jung-eum's first love — he was her neighbor when they were children, and as they reunite as adults, he'll become a rival for the hero. He's a tennis player who carries some deep-seated scars, but is bright and cheery, and is described as the opposite of Ryu Joon-yeol's character.
Lee Chung-ah plays Lee Soo-hyuk's sports agent, and she's described as a chic, confident career woman. She's also Ryu Joon-yeol's first love, OF COURSE. Sigh. If they were going to beef up the supporting characters for the drama, I wish they'd come up with something fresher than a pair of first loves. But really, I'm going to be watching for the hilarious premise and the chemistry, so you can throw in all the first loves you want, by the truckload! (I'm kidding, please don't do that, Show.)
Lucky Romance follows Goodbye Mr. Black on Wednesdays and Thursdays starting in May.
Via Xports News
RELATED POSTS
Tags: Lee Chung-ah, Lee Soo-hyuk, Lucky Romance