Yoon Shi-yoon wanders the forest in Mirror of the Witch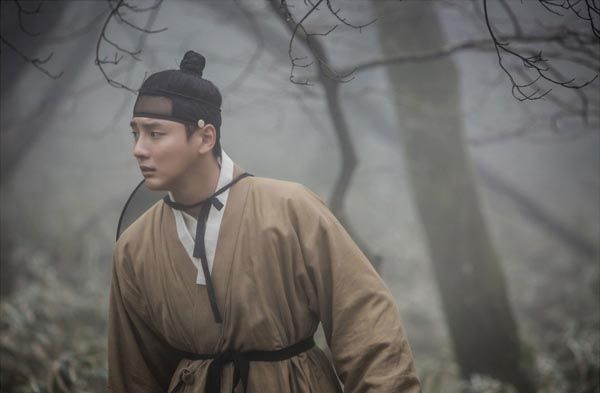 I'm just so glad to have Yoon Shi-yoon back from army duty that it almost doesn't matter what it's for… which is a dangerous statement to make because I would hate to eat those words. So far so good with Mirror of the Witch, though, the JTBC fantasy sageuk that he's chosen as his comeback project, which takes a mystical twist on the life of a young Heo Jun, famed Joseon royal doctor.
The drama also stars Kim Sae-ron as a cursed princess with a frozen heart, who falls in love with Heo Jun. (I know, it's still weird. I'm trying to move past the weirdness, though, because the plot sounds fresh and interesting, and I really want it to work!) Given the witch setup, I'm taking the "frozen heart" description as a literal(-ish) description of a curse rather than a metaphor for a cold personality, although admittedly we are dealing with rather flowery language: inside Heo Jun's heart is "a tragic sun hiding angry fireworks," whatever that means. That he's mad?
He also possesses a brilliant mind and outstanding martial arts skills, but because his path is restricted due to his illegitimate birth, he gives up everything and lives a carefree life as a playboy. But he's also unable to watch the weak struggle without stepping in to help, and dreams of striking back at the world that wags its finger at him.
There's a lot going on with that character setup, but I'm hoping that the show tackles the various facets with thoughtfulness (and I have faith in Yoon Shi-yoon to deliver a layered performance). These first stills from the drama were filmed on April 4 in Jeju Island, as Heo Jun wanders the forest, and I'm liking the misty, dark ambiance. Please be good, drama!
Mirror of the Witch follows Ms. Temper and Nam Jung-ki as JTBC's next weekend show, and premieres in May.
Via IS Plus
RELATED POSTS
Tags: Mirror of the Witch, Yoon Shi-yoon