Beautiful Gong Shim: Episode 4
Hey guys, just popping over to give my thoughts on Beautiful Gong Shim, which is turning out to be a real sleeper hit. Fun, quirky characters populate this little drama world, giving it a life and soul that are simultaneously hilarious and heart-tugging. It's rare to find a show so instantly-addictive, but consider me well and truly hooked.

EPISODE 4 RECAP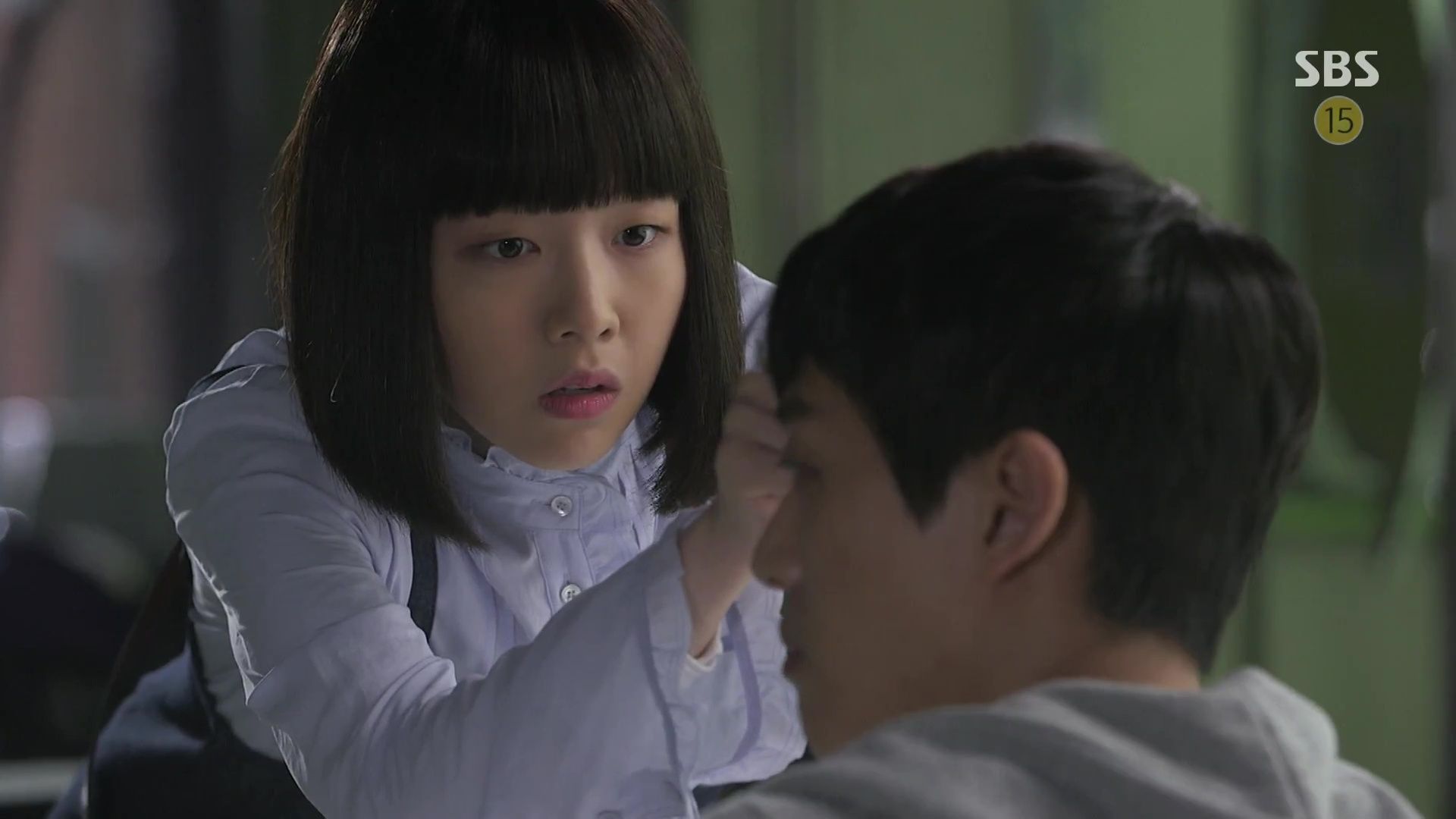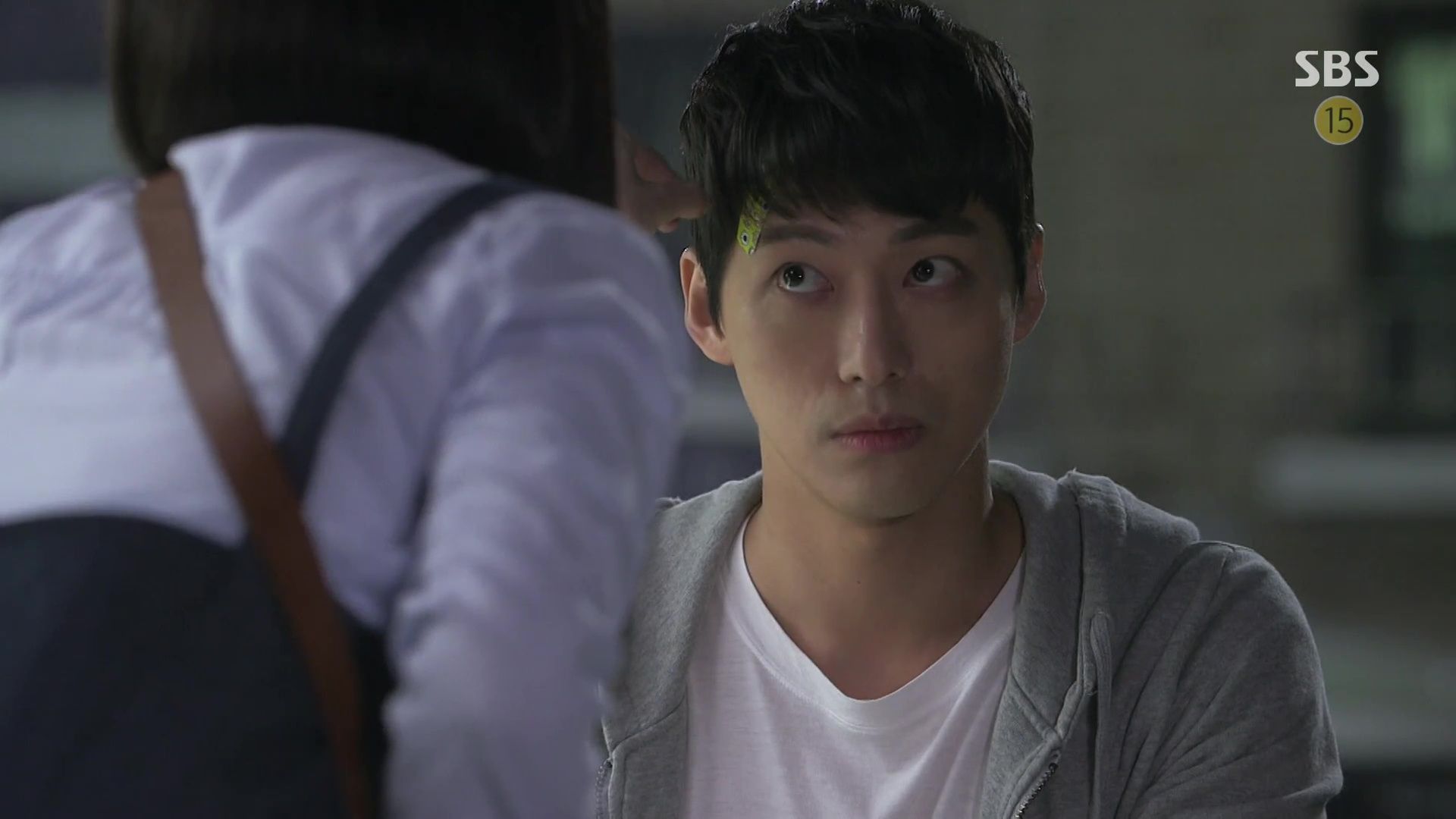 Dan-tae gently bandages the tiny scratch on Gong Shim's wrist, then pushes aside his bangs so she can put a matching bandage on his forehead. He seems veeery aware of how close she is — he definitely feels something. He apologizes, assuming that she's missing the workshop with Jun-su because she's here with him.
Gong-shim doesn't say that she didn't get into the class, and just mutters that she decided not to go. That puts a pleased little smile on his face, and he happily offers to make her one of his convenience-store meals.
After the workshop, Jun-su sees a drenched Gong Mi trying feebly to hail a taxi, though we see that she left her umbrella behind in the classroom on purpose. He offers her a ride to the subway station, which she demurely declines just enough for plausibility before hopping into his car.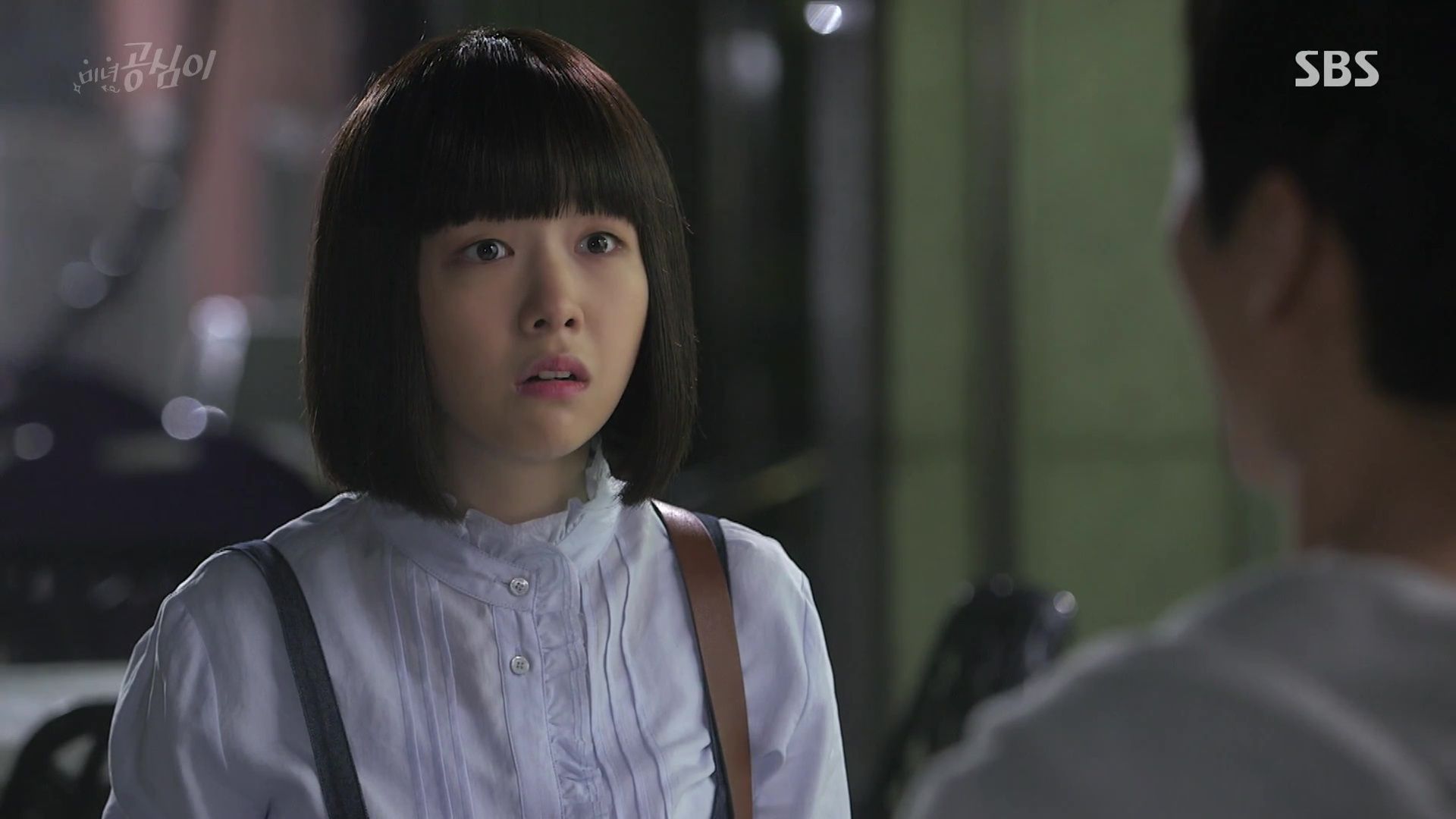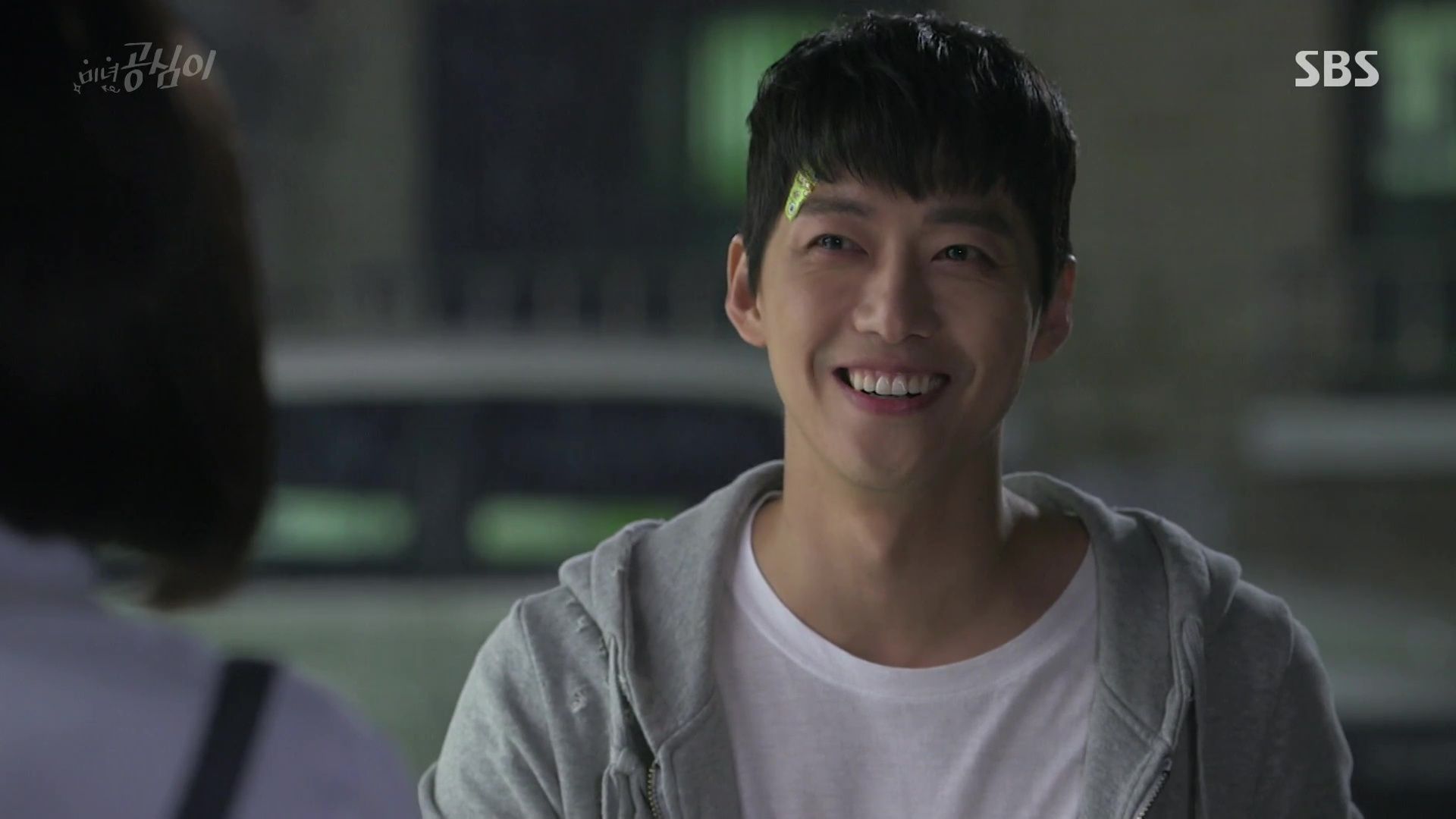 Gong Shim balks when Dan-tae asks why she came to his office — she has no excuse to explain her snooping. She says that she was curious about him, which startles Dan-tae, and Gong Shim laughs nervously that that sounded really weird. She tries again with, "I wanted to get to know you!" then realizes that sounds wrong, too. Everything she says sounds like a confession, ha.
She can't get it right and finally just waves that it didn't mean anything, though by now she's so tongue-tied that it totally sounds like something to Dan-tae. He reveals that he's been curious about her since they met, but when Gong Shim looks more horrified than flattered, he does this adorably awkward laugh and also claims he misspoke.
He can't say what he wants to say without it sounding like a love confession either, though on his end I'm pretty sure it sort of is. He ends up just babbling, but Gong Shim wants to know what he means by wanting to get to know her better, and Dan-tae just says it's the hair.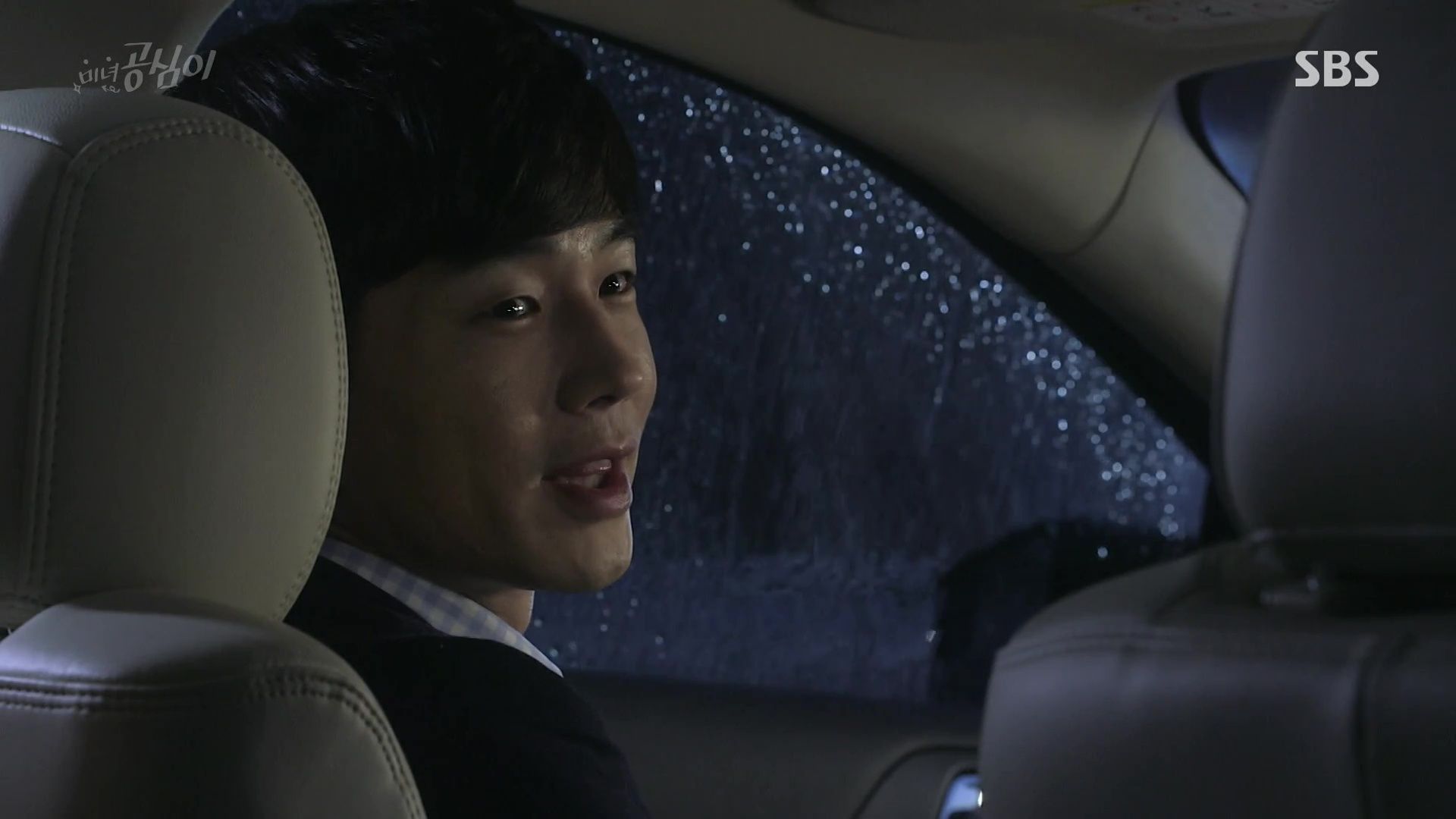 When Gong Shim won't let him of the hook, Dan-tae finally says that he wanted to know what was going on inside her head. What kind of woman gets drunk and sleeps at other people's houses? When he mentions her hiding in the trash, Gong Shim gets offended and leaves.
Jun-su drives Gong Mi to the station, and asks her what made her interested in woodworking. She makes up something about furniture-making, pretending she's had some lifelong calling to make tables.
Dan-tae follows Gong Shim and they walk slowly, and he points out that they're walking andante (a musical term for slowly), like his name. That's why he named his law firm "Walking."
She asks how he became such a good fighter, and he says he's not good at fighting, he's good at dodging. He doesn't want to reveal his secret, but when Gong Shim leans in close so he can whisper, her proximity disarms him. He tells her to take a swing at him, and he'll show her.
She does, and he easily dodges and stops her forward motion with a hand to the forehead. Hee. She swings again and he catches her by the chin this time. He explains that he has the ability to see very fast things as if they're moving slowly, dynamic visual acuity, so he can get out of the way.
He tells her about his recurring dreams of the little boy — a big truck approaches the boy, who tries to run, but he can't move. But the boy sees the truck moving slower, and he's able to dodge it. Since he started having these dreams at fifteen, Dan-tae's been able to see fast things moving slowly too, but to this day he still doesn't know who that boy is.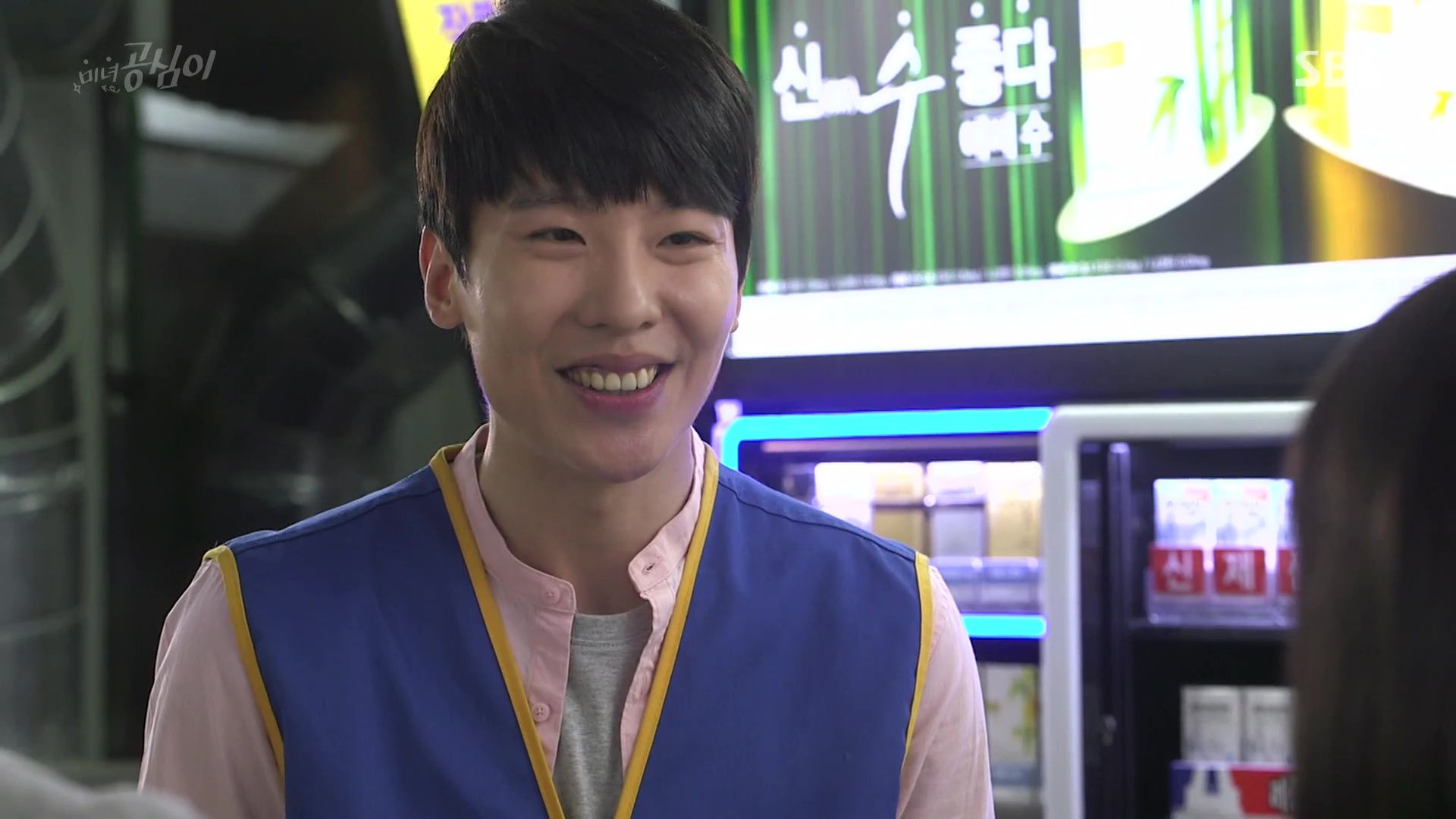 Gong Shim suddenly slaps Dan-tae, hard, then asks why he didn't dodge. HAHA, he has to see it coming to dodge! He's all, Hit me when I'm looking!! but Gong Shim argues that people don't only hit you when you're looking. Good point. She walks away all prim, then gets the grins when Dan-tae chases her. These two are so cute.
When they arrive home Dan-tae says he'll be moving out of the rooftop apartment tomorrow. He says he's happy to me moving in with his dad, though he doesn't actually sound that happy.
He suddenly runs inside the convenience store for his favorite lunch box, ha. Gong Shim is surprised to see her friend Gu-nam working there now, even though he lives over an hour away, and his odd reaction reveals that he's here to be closer to Gong Shim. Awww, friend crush.
Dan-tae starts to ask Gong Shim why her sister has two rooms while she has none, but he doesn't even finish his sentence before he sees Gong Mi outside the store. He follows Gong Shim outside almost protectively, and Gong Mi gives him the stinkeye until he leaves. He doesn't take his eyes off her though, suspicious of Gong Shim's unni.
Gong Shim asks Gong Mi why she's home so late, and Gong Mi lies that she was with a friend. But she asks about Jun-su in the very next breath, though Gong Shim refuses to say anything about her employer.
To save face, Gong Mi barks for Gong Shim not to see that raggedy rooftop guy anymore, and when she sees Gong Shim's bandage and remembers Dan-tae's matching one, she asks if Gong Shim is dating him. Gong Shim's reaction is suspicious, as is the fact that he's suddenly moving out.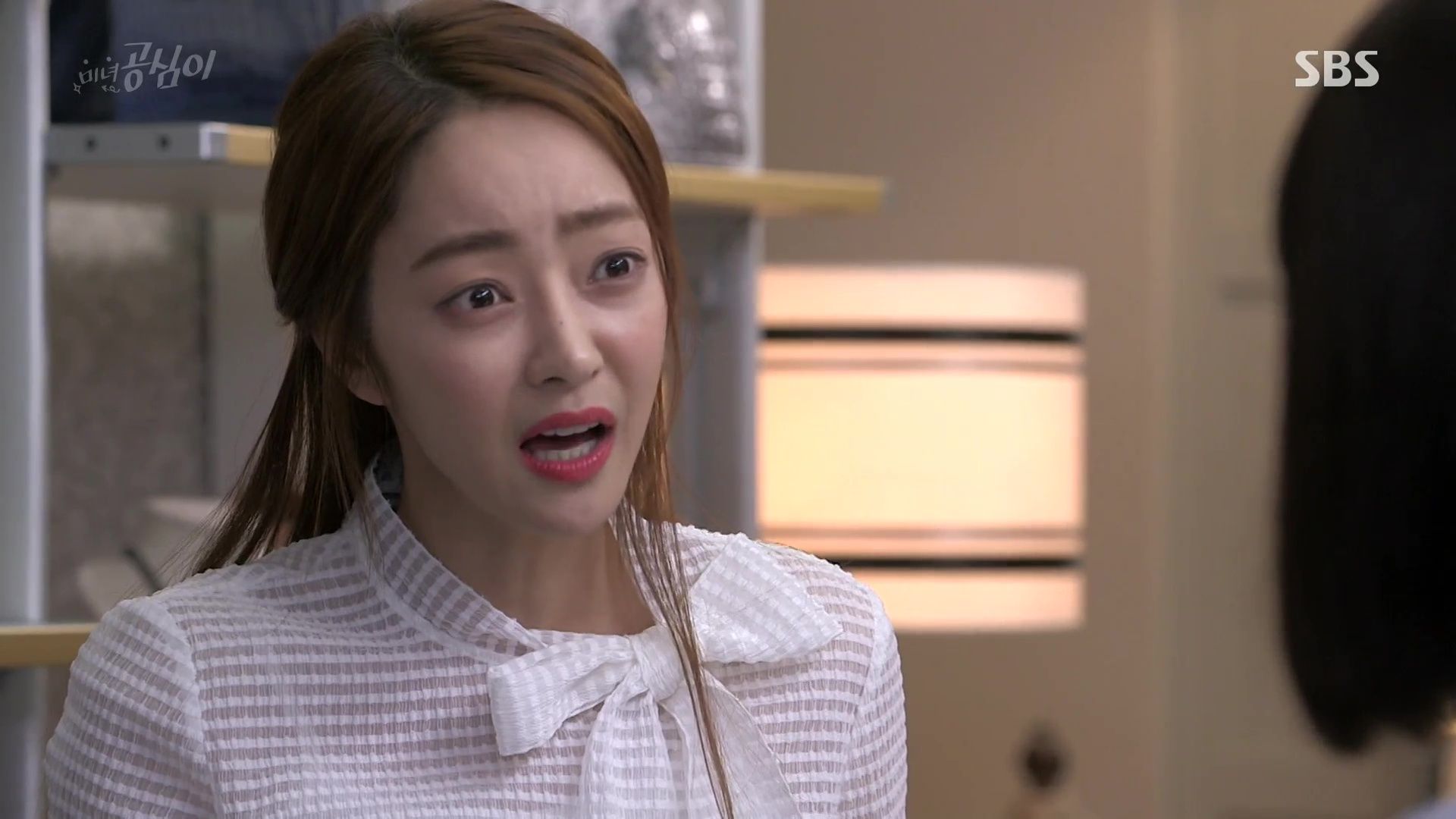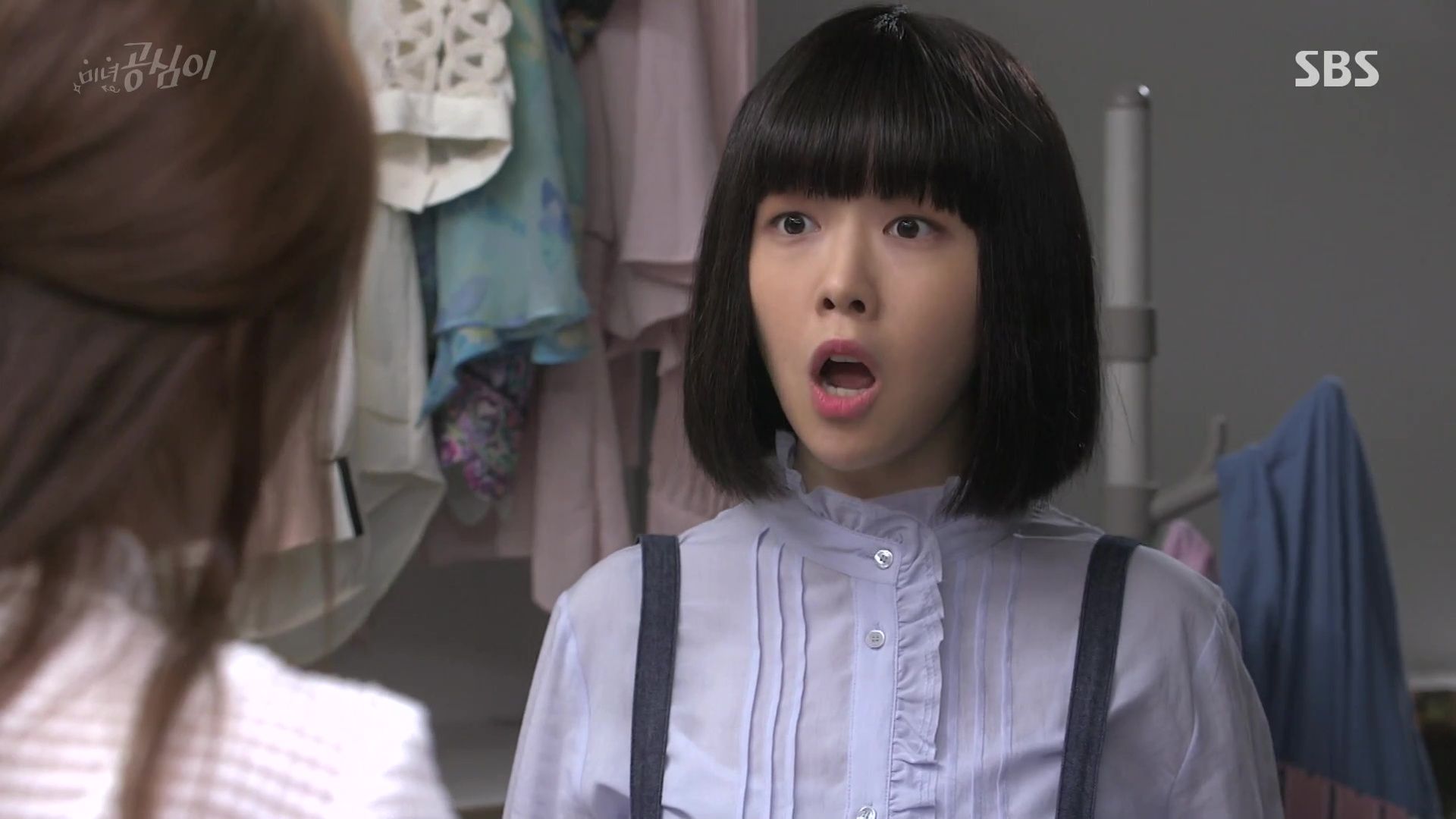 She warns Gong Shim not to embarrass her, and Gong Shim snaps back for Gong Mi to stop ordering her around — she has a job now, too. She says that she lost something today because of Gong Mi's bossiness, but refuses to go into detail when Gong Mi asks what it was (knowing full well it was the class).
Upstairs, Dan-tae removes the bandage Gong Shim placed on his forehead and moons at it, then sticks it to his mirror. Oh boy, that smile — he's got it bad already.
We see Dan-tae's father approach a large tree on a hillside, and he clutches its bark, crying and apologizing. Whatever he's apologizing for, he's utterly distraught.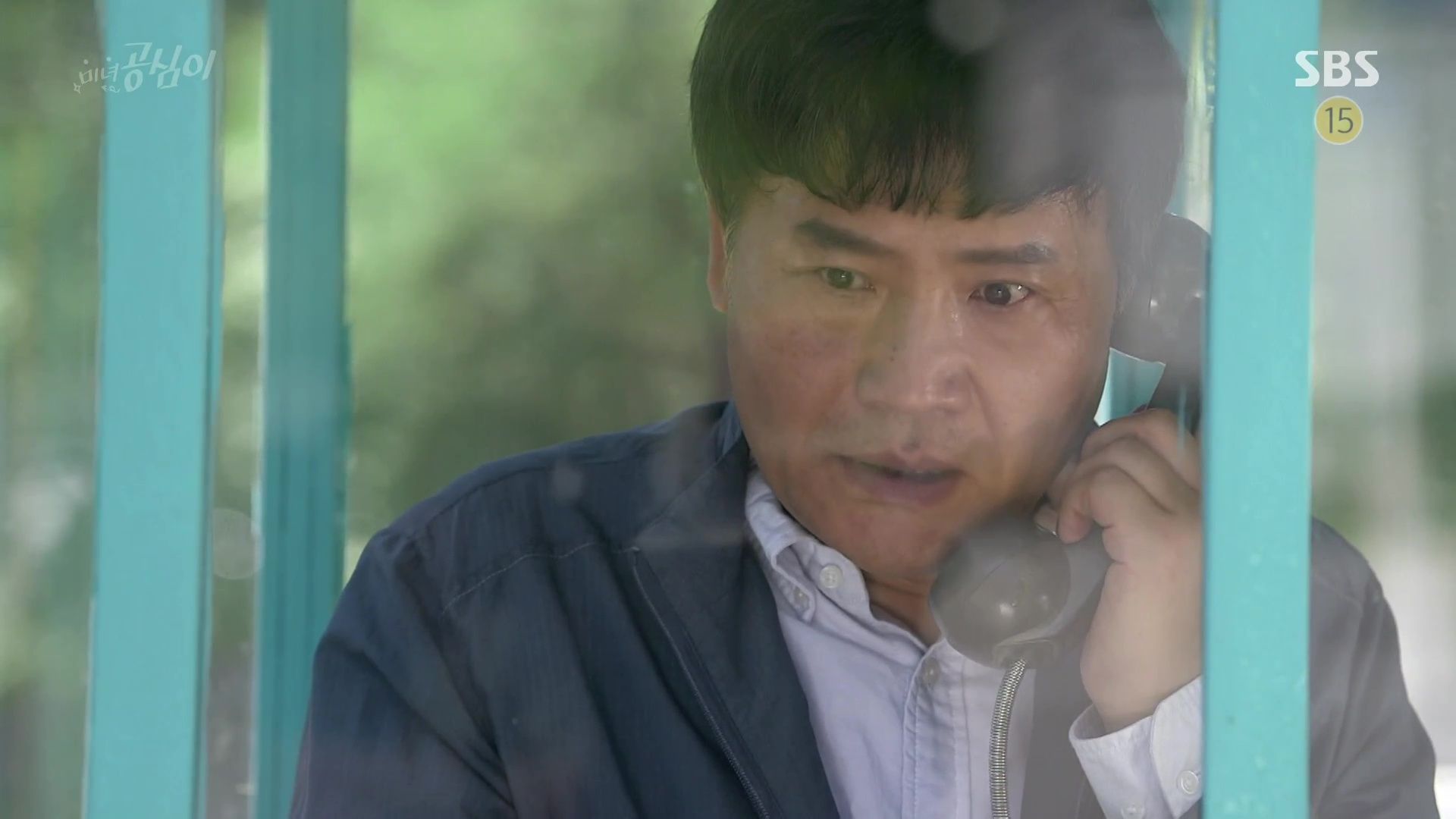 Jun-su and his parents pick up his father's mother at the airport, and there's a lot of love between all four of them, which just highlights Jun-su's maternal Grandma's coldness and her obsession with her missing grandson.
Dan-tae's father leaves an envelope at Jun-su's family home, stuffing it through the mail slot and quickly shuffling away. The contents nearly send Grandma into fits — it's a necklace that she once gave her missing grandson Jun-pyo.
Dan-tae's father calls from a pay phone and whispers that the necklace is proof that he knows where Jun-pyo is. He tells Grandma to meet him at a park the following day, and to come alone with the envelope.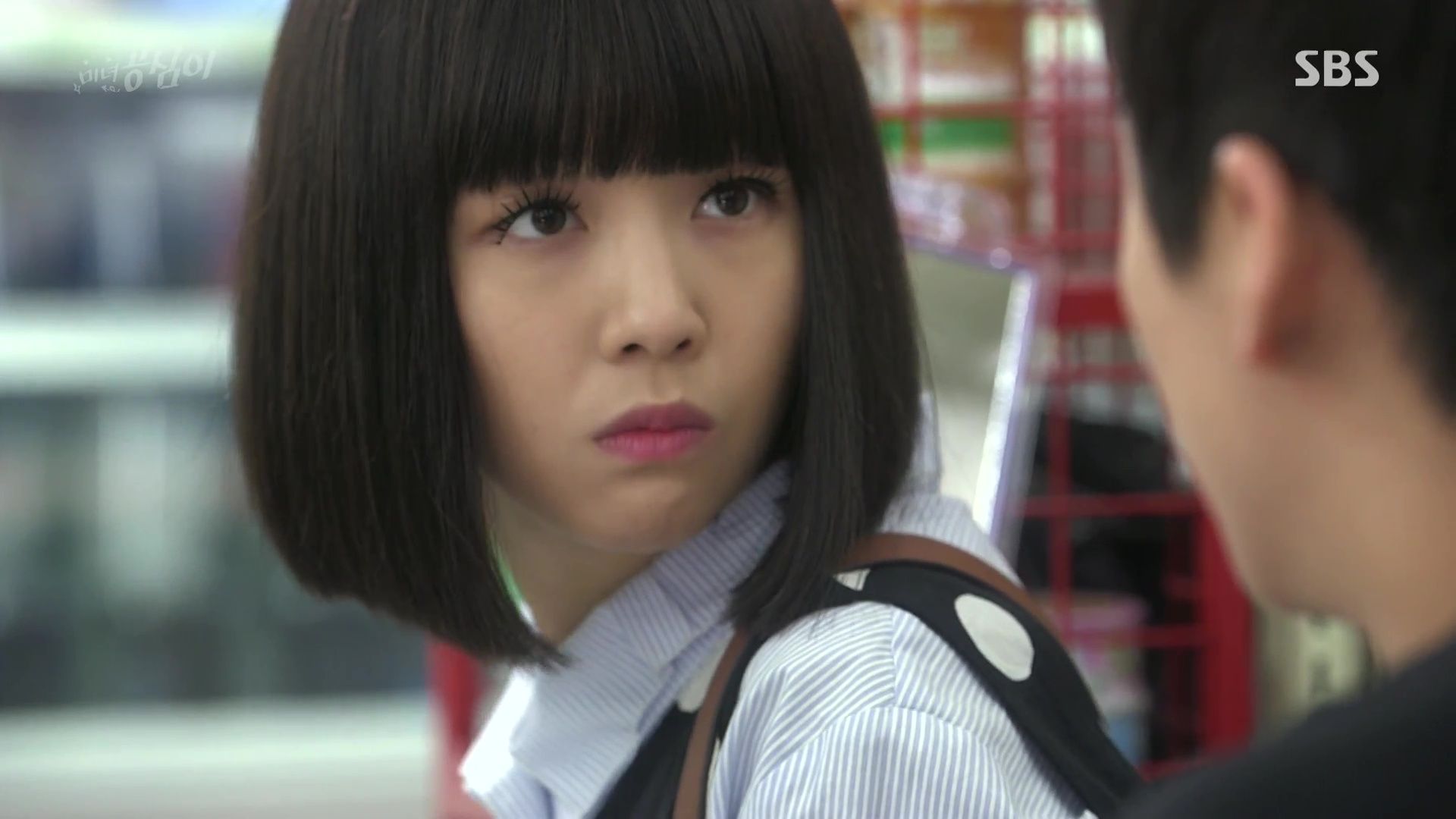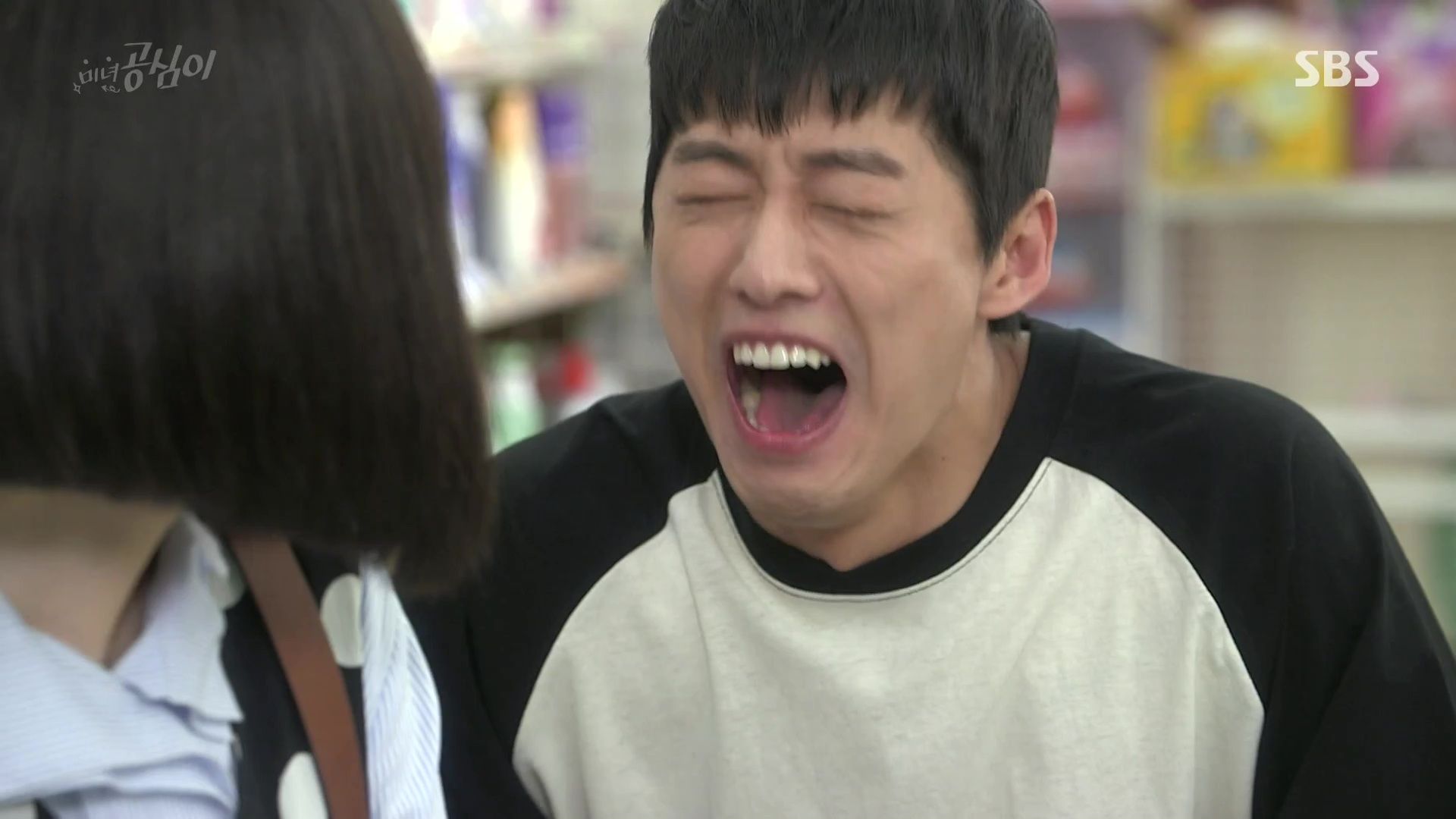 Gong Shim bakes her famous cookies, claiming they're for the office, though Mom mentions that she baked them often the last time she had a crush. Gong Shim gets twitchy and says they're just snacks, sheesh, piquing Gong Mi's interest.
Oh boy, Dan-tae is a total smitten kitten — he's actually singing a song about a girl with bobbed hair. He bops happily into the convenience store to see Gong Shim crouched in a corner, and he sneaks up behind her… only to scream and fall over when she turns around with huge, misplaced fake eyelashes, HA.
Gong Shim asks if they're really that weird, and Dan-tae is all, It's totally weird. But it's even more weird that she has to ask. He stops her from leaving the store like that, and when she pops back up sans makeup, he has this gobsmacked slo-mo moment at her natural prettiness. Someone's got it baaaad.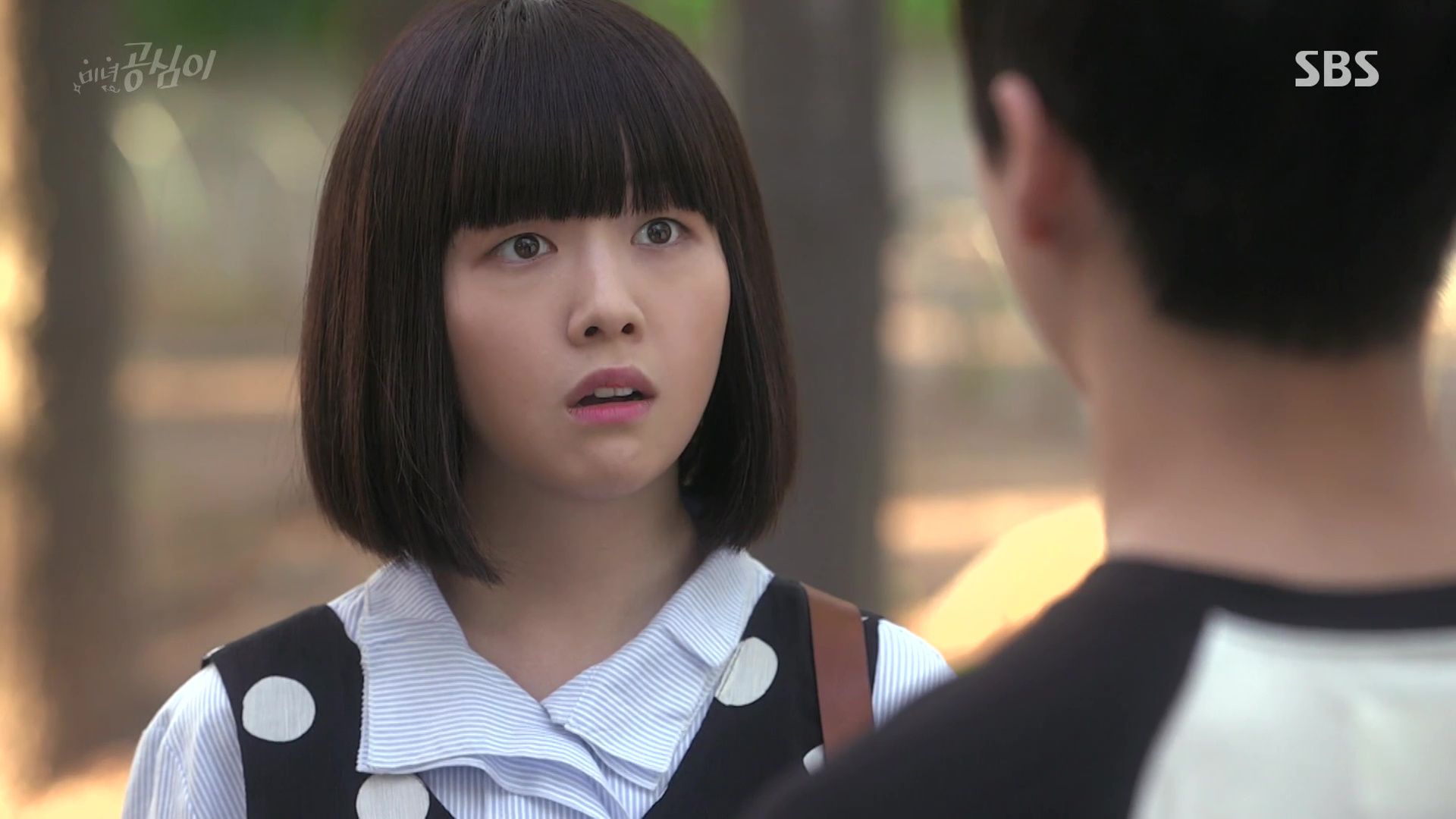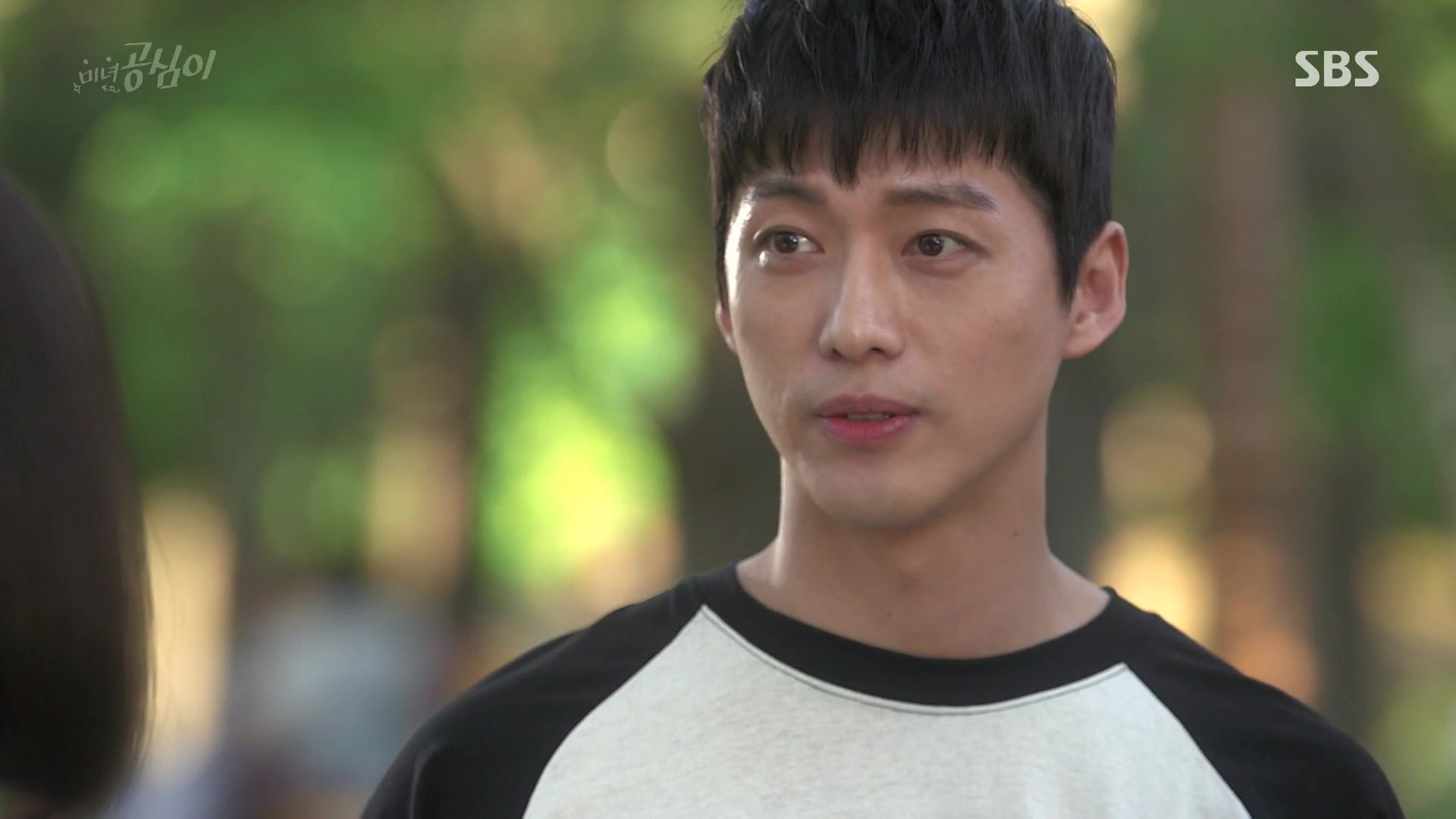 He makes the dumbest joke ever to cover up his staring, and it's hilarious how his face shows that he knows this is stupid even as he's saying it. He finds Gong Shim's annoyance adorable though, and he trails after like a puppy as she walks to work.
He asks who she's trying to impress with all that makeup, needling her even harder the more irritates she gets. When she snaps that she took off the makeup, geez, Dan-tae says disarmingly, "Not dressing up looks better on you." ~melts~ Gong Shim is obviously made of sterner stuff than me, because she just threatens to rip his hair out again.
He keeps following Gong Shim, claiming that he's totally not following her, he's just also going this way. Riiiight. He bugs her for a going-away party as her tenant, just grasping for reasons to keep talking to her, and Gong Shim finally makes her getaway.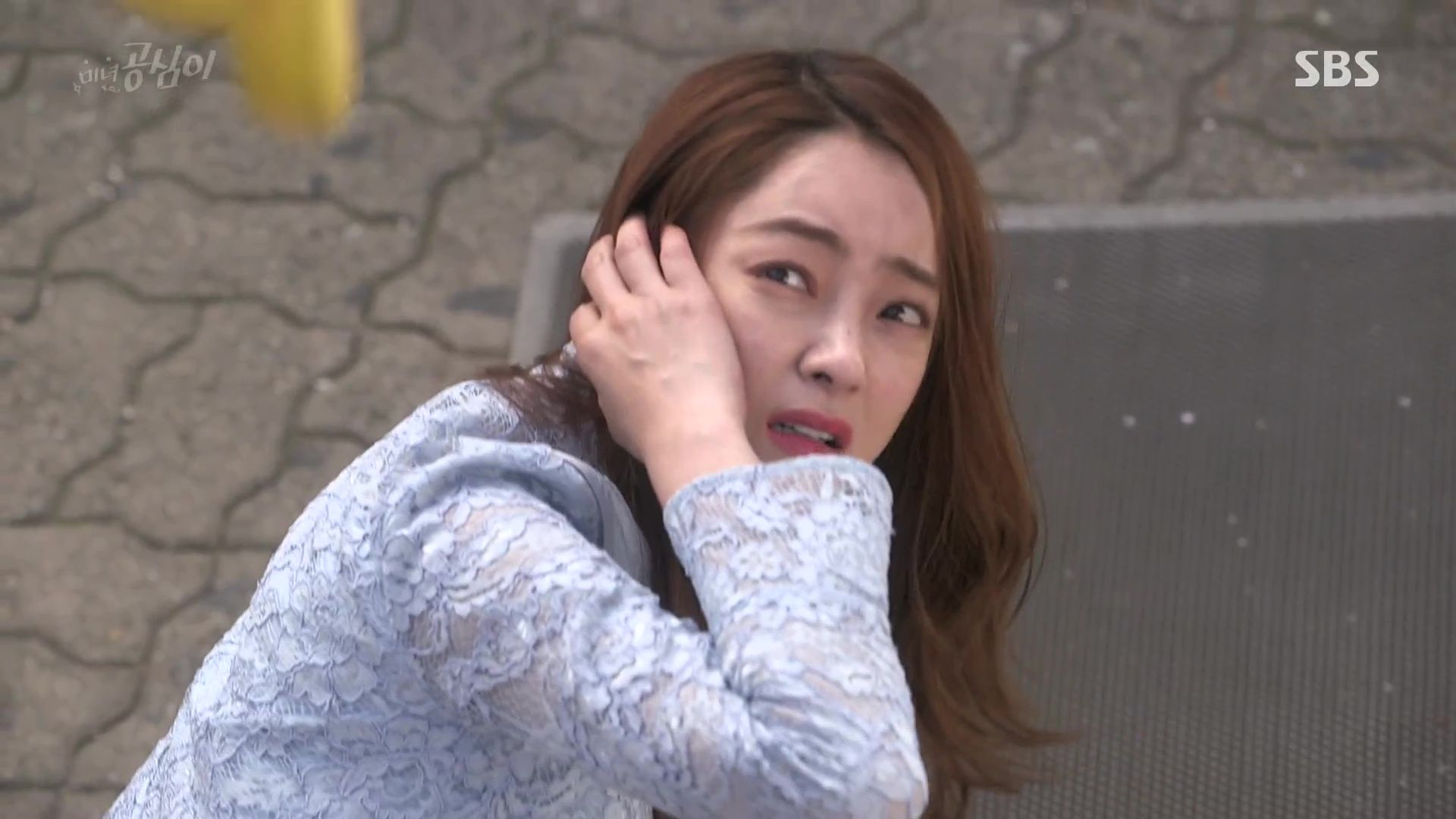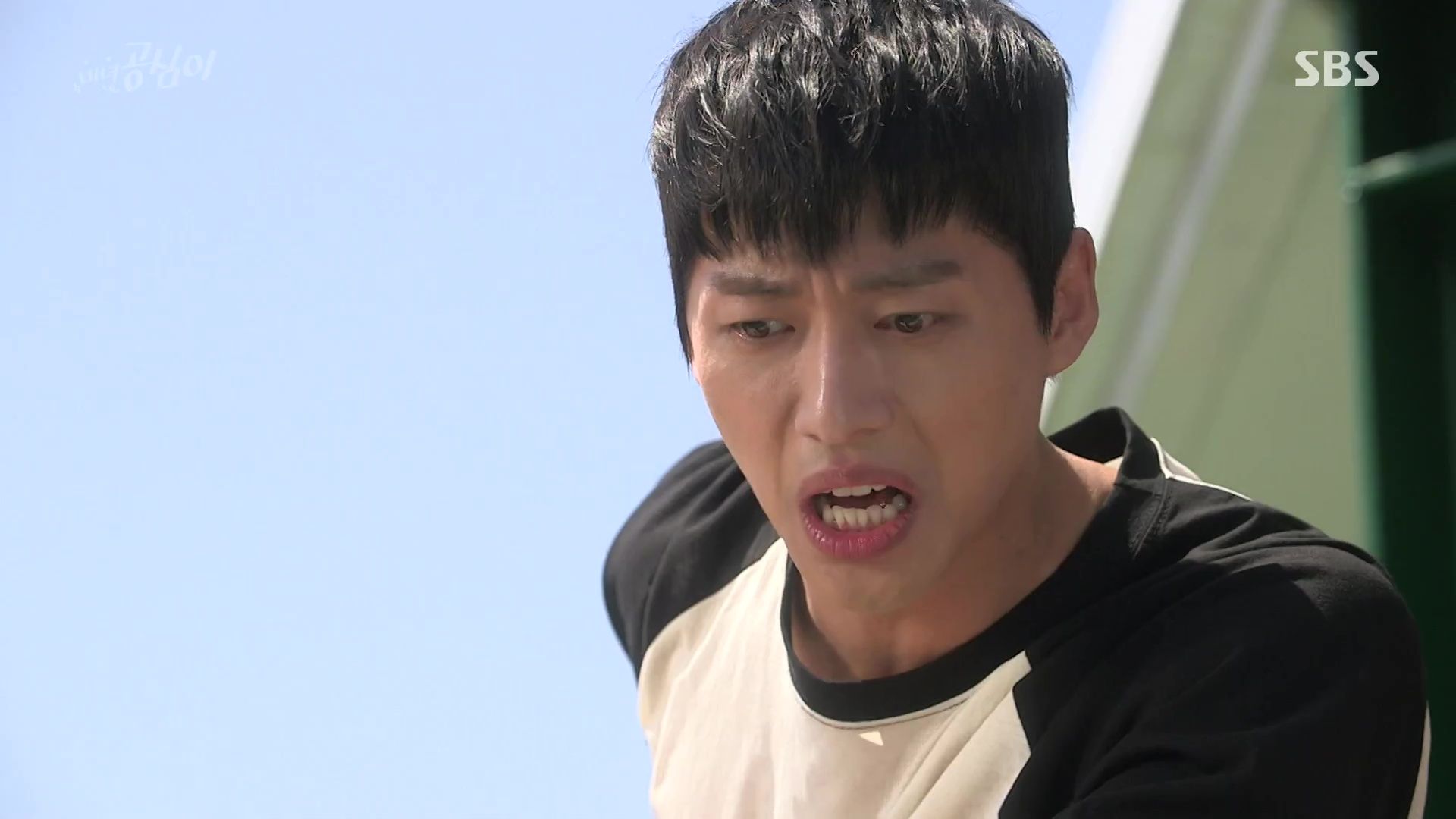 Mom buys a fancy new dress on Gong Mi's dime, to impress her old Miss Korea friends. She won the pageant, but the other girls married well, and she doesn't want them knowing that she married a man who lost his business. She's hoping one of them will have a son suitable for Gong Mi.
In fact Mom already has one in mind, but Gong Mi puts a moratorium on blind dates. They suspect she's found a man and warn her not to settle, but she assures them she knows better.
HAHA, Dan-tae's rigged a fishing pole so that he can reel snacks up from the convenience store without having to come down the stairs, and Gu-nam sends him up a bunch of bananas. In his excitement, Dan-tae loses control and whacks Gong Mi on the head with the bananas, and she runs up the stairs to confront him.
He's appropriately sorry, but Gong Mi is furious and starts insulting him. She grabs the bananas and slams them to the ground, horrifying Dan-tae, but he cheers back up to see that they're still edible.
On her way to work, Gong Shim fantasizes about Jun-su falling for her after tasting her cookies, and taking her to meet his parents as his fiancee. They enthusiastically approve of her, of course, as Jun-su beams at her adoringly.
Her daydreaming makes her late for work, and she scurries in and plops down in her chair — and onto President Seok's lap. Whoops, busted. And then to make things worse, she blurts out, "Father!" (As in, in-law.) President Seok warns her not to let him get to work before her again, or else.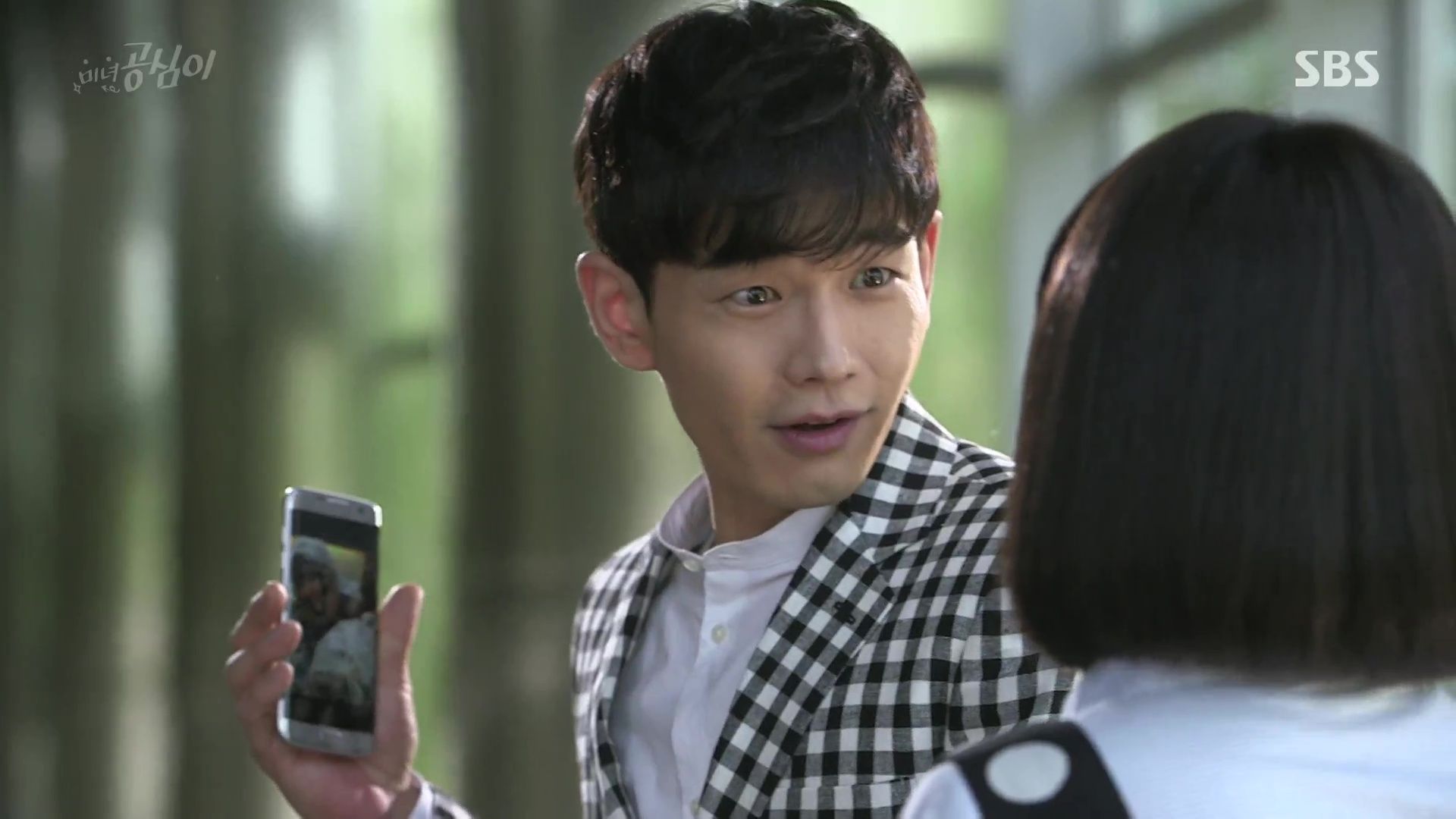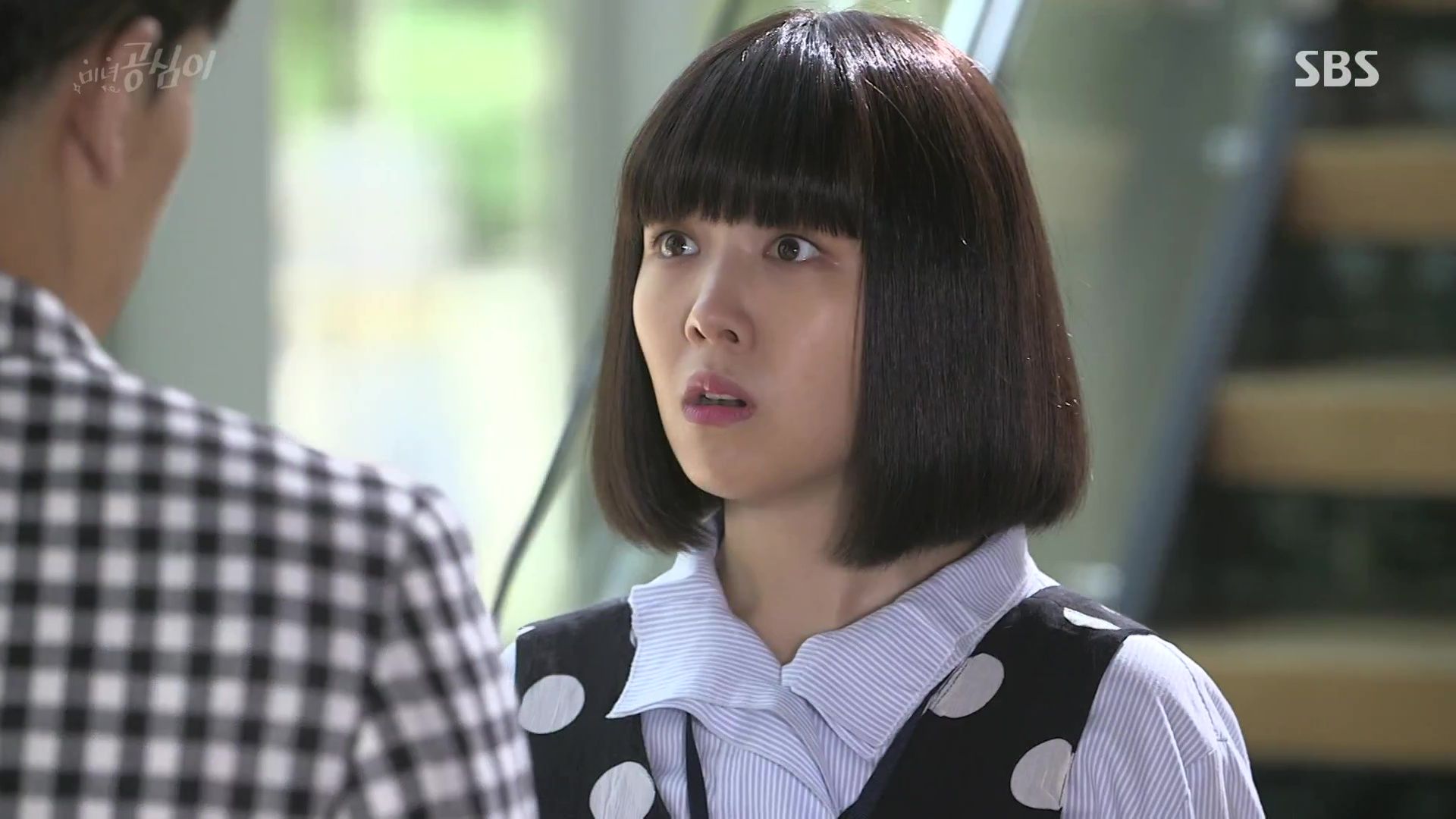 Gong Shim pulls Jun-su aside later and asks him to delete the photo that Dan-tae accidentally sent to him, the ones of her drunk and hiding in the garbage. He cutely asks what she'll do for him if he does, so she offers him her tasty cookies. He plays with her a little, enjoying how she gets up close to try to snatch his phone away, but he does delete the picture.
Seeing the suspicious looks they're attracting from the other employees, Gong Shim asks Jun-su to please treat her professionally as any other employee, not as a friend. He apologizes and agrees, then orders her, as her boss, to eat lunch at a certain restaurant today. He warns her with a cheeky grin, "If you eat anywhere else, you're fired."
While cleaning the president's desk later, Gong Shim accidentally shatters a crystal glass. She ducks under the desk to pick up the shards, and is forced to hide there when Jun-su and his mother come in to talk. Mom asks about the rumor that Jun-su is getting close to Gong Shim, but he assures her it's nothing.
Mom warns him not to get too close to a mere secretary — as future CEO, he's got to protect his reputation. She says he's too nice, which is why low-class girls flirt with him, and Jun-su agrees that she's always right. From under the desk, Gong Shim is unable to see Jun-su's placating expression… she takes his words at face value, and tears fill her eyes.
Dan-tae dresses up (which for him means not not capri pants), taking a moment to smile at the band-aid from Gong Shim, and goes to his mother's memorial vault. Outside, his father talks to Dan-tae's aunt, who's horrified to hear that he plans to tell Dan-tae "everything."
She doesn't see the point in his meeting his birth family at this late date, and how will they face him afterward? But Dan-tae's father says that his time is limited — he's dying of a brain tumor, and only has a few months to live. He wants to clear his conscience while he can.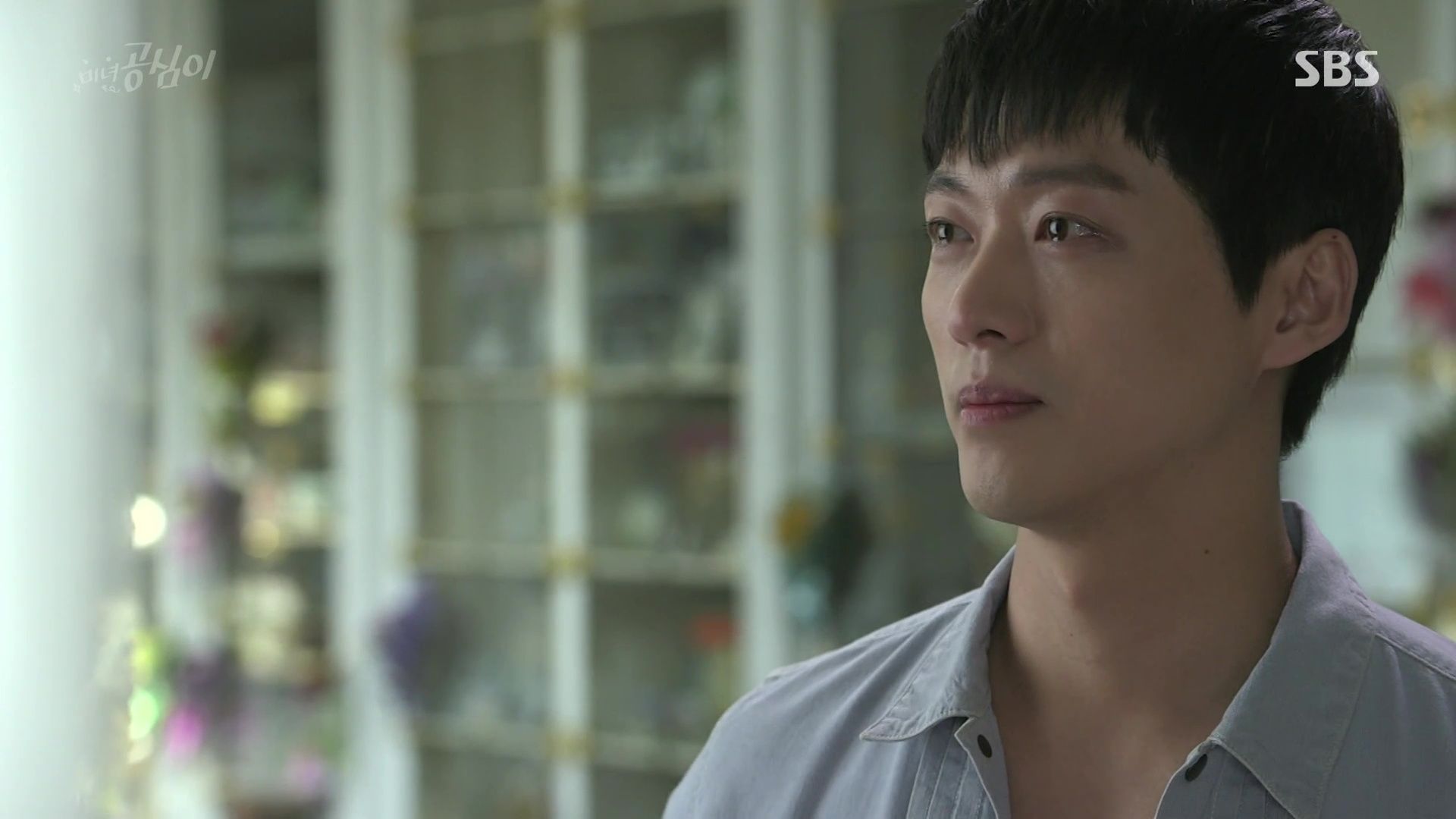 Dan-tae's aunt is violently against this, frantically grabbing him to keep him from going inside and telling the truth. Dad whirls and screams at her that he has to confess his sins before he dies, but he's struck with a seizure and has to be taken to the hospital.
Inside, Dan-tae waits for his father, who never comes. He assumes he's still angry with him, telling his mother's picture (with tears in his eyes, awww) that he wouldn't forgive him either.
Gong Shim had decided not to give Jun-su the cookies after hearing his conversation with his mother, so Gong Mi gets a nasty little idea. She takes the cookies to woodworking class and hands them out, pretending she made them herself.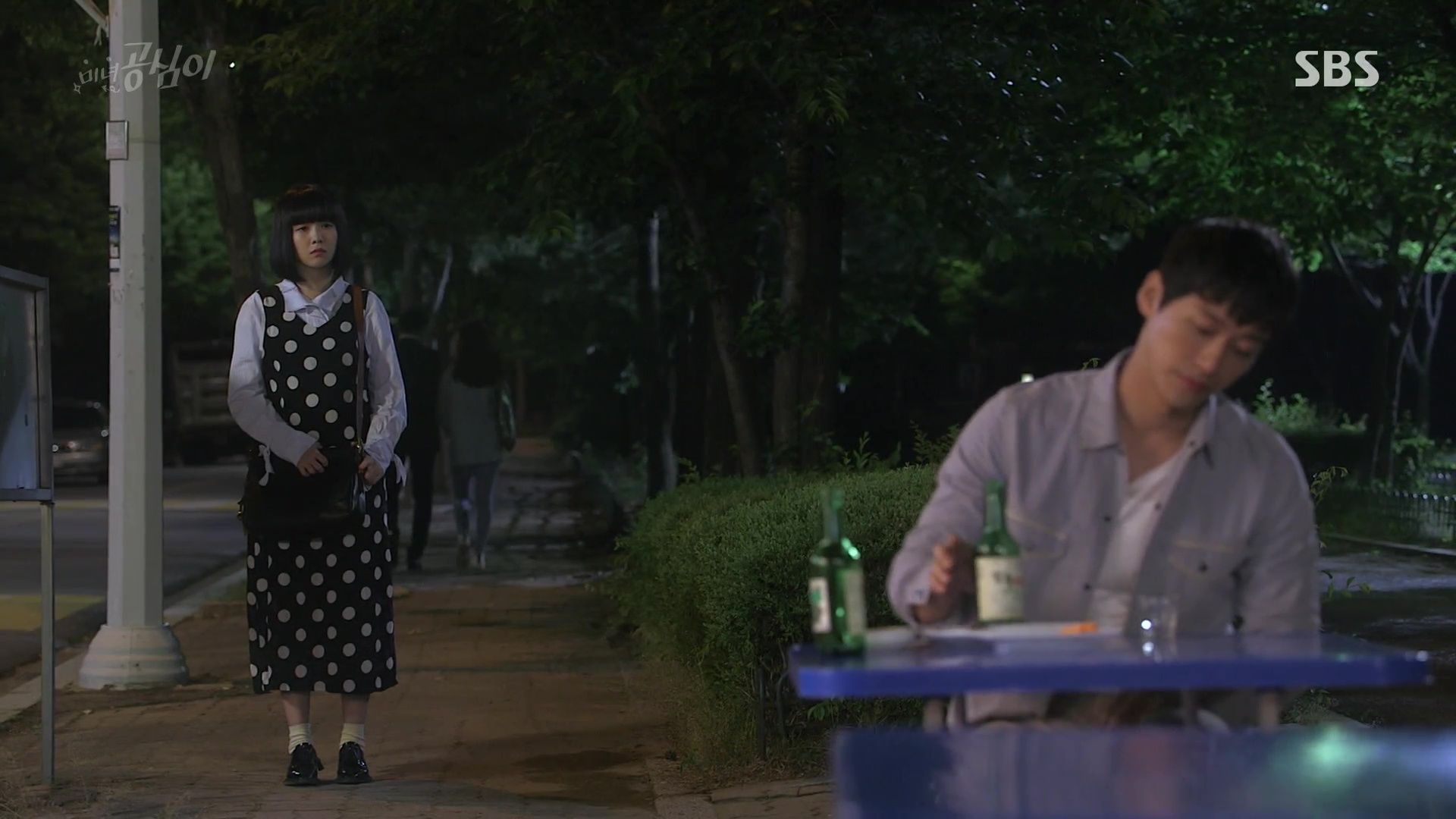 Gong Shim goes to the rooftop apartment that afternoon, to see that Dan-tae accidentally took the things she left there when he moved out. She goes to his office, and is surprised to see all of his belongings piled up there, since he was supposed to be moving in with his father. His aunt tells Gong Shim that his father didn't show up, and Dan-tae didn't want to live in the new place alone.
She finds Dan-tae drinking alone at a pojangmacha, and joins him. He's clearly been drinking for a while already, and he looks pleased to see her. Gong Shim doesn't mention that she knows why he's drinking, that his father didn't show today, but she offers to drink with him.
Dan-tae tells her not to get drunk: "I don't feel like playing hide-and-seek today." He asks why she stopped, saying that it would have been better if she'd gone on home, since she might feel worse keeping him company. Awww, that just twists my heart.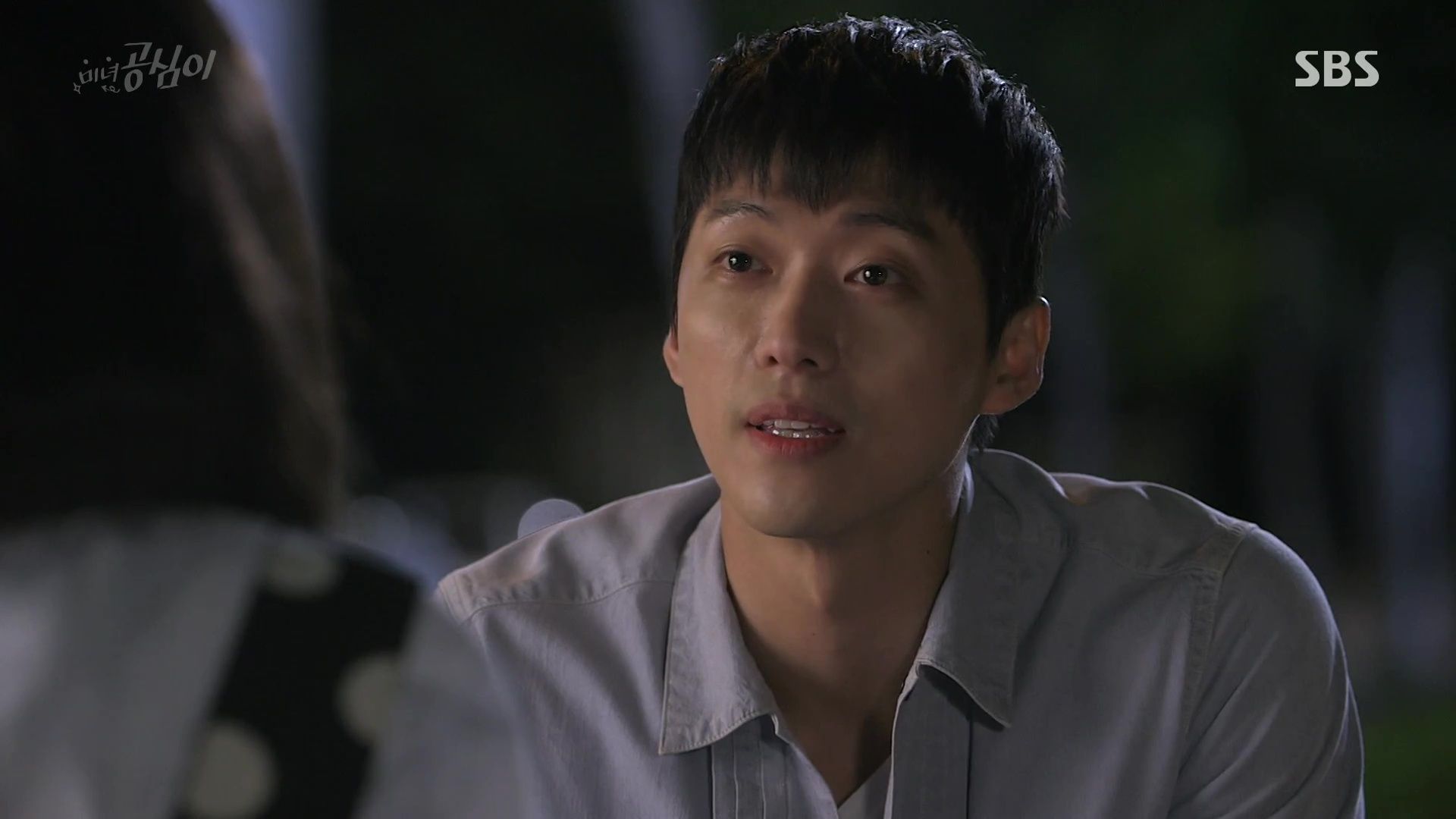 Still, he does look pleased when she stays, and they each down a shot of soju. Dan-tae asks when Gong Shim is moving back to the apartment, and she makes a split-second decision, telling him that she decided not to. She claims that she needs the rent it brings in, so she's going to put it back up for rent.
Dan-tae sighs that he's worried that living with his father won't be much fun, plus he's used to living alone. He suddenly changes the subject and asks again why Gong Shim put on fake eyelashes this morning, and she says that it's because she envies her beautiful sister.
Dan-tae seems surprised at the idea that Gong Mi is beautiful, and he looks Gong Shim right in the eyes as he says, "To me, the prettiest woman in the world is Gong Shim." Swoon forever. But Gong Shim thinks he's teasing, and just offers to pay for the drinks.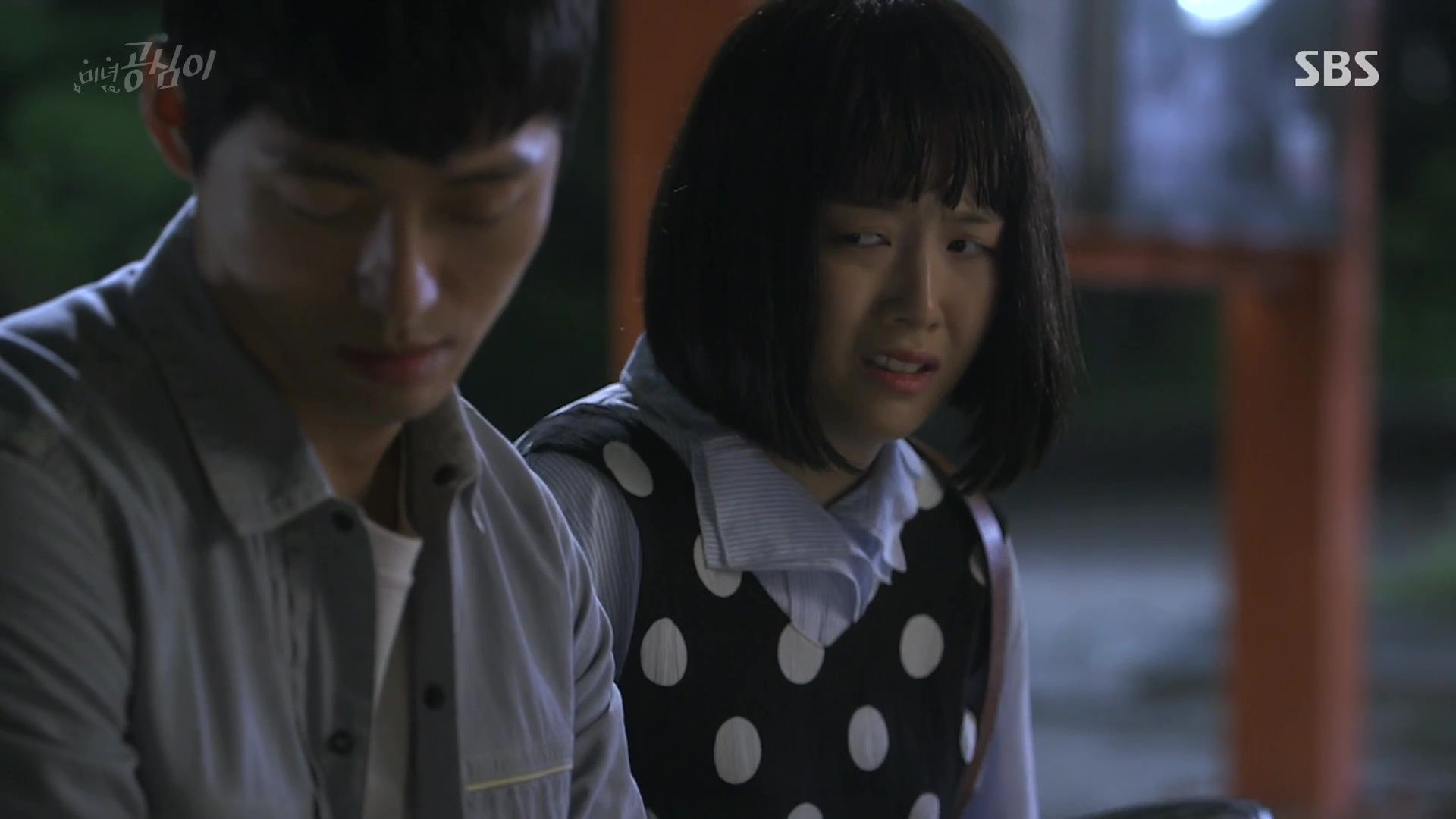 Happily drunk, Dan-tae reaches out to pinch Gong Shim's cheek, calling her cute. She gets annoyed and sweeps his arm away, and Dan-tae goes face down, passed out cold.
Gong Shim only now notices that the two bottle of soju on the table are only the tip of the iceberg — there are many more on the floor at Dan-tae's feet. She's forced to piggyback his drunk butt home, which is hilarious since he's roughly twice her size.
She stops to rest her aching back, though she moans that it doesn't hurt nearly as much as what she heard earlier today. Since Dan-tae's still mostly unconscious, Gong Shim feels safe confiding that she learned that Jun-su is only being nice to her out of pity.
She still can't rouse him, so Gong Shim piggybacks him the rest of the way to the empty rooftop apartment, then rolls him up in a blanket and leaves a bottle of water, before going home herself. On her way out, she gives the chair that Jun-su fixed a sad face.
Jun-su's parents and paternal grandmother present Grandma with legal papers declaring Jun-pyo officially a missing person. The papers essentially mean that they're declaring him dead, which the family wants because a majority share of company stocks are still held in his name. Grandma goes ballistic.
She accuses them of being greedy and grasping, and demands that they have the papers reversed immediately. Even Jun-su's other grandmother stands up for their decision, but Grandma refuses to listen.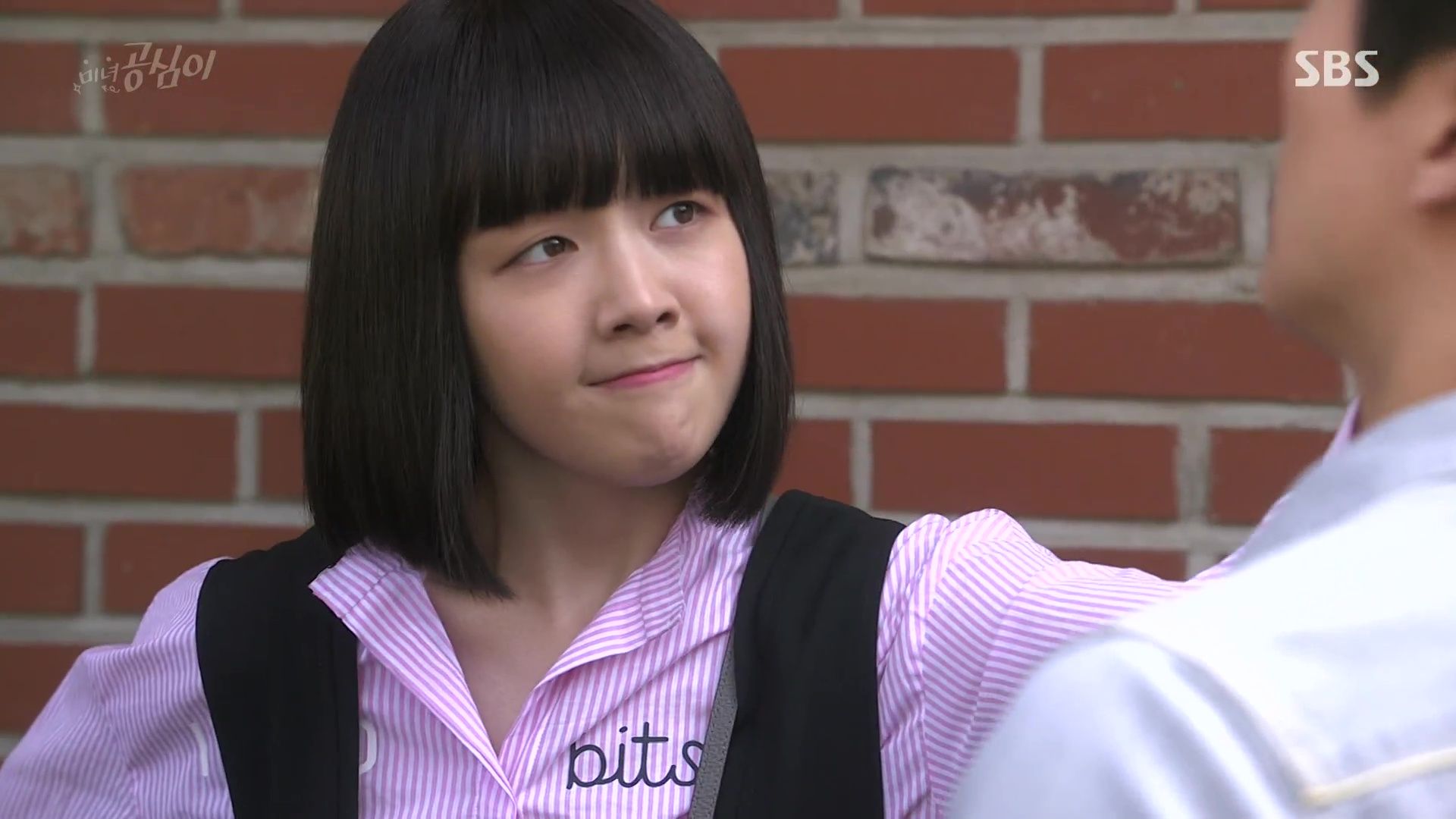 Dan-tae can't remember anything from the night before, and he's adorably sheepish as Gong Shim fusses at him for grabbing her cheek. She tells him that he begged her to let him back in the apartment, and all he can do is apologize over and over.
Grandma calls Dan-tae for his professional opinion on the declaration about her son's missing status, and he tells her that it can't be cancelled. The only way to reverse the ruling is for the missing person to come back, alive. She asks him for a ride to the park, where she's supposed to meet her informant (his father).
Grandma waits anxiously, but the man who called her never shows up. He's in the hospital, unconscious, and Dan-tae's aunt says that it's better this way. Grandma tearfully begs Dan-tae to help her find her missing grandson Jun-pyo.
That night, Jun-su notices when Gong Mi doesn't make it to woodworking class. After class he sees her on the street nearby and stops, and she admits that she's been waiting for him. She confesses that the cookies were only for him, but she was too shy so she gave them to the whole class. She admits that she's curious about Jun-su, and asks him out. He's taken aback, but he accepts.
Gong Shim and Dan-tae run into each other at the office, and she's grouchy from her sore back after carrying him home. As apology, he offers to take her to a restaurant that Jun-su recommends, and she pretends to just barely allow it while secretly smiling. Aww, you think he's cute.
She balks a little to see how fancy the place is, and Dan-tae jokes that he can afford it… if he eats ramyun for the next two months. But he eventually convinces her, and leads her inside.
They barely miss seeing Jun-su and Gong Mi pull up in his car, Dan-tae hilariously mimicking Gong Shim's sore-backed ajumma shuffle. But Gong Mi does see them, and watches them enter the restaurant with narrowed eyes.
COMMENTS
This has got to be the flat-out cutest drama I've ever seen. It's so quirky and wonky and endearing, with characters that don't fit into any stock molds and who just wiggle into your heart right away. The hero isn't a jerk or mean to the heroine (yeah he pokes fun, but there's no real meanness to it — he's more like an elementary-school kid might pull the pigtails of the girl he likes), and he actually accepts his own crush on her right away without trying to pretend it's not happening. The heroine has no romantic interest in the hero at all (that she knows of), finding him annoying and pesky, not to mention that she's his landlord so in a position of power over him, to a point. And the chaebol is a decent guy who seems really sweet and kind, for once. There's nothing really innovative in the plot, but with characters this precious, we're tuning in for them anyway, am I right?
I don't expect there to be any surprises as far as the story goes, which is just fine with me, because watching these particular characters navigate through familiar drama waters is why we're all here. We do have the well-known birth-secret trope looming over us, with the male leads being related — that reveal should cause some drama later on, but I don't expect it to threaten their budding bromance in any real way. While the setup is familiar, with Dan-tae sure to be the missing Jun-pyo, I still expect the details to be interesting enough to hold our attention, though I do hope the show doesn't get too bogged down in it. Its strength is its characters, and I hope the show is aware of that enough to remember to keep them front and center.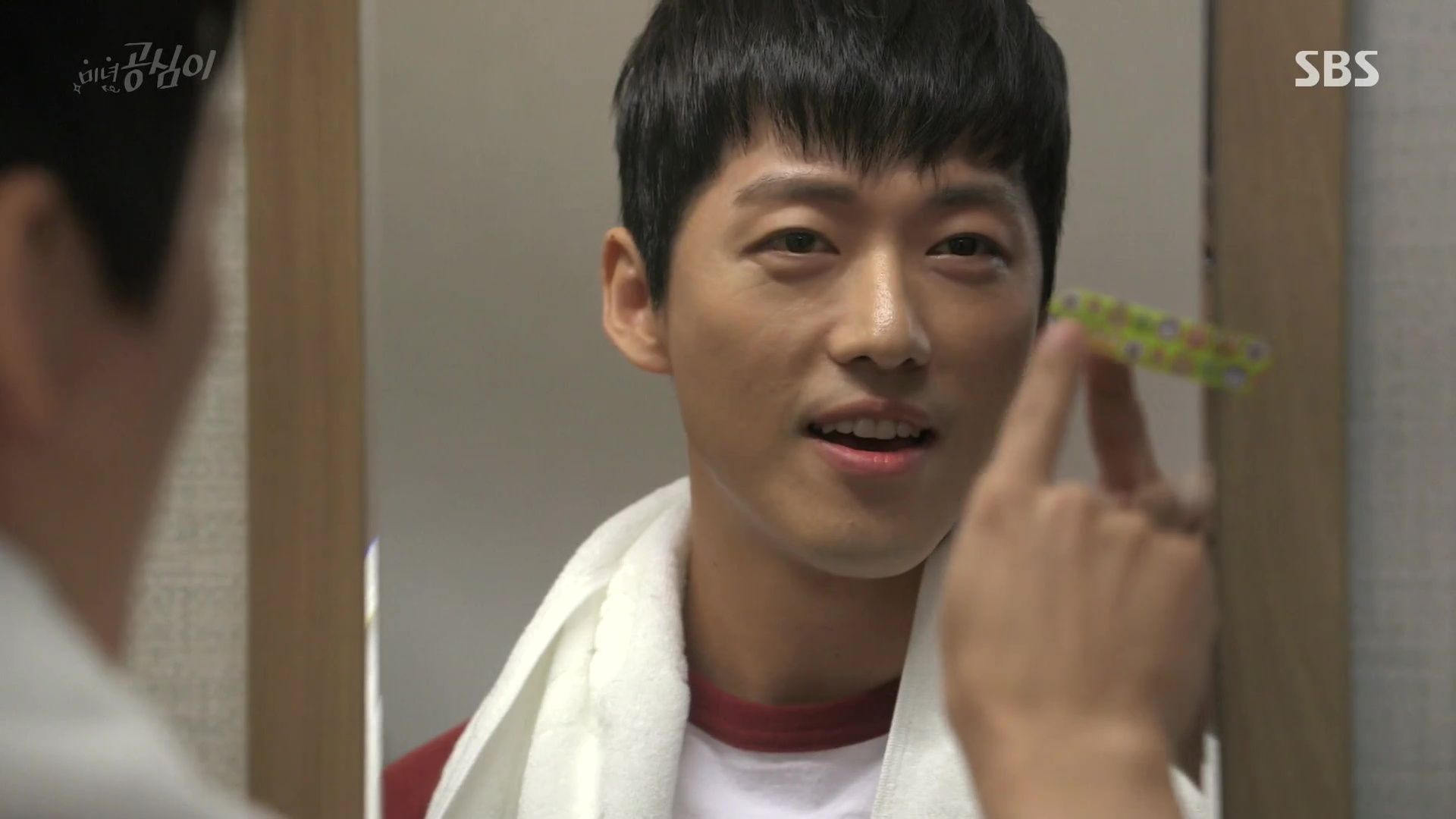 Dan-tae definitely has a full-blown crush by now, and it's no wonder… He already found Gong Shim intriguing, but a lot of things she said in this episode, which from her side came from a place of trying to hide her spying on him, could be interpreted as statements of interest. So here's a guy who already thinks a girl is interesting, and he feels for her in her family situation, and now she's saying things like that she's curious about him. No wonder his interest bloomed into an actual crush! And thank goodness, because Dan-tae with a crush is probably the weirdest and cutest thing I've seen in a long time. He follows her around, pestering her like a little boy, but every time he gets close to being truly annoying, he says something genuinely sweet, which just makes you wanna hug him. I can't tell if he's doing it on purpose or not, though my gut feeling is that he's just being himself — he says what he wants, when he wants, and what he wants can change on a dime. I think that Gong Shim just gets frustrated because she can't keep up with his shifting moods, and she doesn't know what to think of him. It doesn't occur to her that he might be interested in her, so she assumes he's pestering her just to get her angry. I'm curious to see her face when she realizes that he's actually doing it because he likes her.
I do think that Gong Shim likes Dan-tae, on a friendly level at least, and that there's more there that she just hasn't recognized yet. She seeks him out at times, though I don't think she really understands why. And she did give up her apartment so that Dan-tae would have a place to come back to, even though it meant she has to keep living in a closet. She even did it in such a way that Dan-tae could keep his pride, and pretend that he chose to come back rather than having nowhere else to go, which was really sweet of her. Those aren't insignificant things, and they speak to a deeper feeling than I think Gong Shim knows she's feeling towward Dan-tae, because she's already altering her own life to help him. Right now I think she's just starry-eyed over Jun-su, which is overshadowing the more subtle underlying emotions she's feeling towards Dan-tae (not to mention that whole annoying-little-boy thing he does). But she's not a stupid girl, and once she's done mooning over Jun-su, I'm very much looking forward to seeing her abject horror when she realizes that the guy she really likes, is Dan-tae.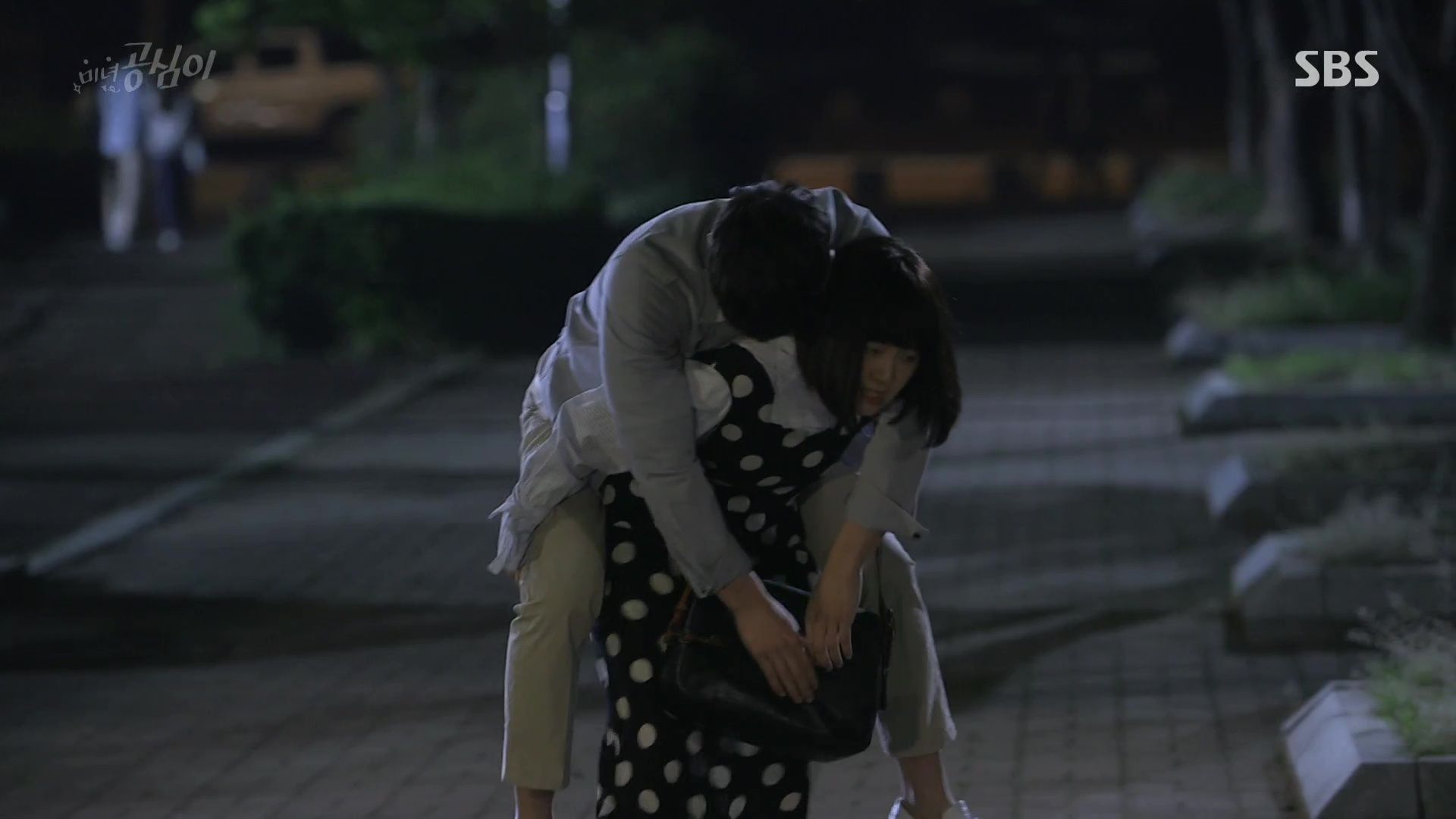 RELATED POSTS
Tags: Beautiful Gong Shim, Episode 4, featured, Minah, Namgoong Min, Ohn Joo-wan