Mirror of the Witch: Episode 11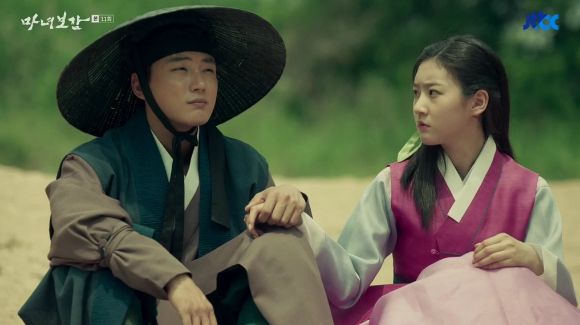 It's an action-packed episode, where gauntlets are thrown, loyalties are tested, and battle lines are drawn. What you see is not what you get, and the story does a great job plumbing the depths of its characters, especially as they come to face some difficult choices. Yeon-hee and Jun find themselves at the center of a hurricane, but with each other, they can find peace, understanding, and acceptance — which just might be enough to survive Hong-joo's nefarious, often very effective, villainy.

EPISODE 11 RECAP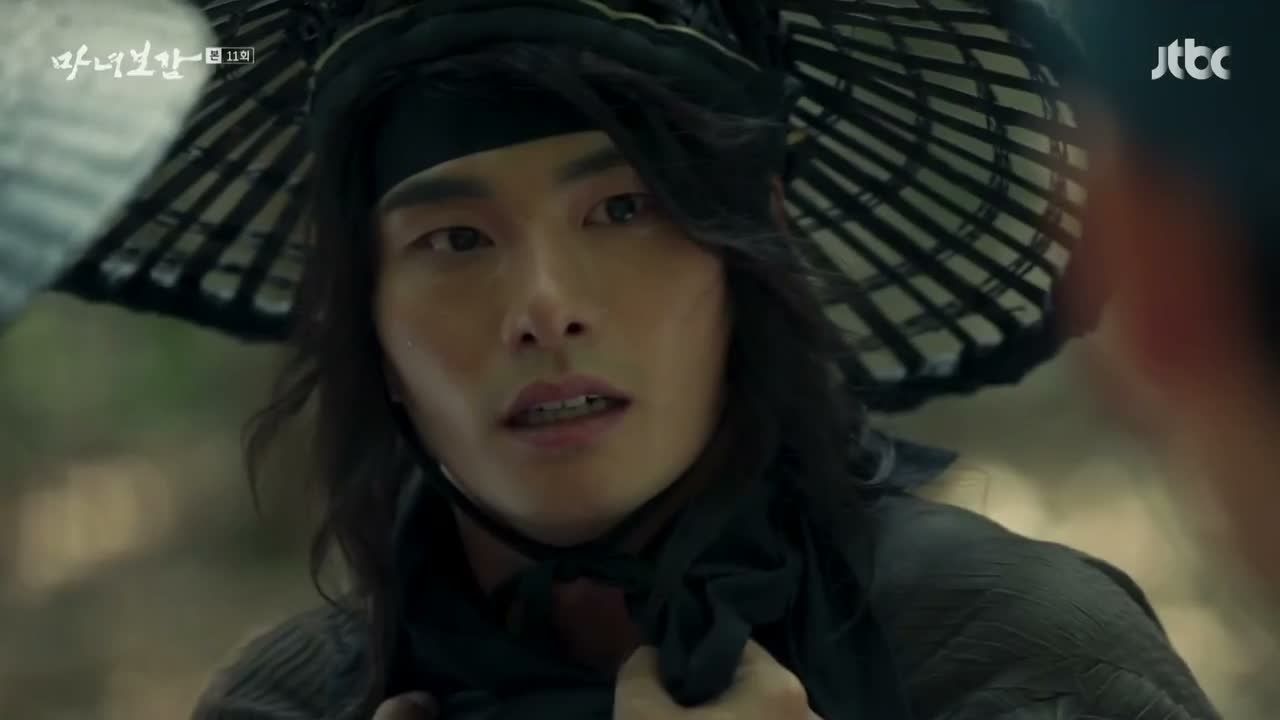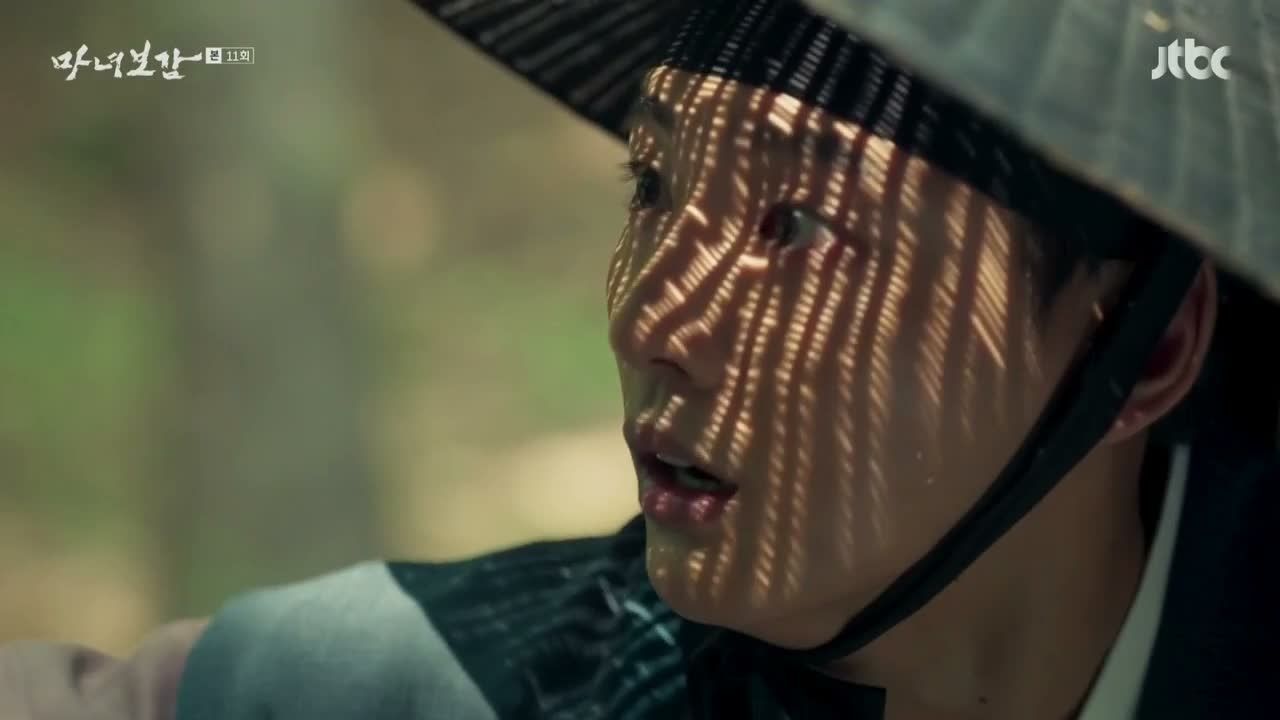 After Seo-ri/Yeon-hee (everyone seems to be back to calling her Yeon-hee now, so we'll go with that) is taken away by Red Cloak, Jun angrily confronts Yo-gwang about why he attacked and separated them, which allowed Yeon-hee's curse to activate. Poong-yeon runs up before Yo-gwang can respond, demanding to know where Yeon-hee has gone.
We see that the Red Cloak, aka Sol-gae, has brought Yeon-hee to Hong-joo's lair. Sol-gae straps Yeon-hee down with red bindings, but as she takes off the Red Cloak mask, she seems to look down on Yeon-hee's still body with an almost regretful air.
After losing Yeon-hee's trail, the three boys end up going to Taoist master Hyun-seo for help. When Hyun-seo sees them, he asks in alarm where Yeon-hee is.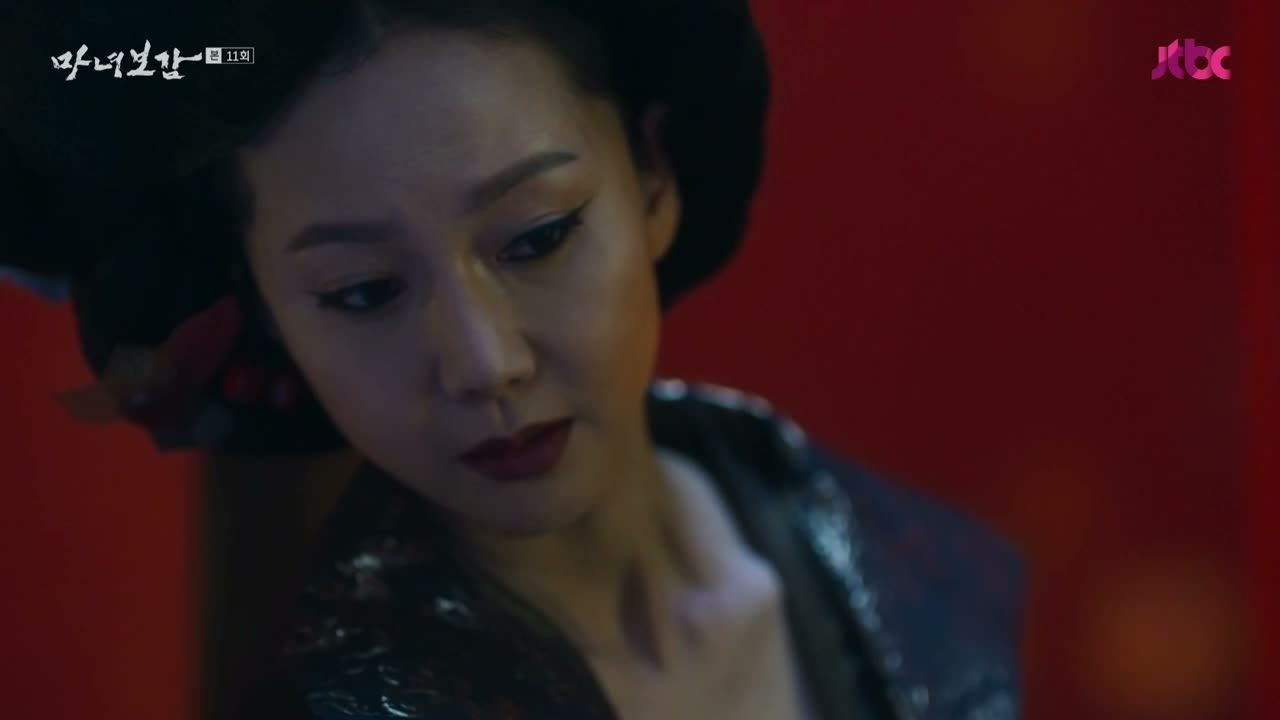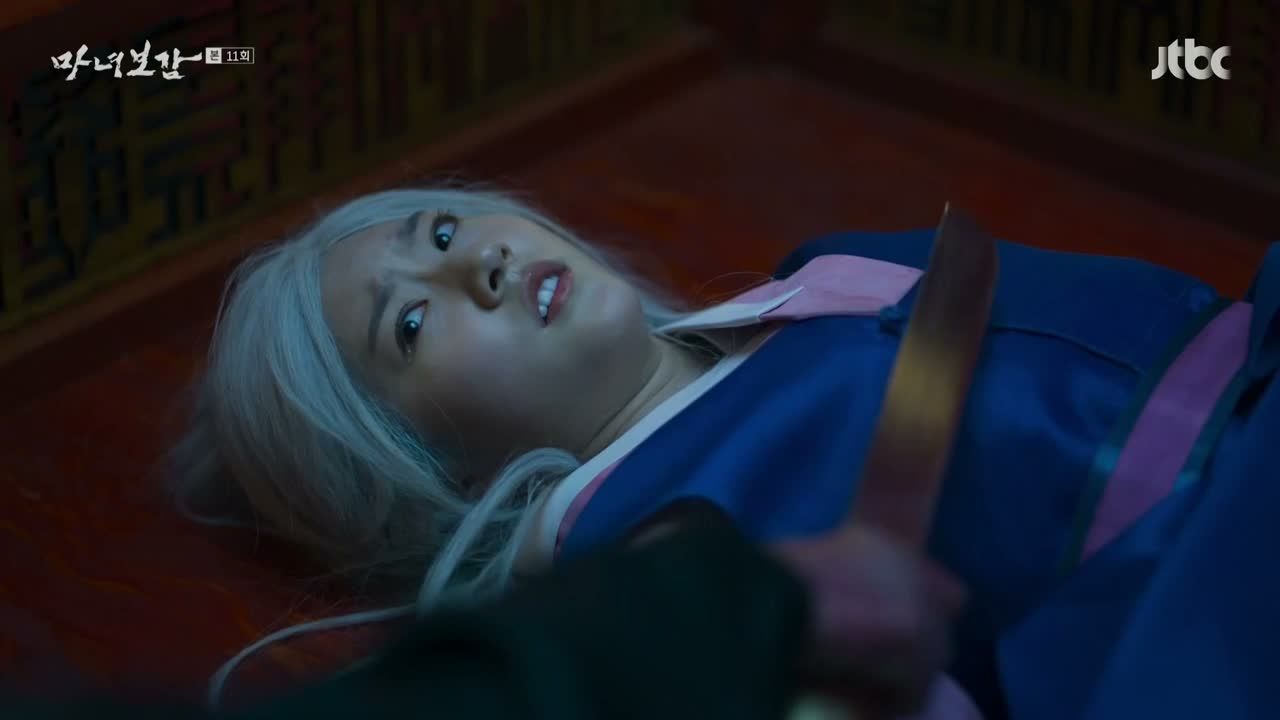 Yeon-hee starts awake, still in her cursed state, and begins to thrash with panic as she realizes she's tied down to a bed just like in her dream. Hong-joo arrives, noting that Yeon-hee seems to remember her. Hong-joo picks up a sword as she silkily reminds Yeon-hee that she should never have been born at all, and that innocent people have died because of her. Well… that's because you killed them.
Yeon-hee's eyes glow purple as she attempts to use her magic, but Hong-joo tells her not to bother since that won't work in this place. Yeon-hee asks what Hong-joo has to do with any of this, and Hong-joo holds a sword to Yeon-hee's neck as she explains that Yeon-hee was born because of a mistake she made, so she has to take that life back.
Leaving Yeon-hee strapped to the bed, Hong-joo glides off to the king's chamber to start phase two of her plan. She sits next to the sleeping king and says that he never would've been able to look at the throne if it weren't for her, so he shouldn't resent her too much. She pulls a talisman out to begin the soul-swapping ritual, when suddenly the king starts awake and seizes her by the wrist.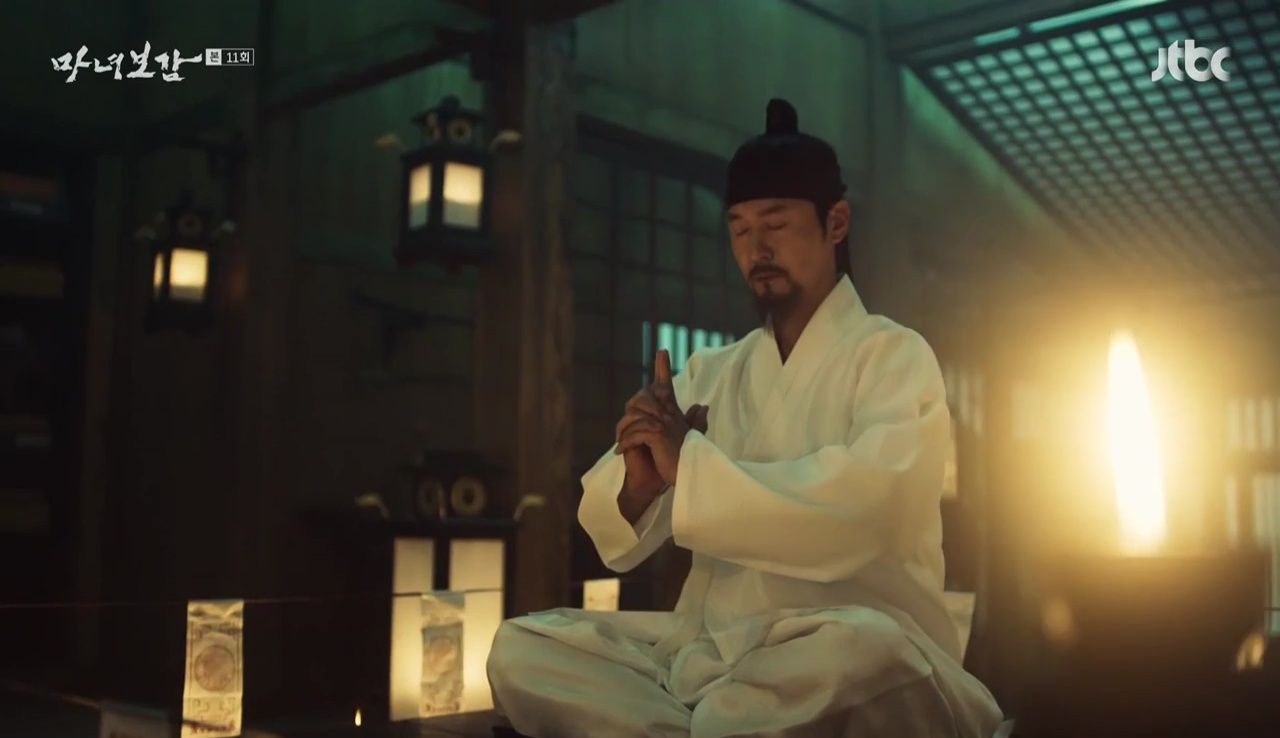 Hong-joo gasps, but quickly realizes that it's Hyun-seo, who we see meditating intensely, astral-projecting himself and taking control over the king's body. The king/Hyun-seo grabs a nearby sword and points it at Hong-joo, saying he knows all about her plan.
Hong-joo is surprised but not too worried, and she points out that Hyun-seo is essentially dead, with a body that is barely held together by her dark magic. She definitely has a point, as we see Hyun-seo visibly struggle to keep the possession going, the king's body faltering.
Hong-joo bares her neck to him as if challenging him, and worries that Hyun-seo might really die trying to hold on. She does another spell, sending a mist of black smoke into the king's body, which immediately makes the veins on Hyun-seo's neck go black. He eventually succumbs, releasing control of the king and vomiting blood back in his own body. Hong-joo uncaps the urn containing Prince Sunhoe's shadow soul and smiles darkly.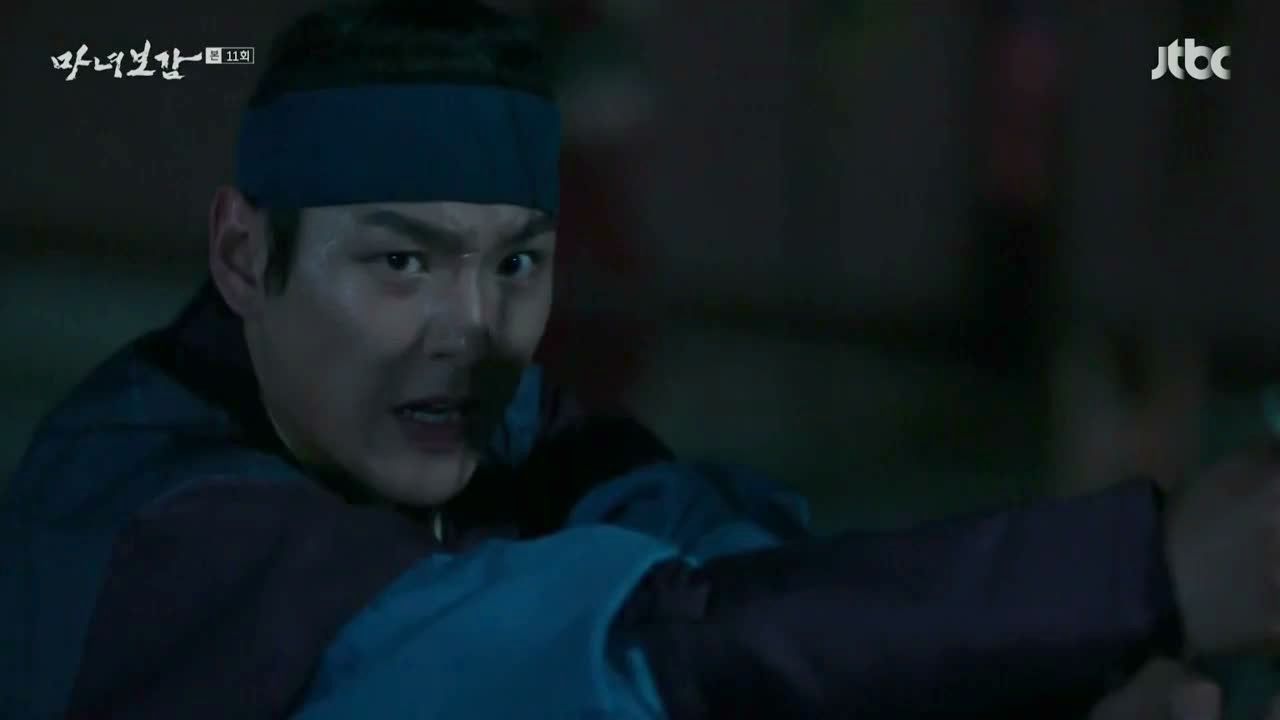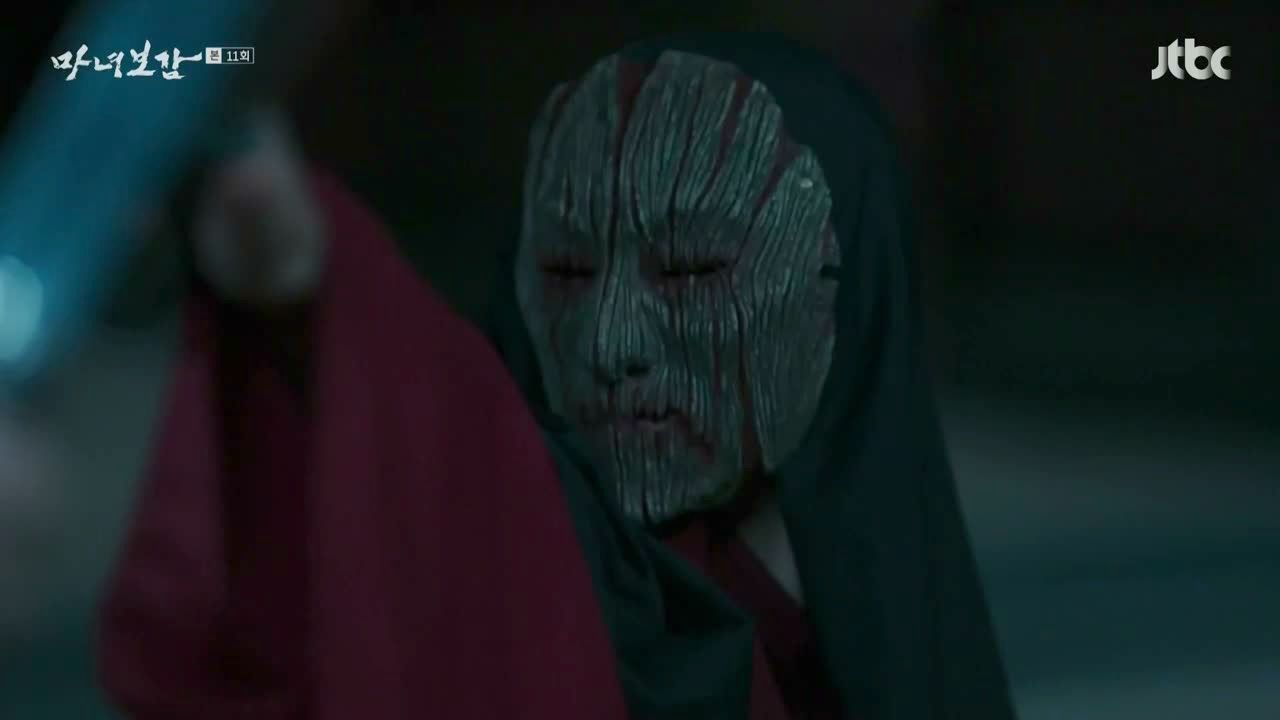 Outside, Poong-yeon and Jun creep up near Hong-joo's lair and Poong-yeon tells Jun to go in and find Yeon-hee while he distracts the guards. Poong-yeon makes sure to add that he's sending Jun inside because he's Yeon-hee's human talisman shield, not because Poong-yeon trusts him.
To create a diversion Poong-yeon runs into the fray, sword drawn, and faces off against Hong-joo's soldiers. Jun makes his way inside and manages to put down one of the guards.
Hong-joo arrives outside, closely followed by Sol-gae in her Red Cloak mask and the king, who appears to be in some kind of daze. Sol-gae peels off from the group to fight Poong-yeon, who can only watch helplessly while Hong-joo and the king bypass the fight to join a frightened Yeon-hee in the lair. The king's eunuch witnesses all of this and runs to tell the queen dowager what's going on.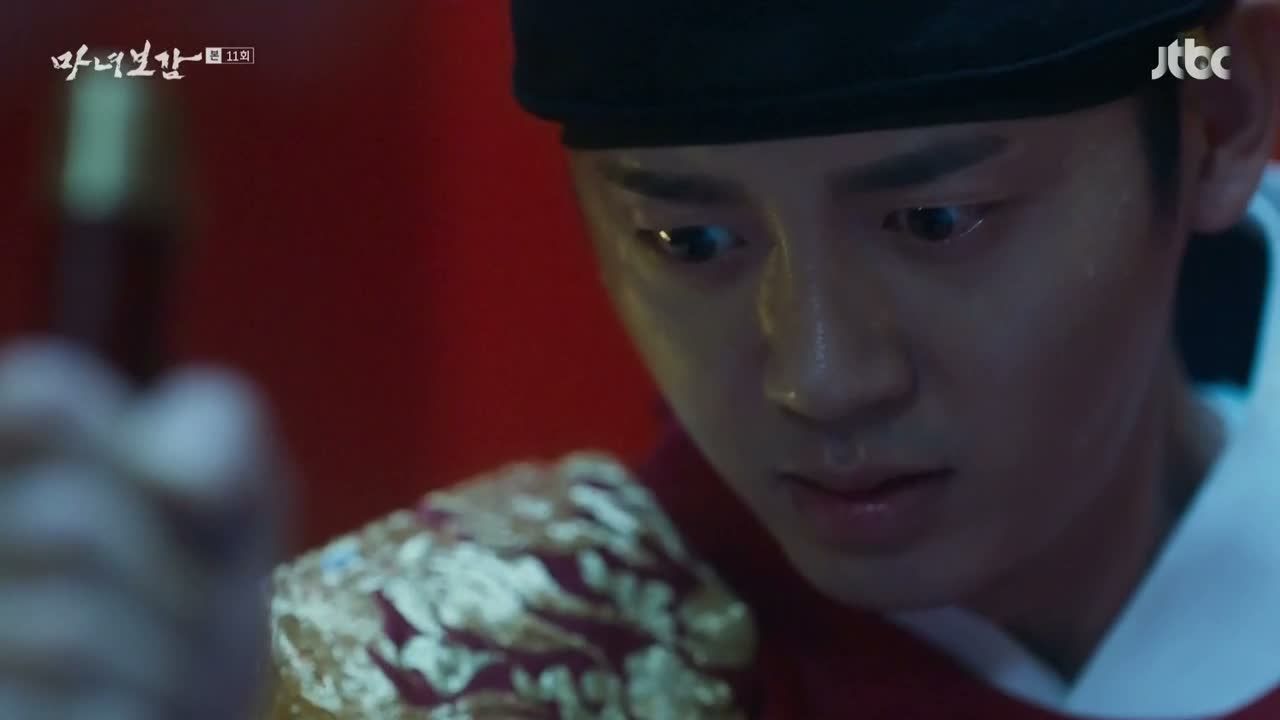 In the ensuing fight, Poong-yeon is outnumbered, though he manages to slice Sol-gae in the arm again. He's injured badly and eventually falls to his knees, but Sol-gae actually stops his attacker from finishing him, and faces off against him herself. Both of them get in a few hits, but Poong-yeon knocks her Red Cloak mask off, and Sol-gae flees. Did he see her face?
Inside, Hong-joo hands a dagger to the king, addressing him as Crown Prince Sunhoe — so the king has been possessed by Prince Sunhoe's soul. The prince takes the dagger in a daze, and Hon-joo urges him to stab Yeon-hee in the heart in order to gain a new body.
Prince Sunhoe swings the dagger downwards, but hesitates at last second, the blade inches from Yeon-hee's body. Hong-joo urges him to finish the job, saying that Yeon-hee's existence is the cause of Prince Sunhoe's suffering. With a tortured look, he slowly raises his arm and begins to strike again —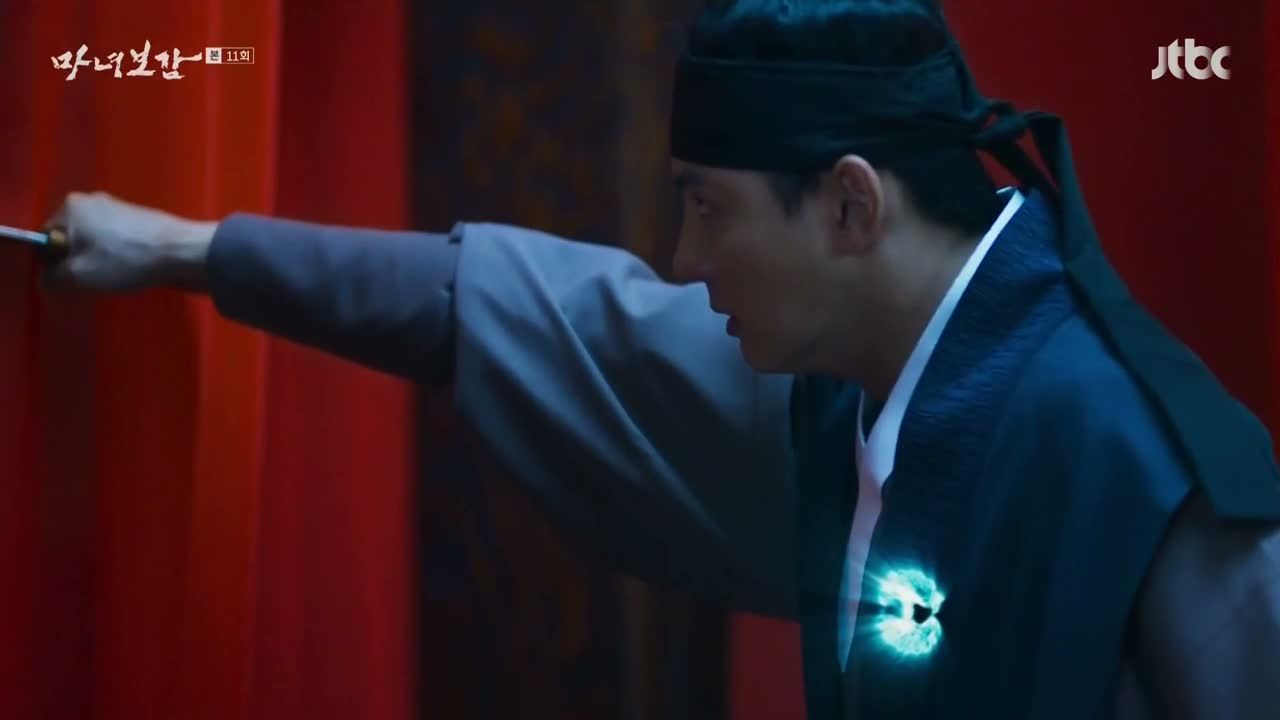 But Jun dashes forward and knocks the dagger out of Prince Sunhoe's hand just in time. Jun holds his sword up to Hong-joo's neck and backs her away from Yeon-hee, and he reaches behind him to clasp Yeon-hee's hand. As soon as he does, the tree tattoo on his chest starts to glow, and Prince Sunhoe's shadow soul leaves the king's body to return to the urn.
Hong-joo looks shocked, and even more so when Yeon-hee's hair changes back to black at Jun's touch. But it isn't long before Jun is quickly surrounded by a cadre of bodyguards, who corner him. Hong-joo notes that he is Yeon-hee's human talisman shield, while Jun glowers back in return and names her as the murderer behind the Red cloak assassin.
Hong-joo tells Jun that he'll need to risk his life to go up against her, and Jun doesn't hesitate to answer that he'll put his life on the line. Hong-joo says he won't feel that it's unfair then, and orders him killed. Her guard raises a sword, and Yeon-hee screams, "No!"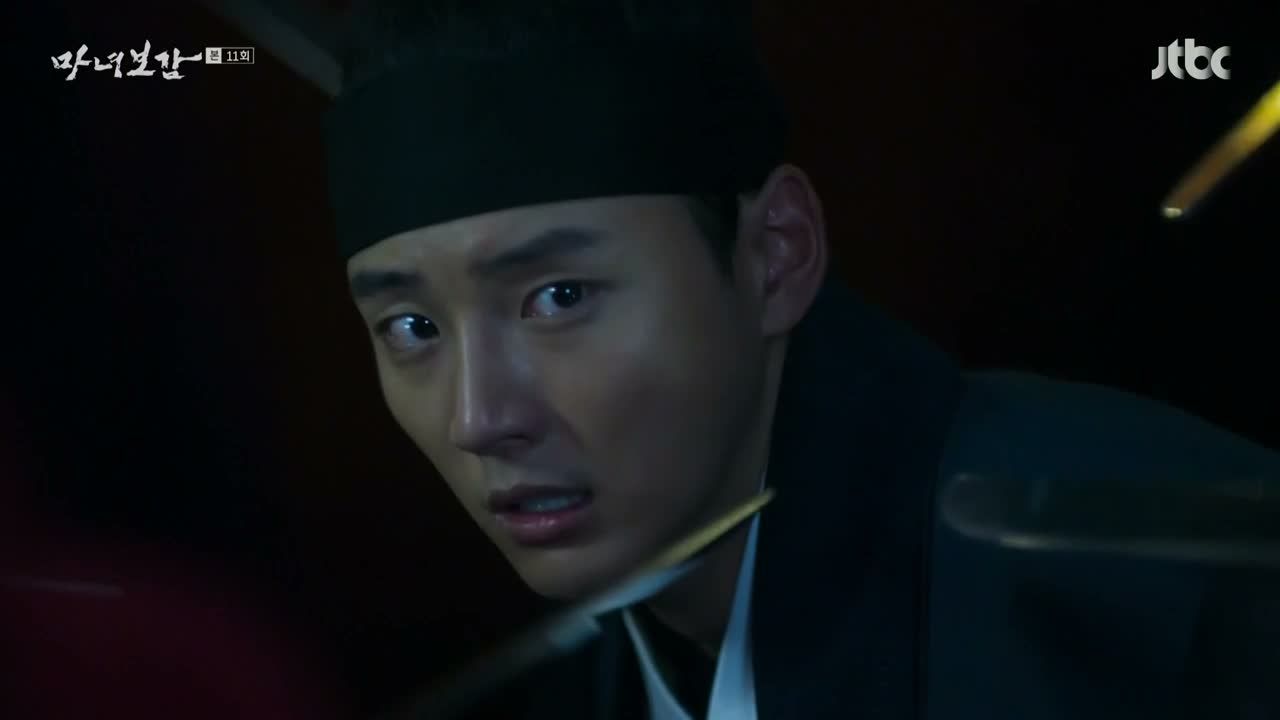 At the last second, Poong-yeon appears, streaked with blood and swinging his sword like a boss. With his sword to Hong-joo's throat, he orders Jun to take Yeon-hee out. The guards stand by as Jun slashes her binds and carries her out.
As they leave, the queen dowager arrives and sees Jun carrying Yeon-hee out, and looks intrigued to see her daughter at last.
Poong-yeon and Hong-joo have a frank conversation while surrounded by a wall of swords. Hong-joo realizes that he was unaffected when the curse was activated, and asks, "Whose heart has changed?" Poong-yeon looks stricken as she explains how the curse will kill those whom Yeon-hee loves, and who love her.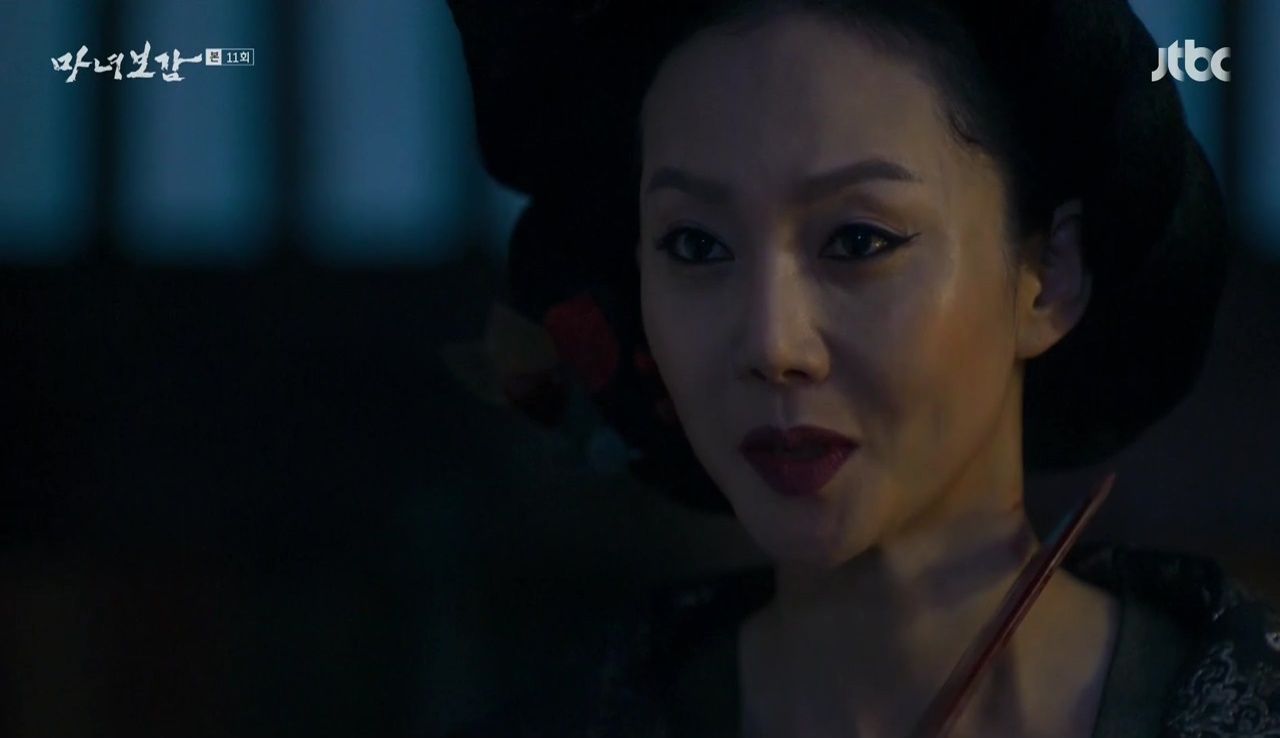 She says that Poong-yeon is free from the curse, which should make his choice easier, and asks for his help to kill the cursed princess for the good of the king and the nation. He growls that the old Yeon-hee might come back if he kills Hong-joo, but she says if she dies, Yeon-hee will forever be trapped in her curse.
Hong-joo asks if Yeon-hee's cursed form was hideous to him, and tells him it's not his fault. She says that's a hideous monster, not the woman he loved, which is why she's planning to kill it. Poong-yeon snarls at her to shut up and begins to swing again, when Hong-joo finally throws out that she is the king's only hope to survive. And just seconds before passing out, the king struggles to say Poong-yeon's name. It works, and Poong-yeon lowers his sword.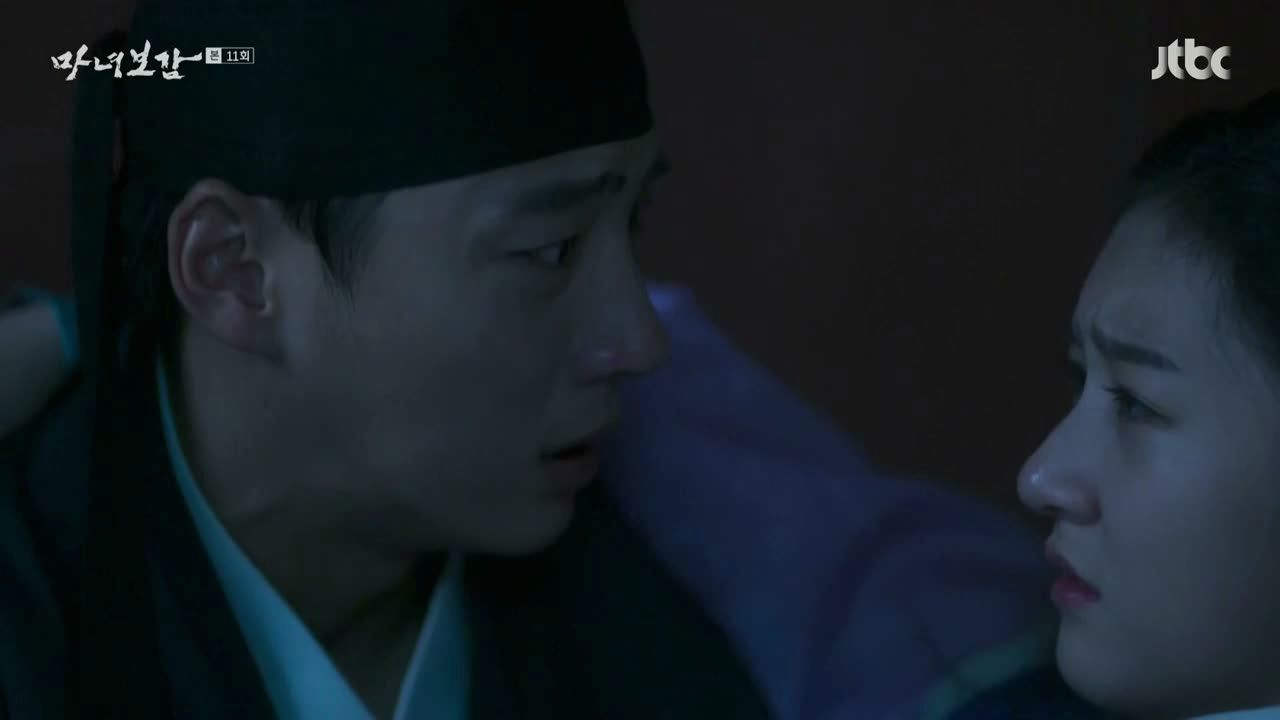 After escaping, Jun puts Yeon-hee down to check on her and make sure she isn't hurt. Yeon-hee wraps her arms around him and begins to sob that he promised to stay by her side. Jun, his eyes full of tears, apologizes and says it was his fault. He promises never to leave her side again, and in that moment, Yeon-hee's curse mark appears on his neck, glowing blue.
Hyun-seo asks about Poong-yeon, and Yo-gwang says he is free of Yeon-hee's curse now, which he thinks is a good thing, though it only seems to trouble Hyun-seo more. Yo-gwang worries about his condition and Hyun-seo sighs that he can't endure for long, since he is just barely living on through black magic. But before the black magic takes over entirely, he has much to do for Yeon-hee before he goes. Yo-gwang pledges to help.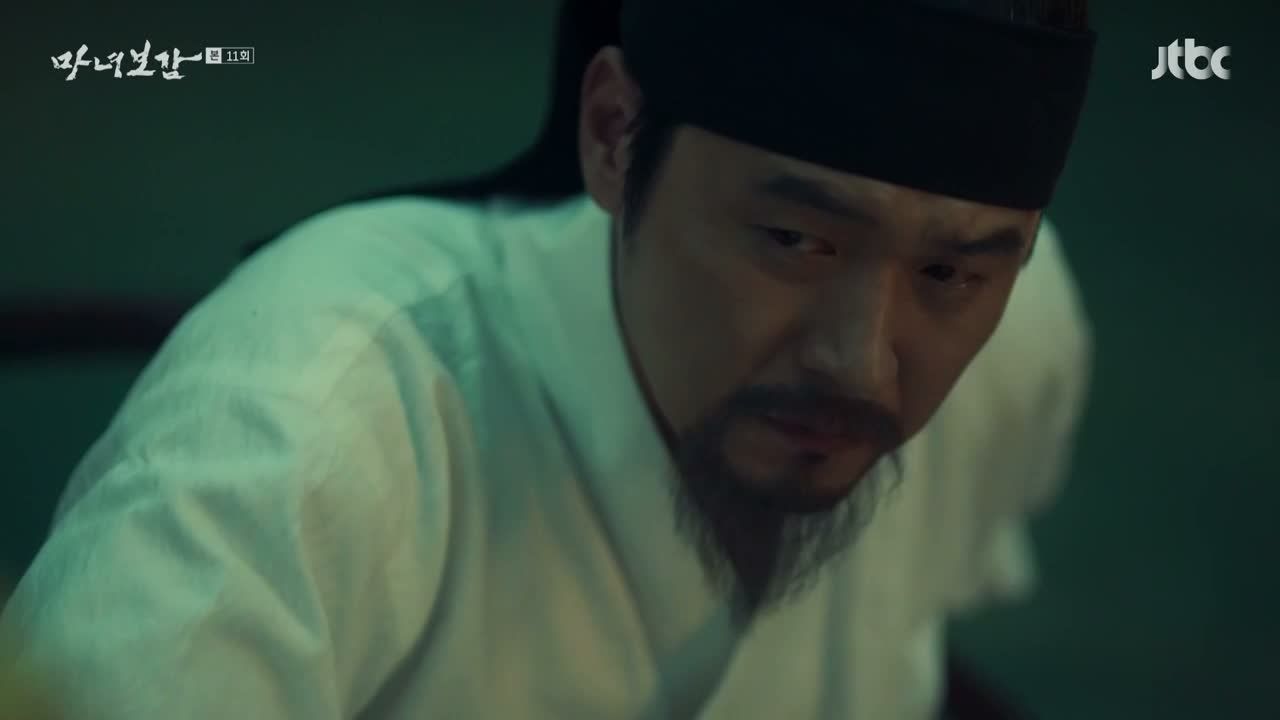 The queen dowager arrives to thank Hyun-seo for his service, though they both agree Hong-joo will not give up. The queen dowager has something else on her mind, though — Yeon-hee. She confirms with Hyun-seo that Yeon-hee is the key to breaking the curse, and seems to have an idea.
Meanwhile, Sol-gae returns to Hong-joo's shaman council to a seething Hong-joo and a pile of bodies, courtesy of Poong-yeon.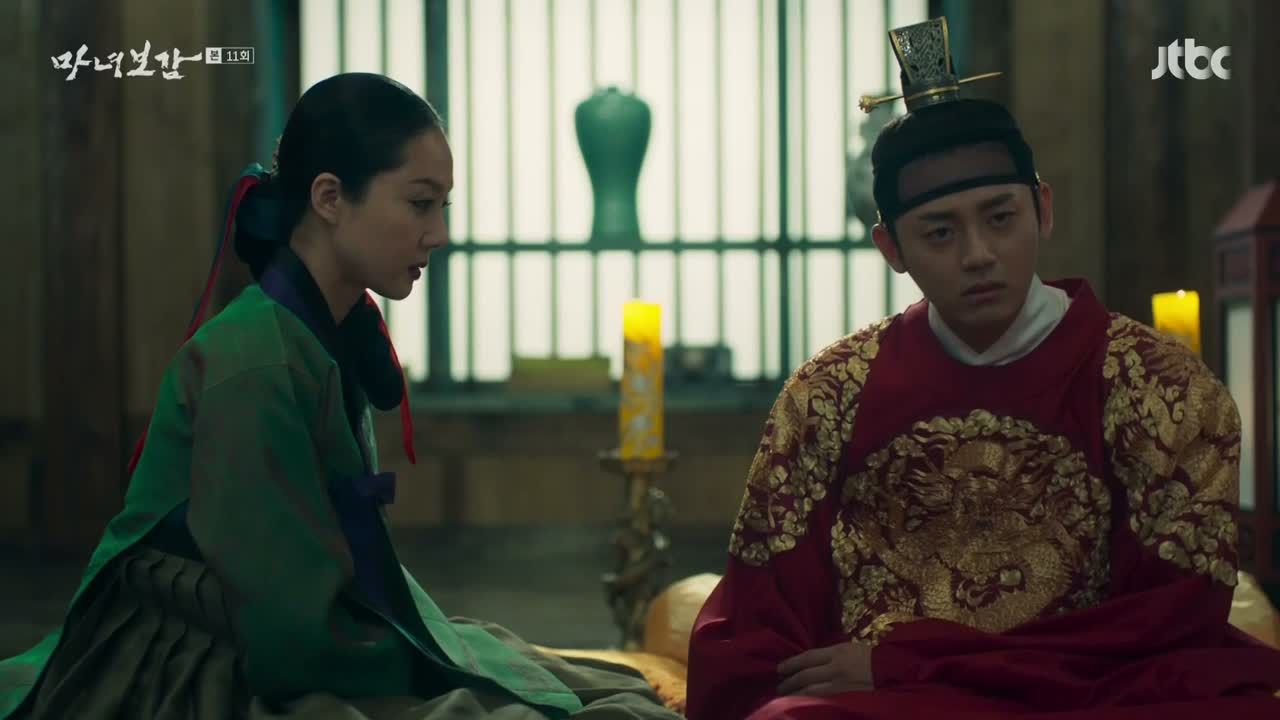 The next morning, Hong-joo is by the king's side as he wakes up. He remembers very little, apparently, though he briefly flashes back to seeing Poong-yeon holding a sword to Hong-joo's neck, which doesn't look good out of context if the king really believes Hong-joo is trying to heal him.
Hong-joo proceeds to question Poong-yeon's loyalty, and she muses that Poong-yeon surely hadn't known that Yeon-hee was the princess, otherwise he would've told the king. The king has been defending his friend Poong-yeon up until now, but he starts to wonder.
Yo-gwang and Jun bring Yeon-hee to a remote house, where someone is waiting to meet her. They send her inside alone, and Yeon-hee steps hesitantly through the door as her mother, the queen dowager, turns around to face her. The queen dowager asks her with a halting voice to listen to her story.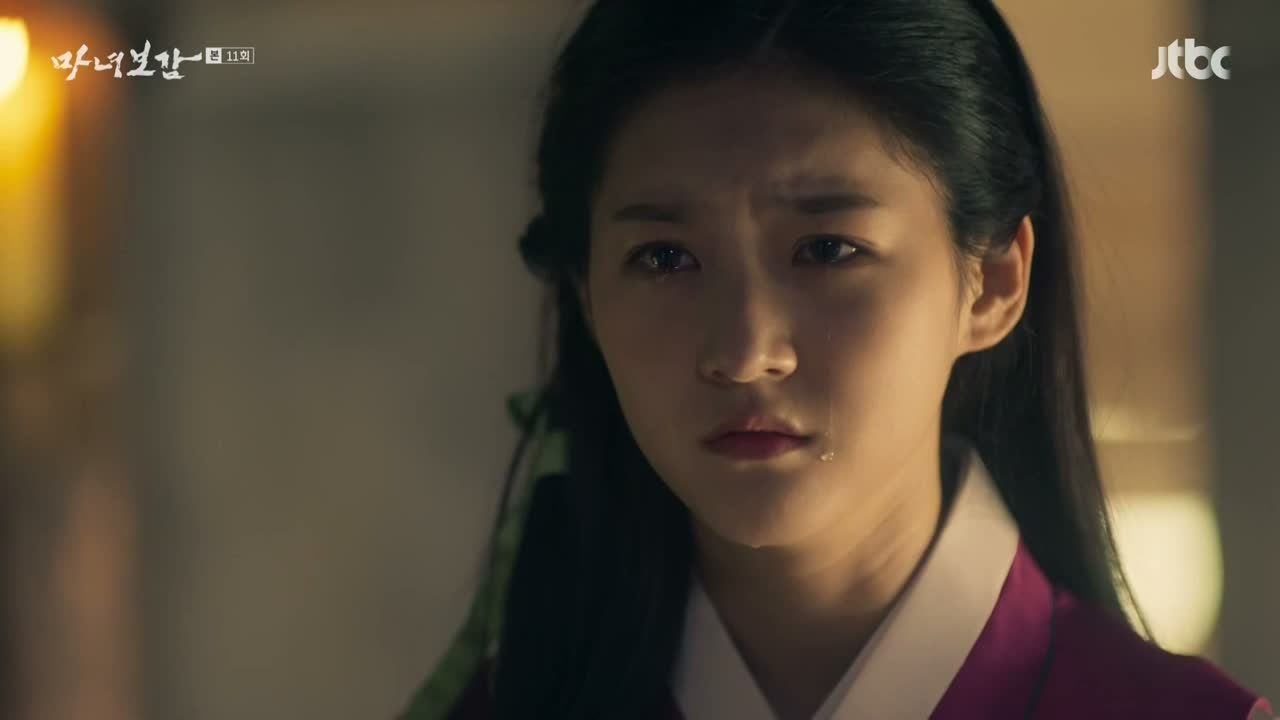 Outside, Jun and Yo-gwang wonder what's going on in there, and that's when Yo-gwang sees the curse mark on Jun's neck. Yo-gwang practically face-palms and heaves a deep sigh. Hyun-seo arrives and Jun asks if Yeon-hee's curse has to do with the king, based on everything he witnessed last night.
Inside, the queen dowager confesses tearfully that with Hong-joo's help, she was able to give birth to beautiful twins. They discovered that the twins were cursed, so when she could only save one, she chose the son. She looks into Yeon-hee's eyes as she confesses that she threw Yeon-hee, her child, away. Yeon-hee can't process it all and says the queen dowager is mistaking her for someone else, but the queen dowager cries that she was cold and cruel and has no right to be her mother. She doesn't expect Yeon-hee to forgive her, but begs her to bring an end to the curse that came from her sin of using black magic.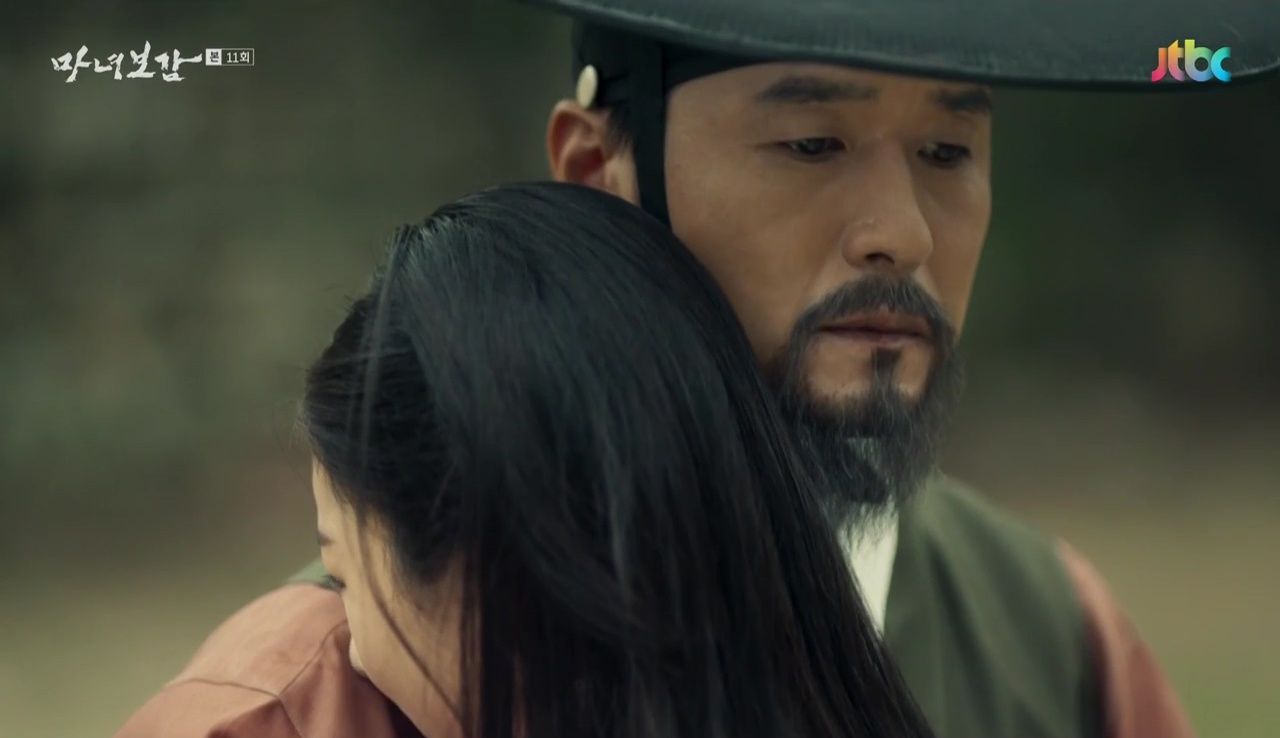 Yeon-hee and the queen dowager are both crying by now, and Yeon-hee asks if what Hong-joo said was right, about it being a mistake that she was born. The queen dowager simply warns her that Hong-joo will come after her again. She takes Yeon-hee's hand and begs her to go up against Hong-joo and save the royal family, but Yeon-hee pulls her hand away, terrified. The queen dowager calls out tearfully, "Child!" but Yeon-hee asks her not to call her that and walks out.
Yeon-hee emerges and sees Hyun-seo for the first time in years, and runs to hug him, calling him father. He hesitates to return her embrace, while Yeon-hee cries and tells him that the lady inside was saying strange things. She asks if she's really someone's mistake and someone's sin, and asks tearfully, "Who am I?"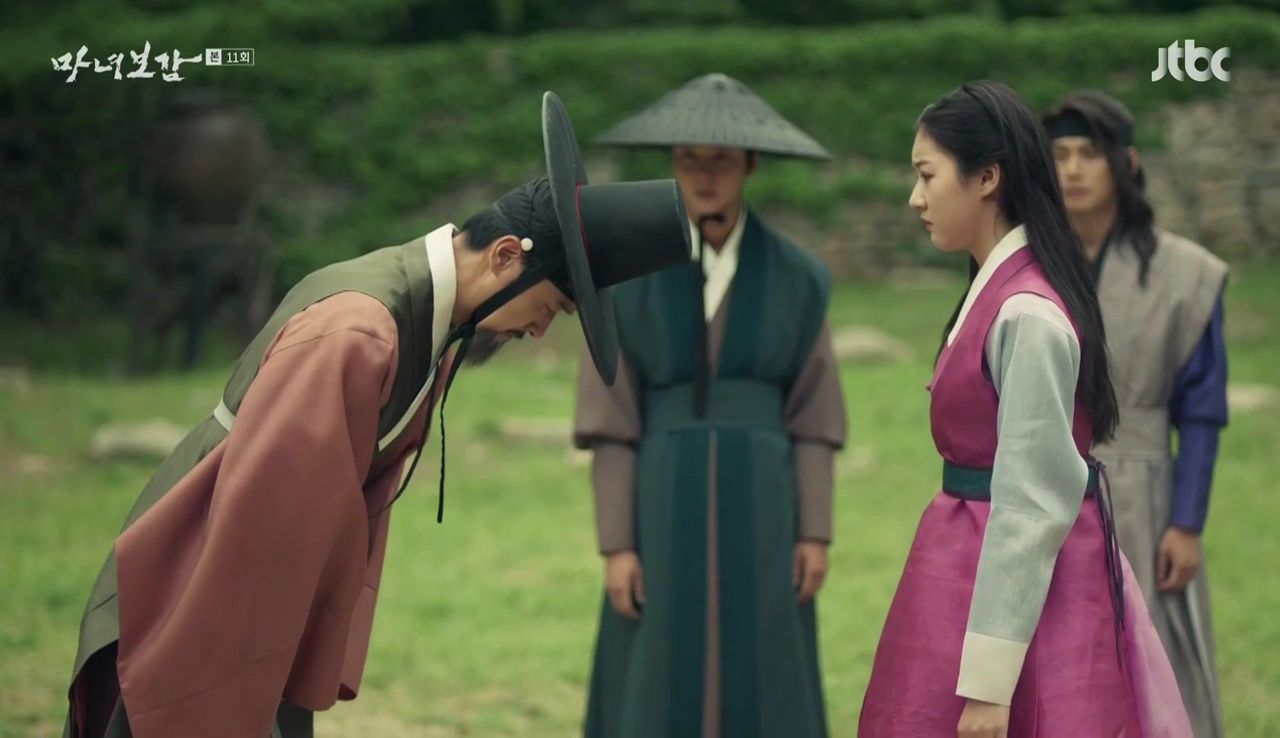 But now it's Hyun-seo's turn to let Yeon-hee down on the worst day ever, as he steps away and addresses her formally as the princess, calling himself a lowly servant who hid her away. He tells her to accept that she must fight Hong-joo and break the curse as her mother said.
Yeon-hee sobs, but he tells her, still speaking formally, that she is the only one who can end the curse. It seems like the pain is gutting Hyun-seo, but he remains stone-faced as Yeon-hee runs off and Jun goes after her.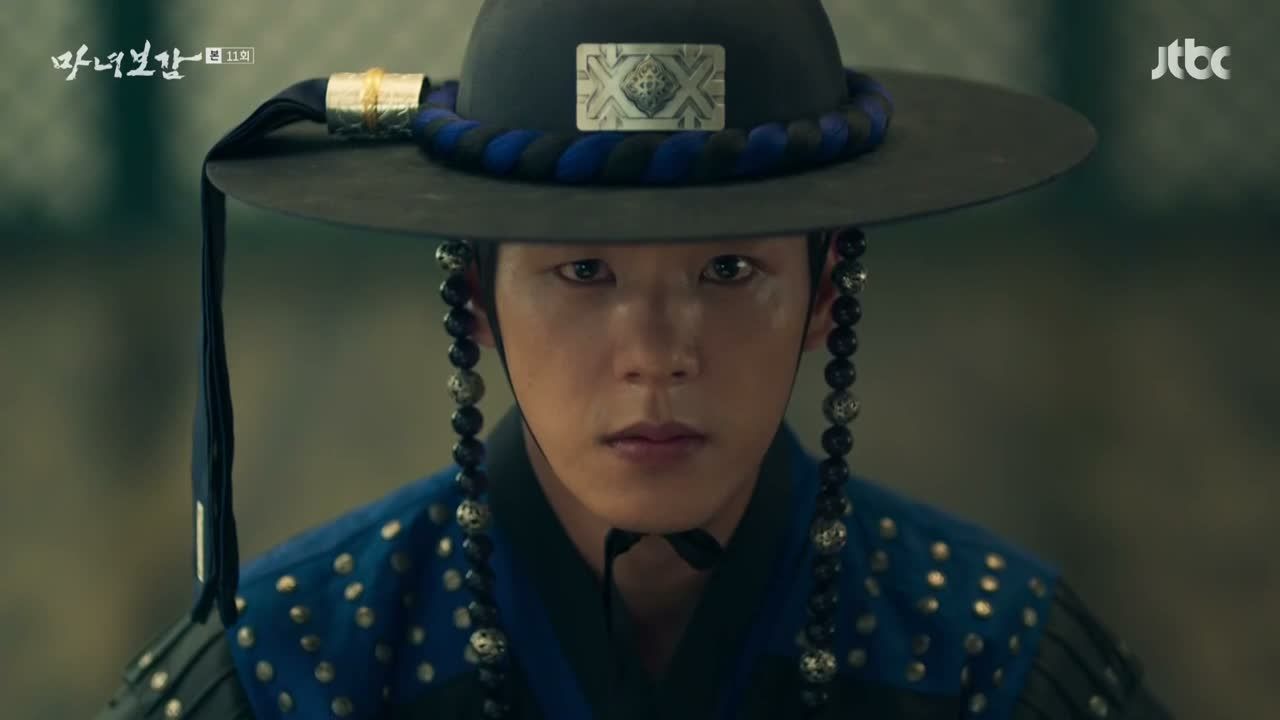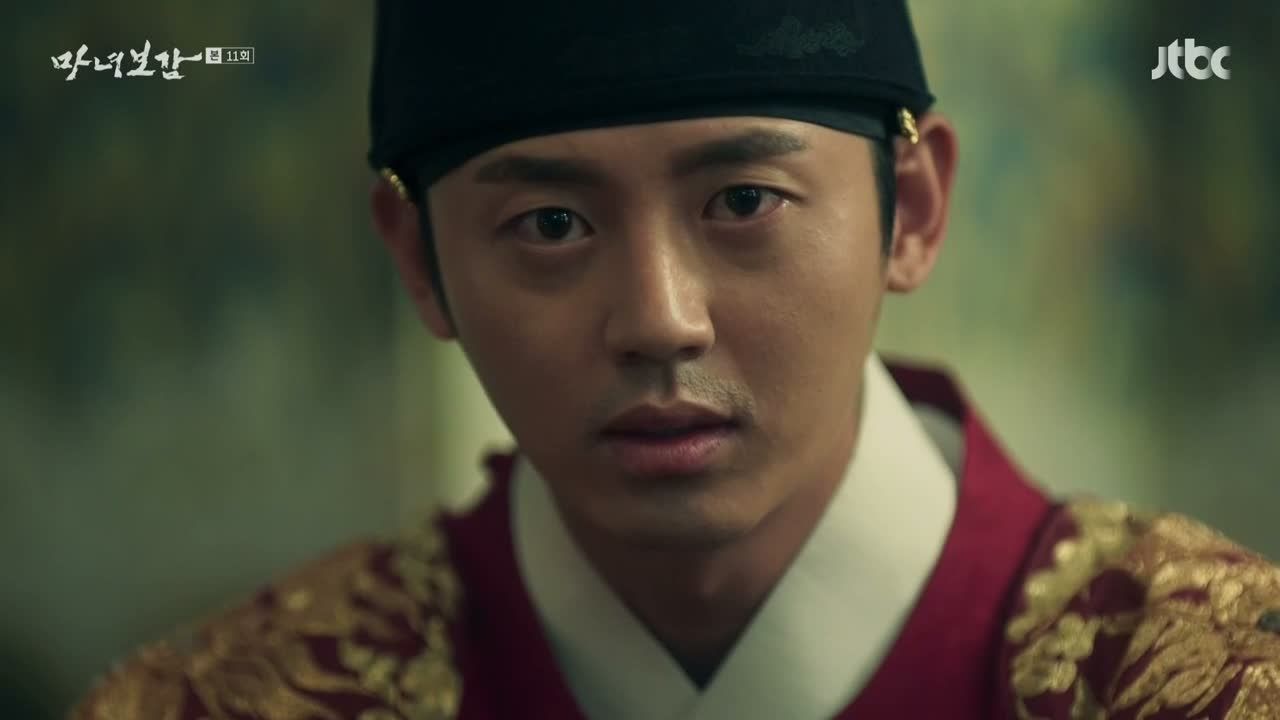 Back at the palace, Poong-yeon warns the king that Hong-joo is behind the Red Cloak murders. The king sighs that Hong-joo is telling him to keep distance from Poong-yeon, and vice versa. He says that he believes in Poong-yeon — of course, after all they've been through together — but that he needs to be sure.
The king does exactly what Hong-joo wants him to do and tells Poong-yeon to bring the princess to him by midnight to prove his loyalty. He adds with a carefully neutral expression that the princess's name is Yeon-hee. Poong-yeon looks both surprised and devastated.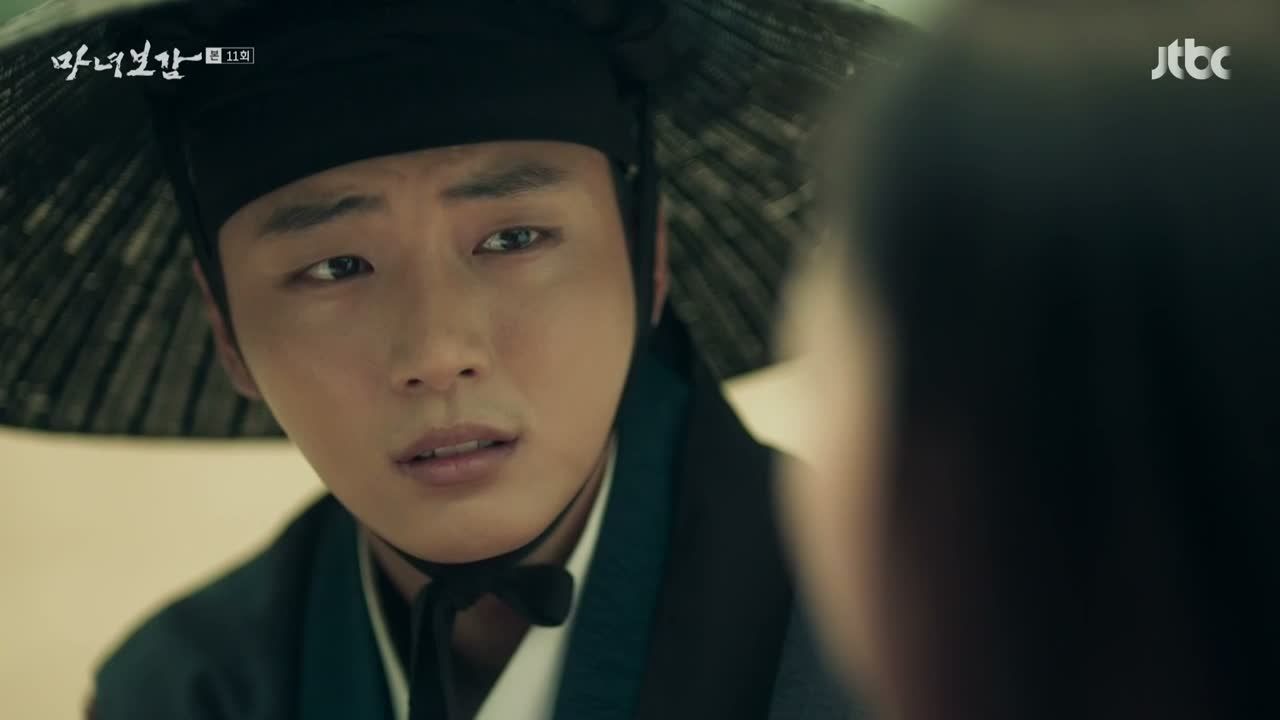 Jun and Yeon-hee sit side by side by the river, and she says she can't believe what the queen dowager and her father said, so she's waiting to hear her brother say it's not true. Yeon-hee asks what a mother is — she doesn't know since she's never had one.
Jun takes her hand gently, explaining that his mother held his hand just like this whenever he was bullied by the other kids. He remembers how warm that hand always felt, and muses that all mothers must feel the same.
Yeon-hee says that she was thrown away by her mother for being cursed, and cries that she doesn't know who she is. Jun tenderly reassures her that the girl he met in the forest, the girl at the temple, and the girl here today are all the same Yeon-hee to him, cursed, white-haired, black-haired, princess or not: "To me, you're just Yeon-hee." *Cue sighs*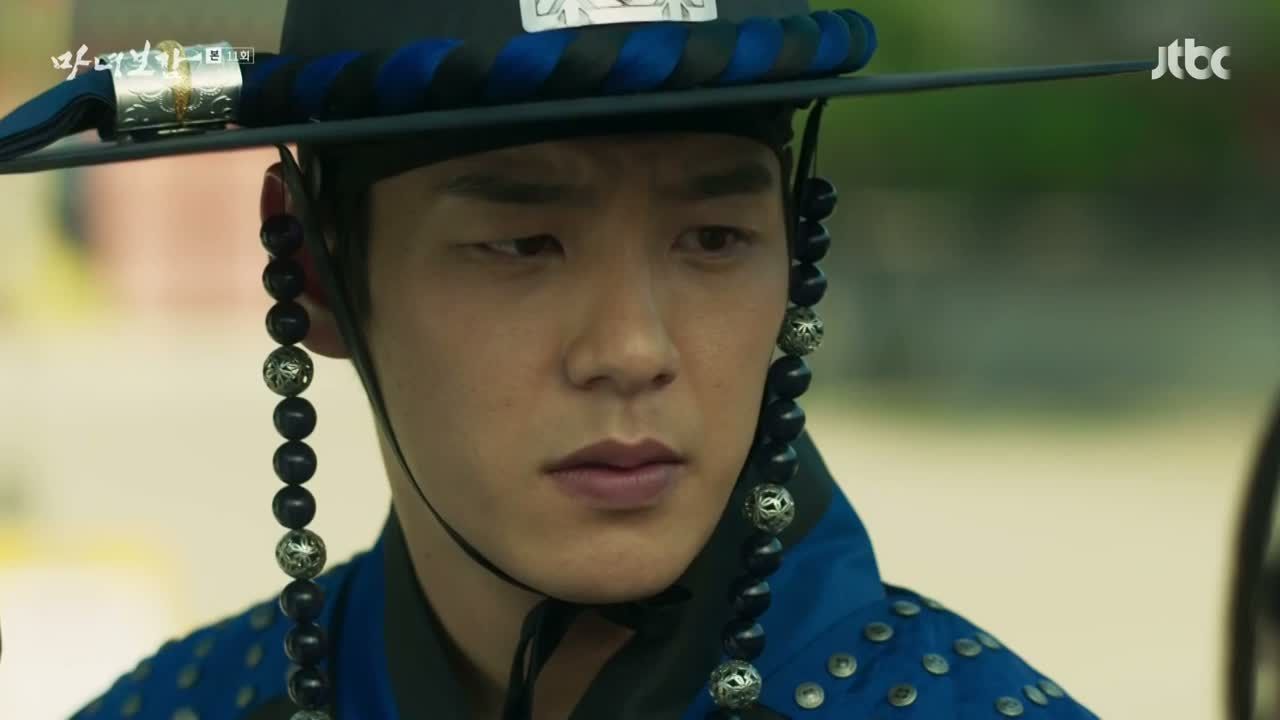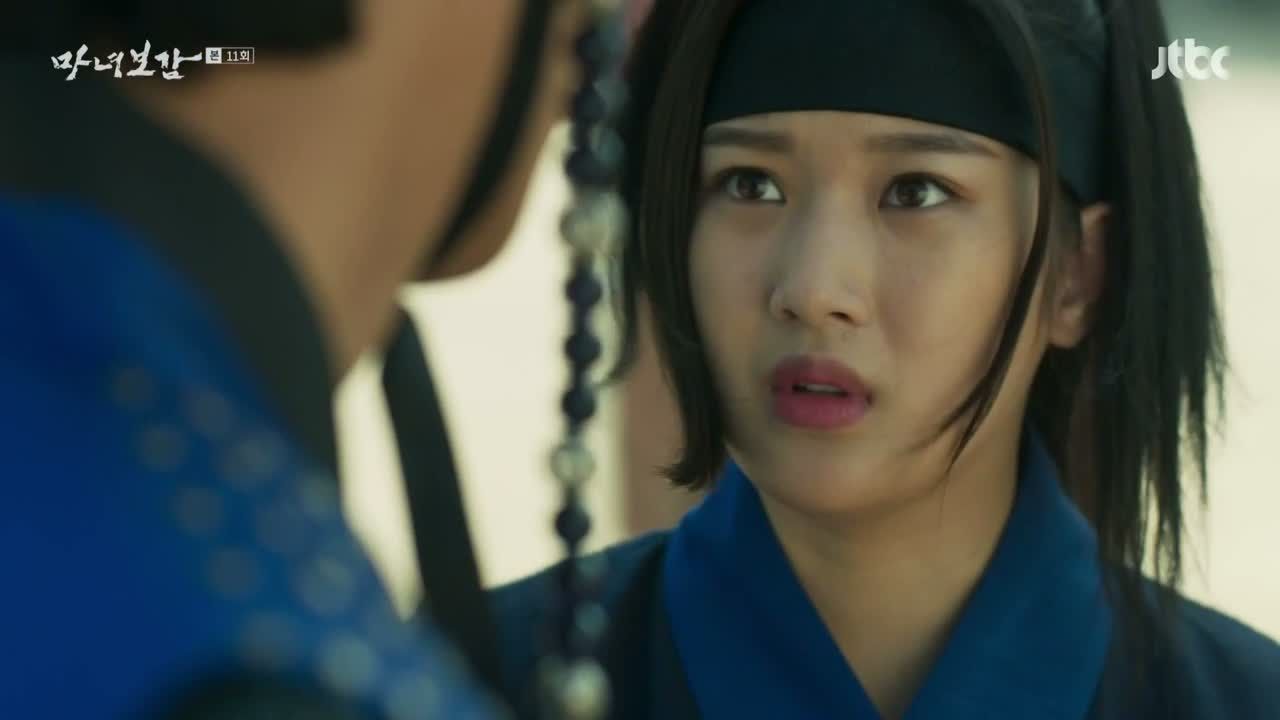 Sol-gae catches up with Poong-yeon, and she flashes back to the night of the failed soul transfer, when Hong-joo noted her hesitation in killing Poong-yeon and offered to get rid of him. It seems Sol-gae got close to Poong-yeon to find Yeon-hee in the first place, and she promises to carry out her mission. Hong-joo warns her that love is the fastest path to destroying herself.
In the present, Sol-gae reaches out to grab Poong-yeon's sleeve and asks him not to go see Yeon-hee. She says she's worried about his health, but he insists that he's fine, and Sol-gae's face falls.
Yo-gwang helps a very pained Hyun-seo up the stairs. Hyun-seo asks about Jun, and Yo-gwang tells him that Yeon-hee's curse tattoo has appeared on Jun's neck, and Hyun-seo figures that the talisman on his chest appears to be shielding him from the curse.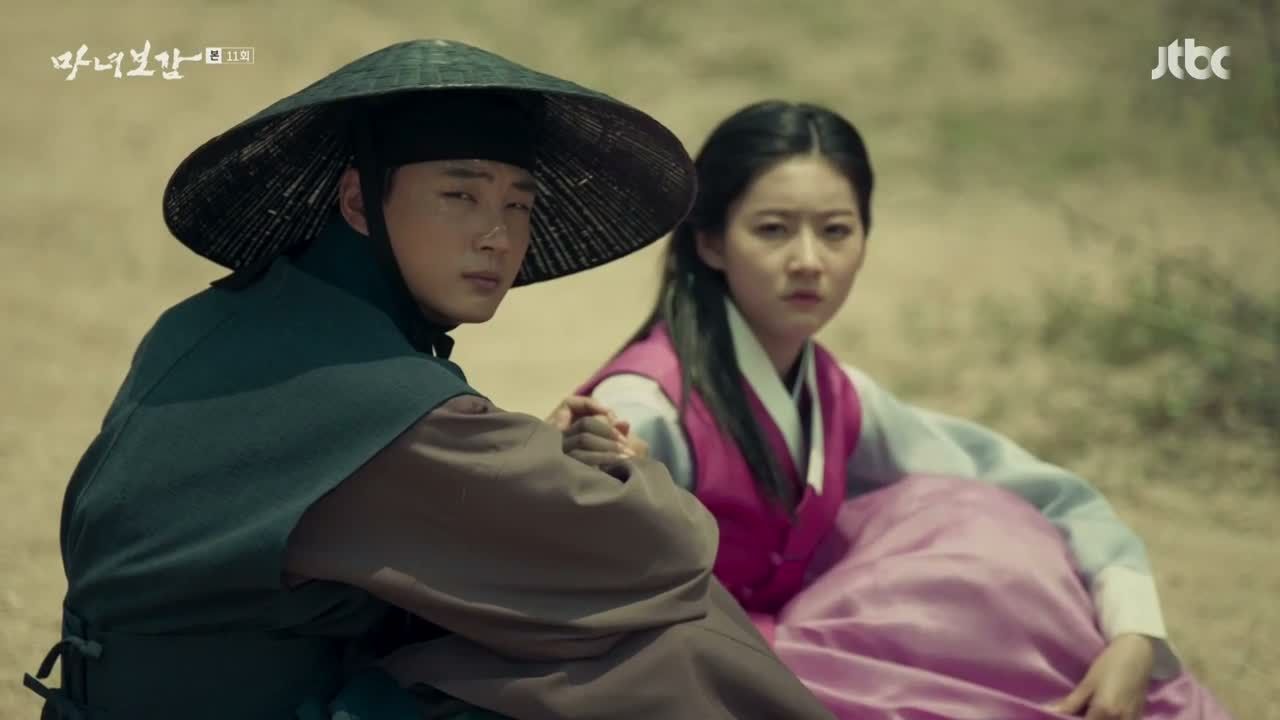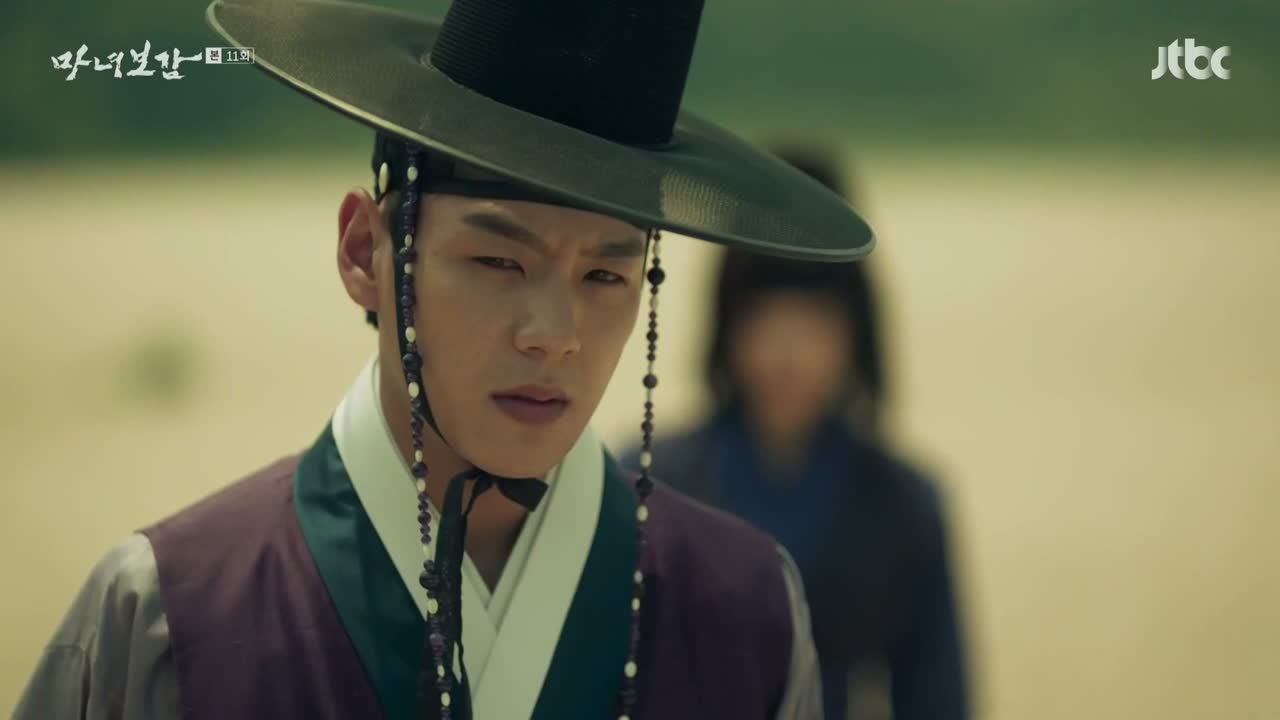 Poong-yeon arrives at the river to find Jun and Yeon-hee holding hands, and Poong-yeon has another quick flashback to Yeon-hee in her cursed state. Jun hangs back with Sol-gae and asks her about her capture-the-Red-Cloak mission, wanting to be in on any clues so he can help catch Red Cloak. He notices blood dripping down her sleeve and grabs her hand worriedly, but Sol-gae pulls away quickly and snaps at him to be quiet.
Yeon-hee tells Poong-yeon that she wants to live as his sister and their father's daughter. He says desperately that nothing has changed, and that he doesn't care about her curse. He takes her hand and asks her to run away with him, suggesting that they find another forest house that they can hide away in. Yeon-hee just says she wants to show him something and leads the way into the forest, along with Jun and Sol-gae.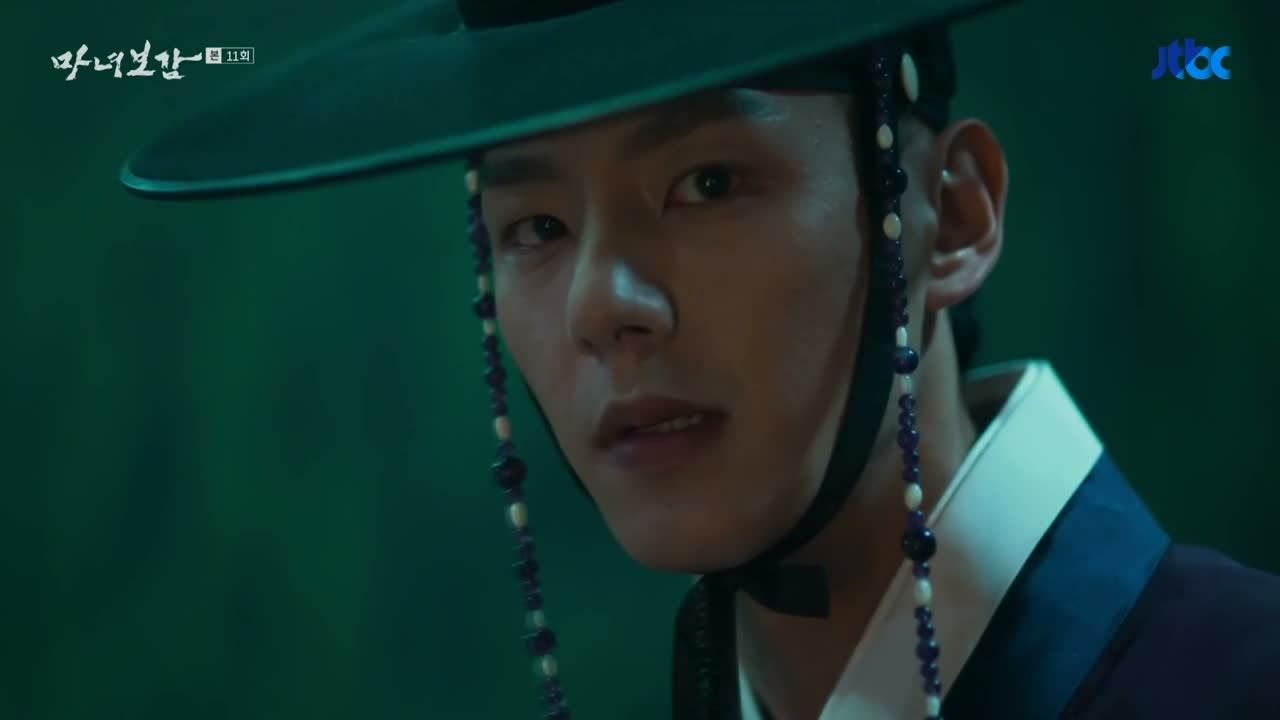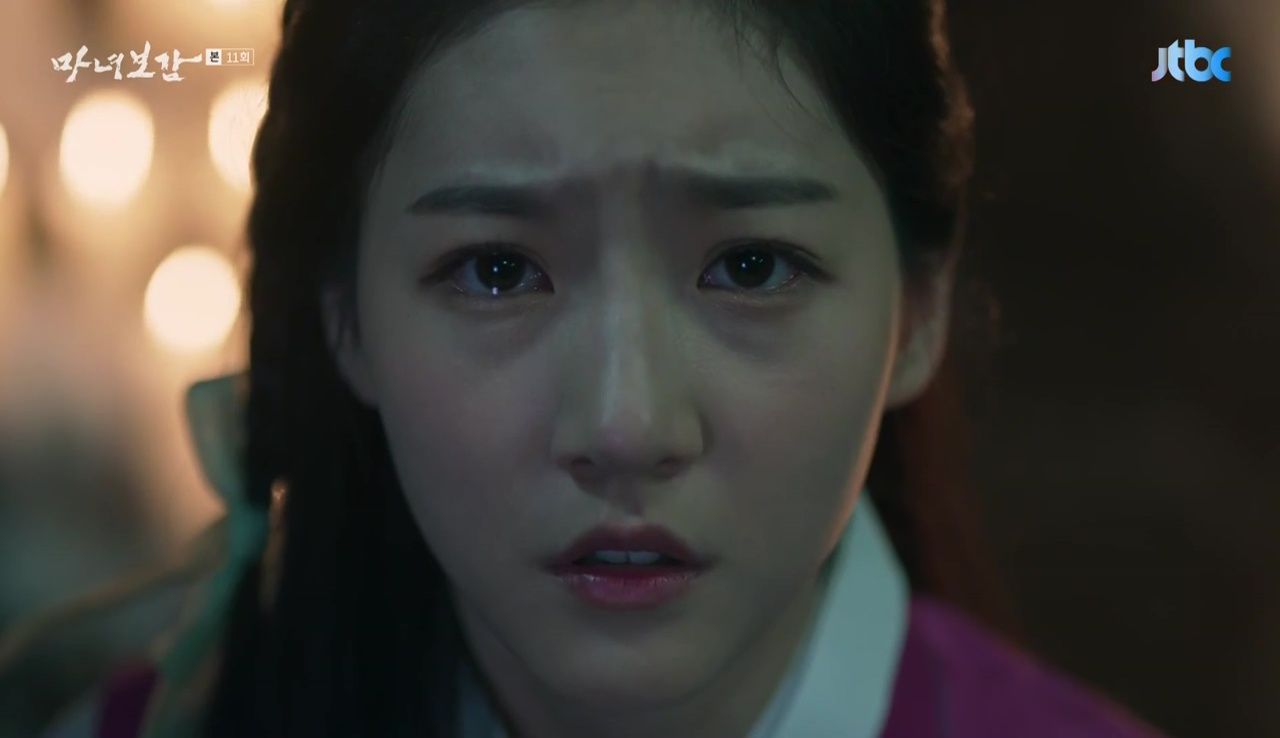 They arrive at Cheongbing Temple — oh no, they've led Sol-gae right to their hideout. Yeon-hee tells Poong-yeon about her wish-granting mission, and Poong-yeon assures her he will help, so that she won't ever turn into her "monstrous" form again.
Yeon-hee says bravely that the hideous girl is the same as the girl standing in front of him now. But Poong-yeon can't take much more, and he turns to leave, though Yeon-hee begs him with big eyes. He just says curtly that the monstrous girl is not Yeon-hee, and leaves.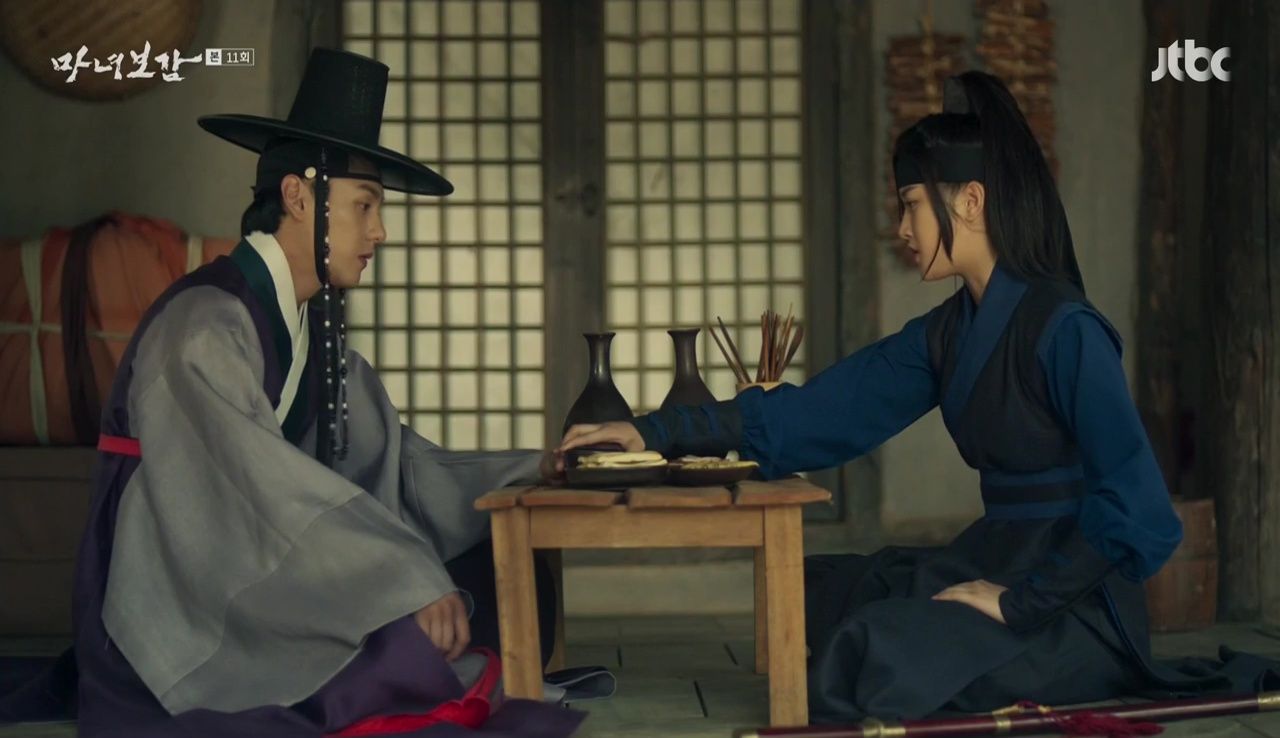 Poong-yeon drinks and Sol-gae watches, as he mourns that he's useless and can't protect Yeon-hee. He sighs that the king's order to bring Yeon-hee to him is just too cruel — how can he bring her to her death? He hates himself for agonizing and having to weigh his love for her with his loyalty to the king.
Afterwards, Sol-gae enters the palace to report to Hong-joo.
Lady Sohn tends to her pathetic son Heo Ok, who is drowning in self-pity and good food. He blames his mother for putting him down his whole life and comparing him to Jun, but she just snaps at him to eat his meat, which he spits out like a toddler.
She snaps at him that it's high quality local beef that she sent to the king, and reassures him that the king will be on his side. Ok knows that he'll take the fall when Jun finds the real Red Cloak, but Lady Sohn just urges him to ascend to a higher position to step on Jun when needed.
Poong-yeon goes to see Hyun-seo with a dead look on his face, asking why his father didn't tell him about Yeon-hee's curse, which might've prevented Poong-yeon from taking her out of the forest house to begin with. Poong-yeon blames himself and asks what he's supposed to do now.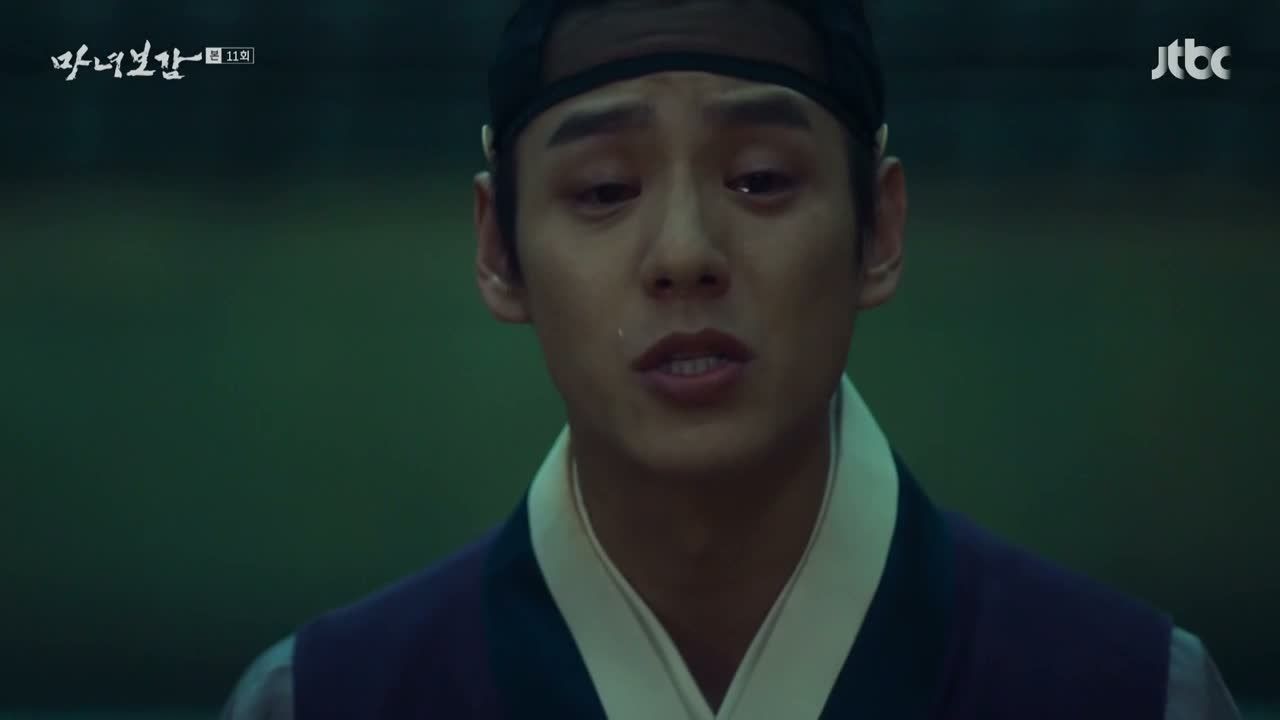 His father asks if his heart is still the same, and Poong-yeon says it is, that he's only ever loved one woman his entire life. He asks how he's supposed to just accept it when she's turned into "another woman." Hyun-seo starts to say that Yeon-hee is the same, just in danger now, and that Poong-yeon still needs to protect her as her older brother. But Poong-yeon has had enough, and he snarls that he will not be her brother anymore.
Hyun-seo snaps back that if he cannot accept her cursed state now, then he would not have been able to before, either. He tells Poong-yeon to protect the princess, either as a brother or as a loyal subject of the throne. Poong-yeon yanks away, and says that he will find the Yeon-hee he loved before, somehow.
Jun and Yeon-hee are awakened at night by an unfamiliar sound. They get up to check, and Yeon-hee yelps in shock to see an entire company of armed women with Hong-joo, who arrive at Cheongbing Temple with Yo-gwang held hostage at sword point.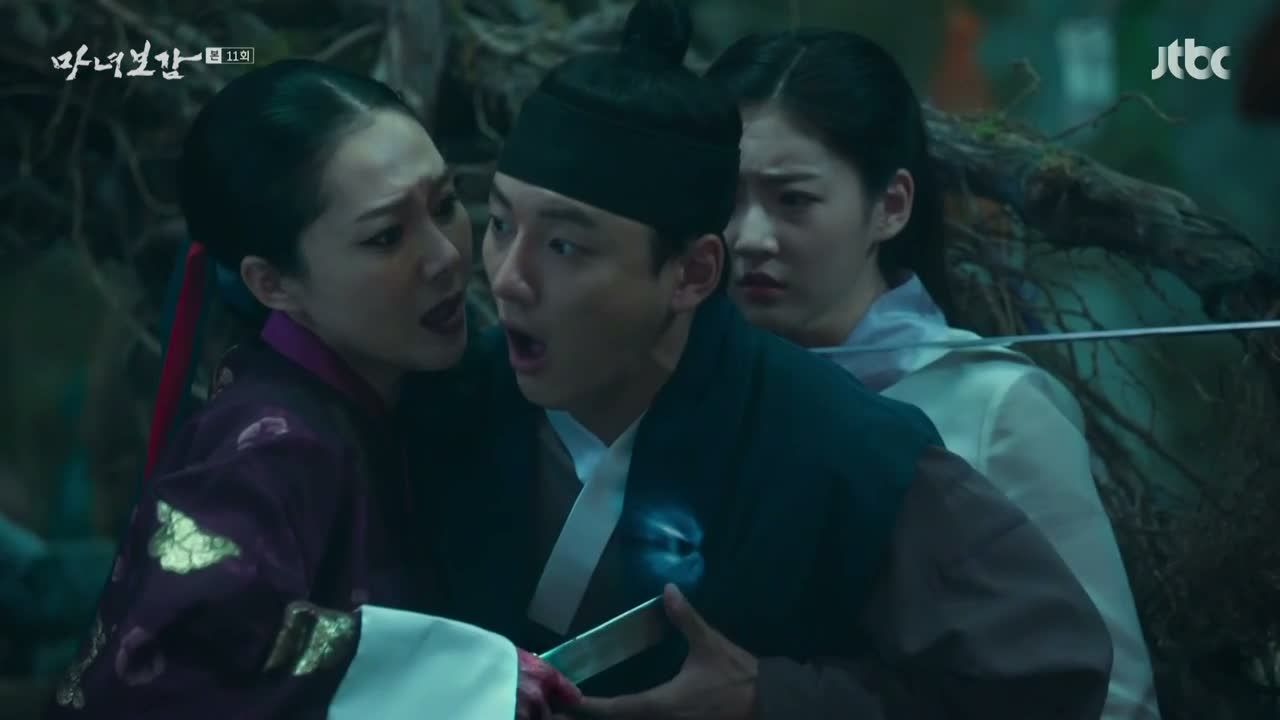 Jun jumps in front of Yeon-hee, while Hong-joo flips through the Mauigeumseo casually and hands it to one of her guards. Hong-joo takes a sword and looks disdainfully around at the place where Yeon-hee has been granting wishes, noting how she lit all those candles not knowing how many people were dying.
Hong-joo approaches them and reminds Yeon-hee what she told her years ago — that they would all die because of her, and that Jun will too. With that, Hong-joo stabs Jun right in the gut. He struggles for air as she drives the sword in deeper, when suddenly his tree tattoo glows again. Hong-joo starts to struggle too, and a force repels her. Her black magic seems to be warring with the tree tattoo, and the protective magic actually propels the sword back out of his body.
Jun collapses to the ground, unconscious, and the curse tattoo on his neck changes color, glowing red. Yeon-hee spills angry tears and her eyes glow purple as her hair goes white, and she lets out a scream that radiates through the temple like a force field, dropping everyone to the ground except Hong-joo. With another scream, she lifts Hong-joo up into the air and growls at her to die. Yeon-hee lifts a hand and draws Hong-joo down toward her.
We cut to a flashback of Yeon-hee's biological mother cursing Hong-joo in the same way, as Yeon-hee seizes Hong-joo by the neck and begins to squeeze, her eyes glowing with rage.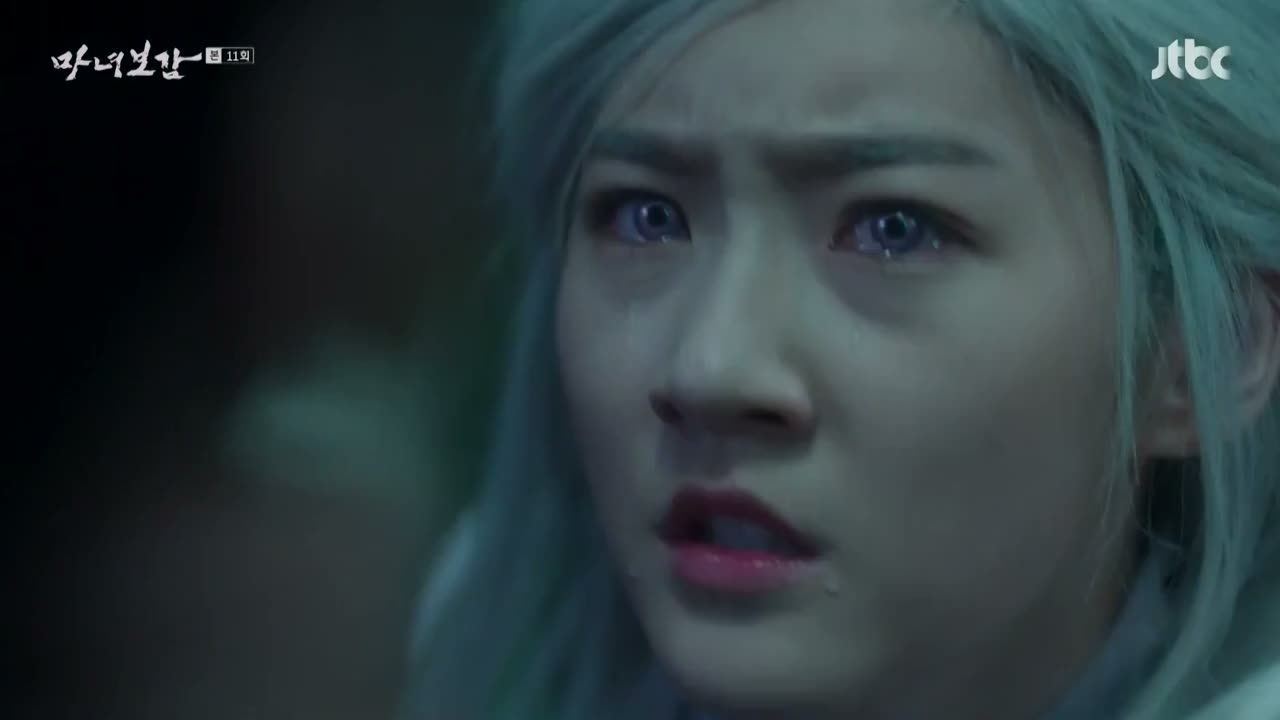 COMMENTS
What a strong and enjoyable episode — things come to a head, Hong-joo's plan is finally carried out, and the true colors of our characters start to emerge out of the darkness. I love how there are not too many black and white characterizations; actually, Jun and Yeon-hee seem the most straightforward, but almost everyone else has this complex brew of emotions and motivations bubbling under the surface of their poker faces. It's great character development and beautiful acting by a talented cast.
I especially appreciate Hong-joo and Hyun-seo just going at it in their mystical ways; they're at war, but there are also complications, since Hong-joo has saved his life. Or, maybe she's saving him for some other nefarious plan. I wouldn't put it past her. I like that she's a competent and smart villain who knows what she wants, and how to get it. Lady does not mess around. The only thing that bothers me a little is Hong-joo's motivation. I get that she wants to challenge the whole notion of the bloodline monarchy, but I don't really get what she gains by putting the soul of the dead prince into the new prince… or really, how she got to this point at all. Did she intend to create a puppet/mirror of herself in whatever progeny was born? Their counterparts, in Poong-yeon and Sol-gae, are just as compelling — Sol-gae's crush, Poong-yeon's agony. Both of them are intelligent and loyal people, at war with duty and love.
That being said, the stars of the show are its stars — no runaway side shows here. Yoon Shi-yoon and Kim Sae-ron are just killing it — they sell the chemistry (I admit I was doubtful), they sell the pain, and most of all, in their scenes together, they sell their sincerity for each other. Where all the other characters are rushing around, attending to big, world-changing plans, Jun and Yeon-hee listen and care. Their scenes are accompanied by this sense of peacefulness, because they accept each other as they are, and you know they will be consistently good to each other. When he told her that she was the same, no matter what curse state she was in, it felt like he was setting her free, in a way. It showed when Yeon-hee stood up for herself against Poong-yeon's judgmental attitude. Jun's instinct not only to protect her and put her first, but to accept her, has freed her from the prison her life used to be.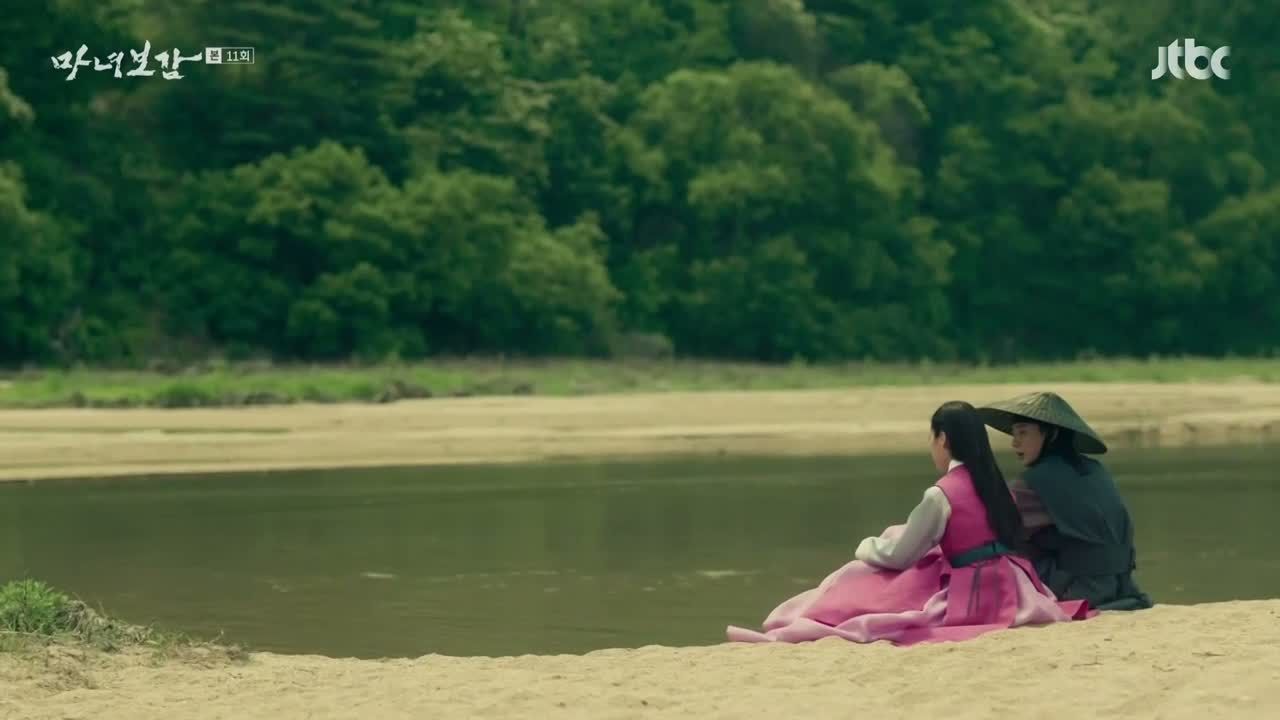 RELATED POSTS
Tags: Episode 11, featured, Kim Sae-ron, Lee Sung-jae, Mirror of the Witch, Yeom Jung-ah, Yoon Shi-yoon