Bring It On, Ghost: Episode 1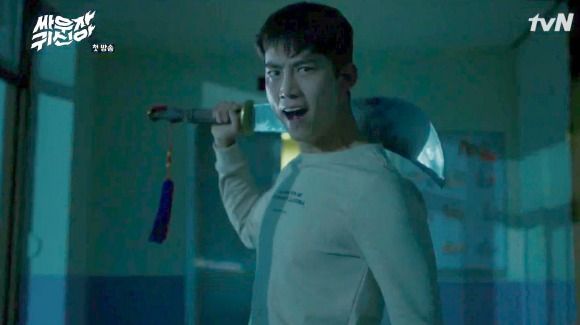 tvN's new ghostbusting drama is weird, irreverent, darkly hilarious, and I absolutely love it. The world it sets up is creepily funny and odd, the characters are strange and quirky, and yet I find myself immediately liking them. It's hard to describe this show in words; you really just have to see it for yourself.

EPISODE 1 RECAP
A young man saunters down a busy street, and happens to see a purse snatcher being chased by a policeman down an alley. Without hesitating, he runs after them, and he narrates that there are lots of different kinds of people in this world, such as cops and thieves. The cop is stopped by an overturned trash can, but the young man easily hurdles it and continues the chase.
But when the thief trips and falls, the young man jumps right over him and keeps going. Down the street people are being shoved aside as if by another runner, but… there's nobody pushing them. Suddenly a black cloud materializes, and condenses into the ghost of a very angry-looking man.
He hisses a cloud of black mist at the young man and turns away, as the young man continues his narration: "And ghosts. There are even ghosts that exist in this world." He follows the ghost into an abandoned warehouse, where he punches it right in the face.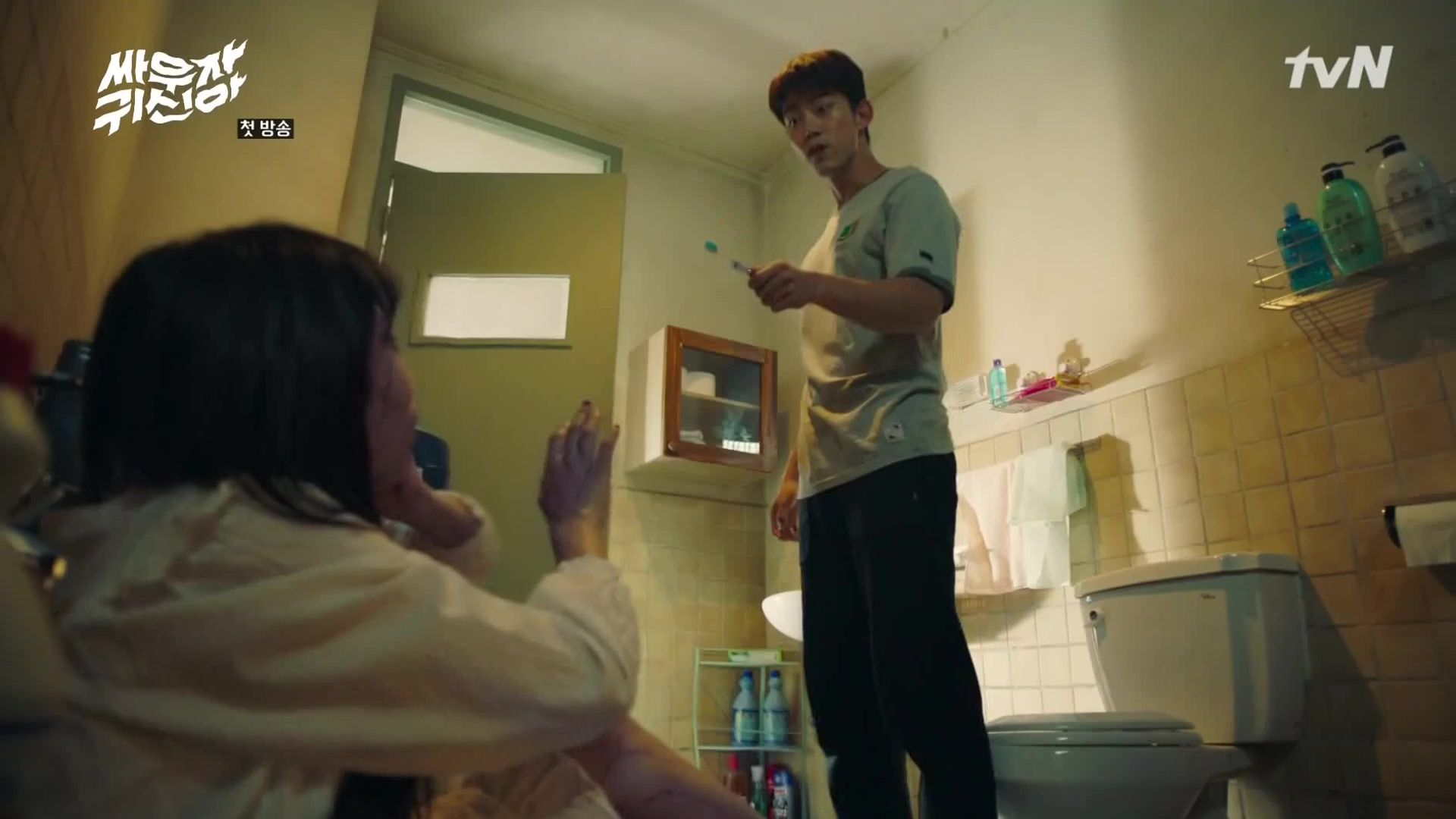 The young man is our hero PARK BONG-PAL (Taecyeon), a struggling college student who not only can see ghosts, but can actually physically touch them. He tries to avoid letting a female ghost know that he sees her as he brushes his teeth one morning, but he has the worst poker face and she's totally onto him.
She breathes her stink-breath at him and he smacks her, and all of a sudden she's not so scary as she sits on his bathroom floor whining that that hurt. Pwahaha. She promises never to come back, even bowing respectfully before poofing out of existence.
Bong-pal explains that he doesn't hit girls, he hits ghosts. He doesn't make much money, so he hires himself out as an exorcist — but rather than employ any mystical tactics, he just beats the crap out of the ghosts until they leave their chosen haunting grounds.
We watch as he heads to a club room and finds himself face-to-face with a massive ghost who looks ready to rumble, and Bong-pal goes pale and flees. "Of course, I only beat up the weak ones." HAHA. His goal is to make one hundred million won (about $870,000 U.S.), but he's still got a long way to go. He considers taking on tougher ghosts and raising his rates.
An odd-looking monk, Myung-chul (Kim Sang-ho), rides the bus, scaring a small child with his smile, and getting off at a funeral home. He chants some prayers for one of the recently dead, but HAHAwhoops, he's at the wrong funeral. After performing rites at the correct funeral he stays to stuff himself with food and soju, though the family tells him he won't be needed in forty-nine days as is customary.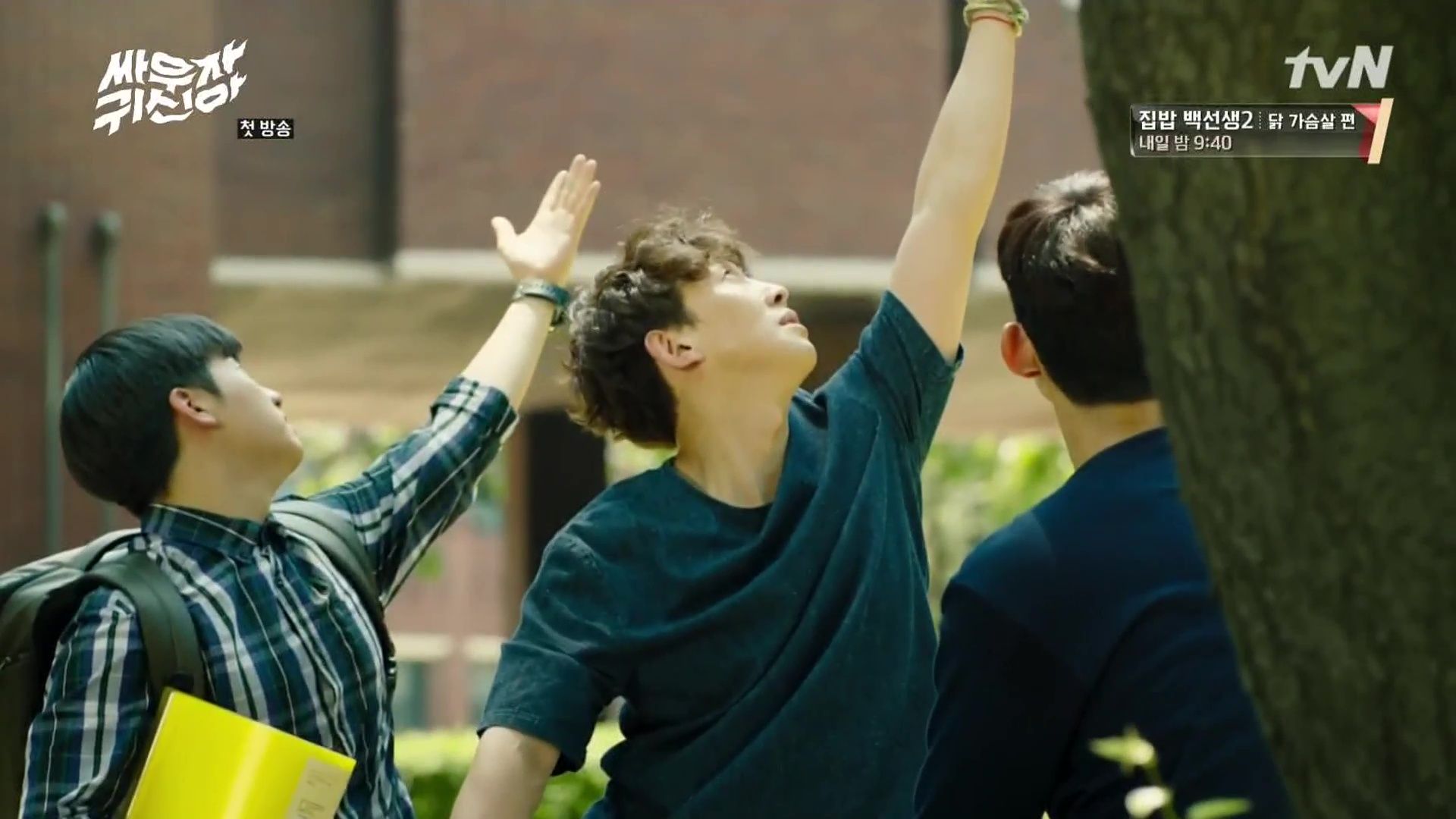 Monk Myung-chul overhears a table of women talking about him, how he used to be in such demand and even exorcised ghosts. He's fallen out of favor now, though it's unclear exactly why.
Bong-pal seems to be a confirmed loner, as he turns down yet another group project at school. He eats lunch alone, sighing and smiling as he watches a pretty girl studying across the courtyard. His reverie is disturbed by classmates CHUN SANG (Kang Ki-young) and IN RANG (Lee David), who notice the pretty girl and wonder what it would be like to date someone like her.
Bong-pal has never met Sang and Rang before (ha, their names crack me up), and just blinks at them when Sang asks if he believes in ghosts. Sang says there's a lot of darkness around Bong-pal, and tells him in a spooky voice that ghosts are all around — in fact there's one behind him right now. But when Bong-pal turns to look, Sang grabs his face and screams not to turn around.
They dramatically offer to bring light into Bong-pal's life if he joins their club, Ghostnet. Bong-pal still doesn't say a word, but just gives them a withering look and walks away.
Sang and Rang head to their club room anyway, only to find an eviction notice posted on the door. Nobody wants to join their club, so they can't collect dues and thus can't pay the rent on the room. Rang suggests they sell their ghost-filming equipment to pay the rent, but Sang is firmly against it. They just need to film one ghost, and that will bring in more members.
Sang suggests they take a shot at the holy grail of ghostly sites — a haunted girls' high school, where six students have reportedly died. They head there at night, psyching themselves up to film some actual ghosts.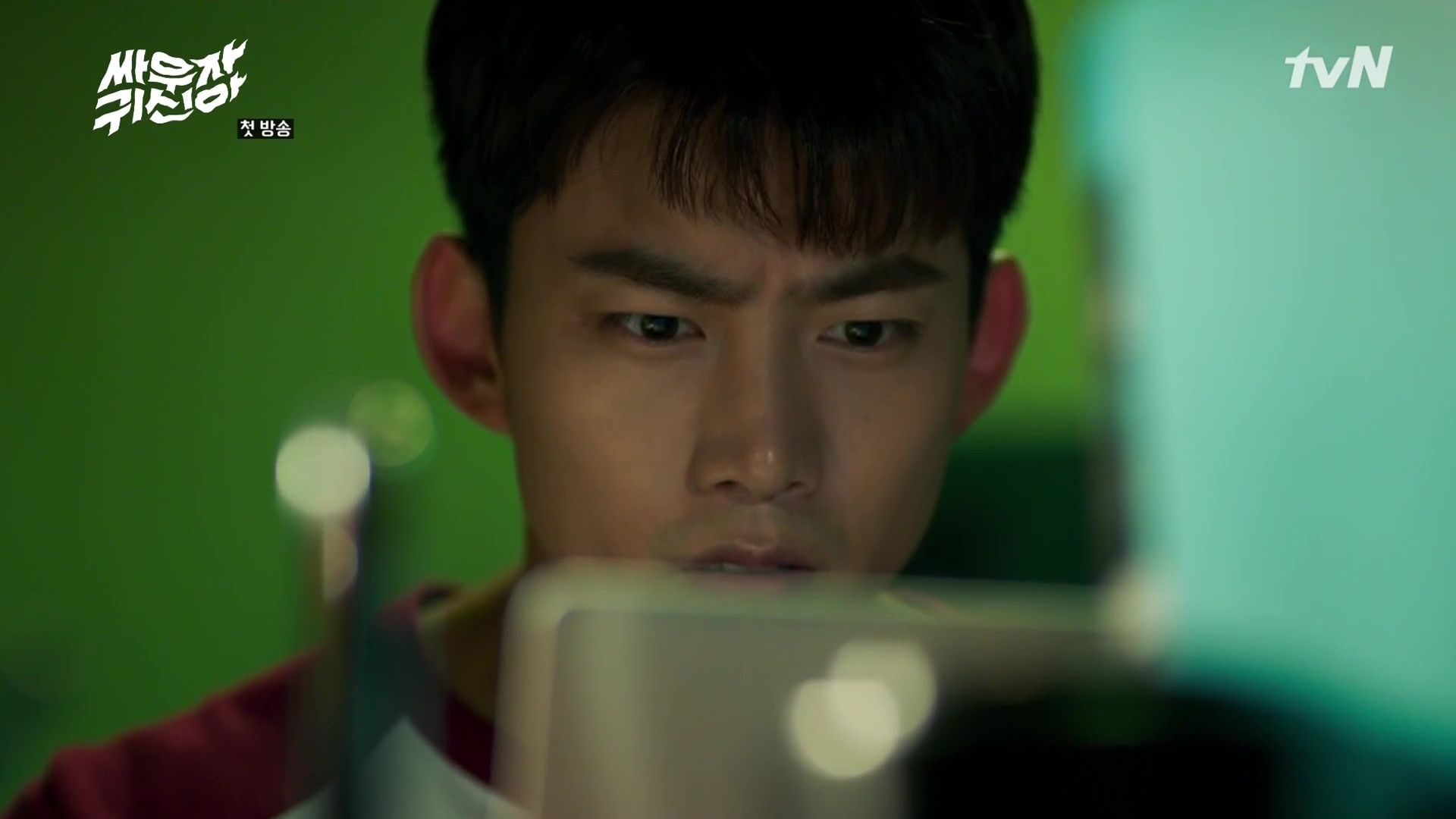 Bong-pal happens across their online live feed just as they're entering the school, and recognizes the two oddballs from earlier in the day. They're hilariously awkward and screamy, but when they prove that they really are at the famously haunted school, their viewership starts to climb quickly.
They start to creep around the school, hoping to see a ghost and film it live, but mostly they just scare themselves. As they let themselves into a schoolroom, a blurry female ghost watches them from down the hallway, but the boys don't see her. They go into the lab where they spot the class skeleton and nearly have identical heart attacks, again completely missing the actual ghost in the corner.
Bong-pal watches from his apartment, getting so into it that he's scared silly when Monk Myung-chul knocks on his door… oh, they're friends. He rushes to use Bong-pal's bathroom, while Bong-pal makes some soup to share. He asks why Myung-chul seems to be working less lately, and Myung-chul says he's just taking a break.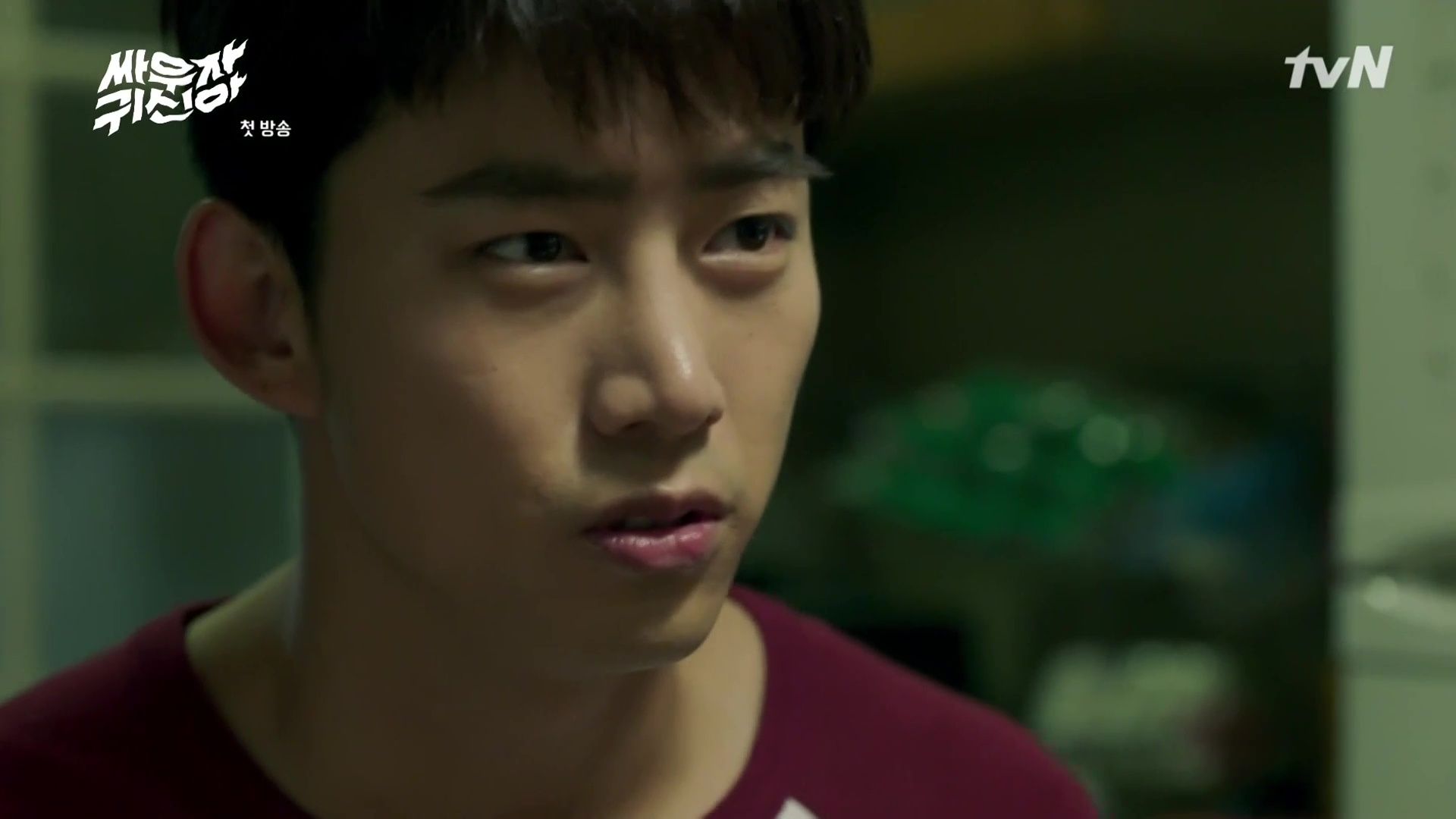 Myung-chul asks if Bong-pal is keeping his promise to stay away from ghosts, and Bong-pal fibs that he is. Myung-chul delivers a letter from Bong-pal's father, fussing at him for moving without telling his dad where he is.
Bong-pal excuses himself to answer a text requesting his exorcism services, to get rid of a female high-school-age ghost at a girls' school. Bong-pal accepts the job, asking for more than his usual fee, and he's asked if he can come right away.
It's the same school where Sang and Rang are filming right that moment, and the person requesting his services even offers him ten times his fee. Bong-pal tells Myung-chul that he's heading out to study, and he manages to get out without arousing Myung-chul's suspicion.
But back over at the school, we see that whoever texted Bong-pal to come to the school, was doing it from one of the school computers…
Sang and Rang find the restroom where the ghost supposedly appeared to several students, and after a few false frights, finally make their way to the stalls. As they slowly push open one door, the stall door next to them opens all on its own, so they boldly move closer to investigate.
A cat jumps out and scares the bejeezus out of them (and me, whew), and they go screaming down the hall and all the way out to the school gate. They're long gone by the time Bong-pal arrives, and he heads inside the school looking for the mysterious person who texted him. He sees a girl in school uniform standing in front of a computer in one classroom, and immediately assumes she's the ghost he's here to exorcise.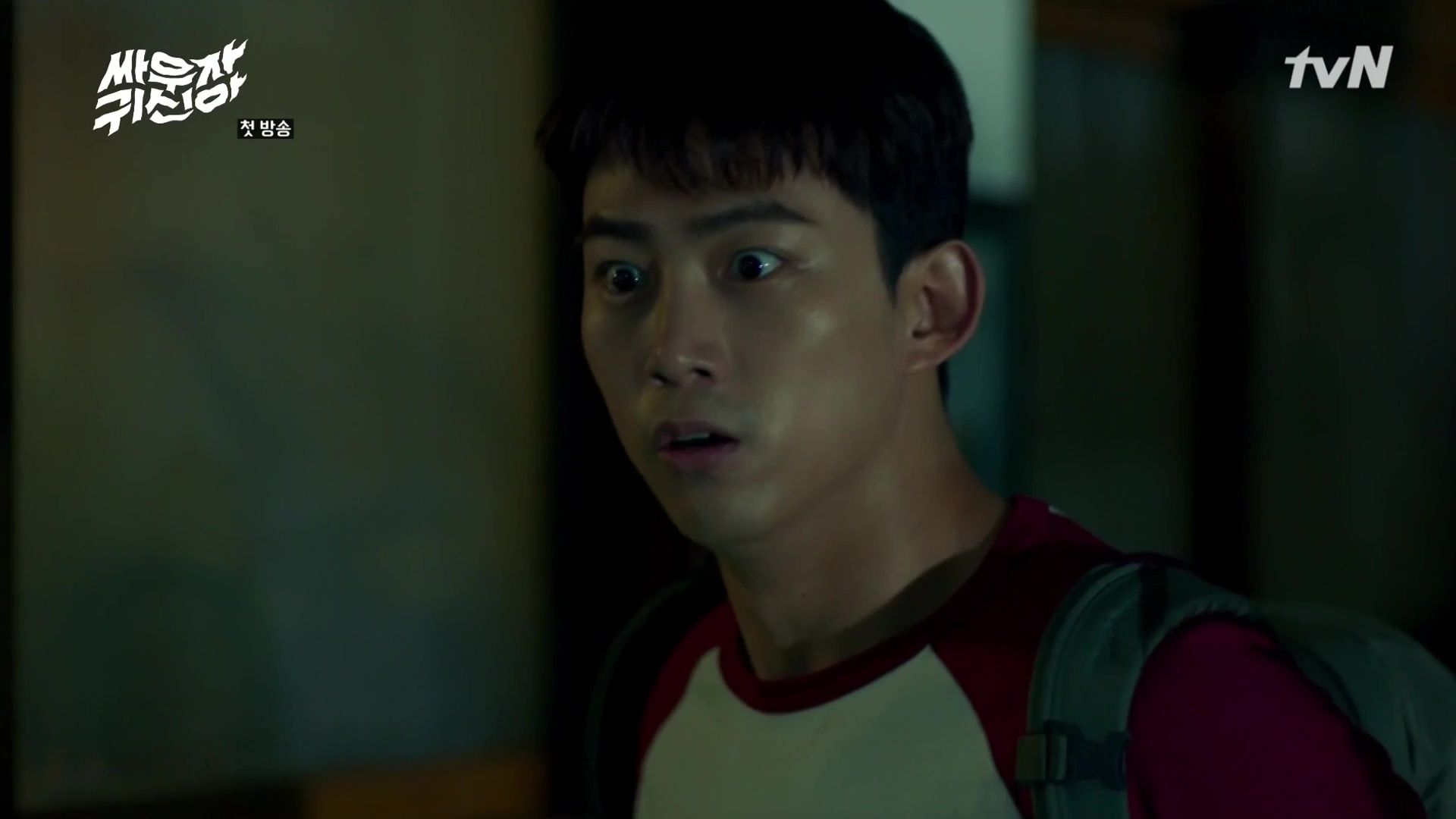 She startles him by appearing right next to him, and he warns her that he doesn't go easy on female ghosts. He grabs her in a headlock while she hollers that she's not the ghost he's here for, but he ignores her cries and flips her over on her back.
She weakly whines that she may be a ghost, but that still hurt, then fakes chest pain when Bong-pal threatens to beat her up again. She's good enough that he gets worried and bends down to check on her, and the moment he's in arm's reach, the ghost pokes him in the eyes and jumps up.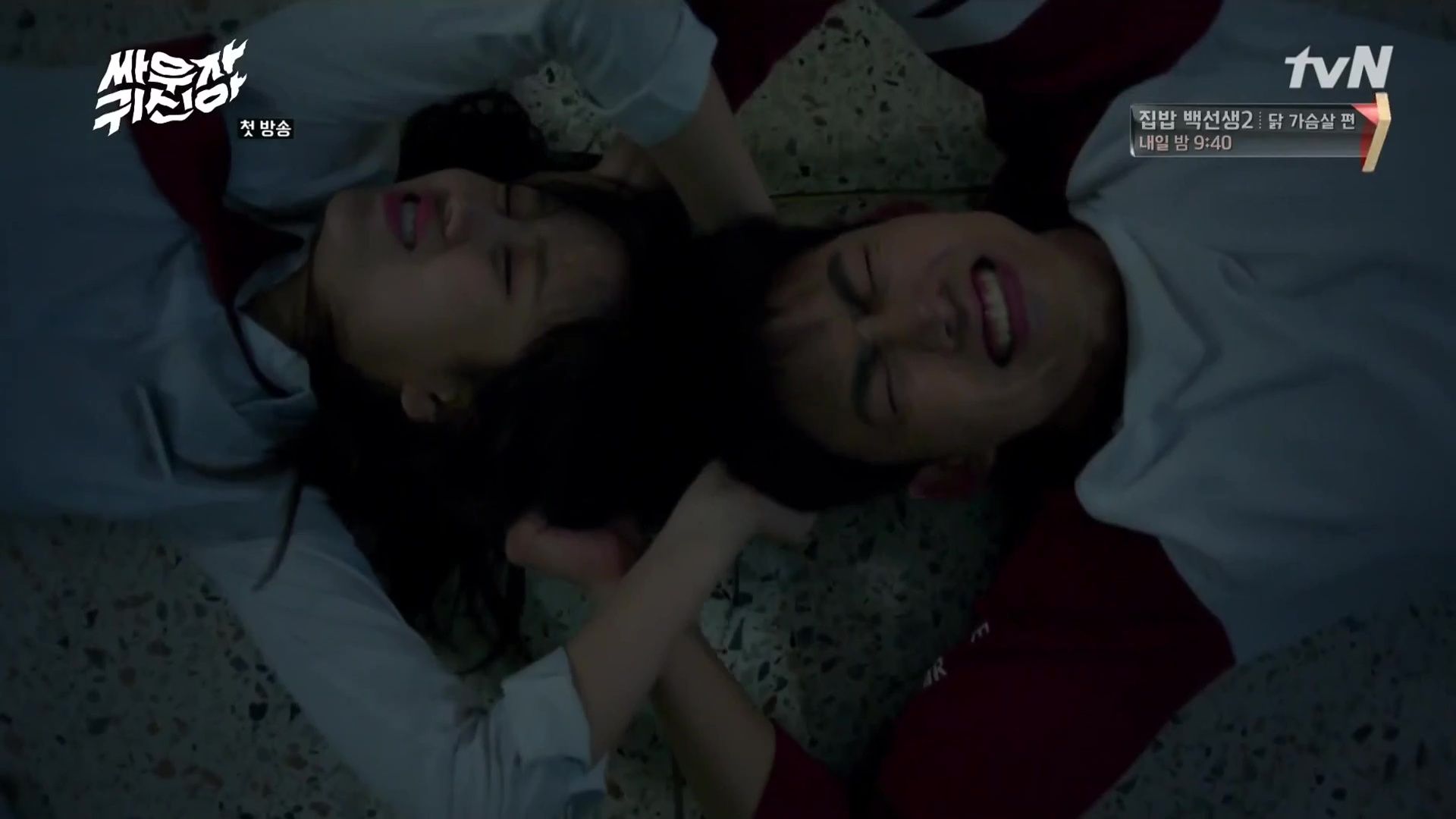 She declares it so on now, and easily dodges all of Bong-pal's attempts to punch her. She flips him over her back and halfway down the hall, then jumps up to sit on his shoulders and whack him over the head. Bong-pal shoves her off, and they both end up rolling on the floor, fists in each other's hair.
The ghost defies gravity by flinging herself up and over to sit on Bong-pal's chest and smack at him, then grabs his hair again and bites his head. HAHA, I love her already.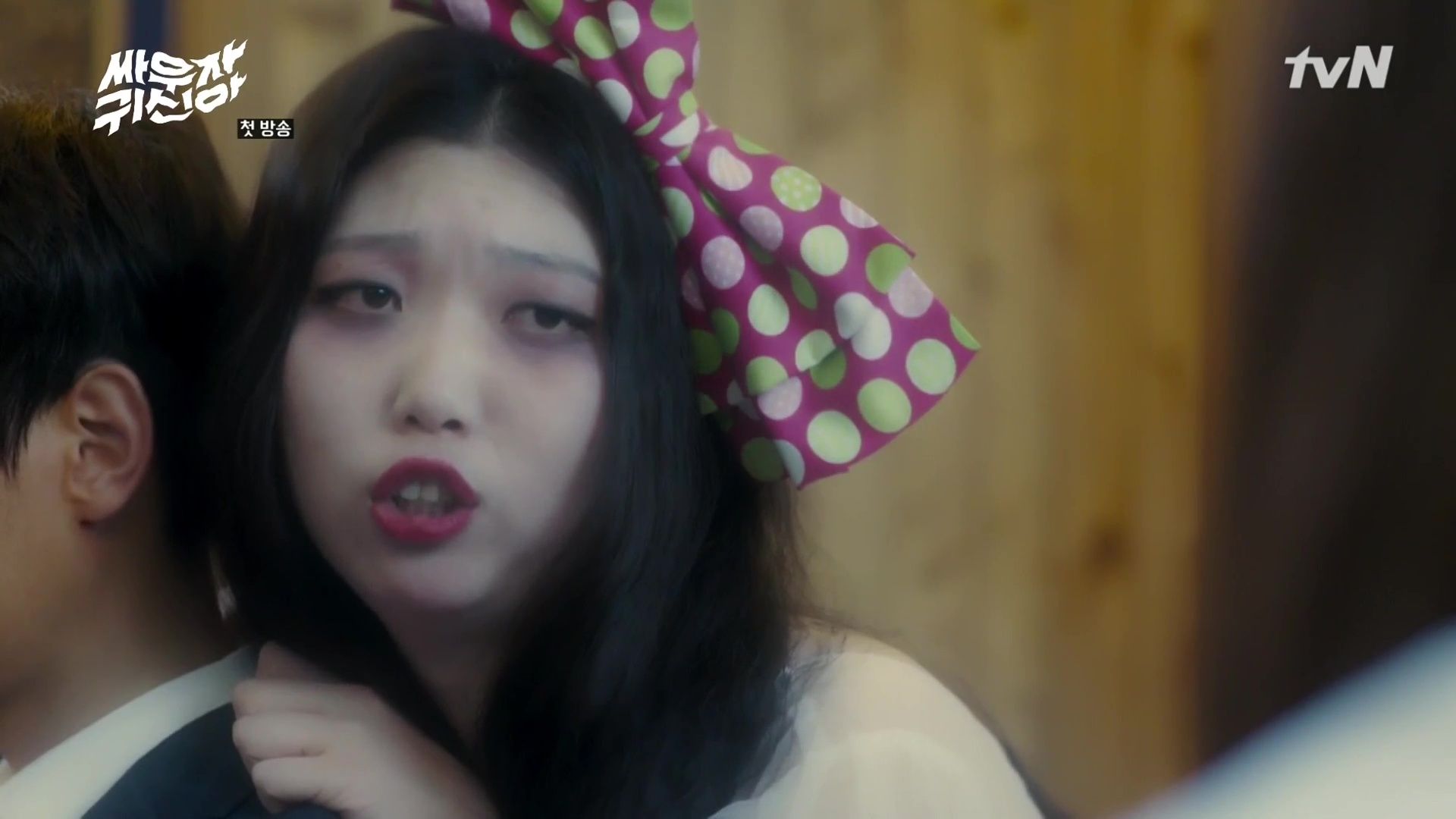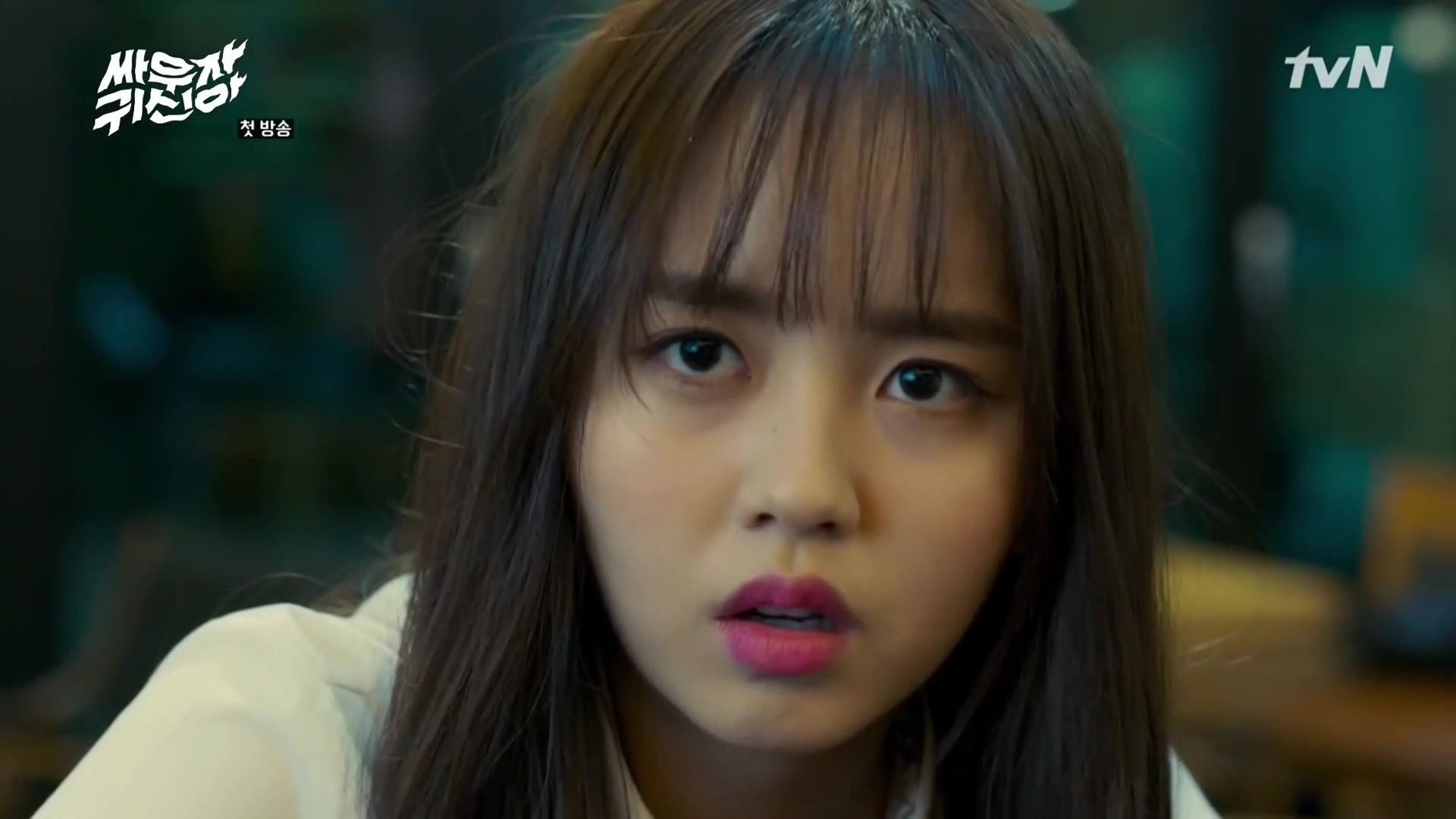 She gets the better of him, and sends him stumbling out of the school bruised and bloody. She threatens to kill him if he ever comes back, but by the look on Bong-pal's face, this isn't over by a long shot.
The ghost, whose name in life was KIM HYUN-JI (Kim So-hyun), finds her ghostly friend KYUNG-JA (a virgin ghost who's hanging all over the man she's crushing on, hee) to complain about the weird guy she met tonight. Kyung-ja worries that she killed someone, which means she won't be "chosen," but Hyun-ji promises she just beat the crap out of him. Heh.
They worry that time is running short for Hyun-ji, who needs to find… something… that she's been looking for for five years. She wonders why she's stuck on earth, going neither to heaven or hell, and Kyung-ja exposits that she either has unfinished business, or was wrongfully killed.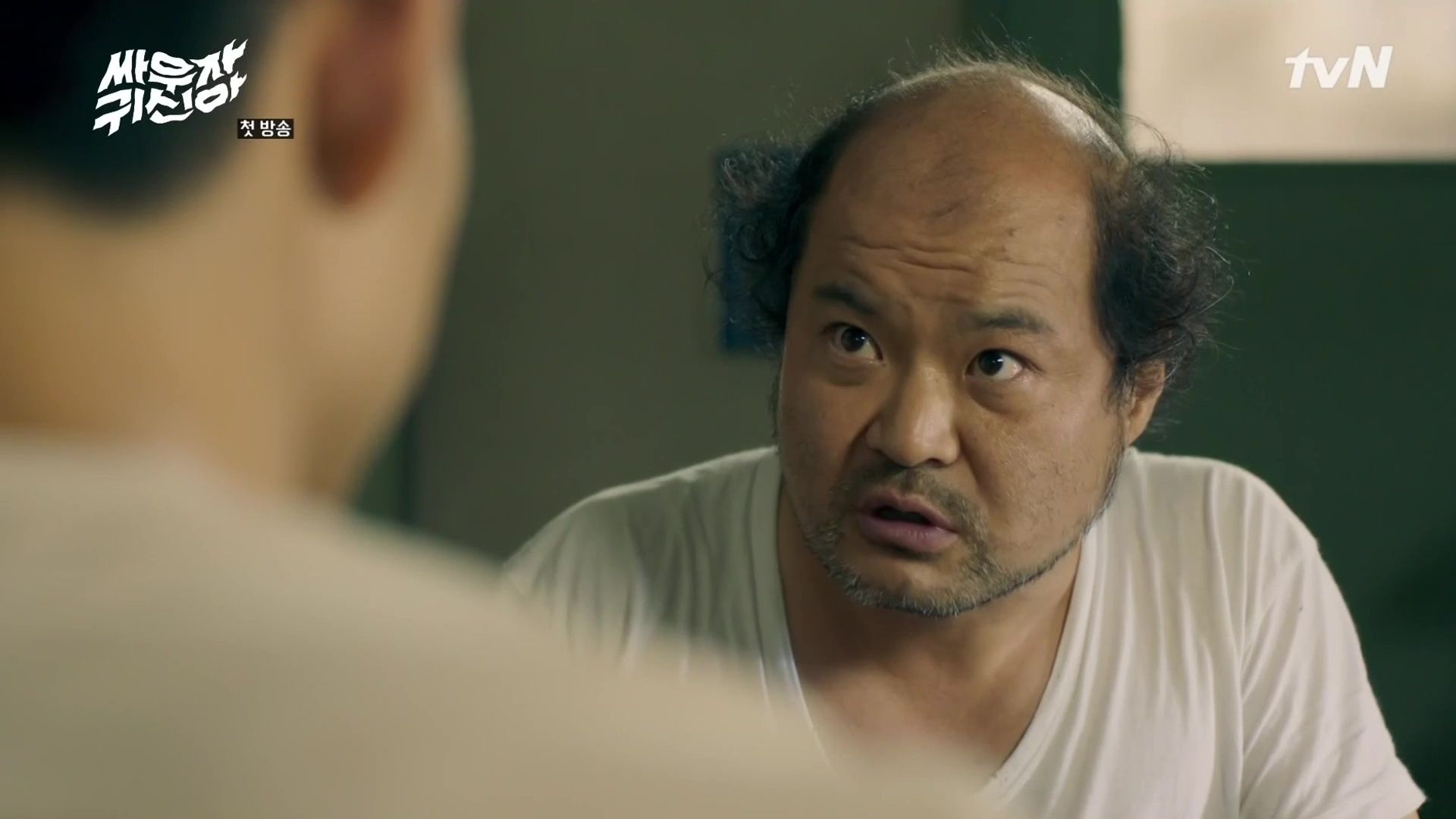 But all Hyun-ji knows of her life is her name, and even that's only because it's on her uniform name tag. She's been trying to find the high school she attended, but hasn't had any luck. Kyung-ja thinks maybe Hyun-ji's unfinished business is taking her college entrance exams — they originally met when Hyun-ji arrived to take the test, unaware she was dead.
Monk Myung-chul complains about the lack of meat at breakfast, and notices Bong-pal's bruised-up face. Bong-pal skirts his questions, but asks his own about female ghosts… why are they so strong? Myung-chul says that female ghosts are usually here for vengeance, but before he reveals their weakness, he figures out that Bong-pal must have been beaten up by a ghost.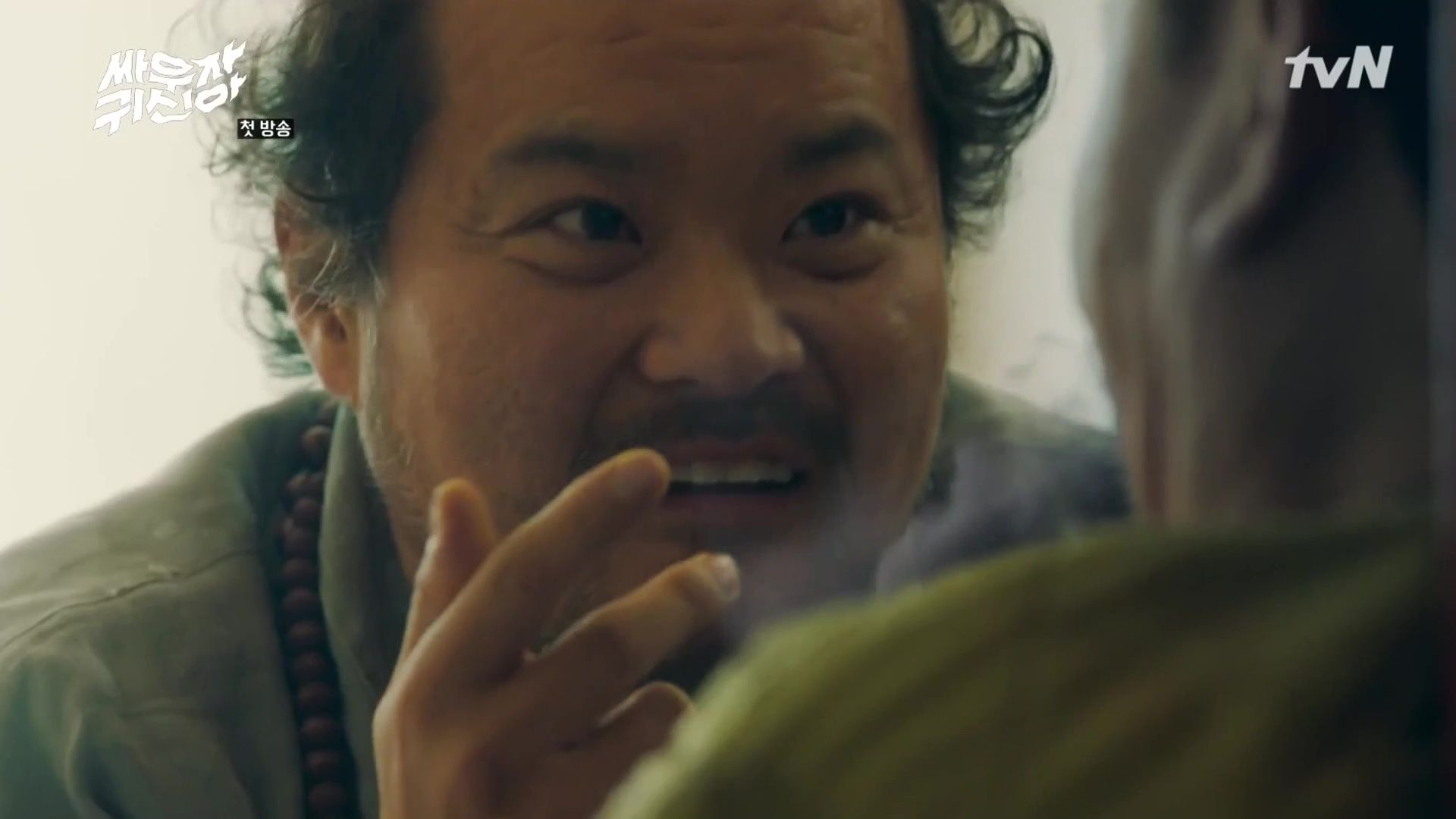 He fusses that Bong-pal promised, but Bong-pal retorts that if Myung-chul hadn't messed up that one time, this wouldn't have happened. Myung-chul complains that the ghost was too strong, so Bong-pal urges him to help him defend himself.
They head to an abandoned apartment building where Myung-chul finds a drunk male ghost, and he tells Bong-pal that you have to look closely to see their weakness. HAHA, he's not even looking at the ghost, who just stares at him as he says it must be a child by the feel of its energy. Not even close.
Myung-chul starts tossing rice, and when it hits the drunk ghost in the face it seems to burn him, and he gets angry. He starts to snort black smoke, and Myung-chul screams for Bong-pal, but Bong-pal's already left in disgust.
Sang and Rang delete all the negative comments on their website after last night's fiasco, and decide to try the school again that night. This time they put up some stationary cameras and hide in a broom closet, promising their viewers that they won't leave until they see an actual ghost.
Bong-pal also arrives at the school (with a gigantic sword, ha) prepared to do battle. Hyun-ji is inside the school, looking through yearbooks to see if she attended here, with no luck. She smirks when she hears Bong-pal storm into the building and bellow a challenge with a flourish of his sword.
She pops to his location and beckons him over, and goes ~poof~ when he lowers his sword at her head. She poofs back behind him and kicks him in the butt, then appears behind him again and kicks him to the ground. She toys with Bong-pal for a minute, then proceeds to thoroughly own him.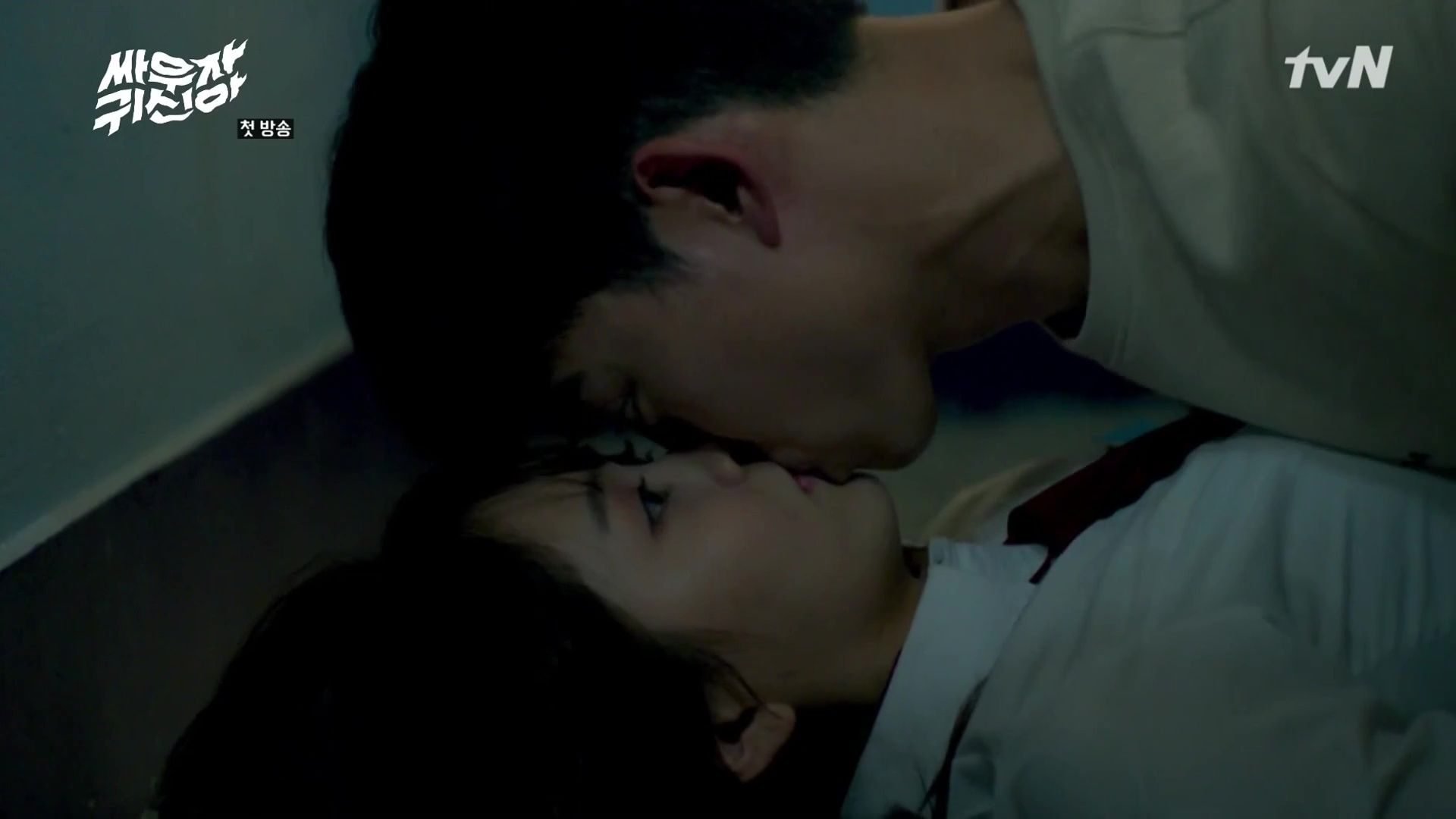 At one point they grapple and tumble together down the stairs, stopping with Bong-pal on top of Hyun-ji and their lips pressed together. Bong-pal jumps up looking unnerved, while the accidental kiss seems to have stirred something else in Hyun-ji.
She suddenly remembers lying in the street, rain falling as blood pools under her head. She hears screams and sees a building with a sign that says "Academy for Language Arts."
Bong-pal misunderstands her shock and starts stammering that he didn't mean it, but when he says she's probably kissed a lot of people, that snaps her out of it and she leaps up, indignant. He sneers at her — was that her first kiss? Hyun-ji gives a wry grin, and snaps, "That's right. It was my first kiss, you bastard!" And with that, she flies across the room and plants her knee right in Bong-pal's family jewels.
Sang and Rang hear Bong-pal's agonized shriek, but when nothing else happens they go back to their vigil. They do some research on the people who have died at this school, so they aren't looking when an angry-looking ghost finally shows up on their cameras.
In the broom closet Sang feels something on his neck, and turns to see a menacing black mist seeping into the room. He looks up and yelps as the ghost appears right in his face, and the boys run screaming with the ghost in hot pursuit.
The run right past Bong-pal and Hyun-ji, who also scream when they see the frightening female ghost. Hyun-ji veers into a hall while Bong-pal follows Sang and Rang into the elevator, and they only barely manage to get the doors closed before the ghost can get in.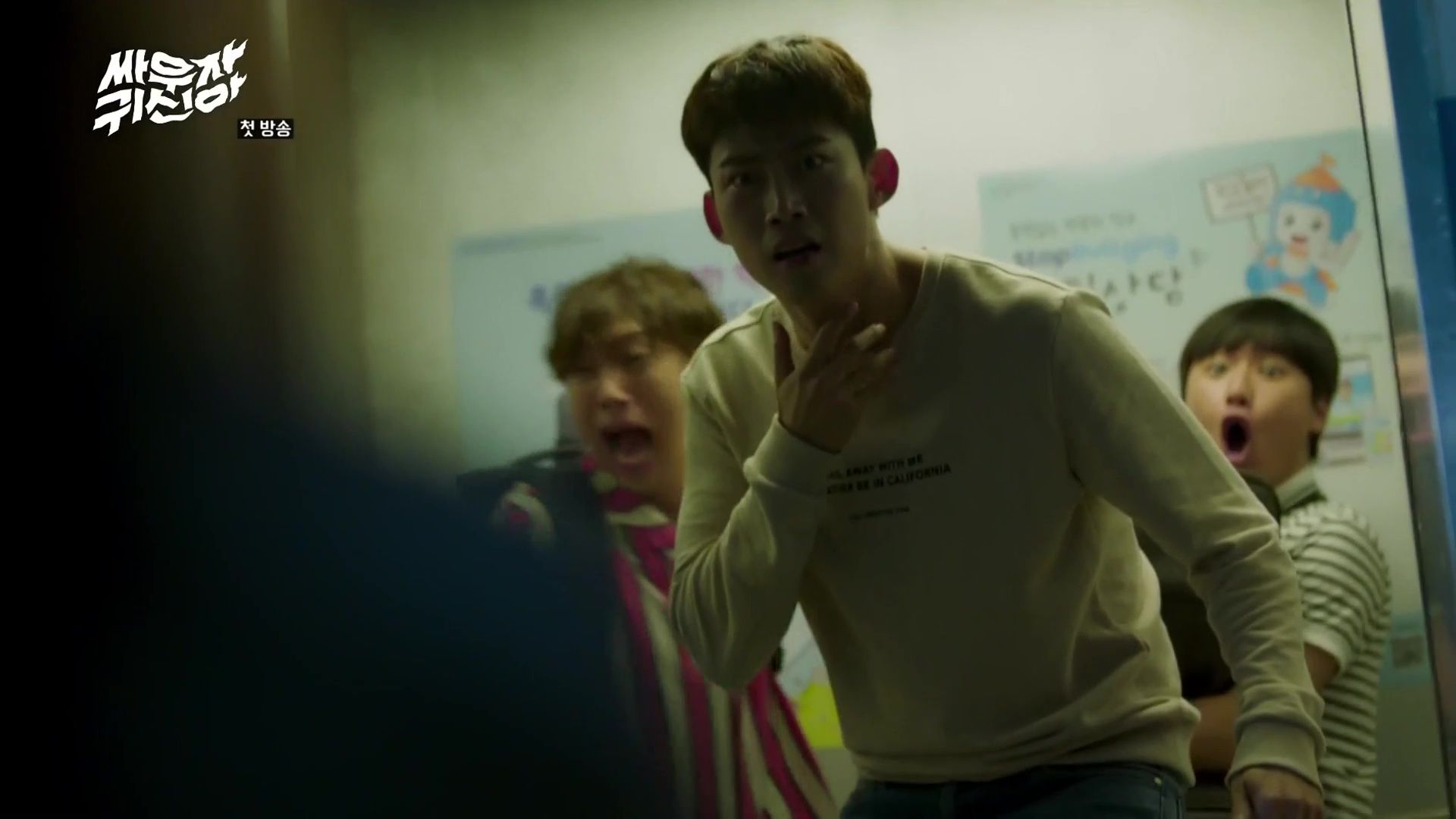 The boys wilt with relief, but only for a second, then the ghost's hand comes through the doors and grabs Bong-pal by the throat. The elevator doors open again and Bong-pal punches her right in the face, which seems to anger her even further. When she sits up, she's got the face of a man. What now?
With a frightening look on his face, he turns to look at Hyun-ji, who's peeking at them from a nearby hallway. Bong-pal can see her face, looking pleadingly at him, but the elevator doors close and there's nothing he can do.
The boys finally escape the building, and Rang says that the male ghost was an English teacher who died in the school eighteen years ago. He'd been peeking at a girl in the bathroom, and when she threw something at him, he fell and hit his head. When Bong-pal hears this, he runs back into the school.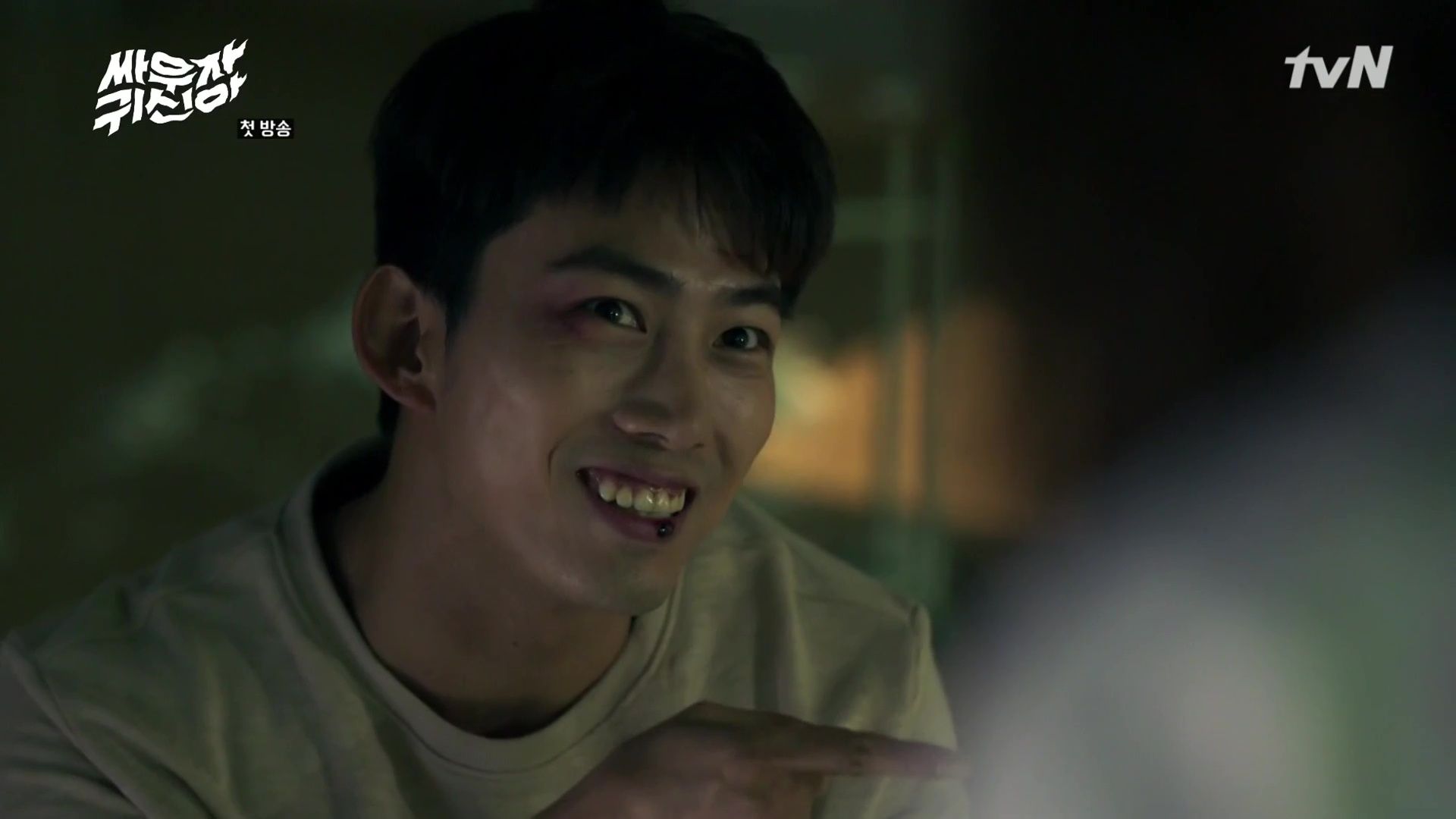 It's a good thing, because Hyun-ji is no match for the strong male ghost, and he easily lifts her by the throat and throws her down hard enough to break a table. He hovers over her, but before he can touch her again Bong-pal turns the lights on and calls out, "Hey, pervert bastard!"
He flings his sword and rushes the ghost, but finds himself flipped and tossed across the room. Next thing you know he's on his knees begging the ghost for mercy, ha, and he even helpfully points out where Hyun-ji is hiding. When the ghost looks over, Bong-pal tries to kick him between the legs, but the ghost snaps his knees shut on Bong-pal's foot and lifts him into the air.
Seeing Bong-pal losing this fight, Hyun-ji jumps in and this time, her well-placed foot lands exactly where she planned. The ghost yells so loudly it wakes the napping security guard, and inside the battle rages on.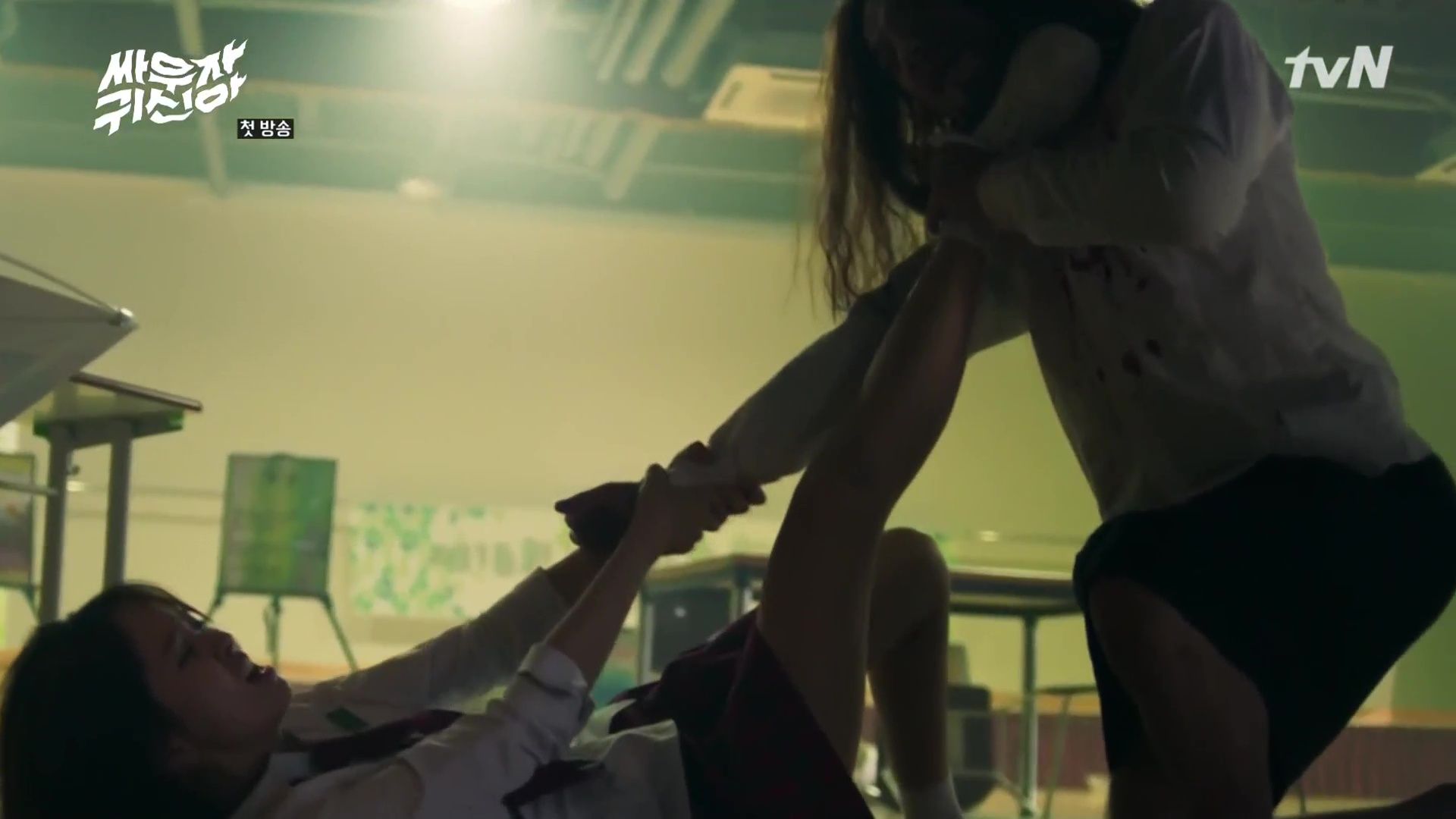 As the ghost throttles Bong-pal, Hyun-ji sees a red glowing spot on the back of its head — its weakness. She and Bong-pal work together to throw him off, and at one point Hyun-ji tells Bong-pal, "Hit the back of his head!" Bong-pal grabs his sword and manages a solid hit right at the ghost's weak spot, and he vanishes in a puff of black smoke.
The fight over, Bong-pal and Hyun-ji exchange names, and each grudgingly admits that the other isn't so bad at fighting. Bong-pal asks if Hyun-ji knows who hired him, and she looks shifty-eyed as she says she has no idea. Riiight.
Bong-pal figures out right away that it was her, and demands his payment. She whines that she has no money, she just promised him whatever he wanted because she was scared of that ghost. She argues that he didn't catch it by himself anyway, and they peevishly bicker and split up in a huff. Bong-pal finds himself facing the police when he leaves the building, and yikes, the damage their fighting did to the building does look bad.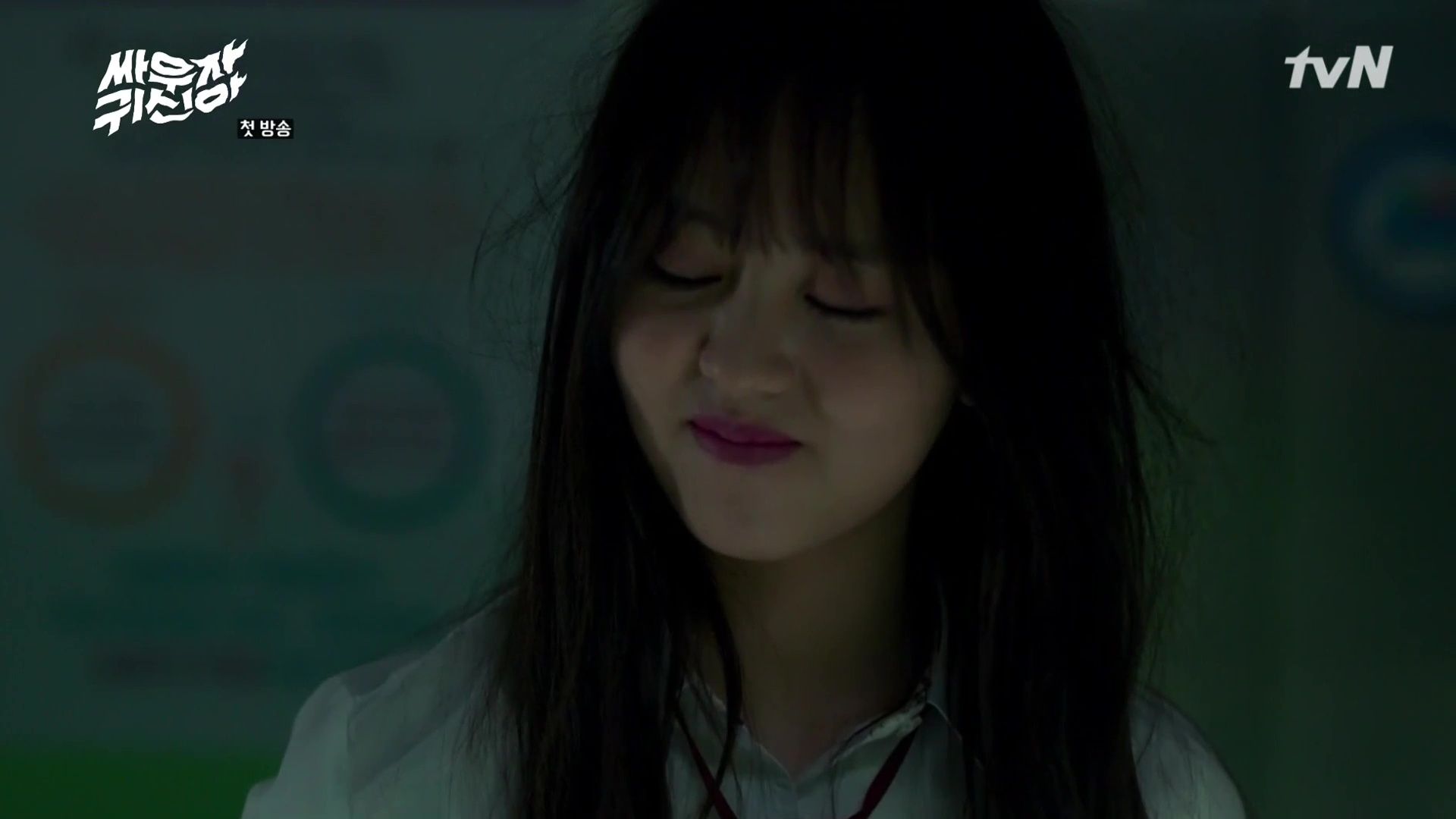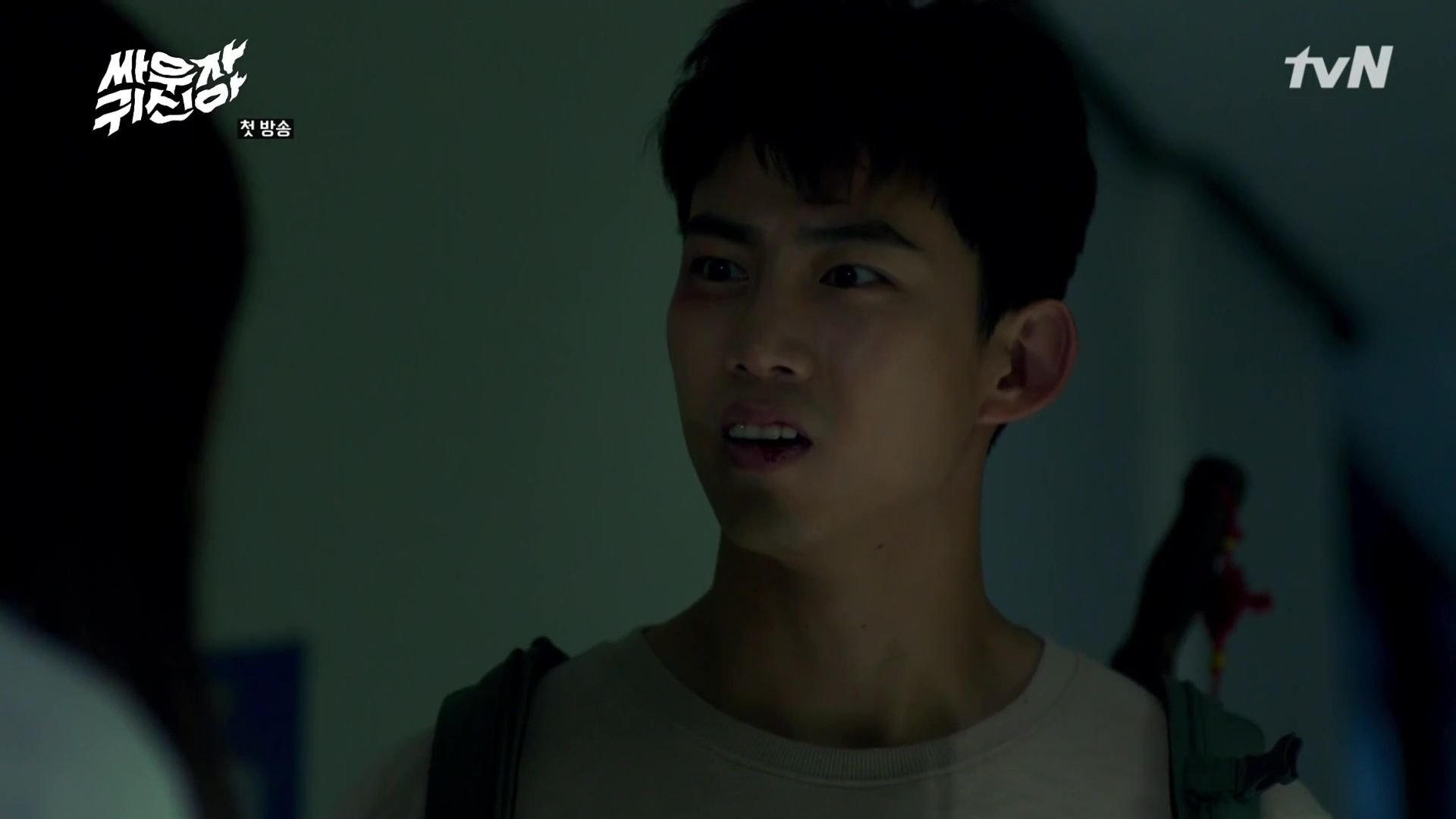 When Kyung-ja finds Hyun-ji later, she can see something different about Hyun-ji's lips. Hyun-ji says she bumped into something and suddenly remembered some things, but now she's forgotten them again. Kyung-ja advises her to just bump into whatever-it-was again, ha.
Bong-pal has a hard time explaining why a male college student was at a girls' high school in the middle of the night with a gigantic sword, and he swears the online videos of the girls' bathroom aren't his. His healthy bankbook doesn't help — it looks like he's been selling naughty videos.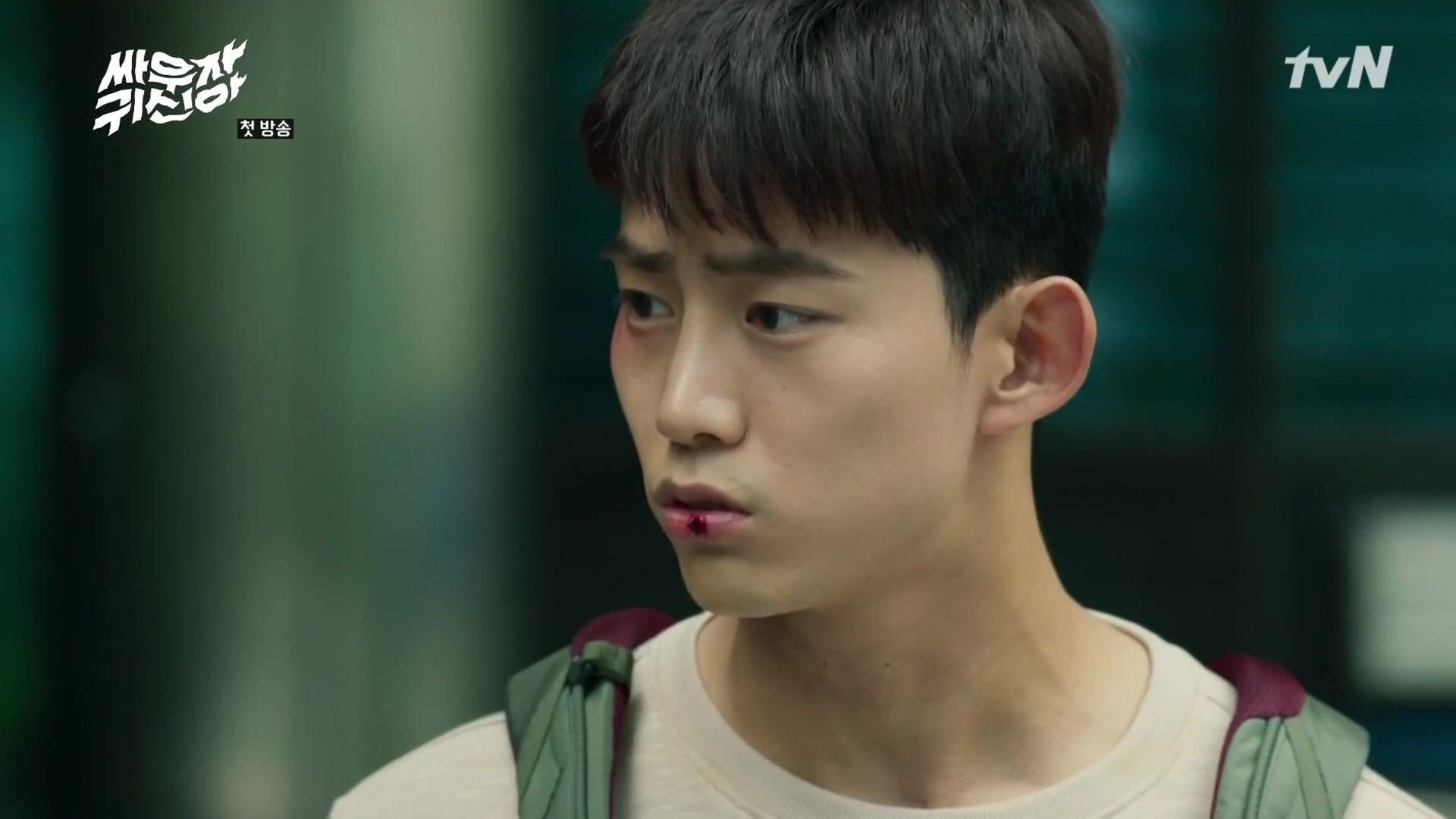 Myung-chul springs Bong-pal from jail, though he wonders why the police called him and not Bong-pal's father. He hands over Bong-pal's bankbook, noting that it's clear evidence he's been exorcising ghosts, and Bong-pal pouts that he needs the money. He's saving to get his eyes "fixed" so that he can't see ghosts anymore.
Myung-chul warns him that he could end up a ghost himself this way, but Bong-pal doesn't care — it's not like he lives a normal life anyway. He leaves Myung-chul, discouraged.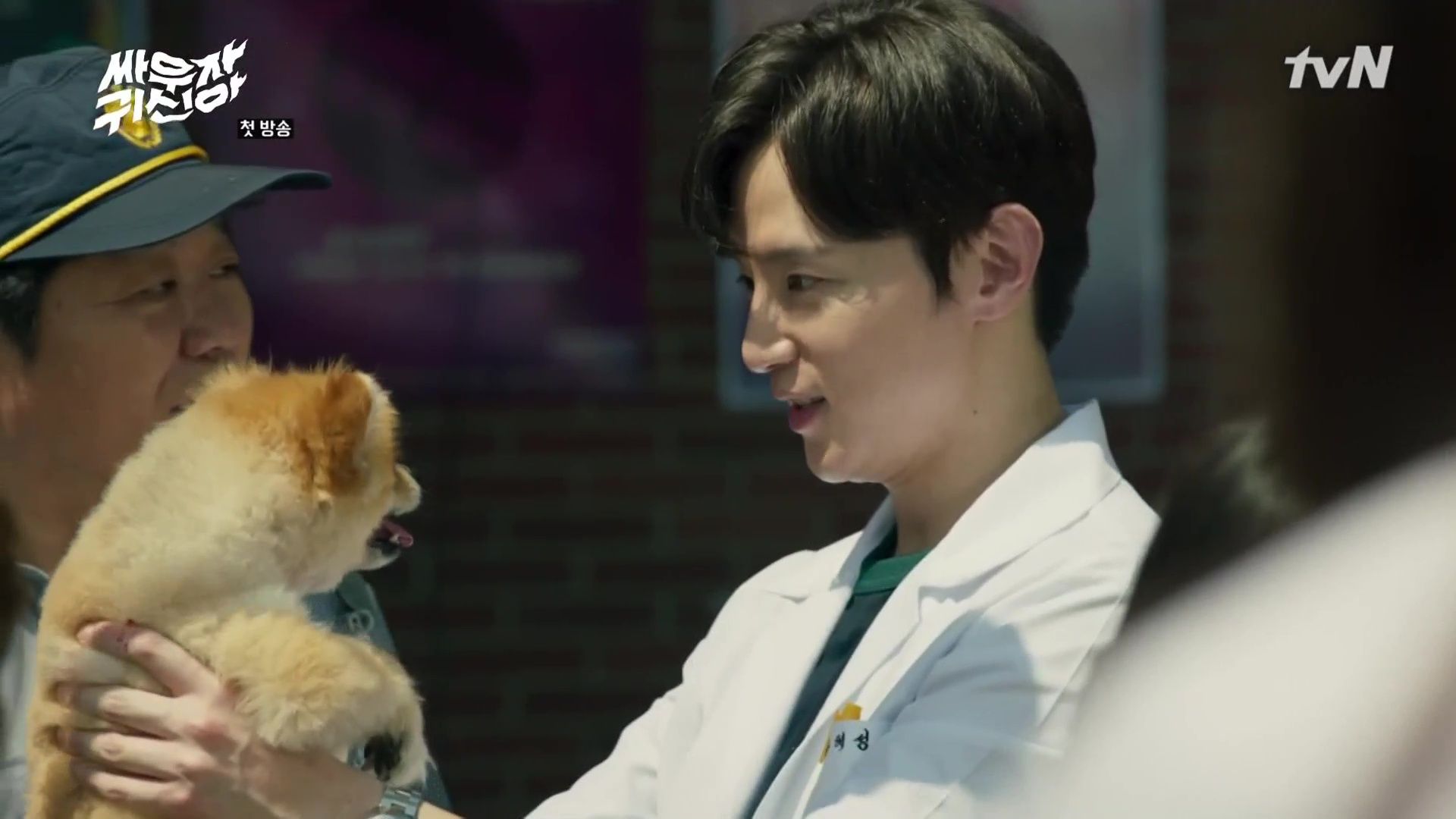 Everything reminds Hyun-ji of that accidental kiss with Bong-pal, and she spends some time walking around his college campus (she previously saw his yearbook) enjoying the beautiful day. She hears barking and sees some students crowded around a storm drain where a dog is trapped (squee, it's Barasshi!), and sees a handsome young man trying to get the scared and snapping dog free.
Despite being bitten, the man manages to rescue the little dog. Hyun-ji admiringly notes his name — he's JOO HYE-SUNG (Kwon Yul), from the Veterinary Medicine department. She grins at Hye-sung and decides that she likes this school a lot, ha.
She finds an empty computer and looks up Bong-pal, noting his home address and smiling wickedly. She waits for Bong-pal to come home and seems unperturbed when he reminds her that he told her never to show herself to him again, but she says she's not here to fight. She just wants to confirm something.
She tells him not to misunderstand, that she's not doing this because she wants to, steeling herself for what she has to do. Hyun-ji flies through the air towards Bong-pal, and his eyes widen as he realizes that she's about to plant a kiss on him.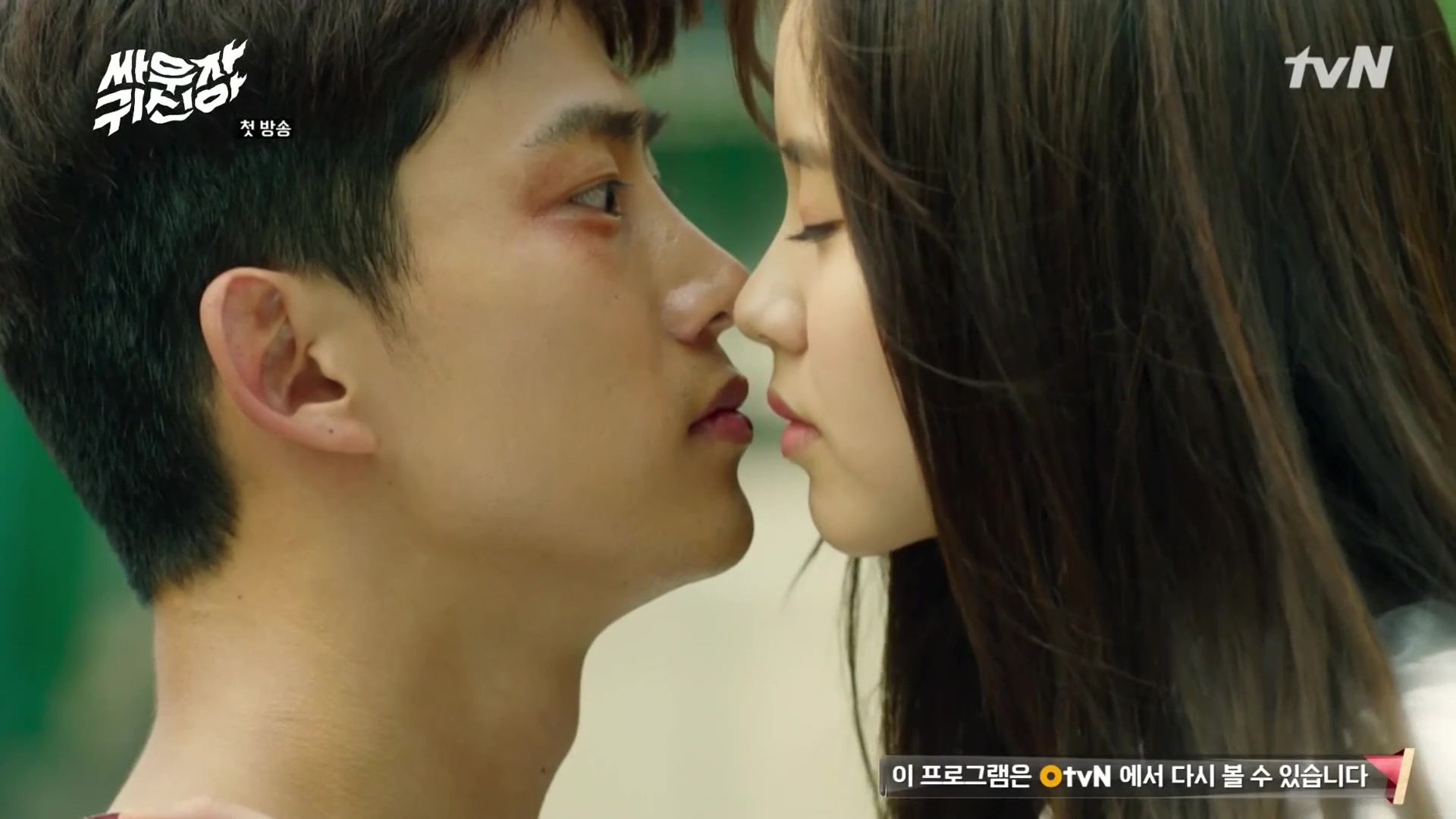 COMMENTS
So cute. I really like the tone of the show so far – it's a little dark and spooky, but it doesn't go so far as to be actually scary. It undercuts its own frightening moments with unexpected humor, and tempers the horror aspects with a fun sort of morbid, almost comic-book silliness that I find engaging. The balance is very even — it's scary where it's supposed to be scary, but it's never truly frightening, if that makes sense. The show hasn't created a very big or complex world at this point, but I'm not complaining because it could work if it keeps the focus on the characters and their personal issues. The one thing I'm left anticipating is learning more about how all the ghost stuff works.
I really like Taecyeon in the role of Bong-pal, which seems to use his sense of comic timing in such a way as to cover for his acting weaknesses, and maximizes his natural charisma very well. He's not the strongest actor, that's no secret, but I've always found him engaging when he wasn't asked to do too much on a dramatic scale. His strength is his likability and personality (not to mention those adorable ears), and this character seems tailor-made for him so far, using those qualities to best effect. I kind of love that Bong-pal has such a fighting spirit, though he's not really that good of a brawler, but at least he knows it and doesn't get himself into tussles with ghosts he can't handle.
Hyun-ji is also a great character, though I'll admit I'm disposed to like any character played by Kim So-hyun just because she's so good. I love that Hyun-ji is a strong female both physically and in "spirit" so to speak, and I think she and Bong-pal have a fun sort of frenemy energy right off the bat. I love their bickering, and their knock-down-drag-out fights even more, and I hope they don't become friends too soon. Watching them argue is the best — though the twist of Hyun-ji remembering things about her past when they accidentally kissed is a cute twist, and an interesting way to bring the two of them together again.
I'll address the elephant in the room just this once, because I know some people are bothered by it, then I plan to put it aside. There are ten years between Taecyeon and Kim So-hyun, but given that the characters themselves are close in age (Hyun-ji is listed as being 19 when she died, and Bong-pal is in college so he's at most 24), I'm making the conscious choice to consider them as their characters and not the actors themselves. I was hoping the plot would skew more towards the friends/partners angle, at least at first (not because of age concerns but just because I think that dynamic would be fun), but the show does seem to be going straight to romance. But I'm personally not that bothered by it because actors play characters, and the characters are close in age, and I prefer to judge a show on its merits and not on the actors personally.
Speaking of characters, Sang and Rang may just be my new favorite thing. They're utterly ridiculous and nerdy, but they're committed to their passion of hunting ghosts and and for that I adore them. It was so hilarious, how they got each other so would up in that school over things like a water bottle, but you could tell that underneath the bumbling they really believe in what they're doing. They may be cowards, but they're determined cowards. I can't wait to see them team up with Bong-pal and get to kick some real ghost ass.
So basically, my first impression is very good. I like the world though I think it needs a bit more building, and I feel bonded to the characters right off the bat. I find myself holding back a bit, possibly because of the lack of information about how all the ghost-stuff works, and I feel like if the next episode gives us some more information on that front then we're good to go. I'm ready for some solid, no-holds-barred ghostly battling!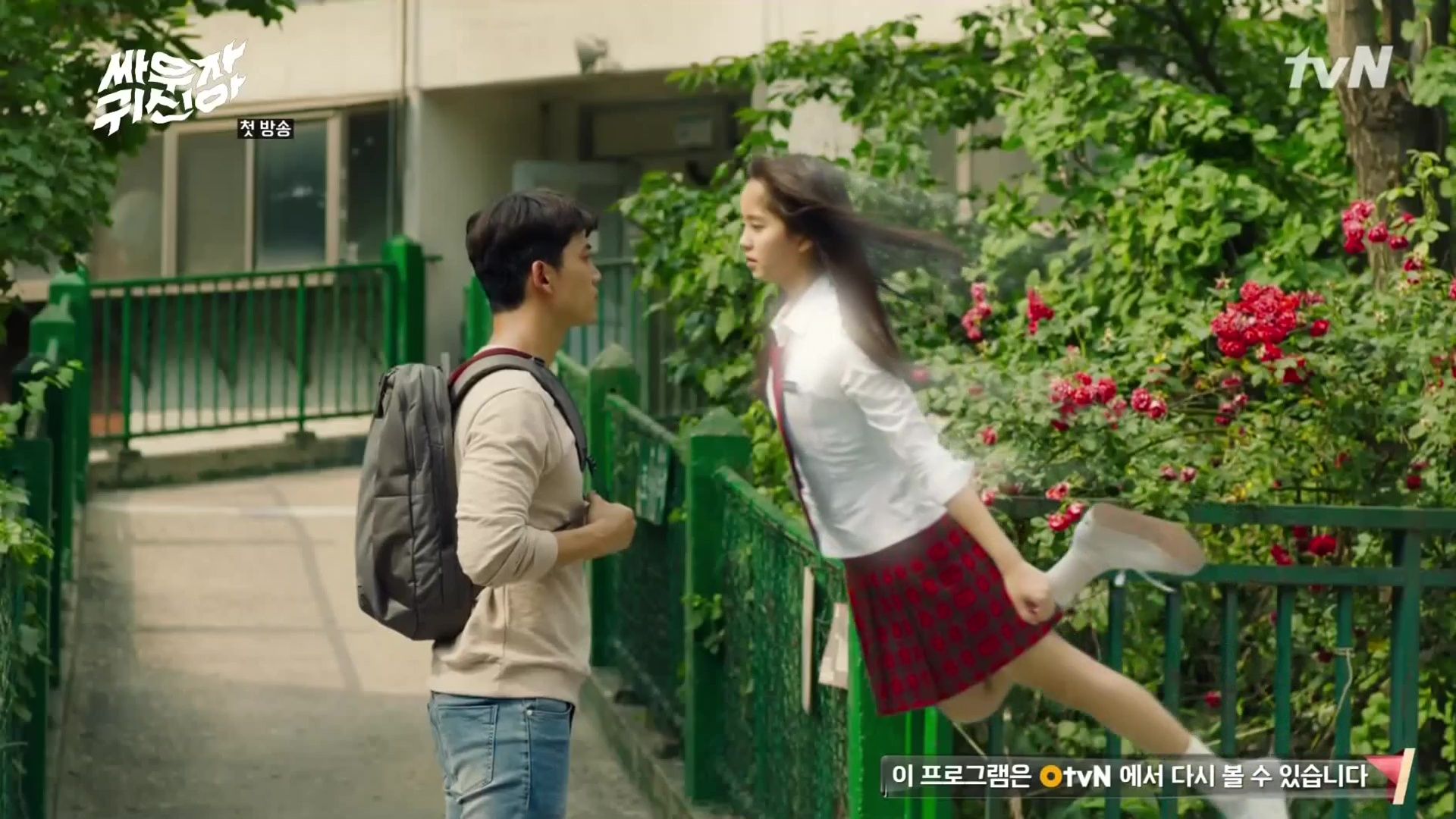 RELATED POSTS
Tags: Bring It On Ghost, featured, first episodes, Kim So-hyun, Kwon Yul, Taecyeon