Wanted: Episode 3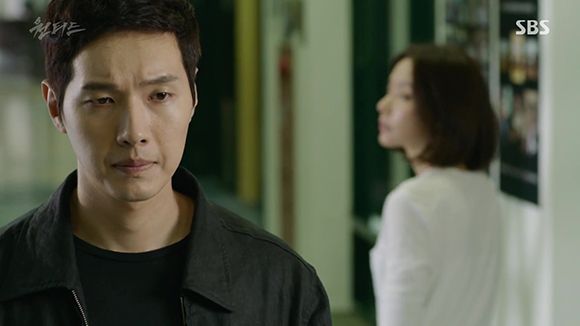 The live broadcast is upon us, and there's no telling what the next minute will bring. Hye-in and her team, as well as the detectives on the case, are pushed to new limits as the kidnapper plays his game. With each new clue they uncover, they are faced with new questions to answer, including the one the has baffled everyone: what is the criminal's final objective?

EPISODE 3 RECAP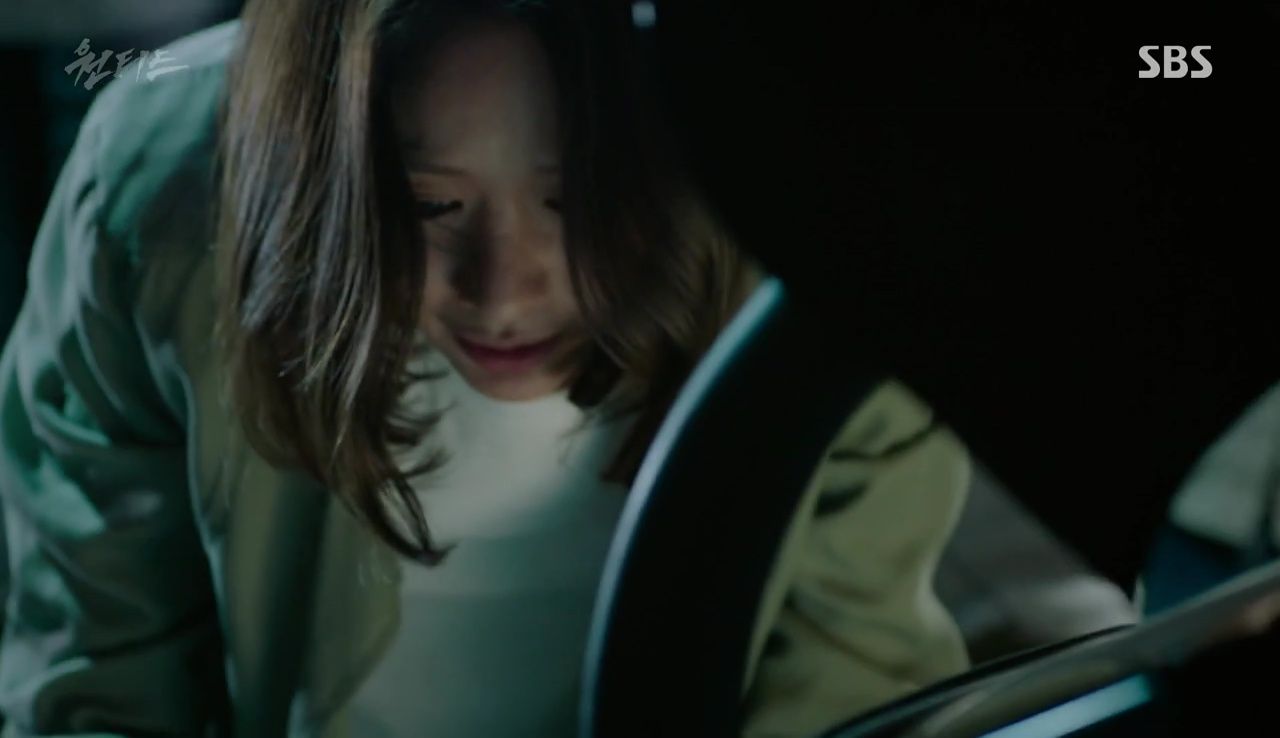 Seung-in and Hye-in stand before the trunk of the car left by the kidnapper, staring horrified at its contents. It's the body of a boy, wearing the the same clothes Hyun-woo wore when he disappeared. The boy slowly turns to look at Hye-in.
She cries out in despair as she sees his face. It's not Hyun-woo.
He reaches for her hand, clutching her sleeve, and she suddenly looks down at him, picks him up, and carries him to an ambulance that has just arrived.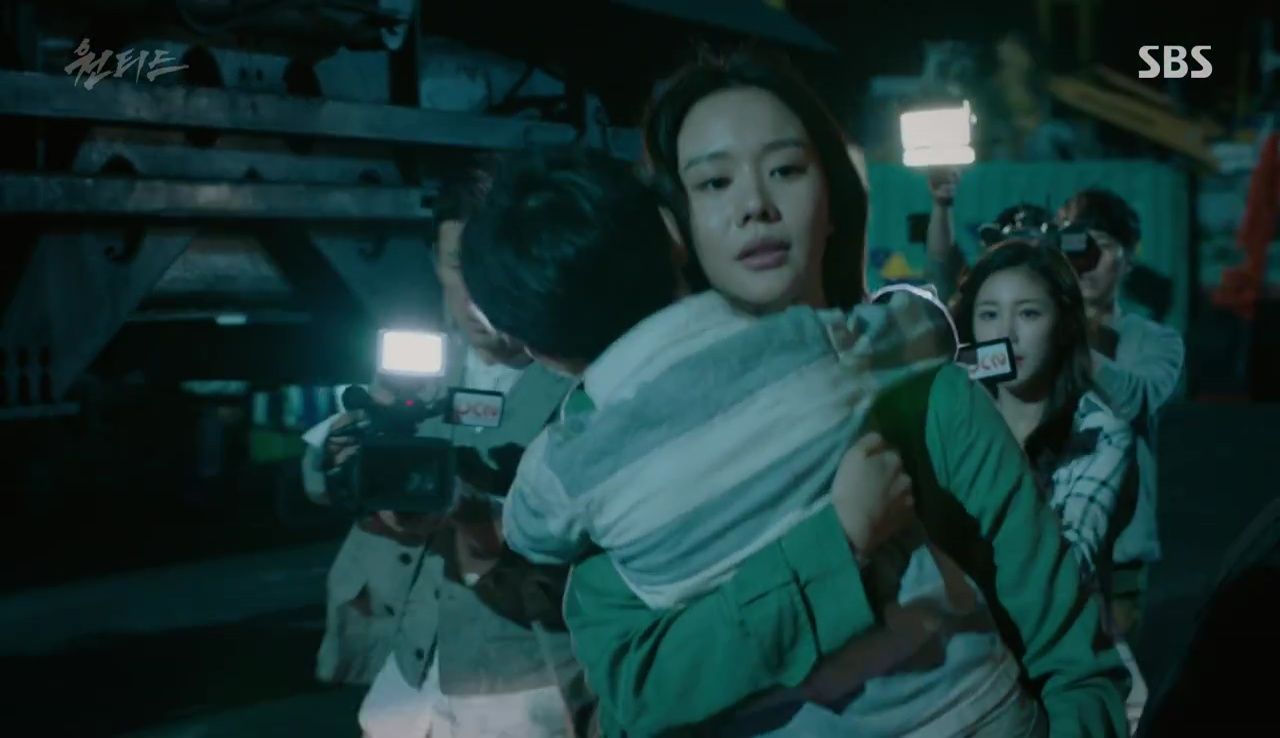 She puts him down on the stretcher and gets into the ambulance with him, a cameraman joining her. Seung-in asks a uniformed officer to gather all the CCTV footage in the area.
Back at UCN, Writer Yeon calmly narrates captions to a staff member, who hesitates over the description of the unidentified child as being "in critical condition." Writer Yeon insists on the wording.
Joon-gu calls Dong-wook and asks why they are going to the hospital if Hyun-woo's call had been traced to near the storage container where the car was found. Dong-wook tells him the police are still there searching. He says that the footage earlier was blurred, and asks Joon-gu to get Hye-in to show the child's face on camera.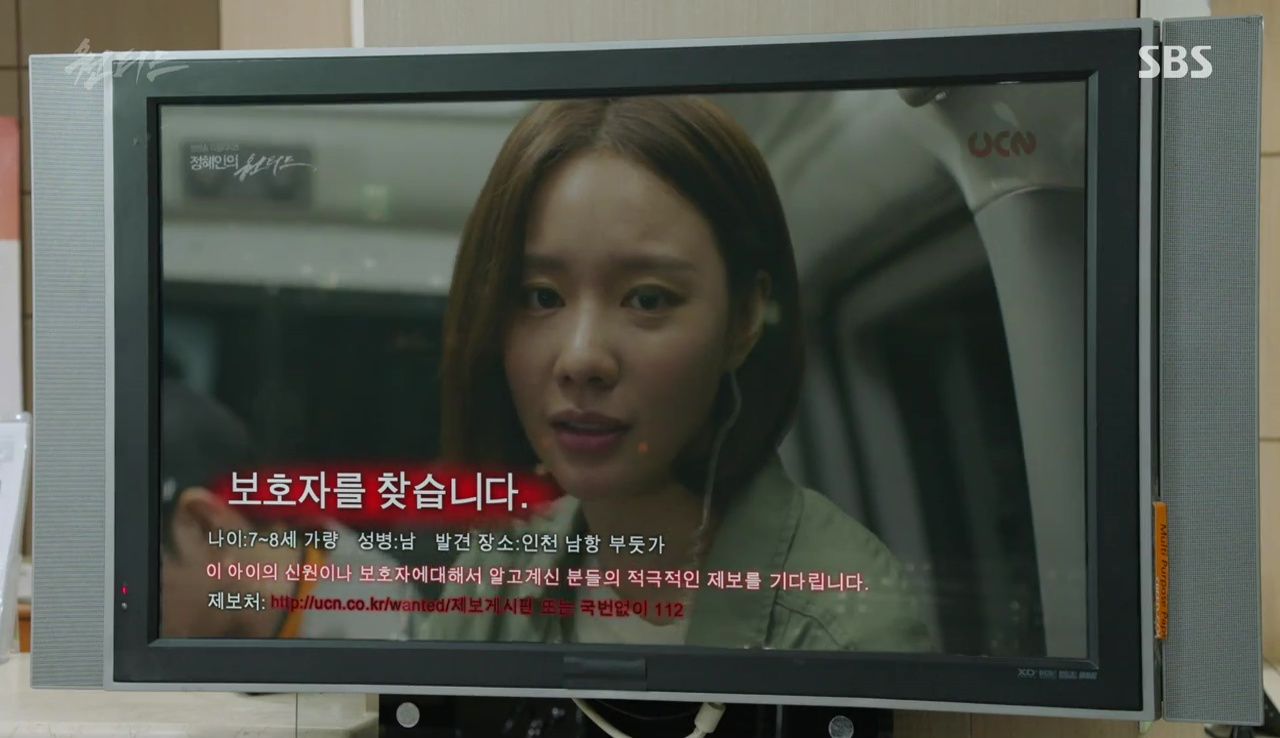 In the ambulance, Hye-in's cameraman asks the EMT to remove the boy's oxygen mask so he can be recognized, but the EMT refuses, saying it would endanger his life. Hye-in tells the cameraman to carefully film the child's clothes, shoes and hands, saying his parents will recognize them. She turns to the camera and appeals to anyone who might recognize the child, asking them to contact the station, and tells the audience which hospital they are headed toward.
Seung-in follows the ambulance, calling his hoobae Young-gwan and telling him to look up any child kidnapping cases in the area and cross-reference them with footage of the boy. Once they get to the emergency room, the camera crew are forbidden to film further and the show breaks for commercial.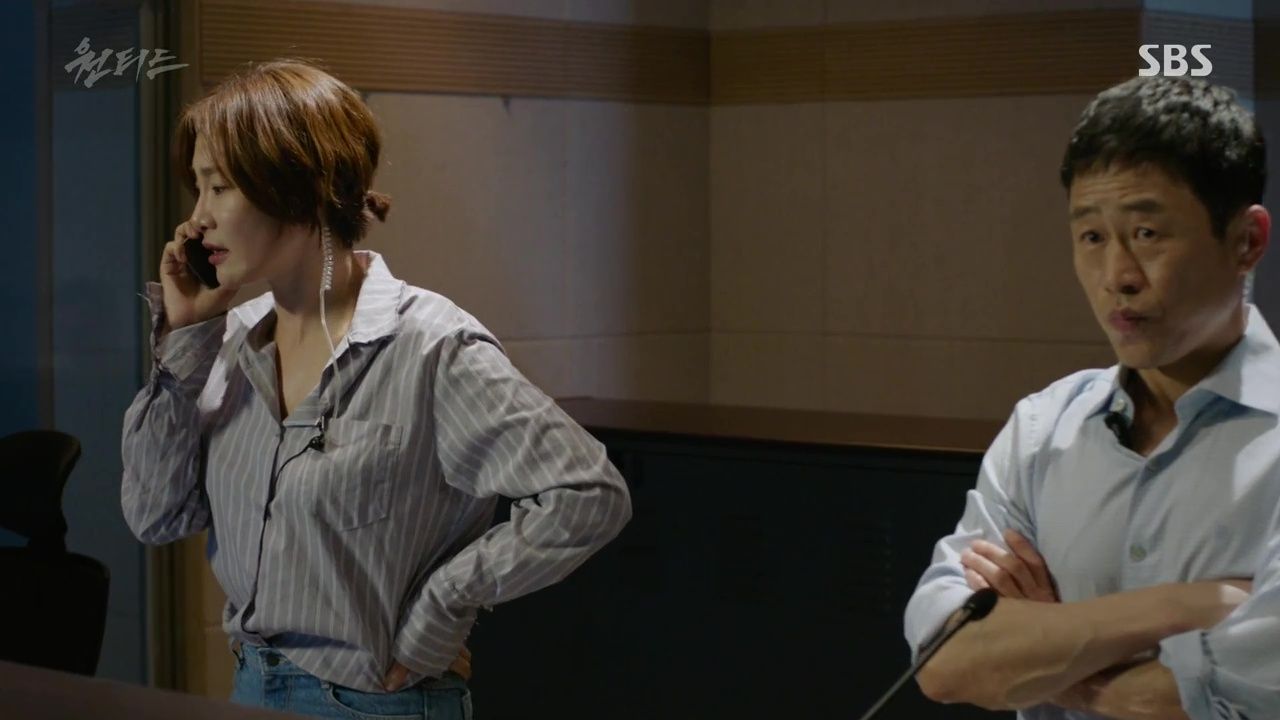 Writer Yeon calls Dong-wook and tells him there's no way to get 20% ratings unless the child dies or wakes up to name the culprit, so he needs to do something in the next five minutes to create a story. Bo-yeon runs out to him in the news truck to tell him Hye-in has decided to stay with the kid until his guardians come. Dong-wook tells her to take over for him and do nothing except what he and Writer Yeon tell her.
Dong-wook goes into the hospital and argues with an intern who is refusing to let them film. Dong-wook asks him how he thinks it will go for the hospital if they refuse to let them in and it results in Jung Hye-in's son's death. This is the kind of PPL this hospital can't get for money, Dong-wook claims. The intern grudgingly lets him go in.
Elsewhere, a man stands in an apartment watching UCN, the evidence of a violent struggle around him. We don't see his face as he tells a badly beaten woman on the floor, "Come out in five minutes looking like a human being."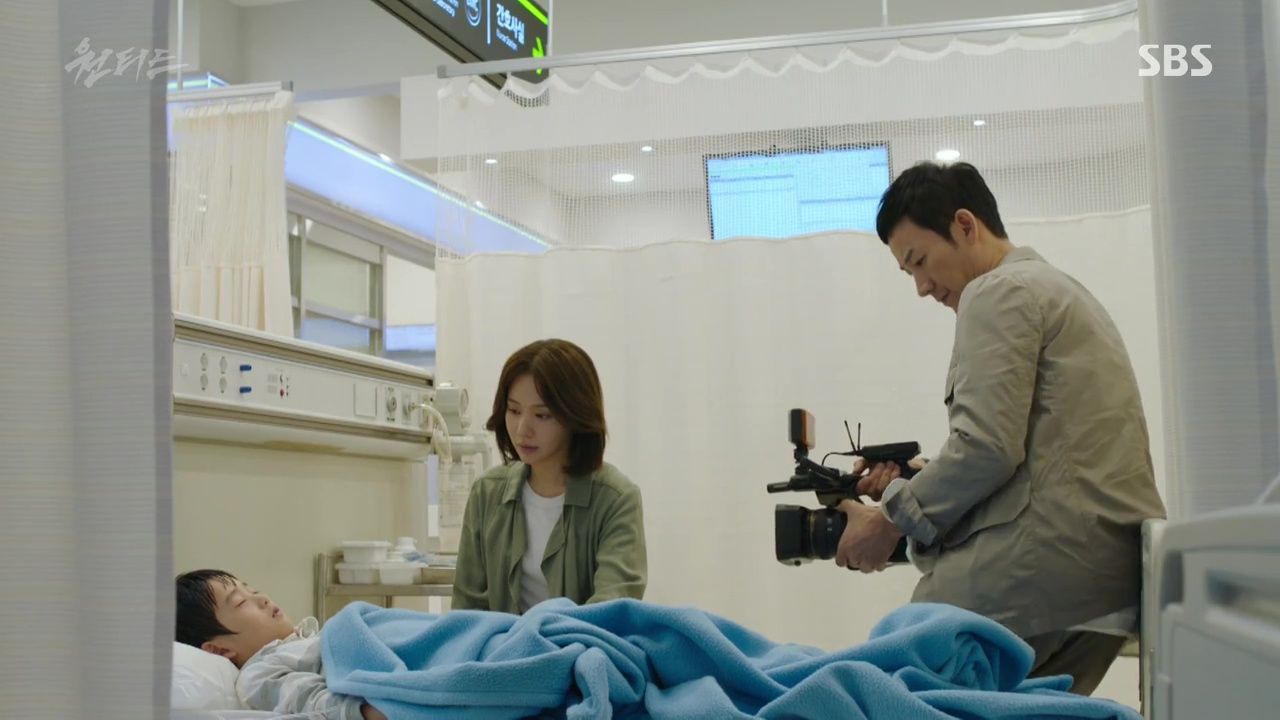 Dong-wook interviews Hye-in on camera. "Five minutes before the program went on air, Hyun-woo called. The call was traced to a spot near the abandoned car. Why are you here instead of searching for Hyun-woo?" When she gives him a disgusted look, he shows her his hand, where he's written: 20% ratings. Initiate viewer curiosity. Justifies program.
She replies that a child was dying in front of her and she couldn't think about anything else but to save him first. "This child is another Hyun-woo."
Just then the child wakes, asking for his mother. Hye-in asks him if he knows where his is and what his name is. He tells her it's HAN-SOL.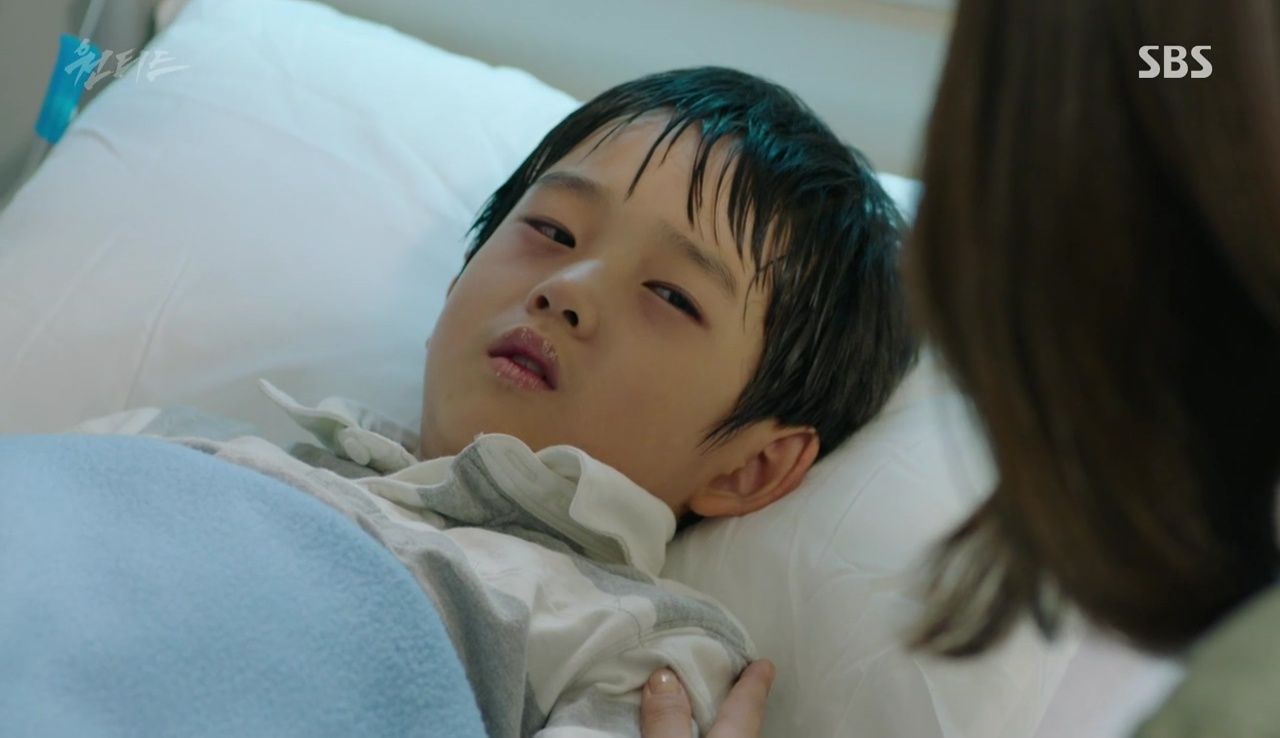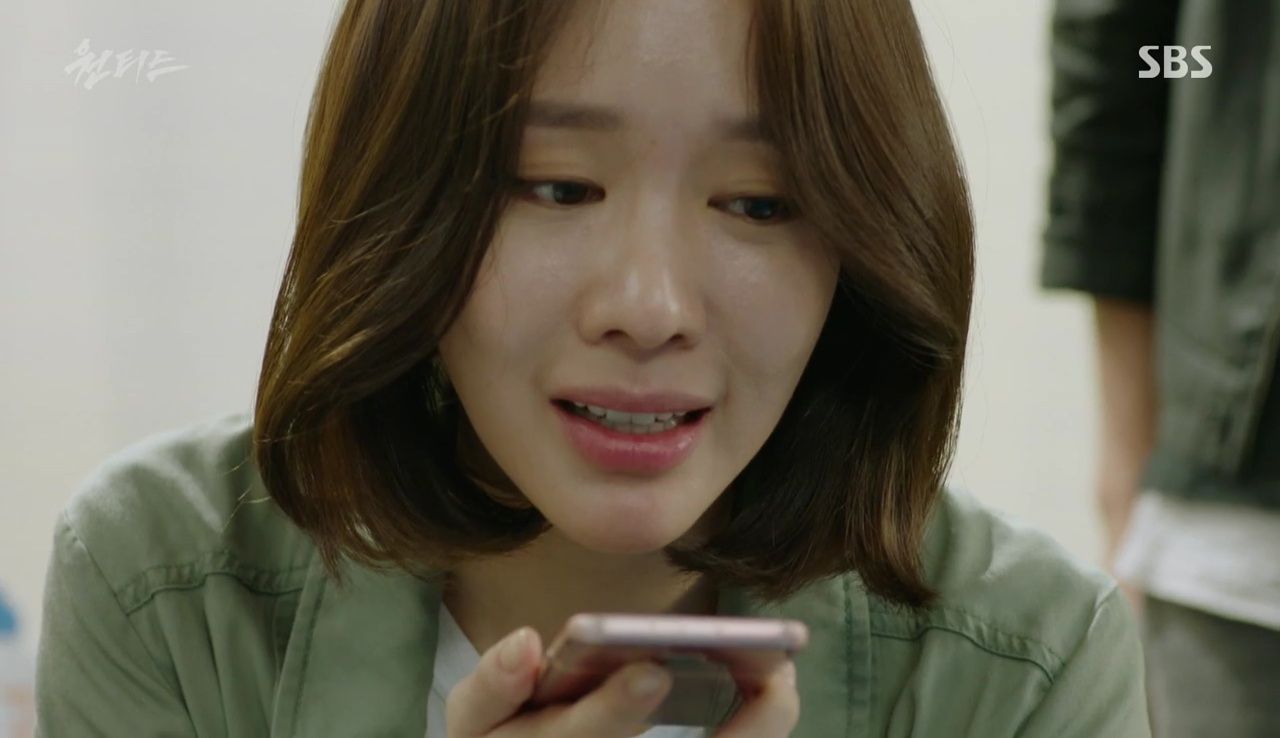 Hye-in's phone rings, and it's the same number Hyun-woo called from earlier. She answers it, and Dong-wook tells her to put the call on speaker. Seung-in joins them in the hospital room as Hyun-woo's voice says, "Mom, save me." Hye-in tells him to calm down, and asks him to help her find him. They hear a train in the background. Seung-in writes a note and shows Hye-in: Trains don't run after 9 p.m.
"Who is this?" Hye-in demands as she talks into the receiver. She covers the mouthpiece and exclaims, "This is a recording. It's the exact same message as before!"
On the phone, the kidnapper says through a voice scrambler, "I was checking. Whether you're doing the program as I told you, or doing other things to try to find Hyun-woo." He warns her to be careful, that if she acts on her own next time there will be trouble.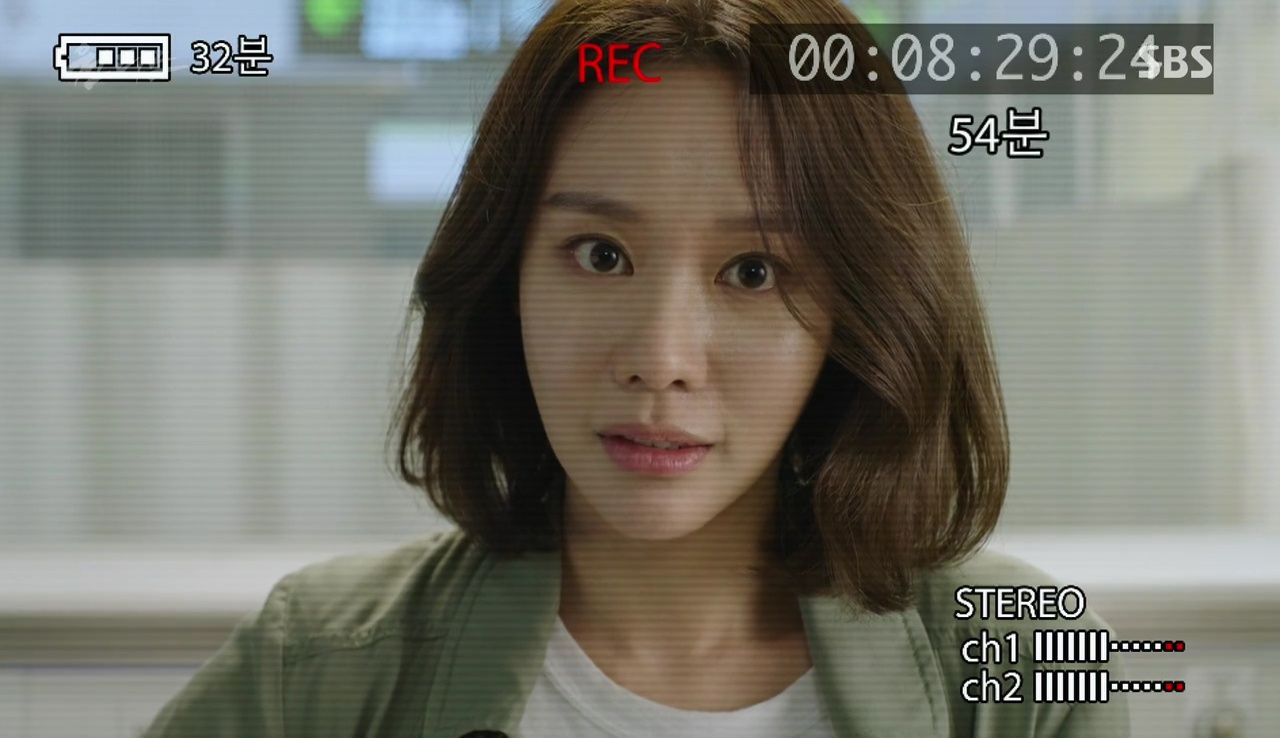 Seung-in takes her phone and rushes out. Hye-in looks directly into the camera and says fiercely, "Don't play these kind of tricks again. If I can no longer trust that Hyun-woo is safe, you won't get what you want either." She adds that she'll do anything, whatever he wants.
Dong-wook turns off the live feed and takes Hye-in to task for speaking to the culprit directly, telling her it's dangerous. Is she going to stop with today's show? "If you have something to say, act. Provoke the audience's emotions." He tells her to get herself under control and connects the feed again.
Meanwhile, DETECTIVE PARK and his partner YOO DONG-JOON are at a motel located near the earlier traced call's location. They've found out that a man checked in this morning with a boy and hasn't checked out yet. They go in to find an empty room; on the bed is a recorder with the message from Hyun-woo stored on it. The latest phone call also turns out to be untraceable.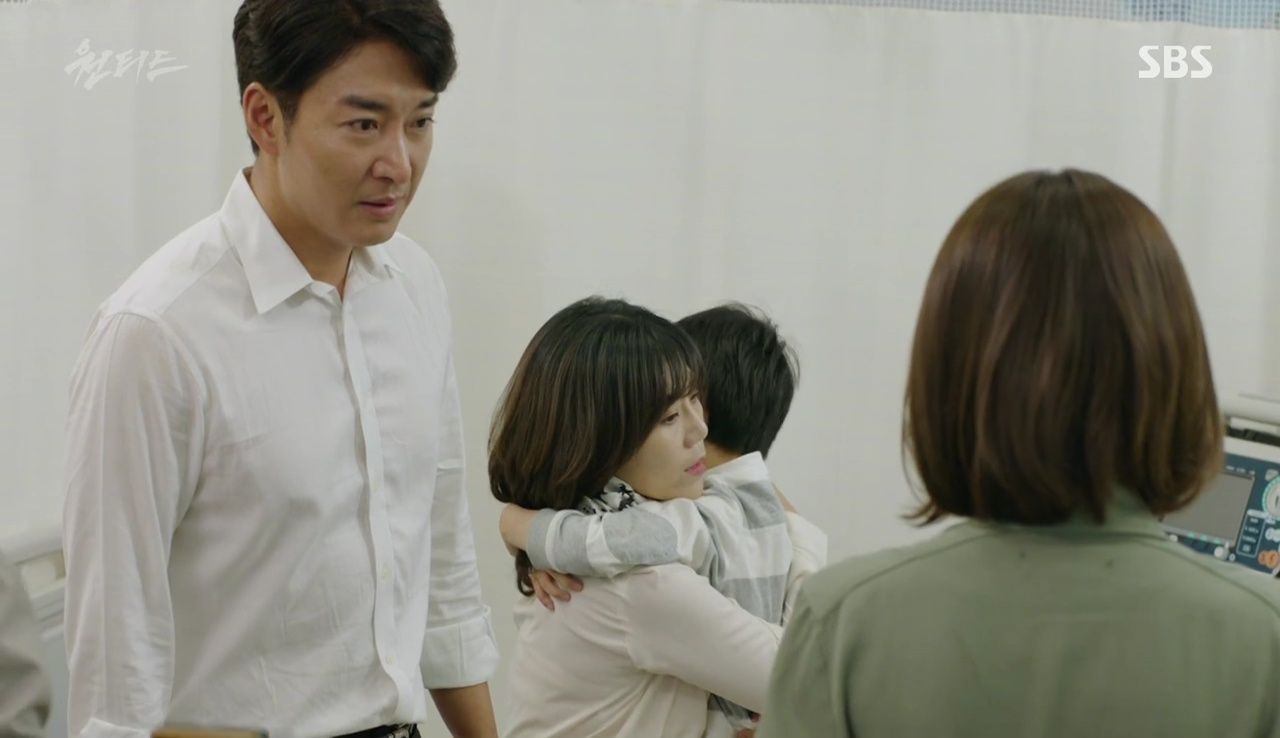 Han-sol's parents arrive at the hospital and have an emotional reunion with their son. His father tells them to stop filming, asking Hye-in if she's using their kid to find hers. Dong-wook cuts the live feed and tells the father to calm down. Didn't they find Han-sol due to the program? The man retorts that maybe his child was kidnapped because of the program. He says they're leaving, and grabs Han-sol from his mom. She loses her scarf in the process, and there are livid bruises around her neck. (Ah, so this is the couple we saw earlier.) Dong-wook surreptitiously reconnects the feed.
Han-sol trembles in his father's arms, and wets his pants. He escapes the man's hold and runs to hide behind his mother. Seung-in notices bloody scratches on the father's arm and hands. He asks him how he hurt himself. Han-sol's father yells that it's not important when his kid is in a state of shock, and both child and mother flinch.
Hye-in asks, "Did you hit the child and his mom?"
Han-sol's father leaps at her angrily, but Seung-in restrains him. He tells Han-sol's mother to speak up if she needs help, but she tells them it's fine. Shaking in obvious fear, she says to just let them go.
Hye-in asks Dong-wook to keep the camera on her and walks over to Han-sol's mother, as Seung-in restrains her angry husband.
"You have to think of your child," says Hye-in. "I'm sorry."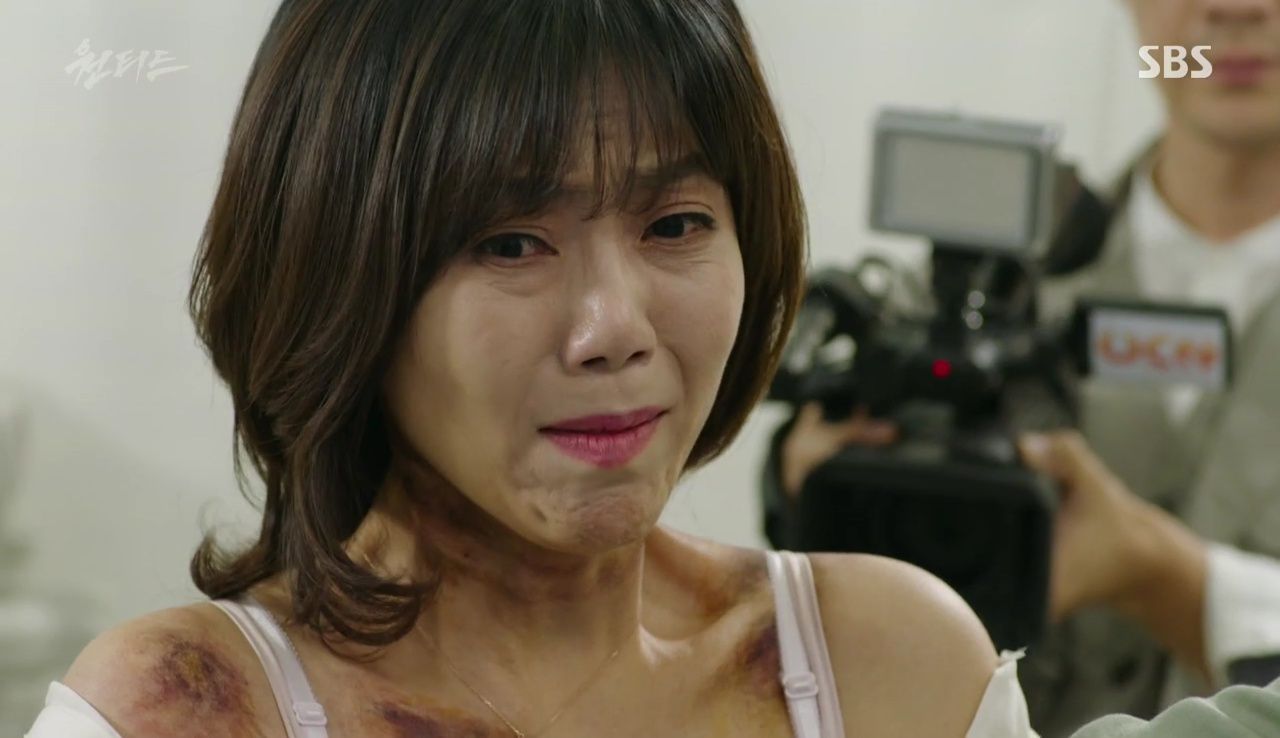 She rips open the woman's blouse, exposing horrible bruising all over her chest and shoulders.
Later, in the hospital room, Han-sol's mother does an interview on camera. She confesses they ran away from home yesterday while her husband was away. They had nowhere to go, so they ended up at a sauna, where she lost Han-sol. She cries and begs Dong-wook to save them, to help them escape.
At the broadcast station, everyone slumps in relief as the program goes off air. Writer Yeon says it wasn't bad, but Joon-gu says they still have to find evidence Hyun-woo is alive. And they won't find out about the ratings until the next day.
Outside the hospital, Han-sol's father is taken in by the police. Inside, Hye-in apologizes to Han-sol's mother. She cries along with mother and child as Dong-wook keeps filming silently.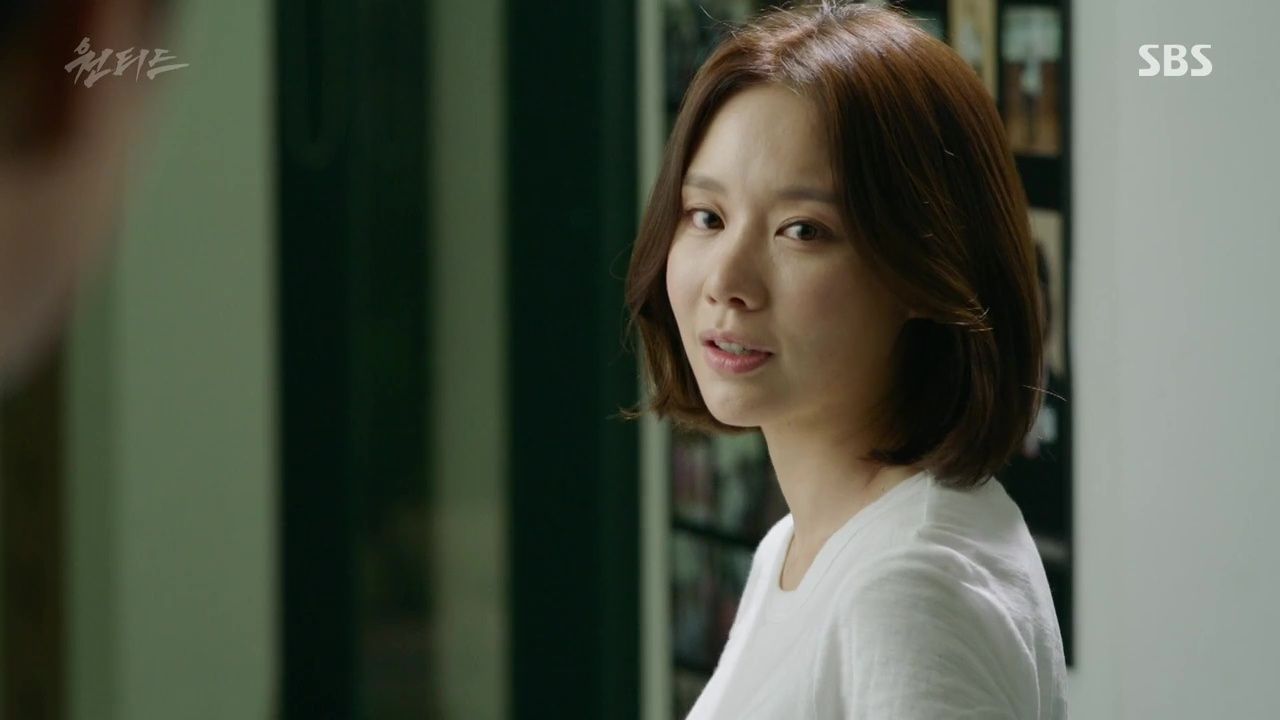 As Hye-in leaves, she encounters Seung-in in the hallway. He asks her if she really had to rip the woman's clothes. Couldn't she have found another way to help her? Or was she using her for ratings?
Hye-in holds back tears.
Hye-in: "What if I was using her? I don't even have time to cry right now. Sometimes when I can't remember Hyun-woo's face, I feel like I'll go crazy. I can only think about one thing: ten days. In these ten days, I'm willing to do anything. If I hesitate even for a moment, I might lose Hyun-woo. Because if I lose people's interest even once, Hyun-woo could get hurt."
Seung-in says he understands. But still, he wonders if she can't do it without hurting others. Hye-in replies that some relationships can't be escaped without getting hurt. She had to go that far for Han-sol's mother to gain the courage to tell the truth.
Later, Seung-in asks Han-sol's mother if there was anyone who knew about her situation, as it seems the kidnapper used that information for the sake of the show. She says there's no one—neither of them has any family, and after getting married, her husband cut off all contact with friends. She breaks down, saying she doesn't know now what to do or where to go.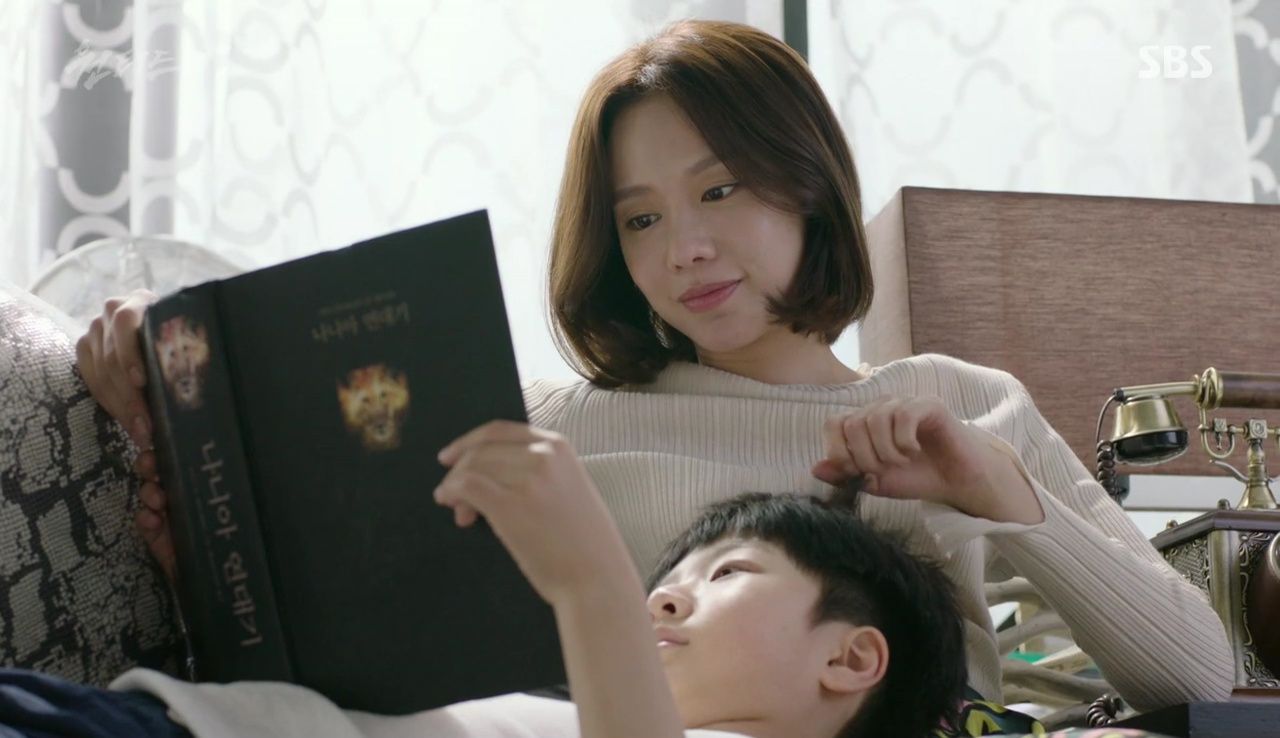 Hye-in goes home. She imagines Hyun-woo is with her and remembers reading to him, telling him to grow up brave like the characters in the story.
She falls asleep, waking when Manager Kwon arrives. He asks her why she didn't call him, and if she still can't forgive him. She tells him that he's done enough for her over the last two years, and that he should grab the new opportunity he has—she was planning to retire anyway.
But he says he already refused the other position. They don't know how this program will turn out anyway, he adds. She can't do anything on her own, he says almost ominously, so he's going to stay and do whatever he can. He adored Hyun-woo too, so he's going to look for him, because they're family. She agrees, and thanks him. The sinister background music and Manager Kwon's shifty demeanor throughout this exchange are pretty clear indicators that there's more to his motivations.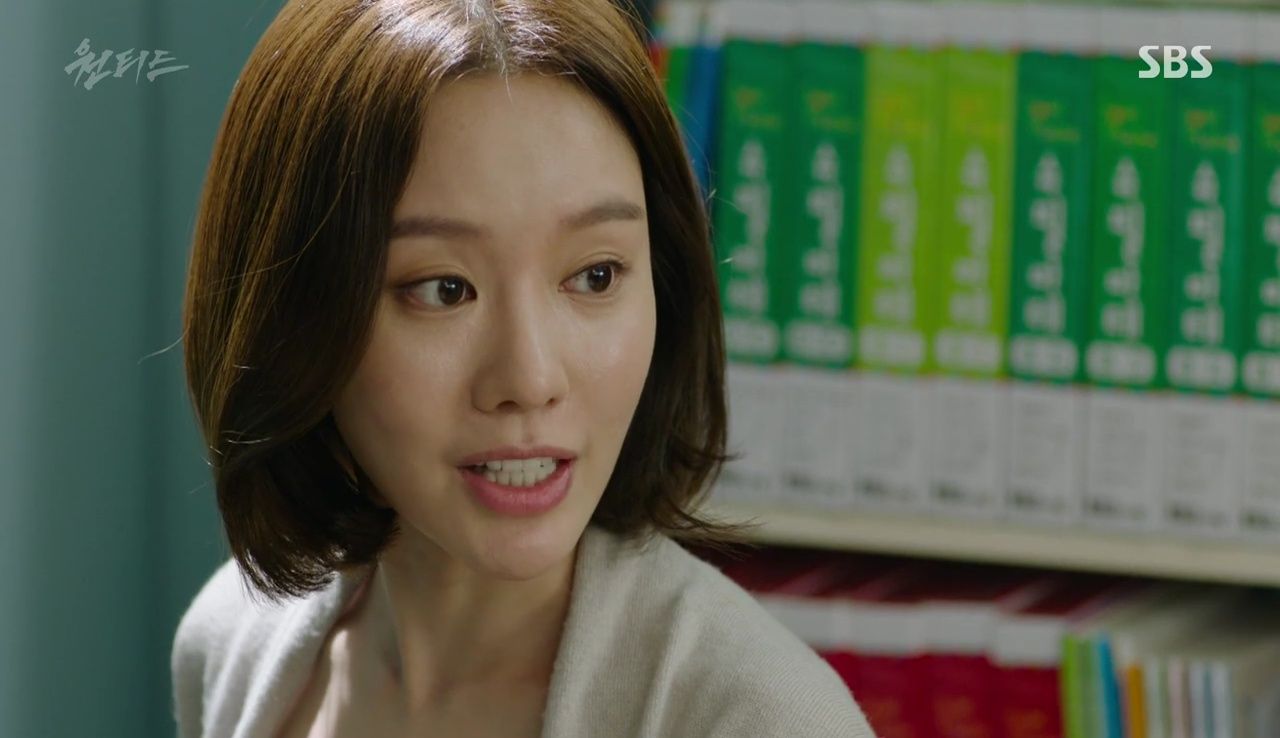 Hye-in goes into Hyun-woo's room to find Jung-ho already there. He cooly praises her for doing well today despite being backed into a corner. She scoffs, "Should I thank you for the compliment? What did you do? Just sit and watch the broadcast?"
"I should watch it," he says flippantly. "You give me goosebumps," Hye-in replies. As if he didn't hear her, Jung-ho adds before leaving, "Let's not waste each other's energy; there's a long road ahead. You already know I'm not going to come running to you."
While putting Hyun-woo's toys away, Hye-in notices a hidden camera on the shelf, much like the one she found in her car.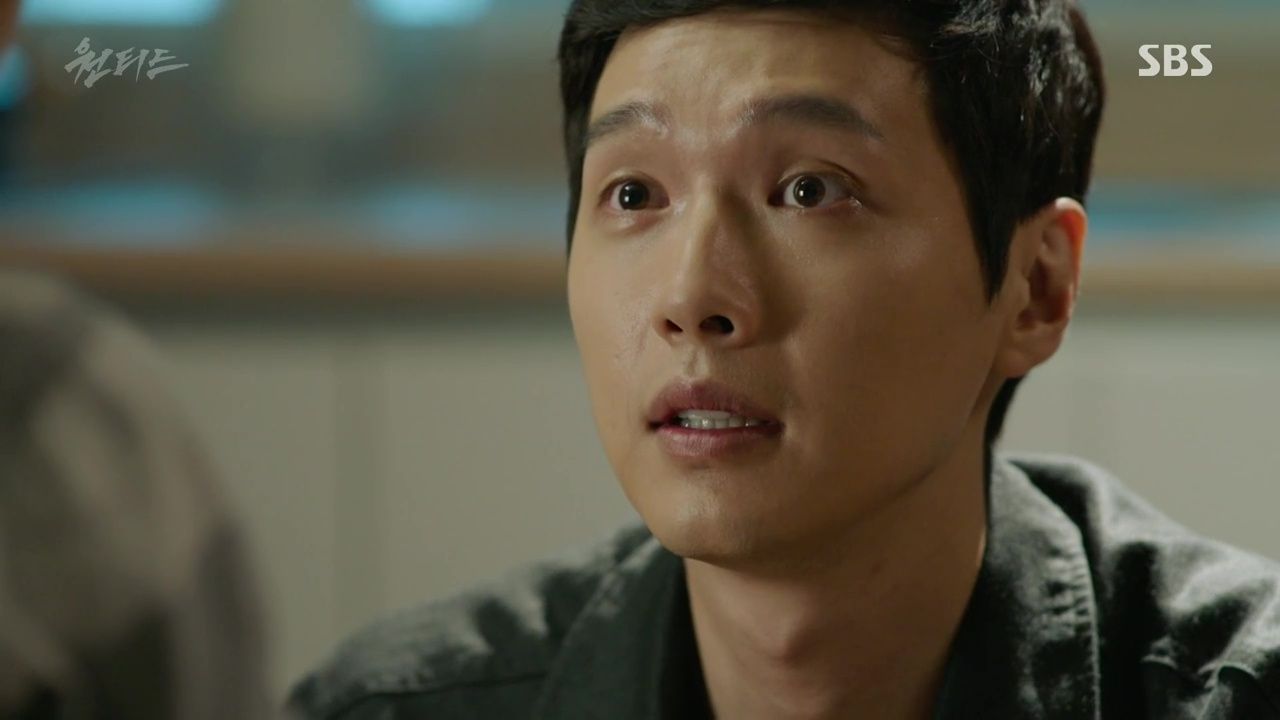 Seung-in says goodnight to Han-sol and his mother, telling them to rest and come to the police station the next day. Before he leaves, he crouches and tells the boy, "You didn't do anything wrong. It's the adults who were bad. I'll apologize on their behalf. I'm sorry."
At UCN, Dong-wook and Writer Yeon discuss the day's episode. He wonders if he earned his living today, reflecting that they couldn't have done it without Hye-in. Writer Yeon says it's going to be hard in the future to make such split-second decisions with Joon-gu around, always questioning the morality of what they're doing.
Dong-wook says he needs that—because he doesn't think about whether what he's doing is right, he needs someone to do it for him. "Writer Yeon, you're the accelerator and Hyung is the brake."
She remarks that he makes her sound horrible. He tells her to watch some of Joon-gu's old shows from when he was a PD; she'll see why he's the sort of legend that Dong-wook can never surpass.
Captain Jung calls a meeting with Seung-in, Young-gwan, Detective Park and his partner Dong-joon, and tells them they're to stick with the broadcast team no matter what. He tells them not to worry about consequences and promises them whatever backup and support they need, as long as they simply focus on catching the culprit. Detective Park says they should get some kind of promotion once they finish this case. He warns Seung-in not to ignore procedures as he usually does, since this time everything will be on camera. Seung-in and Young-gwan excuse themselves to go wrap up the Park Se-young murder case.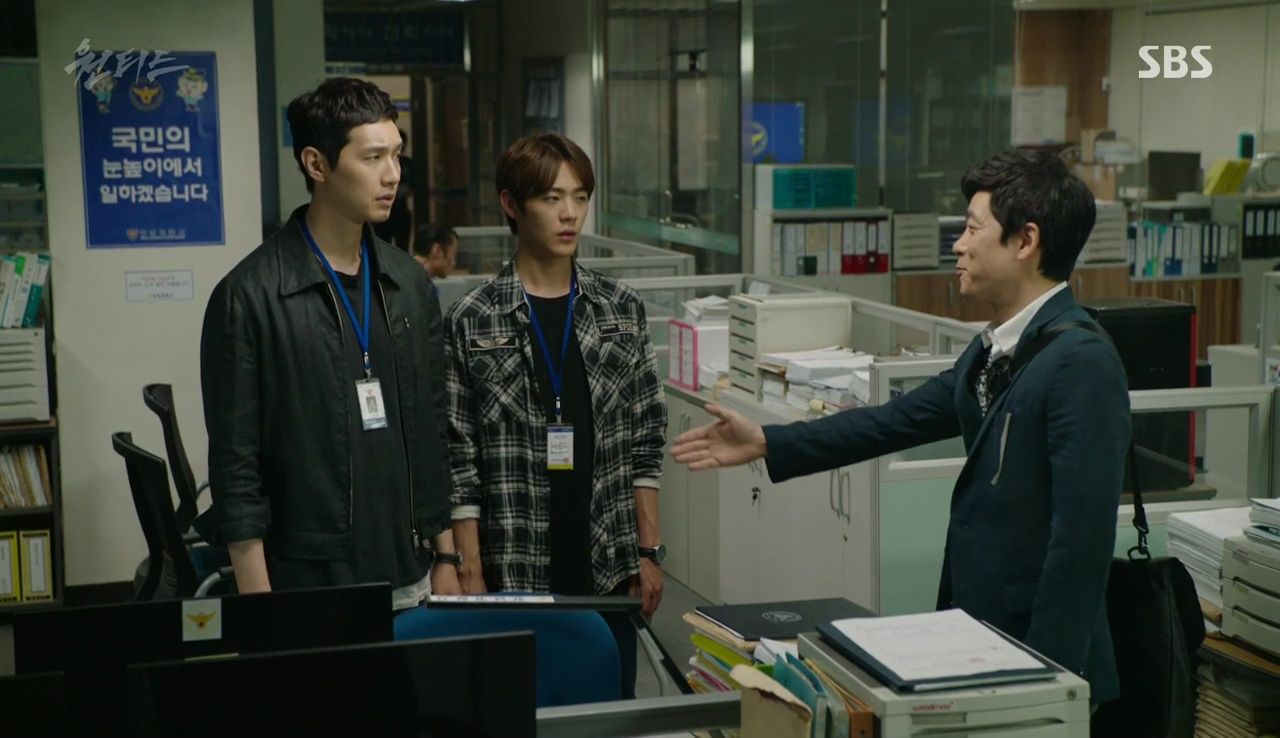 They find Reporter Jang snooping around their desks. He introduces himself to Seung-in, saying he's heard of him. Seung-in tells him it would be better not to meet again, as next time they might be meeting as suspect and police. Jang cheerfully says he'd be fine with that. He calls Seung-in an important character in the reality show narrative, saying this case could make or break his career.
At Hye-in's place, Manager Kwon lingers outside her room with a tray of food, hesitating to go in, while she lies in bed clutching Hyun-woo's clothes and crying.
The next morning, on her coffee run, Bo-yeon notes with satisfaction all the people watching or discussing Wanted. Employees are still protesting unpaid wages in front of the broadcast station, but UCN ranked first in ratings with 20.3%. The news reports that PROFESSOR KIM WOO-JIN, Han-sol's father, is under investigation for child abuse and domestic violence.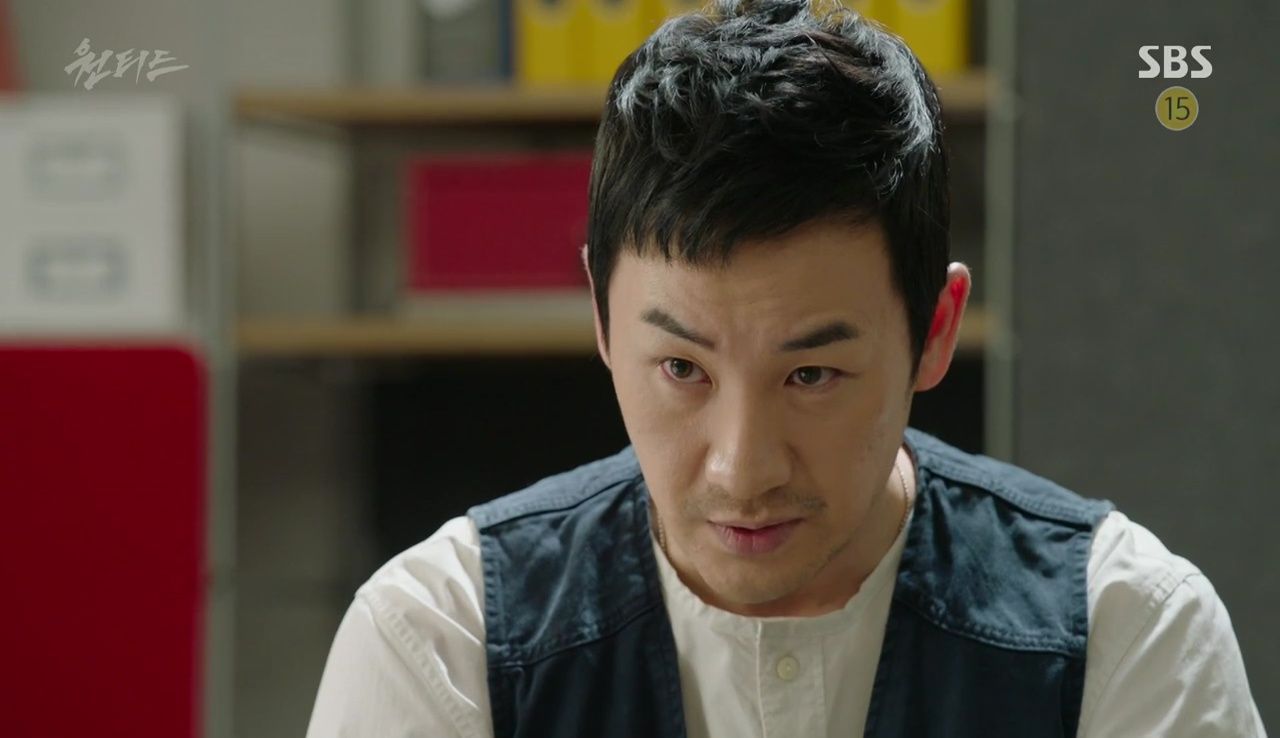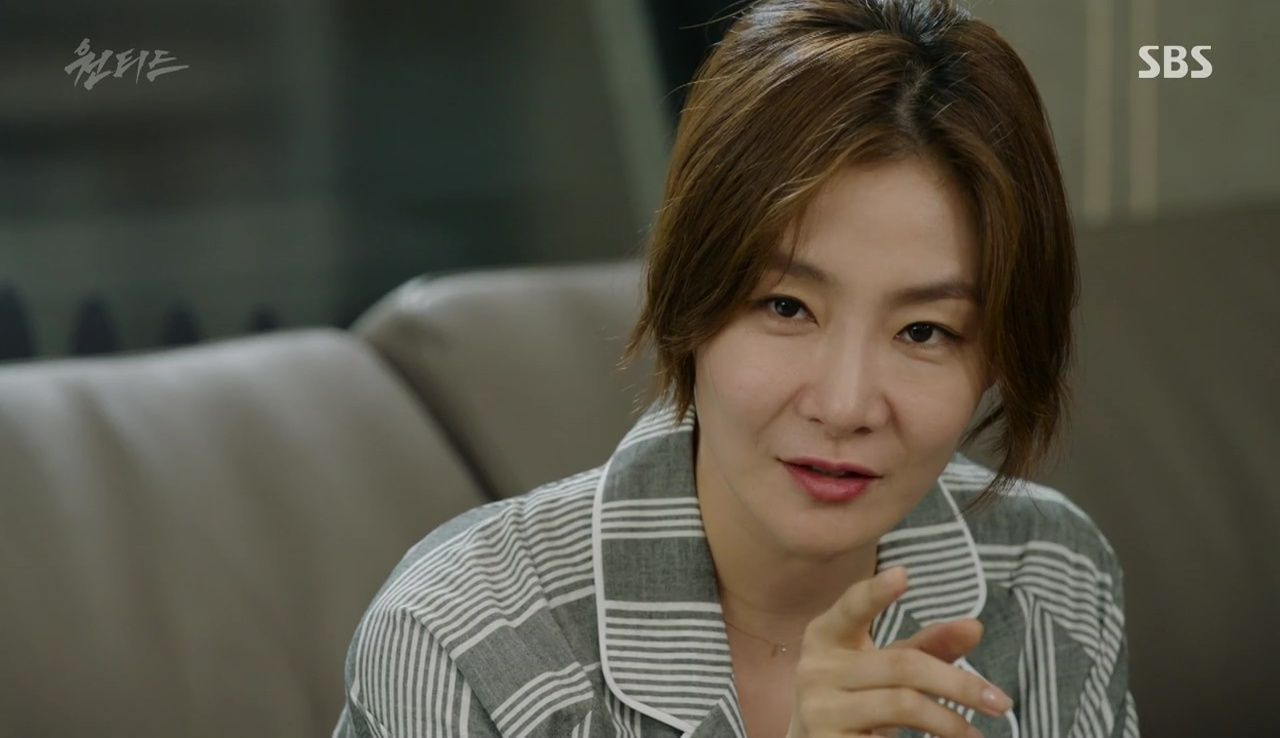 In the meeting room, though, Dong-wook warns the team that they barely got the ratings they needed and the show was done too roughly the day before—the numbers will be hard to maintain for a cable reality show. It has to be like drama rather than variety, with a clear concept. They decide to go with Hye-in and the criminal as double protagonists. Bo-yeon suggests allowing a nickname for the criminal to emerge naturally on the internet, rather than choosing one themselves. They brainstorm about the criminal's objective. They agree that the child abuse aspect of Han-sol's case can't be a coincidence, and must be important somehow.
Reporter Jang shows up at UCN again, this time approaching Detective Park. He suggests an exchange of favors—he'll include Park in the book he's writing, hopefully gaining the detective a well-deserved promotion, if Park gives him access to the story. Detective Park says he'll think about it, but what he wants is information about what's happening internally.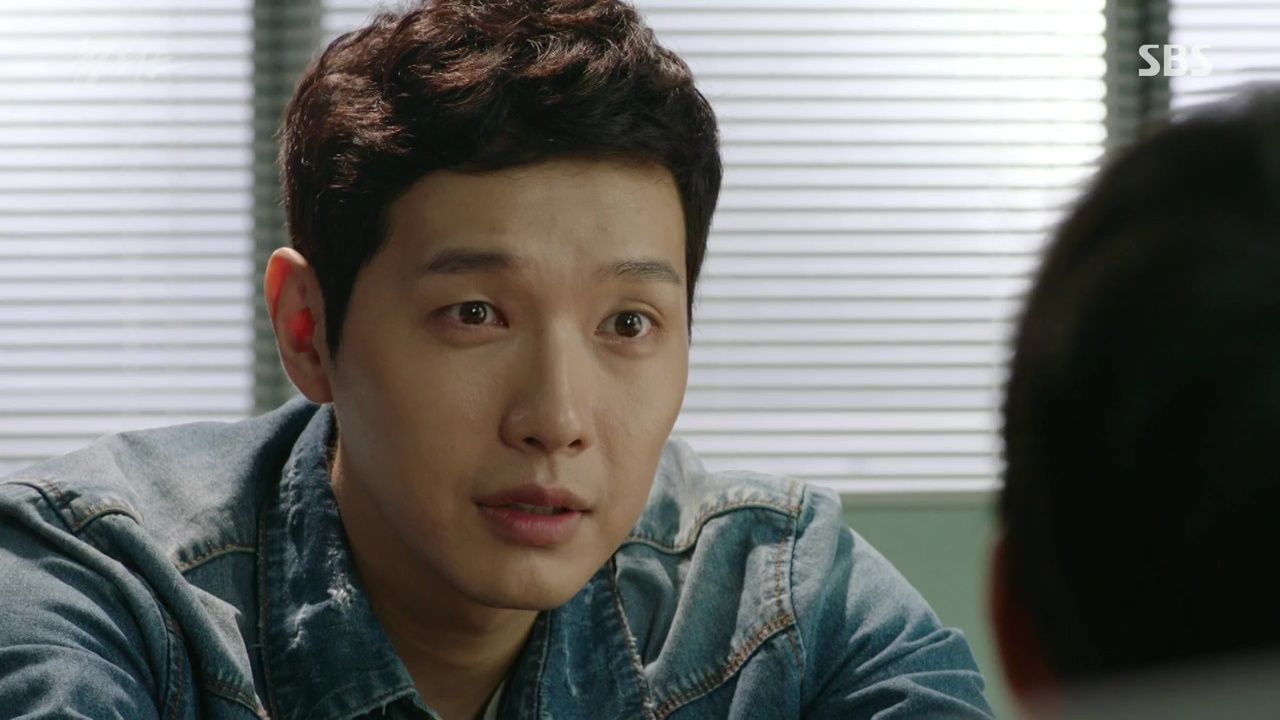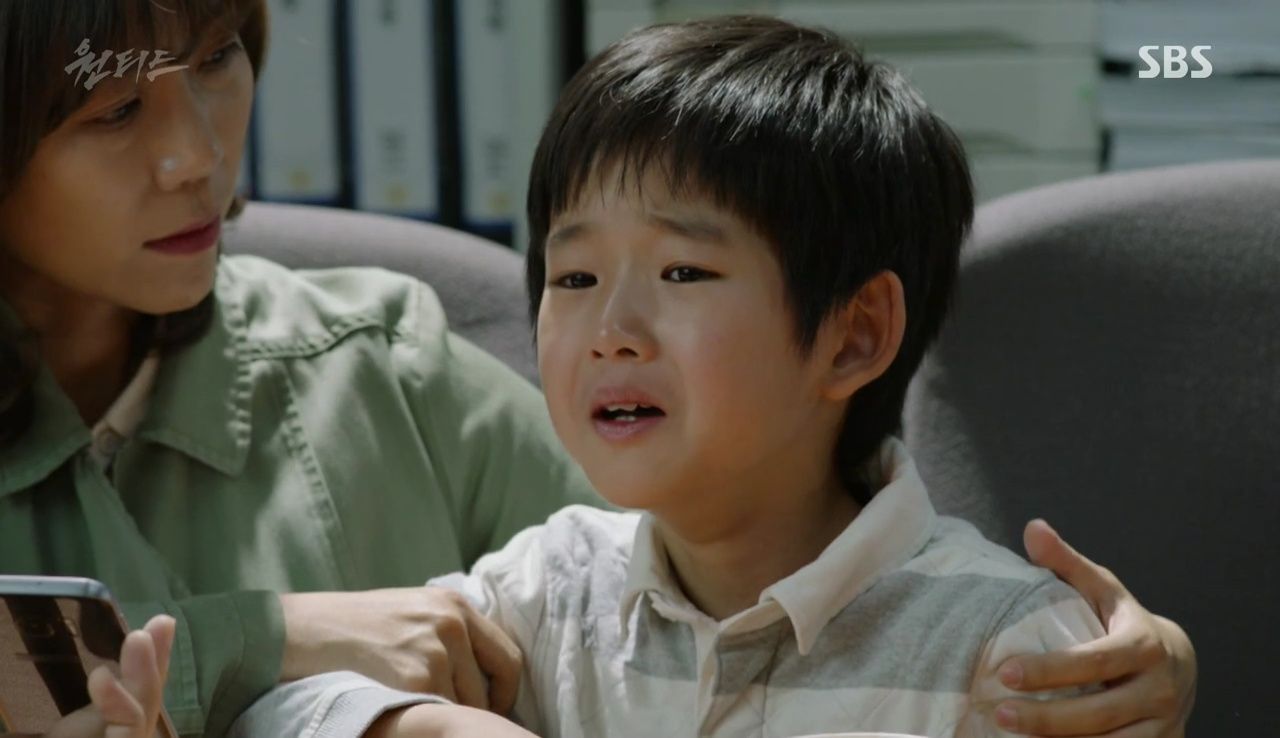 Meanwhile, Seung-in takes Han-sol and his mother's statements. He shows them the picture of Lee Ji-eun and Park Se-young, but she claims she's never seen them. Han-sol, however, recognizes Ji-eun. He says she approached him at the sauna and told him his dad was outside, and that he had to run away first. She told him if he stayed with his mom, both of them would get caught. She led him out promising they would meet up with his mom later. She gave him some banana milk, and the next thing he remembered was waking up in the trunk of the car.
Young-gwan comes in and tells Seung-in that Professor Kim has been released, and Seung-in tells mother and son that they can stay at his place for now if they have nowhere to go. He tells them not to feel burdened, as someone did the same favor for him and his mother once, and he's simply repaying the debt.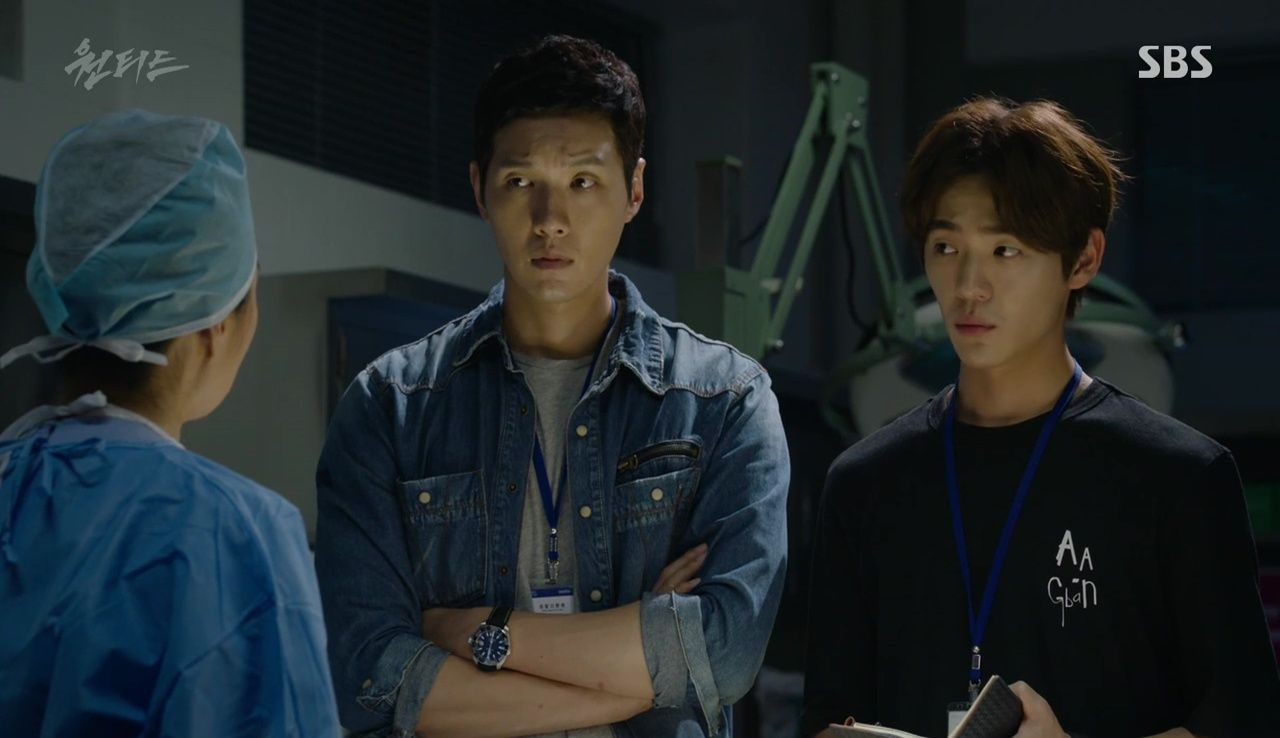 A medical examiner gives Seung-in the results of Park Se-young's autopsy: in her opinion, it's definitely suicide. She found large amounts of an epilepsy drug in his stomach, a drug which can be addictive if taken by someone who doesn't have the condition. It can also cause hallucinations or delusion. Park Se-young's medical records show no epilepsy ever being diagnosed nor the drug being prescribed.
Seung-in remembers Park Se-young's mother's odd mannerisms and tells Young-gwan to check on her records. The medical examiner also reveals that Park Se-young had cancer. He wouldn't have had long to live even if he hadn't killed himself. She wonders if he did it because of guilt. But Seung-in disagrees—everything was planned out tightly, including the suicide.
In the car, Seung-in and Young-gwan discuss famous cases of celebrities being killed by their stalkers, and decide to look into Hye-in's stalkers next.
As Hye-in chooses an outfit for the day's broadcast, she finds an envelope attached to one of the shirts. Inside is a picture of Hyun-woo with Ji-eun holding a current newspaper, and on the back is the message: Mission One success. Hyun-woo is alive.
Manager Kwon stammers that it wasn't there when he picked up the clothes and that he only left the car door open for a minute earlier when he answered his phone. He rushes out to let the police know.
Seung-in comes in and asks Hye-in to think carefully; has she ever seen either Park Se-young or Lee Ji-eun in the past? But she says she's thought about it over and over and she's never seen either of them.
Seung-in reveals what he found out about Park Se-young's health issues. He tells her that the real culprit used Park Se-young's obsession with Hye-in to accomplish his goals without exposing his identity. He's also using Ji-eun. The fact that Ji-eun is in the picture with Hyun-woo means he will continue to use her, says Seung-in, and it's possible she'll also commit suicide or be murdered.
"So the culprit is connected to those two people?" she asks.
"It's more likely the culprit is connected to you," he replies. "Who's the first person who comes to mind after hearing all this? There's a high chance of a mother's intuition being correct."
Hye-in flashes back to Jung-ho on the night of the kidnapping, telling her he's willing to use Hyun-woo as much as is necessary. She takes the camera she found in Hyun-woo's room out of her purse and is about to show it to Seung-in when Jung-ho walks in.
He tells her to get changed and come to meet with some advertisers, overriding her protests. He walks over to the rack of clothes and chooses one for her. Hye-in and Seung-in stare in shock—it's the shirt that had the envelope attached.
Jung-ho leaves, and Seung-in turns to Hye-in. "Can you trust your husband?" he asks her.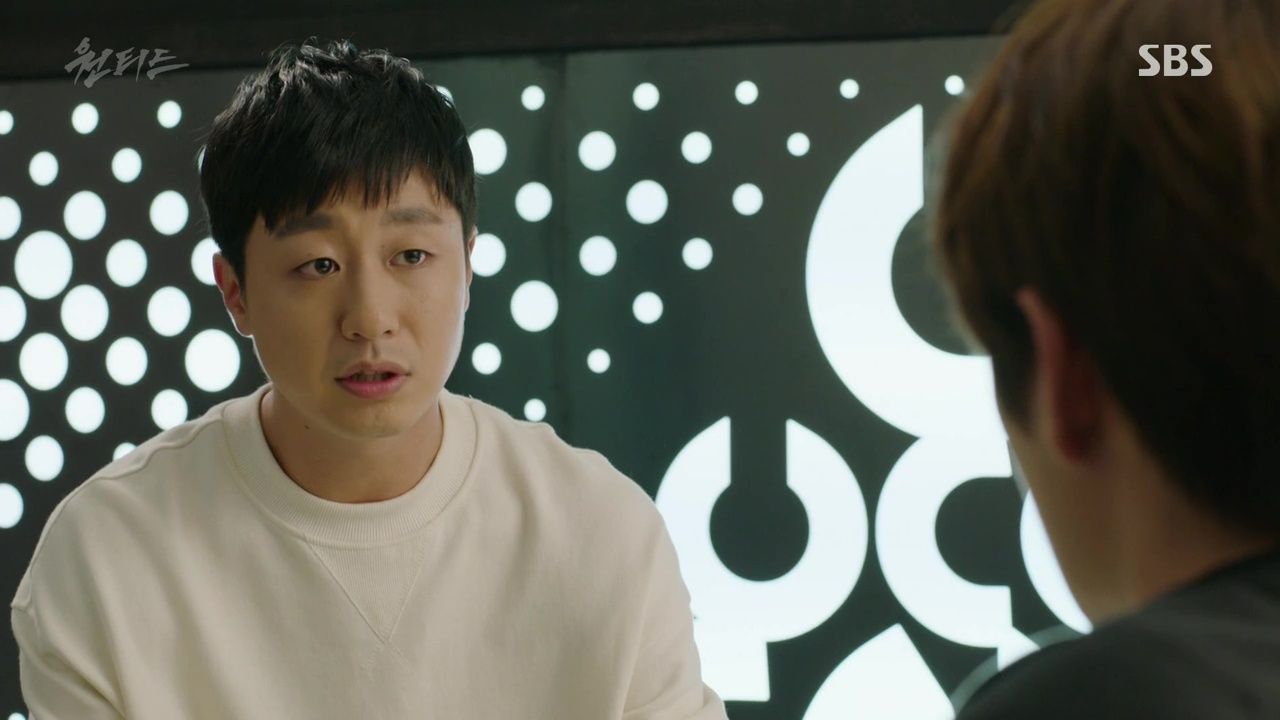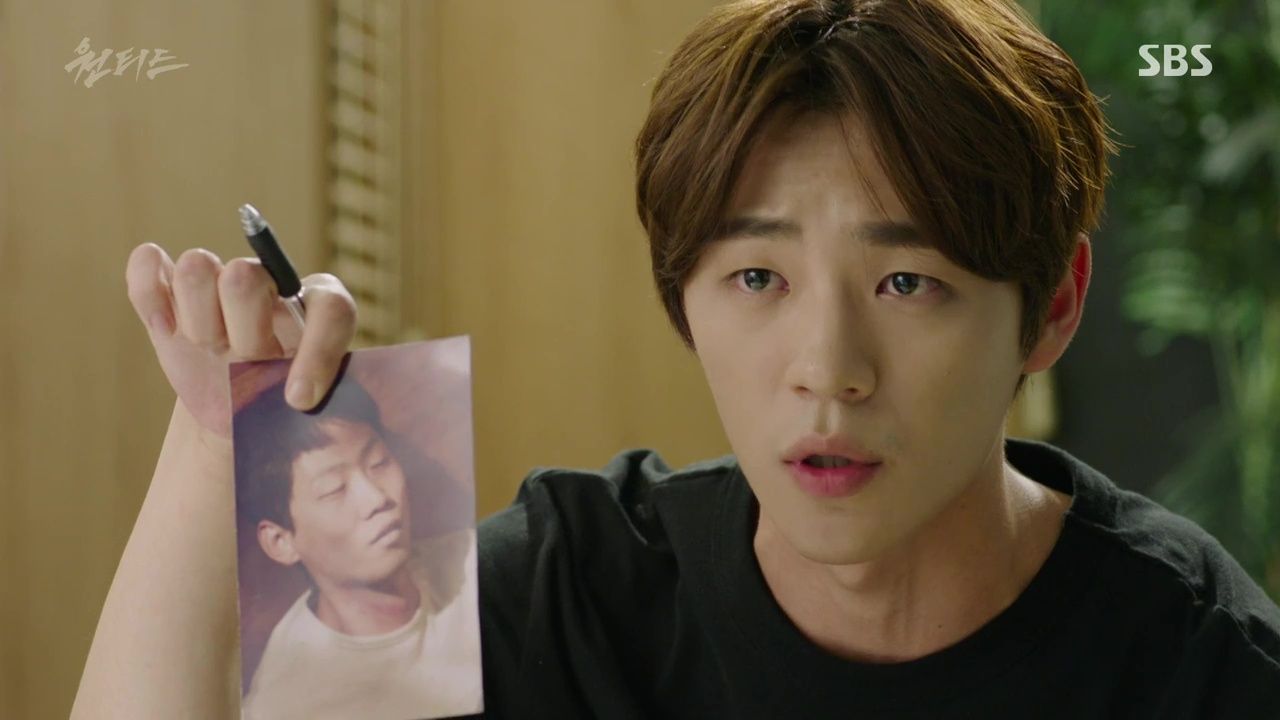 Meanwhile, Young-gwan informs Manager Kwon that the CCTV near where he parked his car is damaged. He points out that he was also the one driving the car where the hidden camera was found. Manager Kwon keeps saying he knows nothing about it, but there's no evidence to prove that. Manager Kwon says it's because he's always near Hye-in.
Young-gwan tells him not to spend so much time alone and stay where they can track him. He asks him about Hye-in's past stalkers. Manager Kwon says that they never reported them to the police, but kept a blacklist. Most of them came to her house or sent weird presents; Manager Kwon says he never saw Park Se-young among them. He agrees to give the police whatever information he has.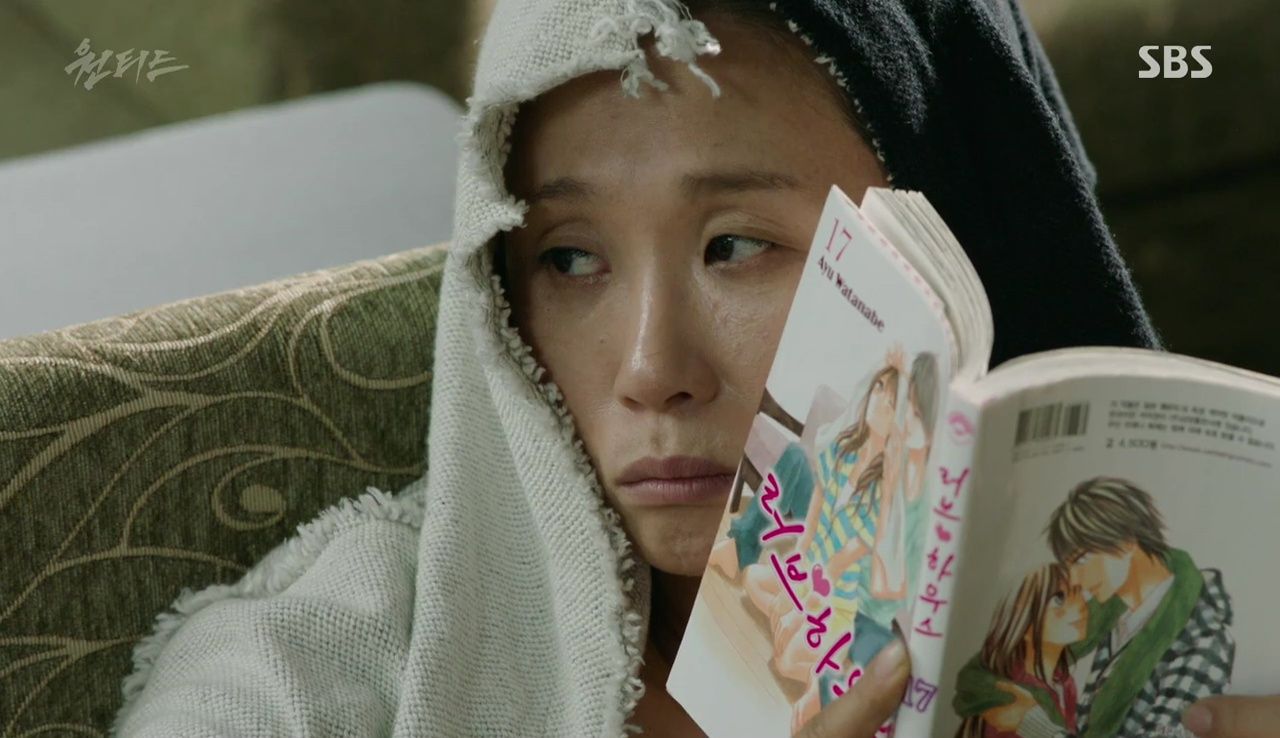 Seung-in goes to a manhwa cafe, taking a seat next to another patron. "Did you get fired?" she asks.
"If I get fired, who'll catch the criminals?" he quips. He addresses her as OH MI-OK (Kim Sun-young) and jokes that he's here because he missed her. He hands her an envelope to look at and asks for her help, but she tells him to take it back. He tells her he wouldn't ask, but he really wants to try everything he can for this case.
"'It wasn't your fault. There was nothing you could do.' I don't want to hear those words again," he says, and leaves the envelope with her. Outside, Seung-in counts down on his fingers, grins and answers her call.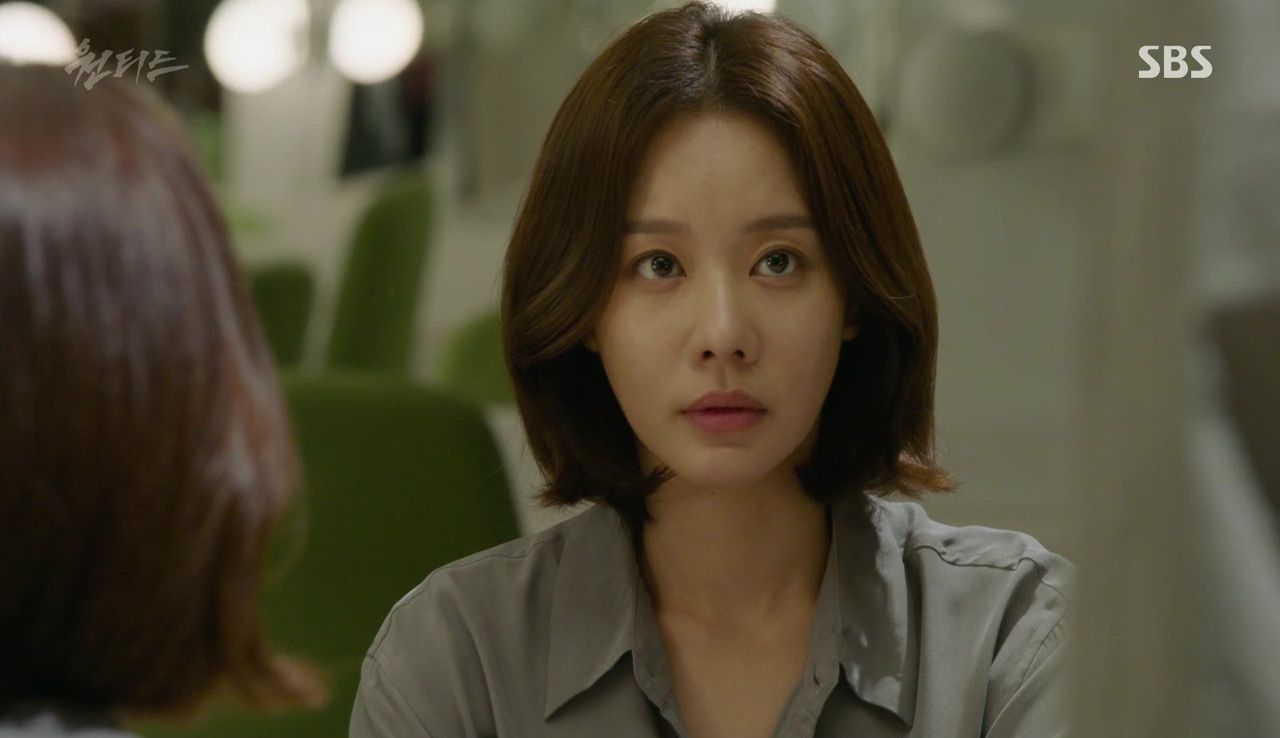 Hye-in sits in her dressing room, hiding the picture of Hyun-woo and Ji-eun when she hears someone come in. It's Dong-wook. He asks her if she's received any communication from the culprit—proof that Hyun-woo is alive, for example. She says she hasn't.
"I can tell when you're lying," he tells her. "It's been a long time. Don't pretend like you know me," she says. He leaves, telling her to come to the meeting soon.
She gets a text message telling her to open her email for the second mission, and to look at it alone. It's an email from orson_welles, telling her to log in to Coconut TV with his username and password. When she logs in, she sees a video of Lee Ji-eun.
"Jeong Hye-in," she says, "this is the second Wanted mission."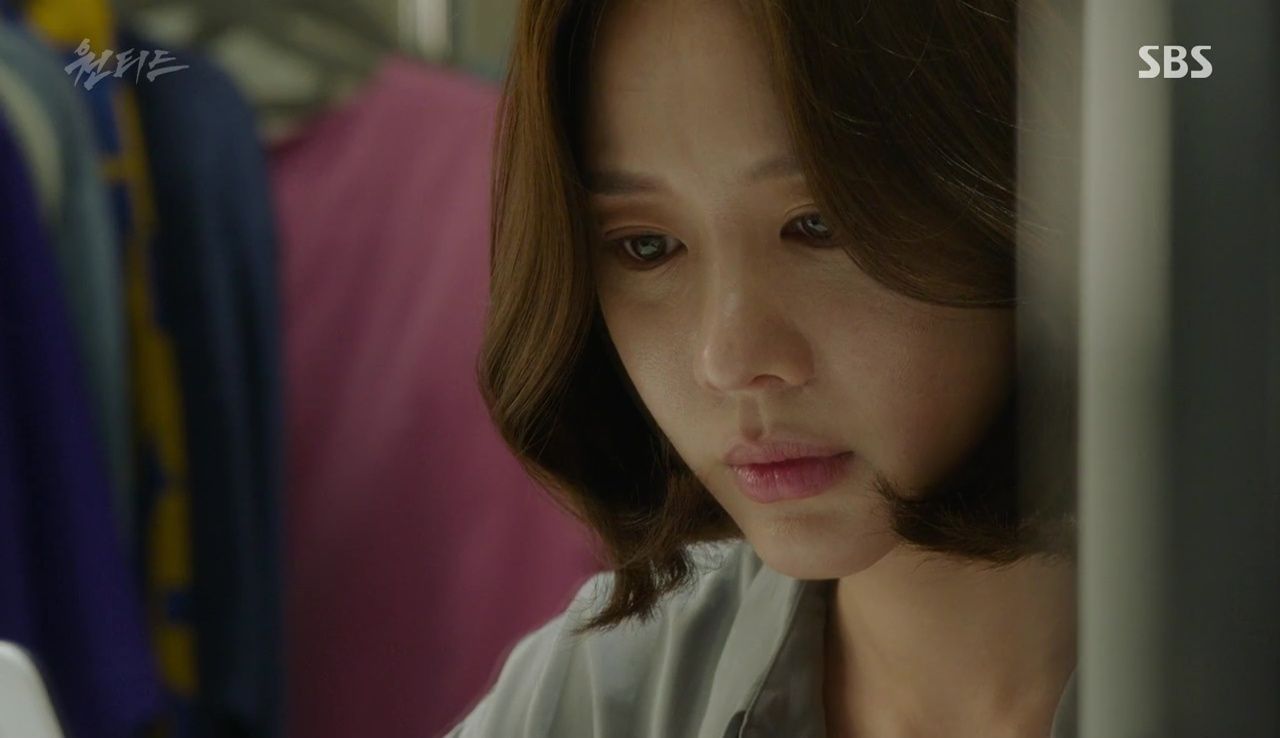 COMMENTS
What a packed, suspenseful episode! We managed to cover not only the first broadcast of Wanted, but its fallout and the twists and turns of the ongoing investigation. I must say I'm pretty satisfied with how the mystery is unfolding so far. The reveals come at a consistent pace, leading to more questions for the characters to try to answer. For example, I in no way expected that we would find Hyun-woo at the end of episode two, but Han-sol's story is another thread in this increasingly complicated mystery that our characters must unravel. The production team mentions trying to figure out the criminal's objectives in this hour, and while those remain unknown, it's becoming increasingly clear how meticulously he's planned this out. It also seems that whoever he is, he has a significant amount of influence, and the ability to draw a large number of people into his web. Almost like a spider luring not just Hye-in but the entire Korean viewing audience into his lair, for his own satisfaction.
There's some discussion about how self-contained Hye-in seems emotionally, and how no one in the show other than Seung-in really seems to care about Hyun-woo. There are definitely a lot of messed up people in Hye-in's life. With time, though, we see that her seeming indifference is often just a mask for how very deeply she feels on the inside. The nature of life in the limelight and her toxic relationship with Jung-ho combine to leave her with no one she can really open up to. Her loneliness takes on an even deeper dimension in this episode, due to her dawning suspicion that Jung-ho may be behind the kidnapping. Kim Ah-joong has played a top star before in The Accidental Couple, and while she was charming there, she's really tapped into the character on a deeper level in Wanted. Her Hye-in balances the deep fear and grief of a mother with the necessary professional bearing that is required of her as an actress, especially in this role of a lifetime.
Dong-wook plays into this aspect of her character in a really interesting way. On the surface he is terribly mercenary-like and callous, but his facial expressions tell a different story. He obviously cares about Hye-in despite whatever painful history they share, and his sometimes brutal way of treating her is because he does know her so well. She denies it, but he knows that she needs tough love right now, because sympathy will only cause her to break down.
I can't end without mentioning Seung-in. His quiet concern and decency are a refreshing counterpoint to the rather hellish media bubble that Hye-in is trapped in. The constant filming of such personal and painful moments feels viscerally wrong, even as we understand that it's necessary. It's heartening to see Seung-in doggedly working on the case in the background. His conversation with Hye-in about Han-sol's mom expresses so well how he approaches life, trying to help rather than hurt. Her response to him is also very telling of her state of mind and how she's coped with her life up until now. I think these two will have a lot to teach each other over the next ten days.

RELATED POSTS
Tags: Episode 3, featured, Ji Hyun-woo, Kim Ah-joong, Uhm Tae-woong, Wanted