Congratulations, parody contest winners!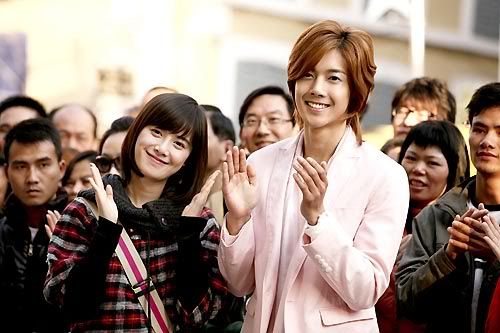 Thanks to everyone who entered the Boys Before Flowers parody contest! We had a bunch of fantastic entries.
It was super difficult deciding who won, but Sevenses, saharial, and I have reached a consensus: We have selected one First Prize (owner of a brand-new OST and drama poster), one Second Prize (winner of the OST), and a whole slew of Honorable Mentions. I'll be emailing winners shortly.
And first place goes to…


FIRST PLACE WINNER
Angela, (Untitled)
This one has no title, but a great ambiance. Shinhwa High School: Is it an elite swanky school, or hell?
SECOND PLACE WINNER
Sparkling0Cider, "Any Other World"
The editor's description goes: "The protagonist wishes for a different life and when he finally gets it, he wants to go back to his old life and learns many lessons along the way." We say: wonderful use of clips to totally reconstruct a different story! (And great songs.) This is a movie I'd totally want to see.
HONORABLE MENTIONS
Steff, "Twilight"
There were several Twilight entries, all of which were well done. I thought this captured the tone of the original trailer remarkably well.

Reva, "FATE"
Here's another example of a great use of clips to fashion a new (tragic) storyline.

summerxsummer00, "Obsession Before Flowers"
It's evil Ji-hoo!

Steff, "A Walk to Remember"
I was surprised at how well BBF fit into the trailer for A Walk To Remember, but you know, it really works.

Athene, "Redemption"
There's something about BBF that works really well when taken dark, doesn't it? Too bad the drama's PD doesn't see it…

jeune daisy, "Sexy, Naughty, Bitchy"
Fabulous use of song, and YES those skirts are a little… shall we say, inappropriate?

missmanderley, "Twilight"
As I mentioned above, the Twilight parodies were all well-made. I LOVE that we got multiple versions! Watch: [ Youtube ]

jeune daisy, "Twilight"
Intriguing to see how the same scenes can be cut in different ways for differing impact, isn't it?
THANK YOU FOR YOUR SUBMISSIONS!
If you sent in a video and it isn't listed below, it's probably because you didn't send a youtube link — if you'd liked to be added here, just leave a comment with the link and I'll update the list.
(For instance, there was a cute Powerpuff Girls entry, and a "Second Prince" video that turned Yi-jung and Jun-pyo into brothers, for which I don't have streaming links. Please send!)
Thanks everyone!
dunlop, "Rent" (See the original Rent trailer here.) [ Youtube ]
dunlop, "Her Best Moves" parody [ Youtube ]
Elaine, "Power Hana's" (aka Mighty Morphin Power Hanas?) [ Youtube ]
jeune daisy, "Arirang" [ Youtube ]
jeune daisy, "Dschinghis Khan." Great use of song depicting our "match made in paradise"! [ Youtube ]
jeune daisy, "ShangHaiTan" [ Youtube ]
Jo, "DieJerkDie," a giggle-inducing look at the Yi-jung and Ga-eul relationship. [ Youtube ]
Kim Tran, The characters "sing" along to FT Island's "Magic" [ Youtube ]
missmanderley, "High School Musical 3" [ Youtube ]
Reva, "Pride and Prejudice." Jun-pyo as Darcy, who can refuse? [ Youtube ]
Sandy Chang, "It Started With a Kiss" [ Youtube ]
Sparkling0Cider, "Bewitched Over Flowers." Ji-hoo reminisces about his first love while playing the piano. (I was happy we got at least one video playing with the Ji-hoo/Jun-pyo pairing!) [ Youtube ]
veiledveritas, "Unrequited." This one is for all the Rui fans out there! Poor Ji-hoo's left with his unrequited love. [ Youtube ]
vi, "Flowers Over Boys," an alternate ending. [ Veoh ]

RELATED POSTS
Tags: Boys Before Flowers, giveaways