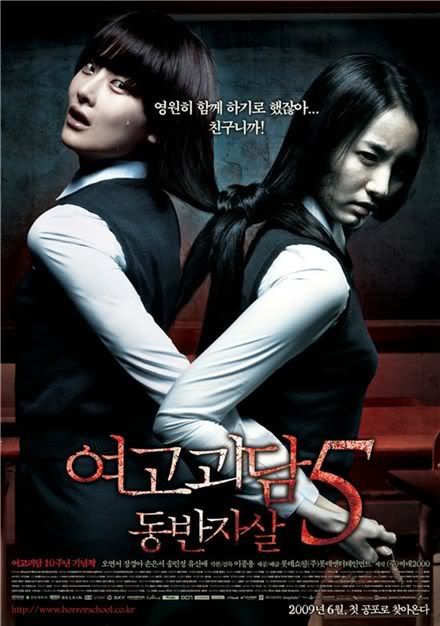 Check out the latest poster releases for the upcoming horror film Suicide Pact, which is the latest installment of the 여고괴담 "Horror School" (or Memento Mori) series.
The franchise has produced four films in the past decade, and with summer approaching, the fifth is set to premiere in a few weeks. The photos alone are enough to tell me I'll be staying far, far away — but if horror-thrillers are your thing, it may be right up your alley.
The story features five high school friends dealing with different problems who swear to die together in the name of friendship — until one of them commits suicide first.
Suicide Pact opens on June 18.
Given the prevalence of suicide in the industry in recent times, one may think it's a sensitive topic to center a horror film around, but director Lee Jong-yong explains that the suicides aren't portrayed in a romantic light, and focuses instead on how the suicide pact is a misguided idea on the part of the students.
The horror series has a history of casting young actresses who have then gone on to great success:
Whispering Corridors (1998), the original film, featured Park Jin-hee (War of Money) Lee Mi-yeon (Crazy for You) and Choi Kang-hee (My Sweet Seoul);
Memento Mori (1999) starred Kim Min-sun (Portrait of a Beauty), Park Ye-jin (Queen Seon-deok), and Gong Hyo-jin (Crush and Blush);
Wishing Stairs (2003) featured Song Ji-hyo (Jumong) and Park Han-byul (Fantasy Couple);
Voice (2005) starred Kim Ok-bin (Thirst) and Seo Ji-hye (I Love You).

This latest installment stars another cast of young and up-and-coming actresses: Oh Yeon-seo (Our High School E.T.), Sohn Eun-seo (Humming), Song Min-jung (Don't Go Away), and newcomer Jang Kyung-ah.
Via Asia Economy, Korea Herald
horror movies
,
Oh Yeon-seo