Noonas Over Flowers: Episode 4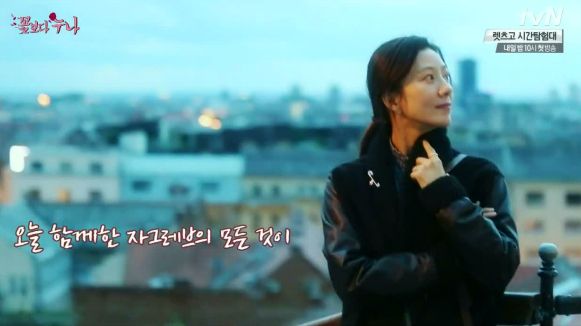 EPISODE 4. Broadcast on December 20, 2013.
javabeans: We resume in the cast's rented apartment for their first night in Croatia, and while I'm worrying about why the whole crew suddenly has to leave in the middle of the night (from last week's preview), the noonas are worrying about how to share a bathroom. Specifically, none of them thinks they can do their business when they have to use a strange bathroom and share it, at that.
girlfriday: Isn't that just something you have to get over if you're traveling with a group? I mean, what're you going to do, hold it for ten days?
javabeans: I don't think it's a matter of the women holding back because they're embarrassed, but their bodies just not allowing them to go. This is a traveling thing, isn't it? Like, you just get constipated, to be blunt about it. I think it's the stress or something. In any case, Na PD segues that into another issue, about how they hadn't realized till now just how far the production's lodgings are from the cast's.
girlfriday: Dude, is he the one who makes them move? After ALL the effort to get here?
javabeans: So then he suggests a really convenient, really nearby hostel—dude, he's going to make his stars bunk in a hostel because he doesn't wanna drive a mile or two?
girlfriday: Oh my goodness. Do they know what a hostel is?
javabeans: He totally talks it up like the hostel is the superior situation, all, Wouldn't that be so much nicer for you all?
girlfriday: Than this really spacious apartment and kitchen? Is he playing a dirty trick to make them suffer?
javabeans: Or is this just his brand of reverse psychology to make them think they're deciding on an upgrade? But, um… it's not like they won't find out, Na PD.
girlfriday: So then they decide to pack up and move in the middle of the night, after all the effort it took to find this place, climb the stairs with each suitcase, and camera-up the joint.
javabeans: GEEZ. I feel my limbs getting all heavy like I want to dig in here, and that's just vicarious fatigue talking. The whole production makes their way to the hostel, and then the big reaction shot as they're shown to their rooms, and they're tiny. Minuscule. Barely room for luggage, and no closet, and shared queen beds.
girlfriday: This is a disaster. Did Na PD not see the rooms? In interviews later, Ja-ok is totally convinced that Na PD forced them to leave the swanky apartment because it was too nice for the show. HAHA.
javabeans: I love that Yeo-jung is giving her talking-head confessional and you totally hear the PD and writer butt in from behind the cameras that the cost wasn't the issue, that it was totally not what they think. Mi-yeon says that now it really feels like they're on a backpacking trip, while Hee-ae stands there trying to figure out the best way to actually open their suitcases in their cramped quarters.
girlfriday: There's literally not enough space to open one suitcase in the room, and finally Mi-yeon just drags hers out to the hallway to unpack.
javabeans: She's all, "Nobody will steal my suitcase if I leave it here, right?" In a hostel! In the hallway! That is not a risk I would take. LOL, Na PD comes up with the solution of converting Seung-gi's room (since he's not sharing) into the luggage room for everyone. And Seung-gi… can crash with the crew again.
girlfriday: For all this trouble he's causing, I hope Na PD plans to snuggle up with Seung-gi in his room.
javabeans: I can't believe Na PD just paid for a whole room just to use it as storage.
girlfriday: I guess that's when you know you're really the luggage boy–when you get kicked out because luggage is more important.
javabeans: In the morning, Seung-gi is the first awake, and he totally wakes up Na PD who's all disoriented in his bed. He asks, "How do I make it through today? I'll be able to survive this trip, won't I?" Omo, and then Seung-gi leaves the room, only to burst back in excitedly saying, "Jackpot situation!"
girlfriday: Hahahaha. I love that Na PD springs up immediately, thinking he's missing something huge. Seung-gi: "I found a bakery!"
javabeans: "It has coffee and orange juice and everything!" Na PD flops back and totally groans, "Seung-giiiiiiii!" The noonas start waking up too, and getting ready. Mi-yeon is feeling muscle strain from all the heavy luggage lifting, but when Yeo-jung knocks to ask for coffee (it was Mi-yeon's task to bring it along), she bolts upright and gets things ready—she packed cups and a kettle and everything.
girlfriday: That's crazy. She just makes coffee right there in the hallway.
javabeans: I was just thinking I was totally going to do that on my next trip.
girlfriday: The one we're going on? Okay, cool. Guess I'll have morning coffee taken care of then.
javabeans: I ain't giving up my bed to nobody's luggage, though, that's for sure. Your bags are sleepin' on the floor. They all make their way to the bakery, and Seung-gi asks Ja-ok if she slept well. She answers readily, "No, I was thinking of you," and that surprises him so much that you can see him trying to think of what to say, haha. She has a son who's just a year younger, though, so she's worrying about him like he's hers.
girlfriday: Awwww. Hee-ae bonds with her and they talk about being moms to sons, and how they're so not affectionate and mostly a pain in the ass, except for that one time out of ten when they're really great. It's cool that she's honest about motherhood being hard: "Most days they're like the enemy."
javabeans: Then they comment on how veteran actor Kim Yong-gun is such a nice sunbae and teacher that his son came out really great (Ha Jung-woo), and how Ja-ok sometimes jokes, "Oppa he's not really your son right? There's no way he could come from you!"
girlfriday: HA.
javabeans: While Hee-ae and Ja-ok are out for a walk, Yeo-jung heads down to breakfast and her main complaint is her constipation, ha. I guess this may be the time to point out that Koreans are pretty open about talking about bodily functions without necessarily being gross about it; they're just a part of life and the words don't really carry that ick factor that they might in English. That said, she's pretty vocal about her complaints: "I feel like a pregnant woman who's past her due date!"
girlfriday: She's hilariously cranky about it, finding everything annoying, like Ja-ok's advice: "Unni, just don't worry about it." Yeo-jung says that's her solution to everything (so true), while of course she can't NOT worry, and someone being flippant about it just annoys her more. Thankfully there's a staff doctor who gives her something to take, so hopefully that works.
javabeans: Hee-ae, Ja-ok, and Seung-gi take a leisurely stroll past a market and admire the produce. Just then one vendor snatches a cucumber out of Ja-ok's hands and literally yells at them, which they can't understand though it's pretty clear they've just been scolded. The mood turns cold and they slink off whispering, "So scary."
girlfriday: Mi-yeon hears about Moon Geun-young and Kim Bum going on a trip together (I guess they're all in Europe at roughly the same time) and admires their carefree ways.
javabeans: Seung-gi's group buys some wine and goes off in search of cheese to eat with it. What was that about restricting their excess beverage purchases again?
girlfriday: Maybe he thinks if he buys it by the jugful, they can do as the halbaes did and take it places and sneak drinks? Mi-yeon sends Yeo-jung a text to ask if she had any success in the bathroom, and Na PD quips that their chat room is called Girls' Generation but the content is all about consipation.
javabeans: Yeo-jung comes out of the bathroom and Mi-yeon leaps up excitedly: "Did you go?" Don't you feel like when she finally goes, they're going to throw a party or something?
girlfriday: There should be a cake with candles.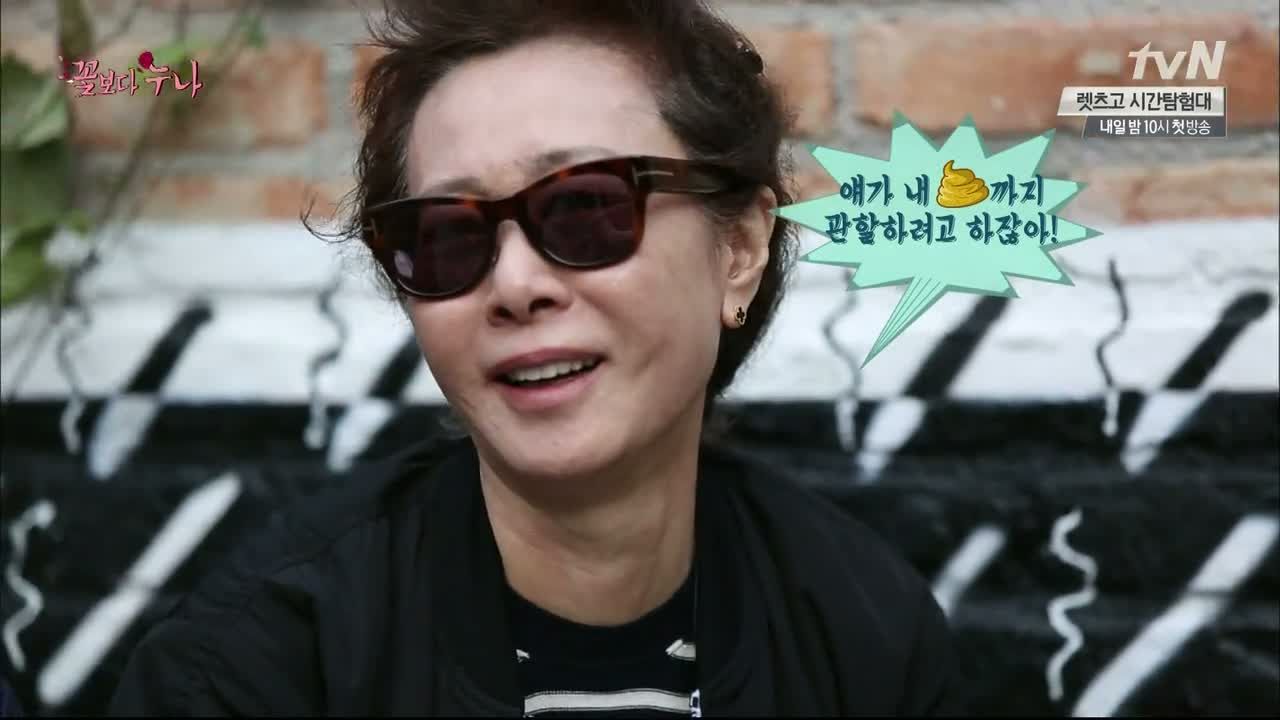 javabeans: It's becoming this huge Thing, but I also can see how it would—if you are denied a basic life function, all of a sudden everything becomes about that thing. Now staffers are all suggesting remedies, like drinking coffee and milk and everything. She's desperate enough to give them all a try.
girlfriday: Mi-yeon tries to raise her spirits by saying that her face looks fuller and therefore younger, and Yeo-jung blurts back, "You mean the poop has risen all the way to my face? That's when you die!" Hahaha.
javabeans: Yeo-jung sighs that if she manages to poop, "I'll feel like a queen. Wishes can be so small." Then we cut to the other group, who've gotten a table at a cafe and are eating all their fresh fruit and snacks. I love this juxtaposition. It just makes both sides funnier. Omg, and then they start doing a Gag Concert-inspired impression of Yeo-jung, and Ja-ok is just spot on with her dry delivery and mannerisms.
girlfriday: It's especially funny because Yeo-jung was just imitating her too.
javabeans: She's SO GOOD. At some points if you're not watching it totally sounds like Yeo-jung. As they head back to their hostel, a red balloon goes flying by in the wind, and a little girl is about to cry after losing it. So Seung-gi retrieves it for her and her mother tells him thank you, and then he thanks her right back. Lol, his English.
girlfriday: Then they rejoin the rest of the group with snacks, and Yeo-jung proceeds to eat everything in sight, just to force something to come out.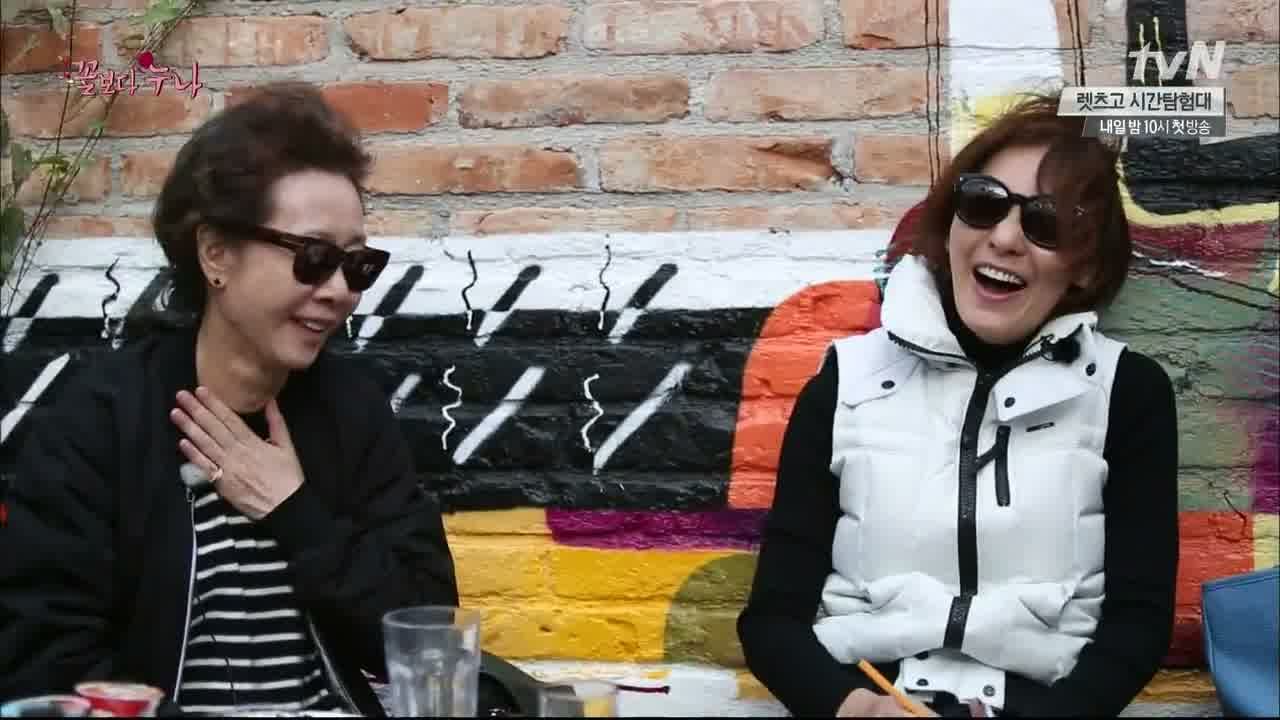 javabeans: After Seung-gi briefly explains the tentative plan for the next day or two, we see this hilarious sequence of Yeo-jung walking back and forth and back and forth to the bathroom with a series of toilet flushes marking her unsuccessful attempts, until finally she comes out with light heart and happy face. She jokes that she gave birth to a boy and proceeds to spread the news to the others.
girlfriday: While he sends the noonas sightseeing on their own, Seung-gi plans to go rent a car, and then begins his hilarious habit of talking to himself out loud. It doesn't instill a lot of confidence when every other sentence is, "So what do I have to do?"
javabeans: The hostel employee is really nice and helps him contact rental places, though the trouble is that most places are either sold out of cars that can hold 7 to 9 passengers, or closed on Sunday. The guy is all, "Don't worry we'll make it happen" while Seung-gi prays next to him, and finally hears that one place has a car and will be here tomorrow with the car. Seung-gi leaps up all smiles and tells the man, "You are my god." So cute.
girlfriday: He does a whole fistpump to a round of applause, even though technically all he did was walk into the lobby and walk back out. But hey, it was stressful.
javabeans: The group heads out to Zagreb Cathedral, and it's mostly a silent sequence following the cast as they react in awe and reverence inside it. Ja-ok is actually moved to big heaving sobs for a while, and Hee-ae sheds a few tears while praying. Na PD asks why she's crying, and she says, "I don't know myself." In an interview, Ja-ok says a similar thing, trying to put her finger on it but not knowing more than "Just because."
girlfriday: So then they make their way to a second church, and is it just me, or are we spending way more time on sights than before? Maybe it's just because it's two back to back.
javabeans: We are, but maybe it's because these two have interesting character moments associated with them too? The second one has a different vibe entirely, and the mood lightens considerably, and there's a funny little sequence of Seung-gi trying to find his way using his smartphone navigation that has him walking in circles.
girlfriday: Of course then as soon as they figure out where they are, Seung-gi's got this swagger like he knows the city like the back of his hand.
javabeans: It's time to start thinking about dinner, so they head back and Hee-ae gets curious about the room the producers are walking into. She heads in and realizes it's where they're staying, then proceeds to rummage through their bags oh-so-casually. I love it. She finds their food stash, which is stocked of some fancy ready-to-cook kits, and asks half-accusingly, "So you cooked this here and ate it? While you stole our food last night? We don't even have room in our room to steal any of this."
girlfriday: Haha, so then she alerts the rest of the group to the secret stash, and they start strategizing for her big plan to steal the food.
javabeans: Omo, is their dinner plan literally to crash the staff stash? They walk along the street that evening and Na PD asks what they're doing for dinner, and Hee-ae singsongs, "It's a se~cret!" Hee-ae's forlorn reaction was scored by Fantine's pathetic elegy, but now that they're plotting against Na PD I love that it's the Javert-Valjean face-off in the background.
girlfriday: I know, it's cracking me up. As they get ready to steal bread. Or the kimchi equivalent.
javabeans: Seung-gi mutters as they approach, "Just head straight through that door." They enter with mock sympathetic cries of "You worked so haaaaard" to the staffers inside, and this is so hilarious. Hee-ae just starts rifling through things saying calmly, "Oh, I just left something here earlier" while the writer is sort of panickedly wondering why they're all here.
girlfriday: LOL, Na PD is one step late to react, and runs in behind them crying meekly, "But… but… that's ours!"
javabeans: There's this great shot of Seung-gi leading Yeo-jung into the room while Na PD looks around frantically, and Seung-gi's all, "I hear the kimchi jjigae is really good here." Na PD is literally speechless. Mutiny!
girlfriday: Seung-gi doesn't even step one foot inside, because who needs to when your noonas are badass?
javabeans: Hee-ae is the absolute best in this role, because she has this total space-cadet vibe to her delivery so that you don't quite grasp that she's fleecing you of your belongings. She's so sweetly saying, "Oh never mind me, I'm just looking for something," and packing away tons of food.
girlfriday: And then she hilariously makes it seem like she's being gracious and invites Na PD to dinner, saying that she's willing to share. Hahaha. She actually drags him away by the wrist, and the caption points out: "Na PD, who follows along like a good boy."
javabeans: Na PD scolds his staff for just standing by, as he totally just stands by. And I have this realization: Hee-ae is Keyser Soze.
girlfriday: She is. She's so awesome. She even goes back FOR SECONDS. Na PD sees her heading back toward the room and yells at a staffer to lock the door, but Hee-ae turns on a dime and scolds her.
javabeans: "Where did you learn such bad manners? And she looks so nice…"
girlfriday: Is she stuffing things into her back pocket now?
javabeans: Seung-gi offers Na PD a tub of pickled beef as a sort of payment, but Na PD is all pissy at this point. So Seung-gi withdraws the offer and Na PD hurriedly accepts it while he can. LOL.
girlfriday: Don't you love that Na PD is basically getting bullied by the noonas and is only able to get pissy with Seung-gi?
javabeans: Yes, because he sees Hee-ae rummaging some more—she's basically shopping at this point—and he rushes in to stop her, but only yells at Seung-gi. I love that he's starting to get his game face on (however belatedly), and offers to sell the foodstuffs to the noonas. He tries to negotiate, but man Hee-ae's a tough one: "This is what Lee Seung-gi's mother! Made personally! With beef bought at the department store!"
girlfriday: Na PD counters that someone in a factory made that kimchi jjigae too, and Hee-ae one-ups him with a sob story about the man who raised the cow from which that beef dish came, and Seung-gi's jaw literally drops. LOL. You just can't beat her.
javabeans: Poor Na PD. He had a good idea in theory but totally fell through on the execution. You know, it really isn't that noonas are better or worse than halbaes at fighting Na PD—I love that there are so many ways to defeat him.
girlfriday: And that it's enjoyable no matter who does it.
javabeans: I really do wonder how they picked who to ask on the show, because it just so happened that this is a really hilarious and diverse group of personalities. After dinner, they head to their rooms and Hee-ae and Mi-yeon have a face-pack session. It's like a slumber party.
girlfriday: And then they bust out the rest of the wine, at Yeo-jung's request.
javabeans: Aw I love trip moments like this. After the stress of actual sight-seeing is gone, you just sit around talking and drinking in your room, shooting the breeze. Hee-ae asks Seung-gi about what he thinks suits him best, and he talks about the difference between variety and acting, and the noonas give him some advice on how to lose himself in his characters so that his real personality doesn't show in it.
girlfriday: And then Hee-ae talks about how sometimes she feels limited by expectation and how she wants to comedies and stuff, but gets told that she can't break her image.
javabeans: She certainly has a love of gag comedy, as we're seeing. (She keeps doing little gags and injecting catchphrases into everything, and earlier admitted that her kids always tell her to stop.)
girlfriday: I know, wouldn't she be so cute in a rom-com?
javabeans: Seeing her here, absolutely. Yeo-jung speaks up as the veteran and tells her it's best to break those boundaries as soon as possible. Aw, it's such an earnest, warm-and-fuzzy way to go out on an episode.
RELATED POSTS
Tags: featured, Kim Hee-ae, Kim Ja-ok, Lee Mi-yeon, Lee Seung-gi, Noonas Over Flowers, Yoon Yeo-jung