Happy Chuseok!

Tomorrow is Chuseok, also called Hangawi, which is the Korean version of Thanksgiving and one of the largest (perhaps the largest) holidays in the Korean calendar. That means a break from work, lots of traditional food, including the customary Chuseok songpyun dduk (a type of sticky pounded-rice cake with a sweetened sesame center), family time, and paying respects to ancestors and elders.
And what would a festive holiday season be without horrendous traffic, clogged travelways, and tons of special family-friendly television programming?
It also means lots of photo ops for celebrities as they don the traditional hanbok dress.
Here we have actress Seo Ji Hye looking pretty in her hanbok — which is a flattering look on her, as you can also check out in the cute two-episode drama (also starring Super Junior's Choi Shi Won) The Story of Hyang Dan. She's one of many mostly female celebrities whose pictures can be found everywhere these days, in the Chuseok season.
SONG OF THE DAY
Fanny Fink – "민트 하늘의 꿈" (Dream of mint sky) [ zShare download ]
Audio clip: Adobe Flash Player (version 9 or above) is required to play this audio clip. Download the latest version here. You also need to have JavaScript enabled in your browser.

FOR INSTANCE:
Lovely natural beauty and rising actress (seriously, keep an eye on this one!) Gu Hye Sun, currently starring in the drama series The King and I:

Actress, former Miss Korea, former Eric's girlfriend, and not-so-natural beauty, the plastic surgery (over)enthusiast Park Shi Yeon: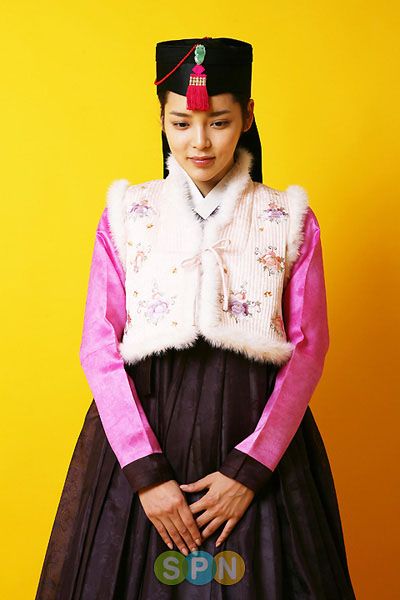 Cute actress and singer Jang Nara: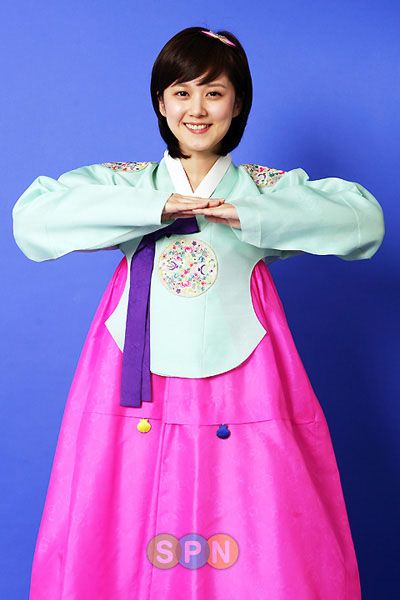 Actress currently starring in the not-so-successful SBS drama series Winter Bird and former member of pop girl-group Sugar, Hwang Jung Eum:

On left, actress in currently airing series Ggakdugi (aka Radish Kimchee) Lee Min Jung; on right, lead actress in the play Debasing the Audience Season 2 Moon Bo Ryung.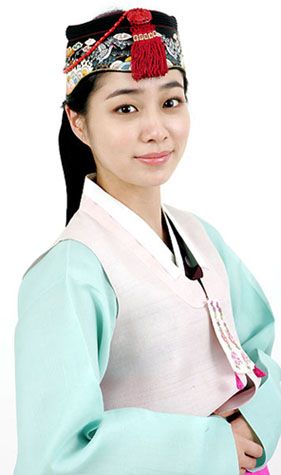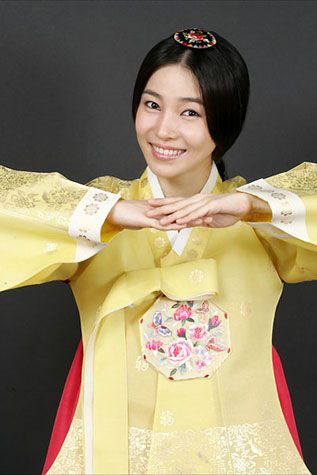 Park Chae Kyung of the drama I Am Sam (left) and Park Hye Won of last year's Dasepo Naughty Girls film and this year's dramas Bad Woman, Good Woman and Time of Dog and Wolf (I particularly love the unusual patchwork pattern of her top):

Third-generation Japanese-born Korean Saori, who's appeared in many variety shows and commercials:

Actress Seo Young, who debuted in the drama What's Up Fox starring Go Hyun Jung, and was in the recent OCN cable drama Kid Gang:

Actress Kim So Yun from the MBC drama Autumn Shower and the movie Seven Swords:

Son Tae Young, currently in the drama I Am Sam:
And then we have a few of the ladies from the popular and somewhat controversial talk-show program Chatting with Beautiful Women (or Misuda, from the shortened Korean title), which features a "cast" of foreigners living in Korea chatting up a variety of topics with a rotating panel of male Korean celebrities. The conversation is all in Korean, and often the women appear dressed in traditional hanboks (the men come dressed as themselves), and the level of Korean fluency differs widely. The implications of such a setup — no matter how innocuous they may seem on the surface — are clear and (to some) offensive.
The less-politicized issue that some people also express about the show is the weird form of celebrity it's created — the show's value and purpose is explicitly in having easy-flowing chats with normal, everyday foreigners living in Korea, and the unique experiences that come with that perspective. But now, more and more of the participants are entering the entertainment sphere, and the dissatisfaction is that this dilutes and interferes with the purpose of the show — which isn't to talk to celebrities, but normal women.
Anyway, all that aside, here are four of the women who appear (or have appeared in the past) on the show: Bronwyn Mullen from South Africa:

Eva Popiel from Britain, an example of the issue I just mentioned, who's parlayed her success on Misuda into an acting role on the currently airing show Hate You or Love You:

Rie Akiba from Japan, Leslie Benfield from the U.S., and Bronwyn.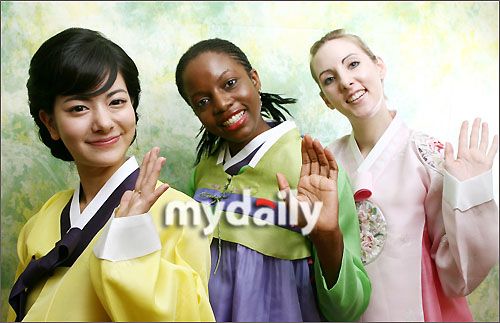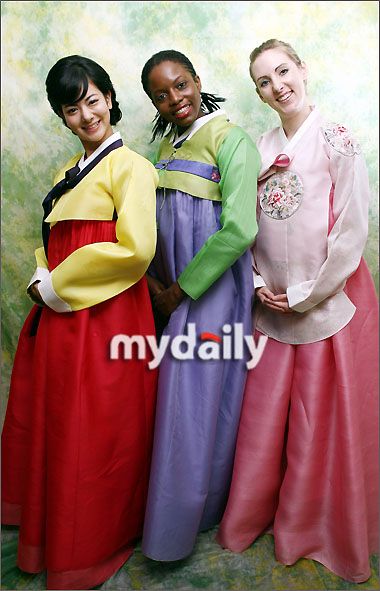 Singer and former SES member Bada:

Singer Yangpa:

Singer Ivy, aka 'If Hyori Had Talent' (it's true, not mean! Ivy sings live while dancing pretty vigorously, and has pretty awesome range. Hyori… dresses slutty and looks pretty. To be fair, I guess you could call Hyori 'If Britney Had Talent'):

Touted as "the female Rain" before all of Rain's recent problems (which probably means it's time to distance herself from that moniker), dancer-singer Son Dam Bi: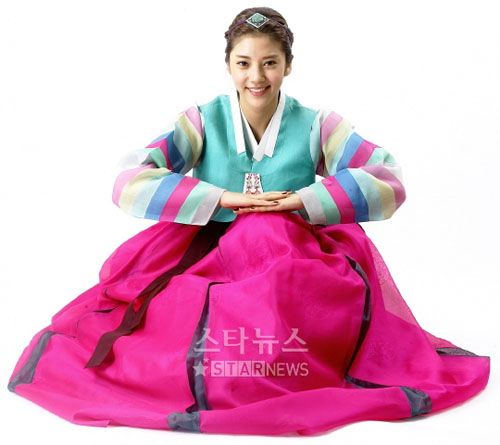 Pop girl group Baby Vox Rev, no relation to the (much better) former group Baby Vox, aside from the transparent marketing hopes that you'll automatically spend money on the new one out of love for the former one:

Female group LPG: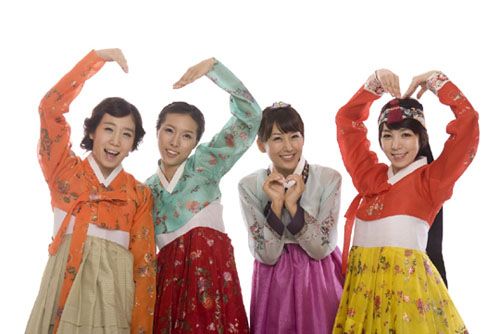 The "female SuJu" group of plastic teenage beauties, Girls' Generation (Sonyeo shidae), eight members strong (or is it nine? By the time I bother counting, they'll be irrelevant and obsolete, or maybe that's just the hope):

And, finally, R&B vocal group Seeya, with (arguably) their most popular member Nam Gyuri on the right: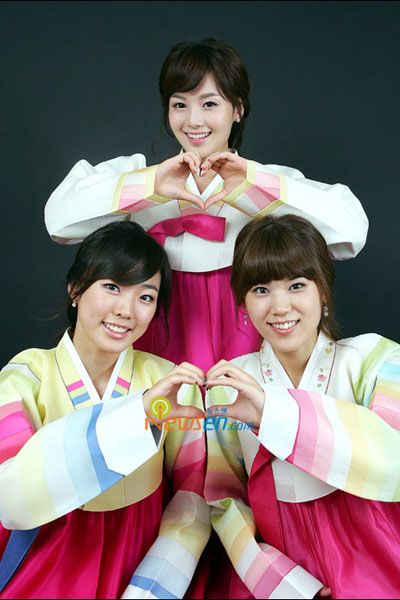 Happy Chuseok everyone!