Song Hye Gyo teams with Hyun Bin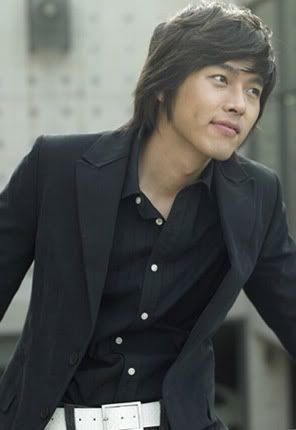 This ought to make fans happy. The stars of two of the most popular kdramas of recent years, Full House and My Name Is Kim Samsoon, have been cast together in a new drama, The World They Live In.
Song Hye Gyo and Hyun Bin, both 26, have been confirmed as the leads in the new drama by PD Pyo Min Su (Full House, What Star Did You Come From, Insoon Is Pretty) and writer Noh Hee Kyung (Goodbye Solo, Several Questions that Make Us Happy).
This marks Song Hye Gyo's return to television after four years away (her last TV role was 2004's Full House); since then, she's had an unremarkable turn attempting a film career with the romantic drama My Girl and I (co-starring Cha Tae Hyun) and the disappointing large-scale epic Hwang Jini (with Yoo Ji Tae). She's also been working on a U.S. debut in the low-budget U.S. indie flick Fetish — which doesn't sound terribly appealing to me.
Hyun Bin may have shot to national heartthrob status after Samsoon ended in 2005, but his follow-up starring in The Snow Queen had a disappointing broadcast run in 2006, and this is his first project back since then.
Apparently Song Hye Gyo was PD Pyo's top choice, and was sent the synopsis early. Her character is described as strong and straightforward, conveying a mature image as a professional woman; both she and Hyun Bin play drama PDs at a broadcast station. The World They Live In plans to air on KBS in November.
I'm not sure about this — it could be entertaining. I'm a little bored with dramas set in the entertainment world, although at least they aren't actors. The writer has some good projects under her belt (Goodbye Solo, for instance, which is really a writer's drama), and despite what I thought was excessive hype for the overrated Full House, I enjoyed watching it, at least until the final run of nonsensical plot turns. As for the stars… I'd say they're both likable actors, but neither has made a mark through their actual acting talent. Still, it's one I'll keep watch for. And hey, we'll always have the eye candy.
Via OSEN
SONG OF THE DAY
Maybee – "엉엉 울었어" (I cried) [ Download ]
Audio clip: Adobe Flash Player (version 9 or above) is required to play this audio clip. Download the latest version here. You also need to have JavaScript enabled in your browser.
RELATED POSTS
Tags: Hyun Bin, Pyo Min-su, Song Hye-gyo, The World They Live In