Finding merit in the mediocre [Year in Review, Part 4]








2007 was a rich year for drama-land. There was something for everyone, whether your tastes ran toward dark thrillers (Devil), intense dramas (White Tower), heart-warmers (Thank You), off-the-wall eccentrics (Mixed-up Investigative Agency), trendy fare (Coffee Prince), romantic comedies (Dal Ja's Spring), and so on.
2008, on the other hand… not so much.
Every drama has its good and bad points, but it's a lot easier to decide how you feel about one when those qualities are expressed in the extreme — i.e., very good, or very bad. When everything is a muddle in the middle, though, it's harder to draw the lines.
That's why in contrast to last year's "Best" and "The Rest" designations, this year I don't really distinguish "good" versus "bad" — or even "favorites" and "hated dramas" — and can only grade on a spectrum. I call that spectrum "MEH" with the extreme poles representing "generally watchable" and "generally unwatchable." It's just been that kind of year.
SONG OF THE DAY
Painter of the Wind OST – "색" (Color) by JOO [ Download ]
Audio clip: Adobe Flash Player (version 9 or above) is required to play this audio clip. Download the latest version here. You also need to have JavaScript enabled in your browser.
(Not in any particular order…)
THE LAST SCANDAL OF MY LIFE
("MEH" scale: Very watchable)
RIP, Choi Jin-shil. You will be missed.
Last Scandal was one of the surprises of the year for me. I had written it off as a boring, stereotypical ajumma drama, and I was happy to find that I had been wrong. Is it original, inventive, wildly clever? Not at all (very few things are; and the truly original and inventive things are often also incomprehensible). It is, however, a fun, well-acted, and timely twist on the Cinderella story. It owed its success to the way it tweaked a very well-known tale just enough to give it a fresher take, spawning the "jumma-rella" (ajumma + Cinderella) genre. It is part escapist fantasy and part wish fulfillment for the largely female (and I venture to guess, mostly married) audience, who watched the ill-treated housewife stand up to her no-good, cheating husband (reflecting some of Choi's real-life marital woes), come into her own as a person on the cusp of middle age, and find a real love who would cherish her as she deserved. And if that new love turned out to be a famous movie star, well, all the better!
The set-up was familiar, but the chemistry of lead actors Choi Jin-shil and Jung Jun-ho carried the drama. He constantly provoked her to gain her attention (and distract her from her woes), like an adolescent boy or overeager puppy, but met his match in this tiny, resilient woman. And it was nice to see a romantic comedy headed by two actors who could, well, act. Plus, it was funny.
I can see the point of people who find Choi Jin-shil's character (Sun-hee) frustrating, and I hear that frustration. But perhaps this is where culture clash comes in, because Sun-hee is not an exaggeration of a beleaguered housewife who suffers at the hand of an overbearing husband. No, she is the reality for many women, and maybe this is a Korean peculiarity, but her character and her predicament (aside from the movie star romance) rang very true. In fact, I've long felt that the Sacrificing, Hard-working, Enduring Housewife is the backbone of Korean society, or at least the Korean family. Thankfully times are changing and women are certainly more independent than they used to be, and Last Scandal reflects this in a hilarious way.
Choi Jin-shil has long been recognized for her acting (and crying) talents, so she was reliably solid. (Her character started out weak with her husband, but grew a spine as she gained confidence and the series progressed, which was the point.) But it was Jung Jun-ho as the pampered actor who told stories with his longing gazes.
Unfortunately, due to Choi's untimely death, plans for a second season have been tabled, and we will have to content ourselves with rewatching her here in her last work. Thank god it has a happy ending.

WHO ARE YOU?
("MEH" scale: Fairly watchable, but could have used editing)
Who Are You OST – "Who Are You?" (bossa nova version) by Winterplay [ Download ]
Audio clip: Adobe Flash Player (version 9 or above) is required to play this audio clip. Download the latest version here. You also need to have JavaScript enabled in your browser.
If a show grabs me or turns me off right away, that's ideal — no need to waste time trying to decide. However, when the opening is tentative, I try to keep an open mind for several episodes.
Thank goodness I did with Who Are You. I could have dropped it at Episode 2 and forgotten about it, but something told me to keep going. It was Yoon Kye-sang switching manically between the stiff, cold CEO and the body-hijacking, jokey middle-aged dad that did it; he threw himself into both wildly contrasting roles, and then slowly, surely, brought those extremes together — all the while retaining a clear sense of which character he was acting at which point. No mean feat, and probably an exhausting one.
Yoon Kye-sang's emotive acting kept me hooked, and it was a pleasure seeing his character evolve. Jin Yi-han is an actor on my "to watch" list, but he was too predictably written for most of the series (his only flashes of depth came at the very beginning and end, as a villain with a conscience). That was a flaw of making this series premise sustain seventeen episodes instead of the twelve or thirteen it probably should have been.
Two detractors keep this from being an outright hit: Go Ara's performance (passable, but sometimes flat) and secondary storylines that went on a little too long. I suspect this series could be a real winner in the hands of a fan with digital editing skills (and a lot of free time) — say, cutting four hours from the total running time and condensing the threads that were peripheral to the main story. (The main story being how the cold man opens up his damaged heart with the help of the happy-go-lucky goofball who inhabits his body and the goofball's daughter, with whom he falls in love.) The ending was sweet but not saccharine, heartwarming, and satisfying (a rarity in the drama landscape this year).

HONG GIL DONG
("MEH" scale: Fairly watchable, with sluggish segments)
Hong Gil Dong OST – "푸른 별" (Blue star) by Kim Hyung-joong [ Download ]
Audio clip: Adobe Flash Player (version 9 or above) is required to play this audio clip. Download the latest version here. You also need to have JavaScript enabled in your browser.
Hong Gil Dong was too long. There, I said it.
The series started off fast and fun, and demonstrated the Hong sisters writing team's love of cheeky humor and meta commentary. They do comedy well, but I think they're edging too close to broad, slapstick fare. I loved Delightful Girl Chun-hyang and My Girl, but ever since Fantasy Couple, the Hongs have been outright corny. Yet the issue with Hong Gil Dong wasn't the humor; it was when we got to the meat of the drama: the royal coup and establishment of a "new world." The plot lingered far too long on the mechanics of the coup and got downright repetitive. I understand the need to lay out political machinations carefully, but when that translates to belabored conversations and repeated paranoid fits by an unhinged king, it's time to move on. For a time, it felt as though we were stalling until the final stretch kicked in.
Undoubtedly, Kang Ji-hwan is the drama's biggest asset. I can appreciate a good-looking star as much as the next person, but Kang's appeal is in his (intense, completely invested) acting. In this drama, he took the slapstick, comic travails outlined by the writing team and turned the reluctant hero into a full-blooded person — flawed, conflicted, multi-dimensional.
I had issues with Jang Geun-seok's acting and the wooden way he conveyed the prince's cool manner (he did better in Beethoven Virus). Sung Yuri held her own; this kind of exaggerated comic character suits her, because she's fine with bold acting choices (subtle, mannered acting is where she runs into trouble).
The ending [SPOILERY] was controversial in that, well, we were expecting something more definitively happy. I wrote something of a defense in my last episode recap, and I still stand by it. However, with time to step back and think upon the series as a whole, I think there was a genuine expectation for a certain kind of ending, and the uproar was justified. The series went out on an uplifting note, but left a lingering bittersweet taste, and for that many fans felt shafted. [END SPOILERY-NESS]
As a fusion sageuk, this drama may not appeal to traditionalists, but it's a great "gateway drug" for people like me for whom the traditional sageuk holds no appeal. I am still not a sageuk fan, but now I'm more likely to check them out, both fusion and traditional.

MY SWEET SEOUL
("MEH" scale: Should have been Very Watchable, but turned out Unwatchable)
I'm still bitter about My Sweet Seoul. This should have been a good — possibly great — relationship drama, and I should have loved every minute of it, with its pleasant music, its contemplative pace, its pretty photography. Instead, it gave me nothing but aggravation because its main character was such a pill that she ruined everything else. I've liked Choi Kang-hee in the past, so it's only partly due to her acting; the rest of the fault lies at the door of her self-centered, passionless, double-standard-totin' character. I've already discussed my gripes in detail so I'll let that catalogue of complaints rest here.
That distaste for the main character unfortunately colored my feelings for the rest of the drama, and by Episode 12, I couldn't take it any longer. Not even my affection for Lee Seon-kyun (and, to a lesser degree, Ji Hyun-woo) could counter the pernicious effects of a hated protagonist, and I have never once been curious to know how the series ends. (From what I can tell, it's a little bit happy and a little bit WTF.)
This is all too bad, because My Sweet Seoul was touted by SBS as a successful foray into a new subset of television shows: the "premium" drama. That means a higher focus on story and production quality, with perhaps less emphasis placed on gimmicks or manufactured twists/drama to keep the audience tuning in. A worthy endeavor as a whole; just not a success for me in this specific case.

LOVE & MARRIAGE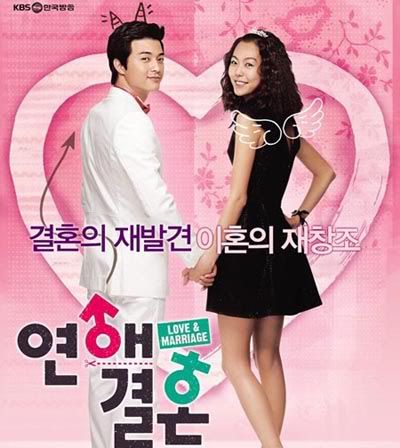 ("MEH" scale: Somewhat watchable; sweet like cotton candy, and disappears just as quickly)
I had a lot of fun watching Love & Marriage. I also recognize that it wasn't really a "quality" drama, so to speak. I think the problem was that one key detractor of the drama was also one of its charms: that is to say, Kim Min-hee playing her character with over-the-top, bubbly enthusiasm. (Kim Ji-hoon didn't do anything special, but he fulfilled his role as the handsome prime catch. I'm still waiting for him to break out and make bolder acting choices, since he caught my eye — and was much more interesting — in the darkly funny and poignant Flowers For My Life.)
The other issue would be the sugary storyline which satisfied my love of all things romantic, but kind of left me in overdose territory. You know, that vaguely dull feeling you have after eating an entire box of chocolates, not that I, uh, know personally what that's like — I'm referring to how I assume one would feel after consuming such an appalling number of super-sweet confections.
This excessive cheeriness may tire viewers who like more conflict; after all, conflict is the heart of drama. As I mentioned with Last Scandal, a commonplace plot can often be made engaging with a twist. Here, however, the twist was not strong enough — romance with divorcées. It's a fine jumping-off point, but I think the drama relied too much on that one conceit, which isn't much of a basis for conflict.
So we got a happy, often amusing, lighthearted series that was easy to watch and left us unchallenged. Those who prefer their dramas more hardcore or intense will probably find Love & Marriage insipid. That's cool. As for me, sometimes my mind wants to relax with something simple, and there's value in that too.

GOURMET
("MEH" scale: Easily, unprovokingly watchable)
Gourmet – "선물" (Gift) by Lee Juck [ Download ]
Audio clip: Adobe Flash Player (version 9 or above) is required to play this audio clip. Download the latest version here. You also need to have JavaScript enabled in your browser.
Gourmet is another drama that was unchallenging but pleasant to watch. Filmed in beautiful locations around the scenic Korean countryside, it definitely benefited from shooting well in advance of its airdate. The plot never got terribly tricky or high-stakes, and there were no surprises — so I suppose in that context, it's to the production's credit that they still pulled out a well-made, highly rated drama. Even when the outcome is a foregone conclusion — as the many food battles of Gourmet were — a drama that makes the lead-up to that outcome satisfying has done its job. I mean, four episodes on a beef battle? Who would have thought that could be remotely interesting?
Perhaps because the plots themselves were mundane (e.g., the restaurant is in trouble, the chefs must please a finicky patron), it's a good thing greater themes were at play, adding dimension to the stories. This aspect is probably the single biggest reason I kept watching Gourmet, and the "Food For Thought" sections in the recaps reflect that. The food competitions were repetitive, but at least they represented the character conflicts, so they served a purpose. The way food allows people to communicate with each other is a universal theme, and a foodie drama would be remiss if it did not acknowledge that.
Kim Rae-won — so engaging, so all-around appealing — was a highlight of this drama for me. He has such an easy, natural way of acting that doesn't seem like acting at all, and he made his character entirely relatable. Nam Sang-mi was occasionally overacty but she did her part. A few peripheral characters were pretty exaggerated (the fey chef who measures everything; the Grand Chef himself, guardian of Korean royal cuisine), but I gave the drama a little leeway because it was a manhwa adaptation.
What this drama didn't do, however, was engage the viewer on a gut level (or at least, I don't think it had that effect — it certainly didn't for me). The characters didn't grip me personally: I never felt my heart leap/lurch/twist in response to their problems. Ironically, Gourmet is a drama about fancy haute cuisine, but it's really more like a comforting bowl of chicken noodle soup. (Made with the best ingredients, and perhaps a pinch of a few unusual herbs, but still: chicken noodle soup.)

STRONGEST CHIL WOO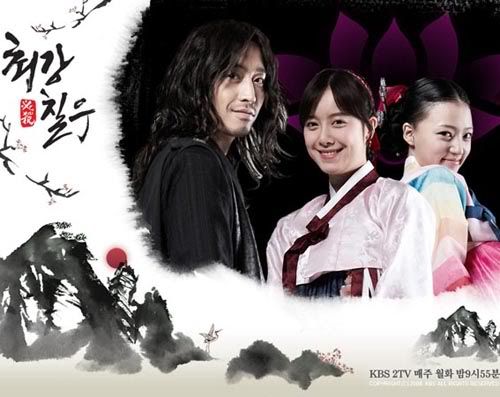 ("MEH" scale: Watchable, but only for the kitsch factor)
I am not certain what the makers of Strongest Chil Woo intended at the outset. Had they always aimed for a so-bad-it's-almost-good effect? Or was that just lucky serendipity?
Because yes, this drama is ridiculous, but in a highly entertaining way. Villains were uber-villainous, the oppressed citizens were super-oppressed. Subtlety? HA! These assassins for hire had no use for diplomacy or savvy when they could just kill the villains, don'tcha kno? The first half was rife with such absurdities as horseback acrobatics, killer elephants, flaming bullwhips, and faux "skateboarding." Not to mention Eric's getup as a mysterious masked Zorro — and his counterpart, the mysterious "Orroz" (my nickname given the backward "Z" the assassin carved into his victims' chests). And we cannot forget those slow-motion, moonlight "transformation" scenes! So, so awesomely cheesy.
I did wonder what compelled Eric to take this role, especially coming off a pretty good turn in last year's intense Que Sera Sera. Actually, I wonder what Gu Hye-sun was thinking, too, since she's proved she's better than this. (So is Kim Byul, but she's a secondary character so the casting isn't as big a WTF. Lee Eon (RIP) did not make a huge impression here in his last drama — he sadly passed away the night of the wrap party after filming the final episode — but he will be much more happily remembered as the adorable lunkhead Min-yub in Coffee Prince.)
Alas, the drama sobered up in its second half and lost some of its zaniness, which was the whole reason I watched in the first place. Interestingly, the real breakout of the cast was Yoo Ah-in, the baby-faced Antique Bakery actor who channeled into his assassin character such intensity that it was jarring, because he was at that point the only actor still trying. (Gu Hye-sun stuck it out too, but her character was annoyingly bland.) Eric totally phoned it in, but I doubt he could have saved this snark fodder even had he given his most focused performance ever.

THE WORLD THEY LIVE IN
("MEH" scale: Watchable until you fall asleep)
I liked The World They Live In. At first. It was another "premium drama" that showcased high production value and a highly anticipated lead coupling with Song Hye-gyo and Hyun Bin. The fast dialogue kept conversations brisk, the salty language was a refreshing change, the voiceover insights were thematically constructed.
But yunno, you can only be SO thoughtful and insightful and staid and studied. Because while it was nice the first several episodes, after a while, it got tiring. The voiceovers that framed the episodes (promoting themes like "innocence" or "professionalism") became intrusive and, frankly, were overwritten. They began to come across as precious, trying too hard to be meaningful rather than actually being meaningful. I know this is rich coming from me — she who never met a simple thought she couldn't expand into a paragraph — but in a drama, we don't want voiceover essays.
Song Hye-gyo got some flak for her acting, but I don't think her problem is a lack of ability, but a lack of… willingness?, perhaps, to dig deep and expose herself through her character. When playing the cool, professional drama PD, she was totally competent. It was when anyone tried to get more emotion out of her that I had difficulty connecting, and when you can't connect with the main character of a relatively low-key drama, you're pretty much toast.
Eom Ki-joon was always the most compelling part of The World They Live In for me; his jackass PD character was realistic, acted with flair (I think Eom really dug playing the bastard), and entertaining. But I wasn't willing to plod through a lot of zippy talkety-talk and slow-moving plot to get to his scenes.
I never grew to dislike this drama, however; just lost interest in it. Of all of the dropped series this year, World is probably the one I'd try picking up again at a later point.

BEETHOVEN VIRUS
("MEH" scale: Surprisingly watchable as a casual viewer)
Here's where I diverge from my usual pattern, because I only saw the first four episodes with my full attention, then stopped following the drama. However, I did catch it a few times when flipping through the television stations, and when I dropped by my parents' home, this was the drama they were usually watching. So the perspective I have on Beethoven Virus is one of a casual watcher and channel-flipper — in short, your average Korean television audience.
My parents are very indifferent drama-watchers, and care nothing for the pedigree of writers, or directors, or production companies, or any of the things I tend to discuss when dissecting a drama on this site. They only know what catches their attention between 9:55 pm and the 11 o'clock news. They channel-flip at every commercial break, and thus rarely ever watch an episode of anything in its entirety. Yet that does not bother them, because television to them — the average viewer — is just a pleasant way to spend the after-dinner hours.
Because of the haphazard way I caught the later episodes, I don't have a good understanding of the chronology or even all the plot points of Beethoven Virus. I only know that when the TV was on, my parents and I would catch the drama while conversing, eating, reading, and otherwise going about our lives. And as this kind of viewer, Beethoven Virus was very watchable, and enjoyable — because all you had to do was follow the general plot and tune in whenever Kang-mae (Kim Myung-min, whom my parents got a huge kick out of) launched into one of his outrageous tirades.
I have the vague sense from reading comments that the ending did not meet with general viewer pleasure, and I can imagine a whole slew of scenarios where that could be true. However, when I caught the last episode, none of us had been keeping up with the plot but we all liked the ending.
This is not how I typically watch a drama, and I think most people who come online to read, follow, and post about their favorite series are watching with more interest and higher expectations than the casual viewer. However, it could probably do us all a little good to remember what drives the drama-making machine back in Seoul. My experience with Beethoven Virus was actually a nice reminder to me to keep things in a little perspective.

EAST OF EDEN
("MEH" scale: Unwatchable)
East of Eden OST – "운명을 거슬러" (Opposing fate) by SG Wannabe [ Download ]
Audio clip: Adobe Flash Player (version 9 or above) is required to play this audio clip. Download the latest version here. You also need to have JavaScript enabled in your browser.
Oh, irony. I was actually prepared to revise my initial (negative) opinion on East of Eden, because while it had been difficult getting into, it did become more engaging than I had expected. (Ugly scenery, clichéd storylines, and overacted, yes — but it made you want to know what happened next. What will happen with the birth switcheroo secret? But he hates him! But he's his brother! But nobody knows that! Oh, now he knows!) Of course, as soon as I had made that mental adjustment, East of Eden really DID fly into the crapper and turned into everything I had assumed it would be at the beginning: overwrought, confusingly written, and a hotbed for internal drama. Judging from your comments, many of you are fed up too.
In fact, what with the current kerfuffle over the state of this drama, the actual plot doesn't seem as interesting, does it? Writer switches, actors sniping at each other, people dropping out, repeated budget cuts… The theatrics are much more juicy behind the cameras than they are in front of them. And at least the tantrums and heated debate behind the scenes make sense, which is more than you can say for the drama itself.

A Star's Lover: I'll keep this short because this drama is still airing, but at six episodes I think I can weigh in. So far it's a typical romance drama with a dash of humor. The story is not extraordinary, but this drama is carried by the execution and lovely cinematography, and enhanced with score that adds to the dreamy ambiance. I'm holding out hope that the diminished whimsy of recent episodes does not mean it will go away entirely. Choi Ji-woo is at home playing essentially herself, and Yoo Ji-tae, the veteran movie star, does great in his drama series debut.
Rivals (aka Powerful Opponents): Simply put, this drama was a waste of Chae Rim. And Lee Jong-hyuk. When one hears of a drama centering around rival Secret Service agents serving the president's son, one might expect a certain level of professionalism to be shown by said agents, mixed with some danger and intrigue. What we got was two adults bickering like hormonal high schoolers and a wild, uncontrollable First Son who deserved to be smacked around a bit. The series attempted more humor than I would have thought but never struck the right balance between its (attempted) comedy and the action.
Iljimae: There's been a tendency for some to assume that me mocking Iljimae is me mocking lead star Lee Junki. I'd like to say: That's not so. (That goes for all series, actually.) I was interested in Iljimae because it was pretty and I've liked Lee Junki in the past, when he's not overacting. I also like Han Hyo-joo even though she has a long way to go as an actress. But I found the drama alternately too silly and too melodramatic, and the characters too stock. I am, however, looking forward to MBC's take on the same character in Return of Iljimae.

On Air: Shrill, grating, like nails on a chalkboard. This is a drama that turned me off from the get-go. Yeah, it went on to be a big hit and featured lots of star cameos, but those were casting stunts and not relevant to the plot. I disliked every single character, to the extent that I found myself rooting for them to all tear each other apart to save us the trouble. Perhaps the characters went on to develop depth; I was not going to sit through any more aural torture in mere hopes that they would. Self-indulgent and self-congratulatory, this drama is slick and polished on the surface, but lacks soul. And heart. Ratings say this was very watchable for most; it was unwatchable for me.

Tazza: I kept expectations low, so the first few episodes were more watchable than I thought they'd be. But I just couldn't get over thirtysomethings playing teenagers — for one flashback it's fine, but spending multiple episodes in that time period pushed it too far — and I was out. Also: It's amazing how much Han Ye-seul has improved her acting and yet remains so far from good. Or maybe the bad southern accent made her seem that much worse.

Robber: Forgettable, and an unmitigated flop. I think Lee Da-hae is a talented actress, and she got to show some of her crying abilities here. Jang Hyuk has, for several straight projects, been playing up his rascally side with scoundrel characters. Both were wasted, both went on to bigger dramas, and both will probably only look back on Robber as a distant memory.
When Night Comes: What I said for Iljimae also holds true for When Night Comes — bashing the drama does not mean I'm bashing its stars, Kim Sun-ah and Lee Dong-gun, both of whom have done much better work than this. Kim was nominated for one of those end-of-year awards, but it seemed kind of like a duty nomination — or worse, a pity nomination. She's had a rocky path after Samsoon, and fans were thrilled at her TV comeback. However, Night struck me much like Rivals — big names, contrived plot. It wasn't UN-watchable — but rather, what was the point?
I Love You: Seo Ji-hye is lower-profile than other actresses of her age, but she's one to keep an eye on. This drama seemed sweet and simple — accidental pregnancy leads to love between a May-December couple (she's 21, Ahn Jae-wook plays 35). I liked it, but it was so placid that there was nothing about the plot or characters that pushed me to keep me going, so I didn't.

Three Dads, One Mom: Ugh. I get that people enjoyed this show, and I think that's great. I don't think badly of anybody who likes a drama I find horrible; I just marvel at their patience and chalk it up to personal taste. I was pretty forgiving of this series, and stuck through five hours despite feeling pretty certain that it would not improve. Eugene looked adorable, but her character sure was naggy. Jae Hee — whom I love! — affected a baffling nasally whine for his character (was it a conscious choice to remind us he wasn't the main lead?) Jo Hyun-jae has done better; here he seemed to be acting halfheartedly. I wanted to like this drama, if only for my soft spot for male camaraderie, and the lead trio (rounded out by Shin Sung-rok) was prime male-bonding territory. But I found Three Dads clunky and poorly written and, ultimately, unwatchable.
Painter of the Wind: I probably shouldn't even weigh in on this one because I am so woefully behind. By all accounts this is an excellent series with stand-out acting, and one of the most beautiful-looking ones of the year. Moon Geun-young made good on her early promise as one of Korea's best up-and-coming actresses, and found a way to stretch her formerly cute kid-sister image playing the cross-dresser in a way she couldn't as a sexy starlet or grown-up woman (her attempts to mature her image in her late teens were largely unsuccessful). Still on the "to watch" list.

In conclusion…
2008 was not a great drama year. It was not a great year in general for the world, actually, so maybe we shouldn't feel too upset about dramas specifically. I think we're all looking hopefully to 2009 for an upswing, and by golly do we need one. Let's hope that these things alternate years, which means next year should be AWESOME. (…right?)
Once again, I give my wholehearted thanks to Sevenses, thunderbolt, and Dahee Fanel for participating in this year-end review! I hope you enjoyed it too, because I love reading their witty insights, even — especially — when we disagree. Because hey, I'm not here to get you all to think exactly as I do. That would be no fun.

RELATED POSTS
Tags: 1 show to rule them all, A Star's Lover, Beethoven Virus, Bulhandang/Robbers, East of Eden, Gourmet, Hong Gil Dong, I Love You, Iljimae, Love & Marriage, On Air, Rivals, Strongest Chil Woo, Tazza, The Last Scandal of My Life, The World They Live In, Three Dads One Mom, When Night Comes, Who Are You? (MBC), year in review, year in review 2008