From the set of A Star's Lover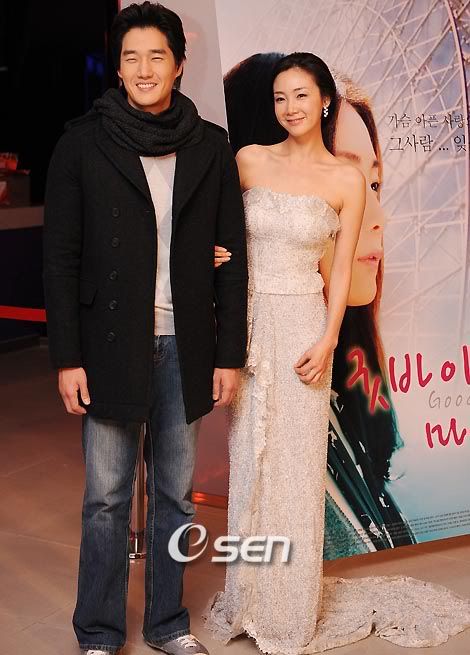 Only two days from its premiere, SBS's A Star's Lover invited press to one of its filming sites on December 8 for a preview of the new Wednesday-Thursday drama.
The drama's production press conference already took place last month with the main cast. This time, lead actors Choi Ji-woo, playing a famous top actress, and Yoo Ji-tae, her "normal guy" love interest, were present to talk to the media, although third wheel Lee Ki-woo was not.
I think, speaking from an objective standpoint, Choi Ji-woo has looked better in the past. Also, that couture hunch she's doing is an example of one of those things people do to look interesting in magazines, but only make you look, uh, really odd in real life.
With Yoo Ji-tae in his casual attire and shoes next to her, the internal story I'm constructing to explain the odd juxtaposition is that she's a crazed Bridezilla determined to have The Best Wedding Evah — explaining the haughty model pose and the bridal gown with full train — and Yoo's all, "Whatever, dude."
Actually, let's go one step further in this imaginary scenario to say that Choi's like the older, famous sister of the bride. Little Sis is one-upping her unni by marrying early, so while Choi is secretly bitter, she's outwardly forced to put up a front of faux generosity. In a passive-aggressive move, she tells Little Sis that she's "sorry" she can't make the wedding because it's her drama press conference day. Then she gets on the phone, screams to her manager to change the date of her press conference to coincide with her sister's wedding, orders up a designer white gown to rival her sister's wedding gown, and shows up just one flower short of a bouquet, if you get my drift.
At the press conference, Yoo is all, "Whatever, dude," because it's not his fault his co-star lost her mind. Even though it IS getting a little annoying that she keeps referring to him "the groom" instead of "my co-star."
As though that weren't enough, La Diva even forces her stylist to follow her around holding up the train of her bridal gown dress, like a maid of honor at a wedding, because she is just that ridiculous. And she basks in the bright white glow of the camera flashes, because it's the only warmth she'll get today.
I mean, come on. With photos like these, this stuff just writes itself, doesn't it?
Via My Daily
RELATED POSTS
Tags: A Star's Lover, Choi Ji-woo, Yoo Ji-tae