Remembering Lee Eon through his youth
It was a sad day when Lee Eon, most known for his role in the drama Coffee Prince, died in a motorcycle accident last August. Now a book is being published posthumously, featuring Lee's own writing and music, called Twenty-seven, Burying Youth. The model-turned-actor, born Park Sang-min, died at the age of 27.
Also, as February 5 is Lee's birthday (born in 1981, he would have been 28), family and friends gathered to commemorate the day at a Kangnam café. Attendees included actors Lee Chun-hee (Good Sunday's Chunderella), Joo Ji-hoon (Antique Bakery), his Coffee Prince co-star Kim Jae-wook, Koyote singer Bbaek Ga, and model Jang Yoon-ju.

Joo Ji-hoon, Jang Yoon-ju
Lee had often expressed himself through words and music during his lifetime, writing frequently and also working as a club DJ. His mother said, "We proposed this book first and made it with a grateful heart on behalf of all the fans and youths and for parents like me to cherish Sang-min's memory. I hope this will be a warm story of youth that everyone can relate to."
The book also contains contributions from fellow actors and models who write of their friendship with Lee, including Joo Ji-hoon (Antique Bakery), Kim Jae-wook and Yoon Eun-hye (Coffee Prince), Ryu Deok-hwan (Welcome to Dongmakgol), Yeh Hak-young (Like Father, Like Son), and Choi Ji-ho (Antique Bakery).
The volume goes on sale February 6.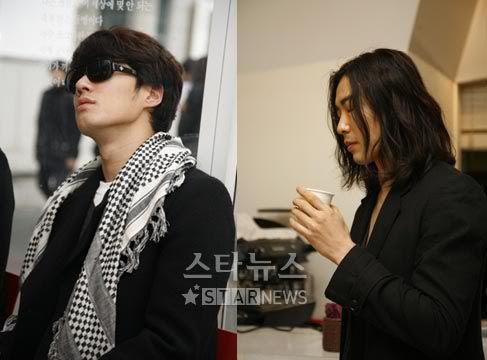 Lee Chun-hee (above) said, "I came so I can think of Eon today on his birthday… I remember back when we both worked as models together, and played games while we waited backstage."
Bbaek Ga said, "I worked on Lee Eon's last photo project. I wanted to become better friends, but I'm sad we weren't able to become closer."
Fellow model-turned-actor Kim Jae-wook said, "The book isn't for me to mourn hyung's [Lee Eon's] life, but because it's a book showing what he wrote, felt, and wanted to convey about his youth."
RELATED POSTS
Tags: books, deaths, Jang Yoon-ju, Joo Ji-hoon, Kim Jae-wook, Lee Chun-hee, Lee Eon