Artist Profile: Jang Kiha and the Faces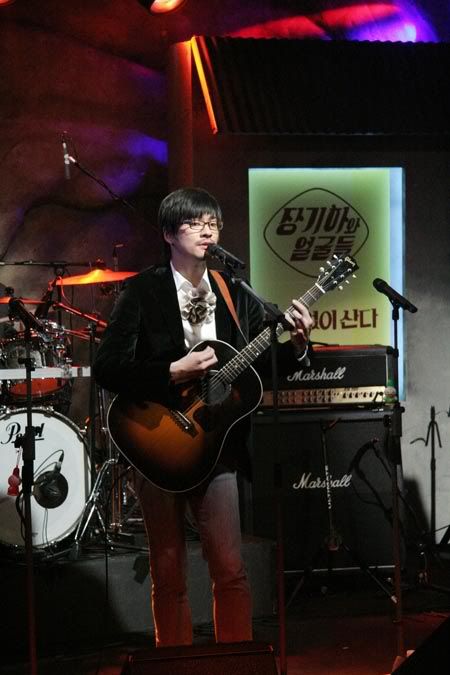 If you're into Korean indie or rock music, you may already know about Jang Kiha and the Faces — and if not, you should be hearing about them very soon.
Jang Kiha has all but exploded onto the scene recently, and is being called the "indie Seo Taiji," accruing enough acclaim and buzz in the previous half-year to be drawing massive mainstream attention as well.
What is the appeal of this guy? Well, the lo-fi simplicity of his alt-folky music has its definite appeal, as do his playful lyrics and flippant vibe. But it's also his cool, laid-back attitude and the curious case of his incidental fame.
SONG OF THE DAY
Jang Kiha and the Faces – "싸구려 커피" (Cheap Coffee). His sound can be likened to 1970s-esque folk rock inflected with a dash of whimsy, but it is also described as blank of emotion. By that, it means that the songs aren't particularly heartfelt or emo — but that's its charm. For instance "Cheap Coffee" — I particularly like the syncopated talk-singing part — is a cool shrug of a song. [ Download ]
Audio clip: Adobe Flash Player (version 9 or above) is required to play this audio clip. Download the latest version here. You also need to have JavaScript enabled in your browser.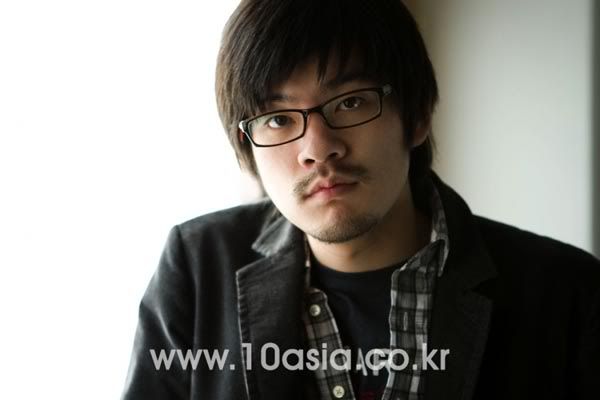 BACKGROUND
Jang Kiha, 27 years old and born in February 1982, graduated with a bachelor's degree in sociology at Seoul National University. He got his start in his music career as the drummer of the modern-rock group Nunco Band [눈뜨고 코베인], which formed in 2002.
The name of the band, Jang Kiha and the Faces, comes from the nickname Jang picked up as the "best-looking of the indie scene" — hence the "faces." Jang sings vocals, plays guitar and percussion, and writes the songs. "The Faces," who all sing in the chorus, include bassist Jung Joong-yub, guitarist Lee Min-ki, drummer Kim Hyun-ho, and backup dancers Mimi Sisters.

THE "JANG KIHA SYNDROME"
Jang's popularity exploded after he put out his self-produced debut in the latter half of 2008, a single album called "Cheap Coffee" [싸구려 커피], which met with incredible fan response. (In particular, the song "달이 차오른다, 가자" — The Moon is Waxing, Let's Go — which you can listen to here.)
Following that wild success, he released his official first album under the group name Jang Kiha and the Faces. The CD came out in late February and is titled "별일 없이 산다" ("living plainly" or "living without incident"), and is likewise doing very well — after selling out in preorders numbering 8,000, a further 10,000 albums were pressed to meet demand.
Earlier this month, he won a 2009 Korean Music Award for Netizens' Male Artist of the Year — beating Big Bang's Taeyang — and also walked away with Song of the Year and Best Rock Song for "Cheap Coffee."
Not only that, but concert sales were opened at around the same time of the album's release, and sold out in 45 minutes. The concert was attended by the likes of rock musician Lee Juck, comedienne (and actress-singer) Kim Mi-ryeo, and the CEO of Sidus FNH, Cha Seung-jae. Not freaking bad for a new indie singer-songwriter, eh?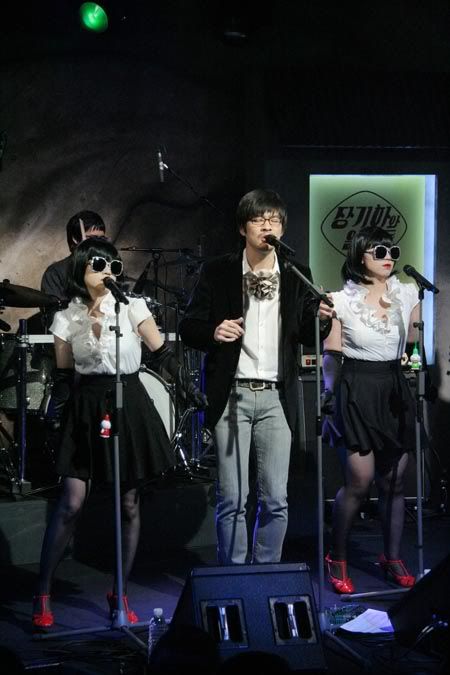 Jang Kiha and the Faces – "정말 없었는지" (Was that really not there?). Love the chorus on this one. [ Download ]
Audio clip: Adobe Flash Player (version 9 or above) is required to play this audio clip. Download the latest version here. You also need to have JavaScript enabled in your browser.

THE APPEAL
So why is he so popular?
Part of his appeal is that his music is genuinely refreshing — it may not be to your taste, but his sound provides an antidote to the usual kpop stuff, and even to the other "k-indie" bands out there. (For instance, I do love most of the Pastel bands, but you've gotta admit, after a while they all start sounding the same with their pretty vocals and bossa nova influenced melodies.) Jang Kiha's music's not actually completely original — more like a twist on the familiar. It's a little retro, a little quirky. I admit, it wasn't immediately my bag, but the more I listen to it the more it grows on me, and now I love it.
But another side of the popularity coin is because the phenomenon — which kicked off last fall and continues unabated now — came unexpectedly, and its model for success breaks the "rules" of what it takes to be a success in the music industry. There was no huge marketing push — no "faceless artist" campaign, or sexxxed-up adverts, or famous idols cameo-ing in music videos. Rather, one song by one musician got picked up by netizens, passed around, and rode the wave of popularity. Viral popularity at its best.
Yet through it all, Jang Kiha remains unperturbed — "enough to make you wonder if this is really the guy at the center of all that success." He says, "I am surprised by it, but on the other hand, even if I hadn't sold well, I'd still put my hard work into my performances anyway."
That same unruffled reaction applies to his album. While many musicians who shoot to fame with their debut experience a sophomore slump (and suffer the burden of expectations and comparisons), Jang Kiha's motto remains "I make the music I want to make."

THE MUSIC
He "talks like he sings, sings like he talks."
Put simply, I find that Jang Kiha's music does its own thing, instead of being reactive to the scene (which is what I think too much pop music does). He's like the guy who's so unconcerned with being cool that he IS cool. By ignoring trends, he thereby sets his own.
I wonder if it's difficult to appreciate Jang Kiha fully without knowing the lyrics, but they do make it a lot more fun. For instance, the song below is playful and energetic; it starts, "Let's walk slowly, walk slowly, walk slowly." His talk-singing portion in the middle includes a bit that goes, "You're walking too fast, I can't follow… Let's walk slowly."
Jang Kiha and the Faces – "느리게 걷자" (Let's Walk Slowly) [ Download ]
Audio clip: Adobe Flash Player (version 9 or above) is required to play this audio clip. Download the latest version here. You also need to have JavaScript enabled in your browser.
But for a closer insight into Jang Kiha the man and the artist, let's take a look a few excerpts from this great interview from (who else?) 10 Asia:
"Right now I'm making some money.
For that, I'm grateful."

When appearing on a music program last winter, his groupmates told him to find out about some bigger (money-earning) concerts. Asked why, Jang says:
"If I perform at places that make some money, I feel more comfortable, because those help the band members. You earn almost no money from club performances, and these days just the fact that I'm bringing in some money is meaningful, and I should keep that up. But it's nice to earn money doing events put on by people who have a skill in that area."
But when asked about how he feels about his album coming in at No. 1 and selling thousands of records, he says:
"I'm grateful for that. When people start an indie band, they don't start with vague thoughts of, 'Will I make money?' However, I'm bringing in a little income now. For that, I'm thankful. I don't have the thought to get rich; I'd just like to make enough money to survive without depending on anybody."
The interviewer asked, "I hear you're earning enough to pay for food, liquor, and car bills," to which Jang answered:
"That happened during activities for 'Cheap Coffee.' Actually, when I first started Jang Kiha and the Faces, I was working a part-time job at a broadcast station as a reporter's assistant. I did some typing, and sometimes summarized reports from foreign wires. I earned a bit of spending money that way… after graduating my parents completely cut me off. Now I can make music without working another job."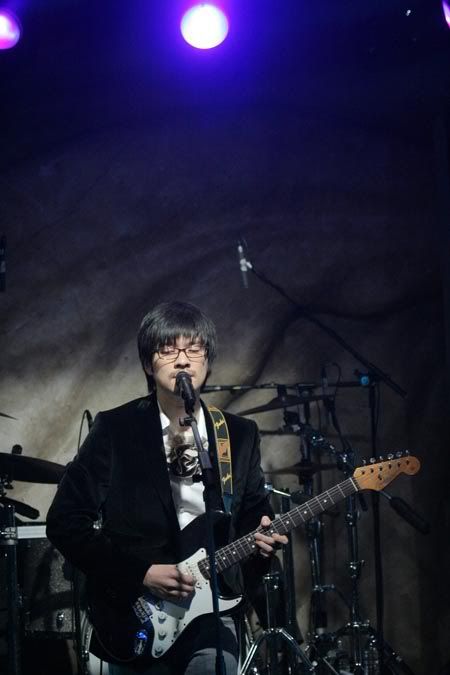 Jang Kiha and the Faces – "나와" (Come Out) [ Download ]
Audio clip: Adobe Flash Player (version 9 or above) is required to play this audio clip. Download the latest version here. You also need to have JavaScript enabled in your browser.

"I didn't make my music trying to counter
the Korean pop scene"

Regarding his lyrics and songwriting style:
"I don't know what I'll come up with in the future, but I'm not hugely interested in writing songs about societal topics. But whatever the thing, it always starts from the self, and I think if you do a good job when talking about something personal, that can become a matter of social consciousness. Supposing I wrote a song that's 'completely rotten and without feeling' [those are lyrics from the song], that would be 'Cheap Coffee.'"
The interviewer notes that Jang seems to consider "fun" [재미, i.e., things that are interesting or entertaining] a very important thing:
"I place a lot of value in amusement. We have to live with enjoyment, and listen to music with enjoyment. I think the fact that these words can be misconstrued means that there are a lot of people who think of the meaning of 'fun' too narrowly. There are people who think you have to travel all over and always be entertained to live a fun life, but to me, the music of Red Hot Chili Peppers is also fun, and likewise the music of Radiohead… Someone can say, 'They're just fun but they're only a band,' but what more does a band have to be than that?"

"A person has to live thinking that
one can face complete ruin in one moment"

Then, what fun or interesting things are going on with Jang Kiha?
"What's most unbelievable is that I was chosen to be the guest opener at Seo Taiji's concert on March 15. What am I, Forrest Gump? It's like how he was always meeting presidents and being there at historical events. It's amazing that I can make music and encounter a music hero I respect like that. I got to broadcast alongside Bae Chul-soo on Bae Chul-soo's Music Camp, and perform with the Kim Chang-wan Band and spend all night drinking with him afterward."
The interviewer asks, "Now that you're in your mid-twenties, you've said that you feel like everything could suddenly disappear, like Tetris blocks. Do you have a vague fear that your fame as an indie artist, your relationships with musicians, everything you've gained in a short time could disappear?"
"People have to live thinking that they could face complete ruin in one moment. If you think people's interest in you is a given, the moment it's taken away, you'll collapse. You shouldn't take it for granted. On the flipside, if that interest dies down a little, you can live your life the way you want to, then."
Asked if his life reflects his album title ("living without anything special"), Jang Kiha answers:
"There are lots of special events going on, and living is enjoyable. No, life is fun because there are lots of special events."
Via Hani.co.kr, Newsen, Herald Biz, 10 Asia
Tags: interviews, Jang Kiha, musicians