Cafe Seoul's three brothers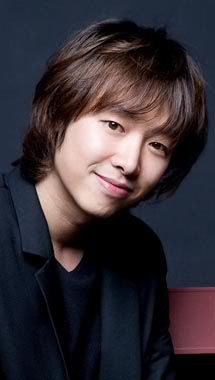 Kim Jung-hoon, Kim Dong-wook, Choi Sung-min
There's another Korean-Japanese co-production coming out, and this one has rather flown under the radar. News came out about the movie Café Seoul [카페 서울] after it had already wrapped filming. In fact, one of its actors, Goong's Kim Jung-hoon, just enlisted for his army duty a few days ago (April 28) and won't be around to see the film come out this summer.
Along with Kim Jung-hoon, the film also stars Coffee Prince's Kim Dong-wook, as well as Choi Sung-min (Big Sister, Saving My Wife); together, the three play brothers.
The movie is filmed by Japanese director Take Masaharu of the 2007 film Boy Meets Pusan and also stars Saito Takumi. It sounds like a simple indie drama, but something about the description strikes me as lovely: the movie tracks "the process of youths coming to realize the warmth and meaning of old things in the midst of the fast-changing streets of Seoul."
The three brothers have lived their separate lives after losing their parents in a car accident, and the eldest brother (played by Choi Sung-min) is a "warm, simple type" who tries to keep their sweets shop running, which is full of old memories. Kim Dong-wook is a cool-headed and motivated patissier, while Saito Takumi plays a friend of Kim Jung-hoo's character. When the fate of the store is endangered, the brothers rediscover family and love.
Café Seoul will open in Japan in July, and also will screen at this year's Pusan International Film Festival. While Kim Jung-hoon will be serving his military duty for the next two years, Kim Dong-wook has several upcoming projects, which include the Ha Jung-woo film National Athlete [국가대표] and the omnibus movie Ogamdo [오감도].
Via Mk.co.kr
RELATED POSTS
Tags: Choi Sung-min, Kim Dong-wook, Kim Jung-hoon