Drinking interview with Kang Ji-hwan (Part 2)

Continuing from the previously posted Part 1…
If the woman is pretty and respectful of elders, "YES!"
Did your parents have any opposition?

I cried exactly once because of my mother. In More Beautiful than a Flower, my photo was shown on a sticker on the cell phone that Go Doo-shim wore around her neck [as the character's deceased son], and my mother saw it and was excited, saying, "That's my son!" I felt so awful seeing that. That night I locked my door and cried so much. I was blowing my nose and vowed to become famous no matter what, and to keep that drama in my filmography. I wanted to show how that guy in the sticker picture could make it. Wouldn't that give somebody else hope?

Where did you serve your military duty? Were you perhaps exempted?

I served in Kyeonggi Province, 2nd artillery brigade, armed forces. I operated a 2.5 billion won K77 armored vehicle. When I was in active duty, I even wore a beret and acted cool, but when I went to training for the armed reserves we were set up in front of a supermarket. What a disappointment.

For some reason, I get the feeling you picked on your junior soldiers a lot.

I only did that as much as I was picked on. [Laughs] Managing such expensive equipment, if you relax your discipline, an accident occurs. I even received a vacation prize once after directing some of the soldiers in a performance with a script I wrote.

How long has it been since your last relationship?

About two years? I dated a couple of women until recently, but they didn't continue for long. Now, I want to meet a woman I can marry.

What kind of woman are you attracted to?

Women who are pretty who know how to respect elders. I think pretty women are less likely to have insecurity complexes. If she treats my parents well, I'll want to treat her parents all that much better. I want to have kids and dye my hair and get earrings together.

What do you consider your strengths and weaknesses?

After living life thinking a lot and planning out everything, it gets a little tiring. I think it makes things harder on those around me, too. On the other hand, I think I'm pretty good at working hard and not letting things get me down.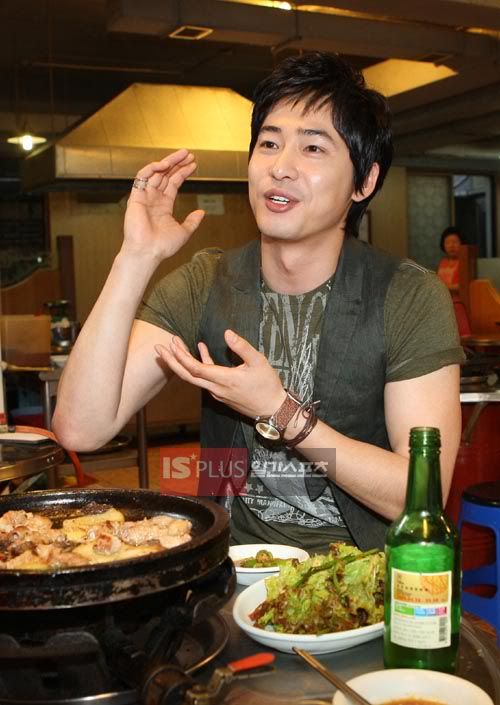 I understand that Rough Cut didn't earn even 1 won in profit. Does that upset you?

It wasn't just me, but also So Ji-sub and the investors who couldn't recoup a penny. That was because of a financial accident originating with the distributor. The production company sued the distributor, but there hasn't been a pointed way to deal with this.

As an actor, I've received positive response from it, so I'm not hugely bothered about it. The film was able to run and everyone received applause for it, but perhaps it's fitting to say that it ended with merely a smile. It's disappointing that it didn't meet with a clean finish, but I think if we wait, we may hear good news.

Now that you're famous, do you like it?

I'm not famous yet. Yesterday, I'd come out of a massage and a woman got out of a Benz and handed me her car keys. She thought I was a parking attendant. I handed her keys back and said, "I don't work here," but she didn't recognize me through the end. It makes me want to explain my troubles to "무릎팍도사" [Golden Fishery], "People don't recognize me."


Now tipsy, Kang Ji-hwan lets loose with questions like "People say not to become friendly with reporters, but do real reporters backstab?" "Why did you become a reporter?" "What's your specialty?" As he said, "At times like this, we should try switching places," he tried to look at my notebook. The agency president sitting next to him, Kim Jung-hee, laughed, "Oh, our curious boy is showing his true side." Sometimes he's demanding in a cute way, and the thought occurred to me that this sly personality was the real Kang Ji-hwan.


What kind of person do you think you are?

I'm cautious. When eating sashimi, I find it gross so I have put it into a leaf or something to cover the fish's eyes while I eat.

What's the truth of the dating rumors with you and Go Hyun-jung or Kim Haneul?

I was going to be in a drama with Go Hyun-jung, I Was Bad, but I think I got mentioned as "Go Hyun-jung's man" because my name recognition was lower. Even I would think in those terms. I've only met her two or three times. Haneul should date a better guy than me. [Laughs] To be honest, whenever those rumors pop up, it's not a bad feeling. I even feel honored. It gives me the feeling that I've become a star.
Kang Ji-hwan's current events test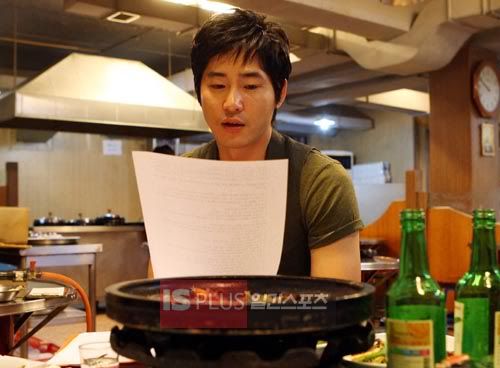 There are too many to list them all, but the questions range from basic pop culture ("What's the Jung Ryeo-won drama that may end early?" Answer: Ja Myung Go) to geography ("What's the capital of Canada?") to film-centric ("Who's the famous music director who worked on films 'Cinema Paradiso' and 'The Untouchables'?" Answer: Ennio Morricone).
Looking in Kang Ji-hwan's bag: "Why Spiderman?"
The items are:
Aviator-style sunglasses from Emporio Armani.
Spiderman action figures.
Watch and bracelet from Calvin Klein Jeans.
Motorola cell phone with gold touches.
DVD of his movie Rough Cut.
An iPod Touch used to listen to music or watch dramas while in transit.
Via IS Plus
RELATED POSTS
Tags: interviews, Kang Ji-hwan