Something To Do Before Dying releases in July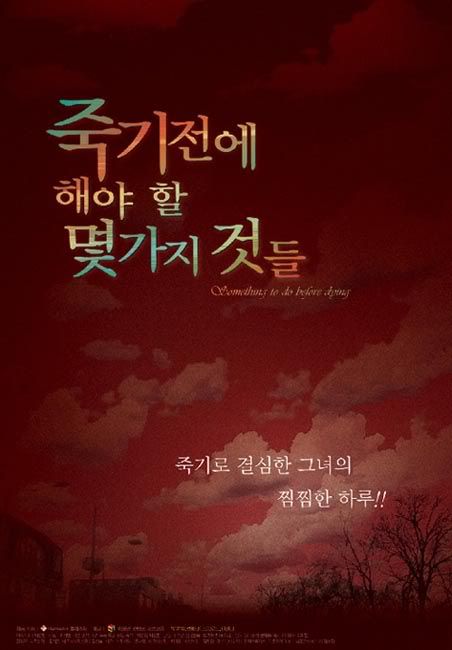 I'm not quite sure what to think about this movie — whether it's poorly conceived or timely, sensitive or insensitive.
There's a new film coming out next month, and it's called Something To Do Before Dying [죽기전에 해야할 몇가지 것들] and deals with the topic of suicide. The main character is a young woman who "lives an ordinary life, and one day decides to die." What follows is a series of accidental encounters told in a plain, calm manner and which "evoke a unique feeling."
The film stars relative newbie actress Namgung Eun-sook, who appeared in the sports film Forever the Moment, as the main character Soo-yeon. Directing is Park Sung-beom in his follow-up to the 2007 film My Girlfriend's Boyfriend.
The film tracks a day in the life of Soo-yeon with an "emotional" touch that seeks to portray her "complicated but delicate state of mind." It sounds like it'll be a quiet indie film that doesn't sensationalize her decision, and yet I wonder at the appropriateness of a(nother) suicide-themed movie following a year of high-profile suicides (Ahn Jae-hwan, Choi Jin-shil, entertainer Jang Chae-won, model Kim Ji-hoo, singer Lee Seo-hyun, actor Kim Seok-kyun, actress Jang Ja-yeon, actress Woo Seung-yeon — all since last September).
It's not the only suicide-related film coming out soon; the latest (fifth) installment in the "Memento Mori" series of horror films is titled Suicide Pact and starts with the basic premise that a group of high school students decides to kill themselves together. However, for some reason I'm not as uncomfortable with that film, perhaps because it's a horror movie that depicts suicide as a Very Bad Idea. (And if the girls are haunted by a murderous ghost, presumably they spend the movie fighting to live, not deciding to die.)
Then again, maybe it's too early to get up in arms about Something To Do Before Dying. I'm a little wary of a film that centers around a woman living what sounds like a normal life who decides that suicide would be the thing to do, like it's some kind of panacea for boredom. But who knows, maybe she decides against it, and the film will actually be valuable in showing the thought process of somebody who changes her mind and decides to live. Well, I can hope that it will, at least.
Something To Do Before Dying will release in theaters on July 9.
Via Max Movie
Tags: Namgung Eun-sook