Preview shows off a stylish Yoga School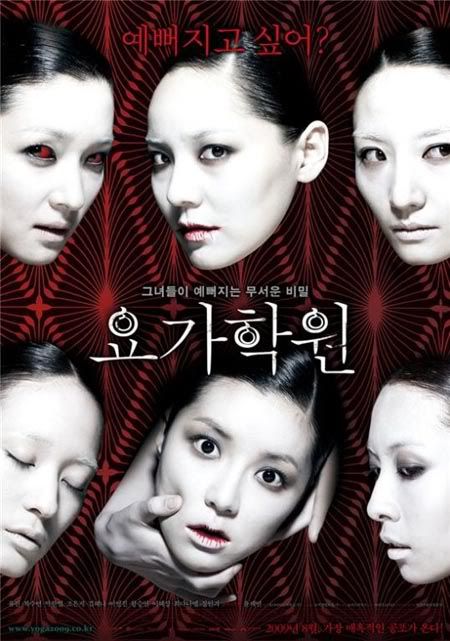 Based on previous looks at the upcoming horror movie Yoga School [요가학원] , I thought this movie might turn out slightly cheesy and very B-list. But after seeing the preview trailer (watch below), I'm pleasantly surprised to find it looking a lot sleeker, cooler, and more mysterious than I'd expected.
Rather than going for outright scares, Yoga School aims more for creating a chilling ambiance and the cinematography goes for a dark, stylish flair. (I still think the posters are crap, though. And given that the preview actually looks good, the posters hardly do it justice.)
The trailer begins as Eugene's character, a shopping network host, is told at work that her appearance (meaning lack of) is hurting sales, and is none-too-gently told to take better care of herself. She's outraged, but is told, "Women have to be pretty." Thus she seeks out a yoga school promising effective results, which is also sought out by other women harboring insecurities about their appearances (Park Han-byul, Jo Eun-ji, Kim Hye-na).
The women move in to train and live on the premises for a few days, and are given a set of strict rules by their mysterious teacher (Cha Soo-yeon). They are kept from making contact with the outside world while training at the school, given food restrictions, told to refrain from showers, and forbidden to look into mirrors.
We can see the ladies breaking the rules, and what unfolds is a series of creepy events. But, as the cast has noted, what is frightening isn't merely the strange circumstances of the school but the ugliness of people's desires as they are gradually laid bare.
Yoga School opens on August 20.
Via Asia E
RELATED POSTS
Tags: Cha Soo-yeon, Eugene, horror movies, Jo Eun-ji, Kim Hye-na, Lee Young-jin, Park Han-byul