Yoo Seung-ho at Busan's press conference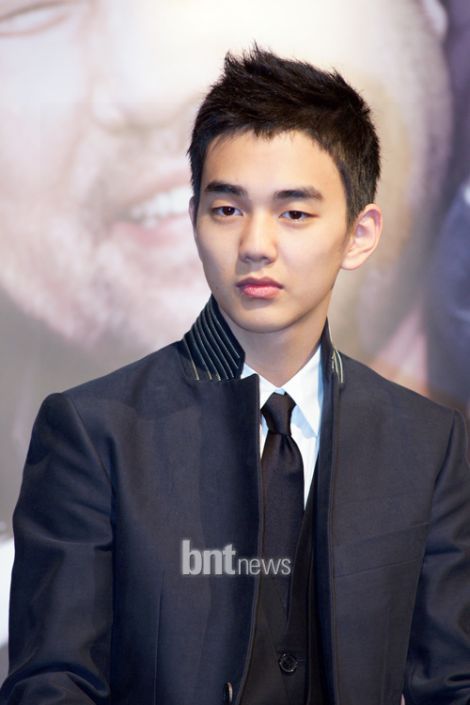 Yoo Seung-ho's new film, Busan, held its press conference on the morning of September 23, alongside his co-stars (and father figures in the film) Kim Young-ho and Go Chang-seok.
Yoo sheds his "um-chin-ah" (boy next door) image in this movie, which shows his most mature showing to date. He said, "I worked harder on this than previous projects. I tried hard to keep habits from when I played child roles from coming out here." In the film, he is the only son of a roughneck father who's always drinking and gambling. Go Chang-seok, who plays that father, admitted jokingly, "I had to hit Seung-hyo a lot of times, but it wasn't because I wanted to. The director made me."
The plot gets going when Yoo Seung-ho's character, who falls into Busan's nighttime back-streets lifestyle, learns that he is dying of heart cancer. In order to save his son, Go Chang-seok seeks out the boy's biological father, who has been absent for the past 18 years.
Yoo expressed his changing approach to acting: "As I grow older, the way I think about acting changes. In the past, I thought that doing what I was told was everything, but now I've started wanting to work harder on my own." However, he's still not completely satisfied with his acting in this role: "What's disappointing is that I filmed this movie back in February or March, and I started looking differently at acting in August. I think to myself, 'If I had another chance, I could really do well this time.' Busan is the movie I'm grateful for, which got me to look at acting in a new way. In the future, as I become an adult I'd like to take on this kind of acting again."
He was also asked about his recent thriller movie, Fourth Period Murder Mystery, wherein he shared a kiss with his co-star Kang So-ra. Asked whether a kiss scene or action scene was easier to perform, he answered, "I've never had a girlfriend. Acting with my male sunbaes is a lot easier."
Busan releases on October 15.
Sign. Yoo Seung-ho is 16 years old and currently in his first year of high school (or 10th grade in the U.S. system). He's also headlining films, acting alongside A-listers, and turning heads with appearances in super-popular drama hits. Well, don't we feel inadequate.
Via OSEN
RELATED POSTS
Tags: Go Chang-seok, Kim Young-ho, Yoo Seung-ho