Overseas fans surprise Lee Junki with good-luck cranes
This is sweet (and yay for overseas fans, yet again): in anticipation of Hero's broadcast premiere tomorrow, overseas fans have shown their support for lead actor Lee Junki in the form of 30,000 origami cranes.
The fan gifts arrived on November 17 at Hero's Seoul filming location in a truckload containing fifteen boxes. Lee Junki had been taking a brief break from filming at the time of arrival, and hearing that they'd come from his overseas fans, he opened the boxes himself to confirm the sight.
Lee said, "I was so surprised and thankful. I want to hang them all up at home. The fans act without being bound to nationality and it seems like they have the ability to always surprise me. This time, I received a gift I couldn't have even imagined receiving. Thinking of how long it must have taken them to fold all of this makes me even more moved."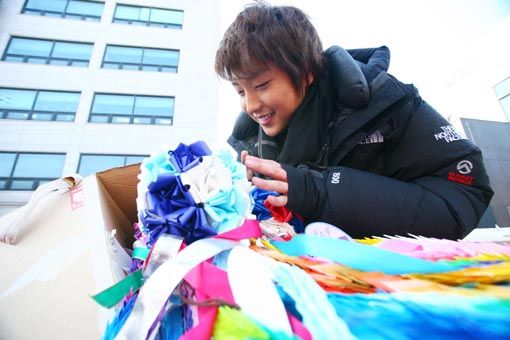 Via BNT News
RELATED POSTS
Tags: Hero, Lee Jun-ki