The Woman Who Still Wants to Marry: Episode 7
This rollercoaster ride of an episode takes us from zero to sixty, then back again before we know it. It gave me some serious whiplash, but I'm a tv masochist, so you know I'll be right back for more. We finally get some good conflict between the girls (they can't be perfect roomies forever), and oh boy, do we get some great moments between Shin-young and Min-jae. Let the squeefest begin!

EPISODE 7 RECAP
Shin-young, having been stood up by Bu-ki for their sauna date, enjoys a home-version steam, which apparently consists of steaming your butt while wearing a shower curtain. Oh, Korean gadgets. You slay me.
So of course right at this instant, Da-jung and Ban-seok arrive home from their first date, all abuzz from rice wine and flirting. Can't a girl just steam her butt in peace? Mortified, Shin-young pulls the shower curtain over her head and some Buster Keaton-esque slapstick ensues.
Also, honorable mention in the previous scene for Shin-young drinking her beer with a sippy straw. That? Is the girliest thing ever.
So Shin-young is now trapped in her room, and Da-jung, who is clearly drunk, invites Ban-seok to stay for tea, insisting that it would make Shin-young even more uncomfortable if he were to leave like this. There could only be two explanations for this crazy lapse in roommate etiquette: either Da-jung is so drunk as to impair all manner of judgment, or Da-jung was raised by wolves.
As Shin-young plots Da-jung's murder and Ban-seok uncomfortably drinks his tea, Min-jae pops up on the television, performing a song for the music program at Shin-young's station. Ban-seok claims Min-jae is his good friend, and Da-jung says she's met him, which Ban-seok assumes means that she's a fan. Methinks the degrees of separation are becoming uncomfortably few here.
Shin-young is still waiting it out, when she hears Min-jae's voice coming from the other room. She presses her ear to the door and the look on her face…
…is moonbeams and butterflies. Min-jae, on the other hand, is not so pleased. He watches the performance on tv with his excited bandmates, while getting calls and texts all night from well-wishers. Only none of them are from the person he wants. Well maybe if your hyung hadn't interrupted her butt steam, she would've had the wherewithal to text you a smiley face or something.
His bandmates tease Min-jae that he's waiting for that reporter noona's call, prompting Min-jae to say he doesn't use the word "noona" when referring to women. This reinforces my assessment that Min-jae is very careful with his word choice concerning what he and Shin-young call each other. While other guys his age would call her "sunbae" or "noona" to become friendlier with her, Min-jae is trying his darnedest to close the age gap by talking to her like they're the same age.
On another television across town, we see that Sang-mi is also watching Min-jae's performance. Oh, she looks pissed. Guess your mom disapproves of your singing career, eh? (By the way, this mother-son relationship is still unconfirmed. But the anvils. Oh, the anvils.)
Back at the girls' apartment, Da-jung finally sends Ban-seok on his way, as Bu-ki arrives. She can't quite put her finger on it, but she swears he looks familiar. Just then, Shin-young roars into the living room, death beams aimed straight at Da-jung.
And this has to be said…Park Jin-hee is rocking my socks off in this episode. She can play Shin-young as alternately slapstick laugh-out-loud funny, and then completely vulnerable and emotionally real when she needs to be.
The girls fight, throwing blame back and forth in a shouty manner, as friends do. Bu-ki even gets blamed for bringing the butt steam contraption into the house, which just makes me chuckle. And then, it hits her. Bu-ki remembers where she's seen Ban-seok before. He's the chocolate guy!
You can just hear the wah-wah-wah of Da-jung's deflating hopes and dreams. She dejectedly makes breakfast the next morning, musing that it can't be; Ban-seok can't be the same bumbling guy that they told Shin-young not to date. He can't be chocolate guy!
Shin-young comes to breakfast in much better spirits than the night before, mostly because now Da-jung has also been taken down a peg. Da-jung follows Shin-young around their tiny kitchen, hovering over her and asking her if she's really sure Ban-seok is the same guy, and asserting that it's not like she's stealing Shin-young's man or anything since they only had the one chocolate encounter, to speak of.
Shin-young tells her to give it a go with Ban-seok. Their tone starts to get short and snippy; eventually each girl assumes the other is jealous of her. Da-jung even goes so far as to say, "You shouldn't be like those single women who get upset when their friends start dating because it makes them scared of being alone." Oh, snap. Who recorded conversations of me and my college roommate?
Shin-young can't resist: "Fine, you go get a gold ring wrapped in chocolate then." Shin-young goes to work, leaving Da-jung with a nagging feeling that she forgot to say something important.
At work, Shin-young and her team search for new stories, and land on the idea of a hidden camera expose on a kissing-bang (kissing room), which from what I gathered in this episode, consists of a man paying a girl to kiss for a set amount of time, presumably with more money leading to more intimacy. Or something like that. It's definitely on the seedy side, seemingly either a front for prostitution or a step below that. See, this is what happens when you repress, people!
Shin-young asks all her male colleagues to help her out and go undercover, to no avail. Her cameraman won't do it for fear his all-knowing girlfriend will find out. Her evil sunbae predictably won't do it unless he gets the scoop for himself.
Back at home, Da-jung spends the morning anxiously awaiting Ban-seok's call. She does that thing that all women do, trying to fill her time with useless activities and jedi-mind-tricking the guy into calling when he said he would call. Been there, sister.
She desperately needs a girlfriend's opinion on the matter, but decides (rightly) against asking Shin-young. She calls Bu-ki instead, going through all the various scenarios in which he may have lost his phone, or been too embarrassed about Shin-young to call. You forgot the one about being at a yoga retreat where you have to shut off your phone so as not to disturb the serenity. That one's a classic. Bu-ki, of course, gives her no reassurance on the matter. She simply states that either he will call, or he will not, in which case there are plenty of fish in the sea and Da-jung should just move on.
Well, that's just not good enough for Da-jung, who rushes over to Bu-ki's restaurant to overanalyze the situation in person, like a good girlfriend should. Only Shin-young is there to meet Bu-ki as well. The girls keep up the iciness and throw more thinly veiled insults back and forth, all the while with Sang-mi in the background, hearing everything.
Da-jung rattles off Shin-young's shortcomings, saying that she isn't satisfied with the ex who's back in her life, wanting someone much younger with whom she has no hope or future, unsuccessful at work, getting older by the day…oh, she's laying it ALL out there.
To Shin-young's credit, she doesn't do the same to Da-jung, which I myself would not have the self-restraint to do. So to sum up, Da-jung is mad that Shin-young is jealous of her, mad that Shin-young thinks that she's jealous, which of course she is, and upset that Shin-young is upset because she's dating someone new. You follow? Look, no one said women weren't complicated.
Shin-young simply spits back (rather loudly) that she'll be dating BOTH men, as per Da-jung's advice. Uh-oh. Guys, if Sang-mi is indeed Min-jae's mom, we are in deep trouble now. This is coming back to bite Shin-young in the well-steamed arse. Bu-ki tries to appease the situation by offering up her cooking class as a distraction. I smell an awkward moment coming on!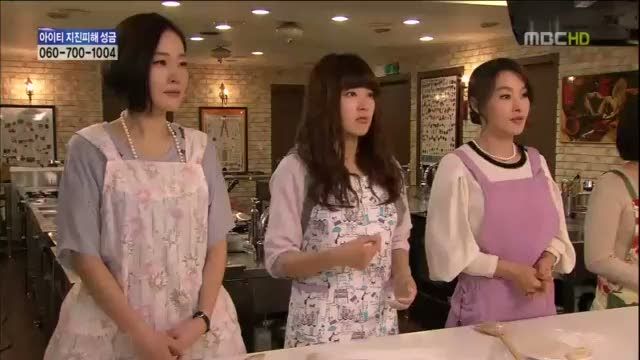 And yup, here it is. Bu-ki has convinced all three women to join the cooking class, where Shin-young is sandwiched between Da-jung, who is mad/jealous/hurt, and Sang-mi, whose disapproval of her is growing by the minute.
Each according to her character, Sang-mi makes perfect little tortellinis in her perfect way, Shin-young tosses her ingredients around carelessly, and Da-jung stares longingly at her phone. She never wavers from her priorities, that one. Finally, Ban-seok calls and Da-jung immediately lays on the charm. She even puts a cute little dab of flour on her face, and sends a picture to Ban-seok, not caring that Shin-young is silently judging her the whole time.
Shin-young and Sang-mi have a minor altercation involving spilled pasta, adding yet another reason why Sang-mi is going to disapprove of her in the future. I like that they're layering this stuff in early, so that there are personal reasons why Sang-mi will become a future obstacle for the couple in the long run. I hate it when parents in dramas are just disapproving as one-dimensional characters, with one-dimensional reasons.
Sang-mi will be interesting because she isn't just (going to be, I tell you) Min-jae's mom, but also a fleshed out character. We know that she got pregnant at 20, got married to the philanderer because of it, and is regretting her life choices in this moment of crisis. So we have Sang-mi, at 44, whose husband is going after women who are 34 (the age of all three lead characters), and whose son, at 24, is dating a woman of the same age. She's going to have some serious jealousy issues. I mean as a woman, not in like, an Oedipal way. Gross. Get your mind out of the gutter.
I really like that this drama is using the various ages, 24-34-44, to separate the characters' stages in life, while complicating them romantically. I agree with javabeans' take on the nuanced portrayal of age difference here. I think that these characters are not ashamed nor plagued by their ages, but rather searching for what age means concerning life and love, testing their limits and acknowledging their shortcomings.
Shin-young decides cooking class is not for her, and leaves to go have lunch on her own. This scene in the Chinese restaurant kills me. Shin-young is about to eat her lunch for one, when the hostess comes by and asks if she would be willing to share her table during the busy lunch rush. She obliges, and has to spend the entire meal sharing a table with a sickeningly sweet couple who apparently cannot eat food with their own hands.
Anyone who has eaten alone at a restaurant knows this feeling. Even if you've done it a hundred times, there's always just that one day, that one time, when it makes you feel completely alone in the world.
And it's beautifully written all over Shin-young's face, as we witness her feelings in silence.
Don't you just want to run over there and give her a hug?
Sang-woo, meanwhile, goes on a blind date with a twenty-something woman and then immediately calls Shin-young to tell her that he turned her down because he'd rather have Shin-young (implying he's such a great guy cause he's willing to take her thirty-something self over a younger girl). Only he neglects to mention that in his shallowness, he promptly dismissed the girl for being overweight. Shin-young totally calls him on it though, saying, "Well, she must have been ugly, flat-chested, or poor." Sang-woo wonders how she knew. Simple, simple Sang-woo.
Min-jae finally decides to text Shin-young first, and over the phone he tells her he's disappointed that she didn't watch him on tv or call him about it. She says she had something come up last night (ahem, butt-steam), and he's being pissy over nothing. He counters, "When you like someone, you expect that much more from them," which catches her off guard. But she recovers quickly and asks to see him, with a glint in her eye.
Min-jae mistakes her excited tone as an indication that she's dying to see him, which is adorable, but we know better. She's got work on the brain and needs a favor. When she arrives at his school, though, they greet each other with unmistakable chemistry.
Min-jae again tells her that he likes her, RIGHT. TO. HER. FACE. Listen, I don't know what ya'll look for in an ideal guy or girl, but this is it for me right here. Someone who can say that to your face has some serious cajones, and as javabeans said in the last recap, this is Min-jae's advantage in age. He doesn't have the same defenses set up like Shin-young does, so he isn't hedging his feelings or waiting for an equal playing field. He just lays it down. Bam! You got served!
Shin-young, stupid, clueless girl that she is, replies, "Do you really like me? Then do you want to do me a favor?" She's got a one-track mind, this one, and right now she needs an undercover agent for the kissing room story. Cut to Min-jae's face, all, you want me to go where and do what?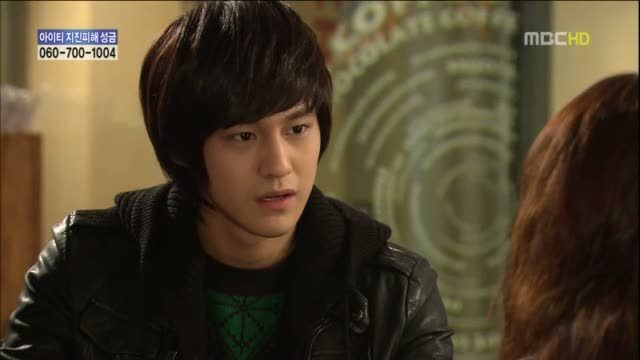 Shin-young pleads her case, but Min-jae refuses, asking if she would be okay with it if he kissed another woman. She seems totally unruffled by the idea, and says that he should refrain if he can, and if it comes to it, just kiss her.
Min-jae, getting a somber look on his face, says that he doesn't want his first kiss to be in a situation like that. At that, Shin-young and all of us, go: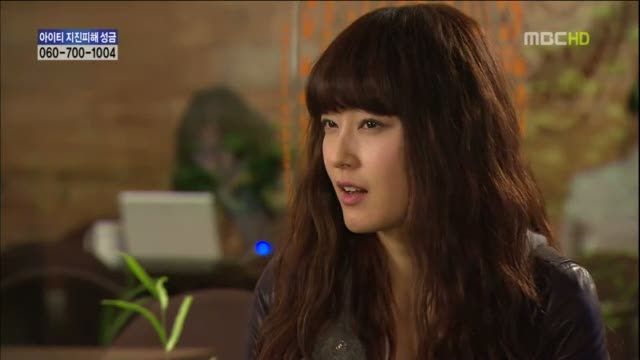 Errrrr…no. No way. Seriously? No friggin way. You? Have never kissed a girl? Liar. Lying Liar who LIES! I saw that head turn at the end of episode 5, buddy. No freaking way you are telling the truth right now!
Shin-young, naïve for her age, relents that if that's the case, then he can just refrain from any kissing and just get the footage that she needs. He refuses, sending her away, then at the last minute concedes to helping her if she agrees to go on a movie date with him. Done deal!
Outside the kissing room, Shin-young gives Min-jae the spy camera bag and a set of questions to ask the girl. He hesitates and shoots Shin-young one last look of "this is going to make me feel yucky inside but I'm doing this for you." And although Shin-young urges him to go, once he's in, her face changes.
While anxiously awaiting his return, Shin-young starts to imagine the tawdry goings-on, worrying that she's tainted this innocent kid, and even envisions herself breaking up the pair just before some PG-13 action occurs.
As it turns out, though, Min-jae is hardly the smooth operator. In fact he's totally awkward and obvious about his spying, and tips off the girl right away to his undercover status. In walks the skeevy looking pimp, demanding to know what Min-jae's got in the bag. Min-jae, not so tough but not stupid either, clobbers the guy in the head with the camera bag and gets the hell out of dodge. He grabs Shin-young and they make a run for it.
They have a good laugh over it at a café, and Shin-young apologizes for dragging him into doing such a big favor. Min-jae says he was the crazy one for agreeing to do it. Shin-young: "Then why did you do it?" Min-jae baits her, "Why do you think?"
She plays coy, so he gets right to the point, "Wouldn't you say that the next step is a relationship?" Shin-young balks, "YOU (jagi) and ME?" Min-jae says she knows that he likes her, unless she's stupid. "Why do you like me?" asks Shin-young, still laughing. "You have no reason to like me," she decides. Oh, you're doing that thing, selling yourself short to keep from hoping, and getting hurt and disappointed. The walls, the walls!
Min-jae teases, "You're right. You're older, not very pretty, have a rotten personality, and you're not even a successful reporter. If there's no reason to like you, but I still like you, doesn't that mean I REALLY like you?" Well, you got me there, kid.
Shin-young evades the issue by saying her ego is bruised, and Min-jae asserts (correctly, I think) that the reason she's so happy even though her undercover story is ruined is because Min-jae escaped unscathed. He is referring here to the kissing, not so much the hitting. He calls her a baby, noting that her face reveals everything she's feeling.
I completely agree with him here. Shin-young totally wears her feelings on her face, and that's one of the most endearing things about both the actress and the character. There are so very many one-expression actors in kdramas; it's refreshing to have a cast (the three leading ladies) who can carry scenes with no dialogue and deliver emotional nuance and depth.
Min-jae realizes that at some point, Shin-young has stopped listening to him. She's fixated on something going on outside, noting that a young woman is ushering students into a shady looking van. Shin-young, oblivious workaholic that she is, immediately calls her camera crew and news team over to investigate. Min-jae marvels at her one-track mind, wondering how she could be such an ambitious (read: workaholic) woman.
Shin-young, not taking her eyes off the van, replies offhandedly, "Yeah, I got dumped by my ex because of that." To which Min-jae says, "I'm not going to dump you. You can rest easy with me." But Shin-young DOESN'T EVEN HEAR HIM because she's so fixated on the job. Min-jae just laughs in exasperation. Yeah, right there with you, buddy.
The team sets up the sting operation just outside the café, and Shin-young runs the whole show like a seasoned pro. In a cute and tiny moment, she looks back at Min-jae in the middle of work, which speaks volumes, I think, about how much she really thinks of him. Also their looks are just…
So it turns out the van is a shop on wheels, presumably selling stolen goods to unsuspecting young women. They assess that a large crime organization must be running the operation. The team wonders what they sell to guys, and Min-jae finds himself undercover for yet another time that night. Wow, you can't impress this girl with flowers or candy. You have to be Philip freakin Marlowe to get this girl.
So Min-jae goes shopping in the van, only this time…the van takes off with Min-jae still inside! Shin-young runs after it, calling out to him, but it's too late.
Shin-young sends the rest of her team back to the station and waits for Min-jae on her own. She worries that his phone is off and that something horrible could've happened to him.
At the same time, Ban-seok calls to confirm his lunch date with Da-jung, which jogs her memory about the thing she wanted to tell Shin-young. She calls, but Shin-young is of course too distracted about Min-jae's kidnapping to deal with Da-jung, so she hangs up abruptly. Da-jung, ever the narcissist, can't believe that Shin-young is being so petty and jealous because Da-jung has a new boyfriend.
Shin-young continues to wait for Min-jae in the café, until it closes and she eventually ends up outside, crouched in the street. Bu-ki calls, and Shin-young, in a rare moment, opens up to her friend.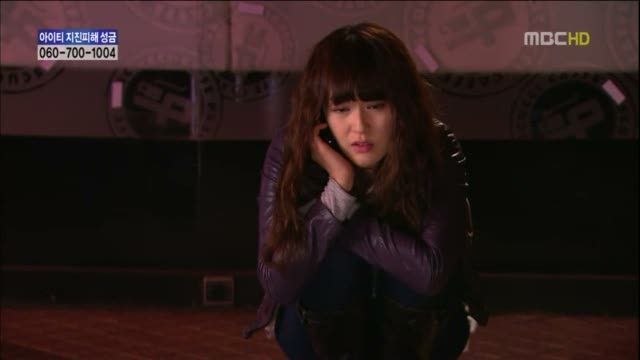 Shin-young: "I know why I'm always alone. I'm too selfish. I only know myself. The memory of being loved is growing so faint. Now, letting someone in my heart, revealing myself to someone, has become difficult for me. Because nobody loves me…in order to guard myself…maybe I let myself become selfish."
I love that this is the major conflict with this character. It's just so…relatable and real. It's not crazy rich heirs or babies switched at birth; anyone who's loved a love and lived a life can relate to her. It's very Kim Sam-soon, her search for how to love like she's never been hurt.
Bu-ki hilariously just tells her to shut it and come to the restaurant. Everybody needs a no-nonsense friend like her. I just want to carry her around in my pocket.
Just then, when she's feeling her lowest, Min-jae appears. It's a perfect visual too; she's crouched low on the pavement, feeling down about herself, and Min-jae's arrival makes her lift her head and look up at him, the man who will pick her up and teach her how to love again.
Shin-young, tears in her eyes, asks what on earth happened and why she couldn't get a hold of him. He states simply, "I turned my phone off so you would miss me more." Saucy monkey.
They go to Bu-ki's restaurant to eat and warm up, and Min-jae fills her in on his van escapades. Basically, he got them to take him to the other warehouse full of goods. "You love me to death for finding this out, don't you?" he asks, self-satisfied. And she really does. There's no hiding the fact that this is the way to this woman's heart, weird as that may be.
Min-jae reminds Shin-young that they never finished their previous conversation. Shin-young: "What conversation?" Whaa? Seriously? Sometimes you are clueless and a half. Min-jae: "I want to call you every day, eat with you, and talk to you all the time. Be my girlfriend." While everyone else in the known universe dies from the squeeing, Shin-young doesn't even give it a moment's pause. "I don't think I can do that," she says.
Shin-young states matter-of-factly that he's too young for her. When pressed to give an ideal age, she says at least thirty-two. Min-jae: "Then date me and wait…someday I'll be thirty-two." Something a kid would say.
They banter back and forth some more about Shin-young not wanting to waste her time, and Min-jae calls her out for being scared and ashamed of her age. She fesses up to the fear that the kind of woman she's worked so hard to become…all that disappears behind the stigma of age.
Shin-young says that dating Min-jae would just be a waste of time (meaning that spending her time with him rather than looking for a suitable marriage partner would be counterproductive, not that he's a waste of time as a person).
Min-jae: "Then I'll step aside. If the man that you want to marry shows up, I'll step aside. Until then, be with me."
Shin-young: "I don't want to."
Min-jae: "So while waiting around for a man who may or may not show up, you're going to lose me? Is that it?"
Shin-young: "If people see us together, they'll laugh."
Min-jae: "That's why you're still alone. You think too much. Your heart wants to go, but your brain stops you. I said, if that man appears, I'll let you go."
Shin-young: "And if he doesn't?"
Min-jae: "Stay with me forever."
Okay, all together now…SQUEE.
Min-jae confesses to liking her a lot. At this, Shin-young finally gives an inch: "The fact that I might end up liking you…it scares me." Min-jae counters, " You've already begun to like me." Word. And THEN? He reaches out his hand to cover hers, and takes her hand in his.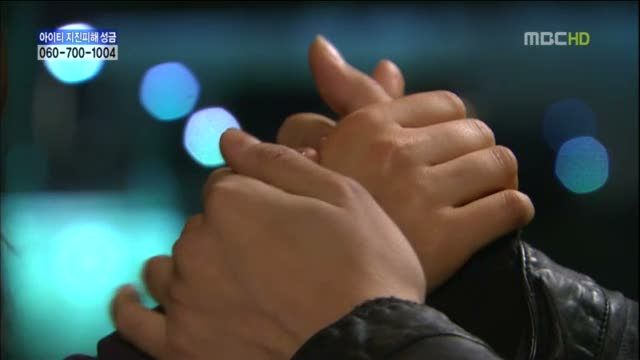 It mirrors their pinky swear, but now holds much more meaning. This actually thawed my icy, icy heart.
Shin-young admits, "For the first time in a long time, my heart is racing." Min-jae, lost in her gaze, says, "You're pretty when you smile." And Bu-ki, who has witnessed all this, muses from afar, "A relationship has properly begun."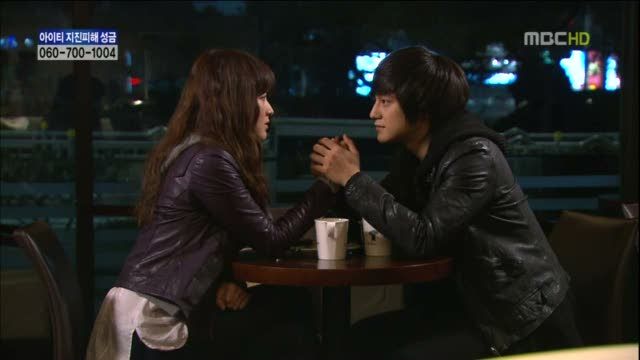 They adorably spend all night snuggling together at the restaurant. In the morning Shin-young drops Min-jae off before going straight to work, and she is the embodiment of glee. A short montage shows Shin-young and her crew reenergized and working hard on the new program.
At lunchtime Da-jung and Ban-seok have their second date, where Ban-seok proudly shows Da-jung that he has saved her photo as his cellphone wallpaper. Da-jung practically dies of happiness, which just makes me laugh that she thinks Shin-young is jealous of her. One woman spent the night getting undying confessions of love, while the other got her face turned into a screensaver. Just sayin'.
Da-jung remembers to ask Ban-seok about his younger friend who made the bet…to woo an older woman and dump her. Is this friend Ha Min-jae? OH. CRAP. Don't do it! Don't say it! Bite. Your. Tongue! Aaaaaaaarrrrgh. It's too late. Ban-seok totally spills the beans, enough for Da-jung to put the pieces together, and now, the bet? SHE IS OUT.
Shin-young, still heady from her night of sweetness and love, calls the girls over to the apartment for a little party. She dances around to one of Min-jae's songs, twirling around like a giddy little girl.
Da-jung and Bu-ki arrive, and Da-jung tries to tell Shin-young about the bet, but she can't get a word in edgewise. Shin-young starts quoting song lyrics: "If I close my eyes and think of you, even without wings, I fly to the heavens." She says she can finally hear lyrics now. It's so silly it's cute.
In the most adorably open and happy way, Shin-young tells her friends that she's started a new relationship, and that she's so excited and happy. The words are unnecessary, as her performance here is just so…heartbreakingly full of joy.
Bu-ki is happy for her, but upon hearing that they spent the night together, Da-jung grows more frantic. Once she's sure that they haven't slept together yet, Da-jung drops the bomb, "Ha Min-jae made a bet that he could lure in an older woman. And that woman…IS YOU."
Dun…
Dun…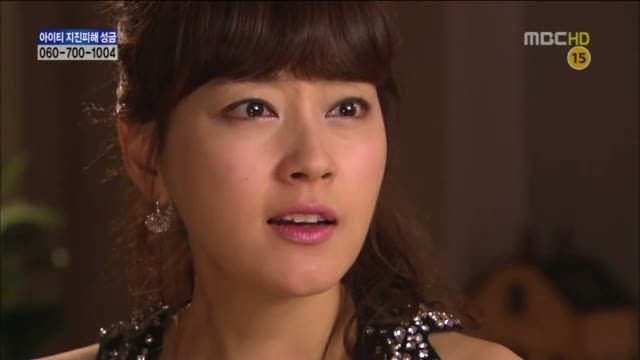 DUN!
Here's what I like about this: the bet wasn't dragged out a month into their relationship, or something like that, where it could do much more damage. Right now, it's not so much Secrets and Lies, as it is a misunderstanding and a giant blow to the ego. Because they've only just begun dating, Min-jae has the chance to do some recovery, as long as Shin-young doesn't completely shut down at this point.
It worries me, but in a good relationship-tension way, not in the melodramatic sense. Because it's early, there's a chance they can keep it light and not veer down the path of heavy drinking and vows of chastity.
And to my surprise, we let Shin-young know right away in this episode, right after Da-jung finds out. (That is, no one keeps the secret, creating more accomplices to the lie and breeding more distrust. Hate it when dramas spend entire episodes bringing more and more side characters into the web of lies, until finally everyone knows except for the main character.) This episode bears no signs of such nonsense, being heavy on the squeeworthy moments and speedy with the dispensing of knowledge, all of which bodes well for how this drama will handle the storyline in the future. Let's just keep it moving, people. Stagnation breeds discontent!
RELATED POSTS
Tags: Choi Chul-ho, Eom Ji-won, Kim Bum, Lee Pil-mo, Park Jin-hee, The Woman Who Still Wants to Marry, Wang Bit-na