Oh My Lady: Episode 4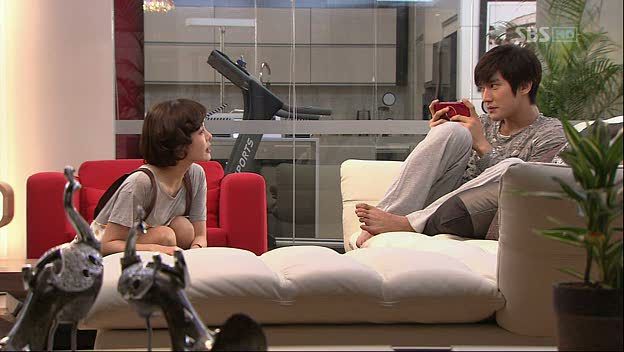 I think the drama is finally getting its emotional footing. I'd been a little worried that it wouldn't make that emotional connection, so I'm relieved at the signs in this episode.
(By "emotional connection," I don't necessarily mean that I want melodrama or angst, specifically. It's that I want a drama to feel like it has some sort of emotional sincerity, that the characters are built on something genuine, not just cliches of plucky ajummas and spoiled stars.)
SONG OF THE DAY
Hush Creek – "Time Machine" [ Download ]
Audio clip: Adobe Flash Player (version 9 or above) is required to play this audio clip. Download the latest version here. You also need to have JavaScript enabled in your browser.

EPISODE 4 RECAP
After spitting wine in Min-woo's face, Kae-hwa explains that he really caught her off-guard. How could he ask that she be Ye-eun's mother when they barely know each other?
Min-woo doesn't think that's such a big deal, eager to fob off his parental duties to her, until he realizes what Kae-hwa is thinking — surely she doesn't think… that he's suggesting… they be parents together? He recoils with maidenly horror.
After taking a moment to primp in the hallway, Yura rings the doorbell, and as soon as Min-woo sees who it is, he panics. Hurriedly cleaning up, he pushes Kae-hwa into the bedroom and tells her to make sure Ye-eun stays quiet.
We can tell from Min-woo's body language and his reaction — fawning, eager-to-please — that he still carries a torch for Yura, a friend from university days. Her confident, coy air is typical of a woman who was always the prettiest girl at the ball, who expects her looks to open doors for her. Because, naturally, they do.
She has Min-woo wrapped around her little finger and he, the lovesick idiot, heaps compliments on her about how she's even prettier than before. Yura doesn't even try for false modesty and says that she likes hearing the praise. She also calls Min-woo "nice and innocent," which is surely something that nobody else could say, and wonders what would have happened with them if she didn't move to America.
Kae-hwa tries to hold back the urge to pee but can't resist any longer, so she peeks out of the room and gestures to Min-woo that she has to use the bathroom. Min-woo distracts Yura to allow Kae-hwa a moment to make a dash for it.
Yura explains that she's actually here to lobby a cause with him. After graduating from fashion school in the States, she's now working for her aunt's clothing company in Korea. They want Yura to convince Min-woo to be their brand model. He's only too happy to agree.
Unthinkingly, Kae-hwa flushes the toilet before recalling that she's supposed to be silent. Thankfully, Yura buys Min-woo's excuse that it's the bathroom upstairs. He doesn't have a good excuse when Ye-eun starts to cry, though, so he hurriedly ushers Yura out, saying that she should go home before it gets too late.
He sees her out, but Yura has forgotten her cell phone and heads back inside before he can stop her. She comes face to face with Kae-hwa, who has emerged thinking it's safe now, and the two women gape at each other in surprise.
Kae-hwa thinks quickly and introduces herself as an employee of the agency. Min-woo makes up the excuse that she was just dropping off a script, but he hadn't introduced her because he didn't want Yura to misunderstand the relationship. Again, he's happy that Yura doesn't get suspicious — she's too vain to be threatened by an ajumma, methinks! — and she just warns him to be careful of being seen at home with a woman because he might be the victim of a scandal.
Kae-hwa apologizes for the slip-up, and they get back to the matter at hand: Ye-eun's care. Min-woo wants to write up a contract detailing her duties as surrogate mother, and they settle upon a monthly pay rate. However, he was under the impression that she'd just take Ye-eun away and raise her at home, while she was under the impression that she'd come by here, like a babysitter. Min-woo barks that she's supposed to be on hand 24/7, so of course they'll need to live together.
Kae-hwa talks as though this is a big sacrifice for her: "I understand, I guess there's no other choice. I'll come live here." She'll have to endure until they can locate Ye-eun's mother.
Of course, Min-woo balks at this — wait a second! She can't move in! Kae-hwa explains that she doesn't have her own place right now. Maybe they should forget the deal, then. Assailed with the thought of Ye-eun crying all the time, he concedes the point. She can move in.
Kae-hwa has on several occasions shown that she can be unexpectedly persuasive, and she does that again here. She says that if she moves in, she'll inevitably do some house chores, and being a babysitter AND housekeeper should merit more pay… Grudgingly Min-woo adds to her pay, but also deducts her salary from the overall total — after all, she'll be working at the office during the day.
Min-woo is growing more agitated with the matter of Ye-eun, so now he tosses a bag of money at Tae-gu and tells him to bring Yeon-hee back, no matter what. If he has to fly to America to track her down, so be it. Since Min-woo hasn't confided the details in his friend, Tae-gu thinks this is all because he's still in love with Yeon-hee.
I'm a little apprehensive about the fact that Kae-hwa confides the truth to her friend Bok-nim. On the one hand, Bok-nim is a doctor and I'm sure she has a professional code of ethics regarding a patient, but on the other, she's been shown to be a silly fangirl where Min-woo is concerned. Kae-hwa warns her to keep the truth to herself, but I worry about it…
It's not long before Kae-hwa is called back to the daycare center where Ye-eun is staying, because the girl won't stop crying. Bok-nim explains that the girl is suffering from social anxiety disorder and is overcome with a lot of emotions: she's upset with her mother for leaving her, and scared of the new surroundings. Because her condition is completely psychological, the best way to start helping her is to cultivate an attachment with her father.
Bok-nim also advises a DNA test, for two reasons. First, if Min-woo is confronted with concrete data that Ye-eun is his daughter, it may force him to accept the truth quicker. Second, if it turns out she isn't his, they can't take responsibility for the girl forever. Therefore, Kae-hwa battles her nerves as she surreptitiously swipes both Min-woo's and Ye-eun's toothbrushes to turn over for testing.
Min-woo lunches with Yura and they chitchat about things like his musical project. While she doesn't make an outright claim on Min-woo, he's very encouraged by her suggestion to keep in touch.
Lunch is disturbed by a string of phone calls, all of which he tries to end quickly so he can get back to his date. He cuts off his manager Yoon-seok, who has just found that Min-woo has changed his door passcode, and also cuts off Kae-hwa's call reminding him about his first musical rehearsal that afternoon. He removes the battery and turns his full attention back to Yura.
Dissatisfied with Min-woo's recent behavior, Yoon-seok heads to The Show Company to check things out for himself.
There, the mood is ominous — Min-woo is more than an hour late and he's unreachable by phone. The room of producers, songwriters, and employees wait in tense silence, and bickering erupts between two of them. To defuse the tension, Kae-hwa takes out her phone and pretends to talk to Min-woo, making it sound as though he's very sorry and on his way over.
Of course, he walks in while she's still on the phone. Awkward! At least it could SORT of look like they were just talking, but I don't think anyone's buying it.
Shi-joon has been stewing in silence, and is offended with Min-woo's careless apology (which he only makes because Shi-joon prods him to). He instructs Min-woo to apologize properly — which of course Min-woo's pride won't let him do at Shi-joon's command — so he then orders Min-woo to leave: "You don't know how to be on time or to apologize. We have no need for a person lacking such basics."
Min-woo doesn't even argue with that, and points out that they needed a star, not someone with the "basics" of courtesy. They can pick one, but not both (because in Min-woo's world all stars are assholes?). And when an angry Shi-joon sneers that Min-woo still isn't "a real person," Min-woo turns the tables and asks if a real person is someone who ruins his projects and runs up millions in debt. (Clearly this is a reference to Shi-joon's struggling productions.)
Shi-joon says, "I'm the idiot for expecting even a little from you. Leave." Min-woo exits.
Yoon-seok's a little smug about the others having difficulty controlling Min-woo, but he takes precisely the wrong tactic (in my opinion) to win him back to his side by belittling Min-woo. He suggests that he quit the musical now, before he gets kicked out. When Min-woo takes issue with that, Yoon-seok lays down the harsh truth — his acting sucks, and it's not what has made him successful.
Min-woo says, "Then I can work hard!" Even though I doubt he even knows what hard work feels like, he's sincere in this moment so Yoon-seok's condescension is particularly hurtful. The manager laughs that some things in this world just aren't possible, and that calling yourself an actor doesn't make you one. Yoon-seok advises that he stay put and obey.
Overhearing this conversation, Kae-hwa sees Min-woo's hurt reaction and feels sorry for him. She waits by his car, and greets him cheerfully. Rather than mention the scene, she offers to be his driver and take him somewhere to cheer him up.
They end up at the grocery store, which makes Min-woo greatly paranoid at being recognized. This is what she calls cheering up?
Kae-hwa offers to make him anything he wants for dinner and picks out supplies. However, she can't resist stepping in to warn a group of ajummas not to buy the crab they're eyeing. She bought it previously and found it was a waste of money, so the ladies walk away.
This upsets the vendor ajumma, who gets in Kae-hwa's face for meddling. What does she know, and how can she vouch that all the crabs are bad quality? Turning to Min-woo (thinking he's her husband), she demands to know if he agrees, and in so doing knocks off his visor.
Immediately she recognizes him, and suddenly he becomes the focus of attention of everyone in the vicinity. He and Kae-hwa race off to avoid the onslaught — and you think fangirls are bad? Ain't nothing compared to rabid ajummas. Fangirls are fearless, but ajummas are fearsome.
Shi-joon sits through dancer auditions with his choreographer wife, Jung-ah, but he's distracted throughout and pays little attention. When he steps out for a break, he's greeted by a man who introduces himself as Jung-ah's colleague — whom Shi-joon recognizes as The Other Man.
He's keeping this knowledge of his wife's affair to himself, but it makes him cold when dealing with her (understandably). When she urges him to bring Min-woo back to the production — he can't afford to let this musical fail — he says, "If we divorce, you have no responsibility for my debt. Don't worry." That leaves her utterly confused.
Kae-hwa and Min-woo eat together, after which she eases into conversation. If he drops out of the musical, it's likely she'll be fired from her job, so she tries to broach the topic in a natural way. Kae-hwa starts with flattery — calling him really smart, and really sexy — which is hilarious because Min-woo is sharp enough to sense that Kae-hwa's up to something, but not sharp enough to think beyond, "Oh, she must like me."
She suggests that he "go all-in" for a project for once (as in, do the damn musical), and assures him he has nothing to be afraid of. He retorts, "Do you think I'm not doing it because I'm afraid?" She jumps on that: "Since you're not afraid, give it a try. And you can show your manager, who disregards you."
Oops. She just said too much. Min-woo catches that last bit and asks if she overheard his conversation.
Kae-hwa immediately tries to soften the words, defending Min-woo against his unfair manager, but as we know, he's particularly sensitive where his acting is concerned. That causes him to bark at her to shut up — who is she to act like she knows everything?
And then, as we've seen before, he retaliates for his own hurt by hurting her in turn, mocking her tiny salary and saying that the only reason he signed the contract was because he felt sorry for her for being divorced and homeless. So she'd better not overstep her bounds.
Min-woo stalks off, but overhears Kae-hwa answering her phone, and he's inadvertently stirred by the conversation. Kae-hwa talks to her ex-husband about packing kimbap for Min-ji's school outing, but the ex doesn't want to bother. They can just buy it for her instead. Packing a child's lunch is a traditional school picnic thing, so Kae-hwa doesn't want to ruin that for her daughter:
Kae-hwa: "Min-ji will be so sad she'll cry. I'm not going to make her cry anymore. She's already been hurt a lot because of us. You're only going to have her for a short while — can't you try being a father properly?"
Kae-hwa heads out, pausing at Min-woo's door to apologize and promise that she'll be careful not to overstep her bounds in the future. Feeling a prick of conscience (for once!), Min-woo grumbles uncomfortably, "Don't you have any pride, apologizing so quickly?"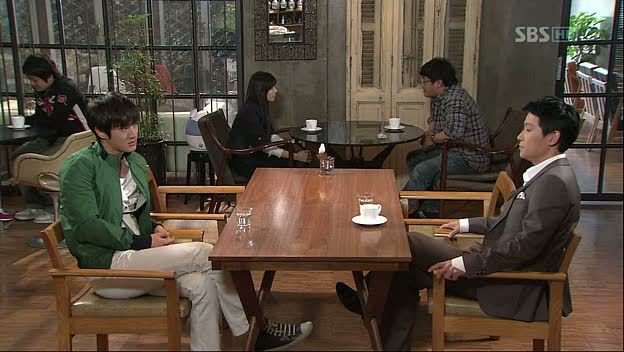 Min-woo is called out for a meeting with Shi-joon, who has calmed now and apologizes for losing his temper. He even says that Min-woo was right — they cast a star, so it wasn't fair to expect other things of him.
This is where he starts to win Min-woo over (although Min-woo wouldn't ever admit it), because he opens up and admits honestly that Min-woo was right about him being in debt over a ruined project. Only, it wasn't just the last ruined project, but the last three. He's millions in debt. Perhaps this is just a passing project to Min-woo, without much meaning, "but to me, it's something I've risked my life on." That's the life of a producer — if they keep putting out failed projects, eventually they'll end up on the street.
Min-woo's ruffled pride is more or less smoothed over by this admission, but he still asks why Shi-joon assumes he's doing this without thinking. Maybe he's being pressured by his agency, maybe he's interested in an actress, but in any case, "I choose because I have a reason."
Min-woo asks bluntly, "You disregard me, don't you? Because we met when I was 20 and immature. But my age now is close to yours then." He's learned a little about life since then, so he understands fine without Shi-joon talking down to him.
Shi-joon asks him to do the musical, and asks for Min-woo's understanding if he loses his temper in the future.
It was probably difficult for Shi-joon to make such concessions, and he's still brooding over his marital problems on top of that, so he sits in the empty office alone that night, drinking. Kae-hwa has stayed late working, and feels bad to see Shi-joon obviously feeling down. Quietly, she enters the office and tells Shi-joon not to worry about Min-woo — she'll take care of it.
On her way home, Min-woo calls to tell her to pick up some beer, which she does. (Here we see that she has listed him in her phone as "Awful Acting." We've already seen that he's listed her as "Meddler.")
But soon afterward, Min-woo gets a call from Yura, and eagerly agrees to meet her. As he heads out, Kae-hwa gets a text message informing her that the lab results of the DNA test are being delivered to her home. Since she has done the testing without Min-woo's knowledge, she has to race home to accept the documents before he gets a chance to see them.
She rushes home and beelines for the front desk, not knowing that the messenger had come just as Min-woo was leaving.
And Kae-hwa turns to see Min-woo standing in the lobby, staring at her with a hurt(? shocked?) look on his face, the test results crumpled in his hand. Ruh roh!

COMMENTS
As I mentioned up top, this is where I start to see glimmers of emotional connection, which I welcome. Until now, I'd felt amused by Oh My Lady, but not particularly moved, or attached.
For example, we got our first hint of a real connection, or at least understanding, between Kae-hwa and Min-woo in this episode. This is the first time Min-woo starts to look at Kae-hwa as an individual person — not just a representation of an "Ajumma" or "Annoying Presence" — which we saw when he overheard her conversation with her ex-husband. It's also something that may speak to him as a father, hearing Kae-hwa pleading for her husband to be a dad to Min-ji, for the child's sake. He hasn't looked at Ye-eun's situation from her perspective, and until that moment I doubt it even occurred to him to try. Conversely, Kae-hwa also sees some vulnerability in Min-woo for the first time when she overhears his conversation with his manager, and witnesses his hurt. At all other times he's such a shallow, conceited star, but at least now she knows there's something under that.
I was actually considering the possibility of dropping the recaps — depending on how the Wednesday dramas fare — because while I enjoyed the first three episodes, it sort of felt like Pasta to me. Enjoyable to watch, but all surface, no depth. I'm still not certain what the recapping schedule will be like until I've seen all the new shows this week, but I'm feeling a little more optimistic about Oh My Lady after Episode 4. I'm pretty much expecting at least one new show to speak to me, possibly two. Now if all three Wednesday shows turn out great, I'll have a conundrum on my hands.
RELATED POSTS
Tags: Chae Rim, Choi Siwon, Lee Hyun-woo, Moon Jung-hee, Oh My Lady, Park Han-byul