Mother-daughter pair Park Jin-hee & Kim Hae-sook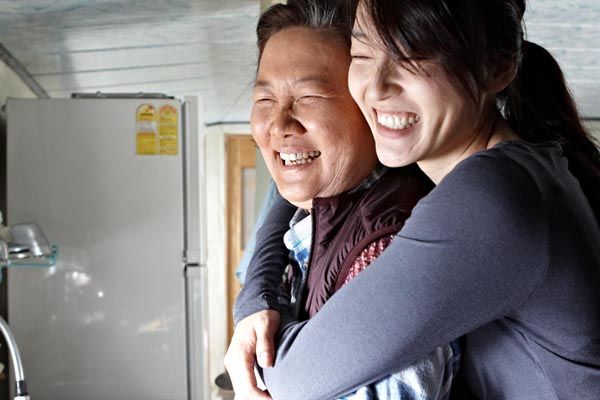 Park Jin-hee and Kim Hae-sook have teamed up to play a mother and daughter in the movie My Mom [친정엄마], which opens this week. This continues the trend of mom-and-daughter-themed movies that have been popping up in the past year, such as Aeja (with Choi Kang-hee and Kim Young-ae), Harmony (Kim Yun-jin and Na Mun-hee), and Wedding Dress (Song Yoon-ah, Kim Hyang-gi). And, of course, there was also Kim Hye-ja and Won Bin as mother and son in the lauded thriller Mother.
Plot-wise My Mom seems to most resemble last year's Wedding Dress, although it doesn't seem as blatantly tearjerking. (Wedding Dress featured Song Yoon-ah as a single mother with a young daughter who finds out she's dying, and was marketed as a weepie.) The tone from My Mom's preview (watch below) mixes a healthy dose of comedy with heartfelt drama, though I'm betting that includes its share of tears. (In fact, I'm positive it will, since the trailer totally made me cry.)
In My Mom, "Korea's Mother" Kim Hae-sook plays the coarse, loud mother to Ji-sook (Park Jin-hee), and dotes on her daughter, of whom she is exceedingly proud. Ji-sook loves her mother dearly but also finds her exasperating at times, though she starts to understand her as she also becomes a mother to a young daughter. She grew up rather poor, but went to university in Seoul and fell in love with a man whose family opposed the match. Mom swallowed her pride and begged the groom's parents to win their approval, and the couple were able to marry.
One day, Ji-sook comes to her mother's house unannounced and plays the part of a devoted daughter, and the change in her behavior makes Mom uneasy. They embark on the first two-night, three-day trip of their 34 years together to watch the autumn leaves changing color. Upon close questioning of Ji-sook's husband, Mom learns that her daughter is in the last phases of cancer. (I know, I know! Why does Korea keep doing this to us?? Korea needs to give its fascination with cancer a rest, and so does Nicholas Sparks.)
Despite the tears, I think I'd love this just for the engaging, bubbly bond between mother and daughter. Kim Hae-sook is always wonderful, and Park Jin-hee looks like she has great chemistry with her.
My Mom is based on a very popular play from last year, Two Nights and Three Days with My Mom. The film releases on Thursday, April 22.
Via Asia Economy, Segye
RELATED POSTS
Tags: Kim Hae-sook, Park Jin-hee