Many more cast additions to Playful Kiss
After all those rumors and teases about possible cast additions, it's good to know this drama is actually making decisions now. Some make me happy, others I have no opinion on, and others are decidedly meh.
Let's start with one that makes me happy: Jung Hye-young, the actress married to former k-popper Sean, whose casting makes sense given that she starred in director Hwang In-roi's last project, Return of Iljimae. This role will allow her to show a much lighter side, as she plays a cheery matchmaker who helps along the main loveline between Kim Hyun-joong and Jung So-min's characters.
I'm not getting hopes up that Jung Hye-young's role here will be too significant, which would be too bad because I loved her acting in Return of Iljimae. She was brilliant in it, as luminous as she was melancholy, and was a tremendous source of pathos and heart as Iljimae's mother.
In case you're unfamiliar with the story, in the original manga the lead female Kotoko (Oh Ha-ni in this drama) is a bad student with lousy grades who finally tells her crush, Naoki (named Baek Seung-jo here), that she likes him. He's pretty much her opposite — talented, smart, and cold — and rejects her. They come to live under the same house temporarily (her house gets wrecked, their fathers are friends). The third main character, Kinnosuke, likes Kotoko and watches after her. Lee Tae-sung has been cast in that role.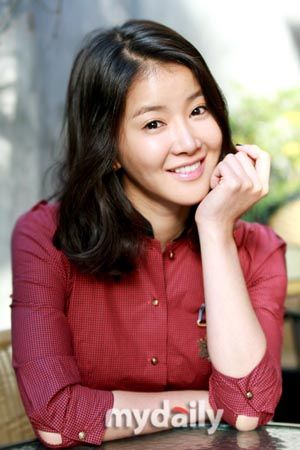 Lee Shi-young, Yoon Seung-ah
Next, there's Lee Shi-young (Birth of the Rich), whose casting is still in "unconfirmed" status. (She's the only one in this post who is not yet finalized.) The role she is up for is a haughty character who is the vice president of the university's tennis club, and would come into the picture halfway through the drama's run.
I haven't read the manga, but it appears the two male leads (Naoki and Kinnosuke) are tennis players, so I presume she'd be a viable rival for one or both of their attentions. I'm actually a little surprised that she'd be up for Playful Kiss because her career has started to take off and I'd expect her to pursue more headlining roles. But it is still early in her career and she did get famous from her brief run in Boys Before Flowers, so maybe it's not TOO much of a retread to take on another buzz manga adaptation.
Then there's rookie actress Yoon Seung-ah, who plays Dokko Min-ah, Ha-ni's best friend. She is a boyish and quirky type who's constantly at the foot of the class and has no interest in studies, preferring to dream of becoming a manhwa writer.
If she looks familiar, it's because she debuted in Alex and Jisun's MV for "These Heartbreaking Words" (that's where I saw her!) as the girl in the shell who is rescued by Park Shi-hoo. She followed that with parts in the Lee Jun-ki drama Hero and the upcoming horror flick Death Bell 2.
As for the rest…
Top row: Ha-ni's father will be played by comic actor Kang Nam-gil (Goong and Who Are You?), while Seung-jo's father will be played by a familiar CF actor, Oh Kyung-soo. Seung-jo has a younger brother who's just like him (read: hard to please), played by young child actor Choi Won-hong.
Second row: Playing a girl who is jealous because of Ha-ni's single-minded devotion toward Seung-ho is Jang Ah-young, who last played Yoon Eun-hye's snooty chaebol cousin in My Fair Lady. Then there's another of Ha-ni's friends from her last-place class, Hong Yoon-hwa.
Third row: The first photo is Yoon Seung-ah again, and the next is Hwang Hyo-eun, a familiar face who has played many comic roles in dramas like Oh My Lady, Assorted Gems, and Queen of Housewives. She'll play Ha-ni's homeroom teacher. On the other hand, Kang Doo (Goong S, mehhhhh) takes the role of Seung-jo's homeroom teacher.
Playful Kiss premieres on September 1.
RELATED POSTS
Tags: Hwang Hyo-eun, Jung Hye-young, Kang Doo, Kang Nam-gil, Lee Shi-young, Playful Kiss, Yoon Seung-ah