Choi Su-jong to play next Korean President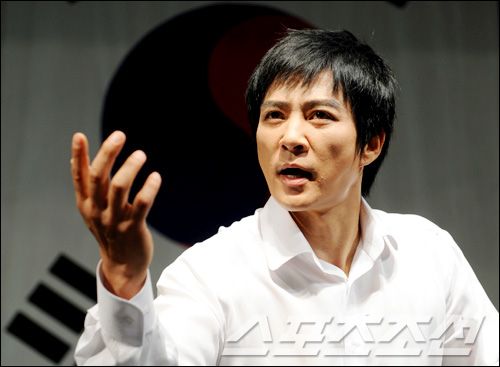 Interesting how dramas always come in pairs, right? There's Gumiho Fox Child and My Girlfriend is a Gumiho, Runaway and Athena, Road No. 1 and Comrades. Now Daemul vs. President?
Veteran actor Choi Su-jong (most recently of Comrades, and for those of you who remember the nineties, Jealousy) has just been cast as the lead in the upcoming KBS drama President [프레지던트].
It looks to be a different take on the presidency as Daemul, because this one is set a few decades in the past, and focuses on one man's journey toward BECOMING the president, rather than a portrayal of a sitting one. But if President gets its act together faster than Daemul (which should be a piece of cake, considering all the production woes) then it's got a chance to steal some thunder if it's good right out of the gate.
Choi Su-jong will play President-to-be Jang Il-joon, who starts off as a top-university law school graduate. He gets involved in student protests during the time of the overthrowing of the Yushin regime (President Park Chung-hee, assassinated 1979) and meets the greatest challenge of his life, instilling a new dream in the idealistic young man.
He becomes a civil rights lawyer, then a congressman, and then throws his hat into the presidential race, with the dream of moving the nation toward change. His will be a tale of overcoming all odds to become president, and of course, the intense love story that fuels him.
This? Sounds A-MAZ-ING.
President will follow Runaway, which follows Baker King. It premieres December 8 on KBS.
Via Hankyung
RELATED POSTS
Tags: Choi Su-jong, President