2010 Beanie Awards: Vote for your favorite dramas of the year
It's December, and you know what that means around these parts: Time to reflect on the past year and see how the dramas stacked up! And boy, were there a lot of them.
As in previous years, I am planning a multi-part series (with special guest bloggers, natch!) to wrap up the year, which we're busily writing up now — keep your eyes peeled in the coming weeks! If you want a refresher on how previous years have gone, here's this handy tag to take you right to them.
But before we tell you what we thought about the dramas of 2010, this is YOUR turn to weigh in and vote for your favorite shows, couples, bromances — and, yes, your big disappointments — in what we're calling the Beanie Awards. They're in your hands; give 'em out with care!
FAVORITE DRAMA SERIES OF 2010
Starting off with the big one, vote for your favorite drama of the year, whether that means your pick for an artistic "best" or simply an emotional favorite. The voting list is by no means a comprehensive collection of all the dramas that aired in 2010; it would be too overwhelming to include them all. So we narrowed the list to twenty of the likeliest candidates, and since we realize it may be tough to just pick one, you can select up to three dramas.
FAVORITE COMEDIC DRAMA
Which drama made you laugh, whether with insane antics, witty banter, or a heartwarming sense of humor?
FAVORITE HISTORICAL DRAMA
Some of these are more traditional in their format (such as Dong Yi), while others have fusion elements (like the trendy-romantic vibe in Sungkyunkwan Scandal), and others were downright genre pieces set in the past (sci-fi and paranormal-oriented Joseon X-Files). But they were all set anywhere from a hundred to a thousand years in the past and cloaked in colorful period costumes.
FAVORITE ACTION OR MELODRAMA SERIES
This is a bit of a mishmash of a category, I know. Still, I wanted to separate out these dramas from the rest of the trendy or sageuk crowd.
FAVORITE FAMILY DRAMA
Alas, I can't offer you much insight on this category, being that I am not quite so avid a follower of this genre as I am the others. However, family series make up a huge part of the airtime on Korean television, so it deserves its voting category.
FAVORITE ROMANTIC PAIRING
Ah, romance. The lifeblood of the Korean drama, particularly the trendy variety. Which pairing tickled your fancy the most? Which couple got your inner fangirl squealing in delight? Which OTP did you root for through all the requisite angst that ran interference during those cursed episodes in the middle when you really just wanted them to kiss already?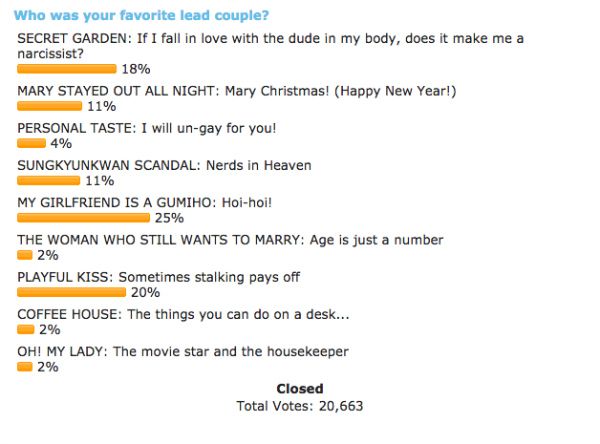 BEST KISS
Speaking of kisses… We know that a kiss in K-dramaland isnt ever just a kiss. It's often so much more — it's a decision, an epiphany, a game-changer. Which kiss made you squee the loudest? (Or snort in laughter, as the case may be.)
FAVORITE PIGGYBACK RIDE
If kisses are declarations, surely the piggyback ride, seen in practically every kdrama since the beginning of kdrama time, also makes a statement. Such as, "I want to take care of you." Or maybe it's more like "I don't want to take care of you but I care too much to NOT take care of you," or even "I don't WANT to care but I can't help it so I'll take care of you anyway." Most loaded means of transportation EVER.
FAVORITE CHARACTER
The charisma and/or appeal of a character is an elusive quality that can make or break a drama: sometimes lovable characters can sustain entire dramas with their charm even when, let's face it, the rest of the stuff ain't so good. But when a character gets under your skin and makes you fall in love with them, there's a certain magic that comes into play. Who did that for you this year?
BEST DRAMA POSSE
Friendship is rarely the focus of a drama, but the presence of a good friend — or several — can elevate a drama and warm your heart. They exult with our heroes when there's cause for celebration, console them with liquor and sympathy when they're down, and hold back their hair when they're really down.
BEST VILLAIN
Villains can be bratty interlopers, crazed madmen (or women), or evil masterminds. All we know is: They spice up dramas and are lots of fun to hate. Who needs boring ol' Fate to complicate your life when you've got enemies like these?
FAVORITE BROMANCE
Boys. Sometimes fighting. Sometimes frolicking. Need I say more?
FAVORITE ALTERNATE PAIRING
If you're anything like me, you've spent many a drama feeling that dread in the pit of your stomach when you realize, Crap, I picked the wrong team. It becomes painfully obvious that the couple you're rooting for is never gonna make it, often leaving one party out of the loop and broken-hearted. Who was your favorite couple who was Not Meant To Be?
BREAKOUT PERFORMANCE
Breakout doesn't necessarily mean newcomer, although the two often go hand in hand. The actors in this category may have had other credits to their names, but it was in these selections that they shined, made their presence known, and springboarded to what will likely be greater fame. (Note: Some actors had big roles this year, but have been around or were previously well-known, and therefore were left off the list.)
OVERRATED DRAMA
"Overrated" applies to dramas that had mainstream popularity, but perhaps didn't deserve the level of attention they got. By the same token, "underrated" applies to dramas that didn't get as much love, but which you thought deserved more attention.

UNDERRATED DRAMA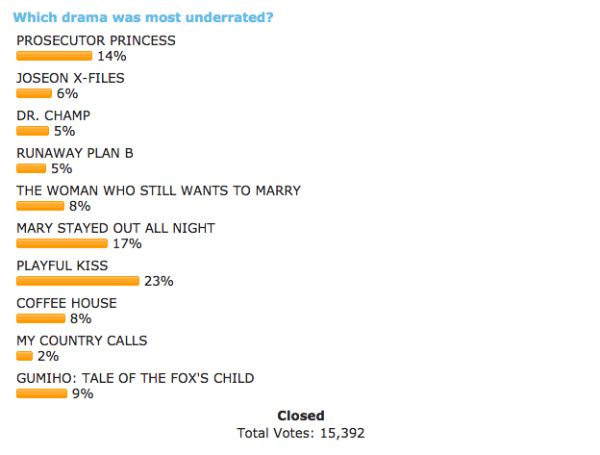 DISAPPOINTING ENDING
Don't you hate it when a drama is doing so well, and carries so much promise, only to fall flat in the final stretch? Even if 95% of a show is solid, a bad final 5% can really cause a drama to plummet in your affections. Sadly, this happens way too frequently.
BIGGEST WASTE OF TALENT
Likewise, it's a bummer when a drama boasts a fantastic cast or your favorite star… and then fails to use his/her talents. Not only do you feel cheated, but you feel sorry for the actor who got suckered into a role that sorely underutilizes them.
BEST PERM
There was a fair number of male stars rockin' the curly hair this year, for better or for worse. I KNOW WHO I'M VOTING FOR.
BEST 'STACHE
With the rise of the "beast-men" trend, we saw a lot more abs, often glistening with sweat (thanks, Chuno), and a LOT more examples of facial hair, from minor scruff to the dreaded pornstache to full-on beards. Who rocked it best?
BEST AND WORST USE OF AN IDOL STAR
As we know, idols are advancing into television dramas with greater frequency these days, to a point where you can hardly throw a stone without hitting a chiseled idol ab. The phenomenon is usually met with some skepticism by viewers who are wary of untrained, inexperienced actors getting leading (or prominent supporting) roles, even as the idols are used to draw in more viewers. Some are bad, sure, but some are surprisingly solid. How did they do in your eyes?
RELATED POSTS
Tags: 1 show to rule them all, Bad Guy, Baker King Kim Tak-gu, Beanie Awards, Chuno, Cinderella's Sister, Coffee House, Comrades, Daemul, Dong Yi, Dr. Champ, featured, Giant, God of Study, I Am Legend, Jejoongwon, Joseon X-Files, Mary Stayed Out All Night, My Girlfriend Is a Gumiho, Oh My Lady, Pasta, Personal Taste, Playful Kiss, Prosecutor Princess, Road No. 1, Runaway Plan B, Secret Garden, Sungkyunkwan Scandal, The Woman Who Still Wants to Marry, Wish Upon a Star, year in review, year in review 2010