Bae Geu-rin joins 49 Days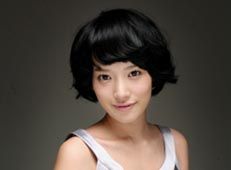 Body-possessing fantasy drama 49 Days has added another actor to its cast: rookie actress Bae Geu-rin, whom you may recognize from You're Beautiful, where she played A.N.JELL's excitable fan club president. She was also in the dark Friend, Our Legend prior to that, which is where I first took notice of her.
49 Days has already begun filming with its main cast, so Bae is coming onboard a bit late as a supporting member. She'll play the longtime friend to main character Ji-hyun, who is played by Lee Yo-won and Nam Gyuri (the former is occupied by the soul of the latter) and In-jung, played by Seo Ji-hye. Bae Geu-rin finds herself caught in the middle when their relationship turns antagonistic, and also finds herself in conflict between friendship and a one-sided crush.
The drama kicks off when a car accident sends Ji-hyun into a coma a week before her wedding, and is given the chance to return to life — if she can find three people who would cry for her, aside from her family.
The drama is a Wednesday-Thursday show on SBS that'll follow Sign, premiering on March 16. Other cast members include Jo Hyun-jae, Bae Soo-bin, and Jung Il-woo. Yum.
Via TV Report
RELATED POSTS
Tags: 49 Days, Bae Geu-rin