Lie To Me: Episode 6
Aaaack, this drama is so sadistic – I feel like a yo-yo. Ninety-nine percent of the time, I'm just watching super passively, because there's nothing that happens that's unexpected or new. We just keep circling one plot point over and over again, in slightly different iterations. But then one thing happens to jerk me back in, and I'm Kang-Ji-hwan-toast. A total goner. Gah.

EPISODE 6 RECAP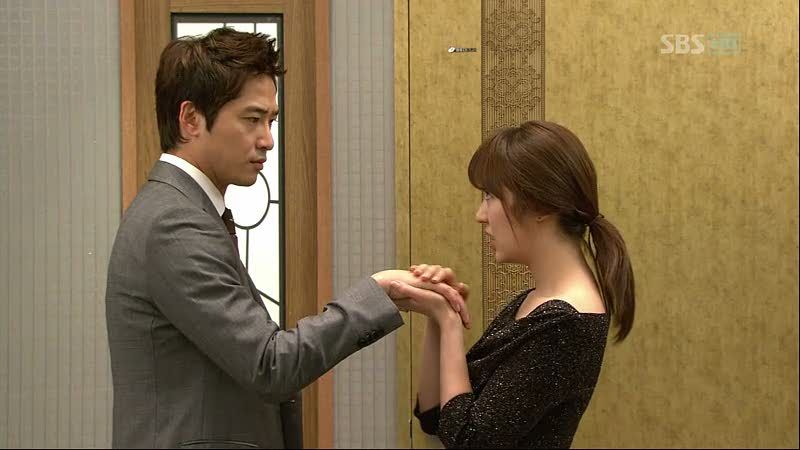 Ah-jung freaks out that her friends want her to have a housewarming and invite them over. So you purposely baited your friends with this ginormous lie, and then expected them to drop interest at a moment's notice? Logic is not thy strong suit.
She heads straight to Ki-joon's house, to try and persuade him to let her borrow his house for an evening. She promises that it'll be like she was never there, and bats her eyelashes at him, to no avail. His idea of the contract was to do nothing, and he meant it. She leaves, deflated.
She meets Sang-hee the next day and returns the ring dejectedly, and tells him about her new dilemma. He laughs, "Is that all?" and flashes the ring at her, reminding her that he's the fairy godmother. He promises to help her, and she brightens up again.
Auntie President meanwhile gets photographic evidence that Ki-joon's marriage rumor might in fact be true… which obviously does not bode well for Ah-jung. But when Yoon-ju shows up to announce her return, she decides to just keep watch over the Ah-jung situation.
Sang-hee takes Ah-jung to his aunt's mansion and tells her that this is where she'll have her housewarming. What the? Isn't that a hell of a lot riskier than sneaking into Ki-joon's house? He doesn't seem to think so, since his aunt goes to Jeju every weekend, like clockwork. How much you wanna bet something keeps her in town this week?
Ah-jung thinks he's delusional, and says that she can't tell the difference between when he's kidding and not. Heh. He swears he's telling the truth, despite the fact that he is in fact LYING… well, omitting the fact that the reason he knows people who work there is because he is the young master of le grande estate.
She thinks he's bluffing, so she pushes him out of the car in exasperation and returns to work… where she sees So-ran in the lobby, apparently waiting to run into her. She finally caves and calls Sang-hee to ask if he was serious, and tells him Operation: Housewarming is a go.
She can't resist the urge to rub it in Ki-joon's face, and finds him while he's jogging in the park. She gets the jump on his nerves, and he falls backwards into a bush at her arrival. Pffft. I kind of like his fear of her.
She tells him that she doesn't need his house anymore, and that there's no reason for them to ever see each other again, so that's that. Riiiiiiight. I'd prefer it if there was no reason to ever see him in his neon workout gear ever again, but that's just me.
Ki-joon returns to work to find his aunt waiting for him, and she asks if he's been waiting for Yoon-ju all this time. He says no, but he does hesitate, because clearly his feelings are not as settled as he would like them to be.
His aunt breathes a sigh of relief, admitting that while she does like Yoon-ju and can find no fault with her, she's of the same mind that she was three years ago: Yoon-ju cannot replace Sang-hee. Meaning of course that they are not a one-to-one trade, and that no girl is worth his brother. He agrees and puts her mind at ease.
While I don't think that he's actually worked out his residual feelings for her, I don't think he's going to waver on the Sang-hee issue, because clearly he never would've broken off the engagement in the first place if he didn't mean to stick by it.
She's not making it easy either, by taking up work in one of his department stores. They greet each other awkwardly, pretending to meet for the first time in front of other employees.
Ah-jung stops by the bench where she and Ki-joon had their almost-kiss, and smiles to herself as she watches the cherry blossoms fall. How cute. I really wish the drama did more of this (actual development of feelings) than new and unimproved ways to perpetuate The Lie. 'Cause yeah… we geddit.
Ki-joon's secretary takes him out to lunch to Ah-jung's favorite coffee shop, where OF COURSE, they run into Jae-bum. Does this guy just go from café to movie theater to hotel, just waiting to run into people he knows? No wonder he's a lawyer with no clients. He's never at work!
They exchange hellos, and Jae-bum recognizes the secretary right away. It's a good thing he's not too bright though, because he doesn't put two and two together about the "friend" who needed legal advice on how to sue the woman pretending to be his wife.
Once Ki-joon sits down, his secretary tells him that Jae-bum is Ah-jung's first love, and his instant reflex is an angry "WHAT?" Heh. He then orders a fair trade coffee, per Ah-jung's choice, the last time they were here.
The secretary fills Ki-joon in on Ah-jung's backstory with Jae-bum, and adds his own sympathy for her situation. Ki-joon just thinks that her pride was hurt, but his assistant counters that that's what a woman's pride is – never wanting to lose, even if the world is falling down around them. I disagree that it's gender-specific, but based on Ah-jung's crazy antics, he's not wrong.
Ah-jung gets excited in planning her fancy menu for the housewarming, and entreats Seok-bong to help her prepare the food. Sang-hee comes over with bad news though—his aunt had a change of plans and now that house is unavailable. Ah-jung has a fit and leaves.
At the same time, Ki-joon looks around his empty house and starts to feel bad about turning her down so coldly. So he has a change of heart and drives to her neighborhood and calls her to come out…
But as he leaves his message, he hears his brother's voice. He looks in his rearview mirror and there's Sang-hee… walking along and joking with Ah-jung. Ruh-roh.
Ki-joon gets out of the car, and Ah-jung is surprised to see him, but not nearly as surprised as Sang-hee is, who just ekes out, "Hyung…" with a panicked look on his face.
Ah-jung reads the tension in the air and then looks back and forth between them. "Hyung?"
Ki-joon breaks his silence with a laugh full of disbelief and scorn, and gets in his car and drives away before Sang-hee can stop him. He turns around only to be met with anger on Ah-jung's side too, as she kicks him and walks away in a huff.
Dude, that's what you get for playing fairy godmother when you're really prince charming's baby brother.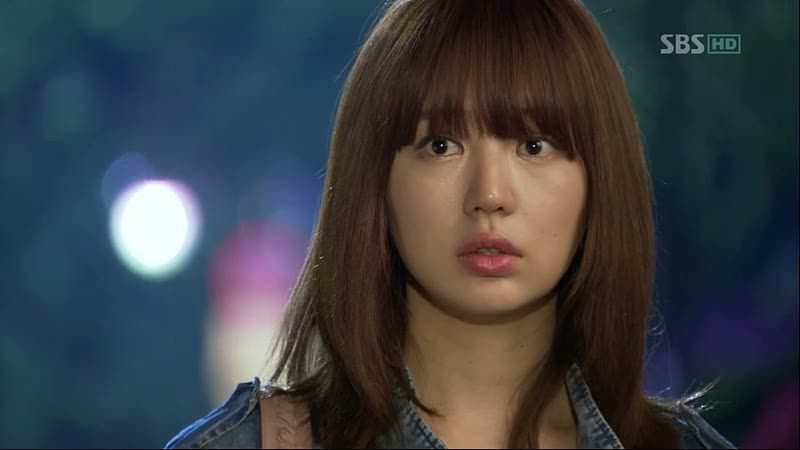 The next morning he tries to do damage control with Big Bro, to no avail. He asks to let Ah-jung borrow the house for just one day, and adds that she had no idea that they were brothers. Ki-joon naturally doesn't believe him, and asks why he's doing any of this at all. Sang-hee: "Because it's fun."
The troublemaker gets his own dose of reality though, when he returns to Seok-bong's studio to find Yoon-ju there. He lights up at the sight of her, but then quickly hides, unable to face her.
He watches her leave, still totally heartbroken and an angsty little puppy dog over her.
Ah-jung goes to Ki-joon's house and has a massive debate… with herself, about whether or not to ask for his help. She decides against it and walks off yammering to herself, which Ki-joon's assistant sees on his way in.
He mentions it to Ki-joon, who pretends not to care… but then immediately picks up his phone to check if she called. Aw. She didn't, which confuses him, so he texts her to ask how the preparation for the housewarming is going.
She thinks he's just messing with her on purpose, so she ignores his call, which just makes him even antsier. I love it that he's like, I'm not interested, nope! All the while checking his phone every five seconds.
He finally calls her, and when he shows up to meet her, she's in the middle of looking at an apartment for sale. Her plan is to somehow rent this place for a day and fill it with rental furniture, and pass it off as their home… which is just looney tunes. But clearly she's that desperate, beyond the point of reason.
He asks if it's really worth all of this, just because her friend stole her first love. But she turns to him and asks if his pride has ever been trampled. "Then don't talk about things you don't understand. The method may be wrong. I know that. But I can't get married because of So-ran."
That… doesn't make sense either. But then, Logic seems to have no place in Ah-jung's world. When Ah-jung asks the realtor if they can test-live the apartment for a day, they get scooted out of there like a couple of stray dogs.
Looks like her pride extends to him too, because though he keeps baiting her to ask him for his house, she refuses to. She says she's got one last ditch super-secret plan: cut to her consulting a hypnotherapist (HA) for how to convince someone to borrow their house for a day. Apparently, as it is against the law, he can't help her.
She trudges back home defeated, and finds Sang-hee waiting around for her. He smiles sheepishly at her, and she realizes all the times that she could've picked up on the clues, but didn't, and chastises herself for being an idiot.
He apologizes to her and asks if she's going to hit him again, but she's cool about it, which impresses him. She's decided to just come clean to So-ran tomorrow about the whole thing, and he wonders if it'll be okay. Her answer is a resounding NO, but what can she do, short of setting Ki-joon's house on fire?
Sang-hee smiles devilishly, and then we cut to the both of them in ninja outfits, setting Ki-joon's house ablaze. What in the cosmos? This had better be some deluded fantasy sequence, or I'm breaking up with Show RIGHT NOW.
Ki-joon gasps for air as he wakes up to his house ablaze, and then collapses choking. Ah-jung and Sang-hee run away gleefully… and then Ki-joon wakes up, startled from his crazy nightmare. Oy.
Well the nutty nightmare is enough to persuade him that he ought to just give in and let her use the house, so he comes by to give her the key and the lockcode in the morning. She promises to treat the house like her own so that he won't regret it. Ki-joon: "I already regret it." Heh.
She starts putting her things throughout the house (which hadn't even occurred to me until now – she has to make it look like she lives there) and Sang-hee helps her set everything up. He even borrowed the contents of his friend's closet and had it brought over, knowing that her friends will want to check out her closet first thing.
She squees in delight and hugs him, giving him back his fairy godmother title. Dude, Sang-hee… how are you the only one who does not see history repeating itself here?
So-ran gets ready, and Jae-bum stalls, trying to come up with an excuse not to go so that he doesn't have to face Ah-jung. So-ran calls his bluff and says that she doesn't care what he does, but he'd better play the happy couple with her in front of Ah-jung. Sad, really.
Meanwhile, Ki-joon goes out to the movies… with his secretary (heh), who happens to like melodramas (HA). He refuses at first, but a pathetic pout is enough to do him in. He gets a call from Yoon-ju who invites him over for dinner, and so he heads over there…
The doorbells ring at two houses simultaneously – Yoon-ju goes to the door fully expecting Ki-joon, but then looks up and sees Sang-hee smiling back at her. Ah-jung opens the door, and there stands Ki-joon, having chosen to be here instead. Aw.
She's like, what… are you doing here, and he just answers cheekily that it's his house. And then he greets their guests at the door, completely flooring all her friends. He totally acts the part of the adoring husband, which actually scares Ah-jung because it's so out of character.
Under her breath, she mutters, "Why are you doing this? It's making me nervous." And he tells her that they're putting on a play, and this is the stage. And then he starts shaking his hips while calling everyone to the dinner table, which makes ME nervous. Heh.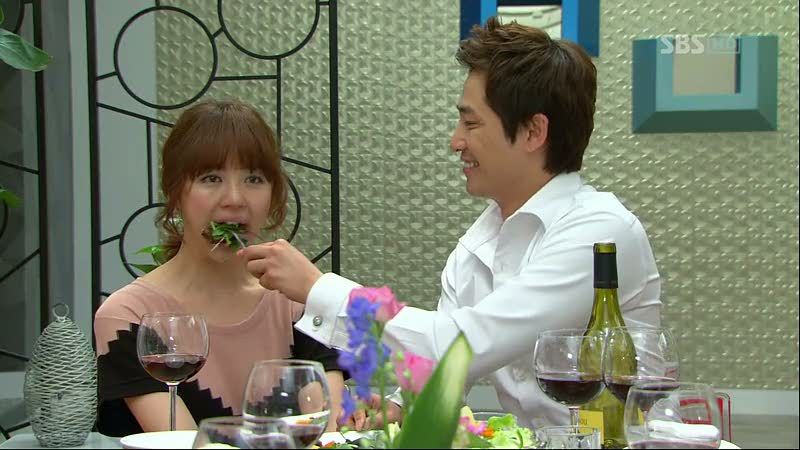 He feeds her adoringly and her friends praise her cooking, at which Jae-bum chimes in that Ah-jung's a really good cook, and that she started learning housework at a young age, because her mother died young.
That quiets the room for a while, and Ki-joon looks over Ah-jung with empathy, seeing her differently for a moment, off in his own world.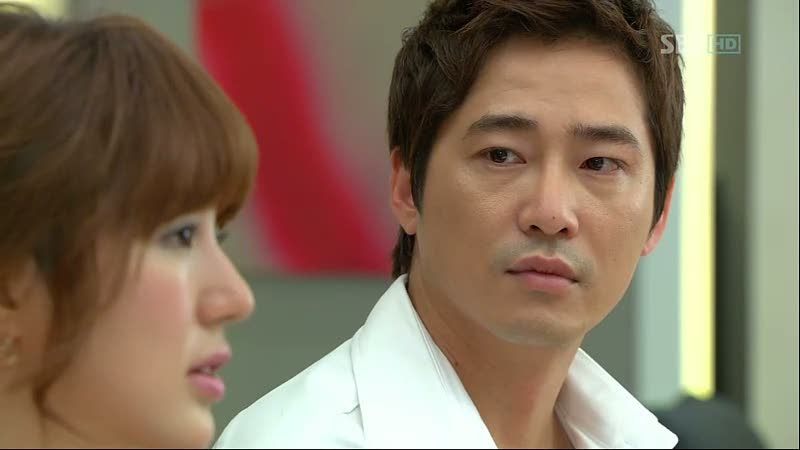 The whole situation starts to make her uncomfortable, so she runs into the bathroom for a moment, which Jae-bum uses as his chance to follow her in and beg her not to spill the beans to So-ran about his affair.
She agrees uncomfortably, and they come out of the bathroom together… where Ki-joon is standing there waiting. Um, awkward. He gently tells her that her friends and waiting, and leads Ah-jung away by the hand.
It turns even more awkward when all three of them return to the party like that, and Jae-bum makes the mistake of sitting down on the couch next to Ah-jung instead of his own wife. He tries to break awkwardness by requesting a song from Ki-joon.
Ah-jung gets up and says she'll sing by herself to break the tension, but then to her surprise, Ki-joon gets up and says they'll sing together. They pick a song and start out awkwardly, standing five feet apart, but then her friend pushes them together and they start getting into the song.
Ki-joon starts to look at Ah-jung as she sings, and his eyes lock with hers. They stop singing, and then he drops his mic, and pulls her toward him…
He grabs her in a kiss, and then there they are, full-on making out like no one else is in the room.
Goddamnit. Total swoon.

COMMENTS
This drama is a lot like Pasta. I love the leads and their chemistry is sizzling, and yet… nothing ever happens. There's very little forward momentum in dramas like these, where you just have the same plot point being reinforced over and over and over, with very little change. Even the supposedly big reveal of the brothers being brothers is… totally anticlimactic. The problem is, I like the couple and I'm invested in them working out in the end. But the lie is already getting tiresome.
When the couple is together, it's cute cute cute, but when they're not, it's boring boring boring. And I really wish the brothers spent more time together onscreen, while we're at it. How can a drama with such cute highs have such dull lows? (For instance, forty minutes spent getting the house, despite the fact that we all KNEW she'd get to use his house. 'Cause duh.)
There's so much potential for the setup, if the plot would just leave the goddamn station. I think if we were still earlier on in the series, I'd be more forgiving (which I was, more than usual for the first two weeks, just because I love both Yoon Eun-hye and Kang Ji-hwan). But now I'm antsy for MORE.
That said, the kiss did surprise me, even if it's a little weird that it happens in front of other people, and IF the drama actually builds on their relationship from here on out instead of heading back to square one, I'm in like flynn. But I don't trust it to. I feel like we're headed back to Denial Land, which is going to make me angry…
Oh, the woes of dramas that don't do what I tell them. If he wasn't such a good kisser, I'd already have kissed Show goodbye. For now I'm just rewinding…
So just a heads up: we're still up in the air about whether or not to continue recapping this drama, so fair warning that there's a possibility we might drop it. We'll see how it fares next week. I'm not gonna lie – more kisses equal more chance I'll stick with it. What? I'm easy like that.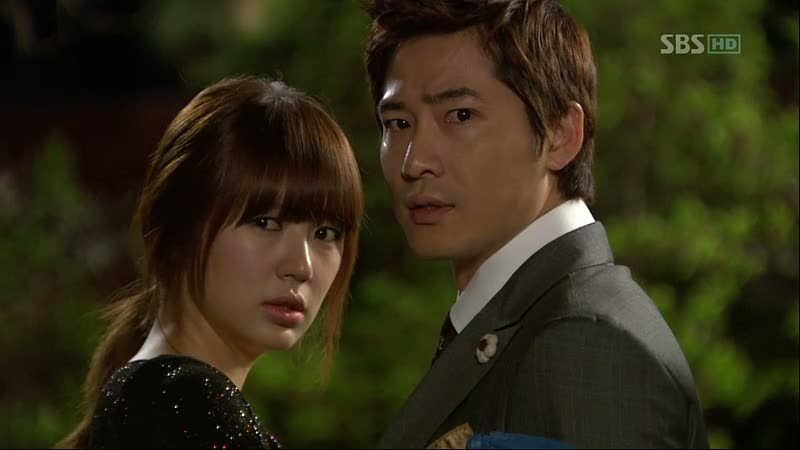 RELATED POSTS
Tags: featured, Hong Soo-hyun, Kang Ji-hwan, Lie To Me, Ryu Seung-soo, Yoon Eun-hye