Eric v. Kang-woo, the twitter wars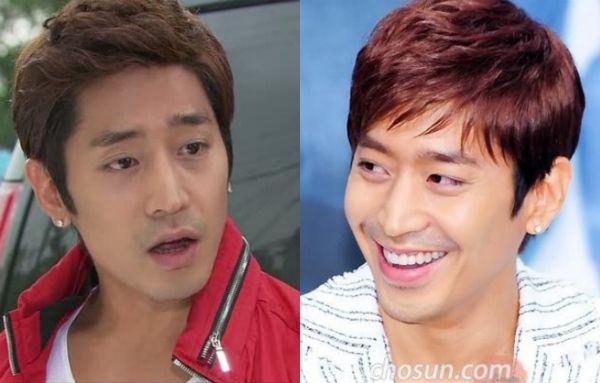 Wherein Eric argues with self. Because why not, really? Eric is one of those stars known for being off-the-wall (he's pretty infamous for being a 4-D Hallyu star), and it seems he's outdone himself this time, creating a twitter account for his Myung-wol the Spy character Kang-woo, and then tweeting back and forth as Eric and Kang-woo. Yeah. He's that loony.
The conversation goes a little like this:
Kang-woo: Eric-sshi, do you know who I am? I didn't think you'd know… it's me, Hallyu star Kang-woo.
Kang-woo: So Eric-sshi does know who I am. Ah, is a Hallyu star's existence something the whole country knows?
Eric: Shut up, you ass. I don't like you, starting with the way you look.
Kang-woo: The way I look… they say I look like you. What do you think? But don't you honestly think I'm a little better?
Eric: Arrogant bastard… Sucker, go braid your hair!!! Are you at least eating, Hallyu star? Pfft.
Kang-woo: I don't have time to eat because I'm so busy…
Eric: Don't eat. Go shoot [your fake drama-in-drama] Assassin. Han Ye-seul, Fighting!
Kang-woo: Eat well too, Eric sunbae-nim. I'll follow you. Especially because you look like me.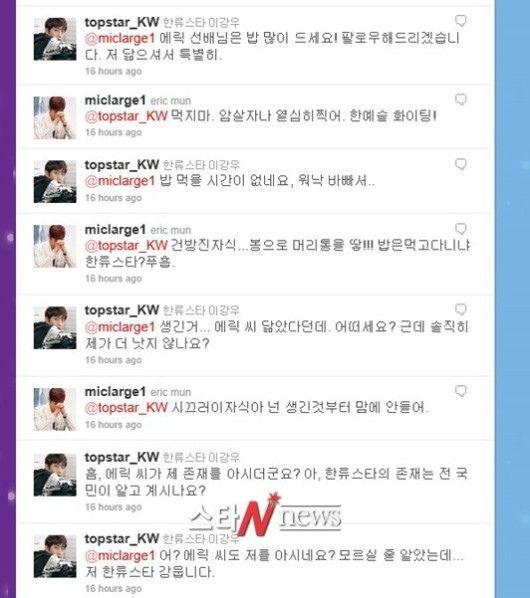 girlfriday: Hey, have you seen this Eric tweet? It's fucking hilarious.
javabeans: OMG I'm reading it now. Why is he so… ??? It defies words. What a nut.
girlfriday: A complete loon. Hey, the fifth tweet down, how would you translate that slang?
javabeans: Er… well, the second part literally means to…braid…the…hair? The first part is like "sucker…"
girlfriday: Sucker braid your hair?!
javabeans: Hahaha. Sucka, go braid your hair! Why is Eric SO WEIRD?
girlfriday: I don't know, but I LOVE IT.
javabeans: I love that he's writing in character, replete with appropriate jondae. Kang-woo's being polite to his sunbae and Eric's all pissy to the poseur.
girlfriday: Yeah. Like Eric's the actual top-star, and Kang-woo's the wannabe top-star.
javabeans: Hee hee. I'm giggling at his gripe over Kang-woo's looks. It's like in the pre-broadcast Myung-wol interviews where he was like, "I'm a lot like Kang-woo. First off, I look like him."
girlfriday: And his send-off, like "go shoot your little fake drama, asshole." HA.
javabeans: To which Kang-woo dutifully replies, all respectful, "Ah yes, sunbae. I will do so, sunbae. I will follow you, sunbae."
girlfriday: It's like a meta-mirror funhouse. I like that he begrudgingly looks after his hoobae too, all "are you eating?" like a mom.
javabeans: But it's taunting, 'cause he adds, "…you Hallyu star" in a mocking way.
girlfriday: Like he's patronizing the little wannabe. Hee.
javabeans: Well, the pipsqueak DID introduce himself as "It's me, Hallyu star Kang-woo!"
girlfriday: I love how that's become such a universal joke. "I'm a Hallyu star!" = overblown ego the size of Jupiter.
javabeans: Gah, now I want Eric to cameo on Myung-wol . Er. I mean, Eric to play Eric playing a cameo on Myung-wol.
girlfriday: OH MY GOD, my head would implode from the awesomeness. And the rift it would cause in the space-time continuum.
javabeans: This is how we know it is a good idea.
Via Financial News
RELATED POSTS
Tags: conversation post, Eric, Myung-wol the Spy