I Need Romance: Episodes 3-10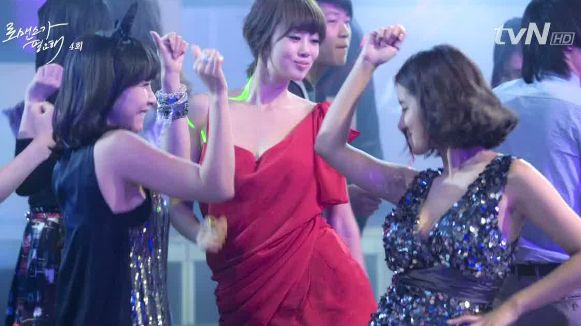 Time to check back in with cable rom-com I Need Romance. It's past halfway, so I thought I'd weigh in on where the show has gone since we met the girls and set the stage for complications, hijinks, and of course, romance. It continues to be breezy but not fluffy, which I like, and I appreciate that while the show doesn't take itself too seriously, it does portray single life with incisive depth and warmth.
[I Need Romance airs Monday-Tuesday on TvN.]

EPISODES 3-10
When we last left off with the girls, virgin bride-to-be Hyun-joo was ditched at the altar by her weasel of a fiancé, and hilariously decided to fake marry her on-call handyman, Duk-soo. It's just a show for the wedding guests, but in the moment before the wedding, Duk-soo shows that he's cool under pressure, and most importantly, that he doesn't even think Hyun-joo's that crazy. Go figure.
She decides to spend her wedding night with her girlfriends, living it up in the hotel room, and even decides to go on her honeymoon solo, which they agree is nutty, even for her. But Hyun-joo doesn't see why she should give it up just because she didn't get married. "It's Bali. And I've made a spa appointment." HA.
Seo-hyun, meanwhile, gets slapped with a lawsuit by preggers wife of ex-boyfriend, for essentially being a homewrecker. Yikes. Though she doesn't handle it well, (choosing to be defensive rather than apologetic), it's an interesting way to humble her and force her to face some consequences for her cavalier attitude towards commitment (ie. messing with other people's, not just refusing to have any of her own).
But the best development for Seo-hyun is her antagonistic relationship with her photographer, which grows from judgmental bickering office politics to begrudging partnership, and eventually sparks.
He's such a great foil for her because he's basically the only man in her life who's not blinded by her beauty, and who flatly rejects her advances. And the fact that he doesn't like her is of course what makes Seo-hyun more obsessed with winning him over. I swear, this girl would probably try to convert a gay guy if he told her she wasn't hot.
In-young has decided to give boyfriend of ten years Sung-soo another chance, but their restart is rife with lingering issues. First, the other woman, bubbly 23-year old starlet Kang-hee is around all the time. She can see it written all over his face – that he's resisting Kang-hee's advances out of loyalty to her, against his baser instincts.
But In-young's not above partying it up with her girlfriends for a night out of dancing and harmless flirting, despite her on-again/off-again relationship. In a cute monthly ritual, the girls get all dolled up and lie about their names, ages, and jobs for a night, just for the fun of it.
Of course it would've been more fun if In-young hadn't run into her coworker Bae Sung-hyun, totally blowing her cover. But it's also the first hint that we get of Sung-hyun hiding his true identity – that he's maybe just a hotel concierge pretending to be a rich playboy for a night, or perhaps he's a chaebol moonlighting as a concierge. Gee, I wonder which?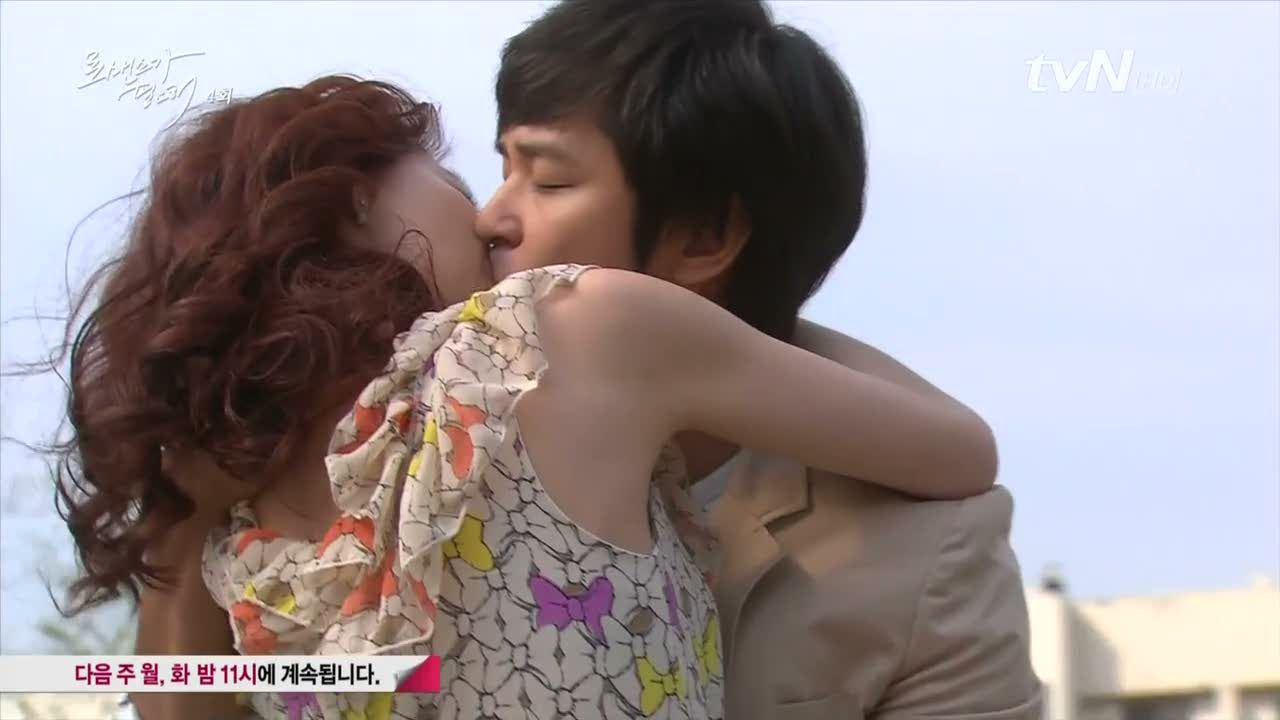 What's great about In-young's relationship with Sung-soo is that it's so very realistically complicated. There's no such thing as a clean end for two people who were together from twenty-three to thirty-three, and at one point In-young asks herself, "If I erase every memory of Kim Sung-soo from my life, is there even a me left?"
They start to be back on the mend and get their sweet relationship going again, only by the end of Episode 4, Kang-hee ups her game by offering up a secret affair, and Sung-soo caves like a sack of potato chips. Rat bastard.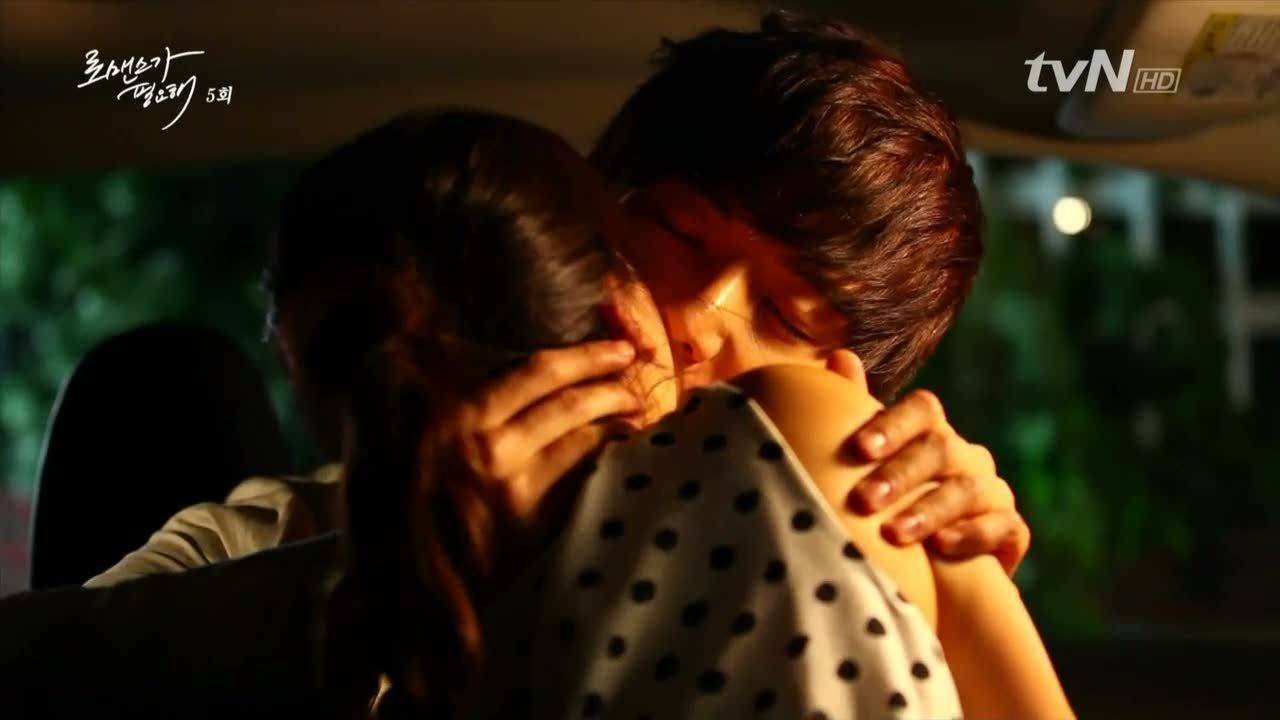 But then In-young does a little caving of her own. Sung-hyun quits after a year of working with her, and finally gets the courage to act on his puppy crush. With a heart-stopping kiss and a decision to lower his speech (since she won't raise hers, as his noona and former sunbae), he declares that they ought to date. She calls him a kid and turns him down cold, despite conflicting feelings.
Hyun-joo meanwhile finally tracks down her runaway fiancé, to ask him why he didn't show to the wedding. "Do you have any idea how pretty I looked that day?" He tells her that he couldn't marry her because she lacks one decisive thing: she isn't sexy. Hyun-joo: "Is it because my chest is small? Because my butt is quite good." She cracks me up. She eventually gets her revenge by plastering his office cubicle and his back with ads for an erection medication labeled: "Crotch Explosion." HA.
But after she puts that behind her, Hyun-joo is forced to face the realization that she isn't sexually inexperienced because she hasn't had opportunity; she's stopped herself at every chance because she was hung up on appearances, and trying to prove to the world that she wasn't like her three-time divorcee mother. Basically a giant mom-sized chip on her shoulder that amounts to her ending up a 33-year old virgin. Her new quest: to get laid.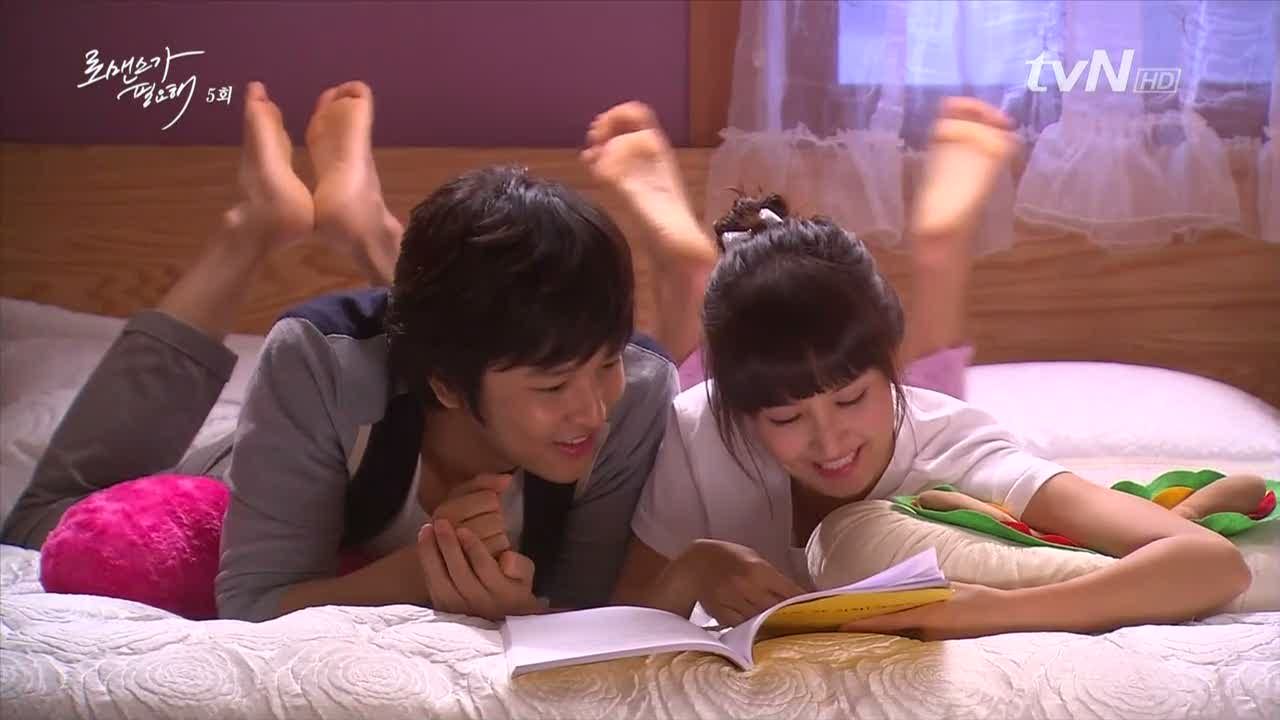 In-young begins to notice the signs that something's not right with Sung-soo. When Kang-hee inserts herself into a dinner at his house, she watches them do the dishes together, and something alarms her. With quick-witted intercutting of synchronized swimming and couples figure skating, In-young looks up at them with horror: they're in sync… they've done this before. And then the thing that tips her over into true suspicion – his kissing style has changed, and she feels it.
What's particularly heartbreaking about the way her relationship with Sung-soo is portrayed to us is that current events are always intercut with their past. So it's never just the current cheating Sung-soo that we see, but the young and adorable doting boyfriend Sung-soo who keeps reminding us of why In-young is still holding on.
It's a rather genius way to put us directly in In-young's head, otherwise we'd just be shouting at her to move the hell on already. But no, we understand what she sees in him, and how their love has both matured and cooled. And though he does assy things, we get why she's still madly in love with him.
But the final straw comes when she catches him in a blatant lie, and finds him cozying up with Kang-hee at a hotel. She declares that it's over, but then finds that it's unfair that she spends the next week full of sleepless nights. So she decides to torment him so that he can't sleep either, just to keep things fair. Heh.
What kills me is that at first, Sung-hyun just lets In-young use him to make Sung-soo jealous and get over him, knowing full well what she's doing. But he adores her so much that he tries to overlook it, even as they begin a tacit relationship while she's still heartbroken. It makes my heart hurt for him.
But she's always frank with him every step of the way, so I can't fault her for her mixed feelings. They begin dating and he asks what it is that she wants right now. She answers, "Romance. I need romance." And thus begins the second chapter in In-young's love life.
What's adorable about this new relationship is that Sung-hyun is clearly the one who's more in love. He's the one asking why she's ignoring his texts while he checks his phone a hundred times a day (aw), or wondering why she never asks him any questions.
But instead of getting secretly resentful about it, he does something refreshing—he just tells her straight-up: "You're about to make me really sad right now," whenever she does anything to hurt him. So instead of being pathetic, he actually speaks up and tells her when she hurts his feelings, which is adorably plucky.
Interestingly, she lets Sung-hyun believe that things aren't over with Sung-soo, half to keep him at a distance, and half because things are never really over between them. And after some soul-searching, Sung-soo comes back to say that he'll wait… for her to even the score, date two other men, and then come back to him. What the?
And then to top it all off… In-young goes to work the next day in a flurry as the hotel prepares to greet their new boss, grandson of the chairman… Bae Sung-hyun. Oh crap. She must not watch many dramas, because it's a total surprise to her.
She starts going through it in her head—the entire year she spent treating him like a punk minion, hitting him, abusing him. And that's not even counting the horror that she's now secretly dating her boss. She decides it has to end.
She avoids him as long as she can, and then when he finally gets a moment alone with her, she answers strictly in jondae and tells him it can't continue. So he passive-aggressively gets drunk and passes out, leading to a hilarious situation where an angry Boyfriend 1 has to help carry in a drunk Boyfriend 2, while In-young gloats at the poetic justice.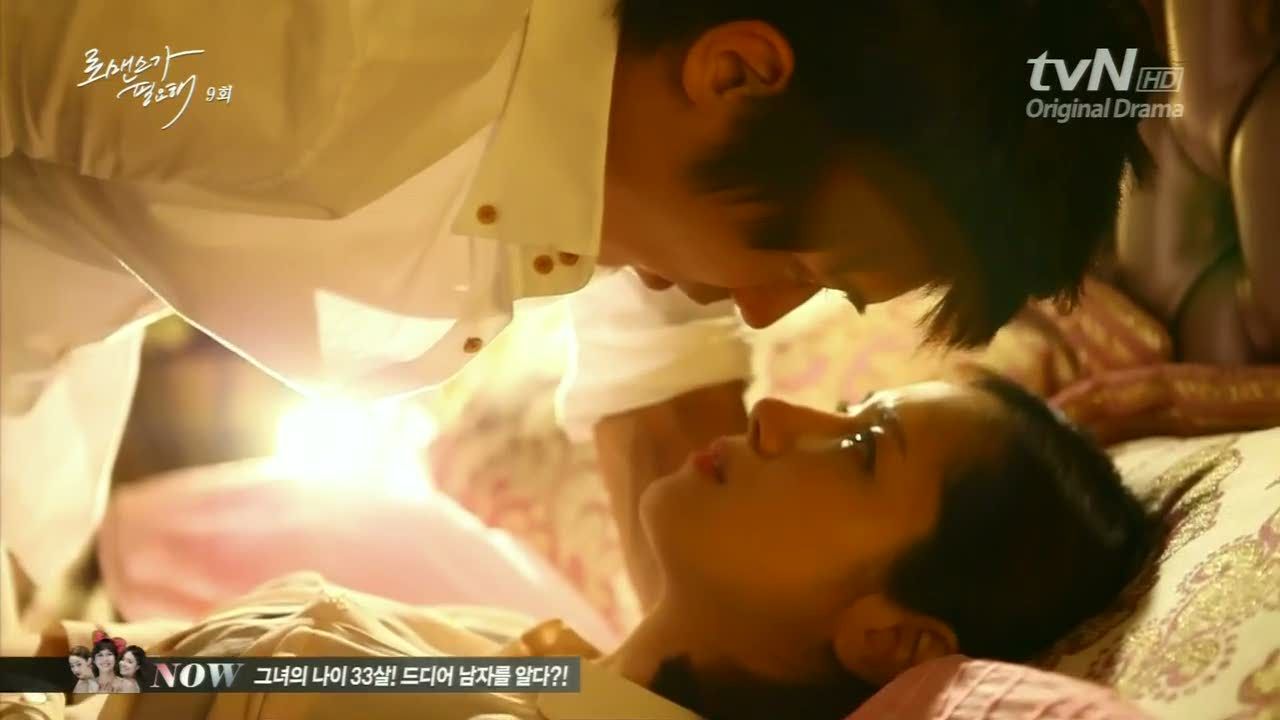 Hyun-joo finally finds the perfect no-strings guy to sleep with—fake husband Duk-soo. Only he turns out to be totally romantic and smitten with her, while she refuses to even consider actually dating him because he's bad on paper. So she's the one to turn what he thought was the beginning of a relationship into a one-night stand. I have a feeling you're going to regret that mighty soon.
Sung-hyun takes issue with In-young's reasons for not seeing him anymore, adding that most women would be thrilled to find that their boyfriend was a chaebol heir to a hotel. But she's no fairytale princess, and In-young tells it like it is: she's slaved at her service job for eight years, wearing out every pair of shoes she owns, while he's barely spent a year working under her, and then all of a sudden, he's the boss. That doesn't make her happy; that makes life unfair. Damn, so true. I love her for that.
But his answer is just as sweet: he buys her new shoes to thank her for her hard work, and tells her that he learned everything from her. He encourages her to dream big, which is so cute I die.
Her new relationship is just the thing to get Sung-soo riled up in a jealous fury, and he refuses to stand by anymore. When these two argue, they're a little too honest with each other, which speaks to their history. They know how to choose just the words to cut deep:
Sung-soo: Don't be easy with him. You were easy with me.
In-young: I was easy? Is that why you lasted one minute?
Sung-soo: It was not one minute!
In-young: Thirty seconds then.
Sung-soo: If you're going to sleep with him, use a condom! I said I'd take you back, but I'm not raising his kid! … I hope it turns out he's a horrible guy.
In-young: Why?
Sung-soo: That way… you'll come back to me.
Their fights always start out funny, but end up ripping up your insides.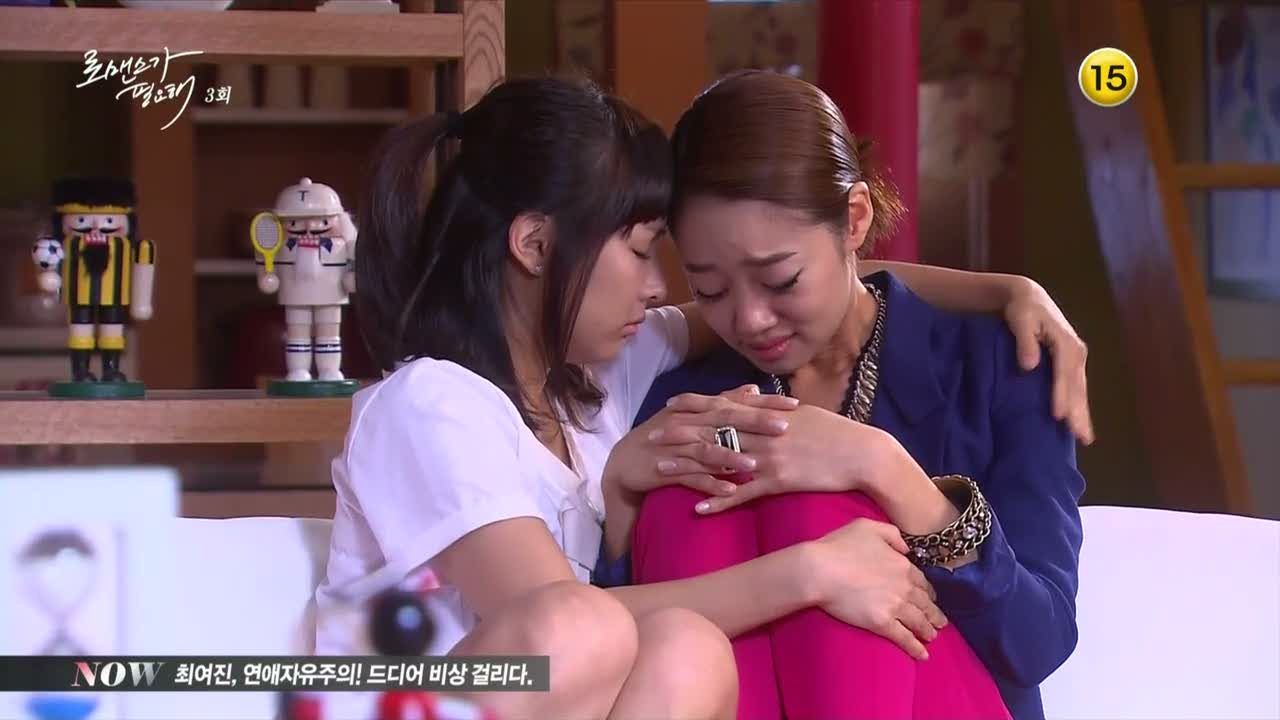 While the romances go on their rollercoaster ups and downs, the friendship between the three women always buoys each episode with banter about the topic of the day, and in moments of weakness they always turn to each other first.
Seo-hyun, the strong-willed independent one, confesses to In-young that she perhaps dates this string of men because she hates to be alone and lonely. How painfully honest, and lovely that In-young hugs her instead of judging. Though each of the girls is deeply flawed in sometimes comical but always very humanizing ways, they are loyal to each other, no matter how much they might disagree. It's how friendships are in real life, if you're lucky.
We end Episode 10 with In-young's first real heartbeat-skipping moment with Sung-hyun. "In that moment I knew. Love had found me again."
Can't wait to see which love wins out in the end.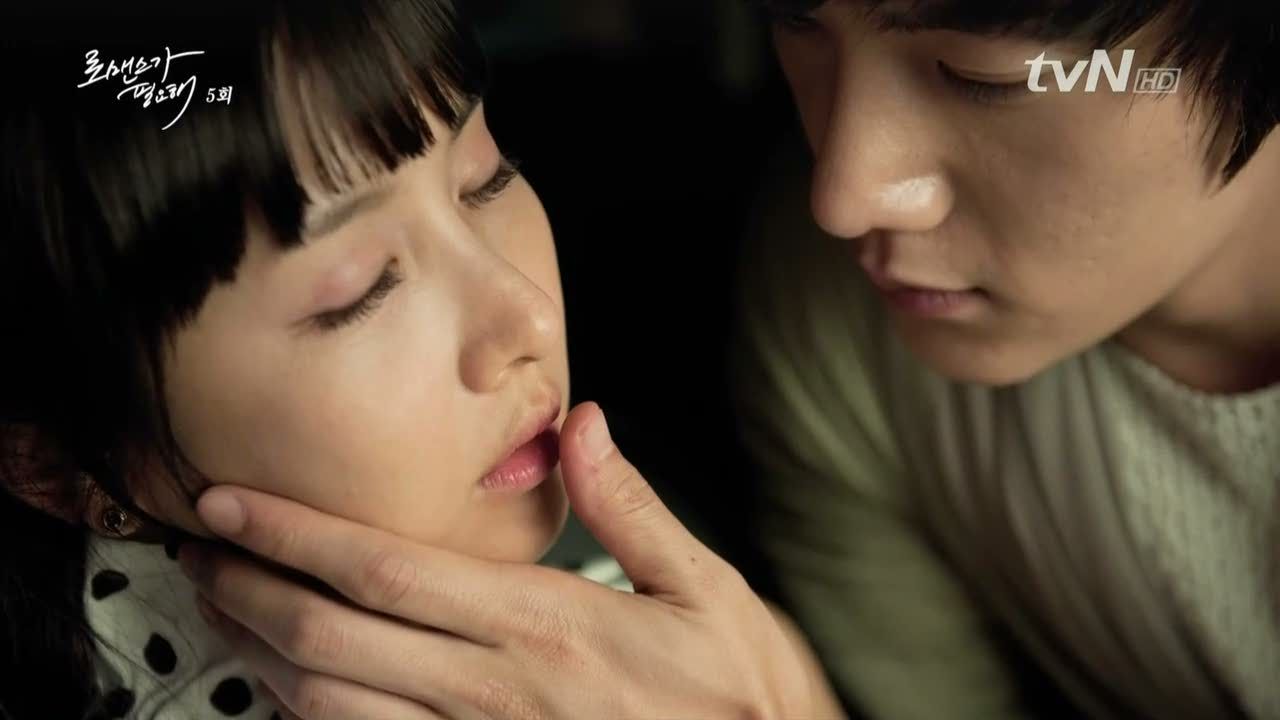 RELATED POSTS
Tags: cable programs, Choi Jin-hyuk, Choi Song-hyun, Choi Yeo-jin, featured, I Need Romance, Jo Yeo-jung, Kim Jung-hoon