Running Man: Episode 53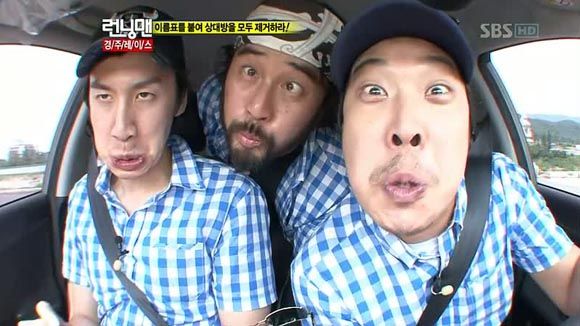 This is the episode where Choi Min-soo's dramatic image crumbles to reveal a more humorous face. It's another race around Kyungjoo as the cast collects suitcases that contain their nametags. It's action, it's romance, it's comedy…!! Ah, I can't tell what genre it is anymore…
EPISODE 53. Broadcast July 24, 2011
What better way is there to start off the day than a fresh cup of a morning mission. Haha and Kwang-soo incredulously respond to the mission card: Enter Choi Min-soo's room and perform a task. If he wakes up, he's on your team. The best part is their task – they have to lie next to Min-soo and count to 10.
Haha and Kwang-soo creep inside the lion's den, careful not to awake the sleeping dragon Min-soo. Surely the man ought to be worn out from hunting down the Running Men yesterday, right? You can almost hear the cries of their impending doom when they find that Min-soo's not in bed, but rather sleeping on the floor. Every little noise and crack puts them on edge and I am so glad not to be in your shoes right now.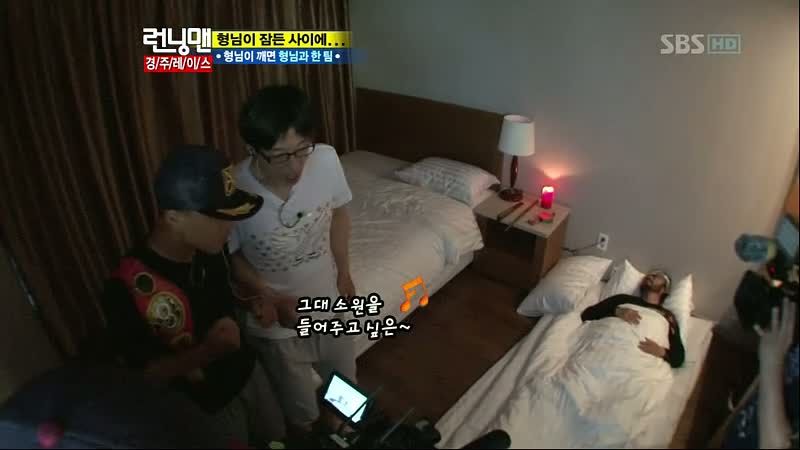 The level of absurdity increases with each team's arrival and one team is assigned to sing and dance to SNSD's "Genie." Oh Running Man, how you consistently set up your cast for failure. Jong-kook makes everyone, including the staff, take off their shoes so their footfalls wouldn't be heard in the hallway and Jae-suk prevents Gary from knocking on Min-soo's door.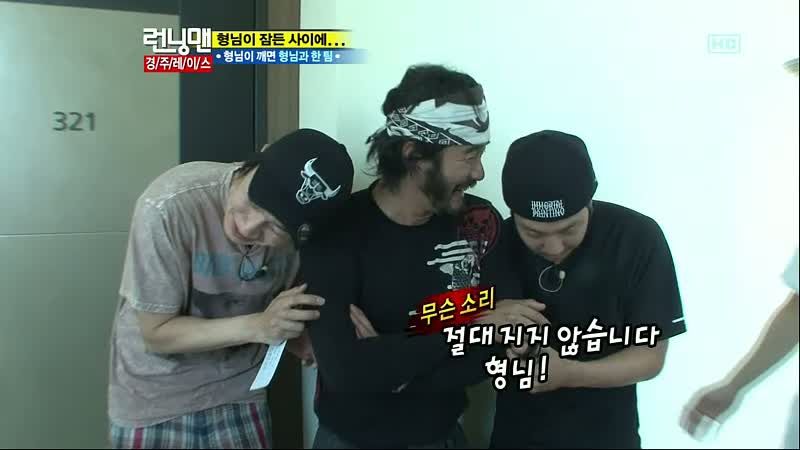 Everyone passes, and a fear-stricken Haha and Kwang-soo start over again. But they're not as lucky as Min-soo groggily wakes up from his slumber. It's so cute how Haha and Kwang-soo downplay their obvious fear by awkwardly pouring on the aegyo (cuteness). Leave it to Min-soo to put them right in their place with a sharp kick to the back of the knee. Lol.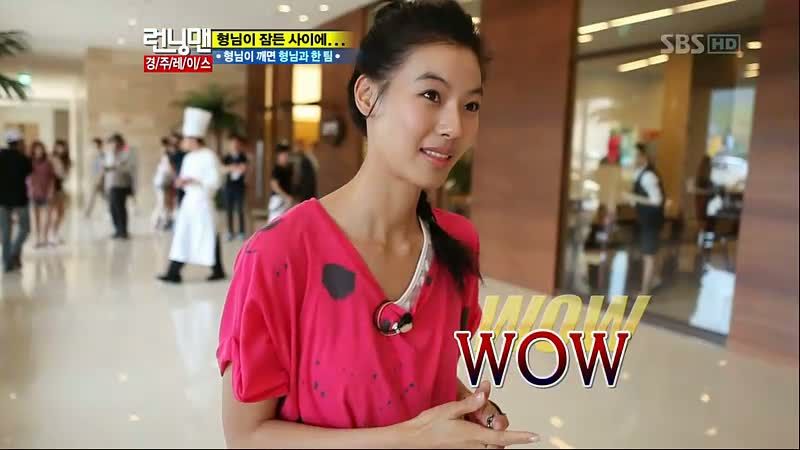 The cast heads downstairs to meet their second guest and Min-soo casually tosses, "Oh, Yoon So-yi?" With that anticlimactic introduction, enter actress Yoon So-yi (Warrior Baek Dong Soo, Hero), who is more warmly greeted by some than others. Case in point: Haha proclaims his undying love:"Yoon So-yi, would you be my last love?"
So-yi chooses to be on Gary's team just as Ji-hyo arrives. I absolutely love this girl – she isn't afraid to hide her disappointment about being teamed with Jong-kook and Suk-jin but she coolly replies to So-yi's choice: "Oh no, it's cool – it's Tuesday."
Today's main mission is another Kyungjoo race and the cast must pick up a ranked suitcase at each destination and ultimately meet at a water park for a spinoff of Hide-and-Seek. Each suitcase contains a member's nametag and this time they're eliminated if someone sticks on their name tag.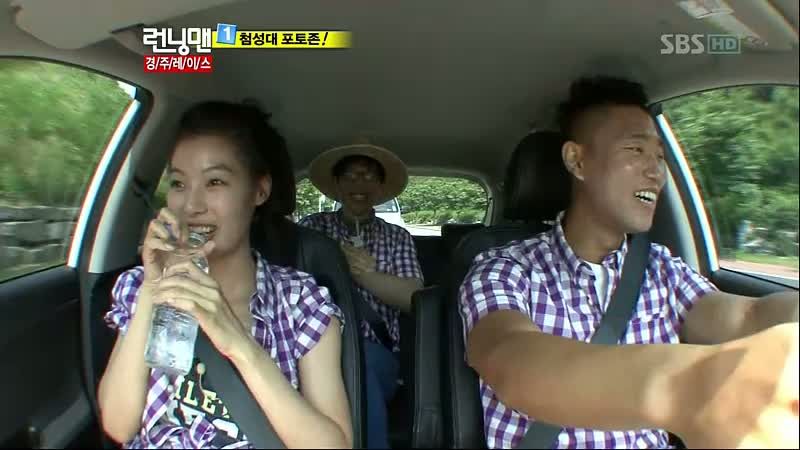 In the car, Jae-suk comments that Gary is the luckiest guy in the world with two women to love him on Monday (Ji-hyo) and Tuesday (So-yi). Gary replies that he would like someone to love him on Wednesday. Heh. Jae-suk continues that everything in the car is So-yi and she happily responds that Gary is hers but not Jae-suk (since he's married). Is the Monday Couple in trouble?
First stop: Chumsungdae Observatory as Jae-suk's team drives ahead of Haha's team. But Min-soo isn't worried. "Why go early? We can just steal whatever they find." Spoken like a true Hunter. It's the return of the Photo Zone mission where one member's face must fit inside the window of the observatory in order to move on.
Commence pulling of hair, pushing, and jumping as the timer ticks down. Jae-suk's team succeeds first and they grab the highest ranked suitcase. It's then that Jae-suk has a revelation: What if the suitcases were ranked in accordance to how difficult it is to catch the person. That must mean only one person: Choi Min-soo. Um well…crap. They plead with Mr.PD to exchange it with attempts to bribe him with leftover Baht, but it's no use – they're stuck with their choice.
The other teams pass after a few more tries. How much do I love that Min-soo's dark image of a raging tiger is completely dismantled by that giant smile above? Next stop: a nearby restaurant. The maknae FD leads each team inside and sets down their lunch in front of them. The hitch? Create a lettuce wrap in the order each item was placed in front of them. LOL. They can't even eat lunch without some sort of trap!
Both Jae-suk and Haha's teams call out each item's order with such conviction that it sends me in giggles to watch how wrong they are. Haha's wrap is filled with fresh garlic and he momentarily forgets himself when Min-soo says to just swallow it whole. Haha grabs Min-soo by the shirt and thanks his lucky stars because Min-soo laughs and starts crying about being beat up by a little squirt.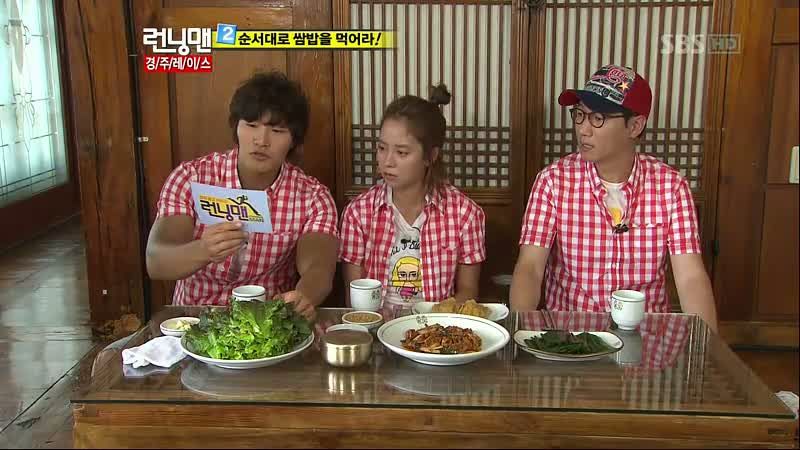 Round after round they go and soon they're feeding each other garlic filled wraps versus paying attention to the task at hand. Min-soo wonders when Jong-kook's team will arrive and hears that they've succeeded and left already. We see that putting the Capable One and the Ace together creates a killer combo as they breeze through the order and pick up their suitcase.
Everyone finds their last suitcase at the Teddy Bear Museum and they're headed to the water park. In each car, they guess which teams holds their nametags and afraid of possibly catching Min-soo. Jong-kook's taem is relieved that everyone they must catch is relatively doable. Jong-kook hands So-yi's name to Ji-hyo, who uncertainly quivers, "But So-yi's good at fighting! She even flies!" Must be all those historical dramas she films.
The storm clouds brew as Jae-suk's team's worst nightmares have come true: Min-soo is among those they must catch. Deep breaths, all! The other names are Suk-jin's and Kwang-soo and So-yi remarks that they're ranked by age. Her prize? She gets to catch Min-soo. Hahaha.
Each team heads off to different spots of the water park to scout each other's locations. So-yi reasons which team must hold which nametags and Gary blankly stares back at her logical deduction. Oh Gary, you simple, sweet man.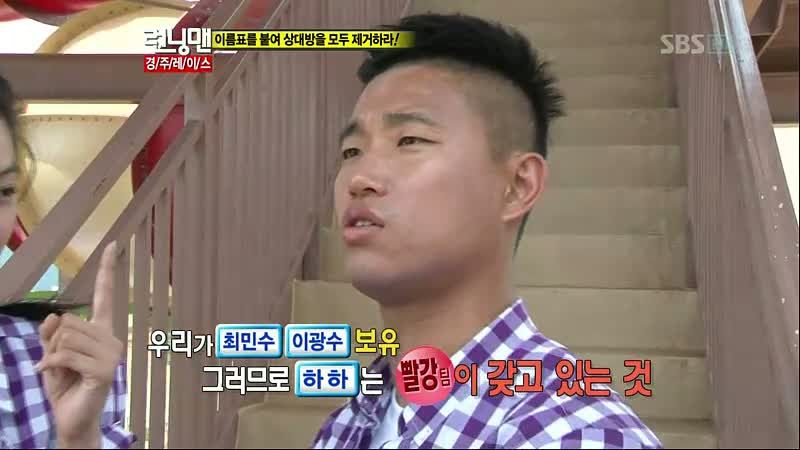 Haha and Kwang-soo walk behind Min-soo with confidence that everyone else is hiding from them. So without any qualms, Haha's team enjoys their water park experience in the shadow of the Hunter Choi Min-soo. Jae-suk's team wonders where the Red Team is hiding and we see them playing in another corner of the park. Is anyone paying any attention to the mission?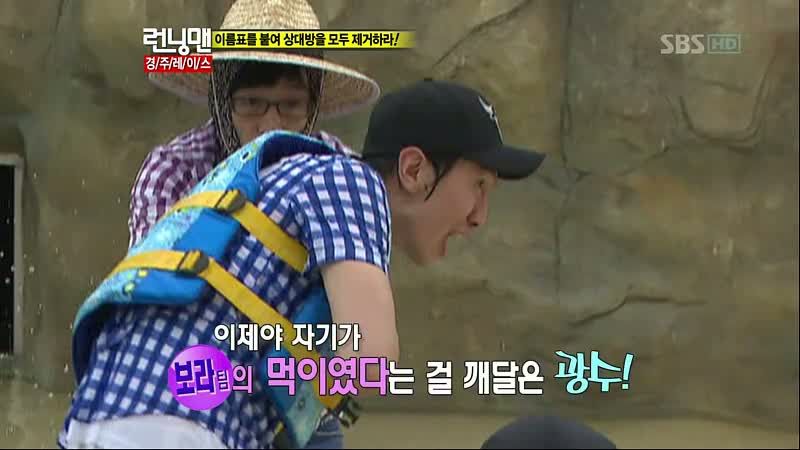 Jae-suk's team and Haha's team approach each other with caution and Jae-suk stops them in their tracks – it's not fair to attack each other when one team is wearing vests. When Haha and Kwang-soo turn around to do so, Jae-suk pounces on Kwang-soo and Haha chases after Gary. Kwangsoo cries out for help to Min-soo, but sadly, he's too busy in peaceful solace in the wave pool. Both Kwang-soo and Gary are eliminated.
Min-soo suggests to Jae-suk to create an alliance against Jong-kook's team since they are at a disadvantage with two team members each. Jaesuk readily agrees to the offer. But wait, Yooruce Willis, don't you have Min-soo's nametag? He waits for his opportune moment with bated breath as Min-soo affixes his microphone.
Then, smack! Jaesuk plasters Min-soo's nametag on his back. Remember that face Jaesuk. It's gonna haunt you in your dreams. Min-soo retorts that he'd like to be scheduled to appear on Running Man every two months from now on. In a last attempt to buy a bit of time, Min-soo runs up to the incoming Jong-kook's team, who is already aware of his elimination.
Jae-suk, So-yi, and Haha team up to set up an ambush for the red team. In a tussle, both Suk-jin and Ji-hyo are eliminated, leaving Spartakooks as their last target. While they search with tensions running high someone chases after them – it's Min-soo, who came to ride one of the rides but came to poke a little fun.
Three versus one now as Jong-kook spies the other members. He appears like a lightning flash and quickly eliminates Jae-suk with ease. Ah, redemption for Jong-kook! The remaining three circle around each other, waiting for the other to attack first. It's Jong-kook who leaps towards Haha, making his elimination quick and swift.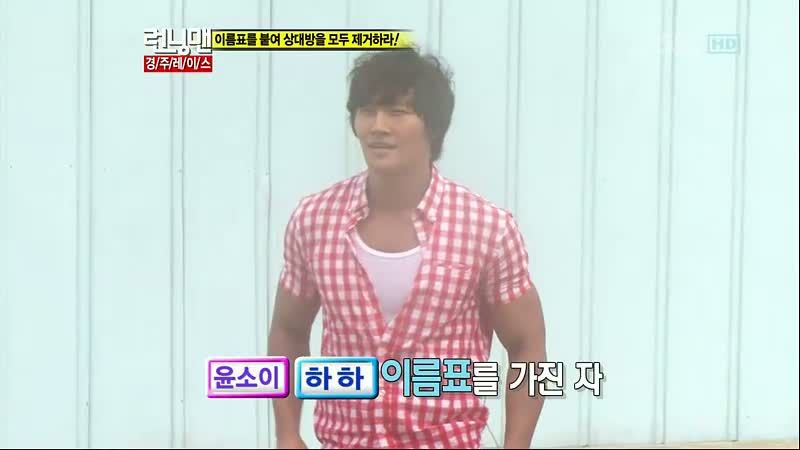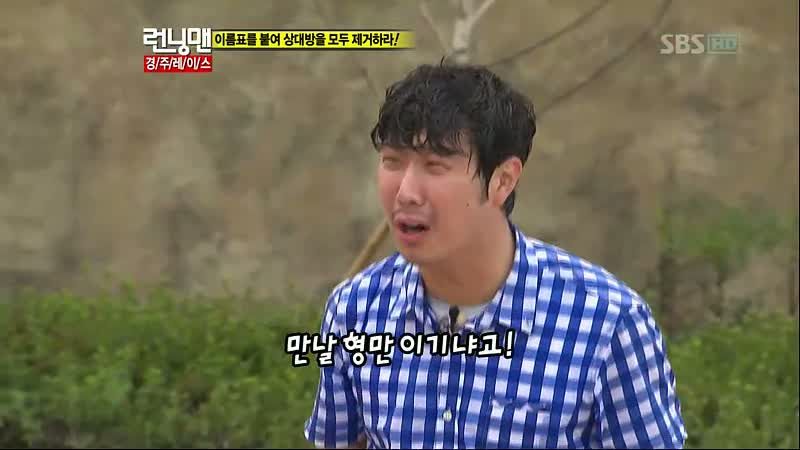 Haha sulks, "Jong-kook hyung, why do you always have to win!" and Jong-kook's heart softens…which gives So-yi a perfect opportunity to slap on Jong-kook's nametag on his back, which makes Jae-suk's team the winner! Oof, Jong-kook, you're losing your touch!
RELATED POSTS
Tags: featured, Haha, Ji Suk-jin, Kang Gary, Kim Jong-kook, Lee Kwang-soo, Running Man, Song Ji-hyo, Yoo Jae-suk