Shut Up adds Loveholic rocker as music director, releases long preview
Two things have turned my interest from cautious to full-blown love regarding upcoming drama Shut Up: Flower Boy Band, and now I can safely say that I have super high hopes for this show. First, the long preview was released, and it's pretty feckin' awesome.
Sadly, the 10-minute teaser has since been taken down and I can't find an additional link, so I'm just posting screencaps I'd grabbed when it was still live, as well as another (short) teaser video. I'm sad that I can't show you how great that highlight preview was, but on the other hand it pretty much gave away most of Episode 1, and the drama's premiering in days anyway.
Suffice to say that the highlight reel gave a taste of mood, story, conflict, and now I feel confident that the drama is as raw and heart-tugging and full of youthful fervor as I hoped it would be. It actually makes me feel an emotion that I can only describe as jjan: sad, a little bit painful, but in the best way.
Here's the shorter preview:
As for the long trailer that is no longer available: It established a lot of the facts that you'll already be familiar with, if you've been following the posts on this drama. The boys of the band Angujeonghwa (Eye Candy) are living rough lives: sorta cool, sorta lost. Lee Min-ki (in an extended cameo) is their charismatic but also crazy leader Byung-hee, who talks in grandiose speeches about art and muses and music and life. He describes the feeling of taking the mic to a screaming crowd, with his friends playing with him, and then dying right then and there: "Because I want to die in my happiest moment." The sentiment is profound but also kind of absurd, and Ji-hyuk (Sung Joon) stares at him for a moment before scoffing, "Crazy bastard."
The boys are hanging out around Jungsang High School — that's the posh school on the other side of the figurative tracks — looking for Byung-hee's new muse… and find it in Su-ah (Jo Boa), who has that aura that commands their attention. Byung-hee's thrilled — but on the other hand, Su-ah's like, "Who's this weirdo?"
She happens to be "claimed" by the rich leader of their rival band (Jung Eui-chul), who looks after her protectively. But she also bonds with Ji-hyuk, who's her new neighbor when she moves in to a small rooftop room; her bankrupt Dad tells her to lie low and live quietly while he's on the run from debt collectors.
I love the moments of the boys bonding, as we see glimpses of the hard lives they lead at home — even as they put on carefree faces when they're together, with the swagger of disaffected youth. The rich hotshots get to play at the cool venues, while the Eye Candy boys decide to screw the rules and play in the street. (Pissing off the rich boys, naturally.) Byung-hee suggests that they transfer schools to Jungsang anyway and shake things up.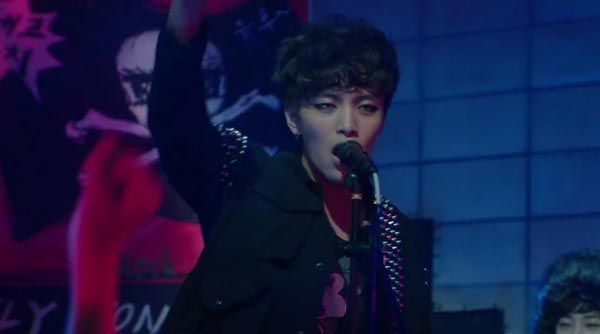 Already I love the relationships, the tone, the music, the everything. Eeee! The drama premieres Monday, and I can't wait.
Then for my Point Number 2: the music. It's just been announced that the music director in charge of the show will be Lee Jae-hak, a well-known songwriter who has worked on movies like 200 Pound Beauty and Take Off, both movies that had great soundtracks.
You may better know Lee Jae-hak as one-third of the rock band Loveholic — and after their lead singer Jisun parted ways (amicably) with the group, he and remaining bandmate Kang Hyun-min reworked the band into a new incarnation, Loveholics. The music still showcases their catchy melodies and modern-rock sound, but they put out an album with a rotating roster of guest vocalists, rather than bringing in a new one.
I LOVE LOVEHOLIC(S). And I love dramas with great soundtracks. So as you can imagine, I am very excited about this announcement, and am no longer worried that Shut Up: Flower Boy Band will just be a poor excuse for drama producers to slap on the label "rock" while giving us manufactured idol-pop music instead, figuring we wouldn't know or care about the difference.
This also gives me an excuse to post some of my favorite Loveholic/Loveholics tunes:
Loveholic – "Blue 923" [ Download ]
Audio clip: Adobe Flash Player (version 9 or above) is required to play this audio clip. Download the latest version here. You also need to have JavaScript enabled in your browser.
Loveholic – "Bless You" which was featured in Que Sera Sera's soundtrack. [ Download ]
Audio clip: Adobe Flash Player (version 9 or above) is required to play this audio clip. Download the latest version here. You also need to have JavaScript enabled in your browser.
Loveholics – "아픔" (Pain). [ Download ]
Audio clip: Adobe Flash Player (version 9 or above) is required to play this audio clip. Download the latest version here. You also need to have JavaScript enabled in your browser.
Loveholics – "Raining" [ Download ]
Audio clip: Adobe Flash Player (version 9 or above) is required to play this audio clip. Download the latest version here. You also need to have JavaScript enabled in your browser.
Loveholics – "Butterfly" from the hit sports movie Take Off. [ Download ]
Audio clip: Adobe Flash Player (version 9 or above) is required to play this audio clip. Download the latest version here. You also need to have JavaScript enabled in your browser.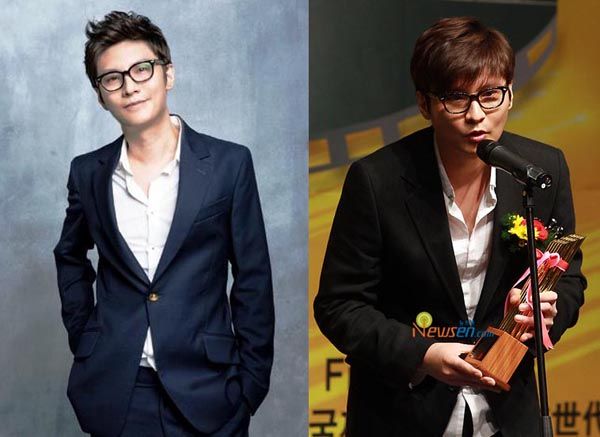 Via Osen
RELATED POSTS