Vampire Prosecutor secures original cast for Season 2
javabeans: Woohoo, Season 2! Looks like it's a go. They're looking at this summer as a projected broadcast date.
girlfriday: And with the cast intact, yeah?
javabeans: According to this report, Yeon Jung-hoon and the Season 1 crew will be coming back.
girlfriday: Whew. Well that's the only way to do it. This isn't a show where you can carry over the concept and not the cast. What will our scooby gang do in Season 2?
javabeans: Hmm, according to one rep with the production team, since Season 1 focused on Tae-yeon's past, Season 2 will go a different direction in bringing forth a strong rival.
girlfriday: I like that — the Big Bad in Season 1 was good in theory, but not in execution. We need way bigger baddies.
javabeans: Totally. And I actually thought that Season 1's conflict got a lot more exciting when the antagonist was the law, rather than the vamp, so I want to see Tae-yeon come up against that kind of opposition.
girlfriday: Right? When he was up against the crack defense team. That was the best stuff.
javabeans: I'm already imagining a City Hunter vs Prosecutor sort of dynamic, except in this case he's… the Prosecutor. But with a Prosecutor-like foe. Um, you know what I mean.
girlfriday: You mean someone to dog his every move, and be on the opposite side of the law?
javabeans: Exactly. Ooh ooh! Can Hottie Prosecutor become a City Hunter?
girlfriday: City Hunter's Prosecutor or Vampire Prosecutor? Because there be a lot of hottie prosecutors around.
javabeans: I'm confused now.
girlfriday: You started it.
javabeans: And now I can't take back this headache. [SPOILER FOR SEASON 1 FINALE] They're not sure yet whether Tae-yeon's sister will be dead or alive — er, undead — so that may or may not be figured into the new season. Aw, that's so sad. She's the one thing that can push Tae-yeon to the other side of the law, because I think he's blind where she's concerned.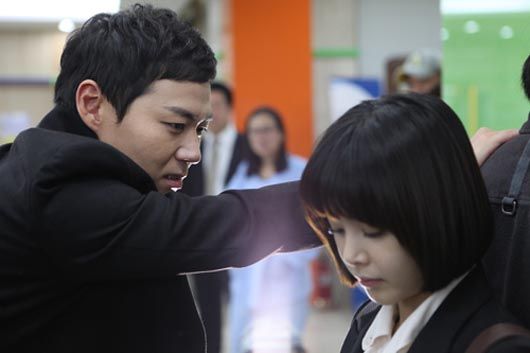 girlfriday: I'd love it if they took him to the other side though, and gave him a moral crisis this time around.
javabeans: That would also give Jung-in (Lee Young-ah) a chance to be morally conflicted.
girlfriday: And a chance for Tae-yeon to give her morally-conflicted kisses.
javabeans: So. Hot. I need a minute to collect myself. Oh, and can there be lots and lots of petty sniping from Soon-bum, the jealous bro who refuses to be usurped by a love interest?
girlfriday: Yes please! They were the cutest couple of the year. Oh wouldn't it be cute if they started Season 2 on the outs because he was already jealous, and Tae-yeon had to do embarrassing things to get the bromance back on track?
javabeans: And I want to see Soon-bum jealous of Dr. Blood, if we're making up wish lists. He can be all exasperated: "The girl I could handle, but a vampire? How do I compete with that?"
girlfriday: I think Dr. Blood's new nickname in Season 2 will be Dr. Hotpants.
javabeans: I don't think that means what you think it means. 'Cause now I'm picturing WHAM-era shorty shorts.
girlfriday: Well now I can't undo that mental image.
javabeans: YOU started THAT.
girlfriday: So now we both have regrets.
javabeans: Regrets that only a super-awesome Season 2 can erase.
girlfriday: So get on that, Show.
Via Star News
RELATED POSTS
Tags: cable programs, conversation post, Lee Young-ah, sequels, Vampire Prosecutor, Vampire Prosecutor 2, Yeon Jung-hoon