Kim Nam-joo and Kim Seung-woo for Marie Claire
I know I say this a lot, but damn does this couple take a good picture. Here's my favorite power couple, Kim Nam-joo and Kim Seung-woo, in a spread for Marie Claire being gorgeous and stunning as per usual. In the article featuring Kim Nam-joo, she describes herself as a person who can't turn off her thoughts–she thinks about her kids at work and thinks about work at home. She still calls Kim Seung-woo "oppa," and says that dating was great, early marriage was hard, and that they've come back around to a really happy place, as each other's best friends.
The queen of housewives, reversals, and ratings has another runaway hit drama currently airing on the weekends, the cumbersomely-titled You Who Rolled Into My Life, lately hovering near the 40% mark. She says, "When I was young I thought about what my life would be like at this age. I thought that I wouldn't still be working. I thought I'd be pushed out of leading roles, and that my immature pride wouldn't endure that. But like flowing water, I've come to where I am now."
She brags freely about what a good husband and father Kim Seung-woo is, which isn't a surprise, given the fact that they're known for being that uber-supportive couple who cameos in each other's dramas and talk shows at every opportunity. She says that they've had rough patches and had a harsh transition as newlyweds when she got pregnant early on, but have developed a support system in each other by sharing their problems over a drink and cheering each other on.
Seung-woo: "I think we do one of these shoots about once a year or so. When I look at my wife wearing such fancy clothes and makeup, I feel like I'm looking at a celebrity. (Laughs.) But at home I'm looking at my woman." Nam-joo: "At home he's a reliable dad. That dependability shows through directly. But this Kim Seung-woo-sshi here is a natural actor. Even if it's a photo shoot I can feel him acting. I really want to act in a project with him someday."
She's comfortable calling herself an ajumma and talking about her two children, and the difficulty of having to split her time as a working mom. "It's so hard. When I don't have a project and I'm just with my kids at home, I feel nervous. I think, 'Can I just be here like this?' But then when I start a project I feel like I'm not properly taking care of my children. When I go here I think of there, and when I'm there I worry about here."
While Wife has been the reigning queen of dramaland, Hubby has developed a full-fledged variety persona in recent years, changing it up from Stoic Actor to Talk Show MC, and most recently on 1 Night 2 Days, to Hilarious Petty Ajusshi and a warm father figure who isn't afraid to be ribbed for his age. Seung-woo: "I think showing an easygoing side of myself isn't a bad thing at my age. Truthfully many people around me told me not to [join 1N2D]. But an adventure and a challenge are happy things. … If I continue to work hard as an actor, I think I can be a young father. Physically I'm old but at heart I'm a young dad."
When asked about their relationship, Seung-woo said, "I want things to be exactly as they are now. But do you know that that's a really big dream? Time continues to flow but wanting this moment not to change can be a selfish thing. So that means I have to work just as hard to keep it." Nam-joo: "I want my husband to always think of me as a friend like he does now — to be the first person he thinks of when he wants to confide in someone."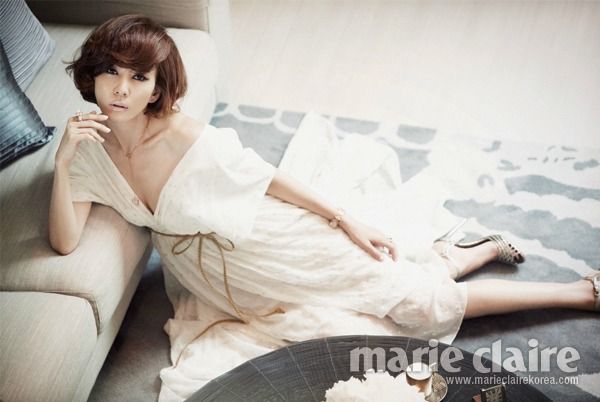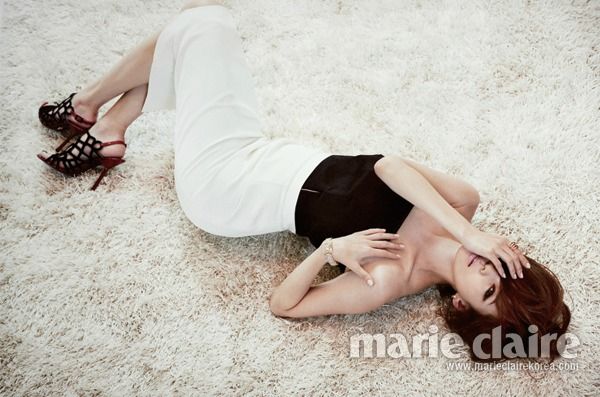 Via Marie Claire
RELATED POSTS
Tags: interviews, Kim Nam-joo, Kim Seung-woo, photo shoots