IRIS 2's main promo poster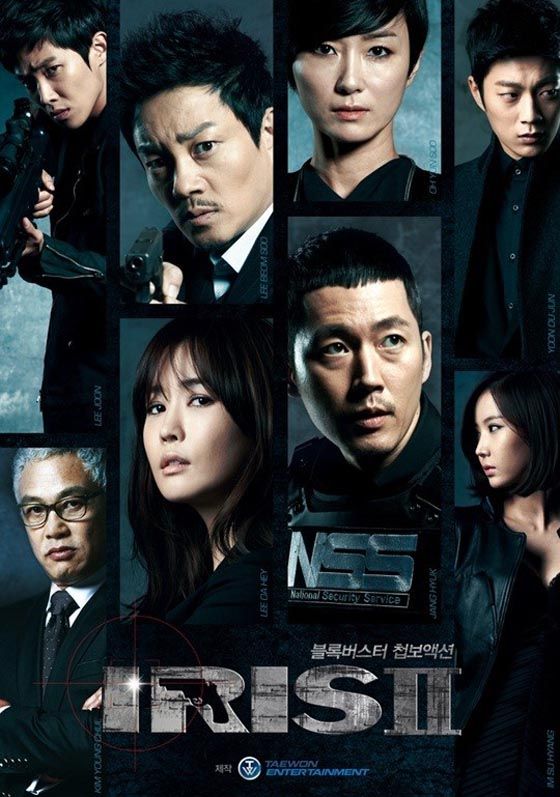 The main poster is out for upcoming blockbuster sequel IRIS 2, and I'll say this for the franchise: It sure knows its brand, 'cause it's clinging to that concept like a second lead clings to his unrequited love, with little deviation. This isn't anything we haven't already seen before, from both the original IRIS and Athena, and in fact is so similar that I have the vague sensation that I've already seen this drama. Haven't I?
That said, I think Jang Hyuk is a perfect fit for this kind of spy hero (although sigh at the Dumb and Dumber hair), and I'm hoping (fingers crossed) that Lee Da-hae proves to be a strong match, not just for him but as a fierce heroine. (By all accounts she and Jang Hyuk are friends, having worked together twice before, so I'm not worried about their chemistry.) I want to believe she can pull it off, even though she may not have the physicality to be convincing in the way of a Ha Ji-won or a Kim So-yeon. Admittedly, neither did Kim Tae-hee or Su Ae. But in terms of aura she feels appropriate — she's plenty capable of intensity when she turns it on. Lee Beom-soo we can expect to be awesome, and Oh Yeon-soo has shown herself to be a pro at the steely types.
Casting-wise, the show is strong. But casting was never this franchise's weakness, and it'll be up to the writers to pull out a better story than either of the first two series. This season will continue three years after the end of IRIS 1, despite losing most of its main cast, and continues the conflict between secret organization IRIS and the agents of the NSS.
I really wonder whether the producers would've been better off going for IRIS 2 before attempting the spinoff angle with Athena, because it makes sense for a sequel to style itself just like the first. But by sticking a carbon-copy series in between (which flopped), now the aesthetic just looks tired. If they can pull off this series, my hat's off to them. If not, I really really hope Taewon Entertainment can come to accept just letting go already. You gave it a strong effort — maybe you can try coming up with a second idea now?
IRIS 2 will premiere on February 13.
Via Review Star
RELATED POSTS
Tags: IRIS 2, Jang Hyuk, Lee Beom-soo, Lee Da-hae, Oh Yeon-soo