Incarnation of Money: Episode 2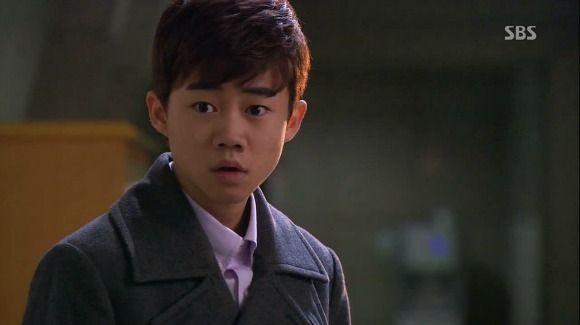 That's more like it. We're still in the past but this episode lays out much of the groundwork as we learn more lessons about the power of money. Desire can be a tricky thing to contain and when that starts tipping into greed, we see just how dangerous money can be. Our hero finds out that number of people he can trust is quickly dwindling and in order to survive, the only person he can depend on is himself.
Note: Though the recaps may not come out the day the show airs, out of courtesy for your fellow readers (and myself), please keep the discussion to the episode at hand. Thanks!
EPISODE 2 RECAP
The air is thick with tension just before the judge declares the verdict: not guilty. Everyone breathes a collective sigh of relief (well, everyone except Prosecutor Kwon). Hugging Mom tightly, Kang-seok shoots Se-kwang a thumbs up.
Lawyer Hwang (he has a name!) and Se-kwang take questions from reporters who ask for a word from the law student. How does it feel to beat the famed prosecutor in court? Se-kwang humbly answers that it wasn't a battle between two legal representatives, "but a fight between what's true and false."
Prosecutor Kwon shoots him a hateful glare.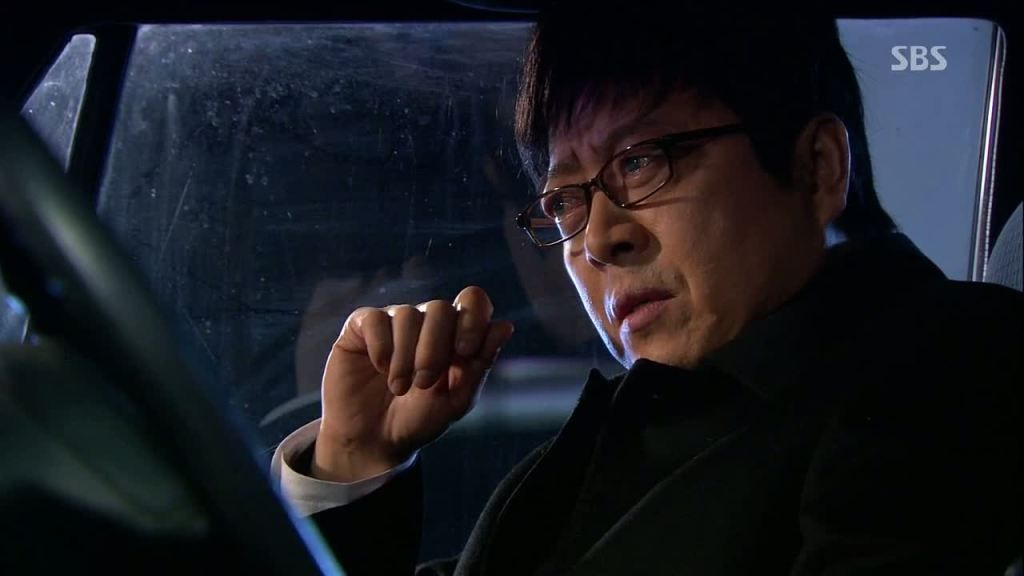 At the hospital, Mom sticks to Chairman Lee's bedside and Lawyer Hwang reports that the amended will is nearly complete. In the meantime, he advises that she cut off life support and prepare for the funeral. Mom gives the go-ahead.
After his loss in court, Prosecutor Kwon drowns his sorrows in drink, when he's handed an unmarked package. Inside is the tape with Mom's recorded voice about taking the chairman off of life support. The prosecution team interprets this as a clear motive for murder (which is what Se-kwang wants them to think) but they'll need the autopsy report to reveal the cause of death before taking any action.
The following day, the doctor disconnects Chairman Lee's life support monitor in the presence of the family and staff. Kang-seok grieves over his father's body just as the prosecution enters the hospital room.
Prosecutor Kwon thanks Mom for agreeing to the autopsy; he would have suspected her again if she didn't. He turns to leave but then Kang-seok calls out that he overheard a reporter say that his father had a mistress who also has a lover of her own. He's certain that the two had a hand in Dad's death.
Se-kwang looks on with curiosity, astonished that Kang-seok is sharper than he lets on. Prosecutor Kwon thanks him for the tip and promises to look into it.
At Chairman Lee's funeral, Se-kwang calmly pays his final respects whereas Lawyer Hwang is a bundle of nerves about the unknown reporter. Se-kwang quells the man's anxiety, telling him that by now, Prosecutor Kwon should be completely engrossed with redeeming his loss in court than waste time chasing after a potential dead end.
The autopsy report reveals tetrodotoxin to be the cause of death, which means Mom is once again considered the prime suspect.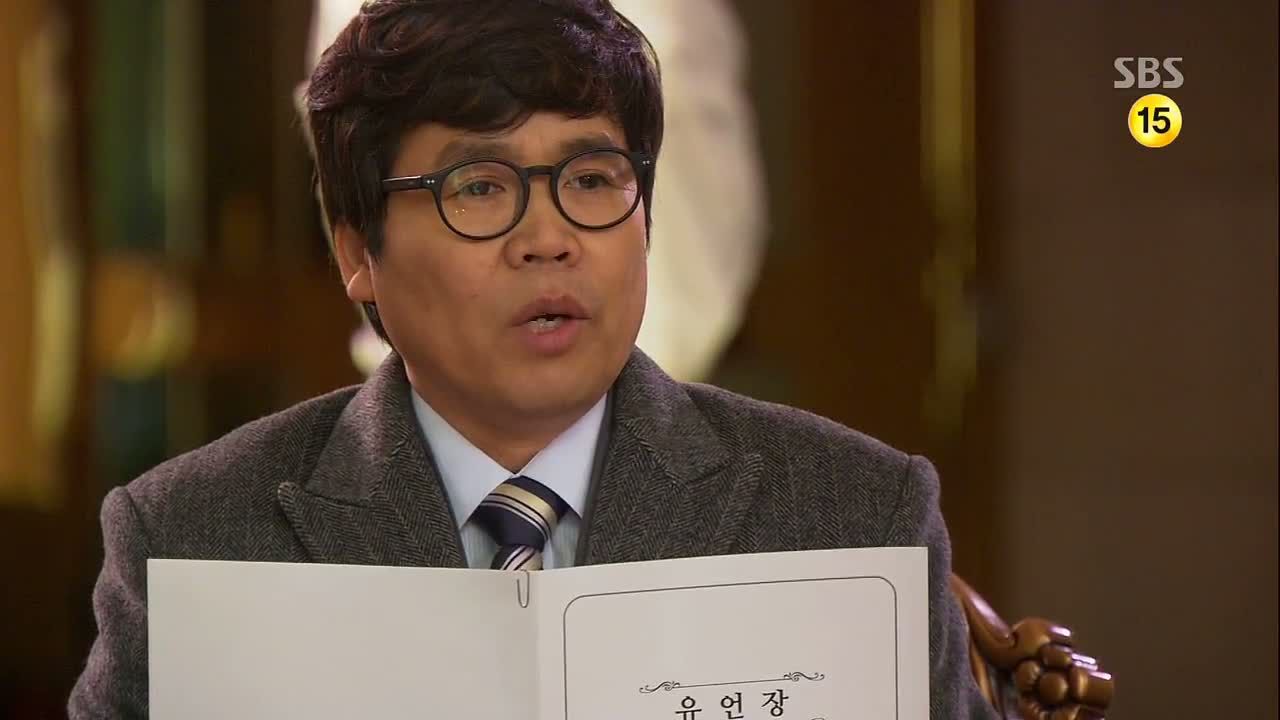 The chairman's will is read aloud to the family by Lawyer Hwang. Even Bi-ryung is in attendance (to Mom's great displeasure) and everyone is all ears as they listen in for their share. Mom squeezes her son's hand tightly, waiting to hear the reading of all his prime properties, stocks, and fortune.
And all of those assets are given "to my loving… Eun Bi-ryung."
Confused faces all around though no one is as shocked as Mom, who rises in protest. But before she can say another word, the prosecution team arrives with a warrant and drags her away.
Bi-ryung wastes no time establishing herself as the new owner of the estate, ordering the house to be sold off and for Kang-seok to move out. Kang-seok's relatives balk when they see Bi-ryung's name on the will and deduce that Mom had clear motivation to do away with the chairman.
But Kang-seok's finally had enough and hollers at them to leave (it's pretty ballsy since he's so young). When they do, he ignores Lawyer Hwang's attempt to hand him emergency pocket money and storms up the steps to be alone.
At the police station, Se-kwang freezes when Mom mentions that she's figured out who Bi-ryung's secret lover might be. However, she names him as Lawyer Hwang, convinced that the two worked together to amend the will. She knows without a shred of doubt that the Chairman would never leave his entire fortune to his mistress.
When they find out who Bi-ryung's lover is, they'll be able to find the true culprit. Would it save time to tell you that you're looking right at him?
The case is reopened in court and Prosecutor Kwon alludes to the fact that the defendant could have poisoned the chairman with the neurotoxin (tetrodotoxin) found in his arthritis medicine. Prosecutor Kwon attacks from a different angle when Se-kwang counters that argument: Did Mom know that Bi-ryung would acquire the chairman's fortune prior to his death?
When Mom stammers that she only found out when the will was read, Prosecutor Kwon pulls out the big guns with the recorded tape. Everyone in the courtroom gapes as they listen to Mom's desperate pleas for Lawyer Hwang to revise the will, saying how she'd end her husband's life by her own hands.
Se-kwang objects that there's no way to confirm when the conversation took place. Interesting how his voice shakes with feigned panic, so different from his confidence from the other day in court. But Prosecutor Kwon has anticipated this and states that Lawyer Hwang has verified the evidence.
Mom launches herself at Lawyer Hwang, screaming that this was all his doing. Se-kwang watches with pained eyes as Mom is dragged away from the courtroom.
Once things calm down, Se-kwang sits with Mom and informs her that at present, her best option is an insanity plea. If she cites her history of depression (that explains the pills), she'll do time in a psychiatric ward versus prison. Mom is against the idea, since it means she has to plead guilty to a crime she never committed.
But Se-kwang tells her to think of her son, arguing that a lighter sentence means that she'll be able to see Kang-seok sooner. Mom starts to cry at the thought.
When court resumes, the judge lists off Mom's crimes, which include murdering the chairman to obtain his money and lying in court. Her sentence: twelve years.
Kang-seok sits for a moment in shock and then rises as Mom is taken away by the guards. He desperately reaches out to touch her – crying – before he's held back by Se-kwang. Even Bi-ryung can't help but shed a tear watching their heartbreaking separation. Does that black heart of yours know how to cry?
There's more bad news awating him as Kang-seok returns to discover that his family estate has been sold off. Movers are hauling away their precious belongings.
Kang-seok waits outside the SBC building for hours until he tracks down the same reporter who lingered outside his home a few days earlier. Reporter Go finds it hard to believe that the chairman would leave his entire fortune to his mistress. But Kang-seok doesn't consider the idea that far-fetched, especially if someone planned it that way.
He asks Reporter Go if he knows who Bi-ryung's secret lover is. The reporter remembers his face but didn't get a name (he's the same reporter who was caught outside Bi-ryung's home in the previous episode).
Reporter Go catches a whiff of a juicy story and agrees to help.
It's sad to see Kang-seok put on a brave face when he visits Mom in prison. He tells her in his usual cheery tone how he's so busy these days that he barely has time to think about Mom. When she catches him in his lie, he laughs it off.
Mom tells him to stay with relatives but Kang-seok puffs up that he's not a little kid anymore and that he'll be fine on his own. He even shows off his biceps to prove how strong he is. "Just wait," he promises. "I'm going to catch the criminal, avenge Dad, and clear your name. Okay?"
Mom puts a hand to the glass and breaks down crying. Kang-seok does his best to hold back his tears.
Reporter Go makes good on his promise to Kang-seok and runs into Se-kwang when he tries to catch Bi-ryung for an interview. Both men acknowledge their previous meeting and Se-kwang offers to go out for drinks. We don't hear their conversation but it seems that Reporter Go agrees to Se-kwang's terms.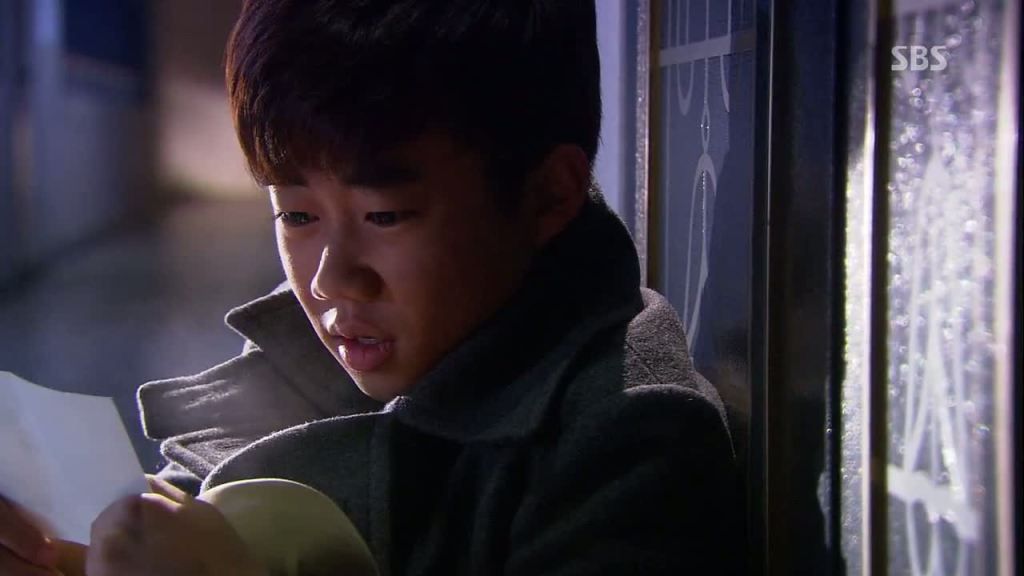 Turning to extended family works out just as you might expect, and Kang-seok aimlessly wanders the streets, hungry and homeless.
He raps on Se-kwang's door and slumps against it when he realizes that no one's home. Kang-seok takes out a family photo and closes his eyes, recalling a time when his father took him to his private vault.
The sight takes his breath away: a room filled with valuables, with a mountain of cash sitting in the middle. Well, now we know where all that money in the beginning of the series came from.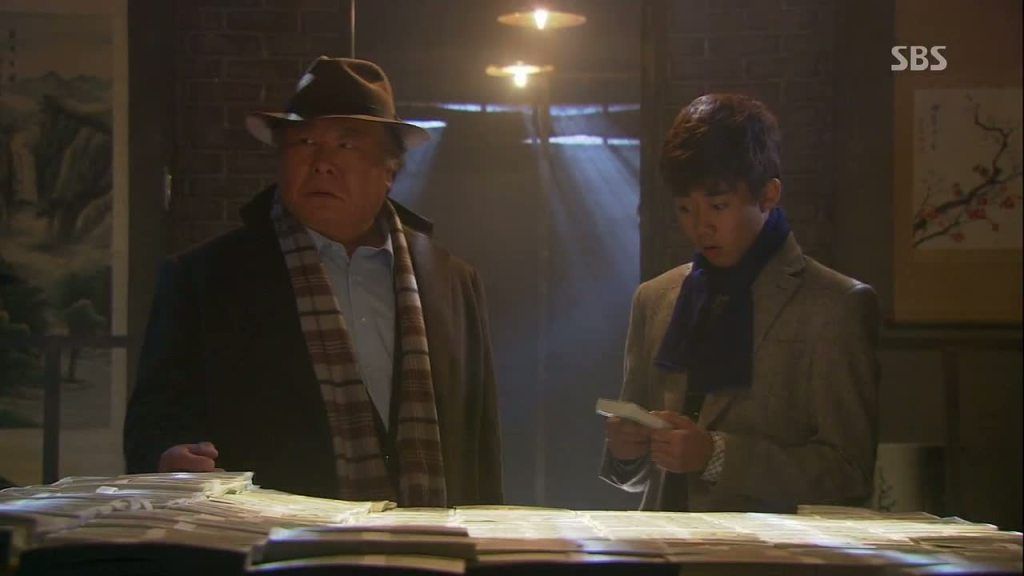 Kang-seok exclaims that he has never seen so much money before and Dad answers, "I don't see this as money. I see it as God and this place is a temple." Placing a wad of cash to his heart, he instructs his son to make a wish because nothing is impossible with money.
Dad was about Kang-seok's age when he first came from the countryside with a mere 30 dollars in his pocket. But that was stolen as soon as arrived in the big city.
That's when he knew that just because he had the money in his hands didn't necessarily make it his. "The owner of that money isn't the person who earns it, but the one who spends it."
Dad admits that he still can't bring himself to spend any of it without trembling at the thought. Then what's the point of amassing such great wealth? He turns to Kang-seok: "So that you can spend it."
It doesn't matter if his son grows up to be the president or a chaebol; all this money is at his disposal. He hands Kang-seok the trademark gold coin as a reminder that "money is scarier than ghosts."
In the present, Se-kwang returns home and ushers Kang-seok inside. He listens as Kang-seok excitedly tells him about Reporter Go over dinner and vows that he'll catch the criminal by his own hands. Just then, Se-kwang steps outside to take a call from Lawyer Hwang and we learn that he bribed the reporter with a large sum of money.
Kang-seok accidentally knocks Se-kwang's planner off his desk and notices the corner of a photo peeking out. His eyes widen at the photo of Se-kwang and Bi-ryung. Looks like you won't need Reporter Go's help after all.
He hurriedly stuffs the picture into his pocket. Then, as if we needed any more confirmation about the two, Kang-seok picks up the phone and hears Bi-ryung's voice at the other end. When Se-kwang wraps up his call and turns around, Kang-seok is gone.
Se-kwang tears out the apartment after him but loses sight of him just outside the complex. Kang-seok hides behind a pillar.
Kang-seok makes the call to Reporter Go, who in turn calls Se-kwang with the boy's whereabouts. The glint in Se-kwang's eyes makes Lawyer Hwang nervous and he asks, "What are you thinking of doing right now?"
"The kid knows too much about things he shouldn't," Se-kwang answers. Lawyer Hwang gapes at the mention of hired men – is he planning to have the boy killed?
Se-kwang tells him that the chairman's biggest mistakes was that he had no idea the lion cub he raised out of sympathy would rip him into shreds one day. "Do you want to raise someone like that?"
Lawyer Hwang tries to dissuade him but Se-kwang won't hear a word of it and roars that there's no time to lose.
Kang-seok waits in the phone booth as he recollects better times with Se-kwang. A car approaches and he runs over. The window rolls down… and it's Se-kwang. Kang-seok soon finds himself sandwiched between Se-kwang and the group of hired men.
He runs through the golf course, using anything in sight to defend himself and manages to get away.
Count on Se-kwang to find another way to get to Kang-seok, visiting Mom in prison. He assures Mom that he'll take care of Kang-seok while Mom serves her sentence in the psych ward. Mom tears up in gratitude.
In the car, Lawyer Hwang lets out a regretful sigh since this means that Mom is now forever branded a mentally ill patient. Se-kwang reminds him that the bigger issue at hand is Kang-seok, who knows their secret.
Lawyer Hwang asks if the boy will ever think of tracking his mother to the psych ward. Given Se-kwang's nod at the other car full of hired men, I'm going to go out on a limb here and say no.
It seems that Prosecutor Kwon has been demoted as he packs his things (along with that bottle of liquor, natch). He's in no mood to listen to more of Kang-seok's leads, but Kang-seok shows him the picture he found at Se-kwang's apartment.
He informs Prosecutor Kwon about how the secret lovers planned to murder his father and framed his mother for the crime. And if that weren't enough, they're out to kill him too.
Prosecutor Kwon assures Kang-seok that he's in good hands now and tells him not to worry.
Prosecutor Kwon persuades Se-kwang to take a meeting at a restaurant, and Se-kwang stops to see a grungy, disheveled Kang-seok sitting by the prosecutor's side. Kang-seok is dismissed but before he leaves, he levels eyes with Se-kwang: "I told you that I'd catch the criminal by my hands."
The prosecutor pours himself a drink as he explains that although he won the case in court, there were a few things that troubled him. Like the mysterious sender of the incriminating tape or how Bi-ryung acquired the chairman's fortune.
But the biggest question that plagued him was who Bi-ryung's lover was. He tosses the photo of the lovers on the table. Se-kwang keeps his cool and asks if he's being accused for the chairman's death.
Prosecutor Kwon smiles – he doesn't expect a confession from Se-kwang since the truth will eventually reveal itself. Se-kwang acted as Mom's lawyer, Prosecutor Kwon reminds him. "But who will act as yours?"
Se-kwang answers that the late chairman always used to say, "Nothing is impossible with money, except when you don't have enough." And then he has the audacity to name a price.
After a long pause Prosecutor Kwon replies that Se-kwang must think that he's a corrupt person. Se-kwang counters that he has yet to see someone who's completely innocent when faced with money.
Prosecutor Kwon: "If I refuse?" Omo – is the prosecutor a righteous man after all? Se-kwang: "You wouldn't have asked to see me if you wanted to open the case again."
Prosecutor Kwon smirks and acknowledges that Chairman Lee's saying about money is indeed true. He's heard that the chairman's estate is worth several hundred billion Won. But he believes in equality, be it regarding the law or money.
Taking that as the prosecutor's answer, Se-kwang agrees to divide the estate equally. He then burns the photo of him and Bi-ryung.
Kang-seok asks the prosecutor what happened and Prosecutor Kwon lies, telling him that Se-kwang confessed to the crime. And here I thought you were going to help the good guys on this one!
Prosecutor Kwon remains silent as Kang-seok smiles at the (supposed) good news. Kang-seok cheerily says that he hopes to be a great prosecutor like him one day, and put all the baddies in jail.
The guilt finally eats at Prosecutor Kwon and he suddenly pulls over to an abandoned yard. He tells Kang-seok, "Anyone can become a prosecutor, but it's difficult to remain righteous." He yells at Kang-seok to get out.
Kang-seok barely has any time to register his surroundings when he sees a car… coming straight for him.
We abruptly cut away to give us a hilarious introduction to two important characters. Young BOK JAE-IN (Seo Shin-ae, later played by Hwang Jung-eum) stuffs her face while her mother, whom we'll call BOSS BOK (Kim Sumi), reprimands her. I especially like that they squabble over the H.O.T. song playing on the radio.
But back to Kang-seok, who runs into the street and is hit by the oncoming car. The car carrying the hired men waits a minute before quietly slipping away.
Boss Bok and her daughter rush out to check on the boy and start to panic when the driver tells them that he's not breathing. Kang-seok lays there unconscious, bleeding from the head, and Jae-in hollers that they have to take him to the hospital.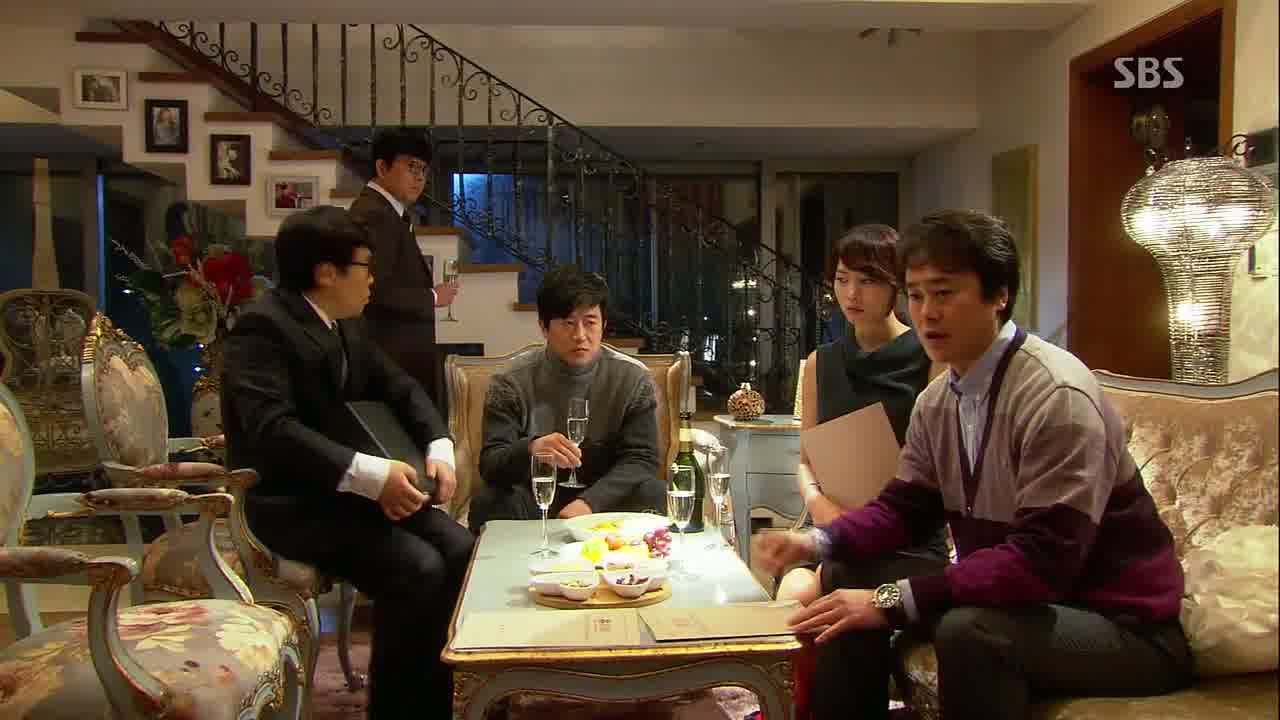 Kang-seok undergoes surgery and Boss Bok waits anxiously (and scolds her daughter again for eating. Jae-in's like, I need to eat when I get stressed! Ha). Boss Bok's heart sinks when she hears that they can't find the boy's parents.
Meanwhile, the Traitagon (Traitorous Pentagon) celebrate together and Se-kwang divides the chairman's fortune among them, with Swiss bank accounts containing over 7 million USD each.
You can see their eyes sparkle just by looking at all the zeros, but Prosecutor Kwon finds it unfair that all their shares are the same. Soon it turns into an argument of Who Did the Least Evil, and Se-kwang is the one to put a stop to it.
The doctor informs Boss Bok that the patient's hippocampus has been damaged, which can only mean one thing in dramaland: amnesia. The patient will need to regain consciousness for them to know the extent of the damage. Then Boss Bok's assistant rushes in – the boy has woken up.
Aww, it's sweet how Jae-in smiles at Kang-seok at his bedside. The doctors burst in and ask Kang-seok to say something: his name, address, anything.
They help him up and wait patiently as he opens his mouth. A tear rolls down his cheek and he utters, "M…om."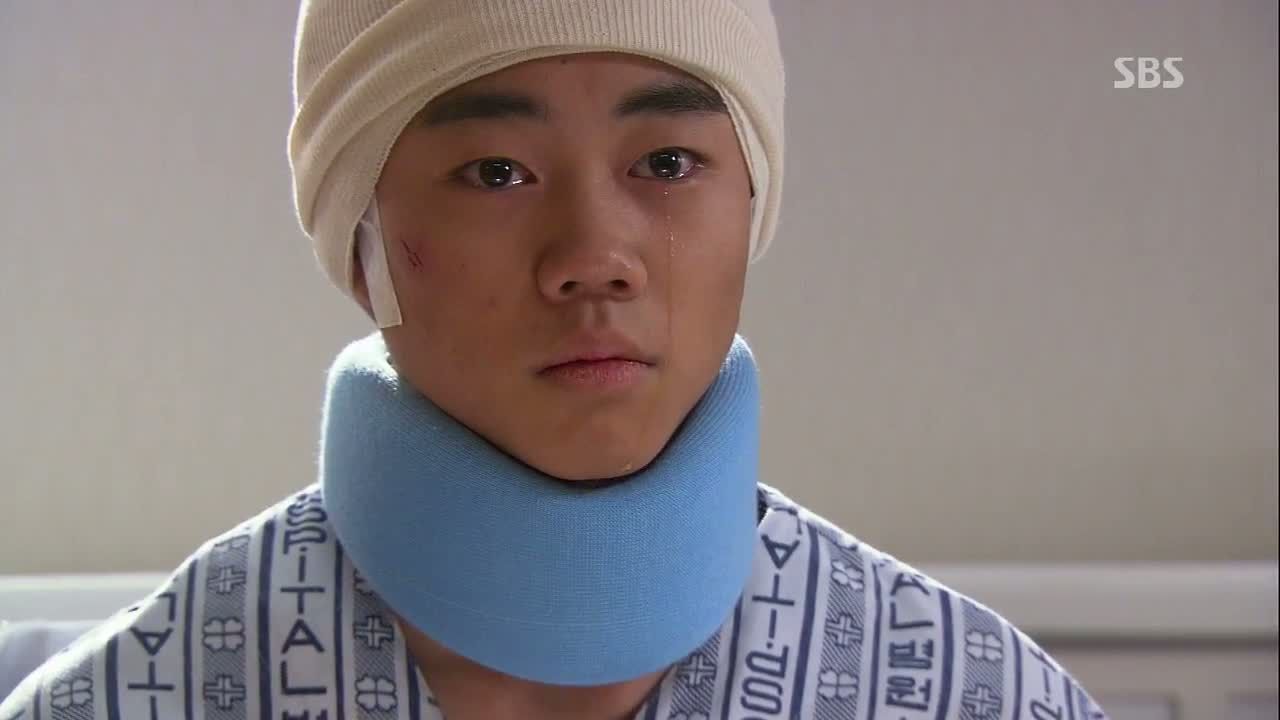 COMMENTS
Dun dun dun! Now that we know how Lee Kang-seok became no more, we can move on to how he later becomes Lee Cha-don. I both welcome and groan when it comes to classic drama tropes, especially amnesia. But whenever it does happen, I'm always curious to see how the show handles the tabula rasa. This makes Cha-don more of a mystery in the present. Is the amnesia still present some fifteen years later or is our hero coming to grips with some of the consequences as more of his past peeks through? We can certainly see tiny traces of Kang-seok in present day Cha-don, like how he flips his gold coin, and we have no idea where he is in terms of his search.
I love the relationship between Kang-seok and Se-kwang and how the latter was someone the young'un could look up to. To have your friendly hyung now put a price on your head is bound to cause some strife in the relationship. Though they're now enemies, I love that they learned the same lessons from the chairman about money and excited to see how those words will manifest for both characters. We're beginning to see how Se-kwang puts the chairman's words into action. According to the chairman's words, Se-kwang is currently the owner of that money because he's spending it on bribes to buy power and influence. But then what will happens if he doesn't have enough? Furthermore, it's frightening to see him be so manipulative – knowing exactly what reactions to put on to elicit a certain response.
Prosecutor Kwon is a tough nut to crack, especially when you pit him against Se-kwang. I hoped that he had a change of heart several times this episode and held onto that sliver of hope that he let Kang-seok go versus feeding him to the dogs. We see that even the men who believe in justice can fall victim to greed and power. And even now, though he's a part of the Traitagon, I can't help but think that there's a reversal in his character up ahead.
The bit of humor at the end was a welcome surprise for the show that started off so dark. As soon as I heard Kim Sumi speak, I knew that we were up for a hilarious series. The Dramatic is still there (with a capital D because drama would like us to know when there is Drama) but we're moving ahead rather than circle around the topic, which is a welcome change.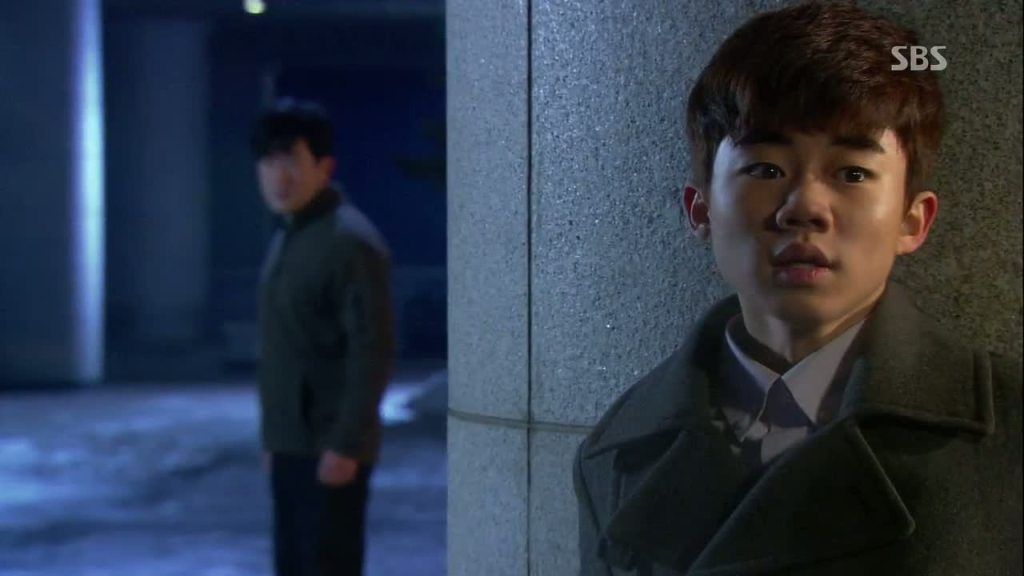 RELATED POSTS
Tags: featured, Hwang Jung-eum, Incarnation of Money, Kang Ji-hwan