Movie Review: Covertly, Grandly
It's that mid-cycle lull in dramaland, aka the perfect time for that most honored of critical traditions: reviewing movies I'd been meaning to watch but hadn't quite gotten around to yet. It's a very strenuous decision-making process which involves me, a hat, and three or four recognizable movie names from the past year or so—culminating in this week's completely random and totally-unbiased-toward-its-pretty-cast choice of Covertly, Grandly (also known as Secretly, Greatly).
It's to no one's surprise that Covertly, Grandly swept the domestic box office when that's what it was made to do, though it did manage to surpass initial expectations by breaking the record for most tickets sold on its release date, an honor previously held by The Thieves—which consequently also starred ratings wonder and derpy-yet-adorable variety guest Kim Soo-hyun. I'm sensing a trend.
Based on a popular webtoon of the same name and touting itself as an action-comedy-drama, Covertly incorporates broad comedy, slick action, and a quirky premise into a popcorn flick with an identity crisis—the first half establishes a farcical and highly-stylized world where spies are seasoned slapstick fodder, while the latter half feels like a Very Serious Spy Movie with a fly-by-night political through line that can be boiled down simply: North Korea bad, South Korea good. Which is all fine and well until you ask, "And then?"
Note: For spoiler-y purposes, the ending has been separated into its own section which one can (ideally) avoid if one is so graciously inclined.
The premise: Three North Korean spies walk into a rural South Korean village. (I kid. But not really.) Their mission is to go undercover as sleeper cells while they wait for orders from the motherland, with their eventual goal aiming for the reunification of Korea.
This forces the three of them, all tough and hardened black ops agents, to take on varying personas ranging from village idiot to rockstar wannabe. The hijinks of the first half are funny enough on their own with tiny sprinklings of heart as our spy hero's patriotic devotion wavers, all while he he grows fond of the villagers he's come to know over time. The ones we end up meeting are well-realized characters with interesting backstories we only barely scratch the surface of. (I'd guess that they're from the long-running source material, which is one of the many reasons why I couldn't help but think that this would work way better as a drama.)
Then the title of the movie comes into play, as political tensions between North and South Korea reach a boiling point when the North is forced to give up their undercover spies. But instead of letting their best and brightest fall into enemy hands, the big bad North hands down a covert and grand mission of grave proportions to each of their agents—commit suicide with honor or be executed dishonorably. There is no middle ground.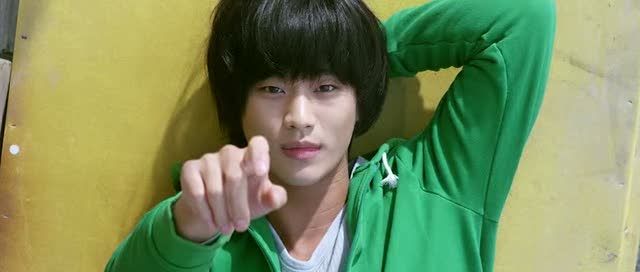 We meet our hero, Captain Won Ryu-hwan (Kim Soo-hyun) as a super spy in the North just before he's shipped to his assignment as an undercover citizen in the South. The inherent joke that comprises almost all of his early scenes is that he's a certified genius fluent in five languages… yet his undercover persona is that of the village idiot replete with a bowl cut, a signature green tracksuit, and meticulously planned moments of public stupidity, like taking a pee in public every couple of weeks and a public poo every six months.
The name he adopts (and for ease of use, I'll refer to him with it in this review) is BANG DONG-GU, which is infinitely less impressive than his real name. He's loyal and patriotic almost to a fault, but it makes for some funny material as he interacts with the village he's called home for the last two years while he waits for orders from his home country to arrive on his (wait for it!) pager.
He gets a few good fish out of water jokes, and one of my favorites comes when he's narrating the circumstances of his day to day life which involves him squirreling money from working for a grumpy mother hen of an ajumma. In two years he's managed to save a little over four thousand dollars, but to him, it's like he's won the lottery: "When I return to my hometown, I'll be rich!"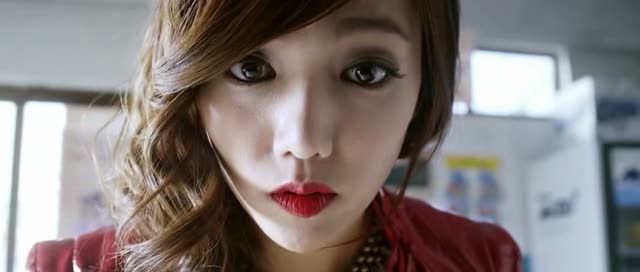 We see his interactions with various townspeople, all of whom have taken to Dong-gu as one of their own. He's got the girl he likes, the shop ajumma's son (aka Dong-gu's adoptive hyung), the shop ajumma (his adoptive mom), and a friend in the town's prettiest girl who knows she can flash a little cleavage to get Dong-gu to give her free cigarettes.
There's a good deal of townspeople introduced, and despite the fact that this is a movie and the time spent on them is finite, there are a few standouts in the cast. The pretty girl mentioned above, RAN (Lee Chae-young), makes an impression when she reveals her darkest secret to Dong-gu during a drunken confession, which paves the way for some nice follow-through as far as the plot is concerned by the end. In short: I liked her role as much as I liked the time spent on the townspeople, and wish this had been a drama instead (I know, again) so the exploration of their stories and Dong-gu's change of heart because of them could've been better explored. Alas.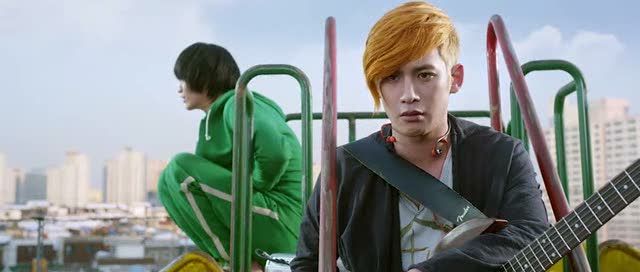 Another spy arrives in Dong-gu's village to shake things up in the form of LEE HAE-RANG (Park Ki-woong), a high-ranking official's son who doesn't have to work, but has chosen to become a spy due to his competitive spirit. He cockily assures Dong-gu that he'll be the one to succeed between them, which rubs Dong-gu so wrong that he follows Hae-rang the next day, determined to see what Hae-rang is doing soooo right.
Not only does he follow Hae-rang into an audition, he gets to watch as his competition takes the stage with the most assured of airs… only for Hae-rang to suck so badly at guitar that he can only manage to play the scales before he flashes the universal signal that he's ready to rock. The fact that he does all this with a straight face is hilarious, especially since he stews about his failure with Dong-gu later, all shocked that the rock-n-roll training he got in North Korea is nowhere near the level of his more talented southern counterparts. Ha.
The middle portion of the movie slows down considerably as we see talking heads debate the future of politics that really don't mean all that much to the story at hand—other than that they're the catalyst for that most covert and grand of orders. Dong-gu is flawless at keeping his cover even as he starts to grow a heart, one which is tested when one of his older comrades asks for his help in obtaining a gun so he kill a few South Korean officials to save his captured family. Dong-gu remains loyal to his country and refuses to help him.
As he's stopping his comrade-ajusshi from assassinating officials, our third spy, RI HAE-JIN (Lee Hyun-woo), is introduced as he's assassinating officials. He doesn't manage to assassinate a team leader of the National Intelligence Service—one who's featured prominently in this story due to his inexplicable bleeding heart and his desire (nay, compulsion!) to save the North Korean spies from the suicide order. Why? Because the script told him to.
Out of the three spies, Hae-jin is the youngest and most gung-ho about serving his country, which makes him more dangerous because he's used to killing people to solve problems. Dong-gu's goal is to get him to not do that without seeming like he's going against orders (mostly he wants to protect the townspeople he's come to know), and he's able to control Hae-jin's impulses because the two go way back to Hae-jin's training days, where Hae-jin learned to worship the very ground Dong-gu stands on.
I do think it must have been intentional to portray Hae-jin's hero worship of Dong-gu with an almost homoerotic undertone, since the two share moments of skinship which affect Hae-jin more deeply than they should. Call me crazy, but it even seems like Dong-gu knows this to some degree and uses that knowledge to manipulate Hae-jin into not killing him or others, since Hae-jin is able to be swayed even if Dong-gu just shares his hat with him. It's not played overtly, which is about the only thing in this movie that can claim anything close to subtlety, but it's at least interesting.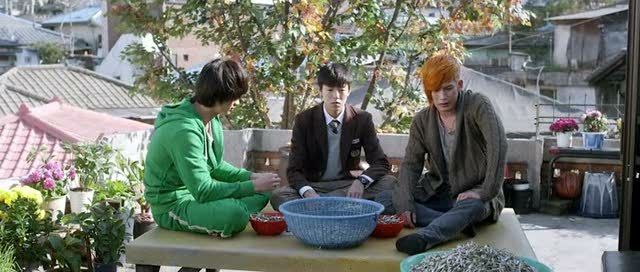 The time the three musketeers spend among the townspeople is all too short and fails to impart a true sense of meaning to their relationships with each other as well as others, making this middle stretch seem interminably long. I'll be honest in saying that Dong-gu failed to grab me emotionally, though I don't think the fault rests solely with him. Hae-rang remained too vague, and while Hae-jin did a lot with the time he had, he just didn't have enough of it.
Then comes the suicide order, and our boys' reaction to it. Everyone reacts a little differently but, like sane people, none of them are keen on carrying out the mission. Their will to survive (save for Hae-jin, who'd rather be loyal to his country but is unable to shake off his loyalty to Dong-gu) is what carries the film into its drawn-out finale, which is basically one long battle sequence.
It's neat from an action perspective, since it's all shot quite well—nothing exceptional, but fine and well. We're re-introduced to Dong-gu's training commander, a scar-faced and criminally underused Sohn Hyun-joo, as he arrives in South Korea to carry out executions should any agent fail to kill themselves. He's mostly just another commodity for this film to use, but at least he moves some plot along.
So, high stakes? Check. Even with those rocketing sky-high, without an emotional through line to tie us to the core characters or their admittedly-sometimes-relatable conflict (Dong-gu loves his mom so that should be universal, right? Right?), so much of this film just started to wash over me. I was starting to wonder whether I'd accidentally zoned out and missed the part where the rogue NIS agent gave a solid reason for his one man mission, or why some of the reveals meant so little, or which story I was supposed to be rooting for. Even with the suicide mission thrown in, the premise is pretty cut-and-dry—our three spies maybe don't want to kill themselves. Simple, right?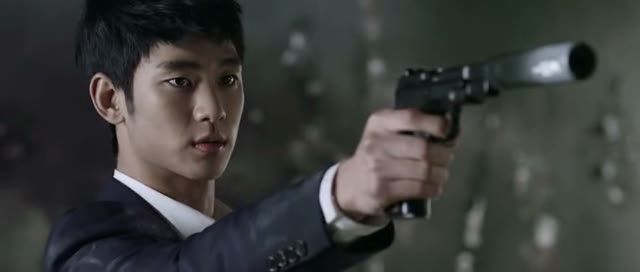 Wrong. So wrong. I can't get after this movie for not being the summer blockbuster I thought it was, but even without that, it's just not all that good. The sheen is there, the acting talent is there, and it's all pretty to look at in a mildly entertaining way. Characters behave exactly as you'd expect them to without any deviations. Those who were supposed to elicit sympathy really didn't, those who were supposed to elicit scorn had scars on their faces or Nefarious Eyeglasses, only they didn't have enough character depth to make us care, which means that so much that was meant to resonate just… didn't.
That's as simple and blunt a way as I can put it, and I'm not a huge fan of being so coarse when a movie like this seems harmless enough—it's just that I really wanted to care (since that would've made this movie's run time and subsequent review so much easier), but the story was just too unfocused and everywhere-at-once to allow me to fully invest. Funny thing, emotional resonance. You just can't take that for granted these days.
THE ENDING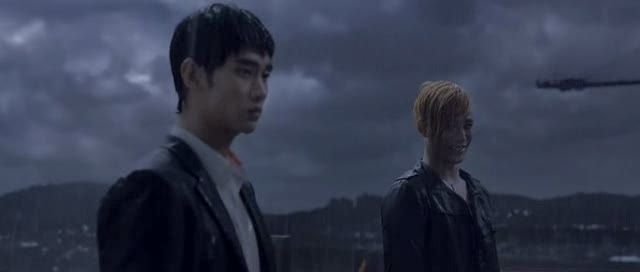 I made a separate section in A Werewolf Boy's review for the ending because I loved it and couldn't write a review without sharing it. I feel the exact opposite way about Covertly, Grandly's ending, helped in no part because I really, really, really didn't like it.
Here's a not-so-condensed version of what happens: With a snazzy new haircut, Dong-gu bids adieu to the townspeople he's come to know and love, fully expecting to be killed by his former commander. He's mostly come to love his adoptive mother because he misses his real mom, the mom he's been writing daily letters to for two years while being unable to send them. (It's worth noting, however, that while Dong-gu can't send even one letter across the border, agents like Hae-rang, Hae-jin, and Dong-gu's commander must have discovered a toll-free super highway between North and South Korea.)
Dong-gu thinks that giving himself up to the north might save his mother, only to be told by his commander that his mother is likely dead, therefore negating any purpose Dong-gu had to follow orders. Or live. He fights for his life side by side with Hae-rang while Hae-jin weasels his way out of captivity with the NIS, an event I didn't describe because Hae-jin does what Hae-jin does by protecting Dong-gu and gets captured for it. Then he makes his escape to protect Dong-gu.
Hae-jin's character felt the most emotionally realized, especially near the end when he makes his last stand. Caring about Dong-gu doesn't mean Hae-jin has to change who he is, and he doesn't by the end of the film—he's still like a brainwashed kid, unable to let go of his patriotic duty to follow orders. Dong-gu and Hae-rang make a dramatic stand in the rain to fight for their lives and each other, and are technically saved by Hae-jin when he arrives with the NIS.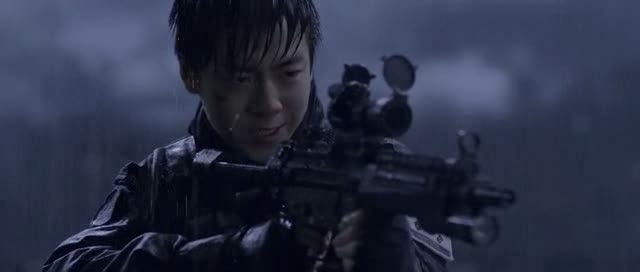 Dong-gu's commander wields a grenade in his last-ditch attempt to take the three musketeers to hell with him, but Hae-rang saves them by throwing himself and the commander off the roof before the grenade can explode. He dies, and while it was expected to see Dong-gu react to his death, Hae-jin's reaction is more surprising. He even tries to shake Dong-gu out of his emotional coma by reminding him that Hae-rang just died to save them, all while he offers to hold off the NIS as a human shield so Dong-gu can escape.
But, Dong-gu would rather cry over what's passed and the life he misses, dooming Hae-jin to become target practice for the NIS (he wouldn't have surrendered anyway). In a futile effort to protect Hae-jin long after it's necessary, Dong-gu uses his body to protect Hae-jin from gunfire, taking about ninety-seven shots before he makes a split-second decision to throw them both off the rooftop to their deaths. The end. Except Dong-gu's adoptive mom finds a note he left her ("Don't get sick!") which could leave the possibility that Dong-gu might've survived, but I'm sticking with the mentality that no matter how silly this movie was, it's wasn't that silly.
With that out of the way, I can now say that this ending served as the nail in the coffin that was Covertly, Grandly. Tragic endings can be a powerful storytelling tool when used correctly, but more often than not (as any drama viewer can attest) they're used very incorrectly, and that's when we feel cheated. The ending can't take the blame for the lack of fun in this film, but as the camera focused on the three dead leads I wondered, "Okay, so, what was the point?"
I've still got nothing.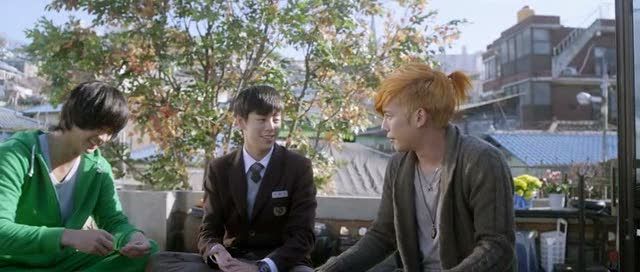 NOT THE ENDING
Covertly, Grandly is a mildly funny film in its first half before it veers into serious dramatic territory, where it lacks the necessary heft to help shoulder such a suddenly heavy load. Ultimately forgettable despite all its untapped potential, Covertly is the rare kind of film that's neither all that bad or good, and is just unremarkable enough to be called okay. 6/10.

RELATED POSTS
Tags: featured, Kim Soo-hyun, Lee Hyun-woo (2), Park Ki-woong