Age of Feeling: Episode 10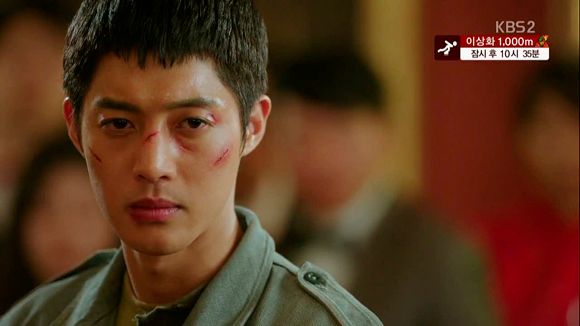 Our hero finally comes face to face with the daddy issues he's been battling all his life, and it's no walk in the park finding out your dad was Superman to literally everyone but you. No one in this universe seems keen to listen to Jung-tae say "Daddy wasn't there" when Daddy saved all the people, cleaned up all the streets, and on the seventh day he rested. Poor Jung-tae has some unrealistically large shoes to fill.
Despite the production woes going on behind the scenes, up to and including the sudden writer switch and actor Kim Jae-wook's departure, this episode recorded its highest ratings yet at 11.4%. I'd be happier for them if I were less confused.
SONG OF THE DAY
Kim Hyun-joong – "Please" [ Download ]
Audio clip: Adobe Flash Player (version 9 or above) is required to play this audio clip. Download the latest version here. You also need to have JavaScript enabled in your browser.

EPISODE 10 RECAP
Kaya is greeted upon her arrival to Shanghai by YAMAMOTO (Jung Jin), an Ilgookhwe member who claims to be in charge of the city.
But Kaya refutes that claim and admonishes him sharply for failing to completely take over Shanghai, giving him a hard slap across the face when she'd much prefer killing him. He has one more chance to prove himself.
While Kaya insists on riding in a rickshaw (her guards would rather her take the popemobile) to take in the bustling sights of the city, we find Jung-tae doing the same on foot. They just manage to miss each other among the sea of people.
A small girl bumps into Jung-tae and filches his wallet, but she doesn't get to keep it for long—Jung-tae catches up to her and demands it and his badge (the round stone and tassel) back.
She reluctantly returns his things before warning him that he can't be so derpy in a city like Shanghai, where everyone is waiting to pickpocket suckers just like him. Jung-tae takes a liking to her spunk and offers her some money in exchange for a place to stay.
Despite her posse's concern for her safety, Kaya fearlessly struts into the heart of the Hwangbang Gang's territory. This was her original destination, since she must presumably get rid of the Hwangbang Gang in order to take over Shanghai.
Perhaps that explains her cocky smile as she's greeted by the mysterious man who told Jung-tae about his father's death, Wang Baek-san. They exchanged forced not-so-pleasantries as Kaya hints at her ambition to take over Shanghai, after which Kaya extends an invitation to the party they'll be holding tomorrow at the Shanghai Club.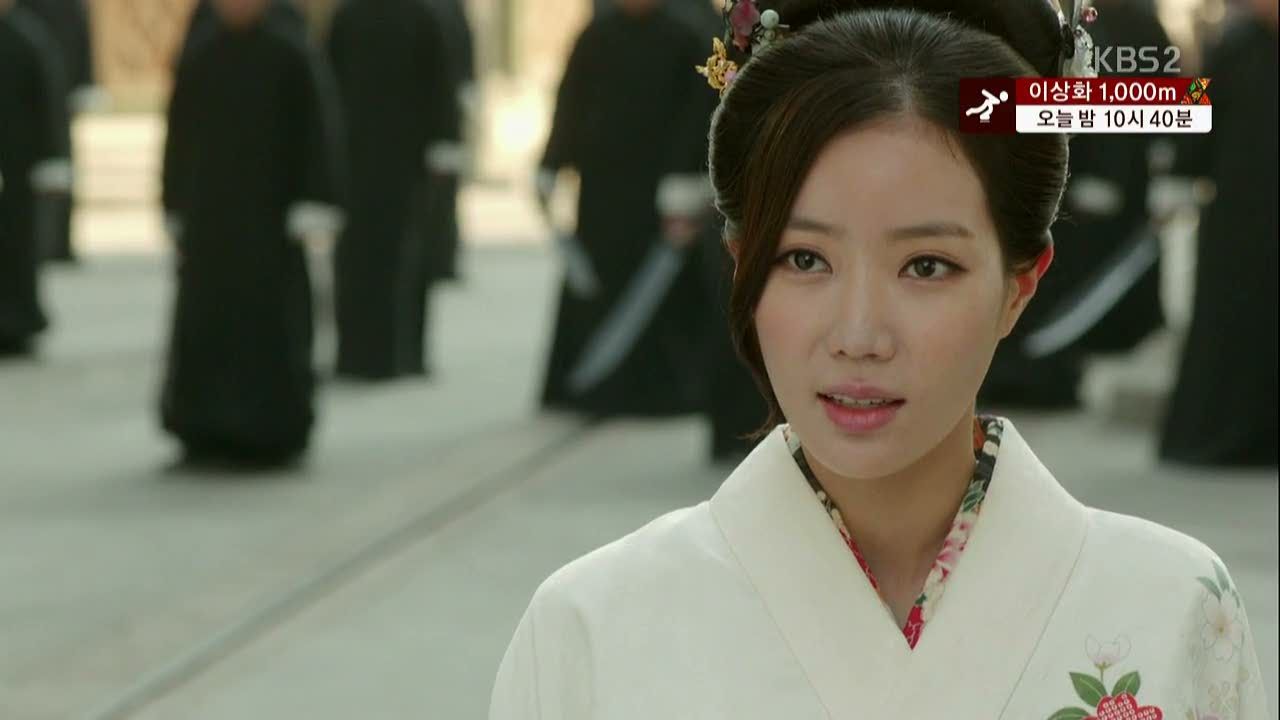 When Baek-san says he'll see her there, Kaya all but sneers—she wasn't inviting a plebeian like him. She's inviting their leader, Seol Du-sung. (Whom we first met advising Il-hwa on whether to save the Dobi guys or not.)
And just because she can, Kaya orders that two fires be set in the city before she reaches where she'll be staying. They have to be large enough for her to see them from her window.
Baek-san finds Leader Seol spending some quality time with his granddaughter(?) YANG YANG—and though he's loathe to interrupt, he has to tell his master of Ilgookhwe's arrival.
Leader Seol is more furious than anything to be told so late, since he doesn't want everyone thinking of him as a scaredy-cat who hides from annoying little girls. But of more importance is protecting the main thoroughfare they control (Bangsamtong) from Ilgookhwe, and the only person they can rely on to do so is Jung-tae.
While Jung-tae had given the pickpocketing girl money to show him a place where he could stay, she instead takes him to her small and humble home, figuring that she can make a few bucks off him lodging there. She's SO-SO (Kim Ga-eun), and I love her already.
Jung-tae looks like a kid at Christmas when she brings home-cooked kimchi stew to the table, but she slaps his eager spoon away—he'll have to pay if he wants some. Ha. He can only endure watching her eat it for so long before he finally forks over some cash.
And then she ups the price by one more won, which, HA. Their friendly rapport is instantaneous and super adorable, since Jung-tae ends up caving to the price hike. D'aww, I missed this side of him.
A disgruntled Yamamoto gains a private meeting with Kaya, where he intends to try to kill her. She picks up on this instantaneously, and saunters toward him like a seductress, all but cooing her goading words into his ear.
She spreads her arms out to show she's unarmed, so if he wanted to take a stab at her, there's no better time than the present. "Will you wield your sword against me? Or will you become my sword?" she asks, and Yamamoto ditches his revenge plan to instead pledge allegiance to Kaya. He even kisses her feet for added effect.
Kaya smirks victoriously as she leans in behind him: "You made the right choice. If you wielded the sword hidden inside your sleeve, you would be dead, Yamamoto-san." Okay Feeling, we get that she's a femme fatale badass already. How about making her even the teensiest bit more likable while you're at it?
The next morning, after sleeping at So-so's table, Jung-tae asks her if she'll become his guide to the city. She agrees—but only for a price. Even Jung-tae knows he's getting the raw end of the deal but hands over the cash anyway, noting, "You've really found your meal ticket, haven't you?" Ha. Why yes, yes she has.
She shows him to the expensive restaurant he wanted to see, though she knows they'll never get inside such an exclusive place. Jung-tae needs only to show the badge Baek-san gave him to gain entry for the two of them. While they wait inside, So-so marvels over the expensive dishes, though she's forced to cough up a silver spoon she tried to steal since nothing escapes Jung-tae's eye. I luff them already.
Jung-tae has So-so sent home, since he'll be a while… considering that this is the place where his father's memorial has been set up. He changes into mourning clothes to pay solemn, but tearless, respects.
That's when Leader Seol and Baek-san make their entrance, and after paying their respects, Leader Seol notes how Jung-tae's eyes are dry. "The reason why I came is to forget about my father," Jung-tae says in his defense.
Leader Seol admonishes him about trying to forget, since he'll forget Shineuijoo and eventually Chung-ah if he forgets his father. Since Chung-ah is Jung-tae's trigger warning, Baek-san has to bring him back in line with a few masterful martial arts moves. Jung-tae is forced to stand down when he realizes he's outmatched.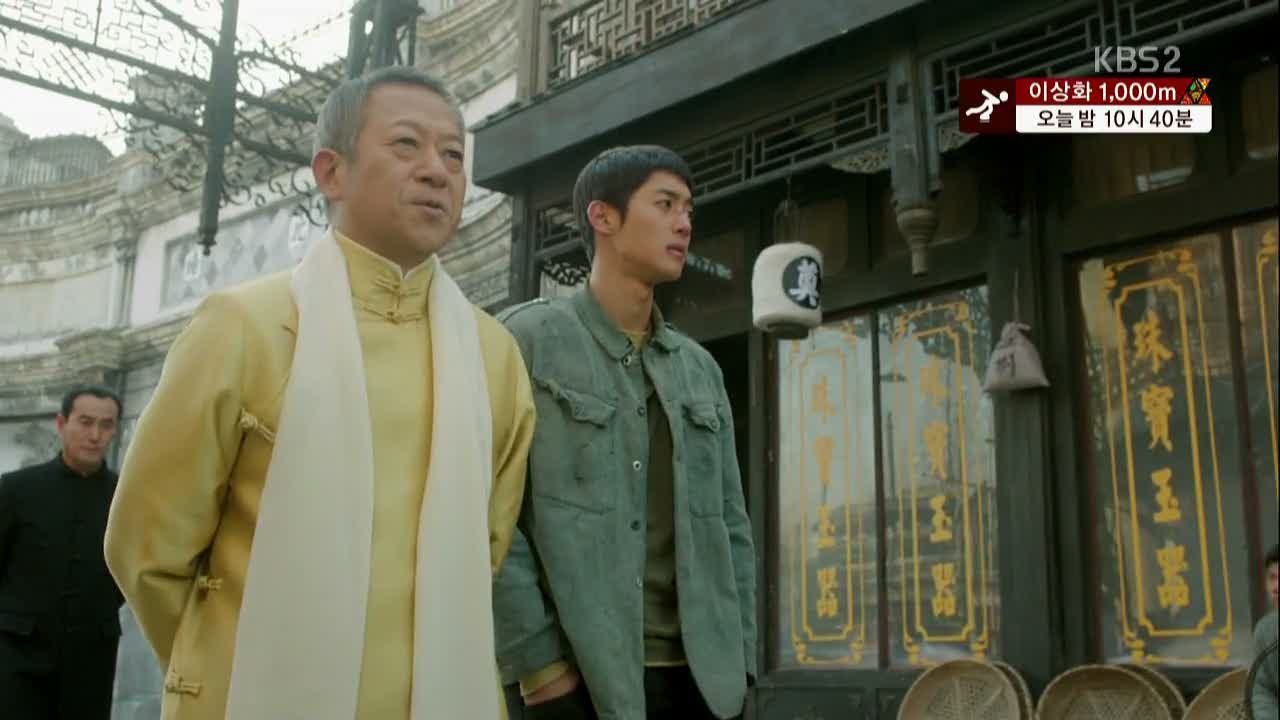 He decides to follow Leader Seol when he tells him that he'll show him who his father really was. The story he tells is one of gang warfare, and how their gang (Hwangbang) had been cornered by the Yakuza. They were saved and Shanghai was returned to them by one man—Daddy Shin.
For the longest time Daddy Shin didn't ask for anything in return, until he asked for the Bangsamtong street, which had once been a home for the dregs of society. Under Daddy Shin, it turned into a refuge for persecuted Joseon people without a home—but now that he's gone, Leader Seol notes sadly that Bangsamtong is returning to its old ways.
When Leader Seol reveals to a kindly old grandmother that Jung-tae is Daddy Shin's son, her eyes fill with tears. Though she has nothing, she presses a coin into Jung-tae's hand for his father's death and calls to the rest of the people to come see the son of their savior.
A crowd of grateful people soon gather around Jung-tae, and they each press money into his hands. Only now is Jung-tae realizing that the impression he had of his father was so, so wrong. I have goosebumps for some reason.
Jae-hwa (Daddy Shin's former nefarious lackey, now the king of Bangsamtong) is reluctantly forced out of his drunken stupor to meet with Leader Seol and Jung-tae, even though he's loathe to unwrap himself from the tangle of female limbs he's been sleeping in. Did anyone else get Ajusshi vibes?
Jae-hwa's first introduction to Jung-tae is short and curt, likely because Jae-hwa doesn't seem to give a shit. Leader Seol knows that Jae-hwa has his eyes set on taking over Shanghai, before he gives Jung-tae an invitation to the party Ilgookhwe is throwing that night. He plans to attend, and knows Jung-tae will too. (Btdubbs, the fires that Kaya wanted were set, we just didn't see them.)
It's hard to believe that Ilgookhwe even knows how to throw a party without serving razor blade drinks or poisonous cakes, but there you have it—Kaya, decked out in her ornate finest, is throwing a hoppin' party at the Angel Shanghai Club.
After Leader Seol is let into the party after he and Kaya exchange veiled unpleasantries, Yamamoto makes some nefarious plans to draw Leader Seol into a fight—because if he dies, war will break out.
So Yamamoto sends his lackey to deliver a severed pig's tail to Leader Seol, which he takes as the ultimate insult (as Yamamoto intended). Leader Seol knows that Kaya isn't behind this, and knows that he should be able to hold back his anger—but he'd rather throw his reputation away to duke it out and defend his honor.
Jung-tae ends up stopping Leader Seol from falling into Yamamoto's trap by fighting in his place, since he knows Leader Seol wouldn't have survived it on his own. The party crowd screams and parts as Jung-tae and the lackey fight in the middle of the club, with the lackey swinging his samurai sword and Jung-tae unarmed, as usual.
The fight goes pretty well, considering that Jung-tae is having to use whatever he can find for his defense. He almost chokes the lackey to death with a tablecloth (though he has to grab the guy's blade with his bare hands), but in the end he just earns another superficial cut to the cheek. Stop hurting his face!
He downs his opponent just as Kaya and her men arrive to break things up. She and Jung-tae lock eyes for a moment in surprised recognition before she demands to know who the lackey took his orders from.
The lackey tries to stab himself before he can answer, but Kaya's much too quick for that—she grabs one of her minions' swords and deftly disarms him. Yamamoto watches from a distance and curses his luck as Kaya has the lackey taken away to be questioned later.
Kaya apologizes sincerely to Leader Seol, and he brushes the whole thing off. But he does ask her to let Jung-tae off the hook for defending him, which finally makes her turn around and look at him.
Her face softens. "It's been a long time, Shin Jung-tae," she says. "It's been a long time, Kaya," he replies.
After the party resumes, Jung-tae approaches Kaya in a more private setting to tell her that his father is dead. "And?" Kaya replies. "What if I was the one who killed your father?" She leaves him with that, and poor Jung-tae looks like he hadn't even considered it until now.
Jung-tae is rerouted from So-so's house by a note she left telling him to find her at his father's funeral proceedings. (Huh?) He tries to get her to hand her house key over, but she plays coy in an effort to see him for more than five seconds.
It's only until he asks her what her relation is to his father, the man whose funeral they're at, that So-so replies, "He's my dad!" Are they half-siblings? Jung-tae isn't even surprised, and thinks aloud that his father probably had a ton of kids he couldn't be responsible for during his globe-trotting days.
This earns him a hard slap from So-so, who does reveal that she was lying about Daddy Shin being her real father, but that figuratively, he was a father to all the people of Bangsamtong.
She tears into Jung-tae about him having no right to talk the way he was about such a great man, and Jung-tae immediately lowers his head in apology. But she stays mad enough at him to revoke his invitation to her house.
Jae-hwa and his minions gloat about how they earned more money renting Club Shanghai out to Ilgookhwe than they make in an entire year, but their buzz is killed upon Leader Seol's arrival. Especially when he slaps Jae-hwa across the face for renting the club out like it actually belongs to him.
Jae-hwa argues that he had the right to rent the club when it was left in his care and that he was just trying to make a little extra money, but Leader Seol retorts that Club Shanghai wasn't created for Jae-hwa's profiteering. It was created as an escape and refuge for the displaced people of Joseon, and definitely was not created to be sold to Ilgookhwe.
It's kind of funny how Jae-hwa's all, I didn't SELL it, I RENTED it! but all to no avail. Leader Seol declares that a new manager for the club will be chosen to replace him. Jae-hwa's expression grows dark as he yells after the elder that he won't be taken down so easily.
Outside, Baek-san updates Leader Seol on the whereabouts of Daddy Shin's body, and that it'll finally arrive tomorrow. Leader Seol wants to make Daddy Shin's funeral the most public of events, and orders Baek-san to post notices everywhere.
But when Baek-san asks if this means Leader Seol will be managing Club Shanghai from now on, the elder smiles and shakes his head. That's something he'll leave to Jung-tae.
I was starting to worry about Ok-ryun, but she finally makes her reappearance as a delivery-girl for hot water. She and Jung-tae barely miss each other as she leaves the inn right as he approaches to ask for a room, only to be coldly refused.
The reason behind his refusal has to do with Jae-hwa, since the shady man works for him and reports on Jung-tae's whereabouts. Jae-hwa has been preparing for battle against Leader Seol's gang, rather than solving the issue by returning the silver to Ilgookhwe and kicking them out of the club.
Now Jae-hwa realizes that Leader Seol brought Jung-tae into the picture in order to replace him. And he is not having it.
Ok-ryun and So-so know each other, and in the course of telling Ok-ryun about her day, Jung-tae's name comes up. Ok-ryun immediately latches onto it and asks So-so to clarify his name, and again she says, "Shin Jung-tae."
She gets a little scared by Ok-ryun's intensity when Ok-ryun all but screams, "Where did he go?!"
Jae- hwa's men find Jung-tae still waiting outside the inn in the hopes of finding a place to sleep. They accuse him of trying to take over Bangsamtong, which of course Jung-tae knows nothing about. This is all Leader Seol's unintentional fault.
Of course, no matter how much Jung-tae protests his innocence, he can't ever stop a fight from happening. He tries to appeal to them by asking if their form of greeting is the kind that Daddy Shin passed down, but it still doesn't work. The fight is on.
Meanwhile, Ok-ryun bikes to where So-so claims she saw Jung-tae last, her eyes filled with unshed tears. She arrives at the scene of the fight and screams, grabbing everyone's attention.
She glares accusatory darts into Jung-tae as she asks him if he's really still fighting, even now. Unfortunately, Jae-hwa uses Jung-tae's momentary distraction to his advantage by ordering his men to attack, forcing Ok-ryun to throw herself in front of Jung-tae to protect him.
The innkeeper is the one to finally break things up, by using her hot water as a weapon against Jae-hwa's thugs. She knows Jae-hwa, and declares that she won't abide by fights in front of her inn.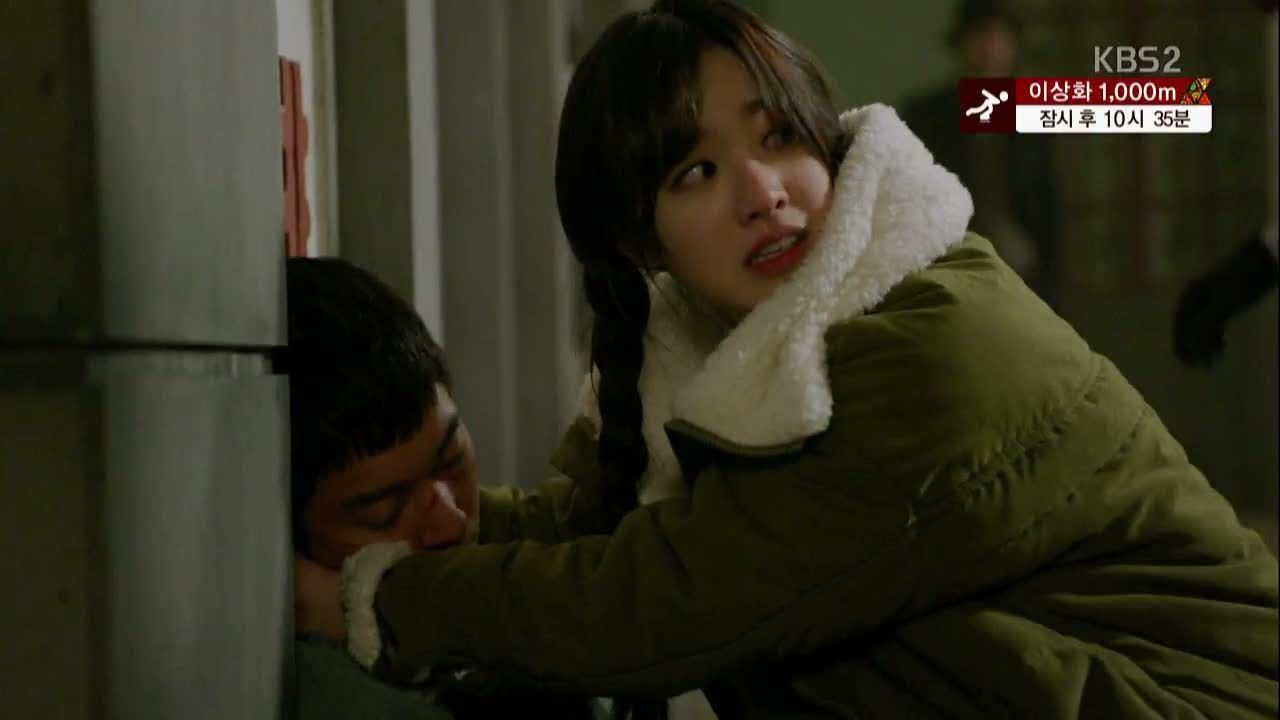 Jae-hwa doesn't even question her and leaves with his men, promising to pay Jung-tae's bill tomorrow. Huh. That was easy.
Instead, he focuses his attention on finding the town's informal coroner, who they call Old Man Fly—Jung-tae would know him as the man who gave him his first ride in Shanghai in a truck full of corpses.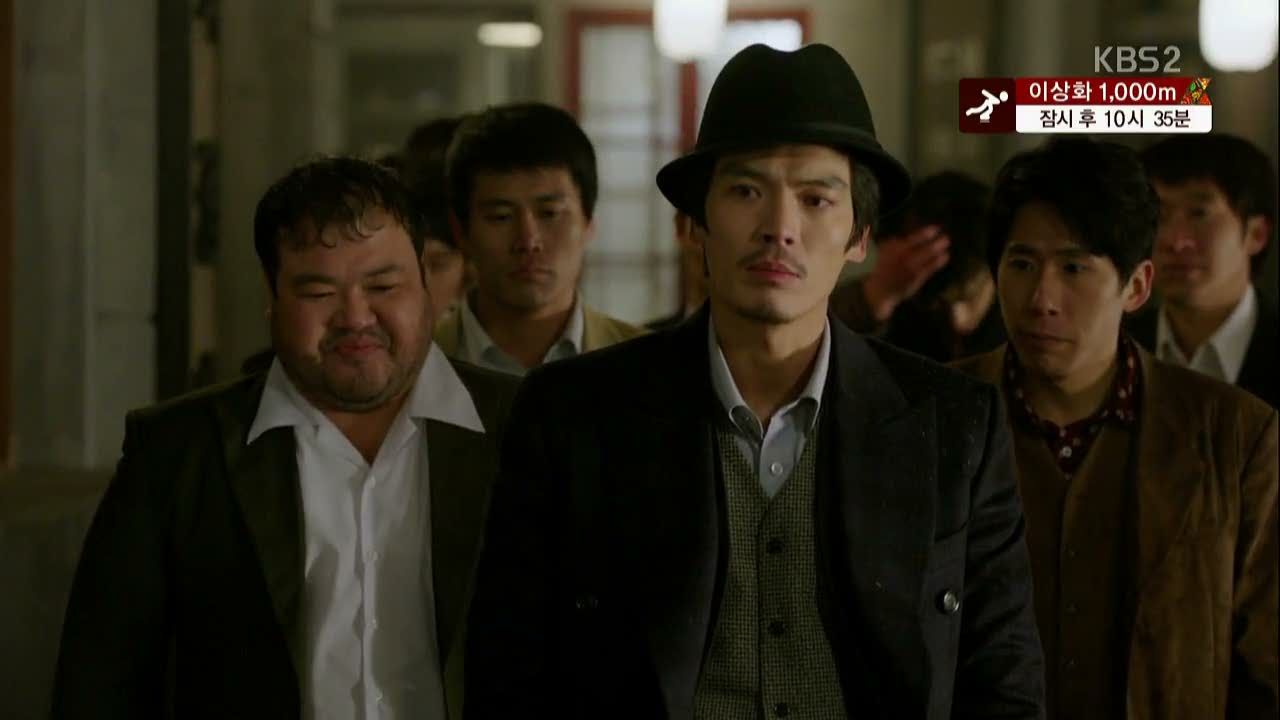 COMMENTS
I kept waiting for some meaning to be applied to the five years everyone spent apart from each other this episode, sure that they couldn't continue to avoid it, but it's almost like the skip never happened at all. I'd be more willing to ignore it if it wasn't such a deliberate choice and such an arbitrary span of time—you don't just have a hand spasm and write in a time skip. It had to be done for a reason, though that reason seems to be eluding everyone at the moment.
And if there wasn't going to be an explanation for the exact number of years, I at least thought that the only possible reason behind Jung-tae's long stint in Manchuria was because he was hiding from Ilgookhwe. But then he didn't seem at all concerned about attending their prom in Shanghai, so, that was that. I mostly just want to know why the story is unfolding the way it is, because everyone's motivations . Now it just feels like Jung-tae took a hiatus from searching for his sister, and that Kaya is in Ilgookhwe to win it instead of just using it as a means for her revenge-y ends.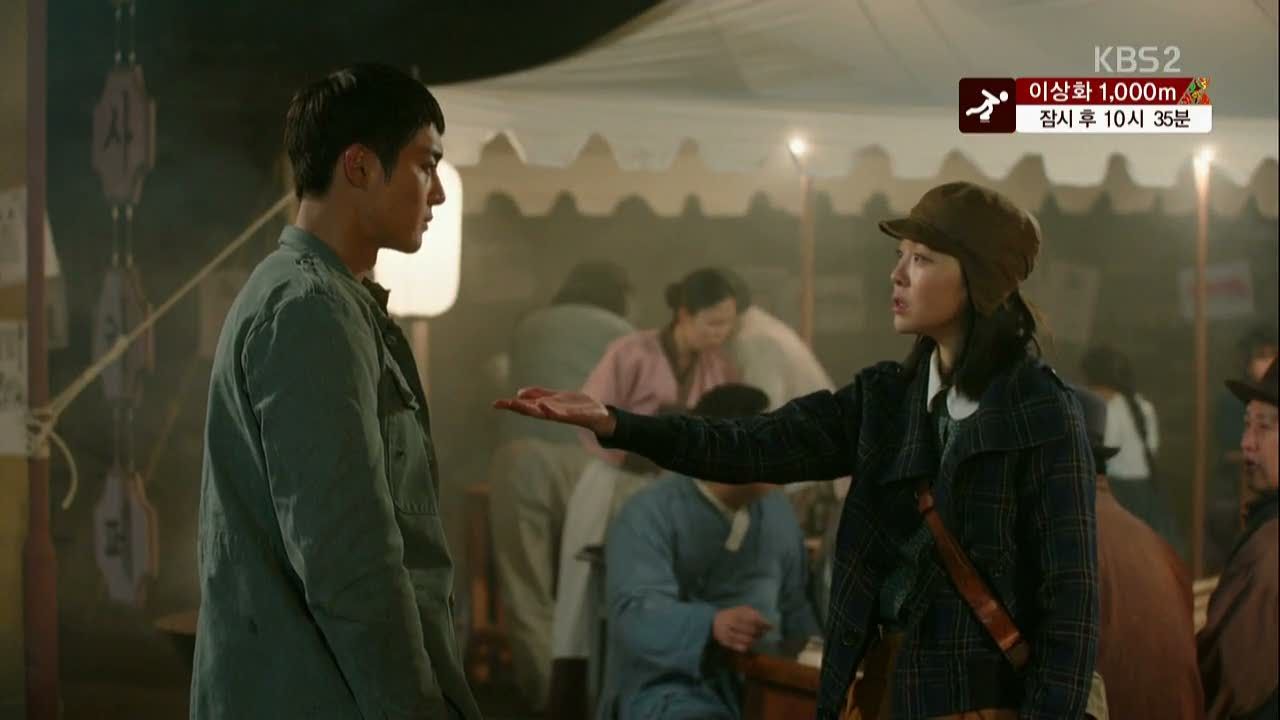 But onto what we actually saw, which can only be described as a lot. This feeling of initial who-what-why confusion is far too familiar a sensation for this show, especially when it keeps chucking new characters at us as if we didn't already have dozens of them we were still getting to know. And that's not even including all the people we didn't see: Aoki, Shinichi, Dokku, Il-hwa, the Dobi Gang, etc. I'm going to hope for now that their stories are just being temporarily placed on the back burner rather than being completely eradicated, because believing anything else puts me in a dark and lonely place. (Why, Kim Jae-wook? Why?)
Having Jung-tae confront the truth about his father was the most emotionally satisfying story line explored this episode, even if he's still left with more questions than answers. I can't begrudge him for holding onto his bitterness even in the face of all the good deeds his father was responsible for, because at the end of the day he still wasn't there when Jung-tae and Chung-ah needed him most. Jung-tae has to digest the idea that his father was a legendary hero to many, but nothing changes the fact that he was a crappy father. Everyone but Jung-tae can be happy that Daddy Shin put the greater good before his family, and maybe Jung-tae will make peace with that some day—but he's entitled to that little bit of resentment he's got left, isn't he? Or is the lesson of the hour that he isn't entitled those feelings when his dad was a national treasure?
What's maybe worse for Jung-tae is that people like Leader Seol expect him to all but become his father, and all of course without ever asking him if that's what he'd like to do. Then again, I'm not really sure even Jung-tae knows what Jung-tae wants to do, especially now that he's been set adrift in a foreign (but no less violent) land. I'm just glad Ok-ryun's back in his orbit, but mostly that she's back in ours. I want all our familiar faces back, actually.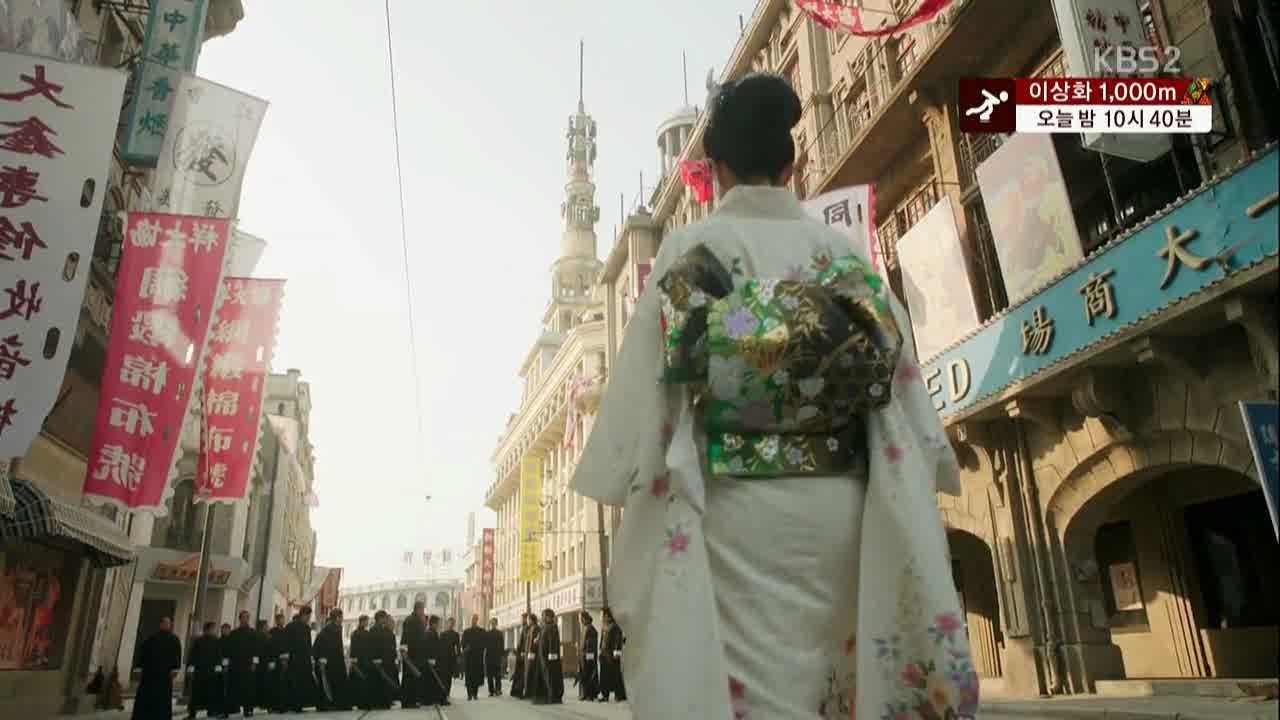 RELATED POSTS
Tags: Age of Feeling, featured, Im Soo-hyang, Jin Se-yeon, Kim Hyun-joong, Kim Jae-wook