Hotel King confirms its leads, goes on casting spree

Im Seul-ong, Wang Ji-hye
It's a casting bonanza for Hotel King, which has not only secured Lee Dong-wook and Lee Da-hae as its leads (omg My Girl squee), but a whole bunch more to make up the supporting cast.
Let's start with Im Seul-ong, 2AM idol and budding actor, whose casting makes me aww if only because I seriously loved his bromancey relationship with Lee Dong-wook in their last drama, Mandate of Heaven. (Note: I did not love Lee Dong-wook in that drama, but I loved the guys' arc from childhood best friends to estranged adults to co-conspirators and teammates.) Seul-ong plays a hotelier (as do most of our characters) at the fancy 7-star Hotel CL (do they even make hotels with that many stars?), and his character sounds like just the kind of guy to make audiences fall for him as the second lead: He's smart, loyal, positive and hard-working with a heo-dang side that keeps him a little offbeat.
Seul-ong's character also connects with CL's bold, lively heiress played by Lee Da-hae, which sets him up for a love triangle with the two leads. Poor guy never even had a shot. Lee Dong-wook plays CL's current general manager who then becomes the CL president's enemy; I'm guessing this was a long con for him, since he's out to take down the man for abandoning his mother years ago. We're not told exactly what kind of crisis arises, but when the heiress finds herself facing dire struggles because an unexpected event puts her father's hotel in peril, Seul-ong is someone who rushes in to help her and try to save the hotel.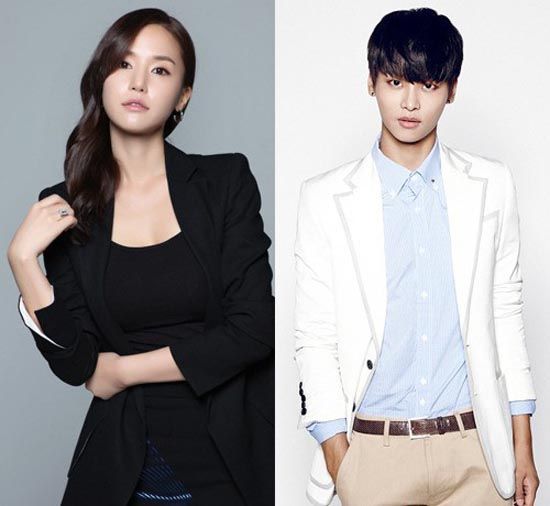 Gong Hyun-joo, N
Then there's Wang Ji-hye (Suspicious Housekeeper), and this means we've got yet another reunion (after the My Girl and Mandate of Heaven rematches) since she and Seul-ong were both in Personal Taste, though not often together. She'll play a former television announcer who now runs the hotel restaurant, who also once dated Lee Dong-wook. She chose money over love and married someone else, but has never been able to forget him. Oh boo hoo. Excuse me while I don't cry over your angst.
VIXX's leader N takes on his acting debut playing another hotel staffer, a guy with a "distinctive and upbeat" personality who acts as the mood-maker with his cheeriness. Gong Hyun-joo (Dumb Mom, Golden Bride) plays an employee who got her master's at the Cornell School of Hotel Administration and her MBA at NYU, who speaks six languages and is the perfect girl next door. Is she also a genius?
Singer-actor Alex (Medical Top Team, Pasta) is another addition to the show, who'll join CL's staff as an employee with an international background.
There must be a strong idol connection going on because we've also got a member of girl group AOA, Seolhyun, onboard to play the daughter of Hotel CL's vice president. I wonder if that'll put her at odds with our heroine, the president's daughter, though Seolhyun is described as kind and lovable, so maybe not.

Go Yoon, Seolhyun, Ji Il-joo
Moving on (I know, we're not done yet), we have Go Yoon (another reunion, this time with Lee Da-hae as one of her IRIS 2 castmates), playing the youngest concierge team leader who spent time studying abroad and now manages the VIP clientele with skill and ease and fluent English. I do hope that's English and not Engrish. Ji Il-joo (Basketball) will man the front desk.
Last but not least, among the sea of newbie faces, we'll be seeing some veterans: Kim Hae-sook (King's Family) and Lee Deok-hwa (Secret) are also onboard to play senior staffers. She takes on the role of an exacting training manager who will abide no mistakes, and he will play the devilish, sneaky vice president.
Can't say I'm in love with the concept, but there are a lot of names to like about this show. (I know, I know, many a weekend drama has been taken down despite a great cast. I still choose to hope.) Hotel King is an MBC weekend series that'll follow Golden Rainbow, premiering on March 29.
Via Joy News, Chosun, E News 24
RELATED POSTS
Tags: Alex, Gong Hyun-joo, Im Seul-ong, Lee Da-hae, Lee Dong-wook, Wang Ji-hye