I Need Romance 3: Episode 14
It finally happens—our heroine feels feelings she can put a name to and figures out what she wants. Of course in true Joo-yeon fashion, she takes the long way around and then some. This is the downside to having a thick outer shell—the harder the shell, the harder you have to throw yourself against the rocks to get at what's really bothering you. And no, it isn't acid reflux… it's love.

SONG OF THE DAY
Yoo Joon-sang – "사랑이 필요해 (I Need Love)" [ Download ]
Audio clip: Adobe Flash Player (version 9 or above) is required to play this audio clip. Download the latest version here. You also need to have JavaScript enabled in your browser.

EPISODE 14: "I can't do without you!"
Joo-yeon walks into her room in a daze, still trying to figure out what just happened. She plays over the night's events, which started out happy. She had finally made up with Se-ryung and had a fun night out with the girls, and even as she was laughing with them, she thought of going home and telling Wan about it.
And then she came home to Wan's sudden kiss…
We replay the moment as he tells her to be well, and then gets in his car. She pounds on the window asking what he means, but he doesn't even turn to look at her before driving away.
Back at home, her thoughts float back to what he said—that she'd kick him out for good tonight. She heads upstairs to Wan's room with a sinking feeling, and finds it empty. Her face falls and she balls up her fists.
Joo-yeon (voiceover): "Now everything becomes clear. He left. Wannie left. Without even a promise to return, without telling me where he was going, Wannie… left."
As she throws herself headlong into work with a smile on her face, her narration continues: "But I was fine. I didn't cry. I didn't drink. And my life flowed along without change."
We go back to the girls' night out at the beginning of the episode, and talk turns to post-breakup behavior and whether they've ever done anything crazy to try and hold onto a guy. Min-jung admits to internet-stalking an ex, while Se-ryung cops to waiting outside an ex's door for two hours.
It doesn't take much for them to guess that she means Tae-yoon, and Joo-yeon takes a swig. Se-ryung says that she spent her twenties always assuming that if she walked away there would always be a better guy and a better life around the corner.
But in her thirties, she's come to realize that it's the same life, and if she thinks someone is the right guy for her, she should be happy with that and stop always looking elsewhere. Joo-yeon has no advice to share, given that she stopped crying after her second breakup. In life? Damn.
As she heads home that night, she narrates that she wasn't even dating Wan, so it's right that she doesn't cry. But she admits that sometimes she hears his voice and sees him as if he's right there.
She imagines Wan calling out to her at the front gate and running up to ask how her day was. She tells him about being friends with Se-ryung again and he caresses her cheek and smiles back reassuringly that she did the right thing.
She smiles as tears fill her eyes: "I should've listened to everything you told me to do. You were right about everything." She forces back her tears and then asks if he's eaten, and we see that she's just standing there talking to herself.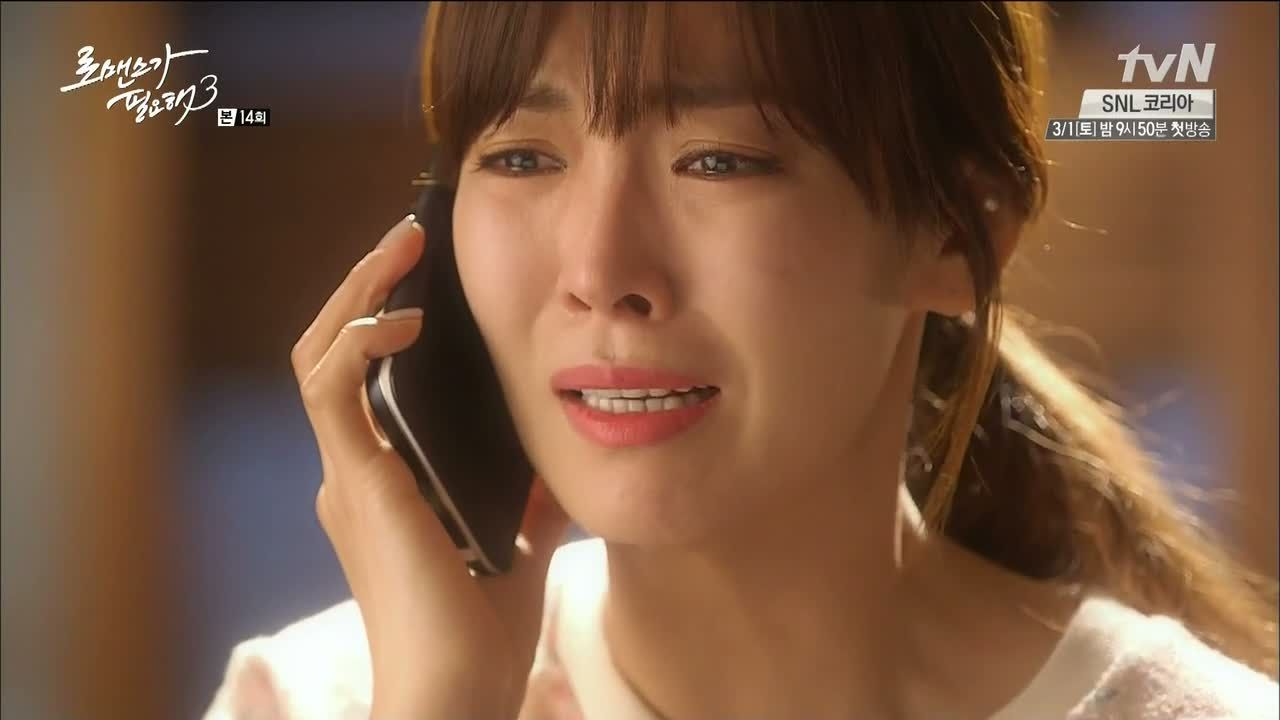 Once she steps foot inside the house, she can't stop looking for him. She calls repeatedly and when he doesn't answer, she leaves a voicemail message and finally starts to cry.
Joo-yeon: "Why all of a sudden? I didn't mean it when I said I'd kick you out. Are you really not coming back? Why are you doing this to me? What am I supposed to do if you leave?! What am I supposed to do, you bastard!"
But we cut back to her not crying at all, as she narrates that she didn't make calls like that, because it's not like they could live together forever anyway. She admits to purposely doing everything that Wan hated, and imagines him popping in to nag her at every turn about what she's eating and how she's living. She finds the CD he left for her on the kitchen table, but just flings it into the laundry basket without a second glance.
She finally asks Se-ryung how Wan is doing, and is miffed to hear she's had lunch with him: "He can eat at a time like this?" But then she asks if he's eating well and what he's up to. Se-ryung tells her that he's back at the hotel and doing a radio show.
That night Joo-yeon listens to Wan's voice on the radio with the giraffe for company, as he talks about this person he knew who believed that everyone in life was a stranger, and promises to make tonight less lonely.
She throttles the giraffe, calling him a con artist and spitting all his promises back with bitter mockery. Let's live happily, Shing Shing? *slap* You'll stay by my side no matter what? *kick*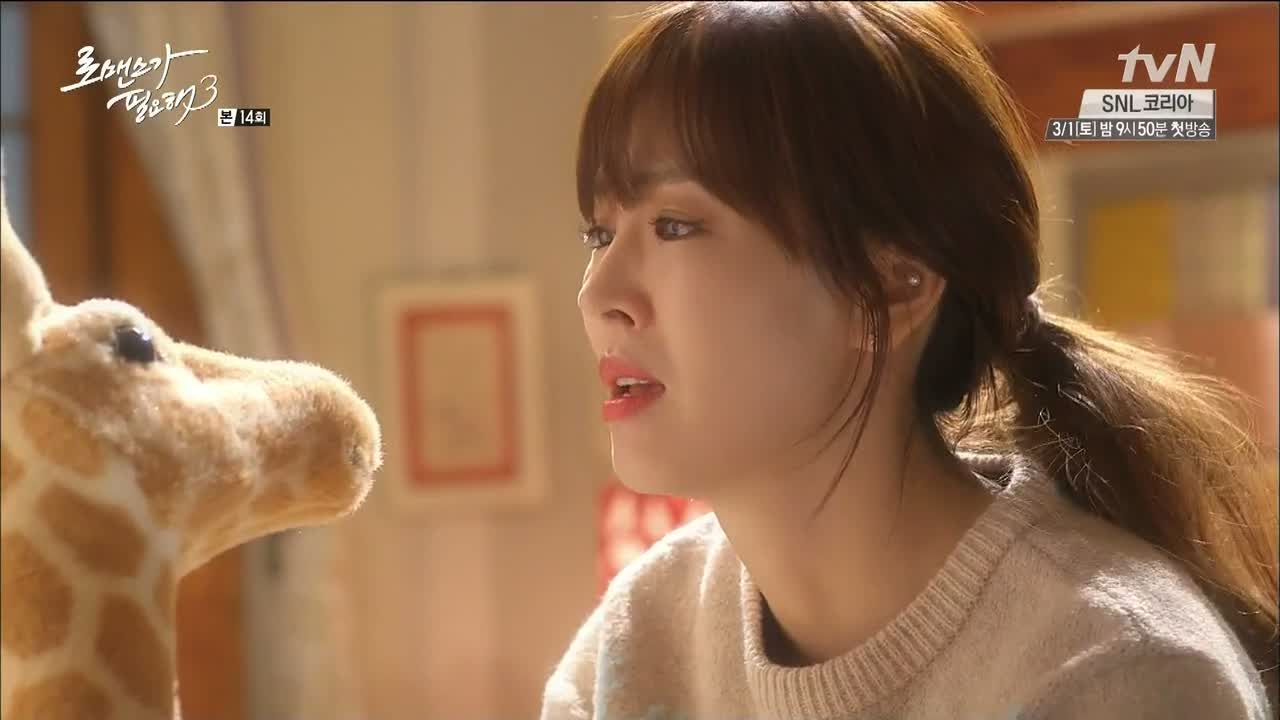 She narrates that it made her angry more than anything that he seemed fine, and she didn't want to know what it was—this lump that was caught in her insides, and the feeling of dread that it was growing.
Joo-yeon faces a fresh crisis at work when the team gets their latest item copied by a different department in their company, and Tae-yoon takes a hard line that it's their problem to fix.
Min-jung takes another ultrasound and finds out she's having twins (ack), and Min-seok comes knocking yet again, this time drunk and cradling a giant gift box with hearts all over it.
He collapses on her couch and refuses to give up the box, clutching it and crying, "It's MY baby!" Haha, he's adorable when drunk.
He's still just as grabby with the box when he wakes up in the morning, though it's mitigated by embarrassment at having slept here. Min-jung tells him she made hangover soup, and he lights up.
Joo-yeon wakes up in Wan's bed sick with a fever, and finds him sitting by her beside and worrying about her. She asks if he's back for good, and he says he couldn't stay away with her in this condition.
Joo-yeon: "I don't know why I'm like this." And then Wan fades, just another one of her wish-filled visions. She clenches her fists and starts to cry. "You weren't here before. I was fine on my own before. My body hurts. My heart hurts."
Min-seok was actually not spouting complete nonsense when he called the gift box his baby, because inside is a practice baby. He says that he's not equipped to deal with one, but Min-jung isn't either, so they'll practice.
He's quick to add that if he feels like he can't handle it, then he'll really move away ("Because I'm pathetic like that." Ha.) and offers to take the daytime shift while she takes the night shift.
He even ordered cameras for them to keep an eye on the baby when the other is away, and Min-jung thinks to herself that he might freak out if he finds out that they're having twins. Still, she can't help but smile.
Hee-jae goes out for a drink with Woo-young, and he gives her a ukulele after she expressed interest in learning an instrument. He encourages her to change her perspective, from How will I get through this day? to How can I make this day fun?
Joo-yeon goes to get cold medicine and sits at the playground, when Tae-yoon calls to say that he'll come by. She starts to tell him he doesn't need to try too hard if he can't make it, but it just reminds her of Wan's speech about trying not being the same as dating.
This time the real Wan shows up at her door, just lingering outside. Wan (voiceover): "I wanted to disappear somewhere. Maybe I wanted to see you look for me, and be broken." He admits that that sentiment didn't come from a place of love, and he felt ashamed.
It starts to rain and Joo-yeon ducks for cover nearby, and Wan runs up to the very same spot. She scoffs that she's gone totally insane now, obviously thinking he's another of her hallucinations.
He greets her with a cheery smile, but she tells him to get lost, "I don't want to talk to myself like a crazy person." He sighs, "You're in the same state that I am. I open my eyes and think of you. I close my eyes and think of you. When I go there you follow. When I come here you follow."
She realizes he's not in her head, and her eyes widen. He says that's right that they should be in that state though—they've separated from the person they like. She denies it, which hardly surprises him.
He tells her that he missed her, but she just changes the subject and asks if he wants to go pick up the rest of the clothes he left in the hamper. He tells her to throw them away or keep them like her couple rings, and she asks what there is to keep between them when they never even dated.
He corrects her: "We did." He says that other women call what they did dating, but she's just refusing to see it. She gets angry and reminds him that this is why he left—because she's dating someone else and this makes her uncomfortable.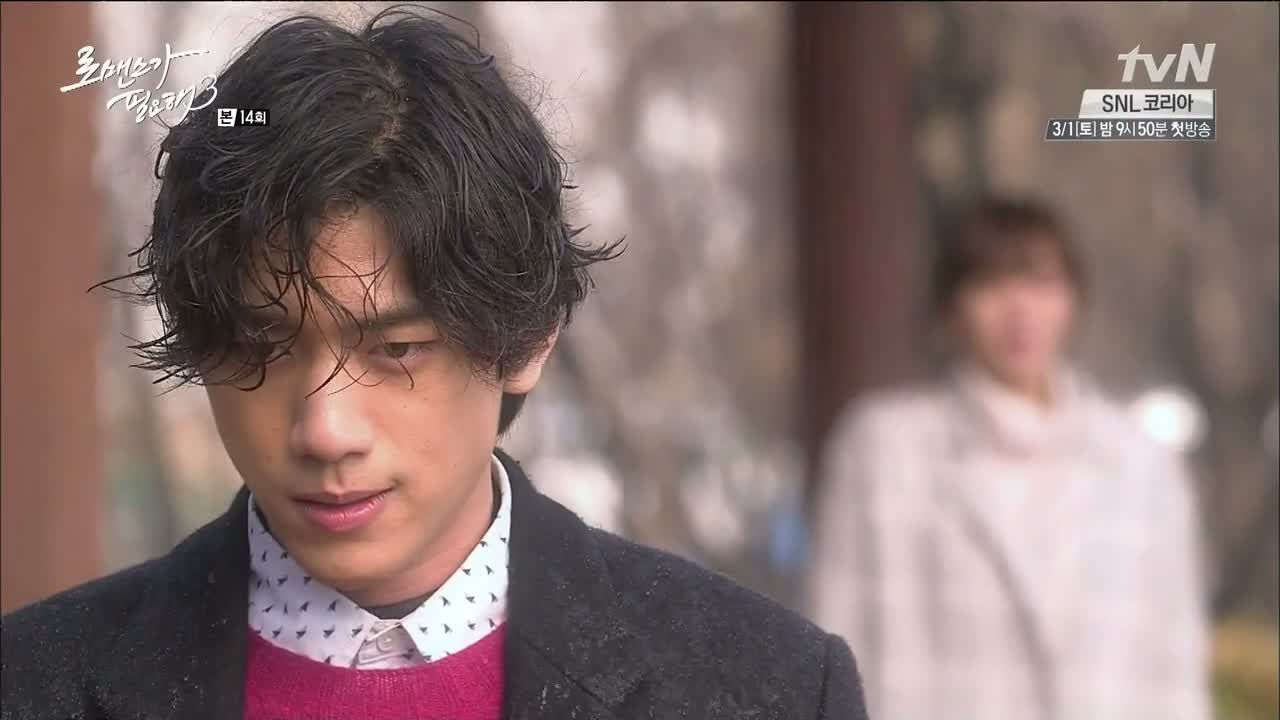 He realizes she hasn't changed at all since he left, and calls himself the crazy one. "I think it's a miracle that I ran into you like this, and it even makes me happy that we're fighting!"
He stalks off into the rain but stops short and turns right back, and starts just berating himself out loud. He yells at himself for not playing it cool, for wondering why she's holding a bag of medicine and not being able to stop from worrying about it. He declares that there is no bigger idiot in this world.
She says she's sick, and he bites back that he doesn't care at all (AT ALL!)… but he's just going to stay beside her until the rain stops. Joo-yeon (voiceover): "I thought, I'd like it if the rain didn't stop. What is this feeling? Wanting to be together longer…"
Tae-yoon calls, and Wan tells her not to answer. This time she complies and even takes the battery out of her phone. Wan says this is the last time he's going to come by, and she can come find him when she figures out her heart.
He walks away into the rain, and Tae-yoon walks up and just misses seeing him. They drive off in his car, leaving Wan soaked and standing alone in the street.
Tae-yoon mentions having to get back to work after lunch, and talks about stopping by like it's an obligation. She asks if he was even worried, and admits, "It doesn't feel like you even like me." She asks what he was like with Se-ryung and he shuts that down immediately, but this time Joo-yeon insists on saying what's on her mind.
He asks how he's supposed to like her for it to be real, and she thinks to herself that there's no one answer to that, but all she knows is, she wants something that burns a little hotter, and feels more ardent.
When he asks for her to tell him what she wants, she counters that he'll just "try" to match that. He asks what's so bad about that—trying. Joo-yeon: "Did you do that for Se-ryung? Try?"
He finally caves and answers honestly that he didn't—he didn't have to try because he just did whatever he felt, because his heart was so heavy and he loved her so much he didn't have the space to think about anything. He says he liked her without calculations, messy, bumbling, like an animal.
Once he says the words, she realizes that she wished he would've lied. It would've meant he was afraid to lose her. He says that kind of love hurt too much, and he doesn't ever want a relationship like that again.
He argues that she's seeing a problem where there is none, but she argues right back: "We do have a problem." She refuses to let it go this time, but he pleads with her that he doesn't want to fight. She sighs and gives in.
He drops her off with a promise to do better, and they part with smiles. But once alone, they look weary.
Wan narrates: "It's possible that that man's words were right—there's really no such thing as love you can't live without. But believing that such a love exists and not believing and just giving up are entirely different things. Because sometimes, what you believe becomes reality."
He sits by the Han River and brings up the photo of Little Shing Shing on his phone. Ever the hopeful romantic, he tells her to hurry up and not keep him waiting too long.
Joo-yeon finds the CD that she tossed among Wan's laundry, and texts Se-ryung to ask where Wan is staying so she can send the rest of his belongings. She pops the CD in to listen to it. Finally.
It's Wan's voice singing the song he wrote about her, called "Love Is Smiling." It brings back a rush of memories of all his declarations of love, from childhood till now. (The lyrics below aren't complete, given that a lot of the song is played under flashbacks with dialogue, but I did the best I could with the volume turned way up.)
Like a small light in my childhood memory
A warm look directed at me
At the eager words that that was love
You laughed bashfully

I hope you know what is love
I remember you
I hope you know what is love
So you can feel it
The heart you've forgotten
Come to my side
Your love in my heart

Love that left while eyes were closed
I'm by your side
Even in this moment

I hope you know love is real
I remember you
I hope you know love is real
So you can feel it
The heart you've forgotten
Come to my side
Your love in my heart

Remember to fall in love
Like that feeling
Remember to fall in love
Like that love
The song you forgot
Will you remember
This love song is for you
With my heart
Joo-yeon (voiceover): "I'm always one step behind Wannie. No…two, many steps. I used to think he was going too fast. But now I know, I'm too slow. Lost, and without knowing anything—that's how I was living."
The song brings tears to her eyes, and she runs out the door, crying the whole way as she drives.
She reaches the door and rings the bell. Wait, that's not the number Se-ryung said was his hotel room…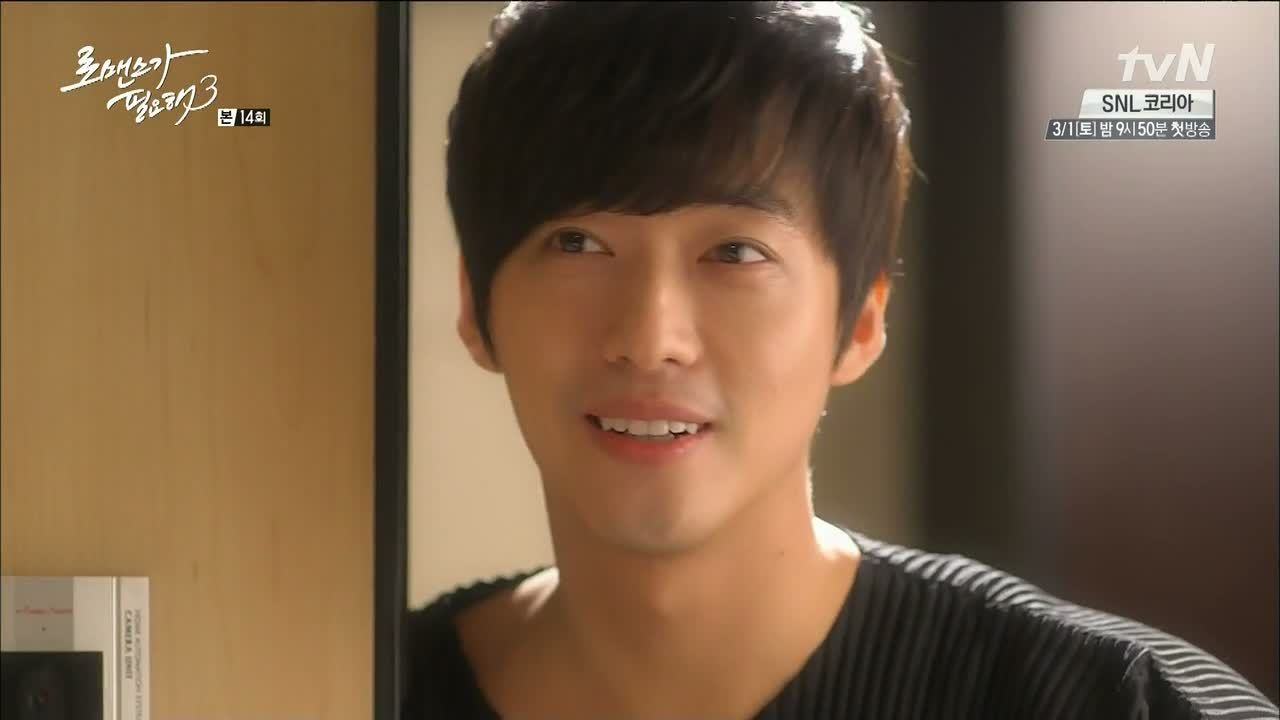 Oh, it's Tae-yoon's door! What? He opens it, and she says she has something to say.
Joo-yeon: "You were wrong. There is something you can't be without, something that you can't get through effort. Love you can't live without—I know it doesn't exist… But I'm going to believe that it does. I'm going to live believing that. I'm going to love someone who believes that. Let's stop here."
Yesssssssss.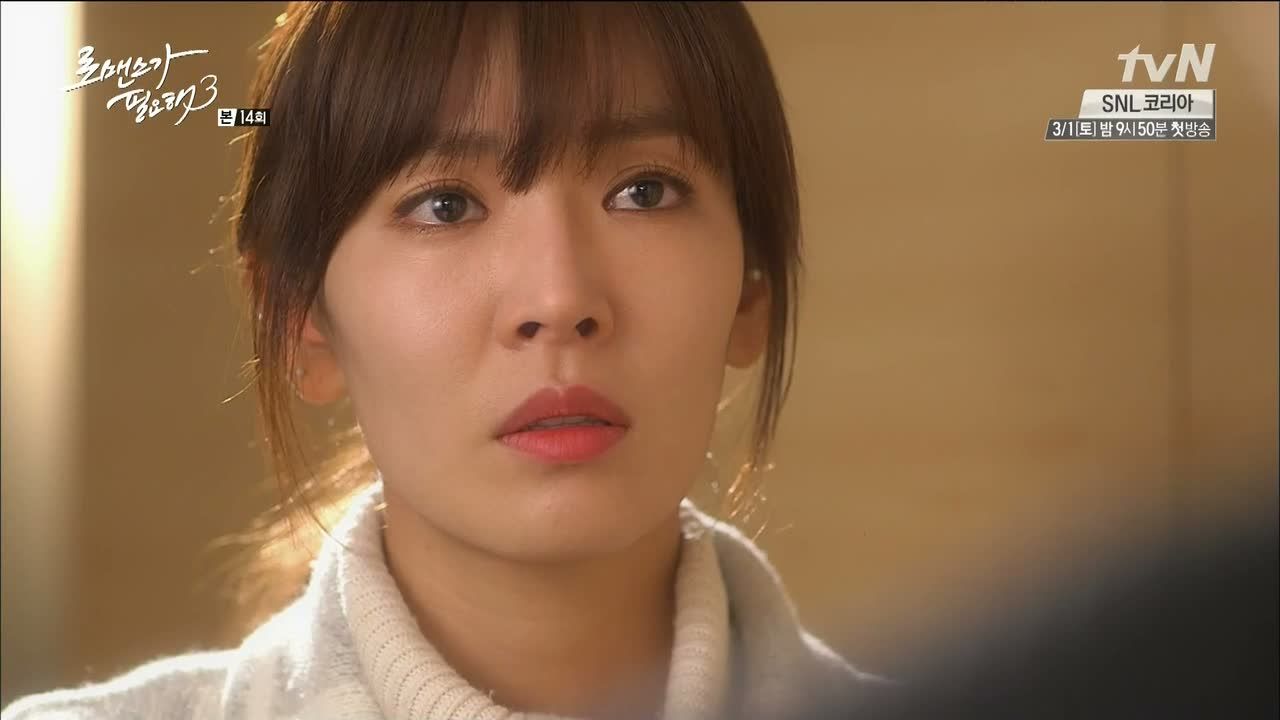 COMMENTS
I did NOT think that was where she was going. But kudos for doing things in the right order, because frankly I was disappointed when that lunch fight didn't end in a breakup. I like that the conclusion she came to wasn't that Tae-yoon's version of a happy relationship was somehow wrong (because truthfully a drama-free relationship does sound nice at least on paper), but that she just wanted something that ran hotter than that.
Tae-yoon's got his own host of problems, given that he thinks avoiding love is the answer, but I also care less about his happiness so long as it's not hindering Joo-yeon's. Of course I wanted to see her run to Wan, but I very much approve of the fact that she's ending things cleanly with Tae-yoon first. She may have accidentally ended up with two boyfriends, but she doesn't need to actually become a two-timer.
Thematically speaking, of course it had to be a song to snap her feelings into focus. Music was how she taught him about feelings when he was a child, and it's how he teaches her about feelings when she's forgotten how to read them. I love that his message with her was never as simple as I'm the one for you; instead he's trying to get her to believe that love is real because he understands that she can't choose him without completely shaking up her view on love.
It's important that her self-discovery isn't all about Wan, just ending with the realization that she loves him. Because part and parcel of her refusal to see Wan's love as real in the first place is the fact that she doesn't believe in can't-live-without-you love. What he changed about her was simply a tiny seed of hope—that maybe she could let herself believe in a love that could make her happy, and it wouldn't crush her. That without choosing to believe in it, even if it's a fool's dream, you don't get to have it at all.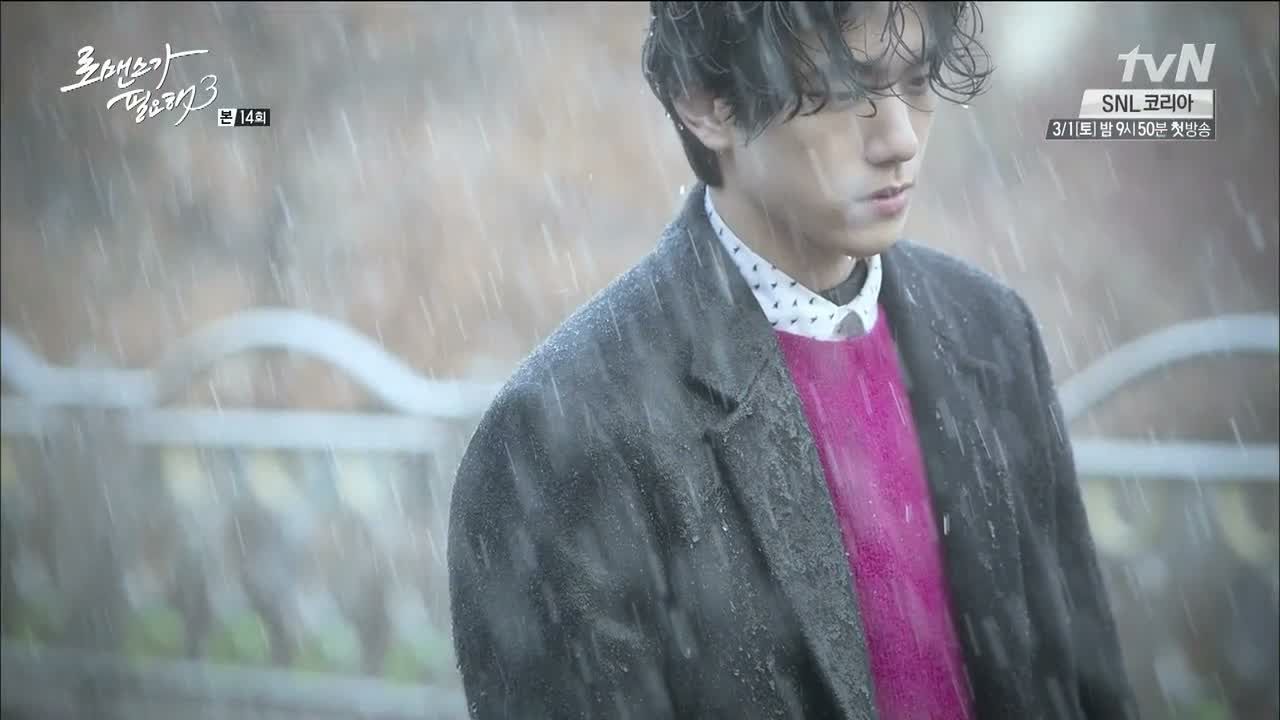 RELATED POSTS
Tags: featured, I Need Romance 3, Kim So-yeon, Sung Joon