Mystery-thriller drama Gap-dong's main posters
Gap-dong sure is going for the sinister factor, isn't it? Not that a show about a serial killer should be aiming for something else, but they're definitely piling on the dark and disturbing with their main poster and the character posters (which are essentially the same thing).
As we saw in the previews for the show, they're using a police sketch as the stand-in for Gap-dong, the drama's long-dormant killer who waits twenty years before coming back to strike again. Hence the look of fierce determination on the face of our lead, detective Yoon Sang-hyun, who vows to nab the criminal this time. I'd say the stark drawing is a nice touch, since the feeling of anonymity adds to the idea of an unknown killer hiding out in plain sight… though I will say that that outright creepiness of Lee Joon comes in pretty close on the twisted scale; he looks downright thrilled and calls Gap-dong his hero.
The posters continue the theme set in the character teasers, with each character reacting to Gap-dong's return with a variation on "So you were alive all these years"—some are afraid, some are furious, and others are welcoming (shudder). The words written backwards (styled like a finger writing in a dusty window) read "I am the real Gap-dong." Eek.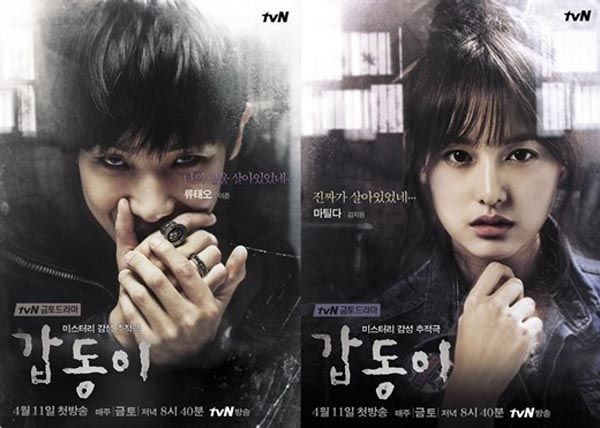 So we've heard about Yoon Sang-hyun playing the man whose father was wrongly accused of being Gap-dong, who grew up and became a cop largely driven by this injustice. Then we have Sung Dong-il as the original detective on the case. And now here's Kim Min-jung playing a psychiatrist with a two-sided personality: Wearing her doctor's gown, she's clean-faced and treats patients with kindness. Once the gown is off, she turns mysterious and glamorous, piling on the smoky makeup and keeping everyone at a cool distance.
Lee Joon is the genius barista (…erm) with the freaky hero worship of the murderer, who looks normal enough on the outside but hides his dangerous psychopath tendencies. Last but not least, Kim Ji-won is a teenage webtoon writer who gets kidnapped by the killer, and her webtoons become clues about future murders.
Gap-dong will premiere on April 11, airing Friday and Saturday nights on tvN.
RELATED POSTS
Tags: Gap-dong, Kim Ji-won, Kim Min-jung, Lee Joon, Sung Dong-il, Yoon Sang-hyun